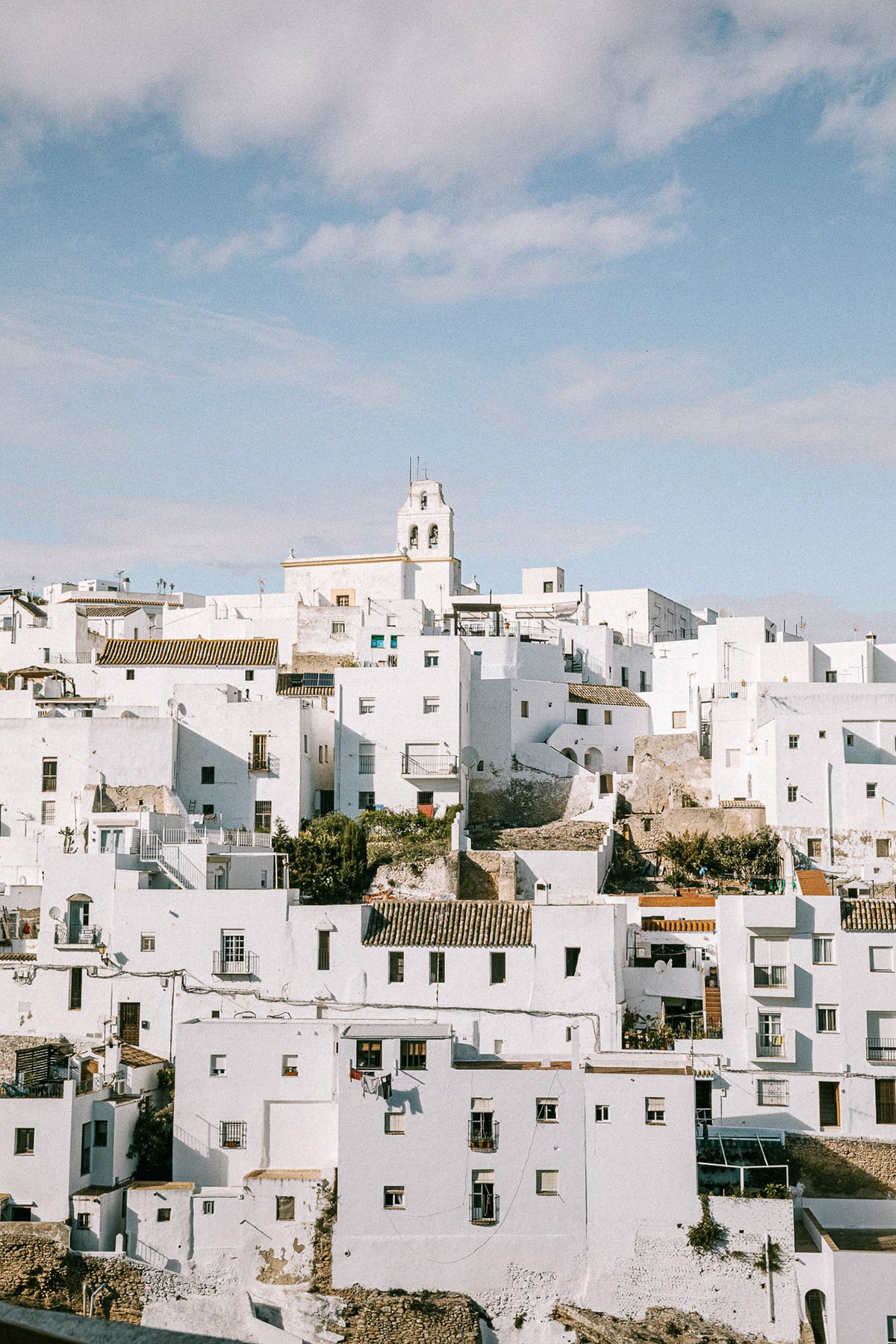 Wondering which are the most beautiful white villages in Andalusia? Which to choose on a roadtrip? Below you'll find a selection of my favorite white villages, as well as some useful addresses to help you make the most of your trip.

If you are planning a roadtrip to Andalusia as a couple or with your family, we invite you to read our article on what to do in Seville in 4 days, you'll find just the right tips and addresses for each neighborhood.
From Seville to Malaga, we drove through the Andalusian countryside, discovering white villages. A name that will certainly surprise you when you get there, since almost all the villages are white. But these are the most emblematic, as not all have the same charm.
Before quoting our preferences, do you know why the facades of these houses are white? ?
Lime, with its antibacterial properties, is an excellent insect and mosquito repellent.
In summer, in the sweltering heat, the white facades stay cool because they reflect the sunlight, so you won't freeze to death inside.
To homogenize typical villages, as homeowners can be fined if they don't whitewash their houses on time.
In this article, we introduce you to the villages of: Vejer de la Frontera, Conil de la Frontera, Arcos de la Frontera, Grazalema, Olvera, Zahara de la Sierra, Setenil de Las Badegas, Ronda and Mijas.
Almost all of these villages are classified as parties Spain's most beautiful villages. What to see, what to doWe tell you all about it!
| OLD MAN OF THE BORDER



Vejer de la Frontera is a beautiful, steep village. Nestled on a hill, it's also a village that inspires relaxation, ideal for putting down your bags (for an evening or more).
Almost entirely pedestrianized, you'll be able to work your thighs as you stroll along the cobbled streets (staircases in part of the town), where you'll find small shops selling local produce, clothes, souvenirs and, of course, a wide range of restaurants for the size of the village. An ancient fortification delimits a hyper-center around the remains of the town's castle, which remains one of the village's main attractions, along with the viewpoints overlooking the valley or the village.
On the Plaza de España, the village's main square, where you can stroll along the terraces and enjoy the view of the magnificent fountain surrounded by palm trees. (Go in the morning for the lights and the sun) Here you will find the Moroccan restaurant « The Caliph's Garden » which we tested in the evening. A beautiful address in a magnificent setting. The verdant garden patio and the decor make this a magical place, not to mention the excellent Moroccan cuisine, which is also a welcome change from Spanish tapas. We can't recommend this address highly enough.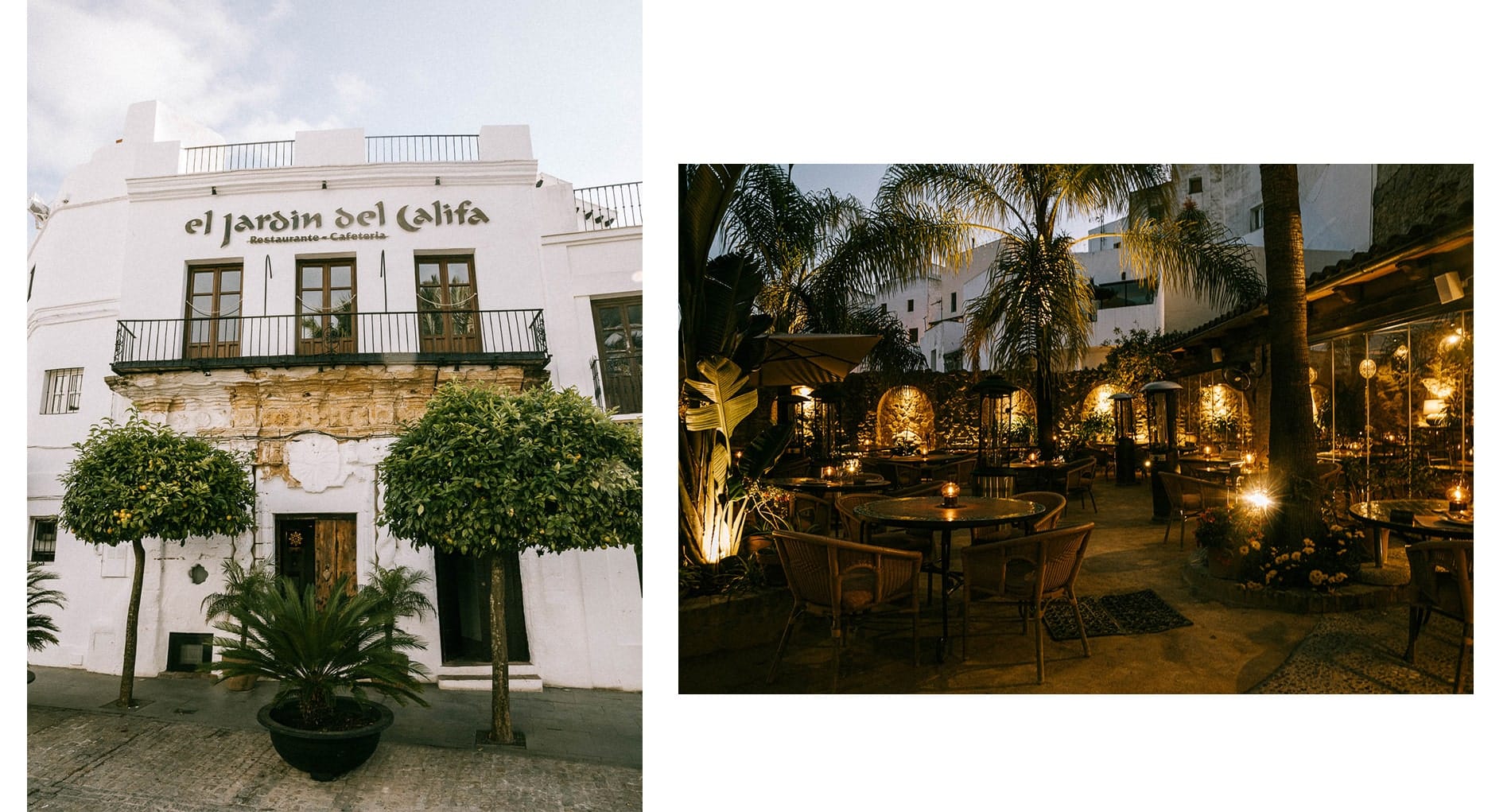 We've allowed a full day in Vejer de la Frontera, which may require an extra day if you take your time and wish to enjoy a paragliding jump and admire the scenery from above. The end-of-day lights are really beautiful in this village especially if you pass by the viewpoints. Allow 2 hours for a leisurely stroll around Vejer de la Frontera.

Good to know : if you're traveling with a baby, take the baby carrier with you, it will come in very handy, especially in Vejer de la Frontera. The village has many steps, so beware of heavy suitcases.
Distance Vejer de la Frontera → Arcos de la frontera = 1h de route pour faire 65 km

Distance Vejer de la Frontera → Conil de la frontera = 20 minutes de route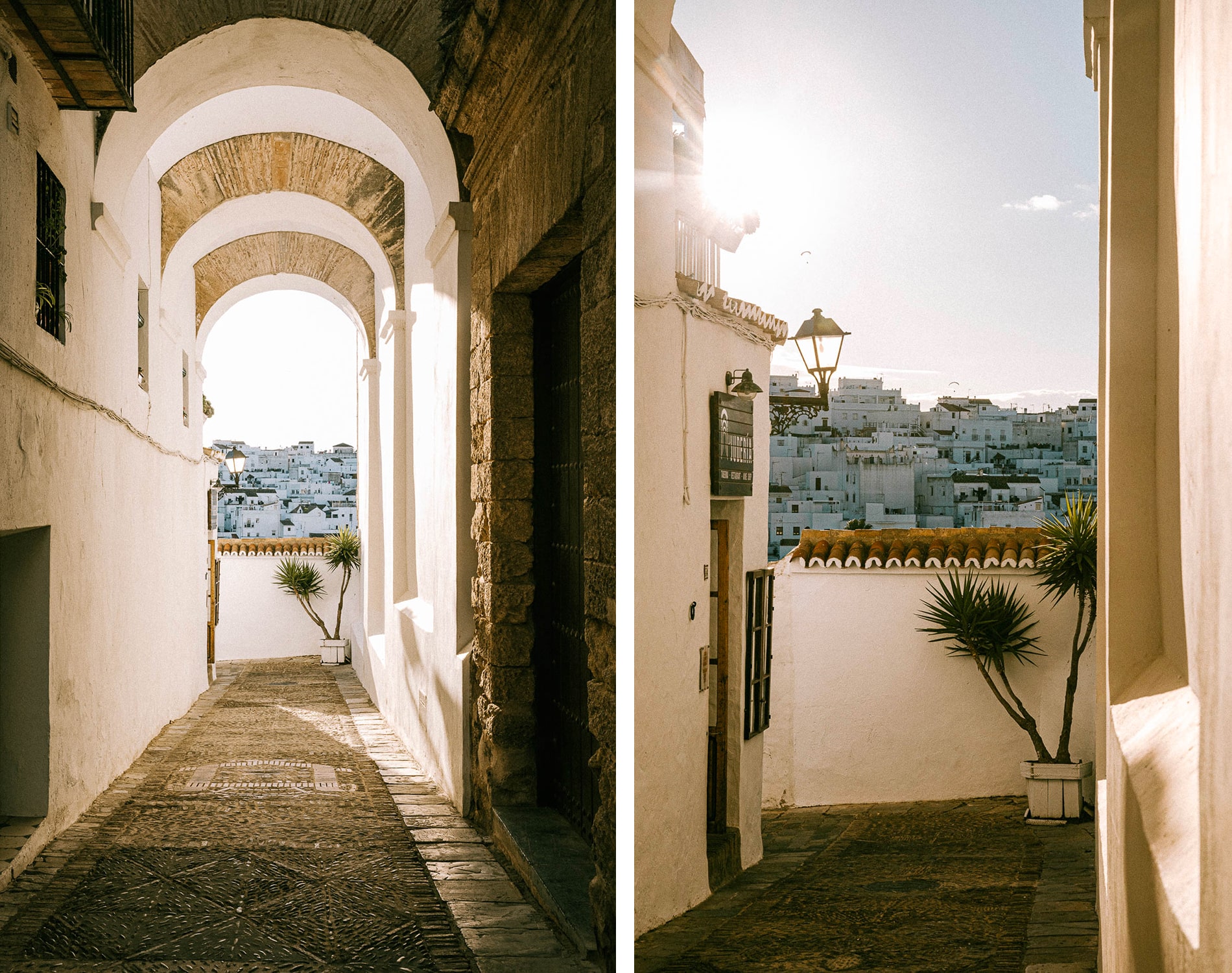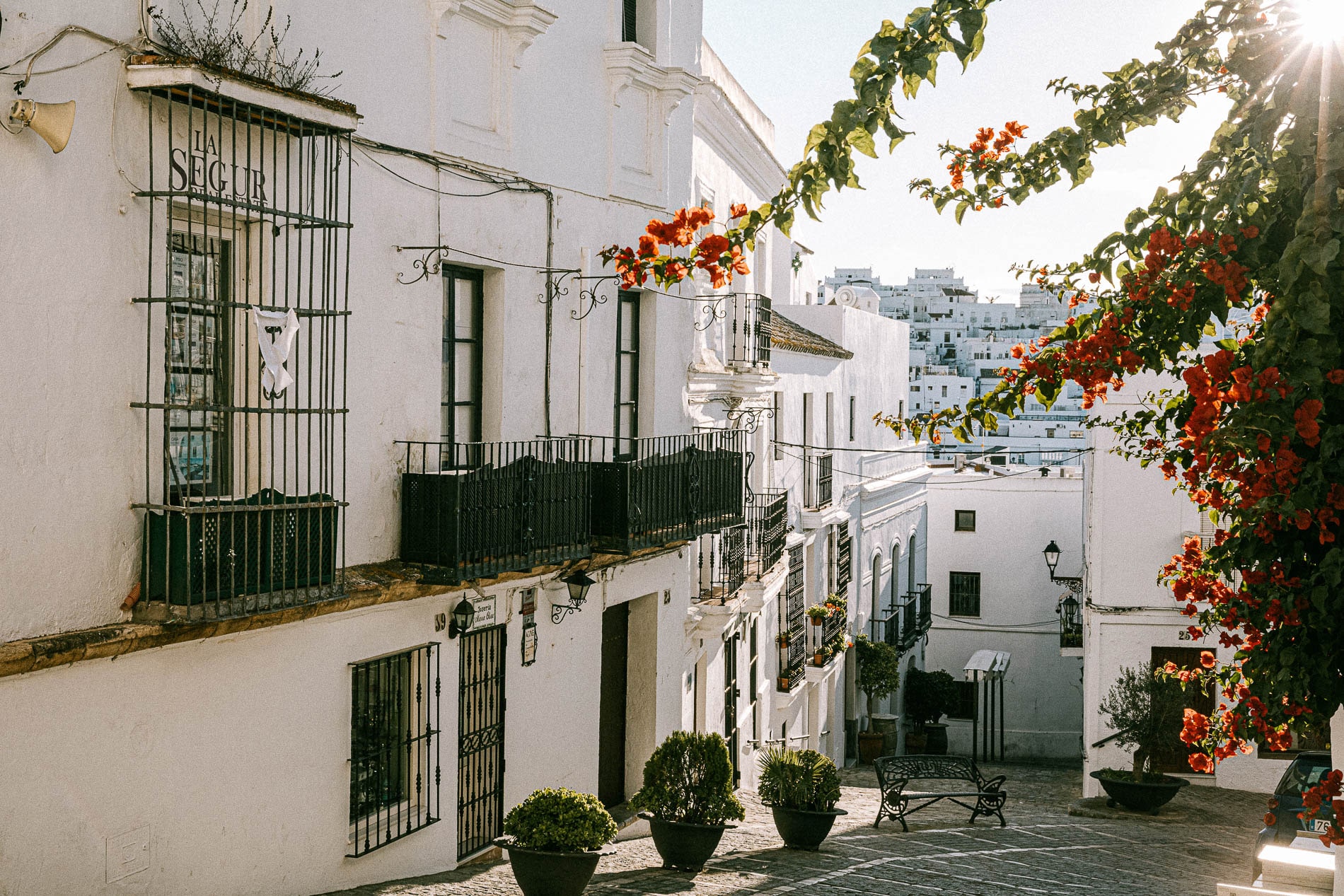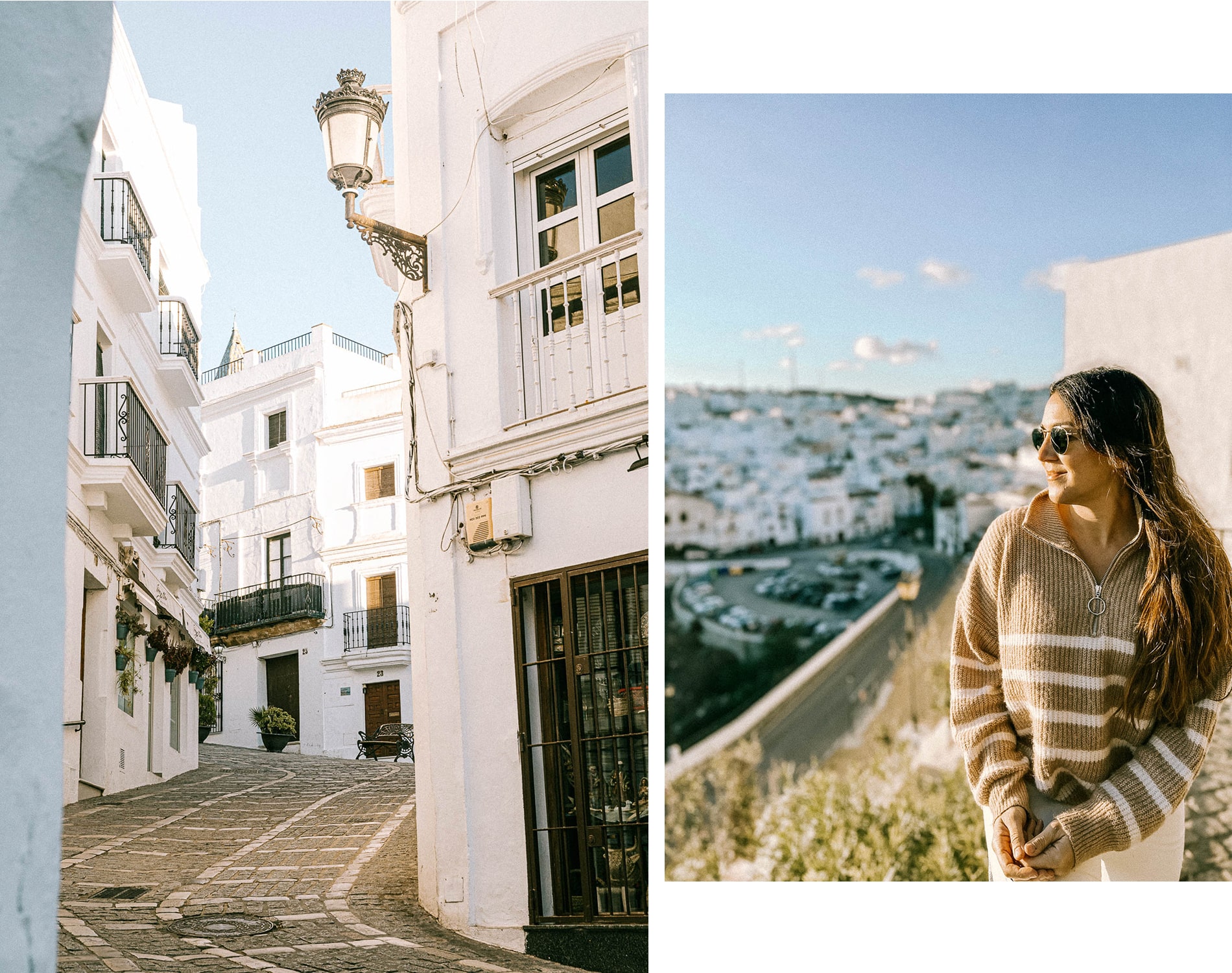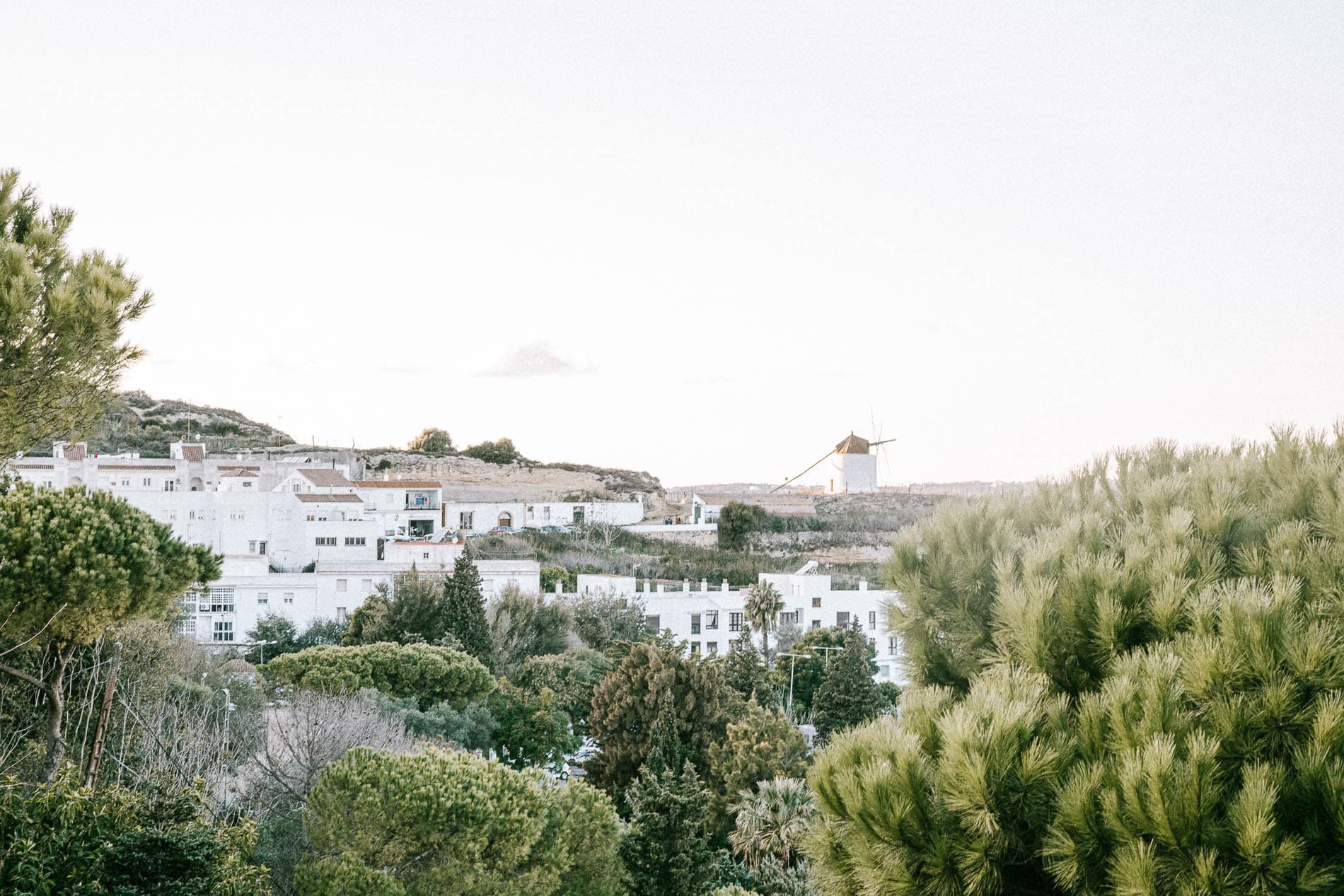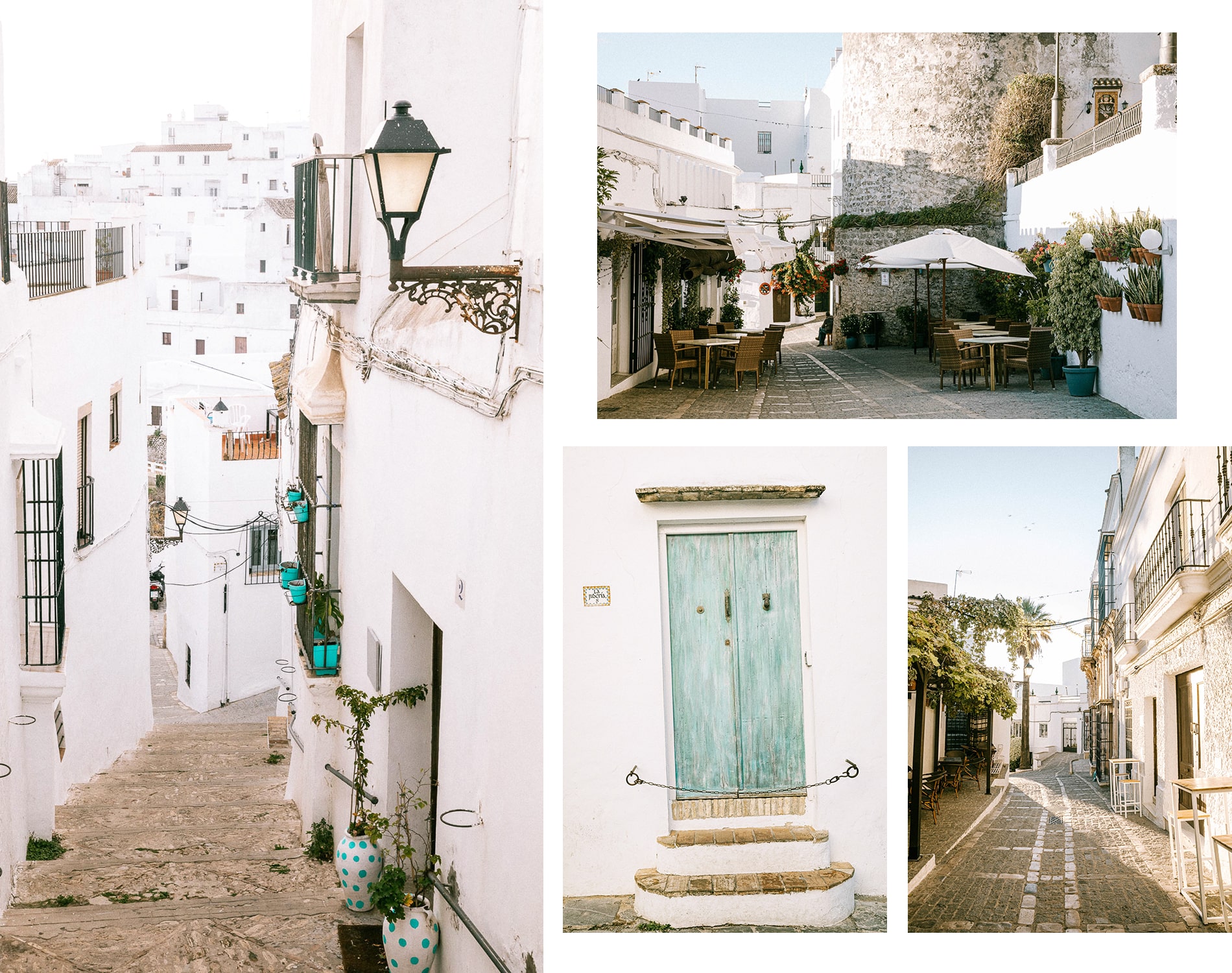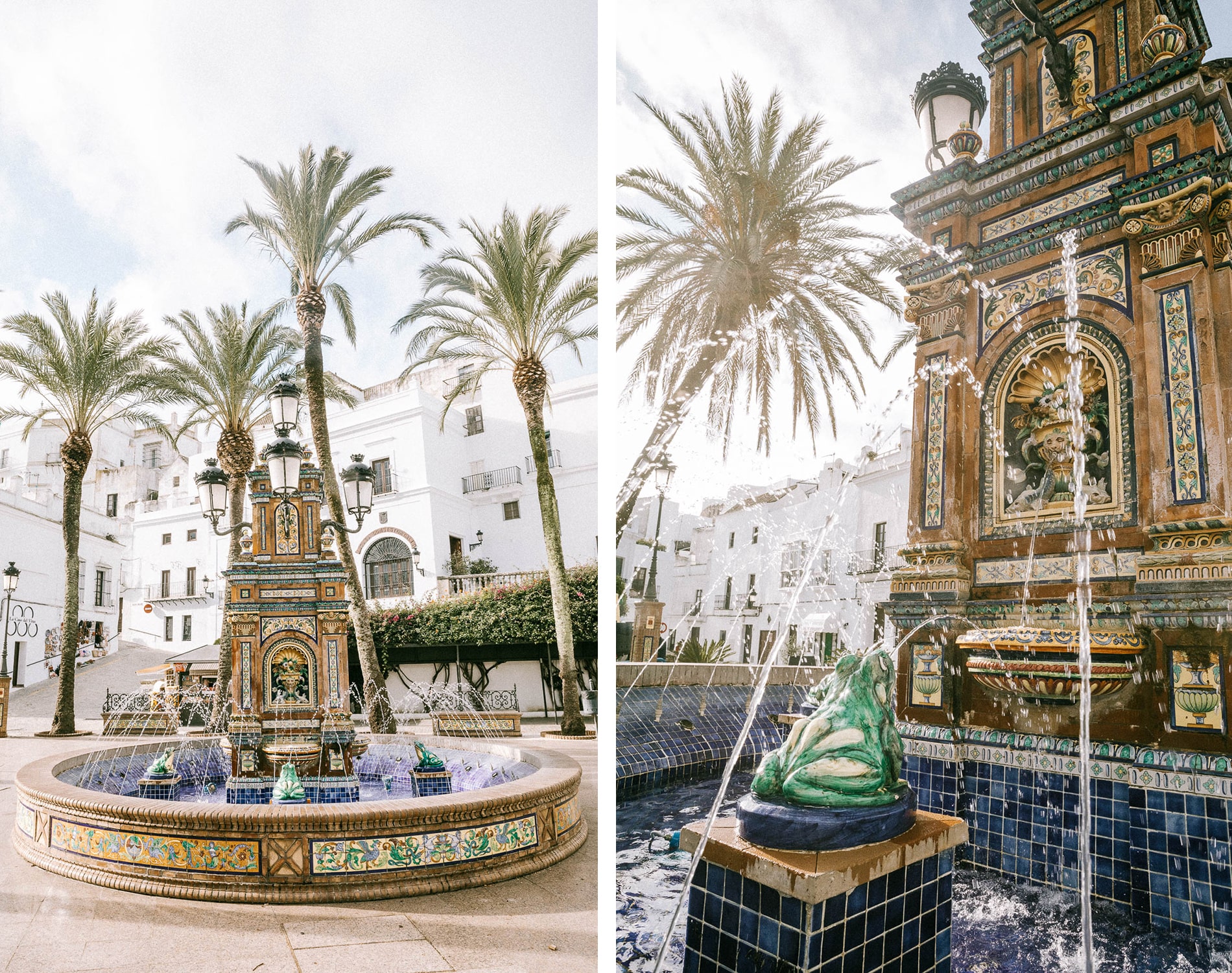 💰 Profitez jusqu'à – 40€ sur votre réservation Airbnb
Nous avons logé une nuit dans ce charmant Airbnb situé en contrebas du village. Il n'a pas été évident de le trouver mais vous pouvez laisser gratuitement votre voiture sur le parking du bas. Ce logement est fonctionnel, l'accès à la chambre se fait par un escalier qui mène à une petite mezzanine. Le centre du village se rejoint à seulement 5 minutes à pied en empruntant les nombreux escaliers. J'ai également eu un coup de coeur pour ce très beau logement, Calma_apartamento, à la décoration bohème et douce avec ses jolies matières naturelles mises en avant.
Découvrez ci-dessous ma sélection d'hébergements à Vejer de la Frontera: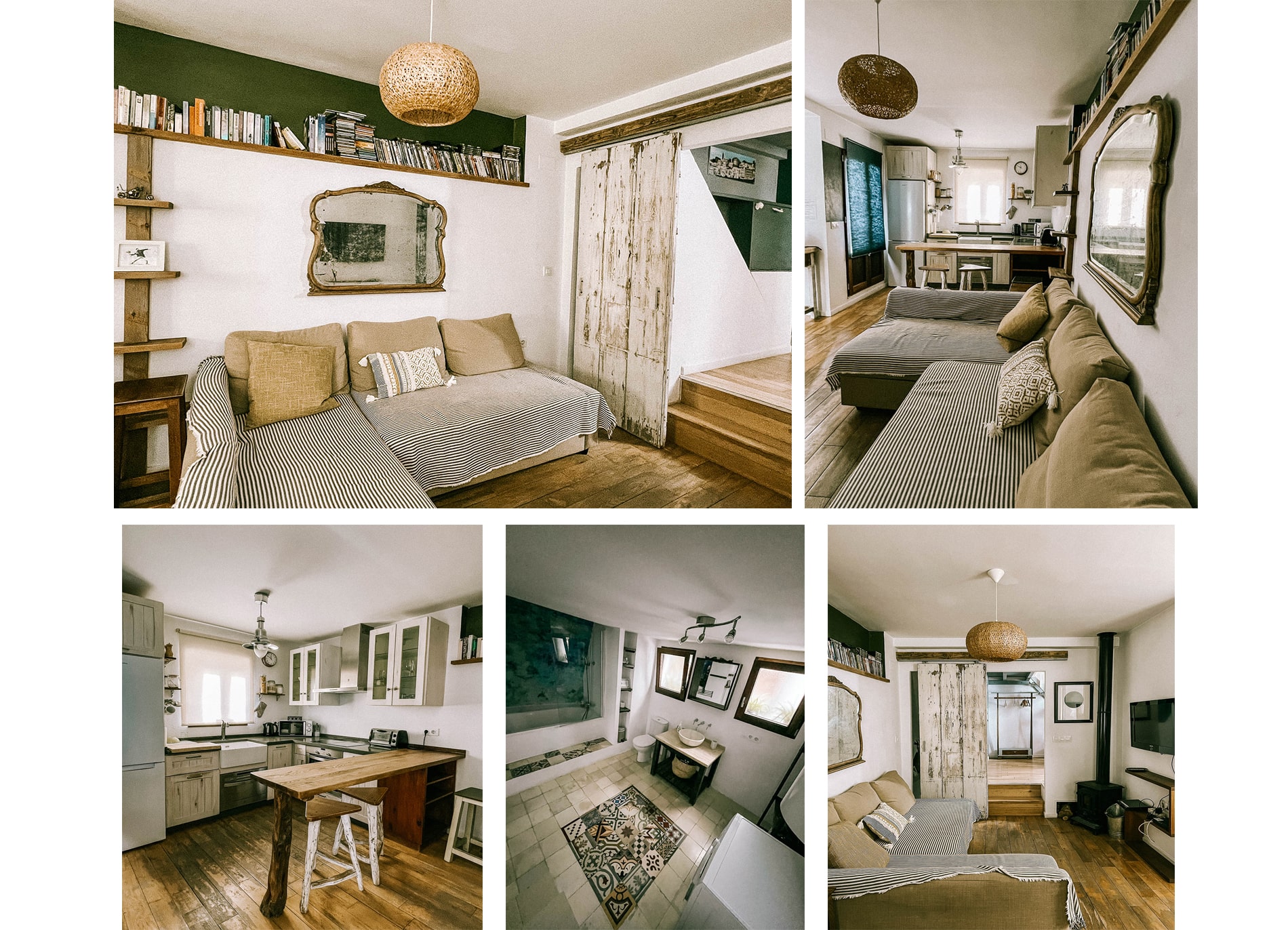 | CONIL DE LA FRONTERA
On ne va pas s'attarder sur ce village blanc car nous y sommes passés en coup de vent. C'est une grande station balnéaire qui peut avoir son intérêt si vous êtes en famille et que vous cherchez un endroit pour vous poser au bord de la plage. De part sa taille, Conil de la Frontera propose un large choix de commerces, de restaurants, de boutiques. Le village est plus touristique que ceux que vous trouverez ci-dessous.
La « plage de los Bateles » est connu pour son point de vue et son super ponton en direction du sable doré.
Distance Conil de la frontera → Arcos de la frontera = 1h de route
Découvrez ci-dessous ma sélection d'hébergements à Conil de la Frontera: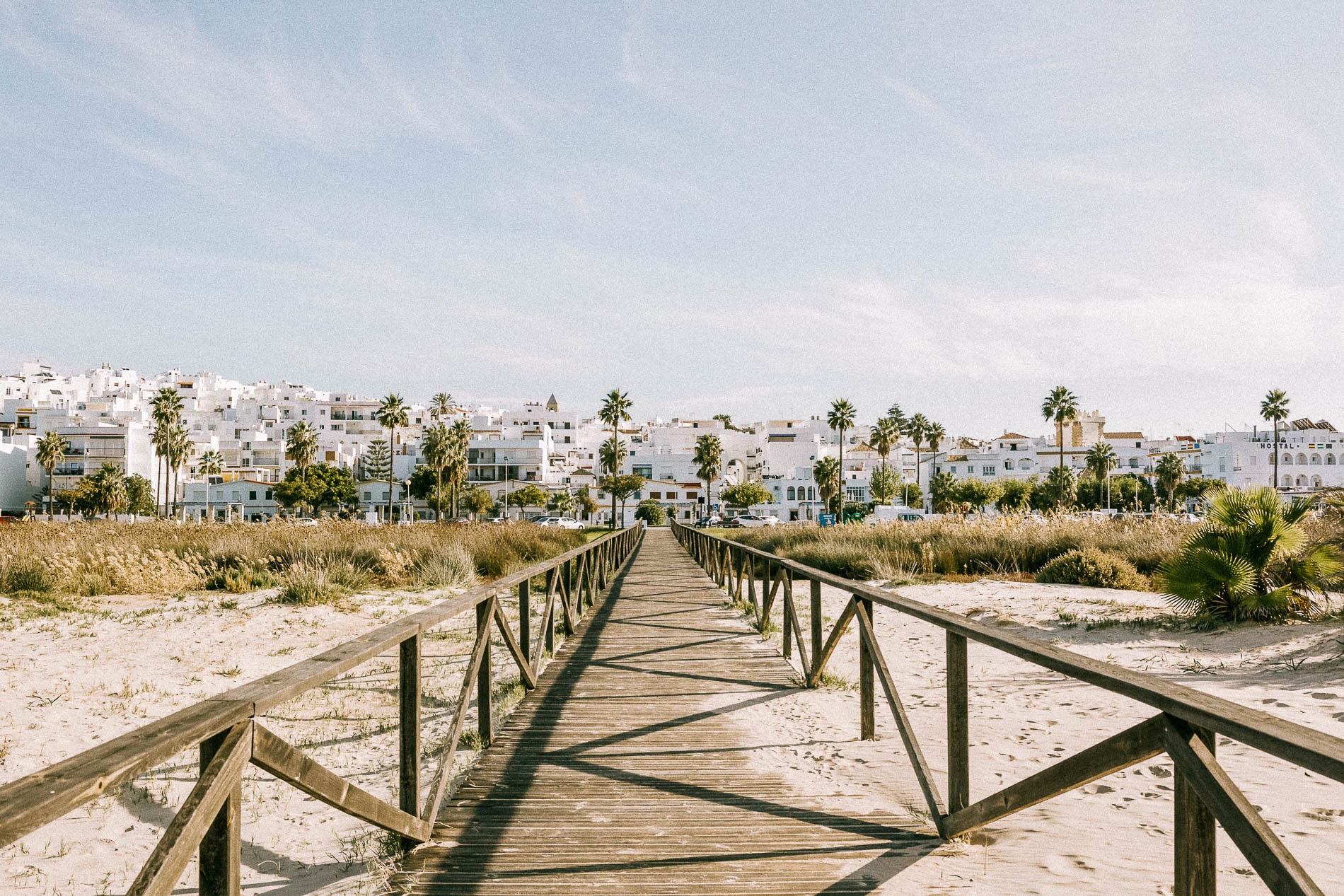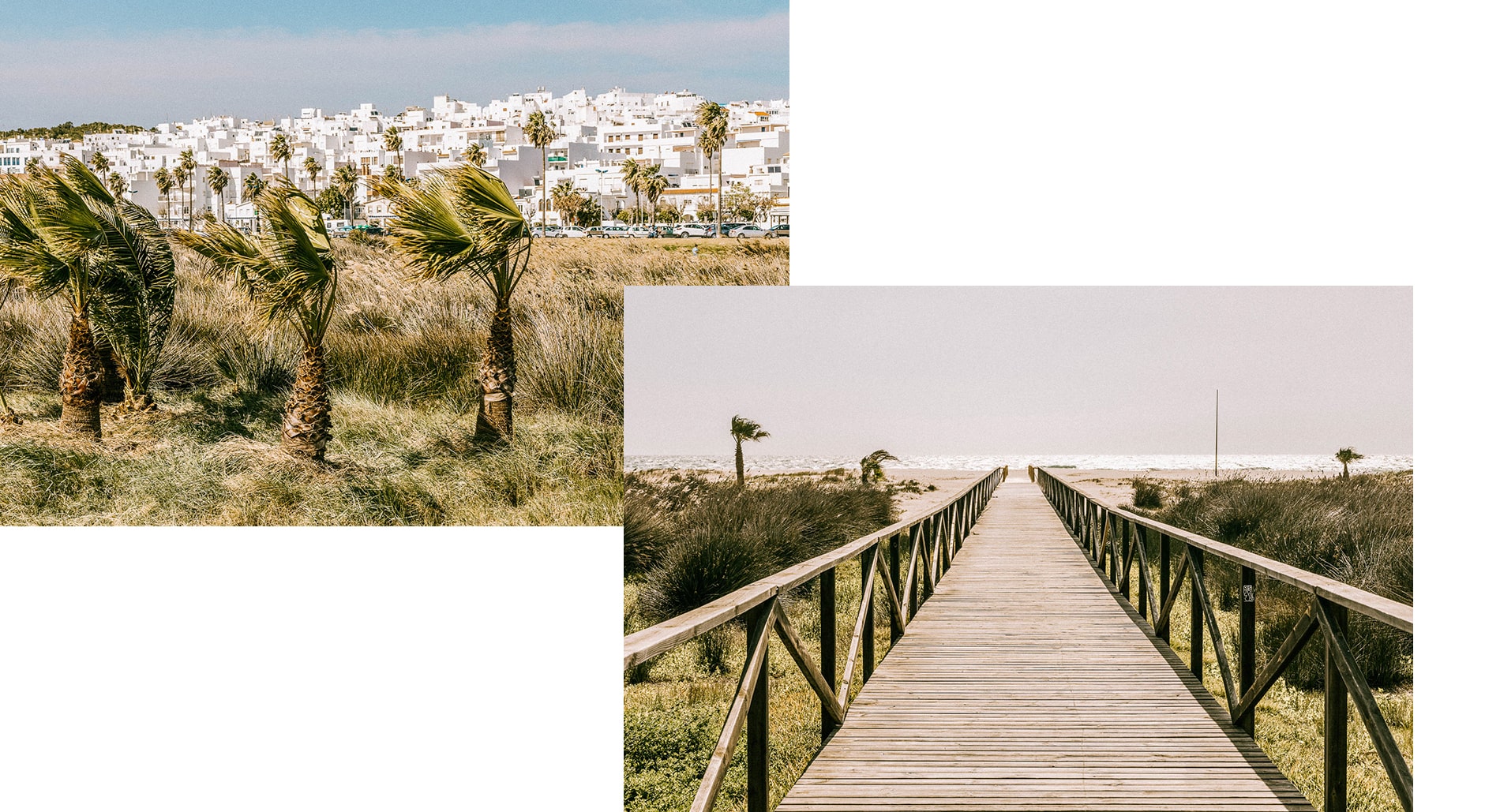 | ARCOS DE LA FRONTERA
Arcos de la Frontera est plus qu'un village, c'est une petite ville dont le centre historique vaut le coût d'œil. Niché à flanc de falaise, ses différents points d'intérêts se situent le long de la « route monumentale ». En suivant tout simplement cette rue, vous passerez devant les différentes églises de la ville, son château et sa basilique.
Mais les principaux intérêts de ce village, sont les deux points de vue sur la vallée et sur les toits de la ville que sont le « balcon de Arcos » et le « mirador de Abades ». Vous l'aurez compris, la visite de la ville se fait rapidement. Comptez 2 à 3h maximum et renseignez-vous bien sur les ouvertures de l'Église car il y a un joli point de vue mais elle n'est pas toujours ouverte.

Distance Arcos de la Frontera → Grazalema = 45 minutes par une jolie route de montagne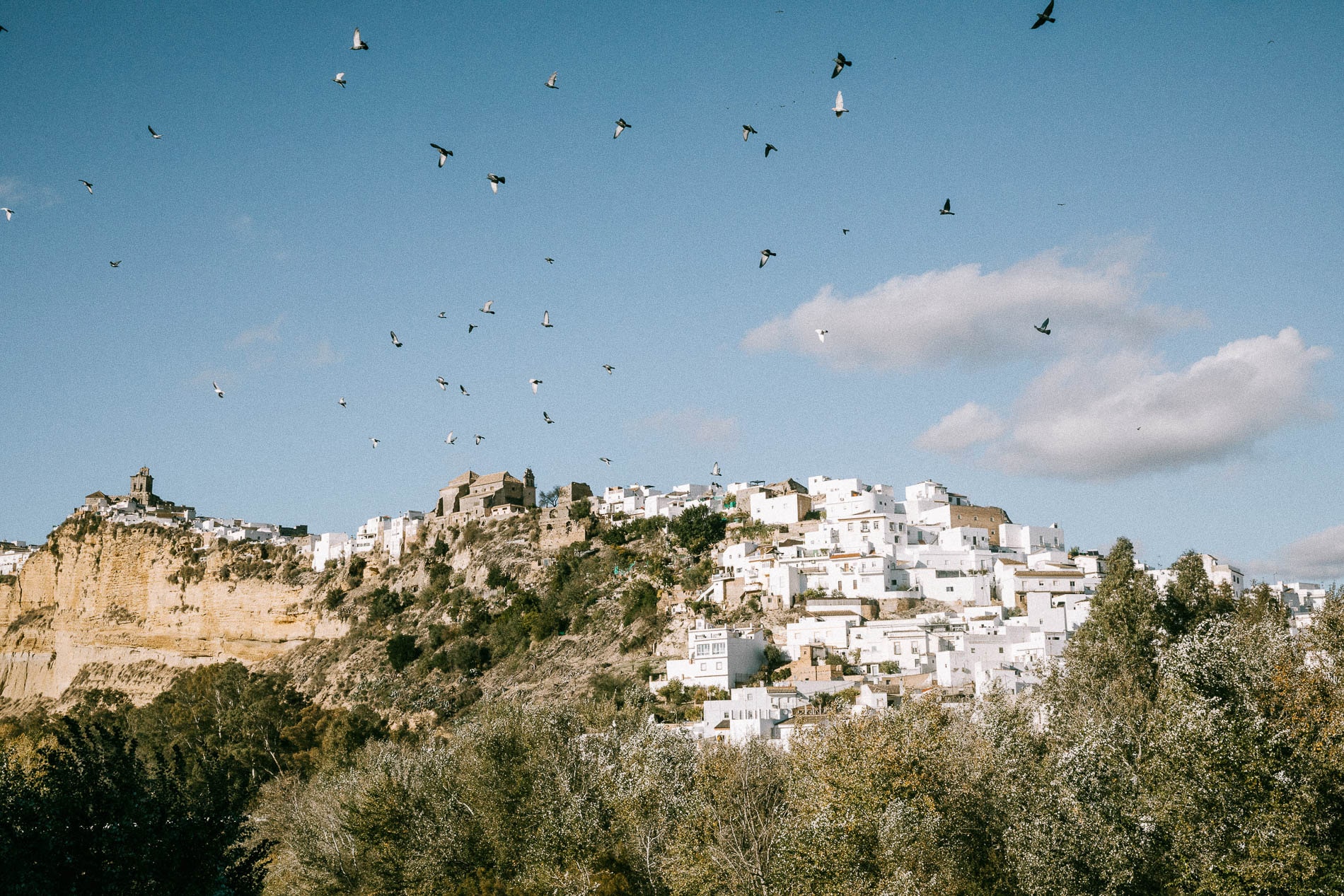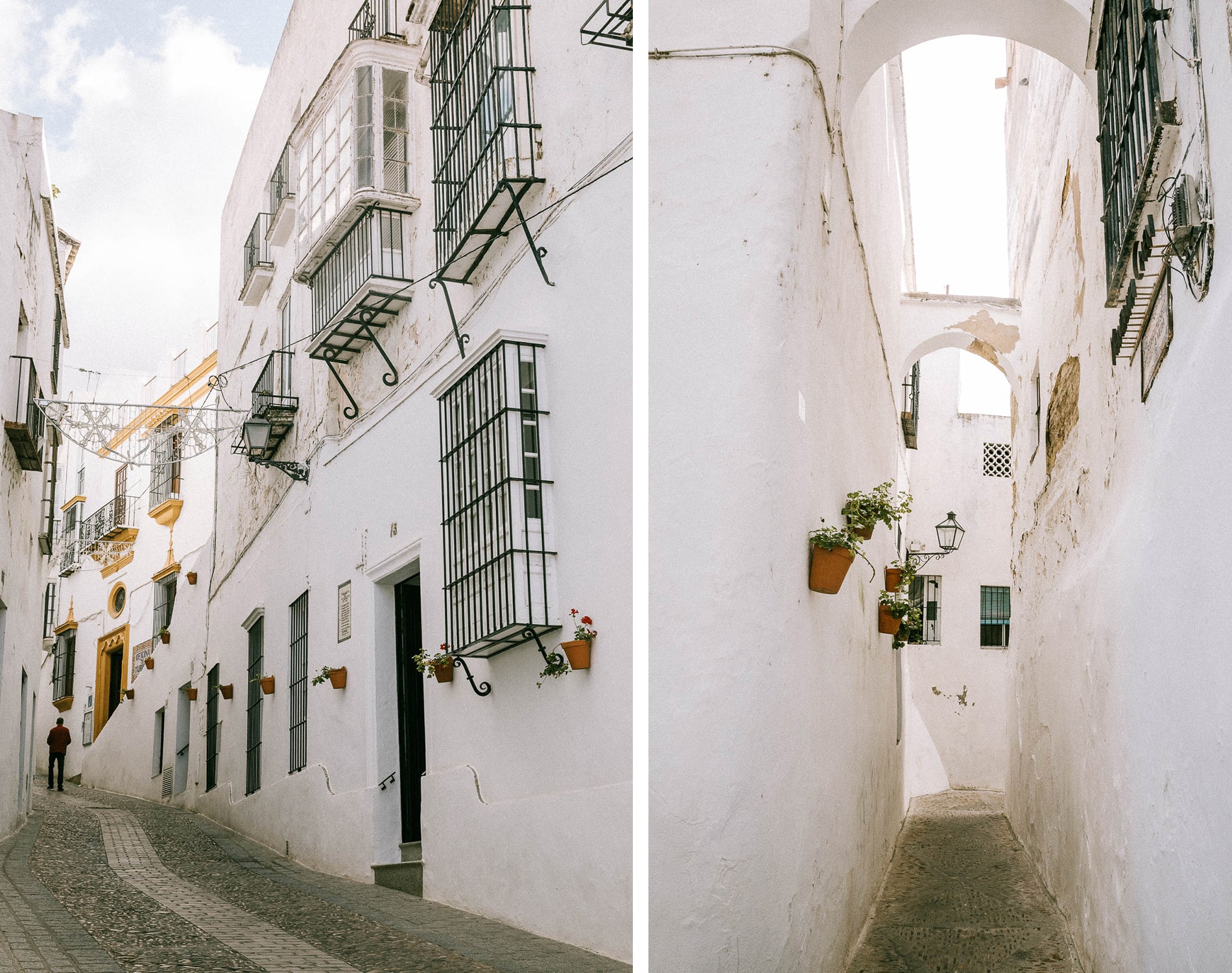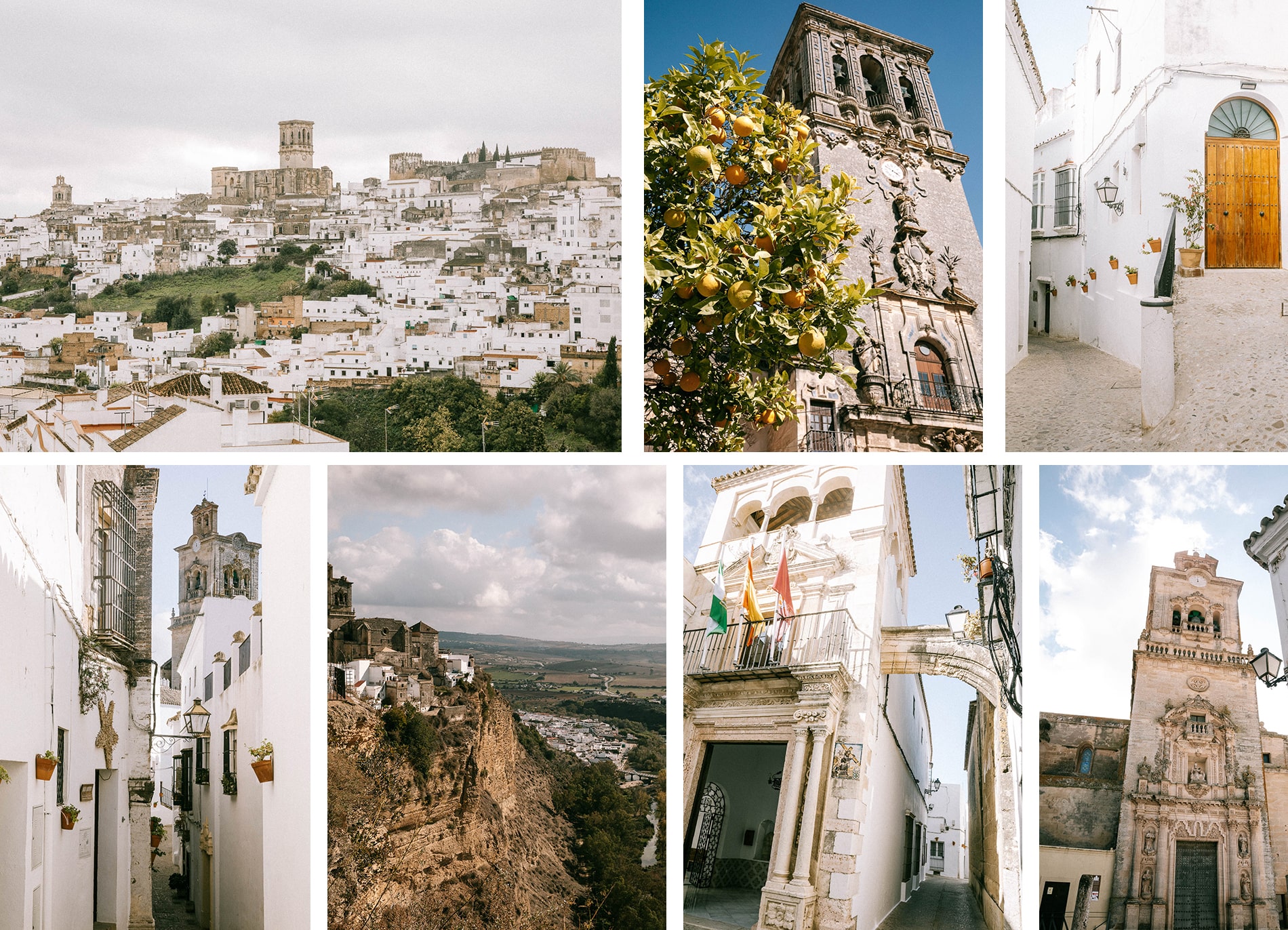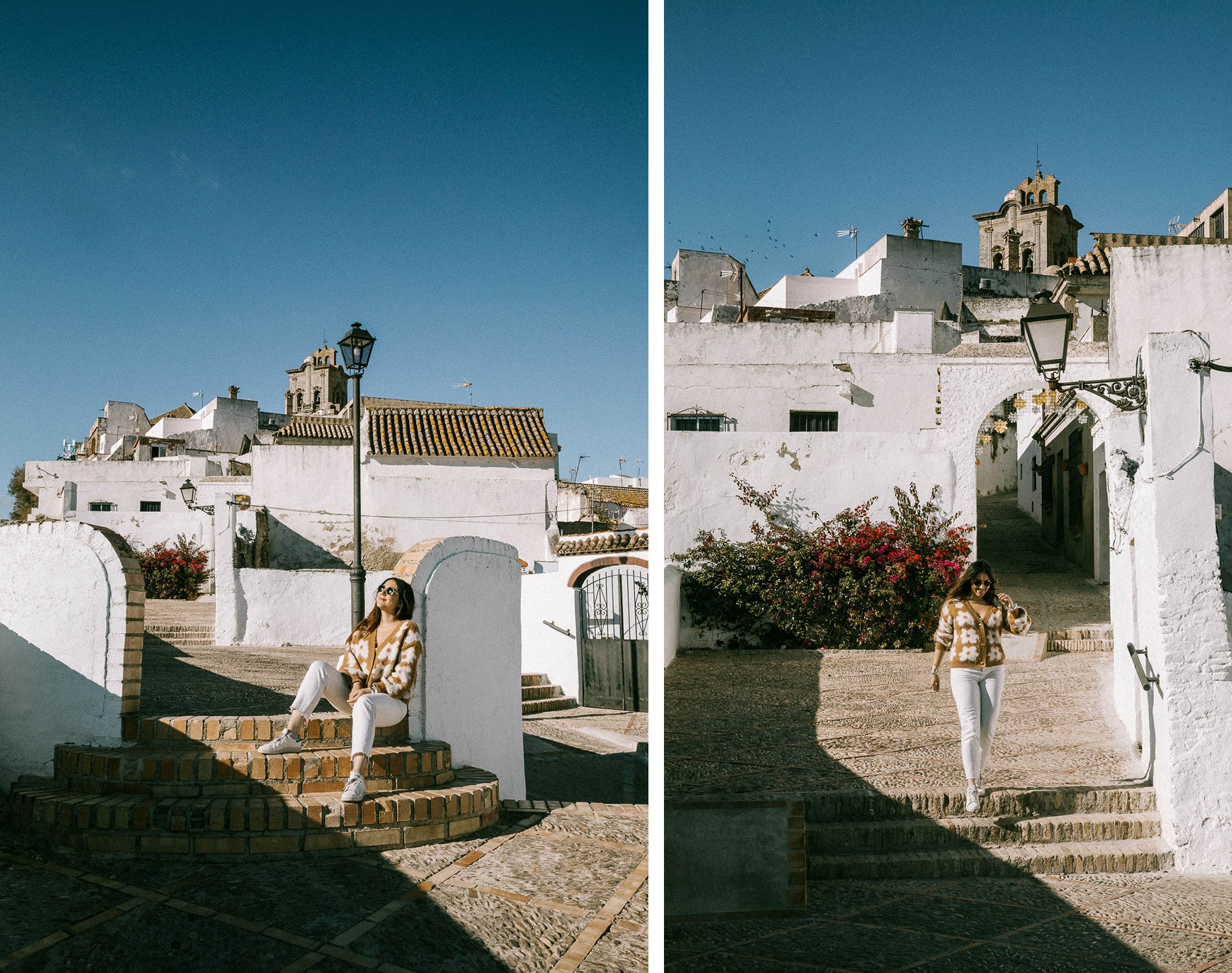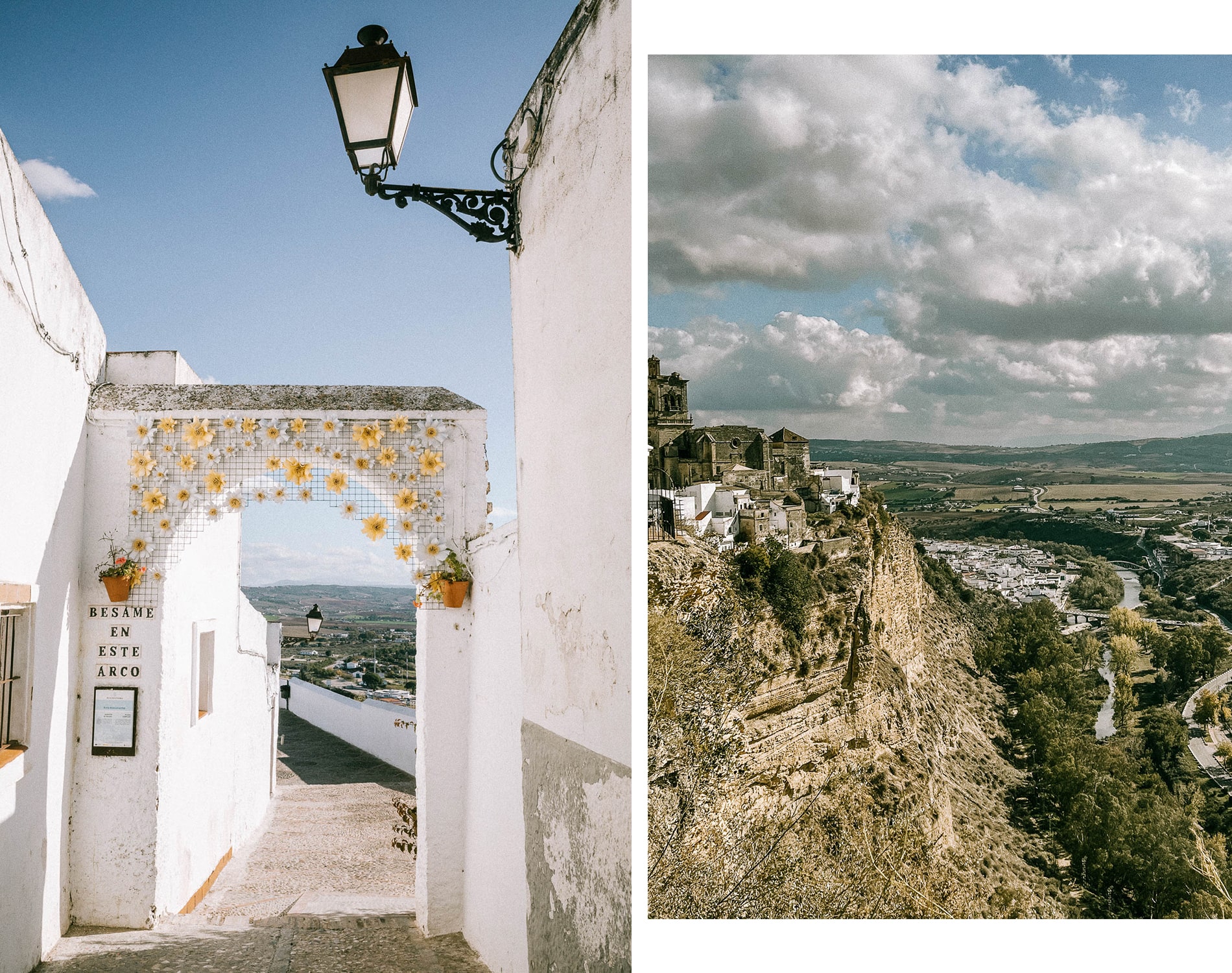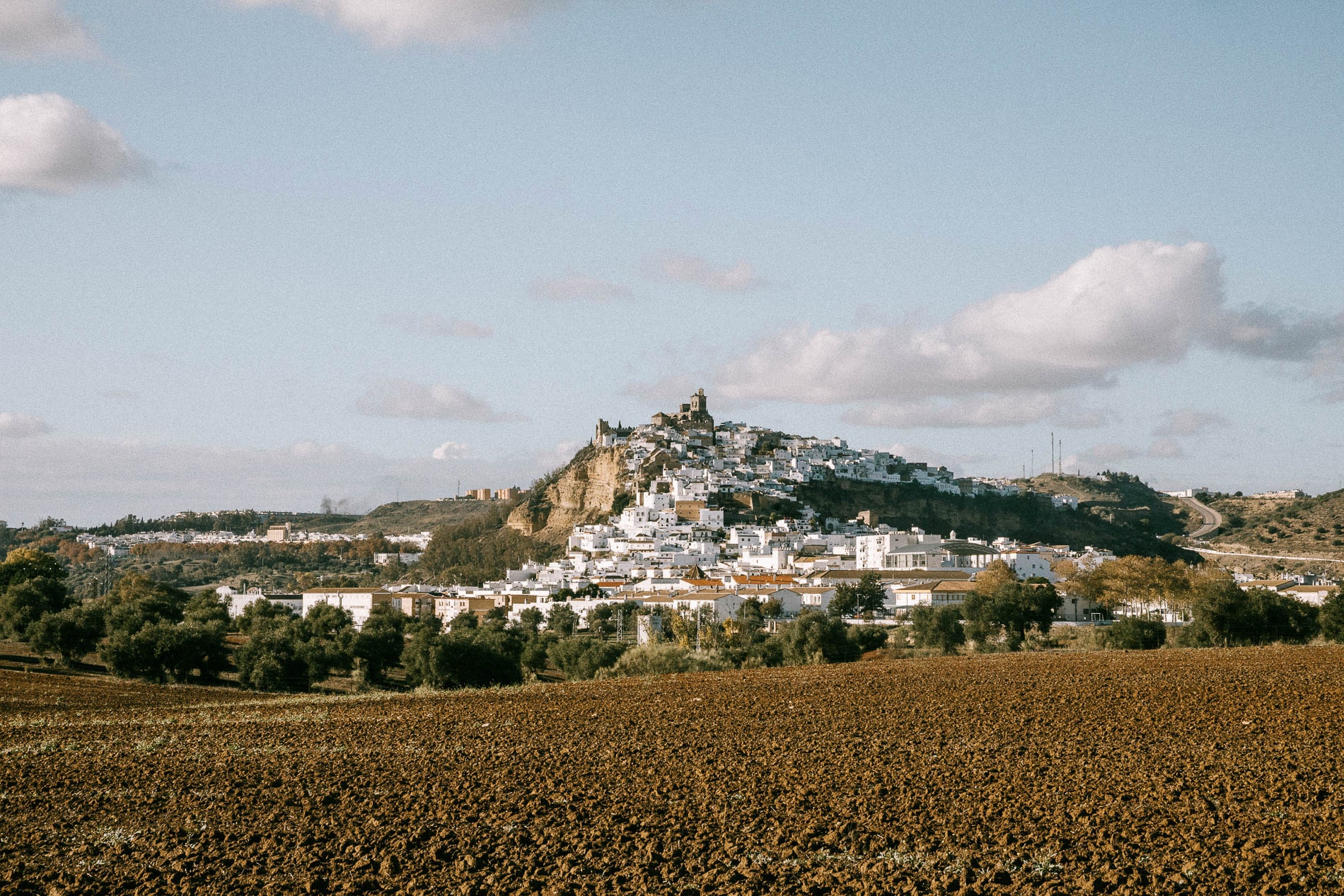 | GRAZALEMA

Nestled in the heart of the mountains, in a valley 800 meters above sea level, Grazalema is a lively, charming, red-roofed mountain village that deserves a little time to stroll through its narrow streets and hike in the Sierra de Grazalema Natural Park that surrounds the city. (which unfortunately we weren't able to do with our 4-month-old son Gabriel when we were there).
Grazalema was one of the first white villages in Andalusia, classified in particular for its architecture and the skills used to build its houses. As a farming region, you'll find some very good local produce, including cheeses, olive oils, honeys and charcuterie, particularly in the small store. « Sabores de Grazalema », Plaza de España n°14. Due to its location in the heart of the valley, it can be quite cold, especially in autumn and winter, when snow sometimes arrives.

Allow 2 hours to visit this village and 2 days, leaving a full day for hiking in the area. Sierra de Grazalema Natural Park. One of the best places to stay in the heart of nature is at « Llano Drum ». Located five kilometers from the center, this eco-lodge is a veritable haven of peace. The establishment's philosophy is to reconnect with nature, so the common areas are designed to encourage relaxation.
Nestled in the middle of the mountains in the heart of the countryside, you can take advantage of this green setting by relaxing by the pool, enjoying the garden, the terrace or simply by the fireplace if, like us, you're staying outside the summer season. The estate also offers horse-riding, but you can also take one of the many footpaths running alongside the estate to discover the surrounding area (ask for the routes suggested by the estate).
Lovers of astronomy will also be able to observe the stars, as Grazalema and the Sierra de Grazalema are one of the most suitable places in Spain for this activity. Also, the exteriors are dimly lit to allow the best possible observation. Last but not least, the restaurant offers two menus each evening (€22/p), breakfasts (€6.50/p) and packed lunches for day hikes. CIt's the ideal place to enjoy Grazalema and its natural surroundings!
Distance Grazalema → Zahara de la Sierra = approx. 30 minutes along a winding road with lovely viewpoints including the Mirador de las Palomas.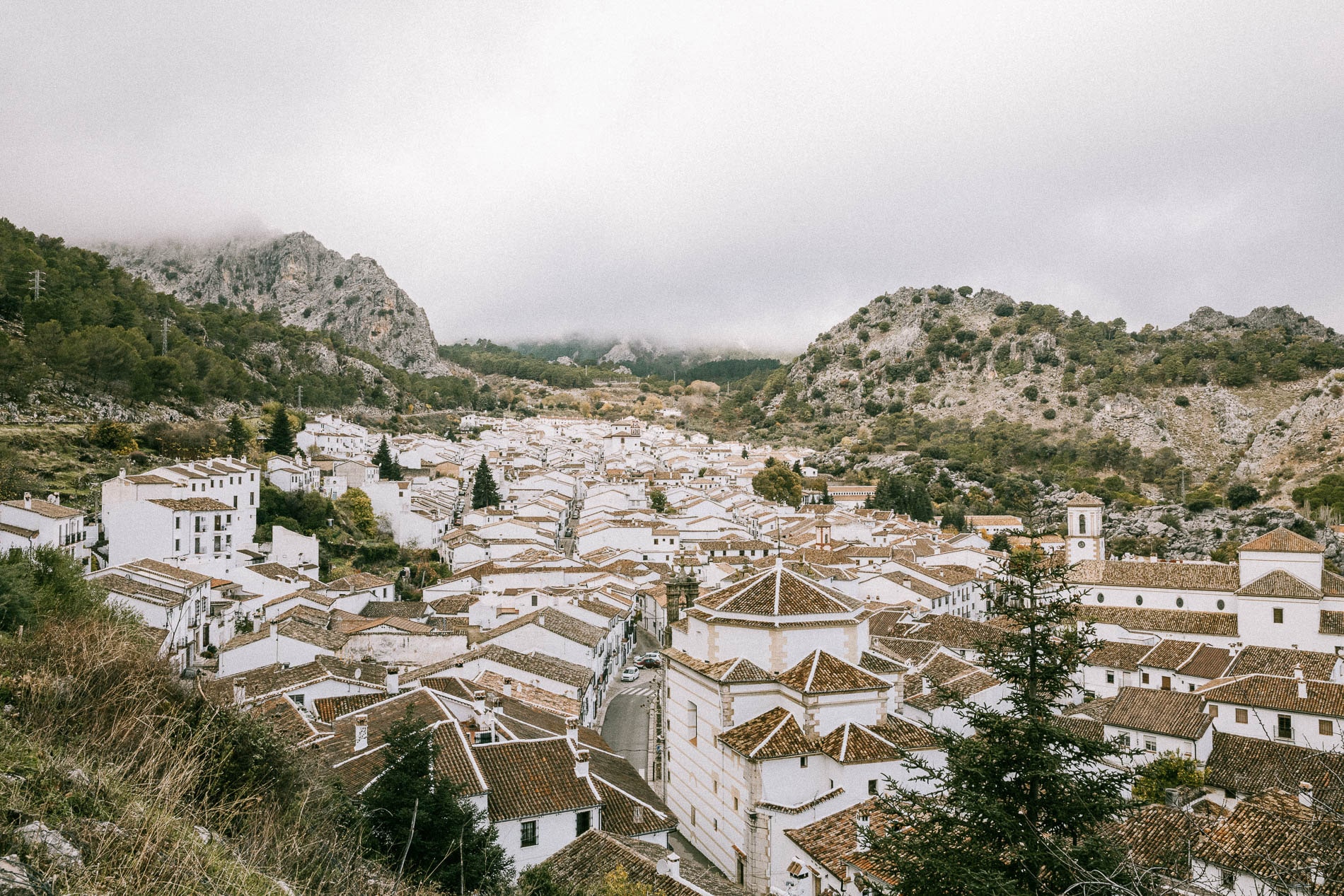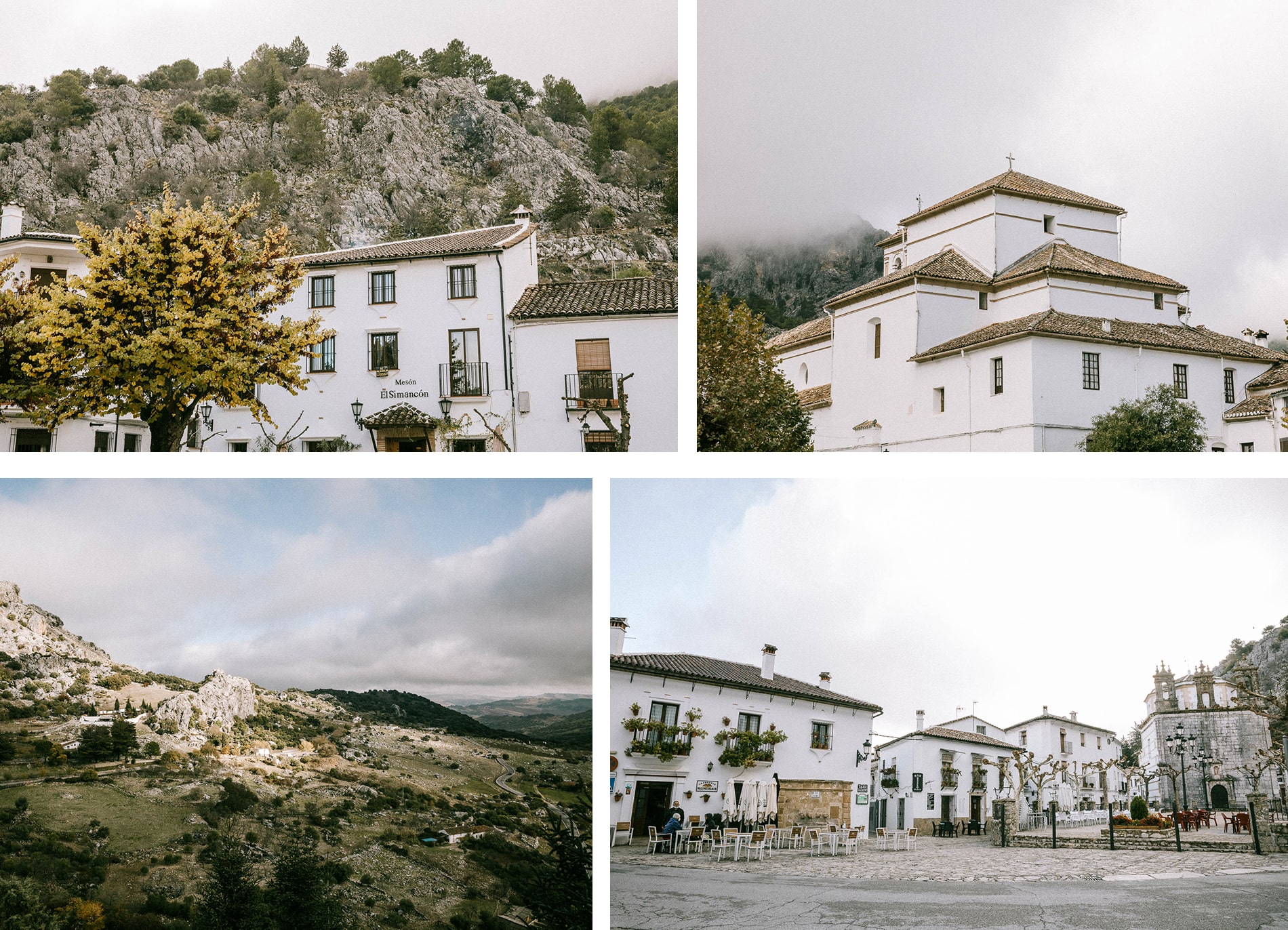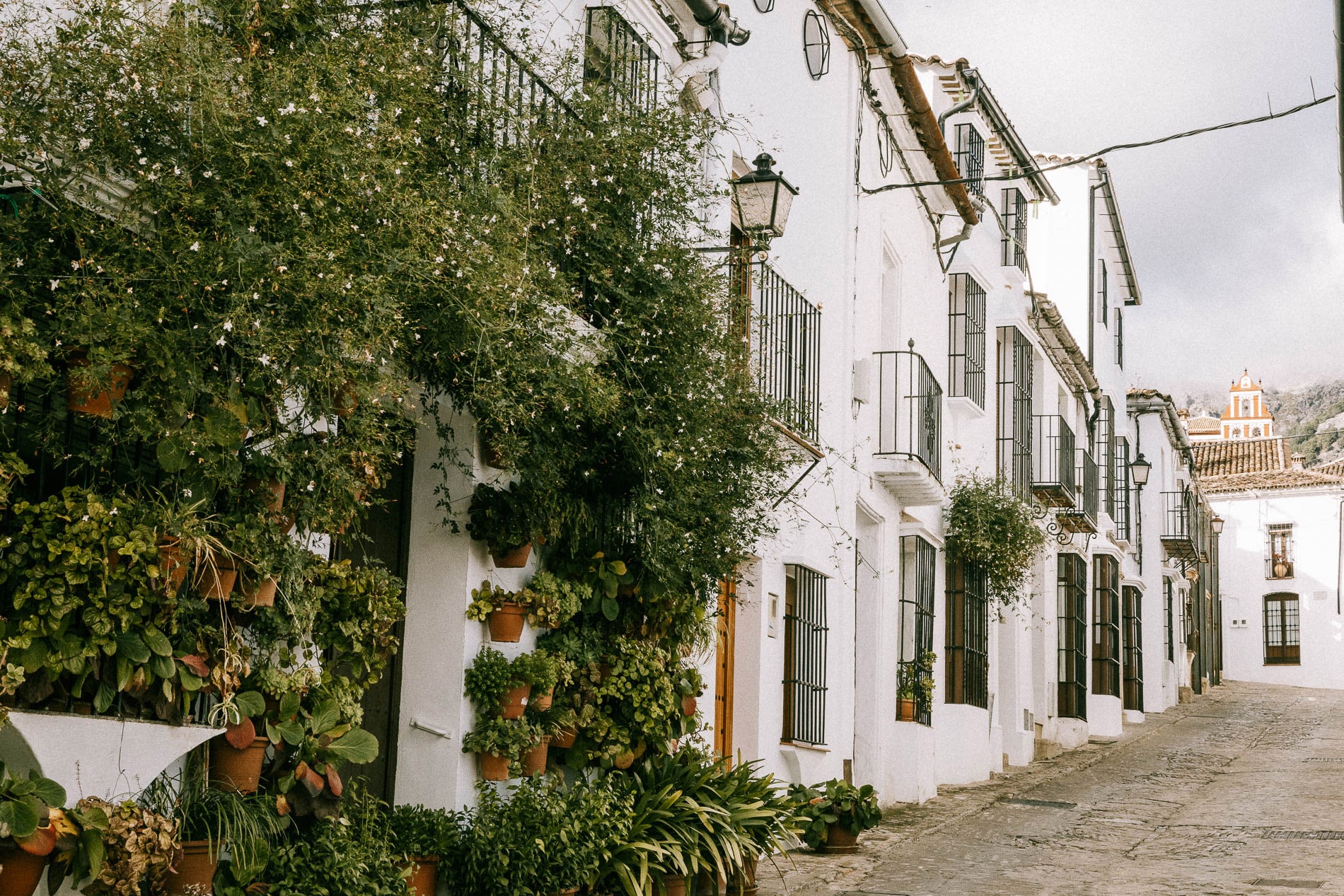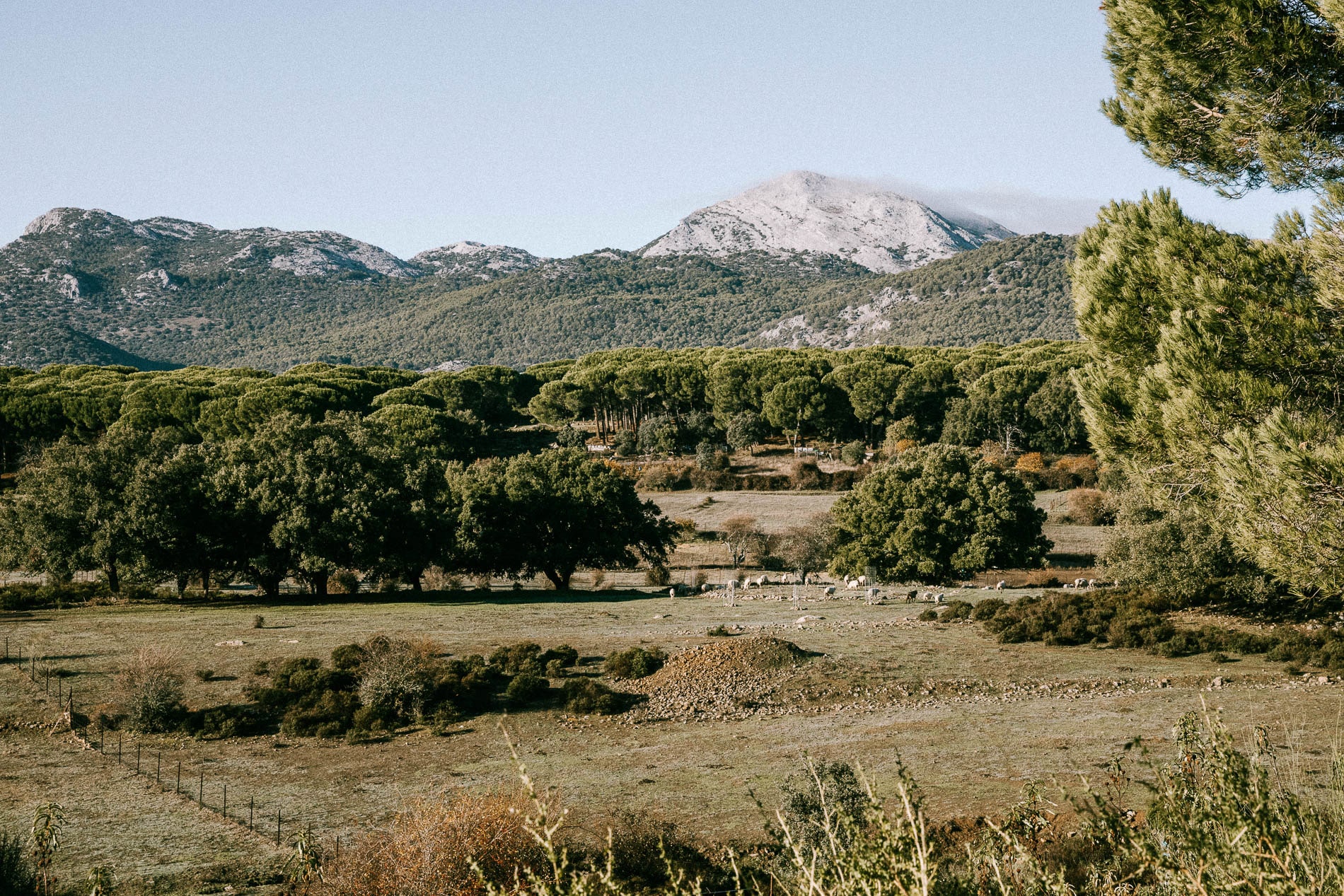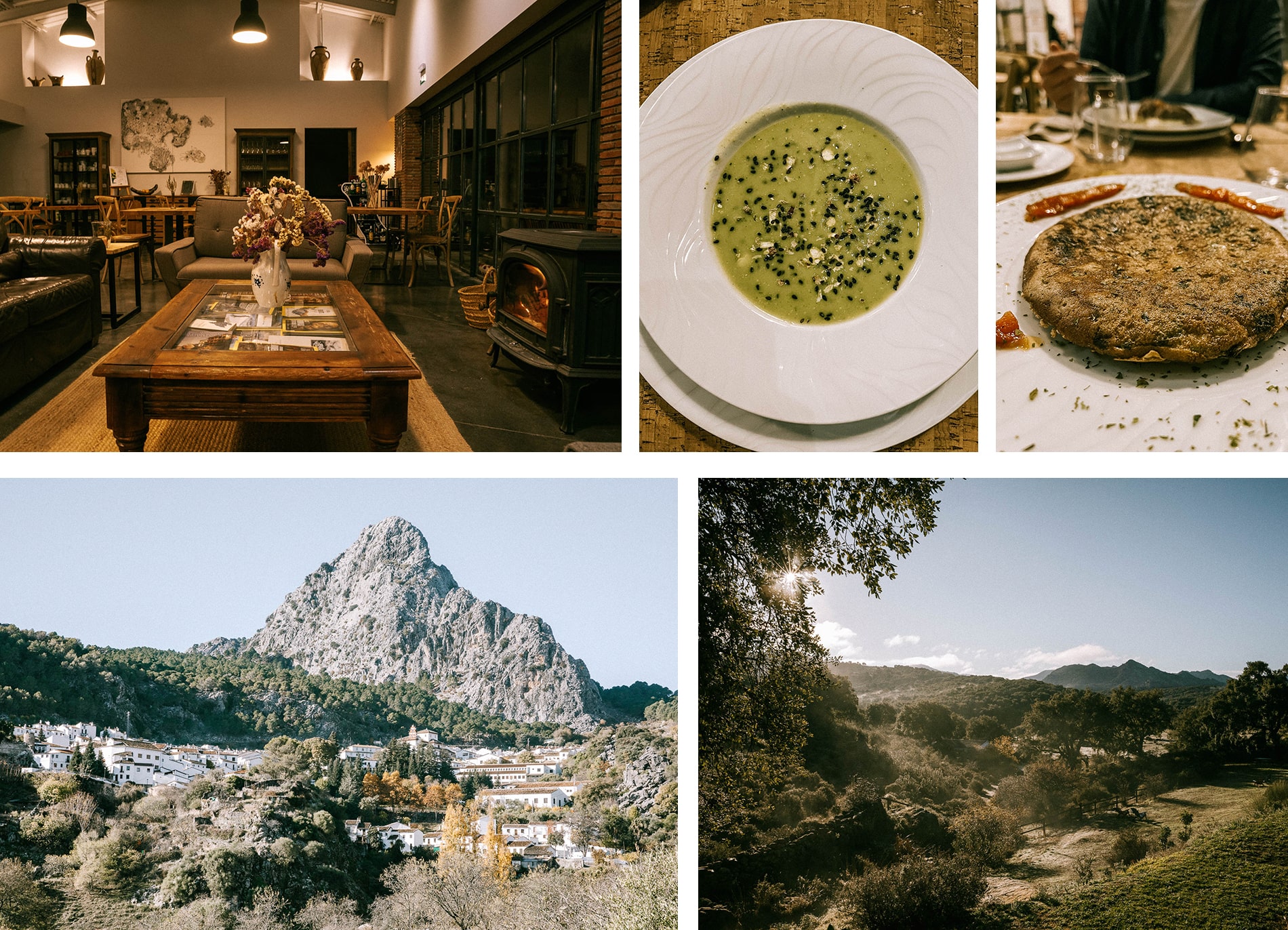 | OLVERA
Olvera is the only charismatic white village we didn't have time to visit. However, we can tell you that this village is worth a visit for the views alone, as well as for its steep streets with white facades and colorful window frames, leading to the church and castle overlooking the town. A stage that takes just a few hours to complete.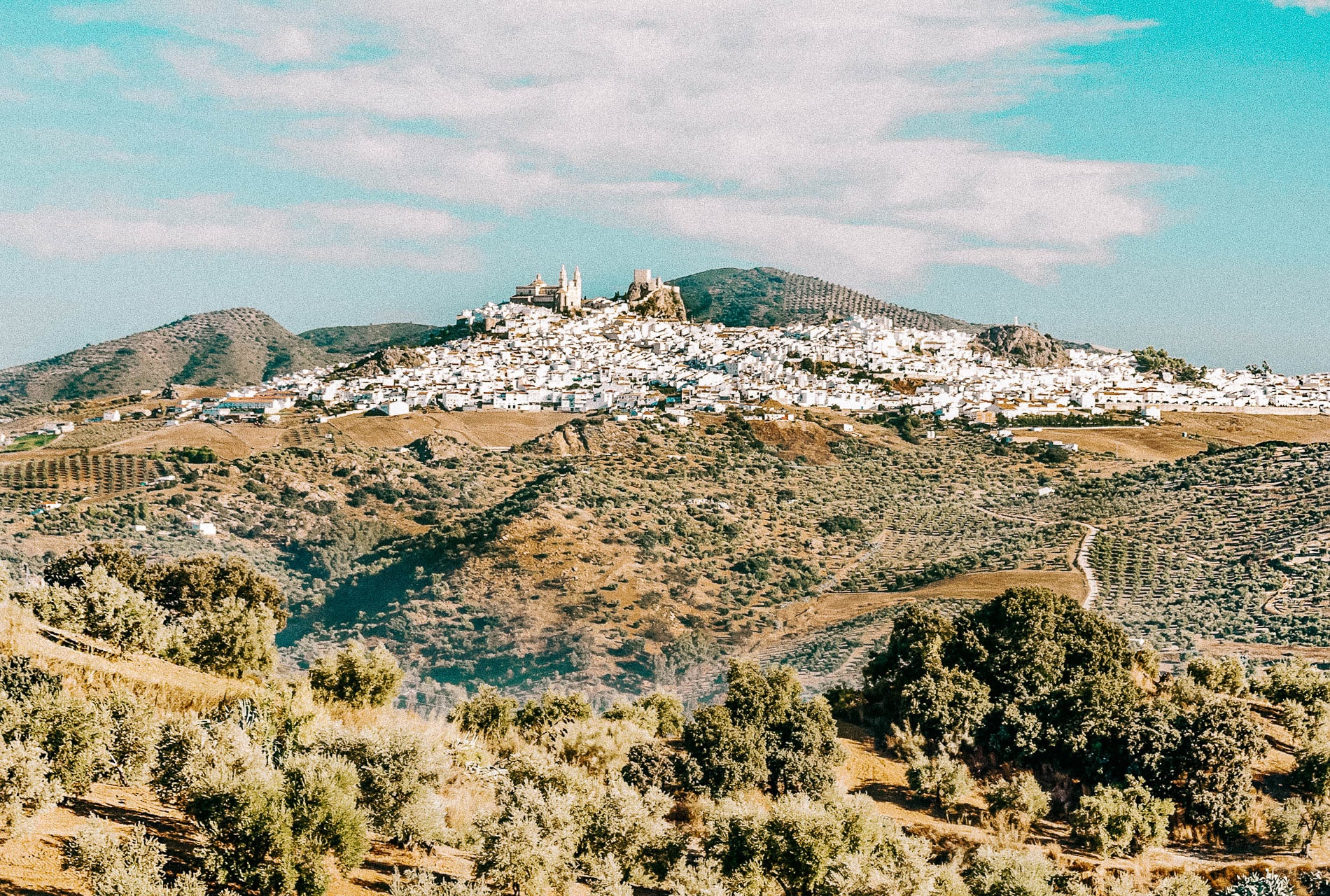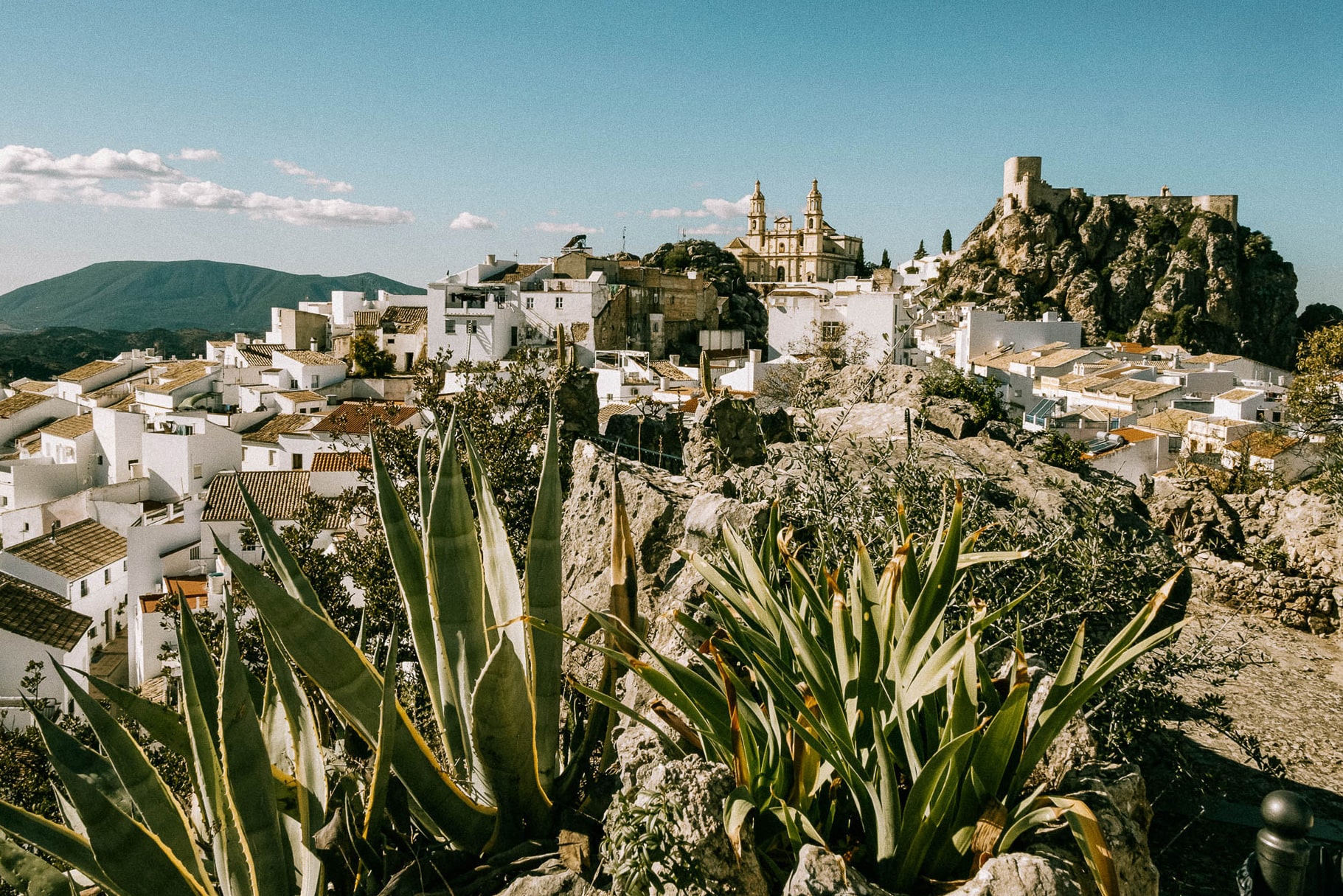 | ZAHARA DE LA SIERRA
From Grazalema, allow 30 to 45 minutes to drive the 16 km of winding roads separating the 2 villages. Especially if you take the time for an (inevitable) stop at the « Las Palomas Viewpoint » offering superb views of the surrounding area.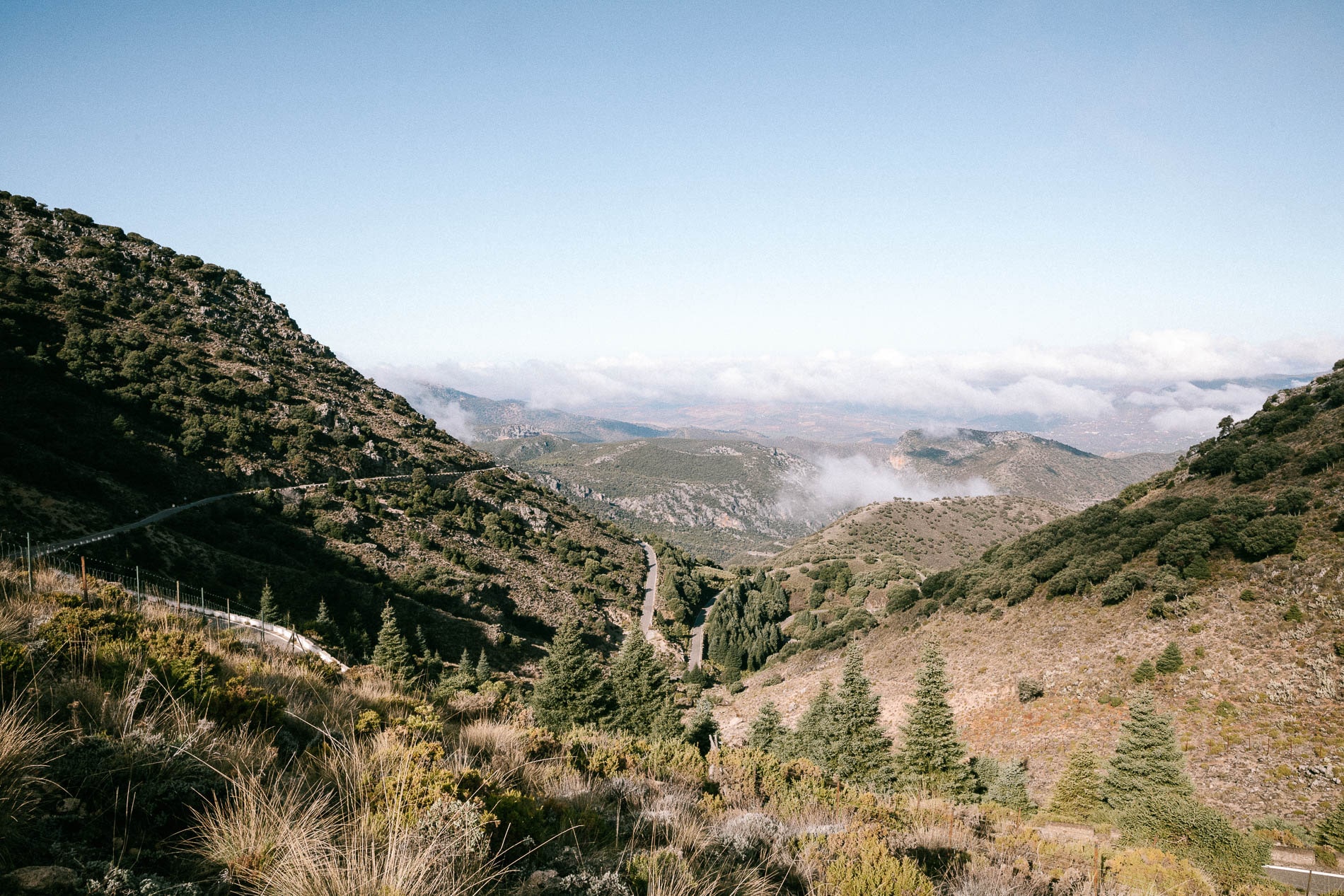 Zahara de la Sierra is a village worth stopping for a few hours to enjoy the heart of this village perched on a hill with its medieval castle at its highest point. It's a lively village with a main street and shops. There are also several restaurants, tapas bars and stores selling local produce.
Quite photogenic, you'll have a fine view from the mirador at the top of Calle Ronda as well as from the calle Fuertes with a beautiful view of the church.
Please note: if you're traveling with a baby, take the baby carrier with you, as it'll come in handy when climbing up to Zahara de la Sierra castle. The castle is also one of the city's highlights, but we didn't make the effort to go up there with our little one and the stroller!
Distance Zahara de la Sierra → Cetenil de las Bodegas = about 50 minutes on a less winding, hilly country road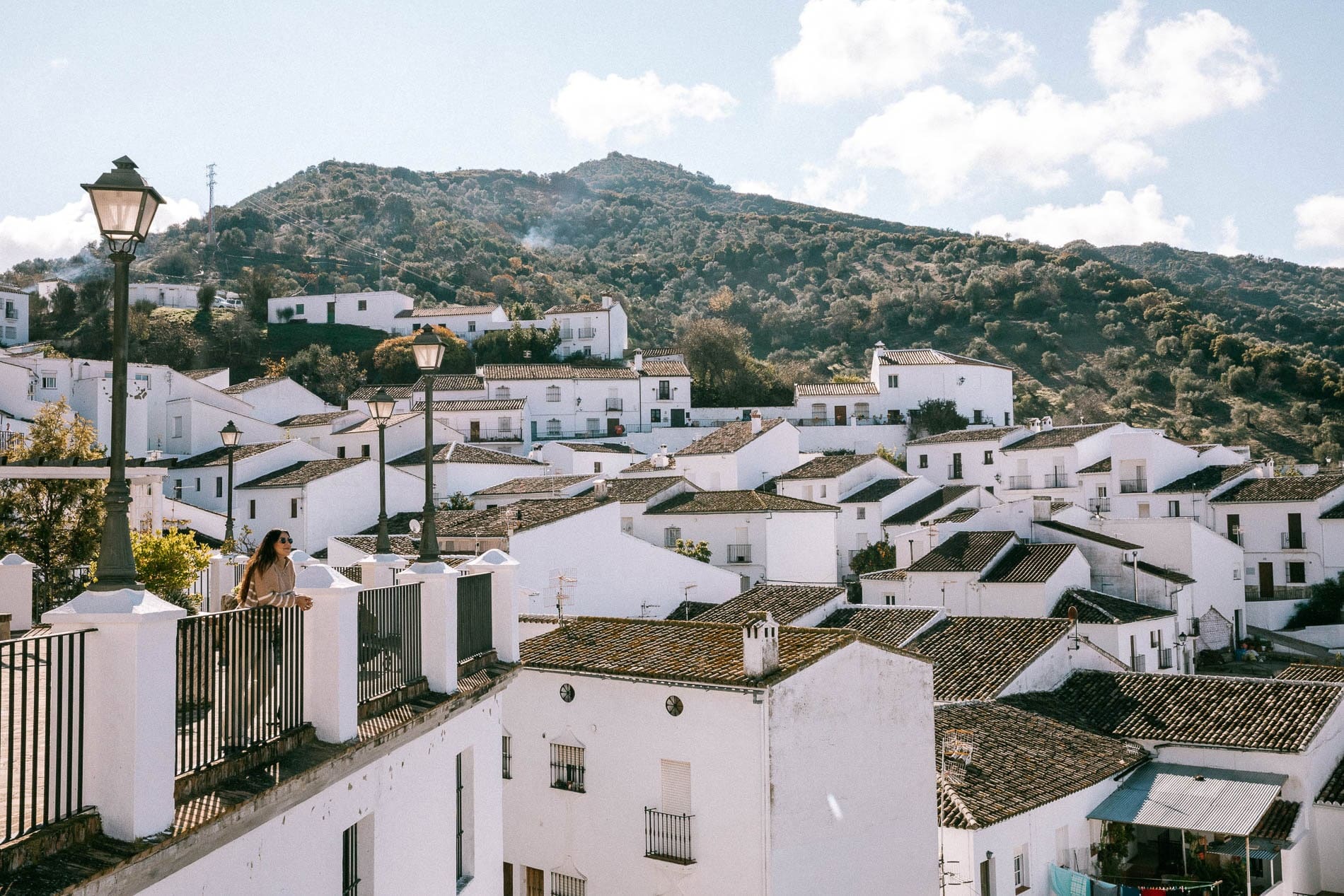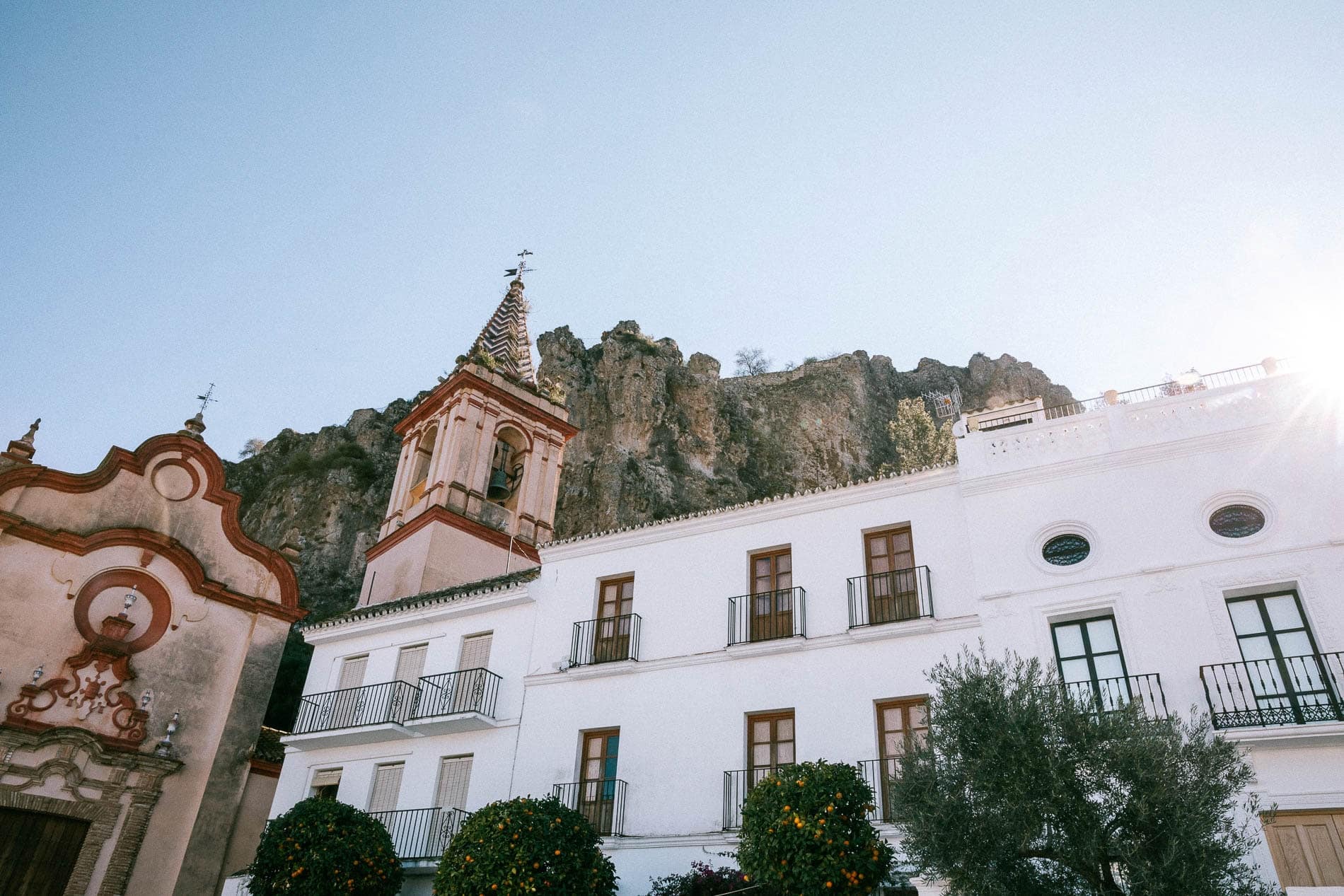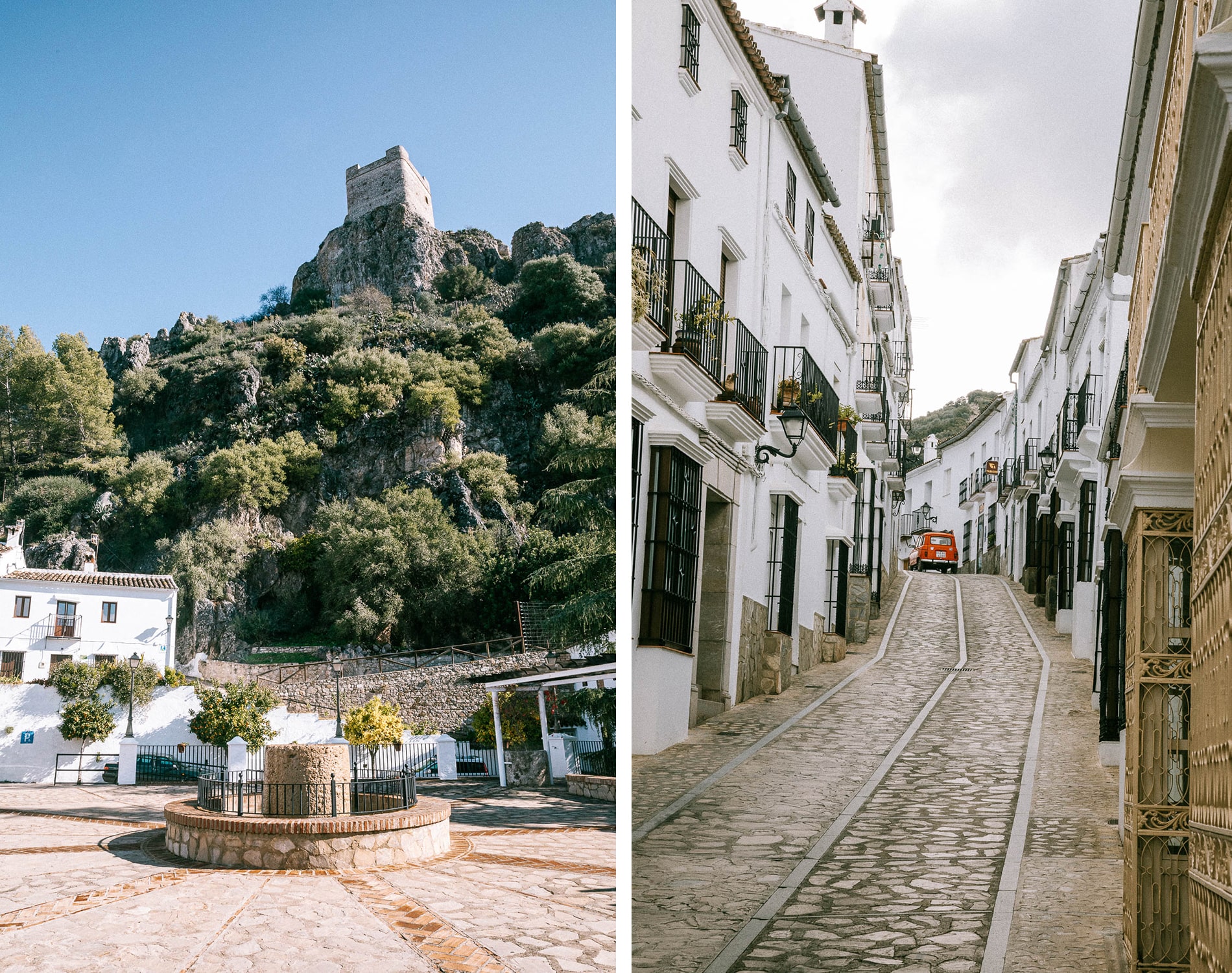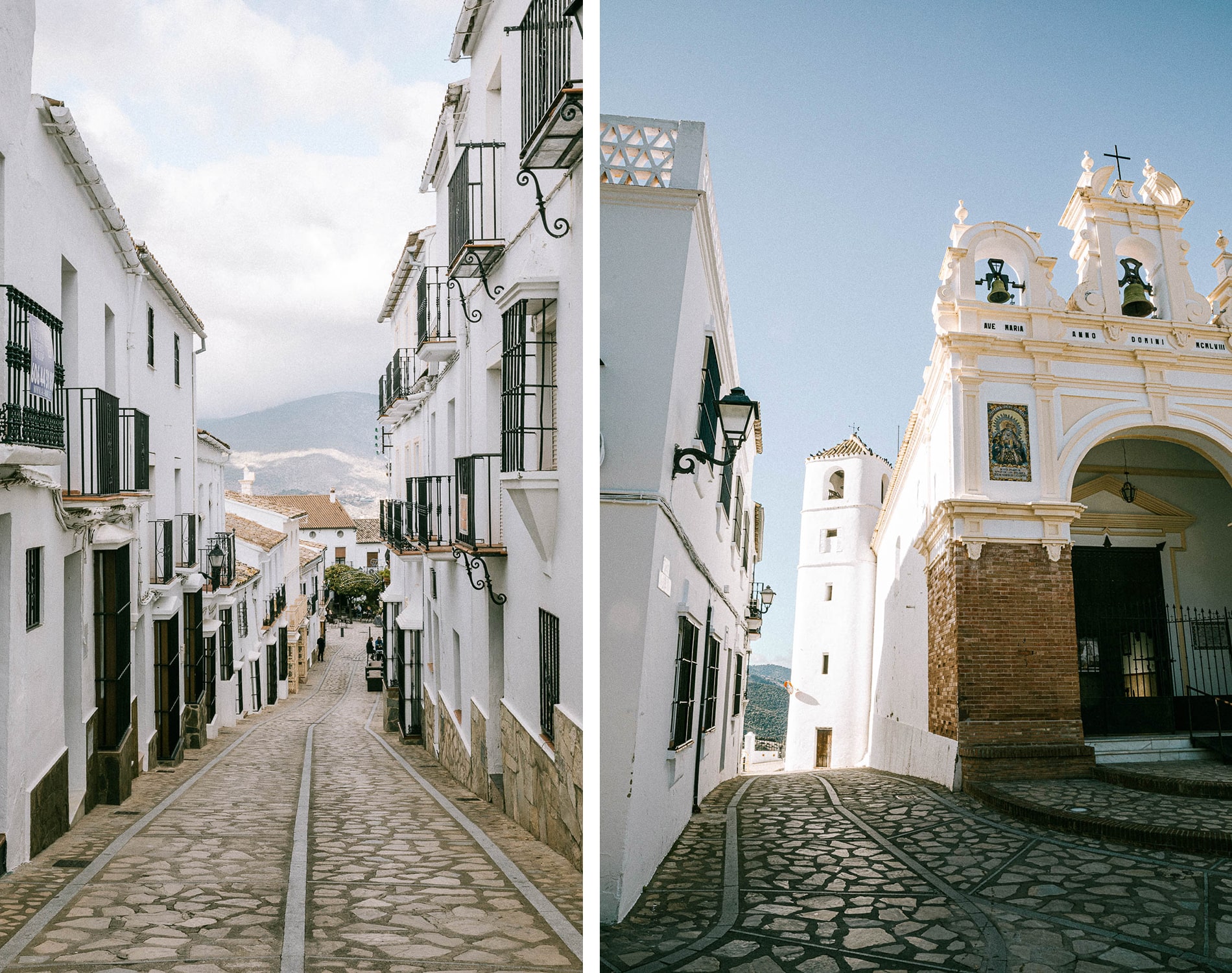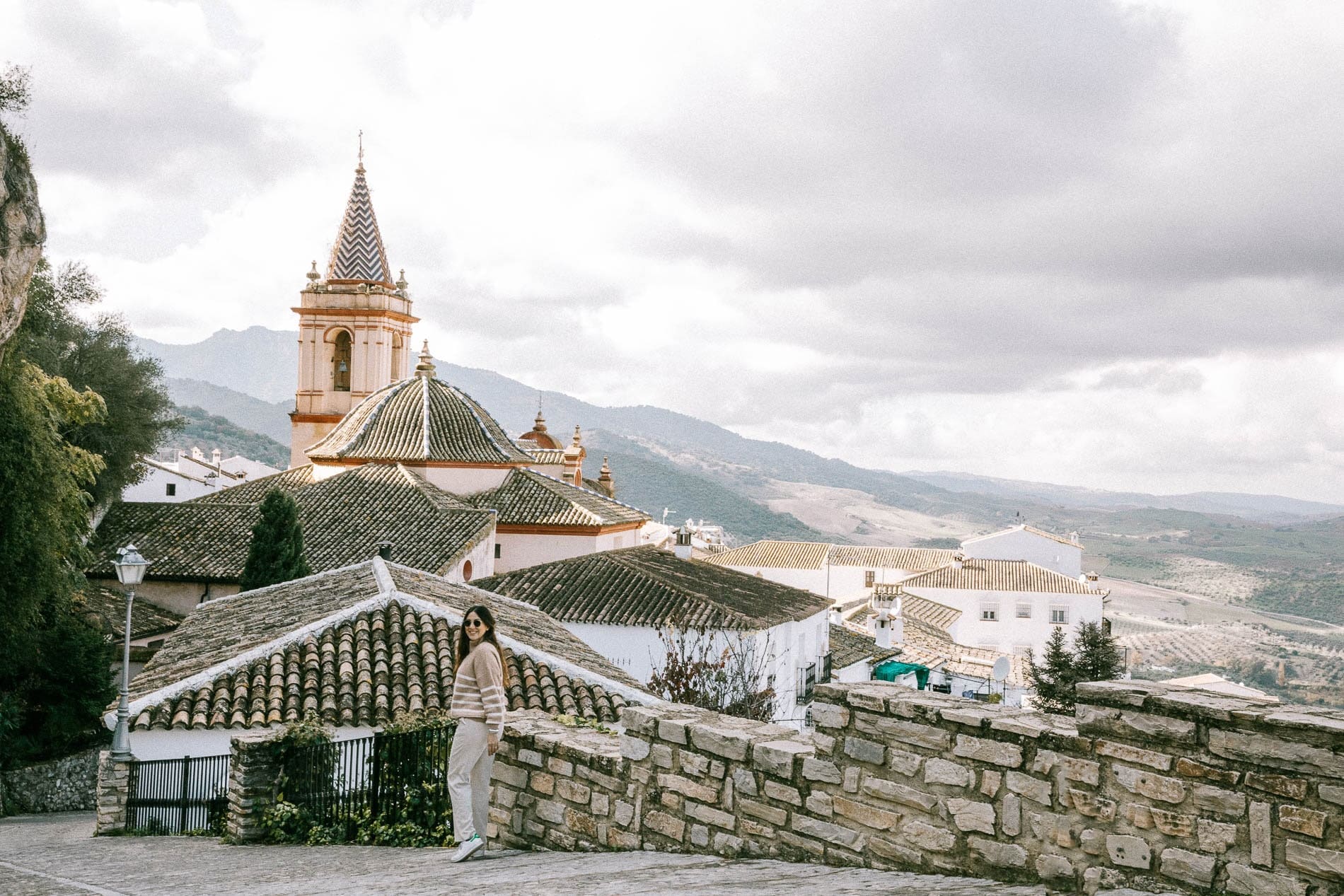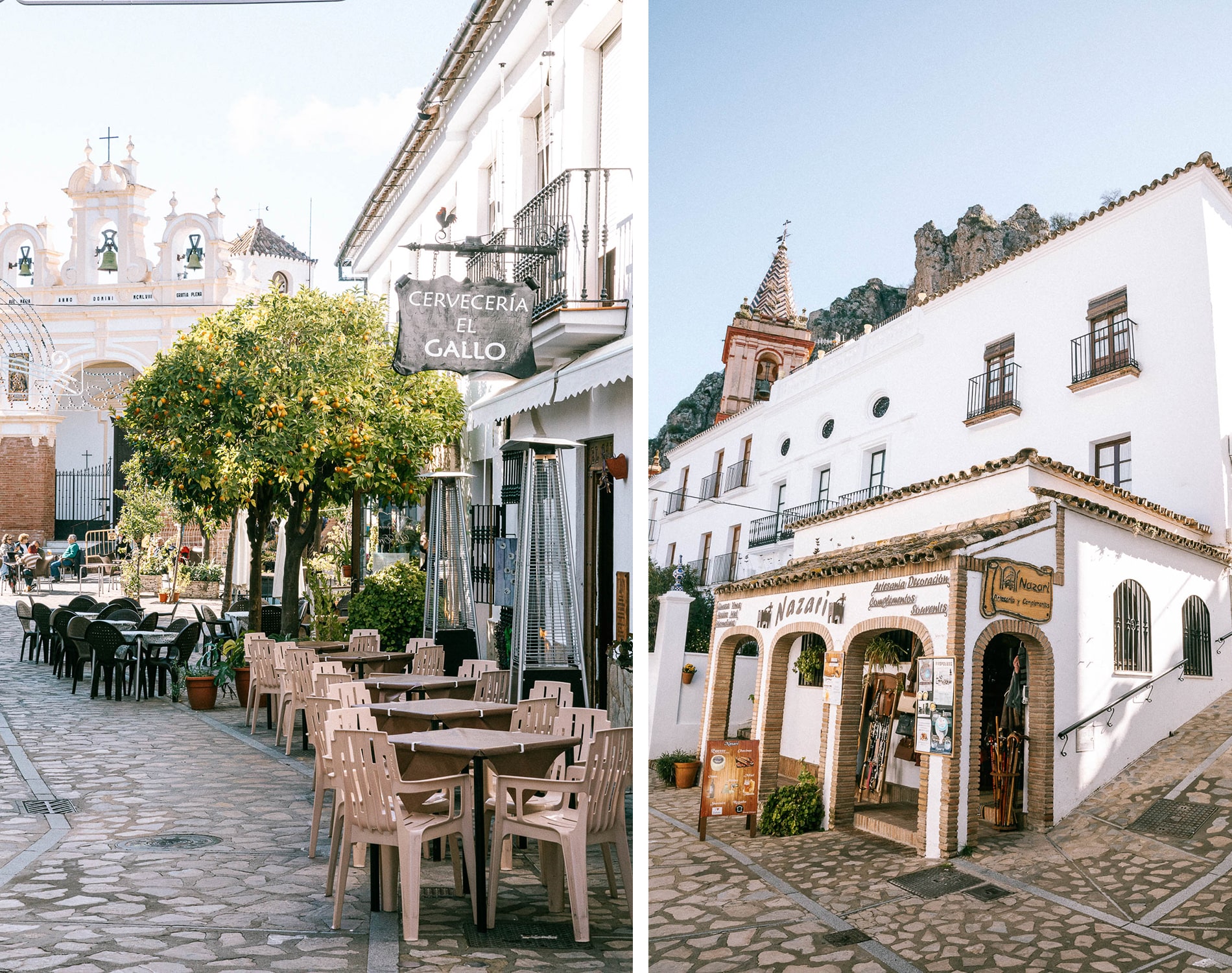 | SETENIL DE LAS BODEGAS
Setenil de las Bodegas is a village with the particularity of being partly troglodyte, which inevitably gives it an atypical feel. Nestled in a fault carved out by the river, its streets are partly covered by rock, but beyond the 4 photogenic streets, it's not the village that impressed us the most. Here you'll find mainly restaurants, tapas bars and a very nice grocery store, "la Dehesa", where you can taste and buy local charcuterie, cheeses and wines. We recommend you try a cheese and sausage board or a bocadillo accompanied by a local wine, which will give you an idea of the quality of the regional products, including Spanish wines, which have become much better quality in recent years. A tour of the village takes no more than an hour.
Access
Access to the village is easy by car, with parking just a few minutes' walk from the village entrance. Roadside parking is also available.
Distances
From Setenil de la Bodegas to Mijas → 1h20 drive
From Setenil de la Bodegas to Ronda → 20 minutes by car
From Setenil de la Bodegas to Seville → 1h40 drive
From Setenil de la Bodegas to Malaga → 1h30 drive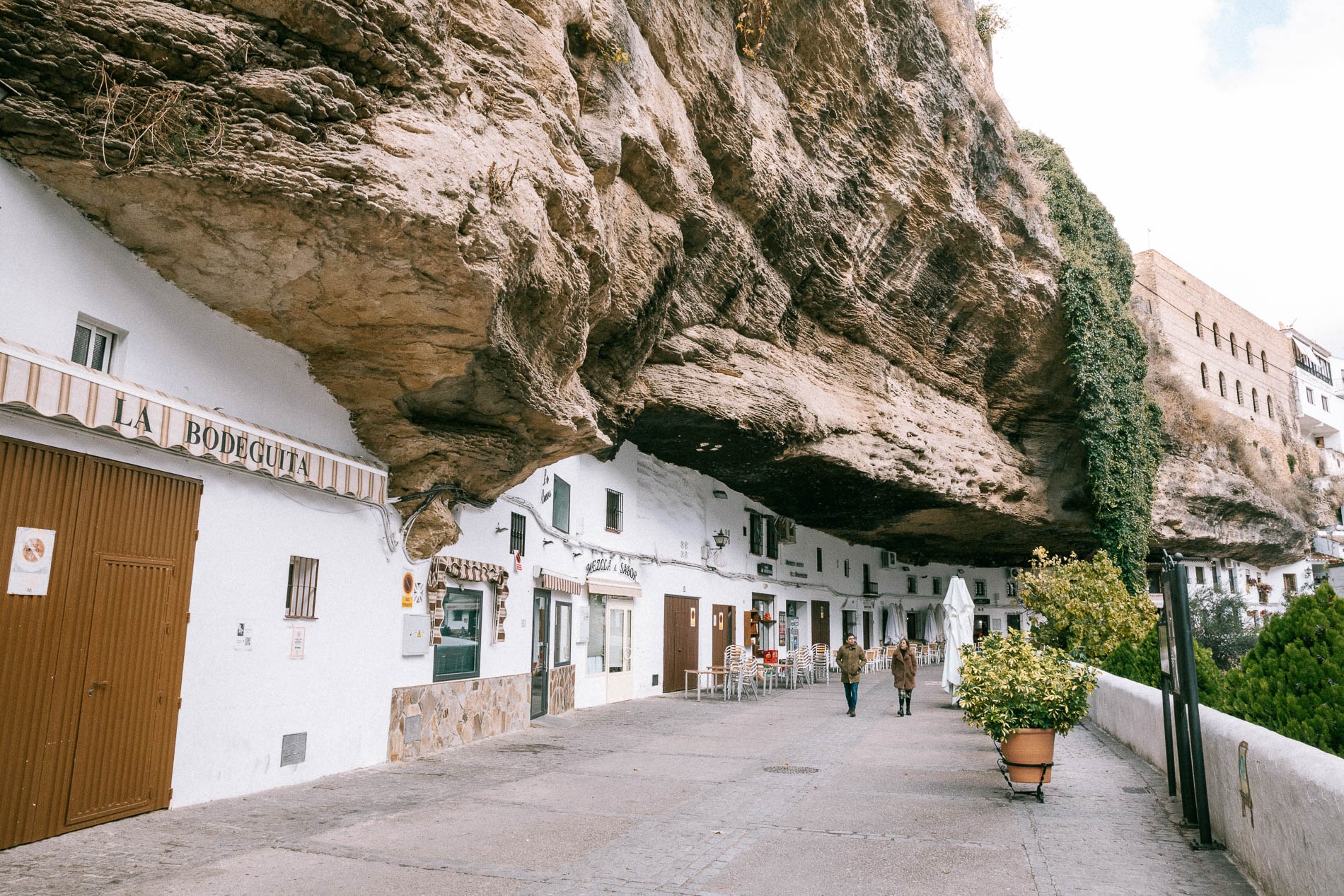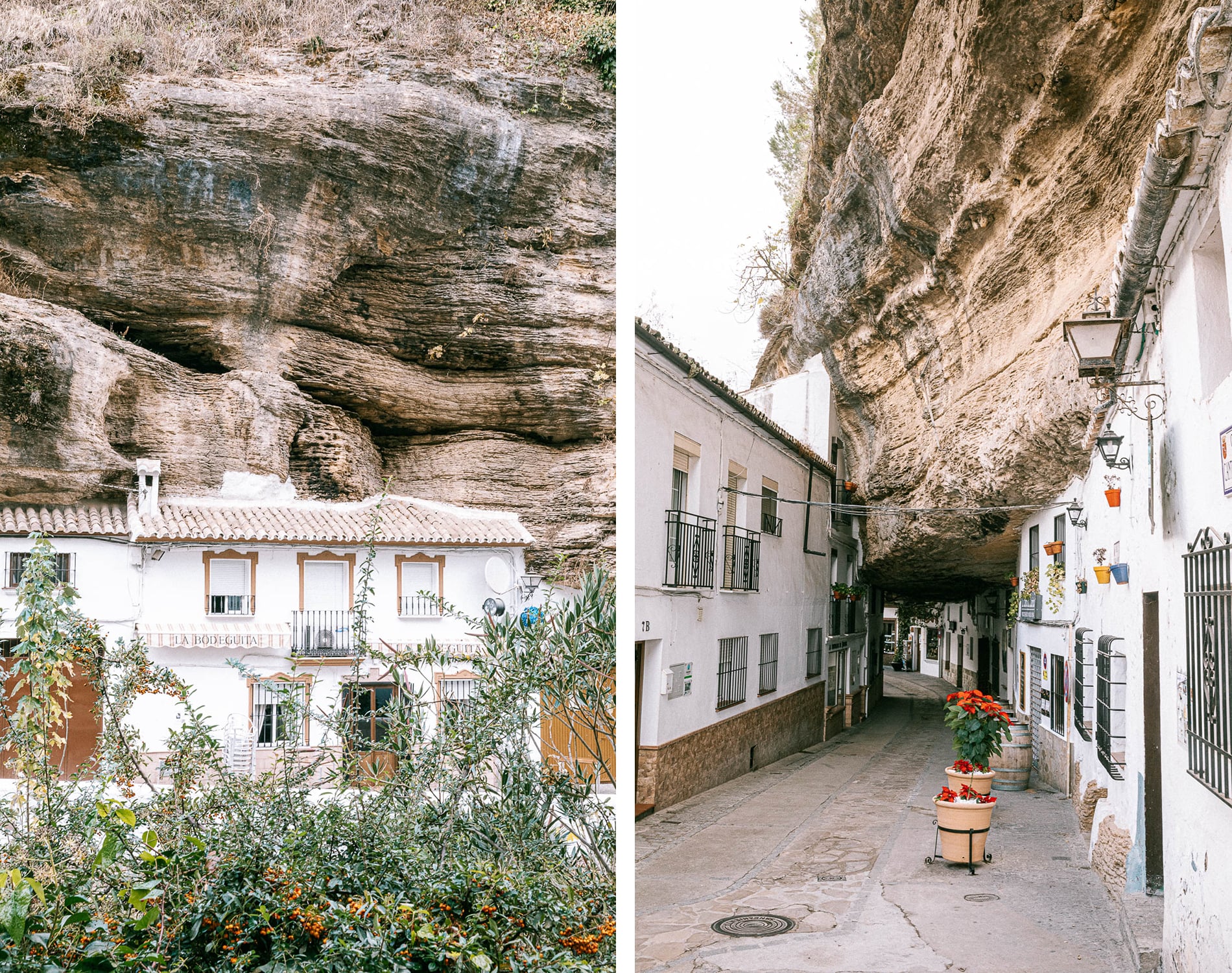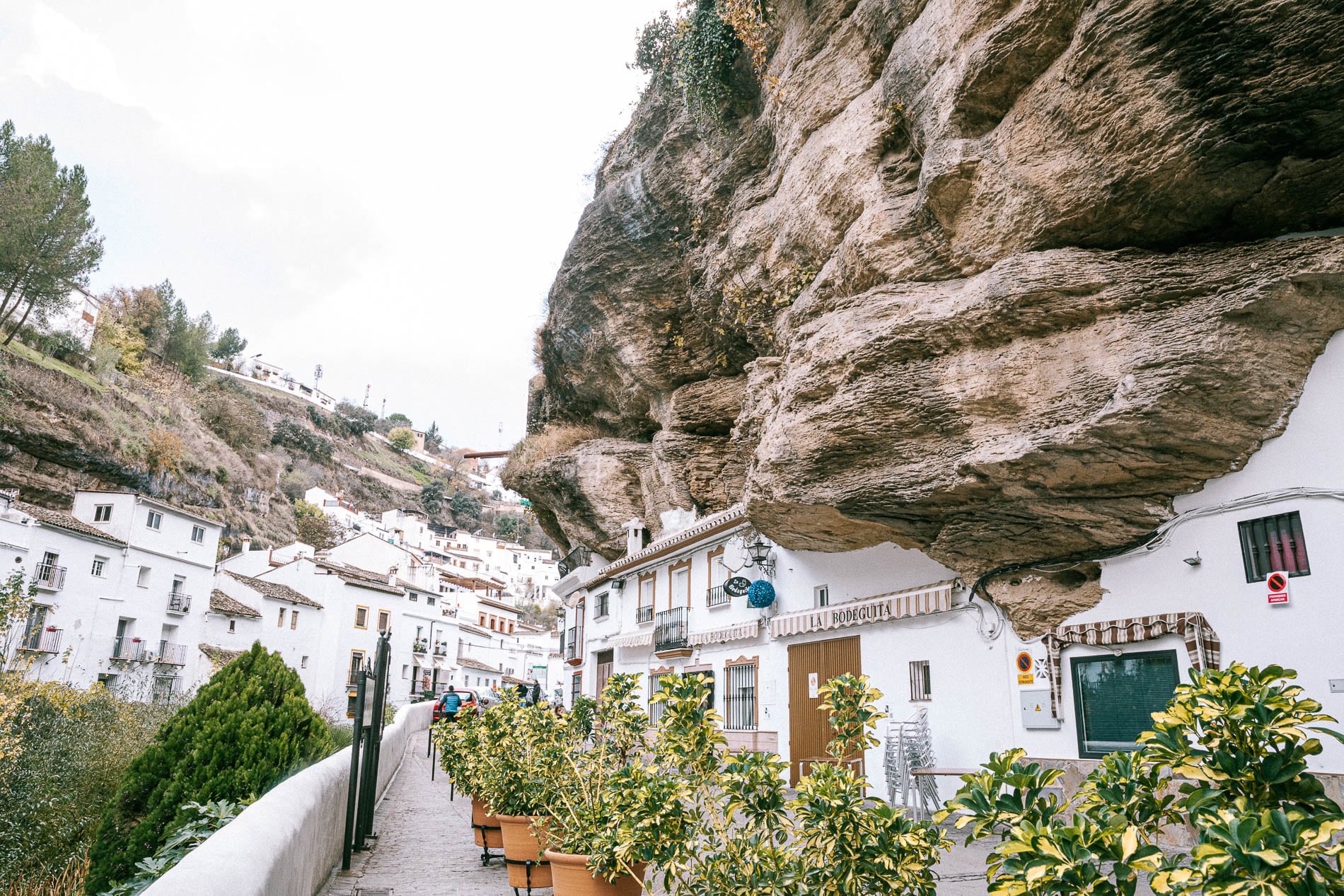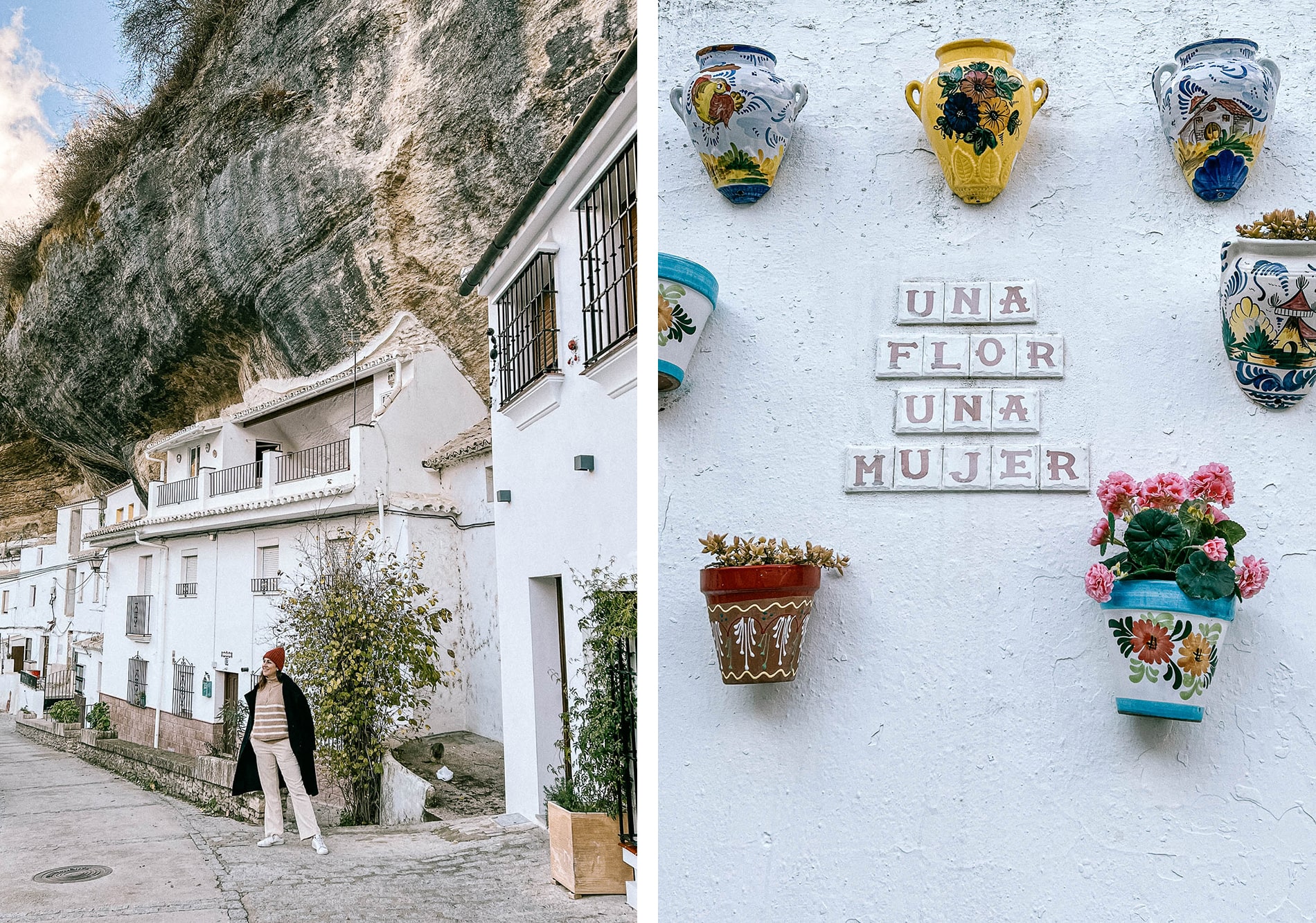 | RONDA
Strictly speaking, Ronda is not one of the white villages. And for good reason: this is a town of several thousand inhabitants whose facades are anything but white. But Ronda is located on the Route of the White Villages, just a few kilometers from Setenil de la Bodegas, which is why we've decided to tell you all about it, as it's a stopover you won't want to miss.
One of the region's historic towns, Ronda was a stronghold of the Moorish in the 15th century, who fortified the town and left us with some masterly architectural works. First, the New Bridge overlooking Tojo Gorge dug by the River « Rio grande ».
This oversized bridge marks the entrance to Ronda's old town on the way to the castle. « the House of the Moorish King » and its garden overlooking the gorge.The château can be visited for €7/adult and €3.5/child.
Further north is the other entrance to the old town, the « Old Bridge ». From this bridge, you can access a small park running alongside the gorge, giving you a superb view of the gorge and the château gardens on the other side of the river. Down the old steps below this bridge, you'll reach the Arab baths. For us, it's Ronda's greatest discovery.
The remains of these baths are in an excellent state of preservation, and you can easily understand how they were designed thanks to the video projected in one of the rooms. Thehe central room, made of vaulted arches where Arabs used to come for massages, is absolutely breathtaking. Admission to the site is €4.5/p and well worth it.
In the more modern part of town, all interests are concentrated in a few streets. From the gorge, you can walk along the boardwalk making the Parador hotel tower then join the bullring and Parc Alameda del Tajo along the cliff face before finishing the walk on the Place Del Socorro perpendicular to the city's main shopping street.
Allow a full day for a leisurely visit to Ronda if you want to see everything, and a hefty half-day if you don't want to linger over all the sites.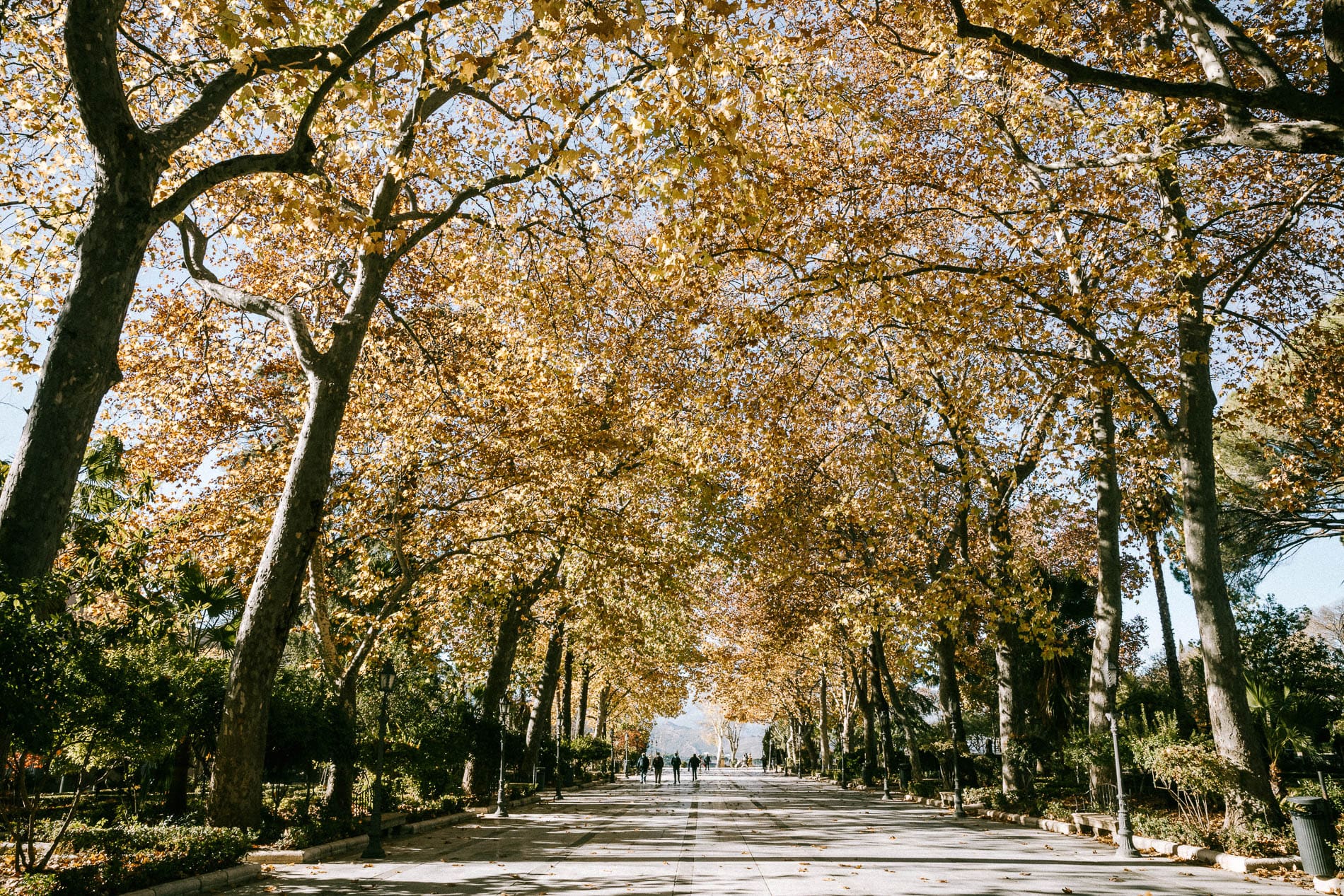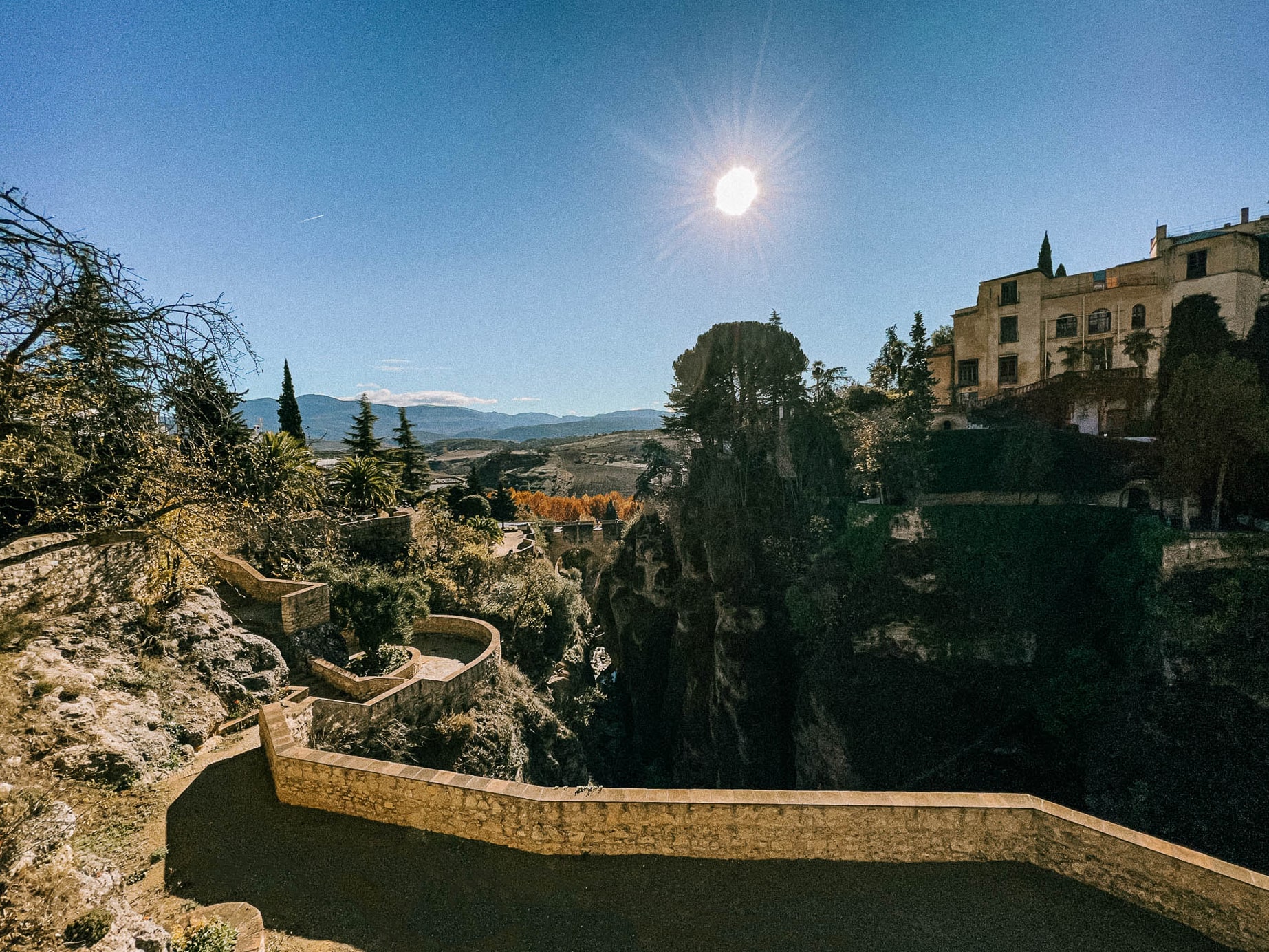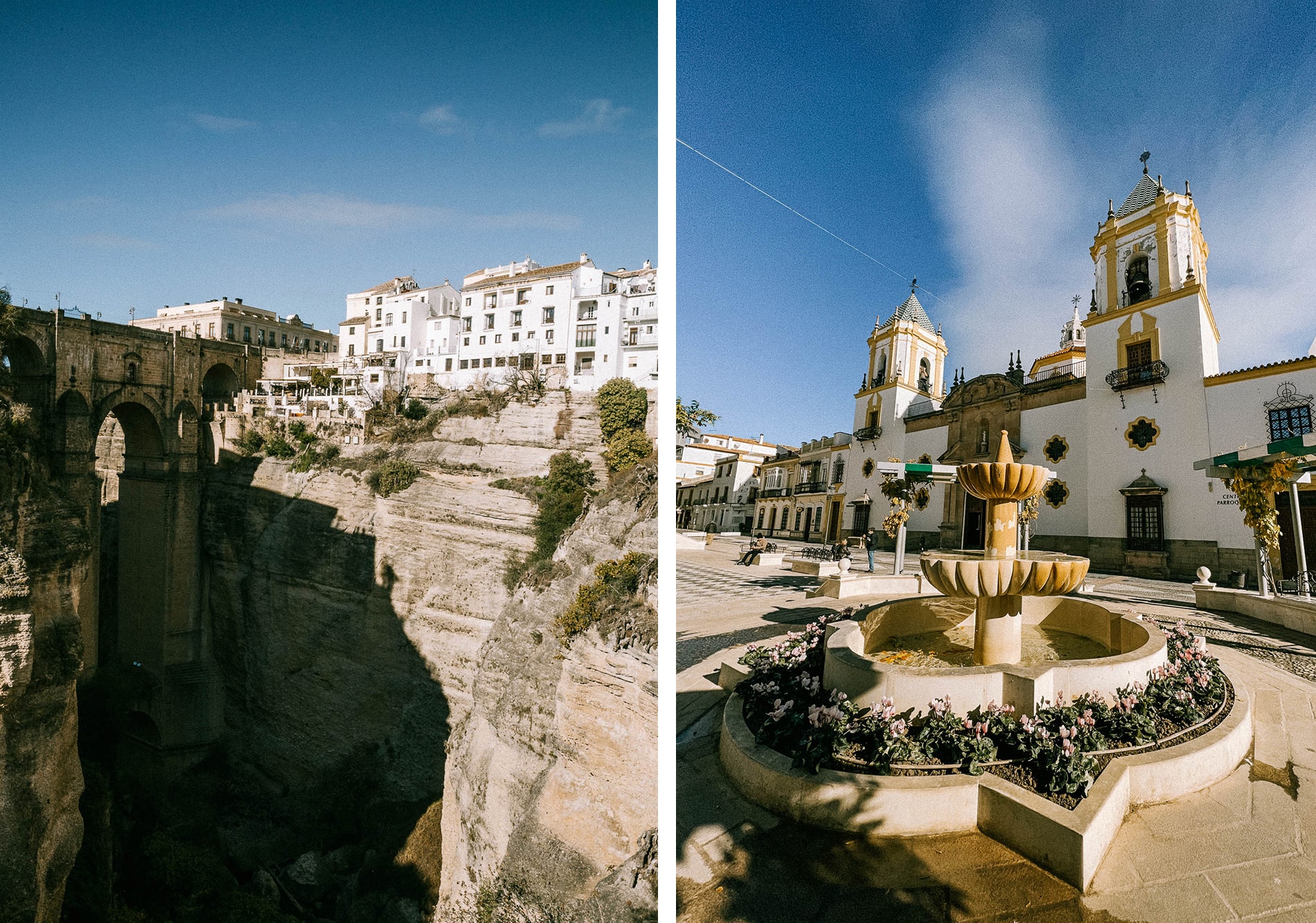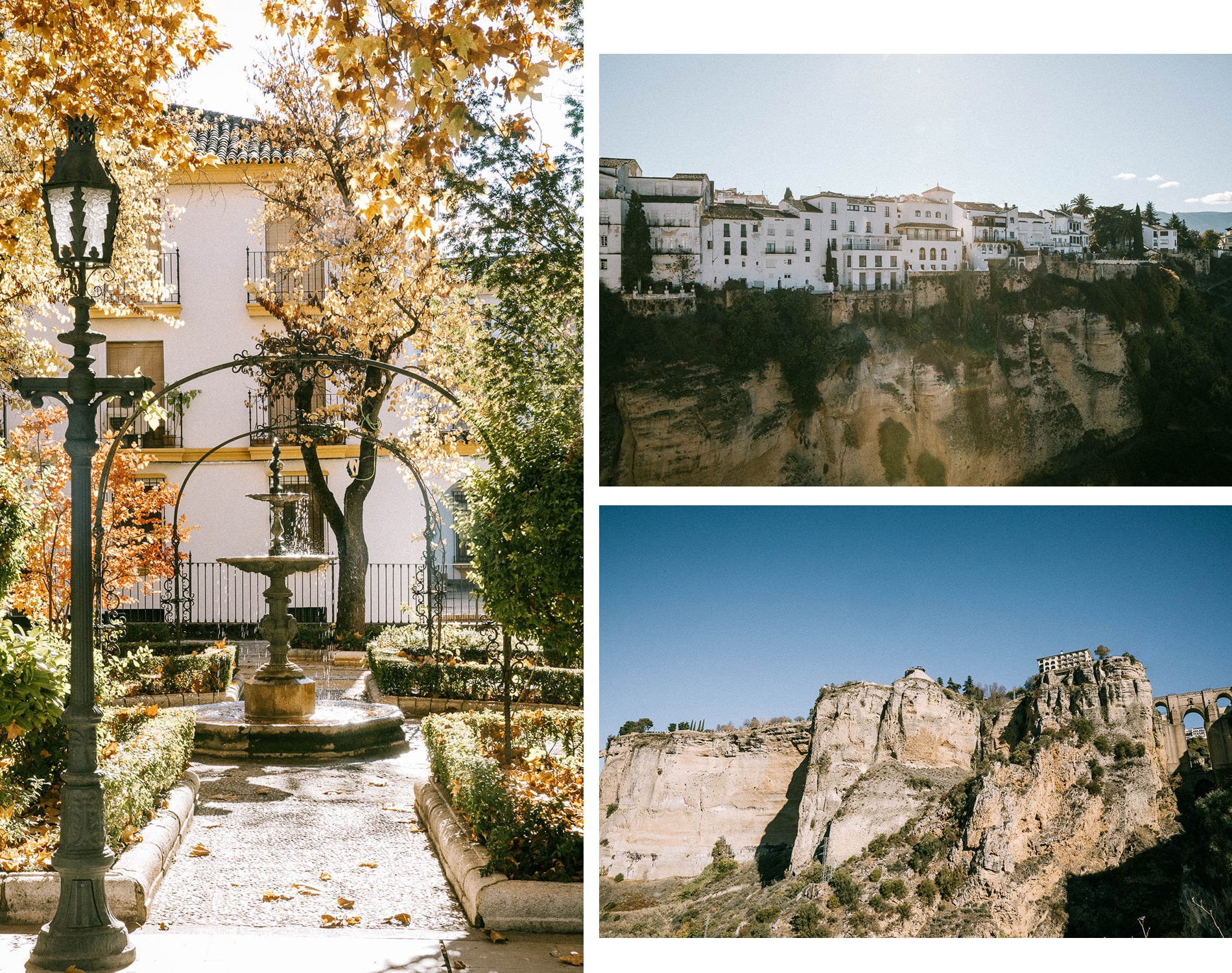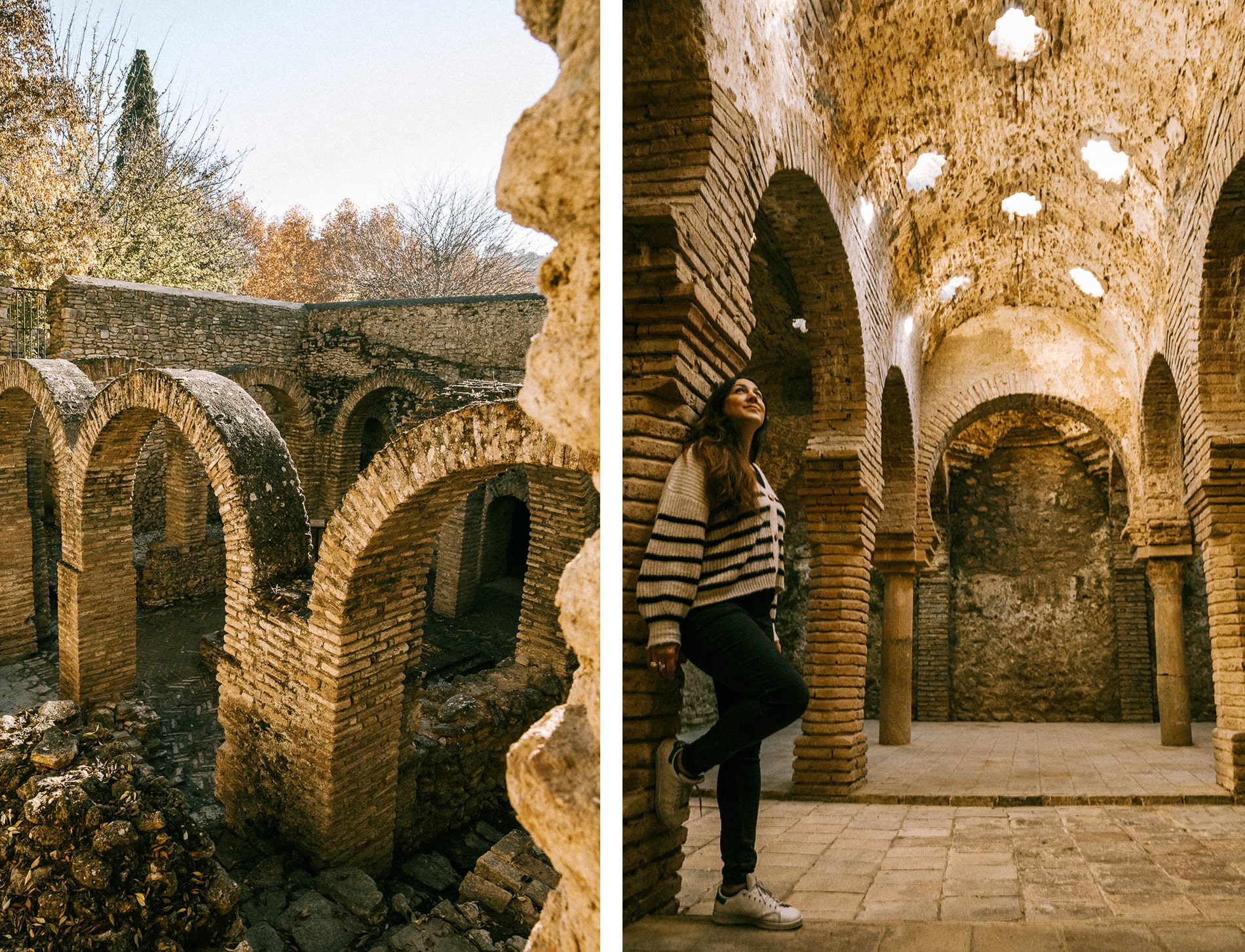 Good to know : The access to the bottom of this famous bridge is quite steep, so take the baby carrier as the stairs are paved. The evening lights are still particularly beautiful, but in my opinion the best time to photograph the bridge is at the end of the day and early evening.
If you only have a stroller, there's a viewpoint on the other side of the city that allows you to see it from a different angle, join the « Hoya del Tajo Viewpoint » . You can park free of charge in a small, uncrowded parking lot. The first climb is fairly short and easy, even with a baby in your arms. The second part of the trail is narrower.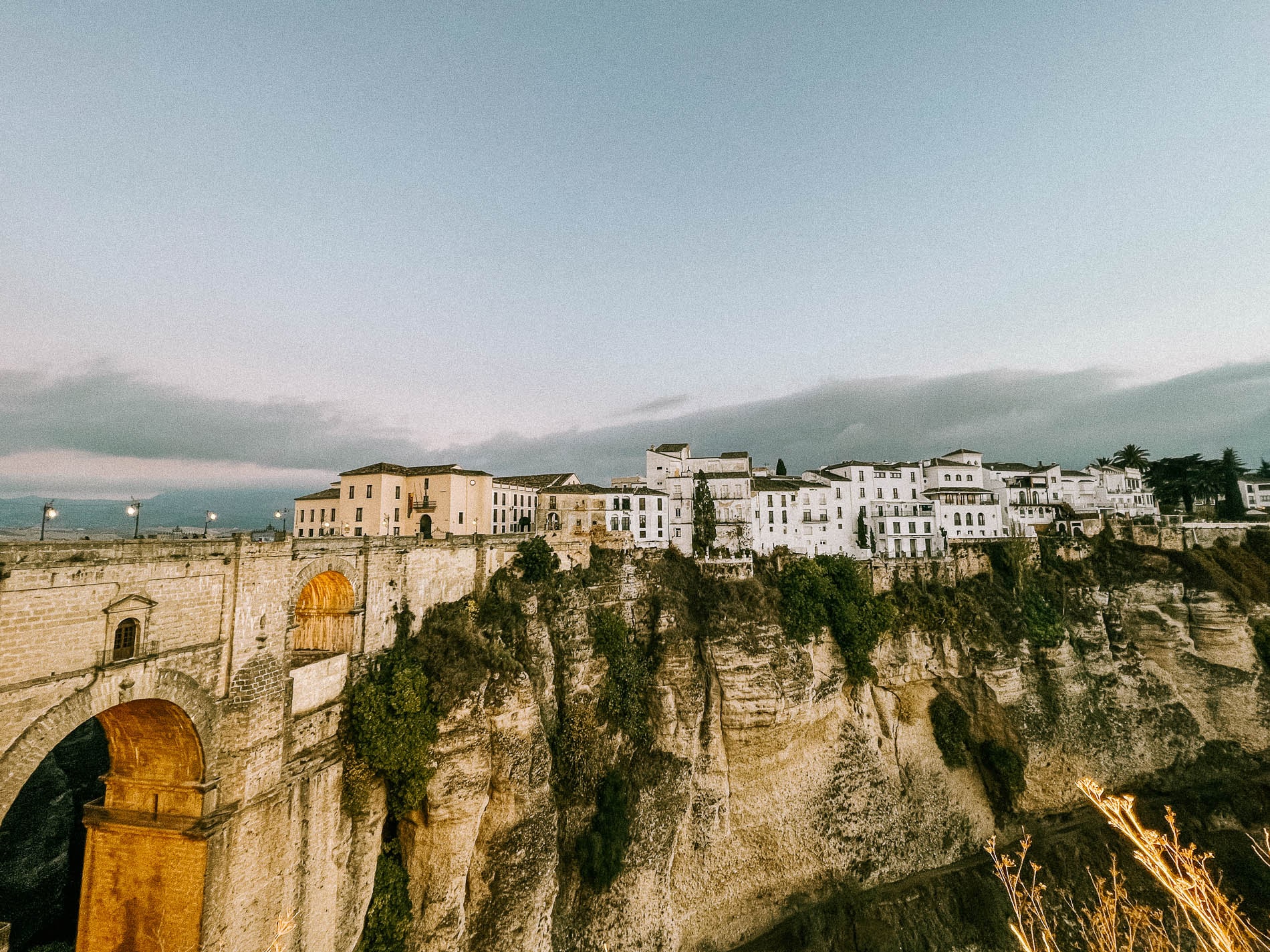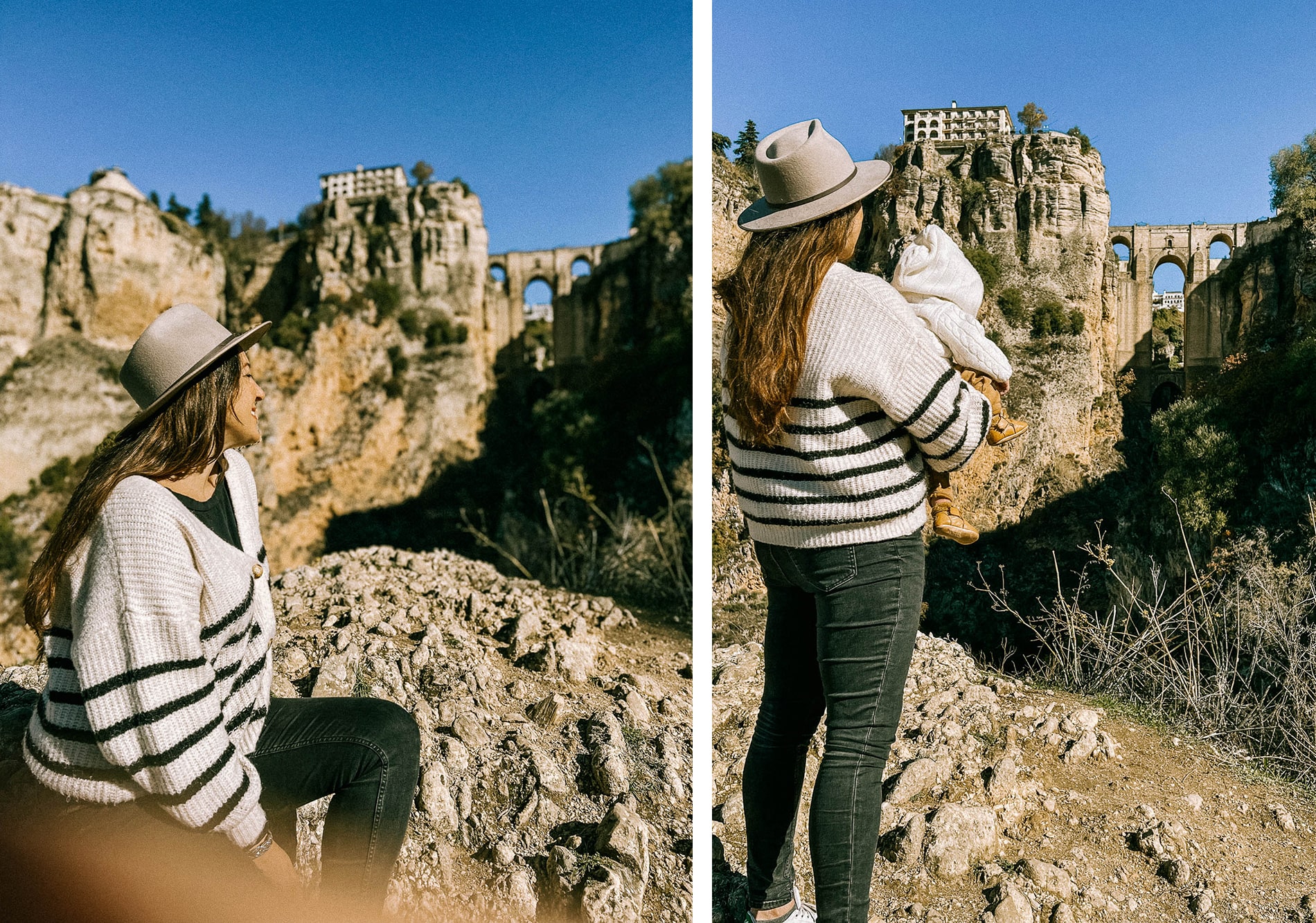 In terms of accommodation, we chose to put down our suitcases in this superb apartment., « Le Ronda Center Apartments with pool », recently renovated in the Virgen de los Remedios Street. A comfortable apartment with a very bohemian decor, equipped with a swimming pool (shared by 2 apartments) and the advantage of being just a stone's throw from the city center and various points of interest, ideal for a family trip.
Find out more below my selection of accommodation in Ronda:
Hotel Don Miguel ( the restaurant overlooks the sun-drenched gorge in a magical setting !)
Distance from Ronda to Mijas → 20 minutes by car
| MIJAS
The last white village on our tour, Mijas, is the only one close to the sea. It's not located on the seafront, but on the heights, and offers a view over the entire valley leading to the seafront.
More than just a village, it's a very pleasant little town to visit.The main square, " la Plaza Virgen de la Peña " is the focal point of the city, with restaurants all around the square and the "Mirador Hermanos Nuñez Andreu ".
Then walk uphill towards Plaza de la Constitución, then up Calle Cuesta de la Villa to the charming little Immaculada Concepción church. Village highlight, « Plaza de Torro bullring » (admission €3). It's a small, roofless arena, smaller in size than the arenas in the big cities, which makes it a curiosity to visit. The entrance has been transformed into a small bullfighting museum retracing the history of the place, but it's above all the architecture of this arena and the beautiful views over the city that make it a very charming place.
On your way out, take a stroll through the « jardin de la Muralla » with panoramic coastal views. You can then stroll through the shopping streets of Mijas, where you'll soon realize that the town's specialty is leather. You'll find several brands of jackets, belts and other accessories.
If you're in the mood for a snack, you can go to the « Mario Quero's Bakery », a local institution turned tea room. For lunch, we were able to try out "Tomillo Limon", the best tapas bar we came across during our stay in Andalusia. A well-crafted and original tapas menu. We loved their recipe for marinated peppers, asparagus with parmesan and their specialty Iberian pork. A very nice address that we recommend.
Mijas is also a great place to spend the night. In any case, allow at least half a day to enjoy this pretty little white town, which we particularly liked.

➡️ For those with very little time to spare and who don't necessarily go on roadtrips, you can opt for the guided group tour of Mijas pe in less than 2 hours or leave from Malaga and combine several visits.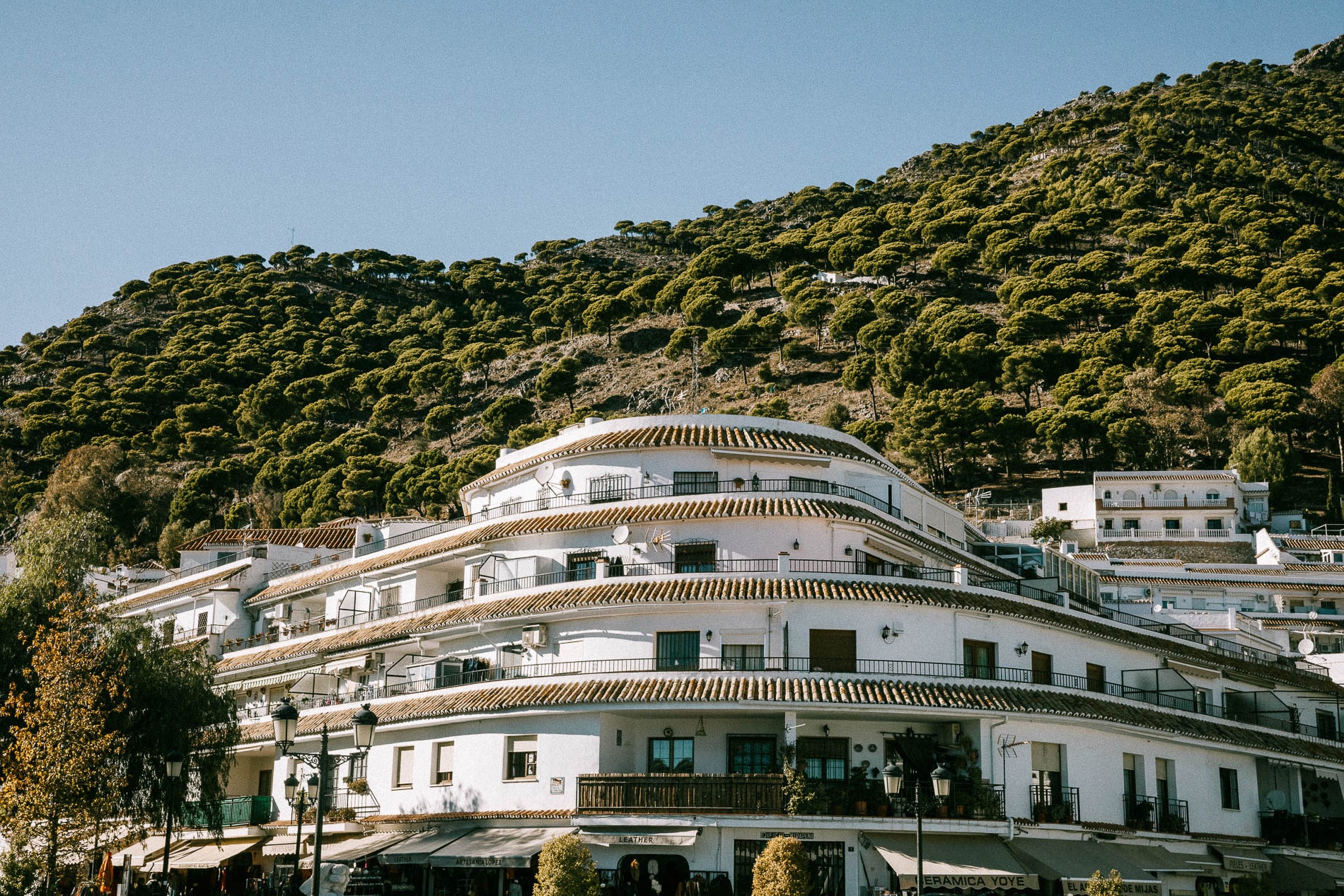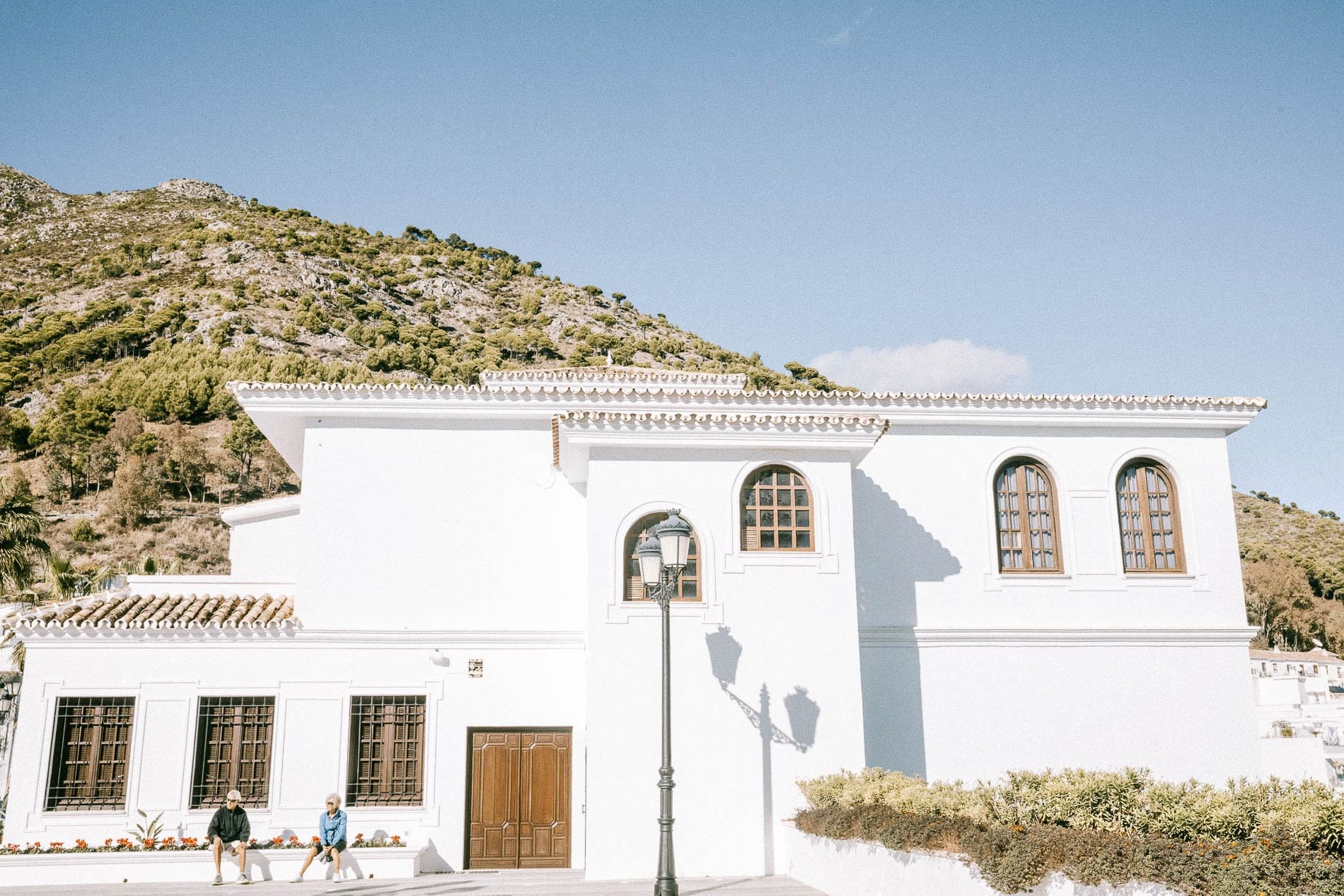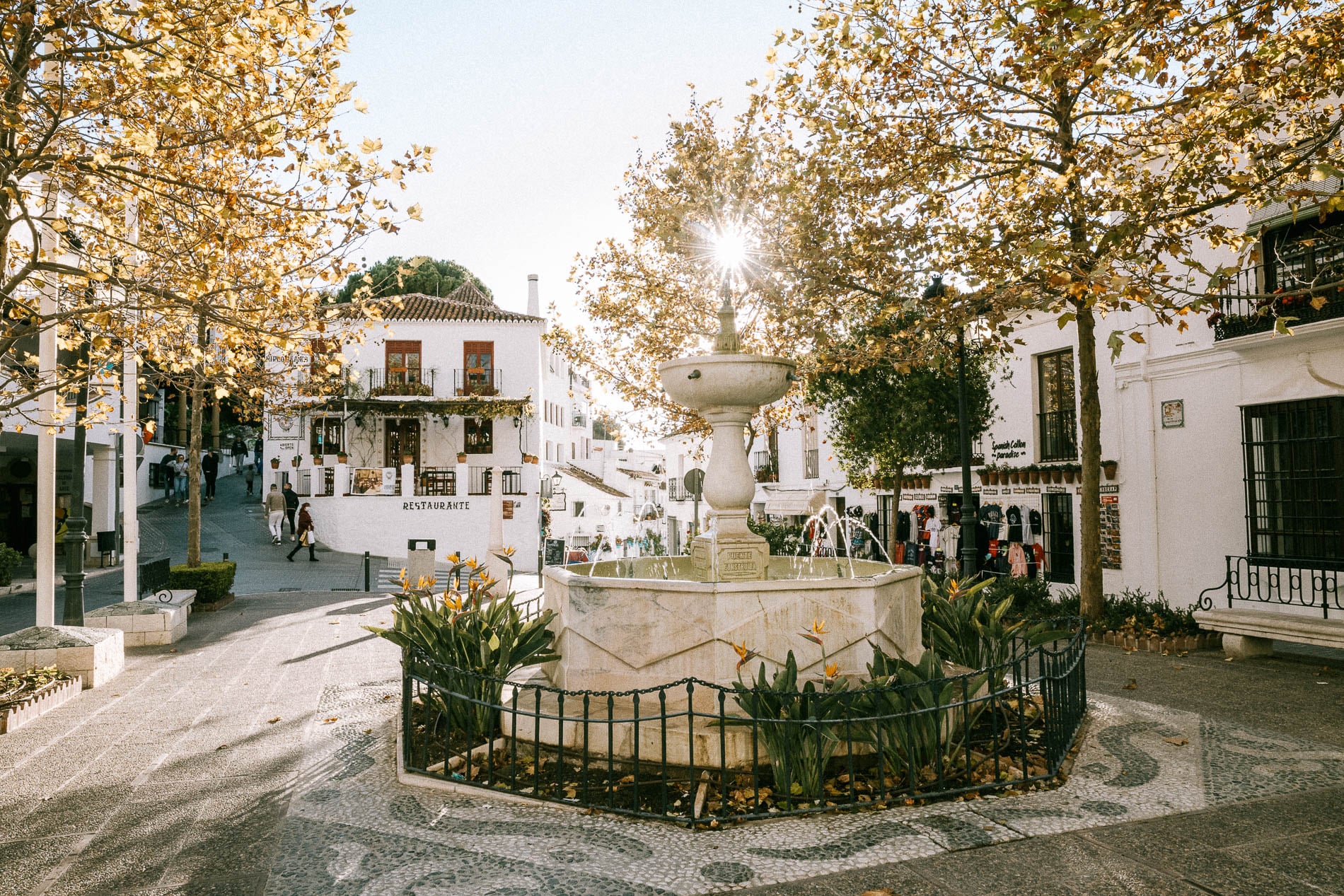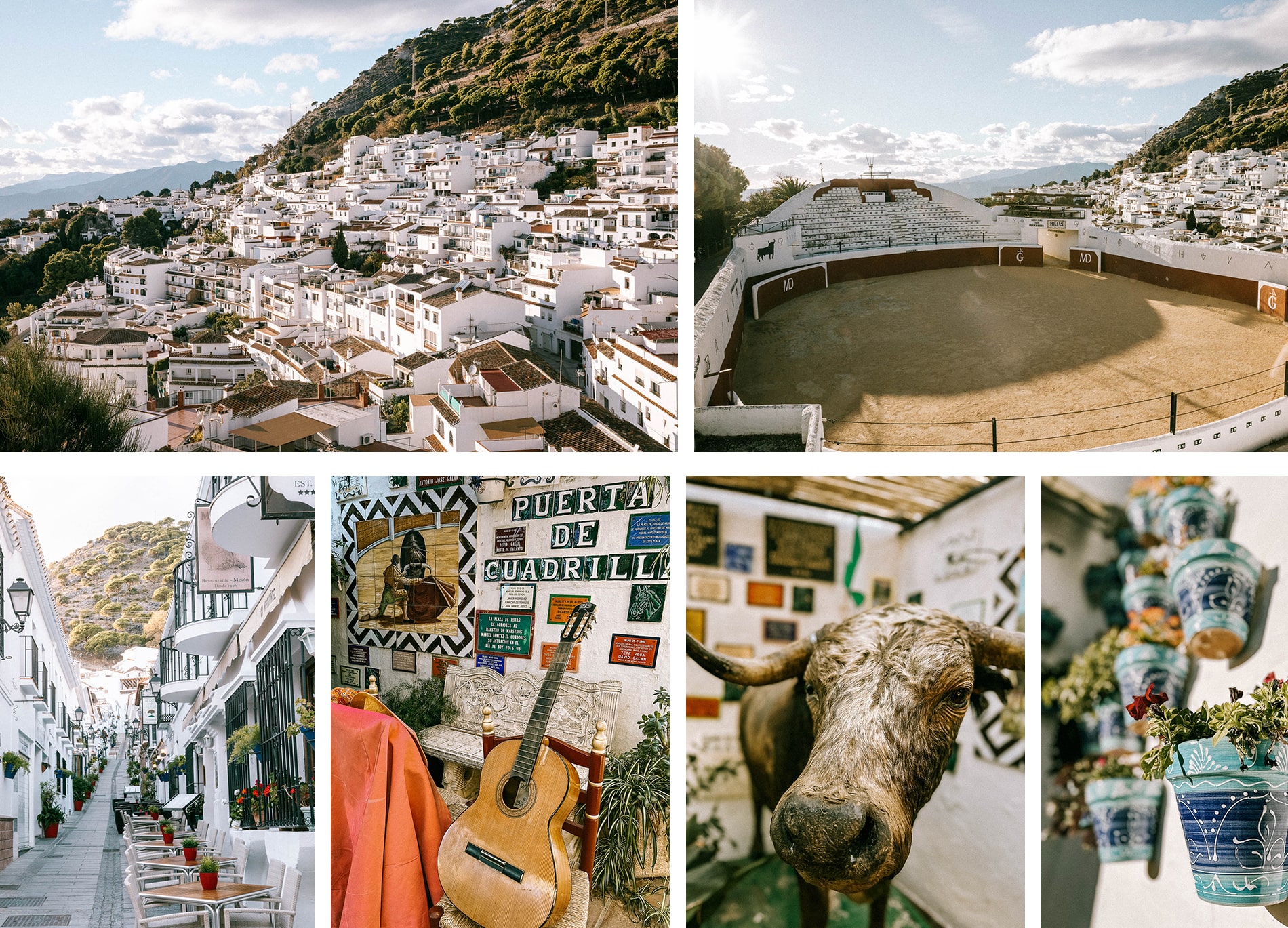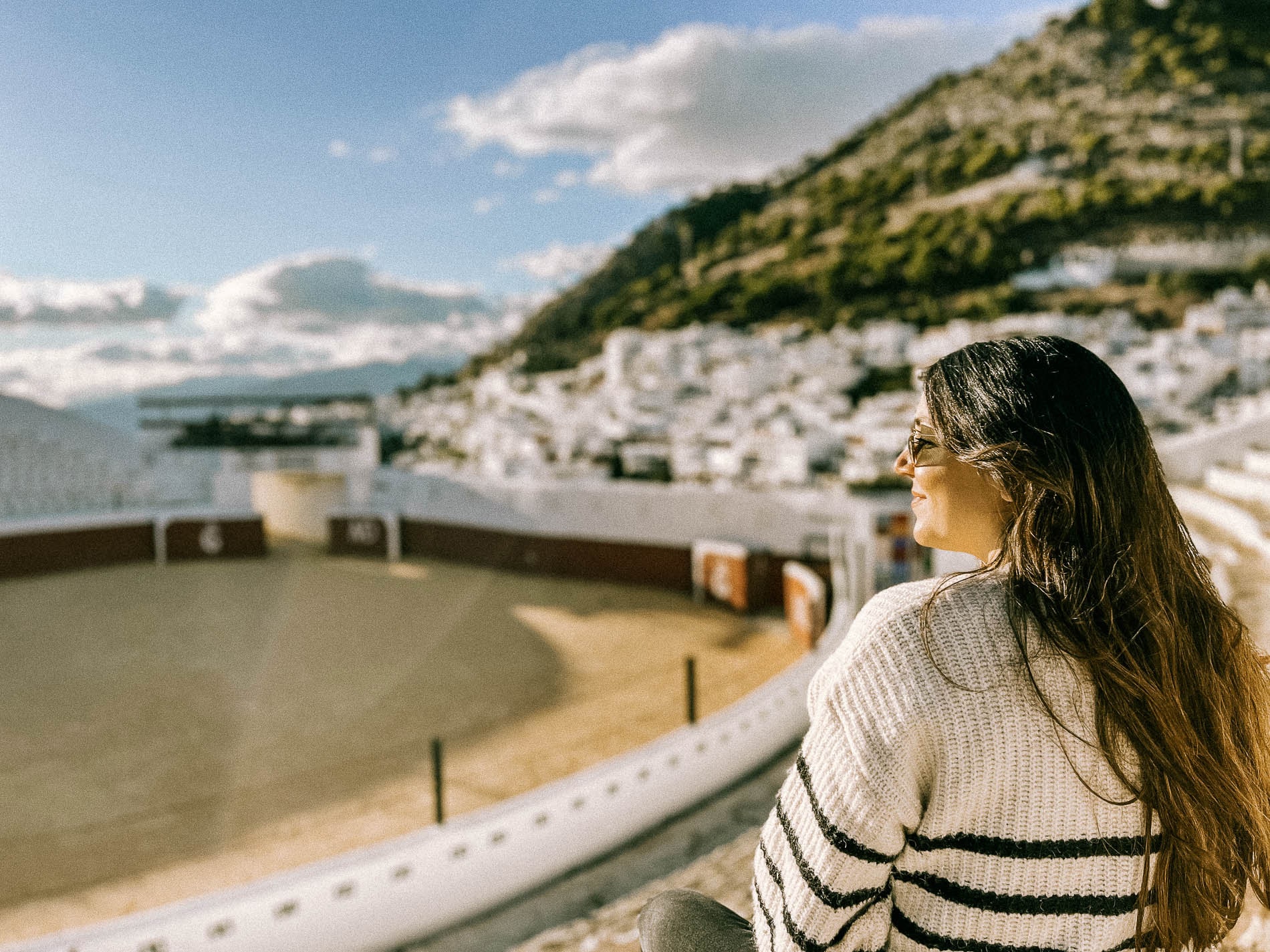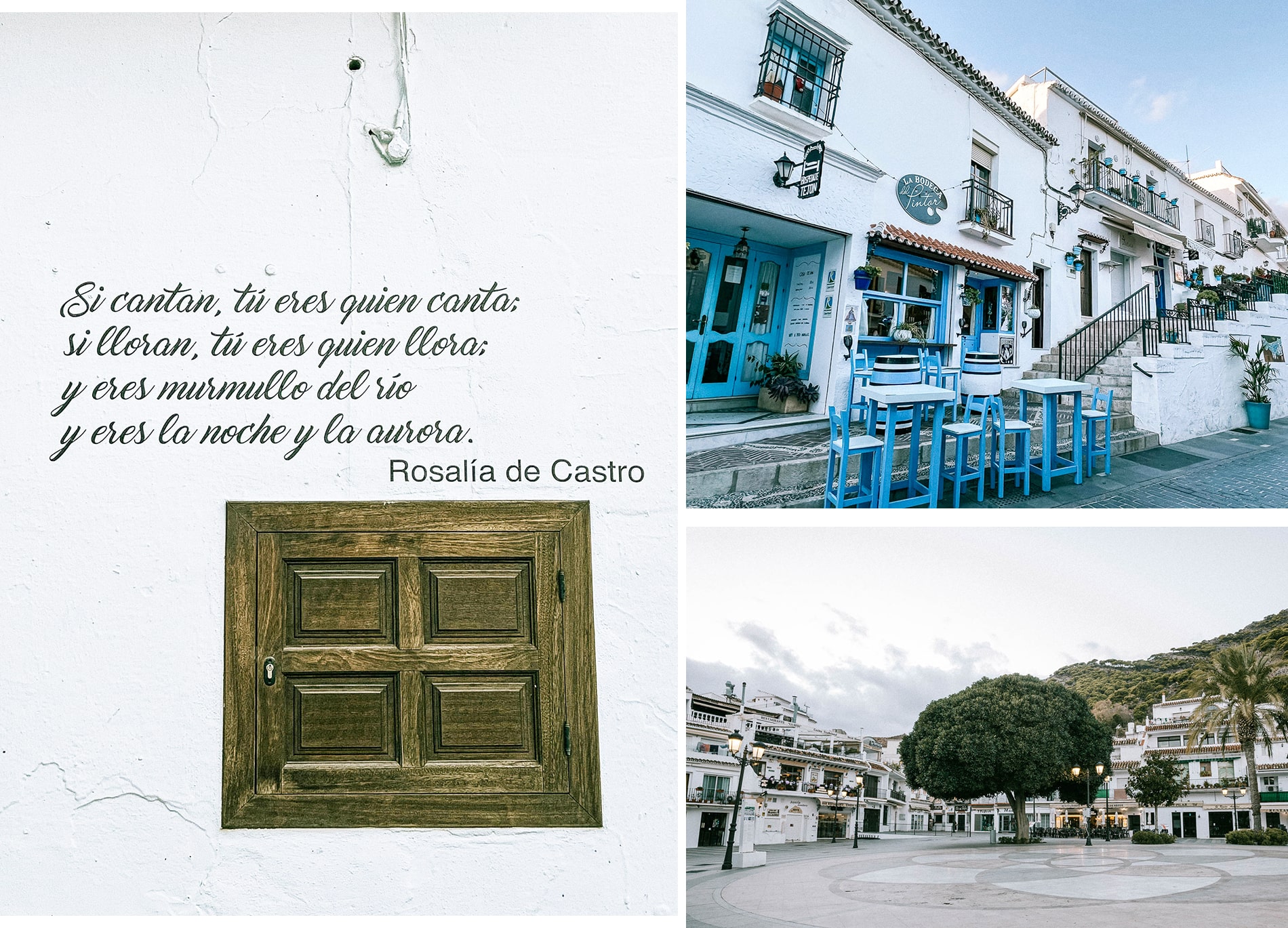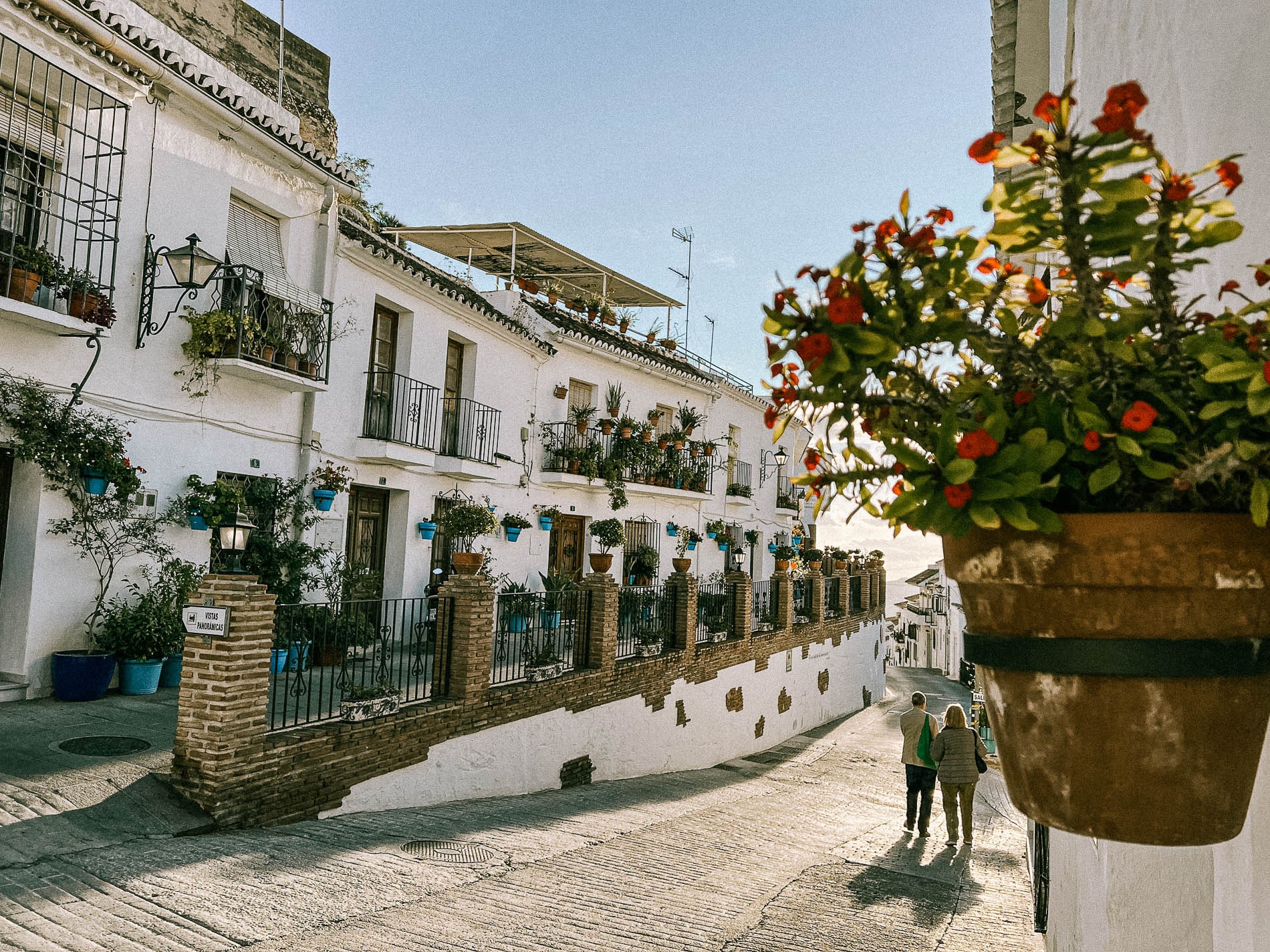 | TRAVELING WITH A BABY IN THE WHITE VILLAGES OF ANDALUSIA
Here's my feedback after spending ten days in Andalusia with our 4-month-old baby. The White Villages are a popular roadtrip destination. Car rental companies generally offer baby car seats (not always easy to install, though) when you make your reservation. Check the quality of the seat and don't hesitate to ask for another one if it doesn't suit you.
On the whole, all the villages are doing pretty well, but we did encounter some minor difficulties at Vejer de la Frontera because there are lots of stairs and we didn't have a baby carrier. The discovery of this village was made in a stroller! In the village of Zahara de la Sierra, we couldn't climb up to the castle with a stroller, we would have needed the baby carrier too, but that didn't stop us enjoying the place.
At Ronda, without a baby carrier, you'll have a hard time getting down to the deck to admire the view from below! There are too many steps to go down and then up again. That's why a baby carrier is essential!
About the period, November was a very pleasant time to discover the white villages of Andalusia, it was neither too hot nor too cold! Don't visit Andalusia in summer, as temperatures can reach 50 degrees in the sun. Sevillians, for example, leave the city for the seaside to enjoy the sea air.
Practical information | Before you leave
Don't forget travel insurance!

Before you leave, make sure you've taken out travel insurance to avoid any unpleasant surprises! If you're planning a short break, a long-haul trip or even a round-the-world tour, travel insurance will provide you with the essential cover you need to enjoy your stay with complete peace of mind: cancellation, baggage, assistance, medical expenses, hospitalization, death, repatriation and all the hassles you could avoid. Also opt forCovid cancellation insurance and border closures. Find out more in our article dedicated to helping you to find the best insuranceand on the C hapka, our travel partner since our Round the World Tour
| ARRIVING IN SEVILLE
How to get to Seville by plane from Paris, there's a direct flight that will take you only about 2.5 hours. If you plan ahead, you can expect to pay around a hundred euros for a return trip from Paris. Find your cheapest flight with Skyscanner flight comparison service and Ulysse comparator
For those who need to take a pre-routing to get to Paris, look on Ouigo as you can find very low prices. Find low-priced train tickets to Paris
Visit TGV remains a good, fast option for getting to Paris, with very attractive prices if you plan ahead. Find your train ticket to Paris at the best price !
| CAR RENTAL
When you arrive in Seville, consider renting a car at the airport or in the city center to discover the white villages of Andalusia. Find here your cheapest car rental with skyscanner
| GETTING TO SEVILLE FROM THE AIRPORT
From San Pablo airport, which is about 10 kilometers northeast of the city, you have two options for getting to Seville:
If you need to reach Seville by bus from the airport, take the EA line or bus 1501 – 8 Tussam (on the right as you leave the terminal) but beware, it doesn't go all the way to the historic center and stops at Plaza de Armas. The journey takes 35 minutes and costs €4/person one way, €6 return. This is still a very affordable option, but don't be overloaded with luggage.
Click here for airport bus timetables and fares
Cabs are still the quickest and easiest solution, but undoubtedly the most expensive (unless you share your cab with several people). Count on about25€ for a 15 to 20 minute journey and between 10€ and 20€ if you take a VTC.
The cab rank is on the right as you leave the terminal, and there are plenty of cabs waiting for you. Mind you, it was in Seville on the very first day that we forgot our baby carrier in the boot. In fact, in the heart of Seville, cabs are often honked at by private individuals driving their cars, and in the hustle and bustle, the driver can rush your luggage down to you. Make sure you have all your belongings with you before leaving the cab. ! For greater security and in case you forget your card, use an approved company where you will have a telephone number to contact in the event of loss.
For those of you with a rental car, if you're looking for parking close to the departure airport or nearby, I invite you to take a look at the Onepark website
This platform enables travelers to compare and book their parking space online, and to access over 2,000 parking lots in 9 European countries. It is the market leader and you can save up to – 60%.. Remember to check availability in advance.
I am now booking my next parking
The White Villages Route is a very pleasant itinerant tour, alternating nature and cultural visits. The villages follow each other in quick succession, and you can visit several in a row (especially in summer, when the days are longer). Take into account your driving times between villages, which will be different in winter and summer.

We had 3 favorites during this trip Vejer de la Frontera, Grazalema and Mijas. We're just passing through Conil de la Frontera because it's a major seaside resort. I'd recommend it if you're looking for a village where you can spend a few days with friends or family, with stores and a wide choice of restaurants, but also for the beautiful beach of Los Bateles Beach which offers a lovely view of Conil with its large pontoon on the sand.

If you have some time to spare, I recommend that you also do Frigiliana, a 50-minute drive from Malaga, considered to be the prettiest village in Andalusia, with its pretty, narrow cobbled streets full of flowers. Unfortunately, it wasn't on our route, but I'll make a note of it for next time.
Which white Andalusian village do you prefer? Did you know about these beautiful corners of Spain?
Don't forget to read our article on what to do in Seville in 4 days, to prepare your trip to Andalusia. Here you'll find tips and good addresses by neighborhood.