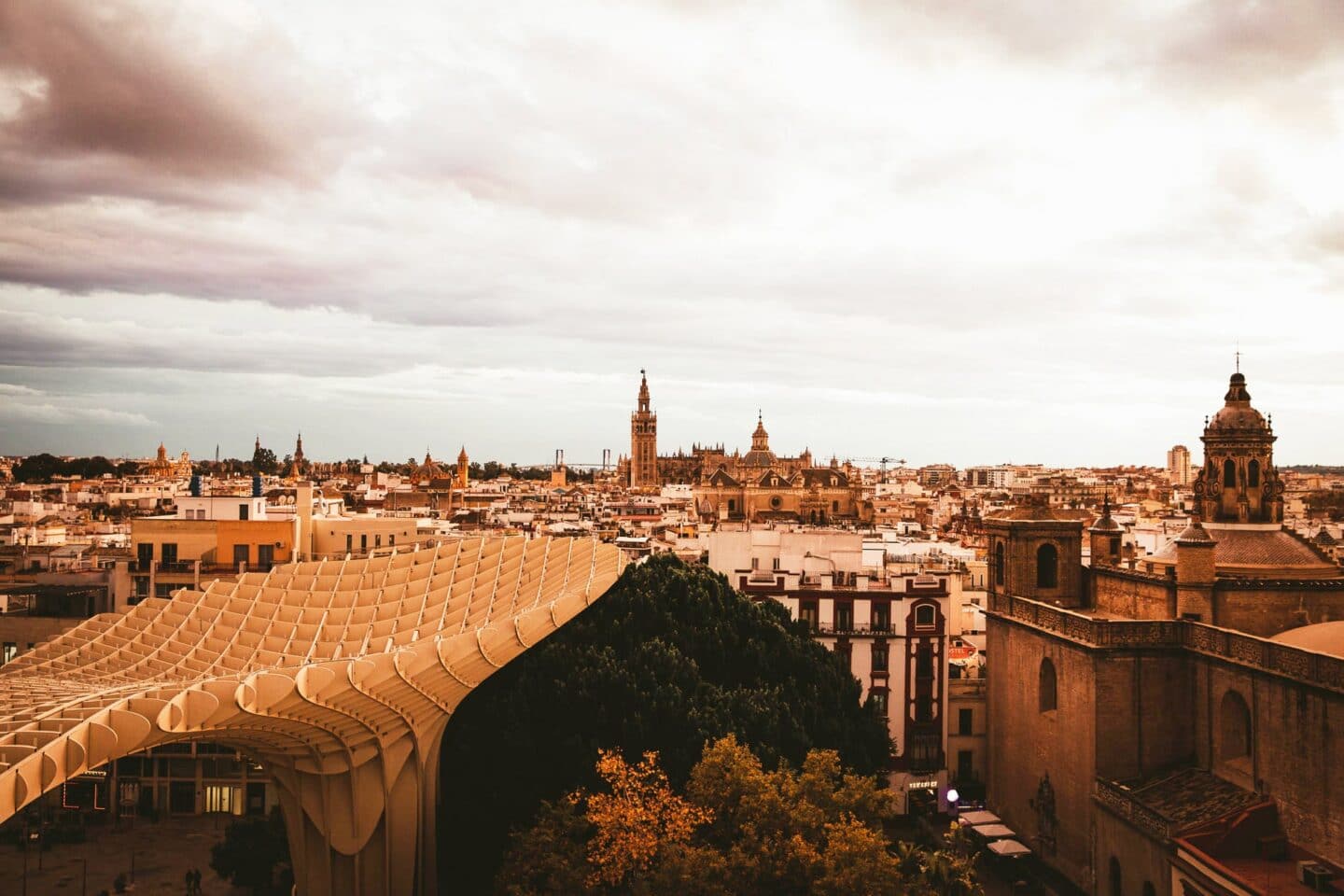 Discover Seville in 4 days. I've put together a detailed itinerary for you to discover this charming city with a real Spanish atmosphere. Discover our favorites, our good addresses and my advice for this first family trip.
For this first trip with our baby Gabriel (4 and a half months old), the three of us decided to spend 10 days discovering Andalusia and its white villages.
We started our trip in what was for us one of Europe's most beautiful cities. The capital of Andalusia, Seville has many assets to seduce travelers: it's a modern city where Arabs, Christians, Jews and gypsies have lived side by side, but also a city rich in history with its sumptuous monuments. This melting pot is evident in the city's architecture and cuisine, as well as in its music, including flamenco, the emblem of the city and region.
As in any city, what we love most of all is strolling through the picturesque neighborhoods, but also letting ourselves be carried away as we wander the streets in search of a craft store, café or restaurant. In Seville, we discovered several neighborhoods, some more touristy than others, where you can feel the Sevillian way of life.
WHAT TO DO IN SEVILLE IN 4 DAYS
_____________________________

A 3-hour tour of the streets of Seville: from Puerta Jerez to La plaza de España, via the Alcazar, the cathedral and Giralda, the bullring and the banks of the Guadalquivir. A very good option for understanding the city for those who are not keen on guided tours of monuments. Some of our guides are French-speaking, like Ghislaine, our young and dynamic Moroccan guide, who didn't miss a beat.enrich your visit with interesting anecdotes and useful addresses. It's the first time I've tried this kind of free tour, and I'd recommend it. Please note that a free tour means that at the end of the guided tour, you'll still have to leave a tip based on your level of satisfaction.

There are plenty of places to visit in Seville and if, like us, you're not sure where to start, you could opt for a guided approach to introduce you to the city.

➡️ Check here for availability of this guided tour and book in advance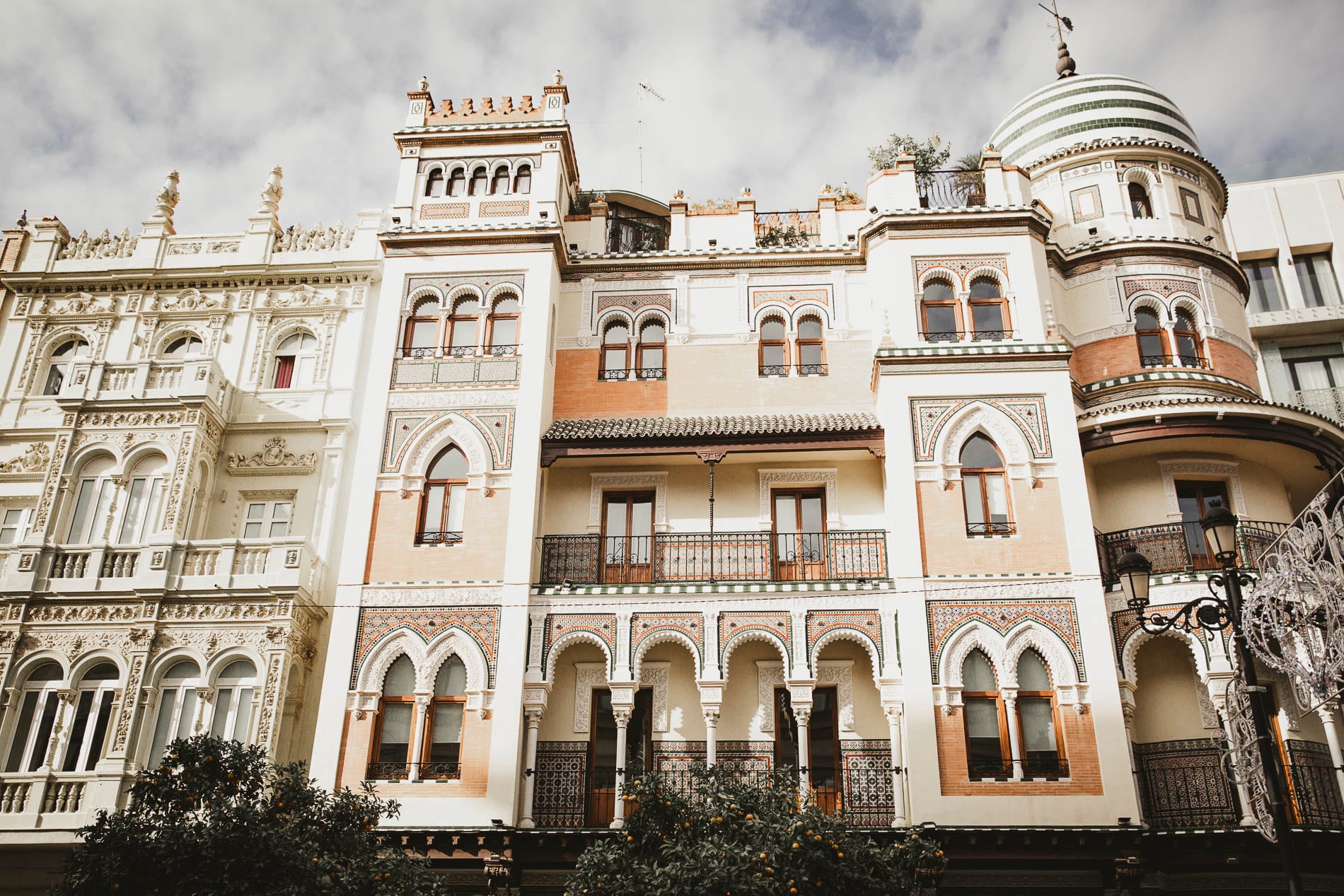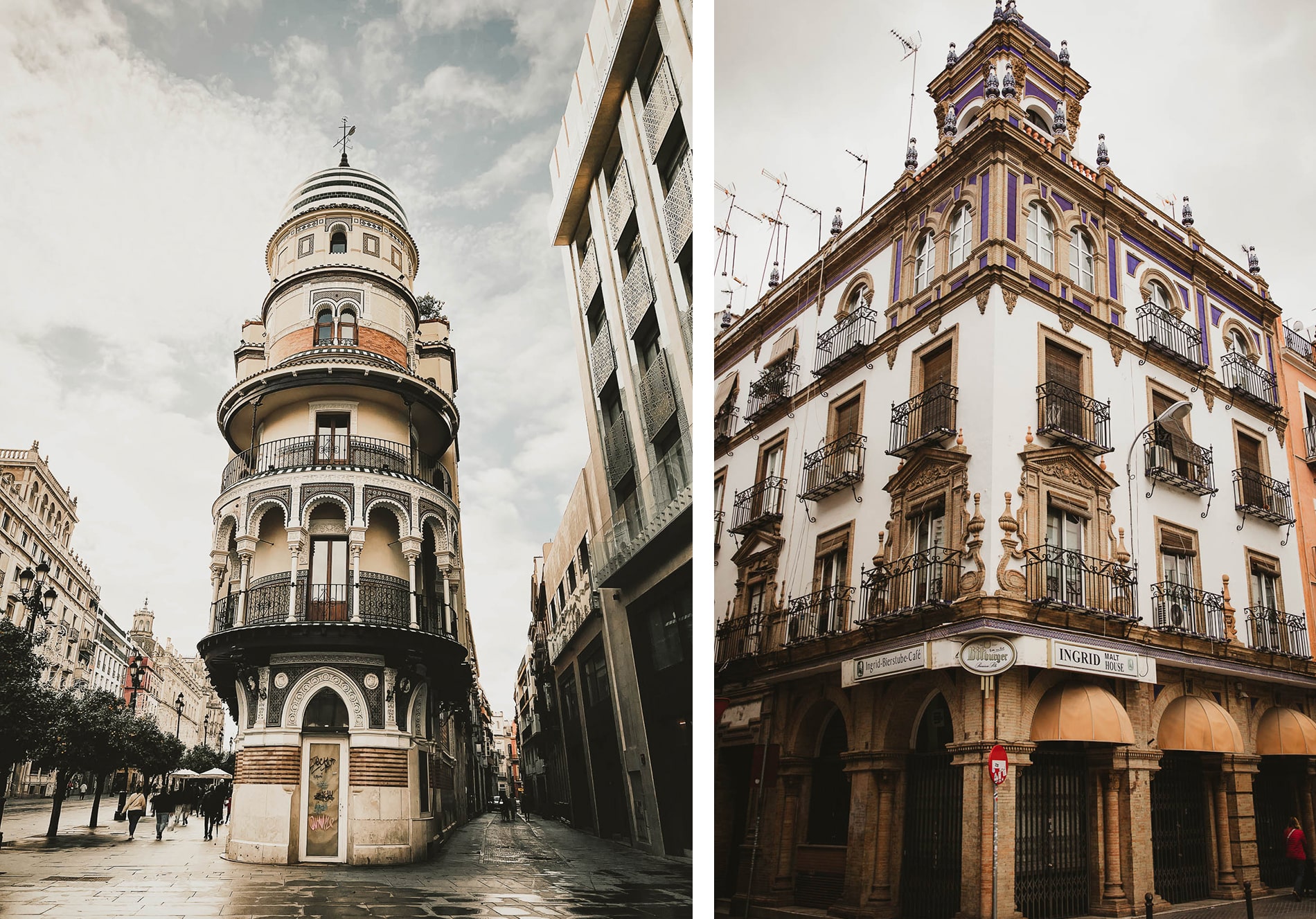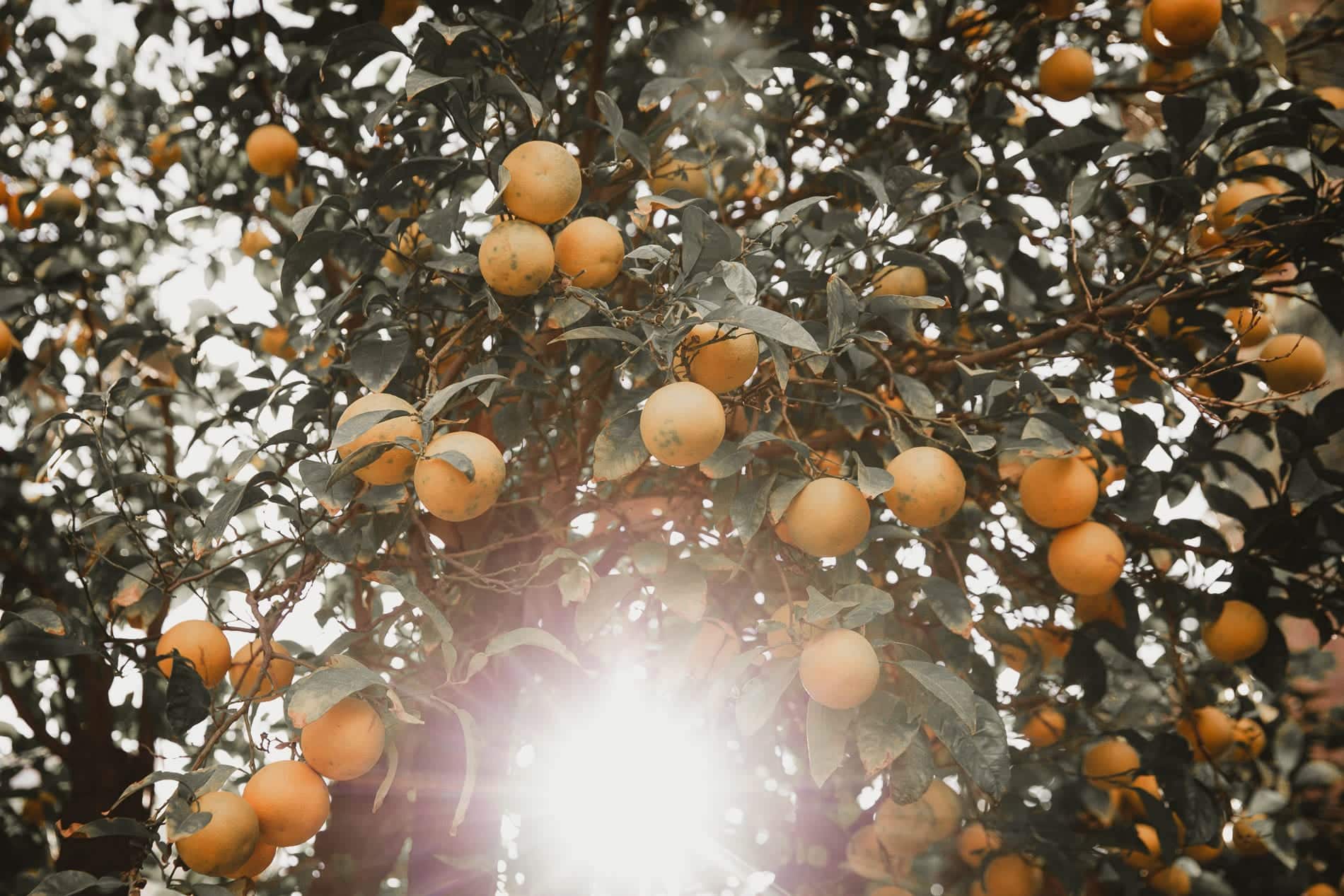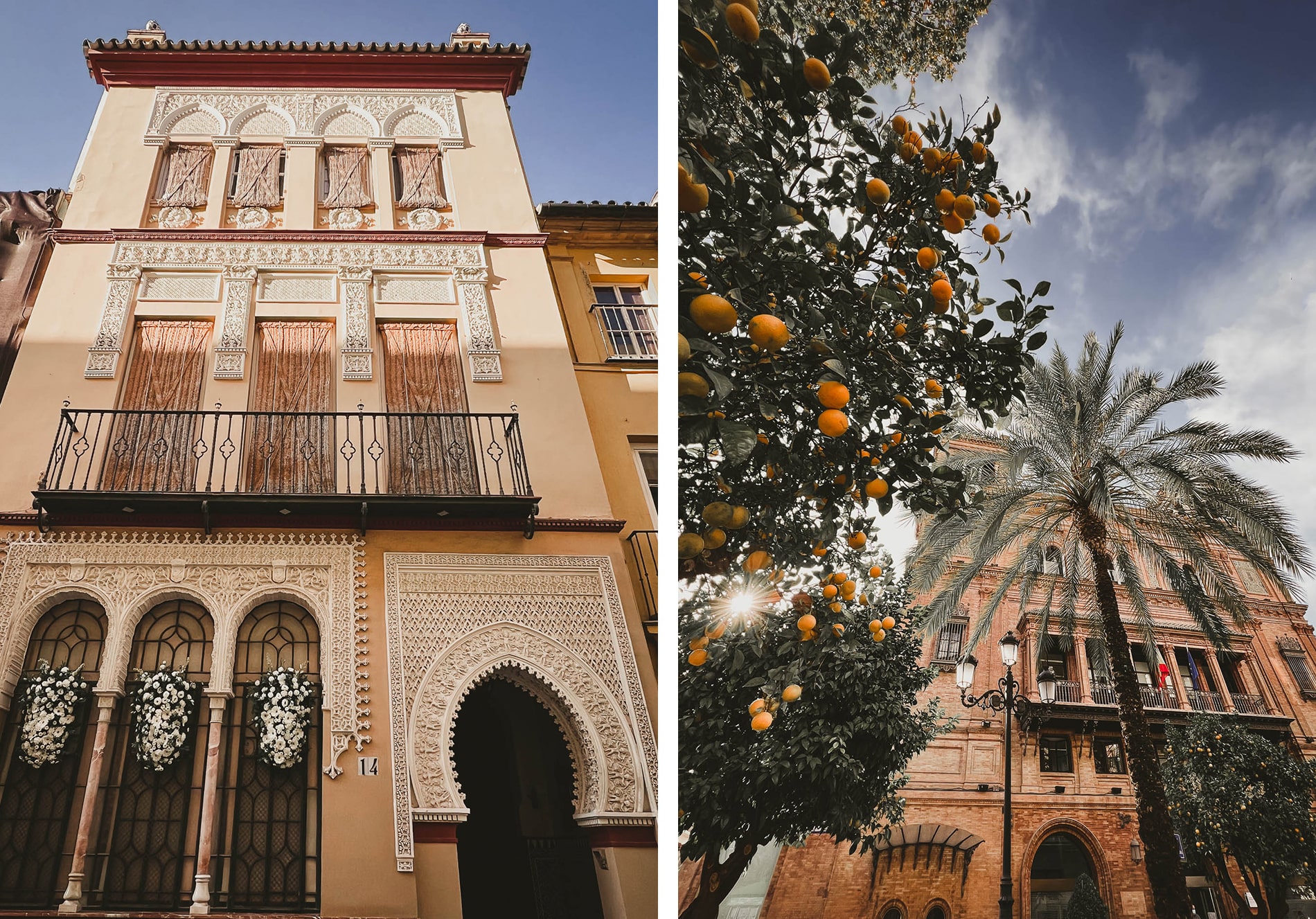 | THE SANTA CRUZ DISTRICT
Seville's most emblematic monuments are located in the Santa Cruz district, namely the Cathedral, Giralda, Plaza de Cabildo, Archives of the Indies and Alcazar Palace. If you're short on time and want to get up close and personal to Seville's main tourist attractions, this is a neighborhood I'd recommend for its location and charm. In fact, you'll find it easier to photograph the monuments at the end of the day, early evening and early morning, while avoiding the crowds of tourists.
THE CATHEDRAL AND THE GIRALDA
most impressive churches of the Christian world with its 40 chapels (20 public and 20 private). Of extraordinary dimensions, it is one of the largest cathedrals in Europe and the third largest in the world. It is 132 metres long and 83 metres wide. It took 100 years to build! Its 104-metre-high bell tower, known as La Giralda, is representative of the city's history, being the former minaret of the great Almohad mosque, which was restored by the Christians at the time of the Reconquest. The Giralda, which has retained its "Arab" ornamentation, is now the symbol of the city of Seville.

The cathedral is, of course, the city's religious landmark and one of its most important

The cathedral is filled with silverware, paintings and sculptures, and you'll find the atypical mausoleum of Christopher Columbus carried by representatives of the 4 kingdoms of Spain, for it was from Seville that Christopher Columbus set sail when he discovered the Americas.

The city wakes up quite late, often in the late morning. From 10am/10.30am, the streets get livelier. We advise you to come early in the morning, before the crowds and bands arrive. You'll be able to admire and photograph it from different angles, with or without the horse-drawn carriages. Remember to position yourself in the adjacent streets to capture different views of La Giralda..

For lunch, visit the restaurant bar « the Catedral », C. Mateos Gago, 5.

Practical information | Seville Cathedral

Entrance 10€ / adult 5 / students and over 65s 5€ / audioguideOpening hours10.45 a.m. – 5 p.m. Monday to Saturday 2.30-6 p.m. Sunday

If you want to avoid the long queues, you can choose from the individual, guided or combined tours I offer, simply to save time and learn more about the history and anecdotes of Seville's monuments. To find out more, click on one of the activities below.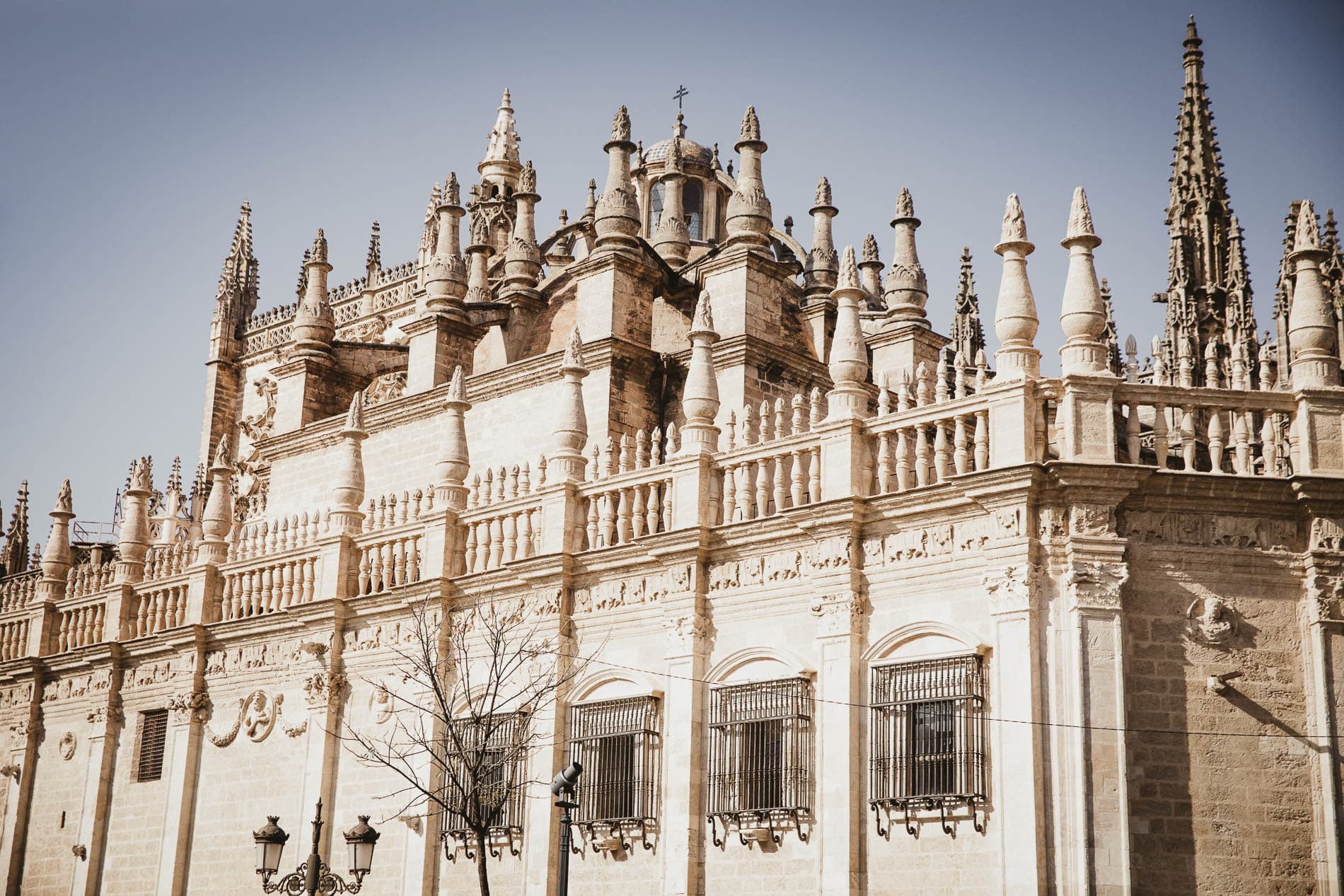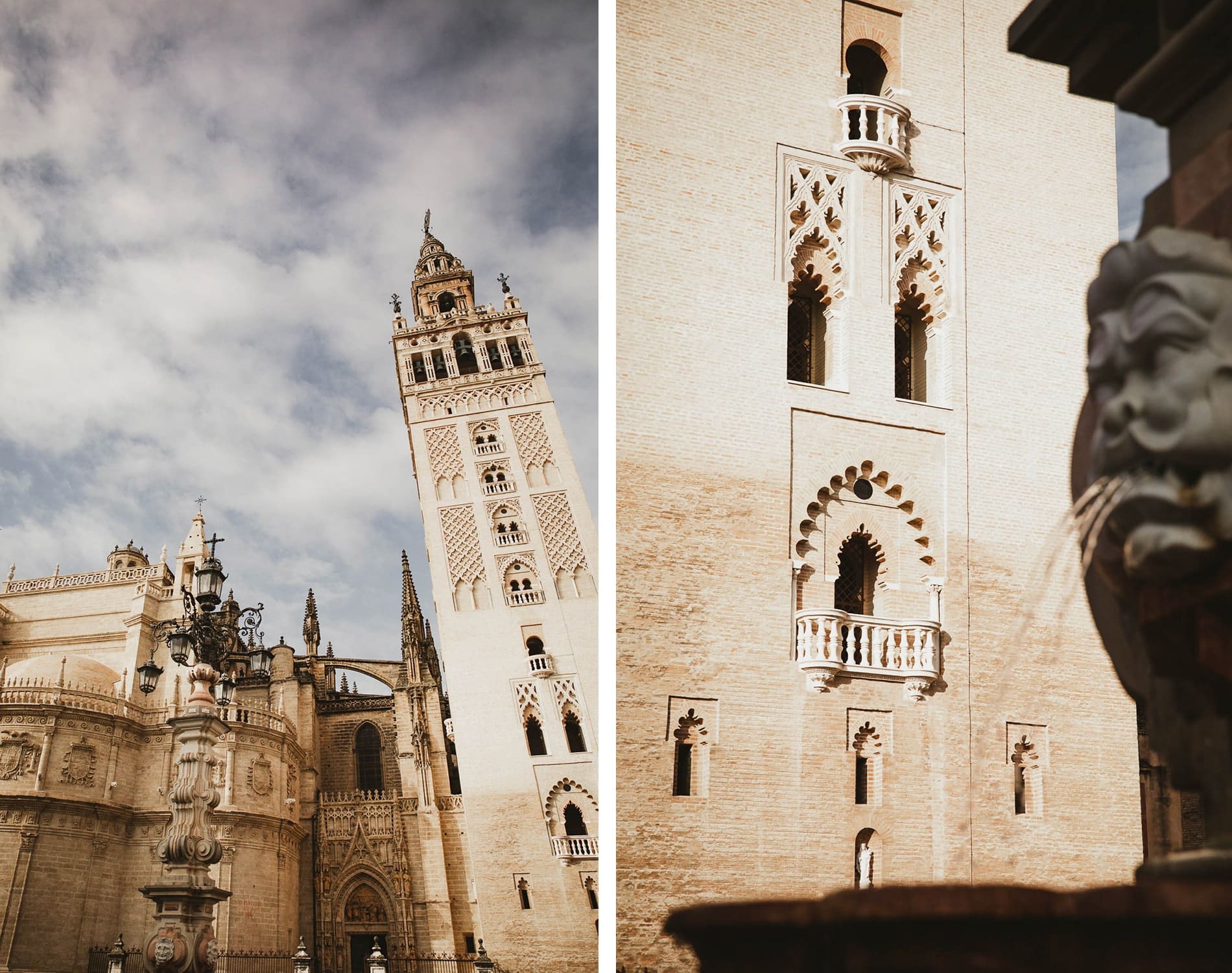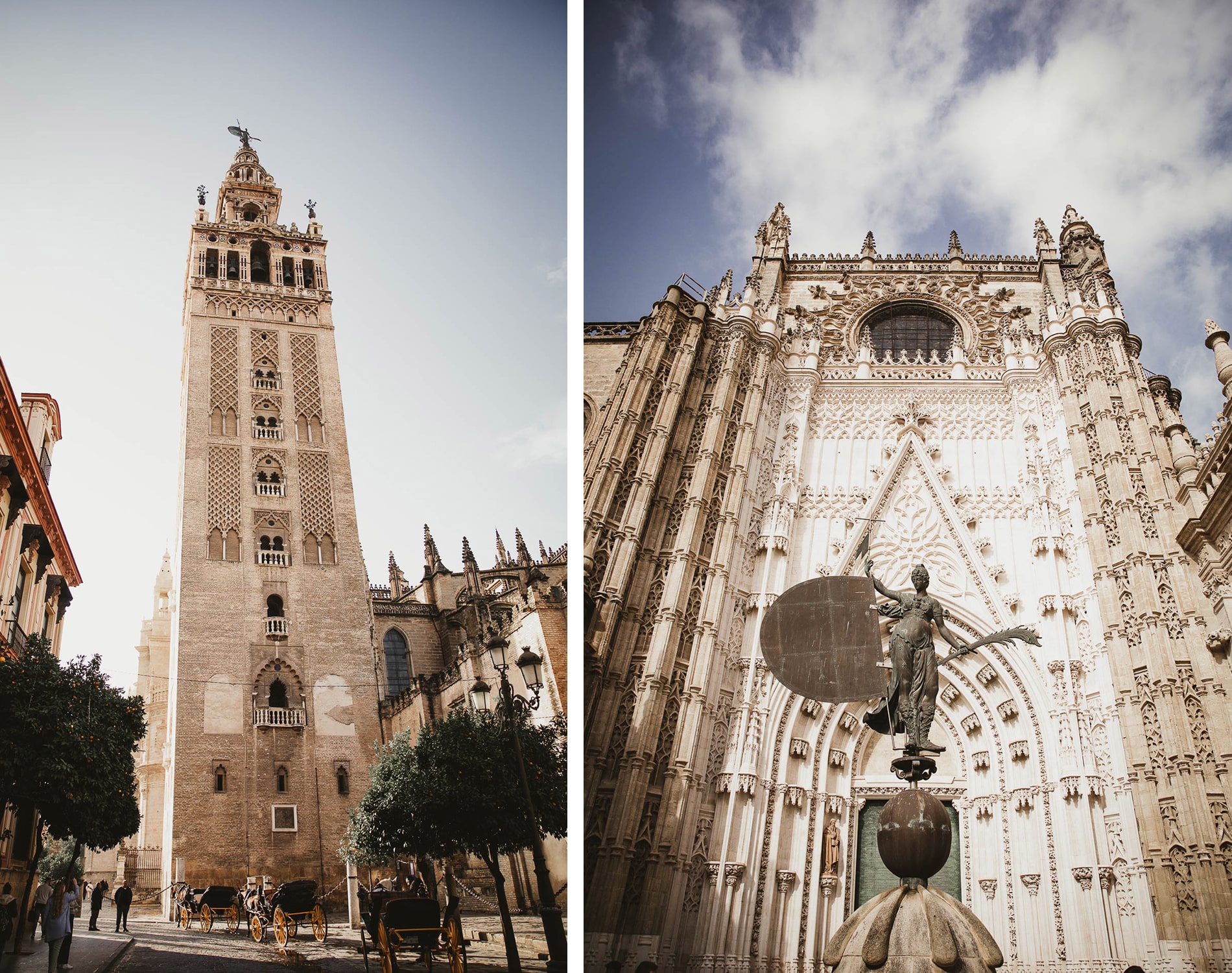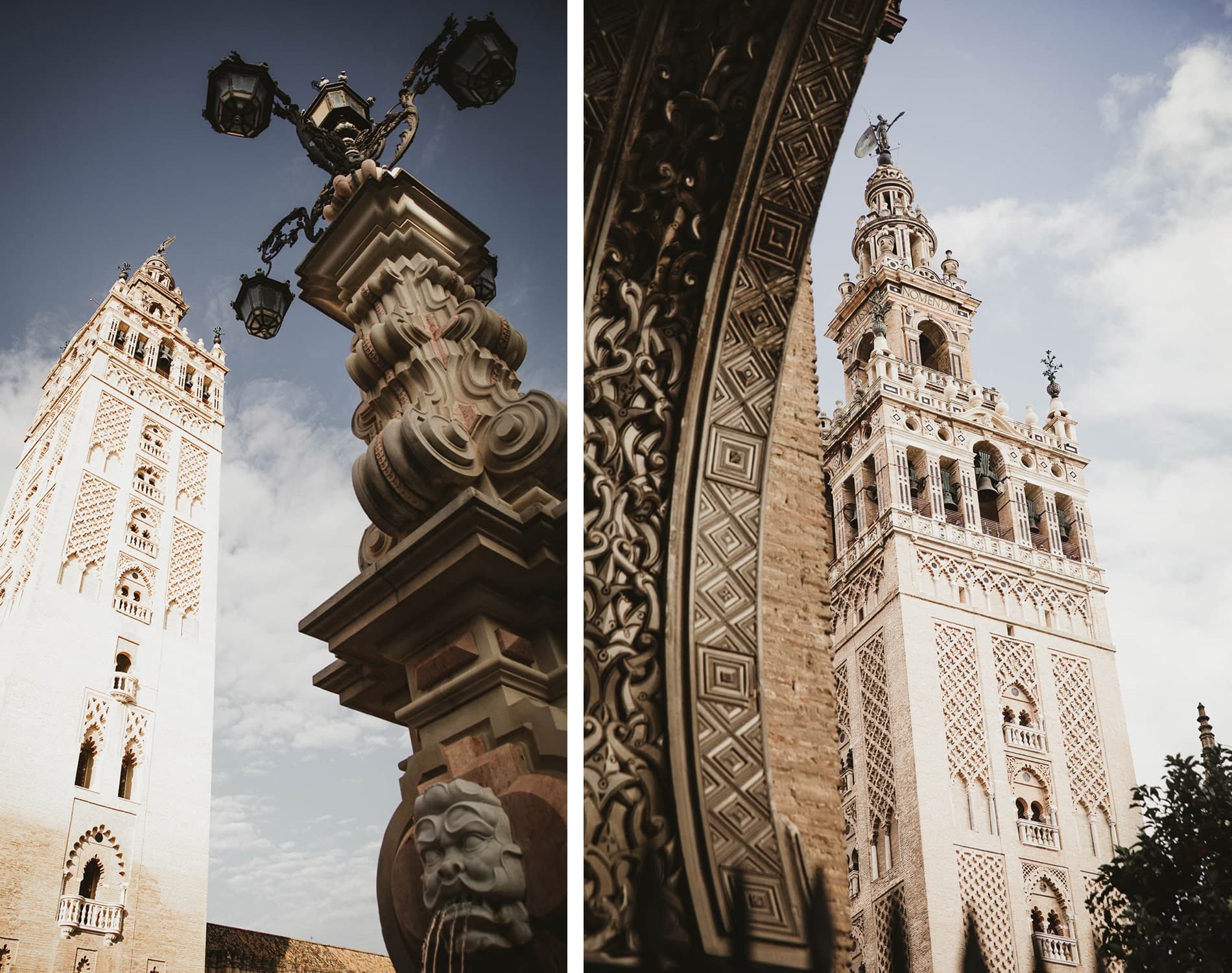 For your lunch break, you can stop for lunch at « Casa Morales » Calle Garcia the Vinuesa 11, a tapas bar with an original decor and exposed vats from yesteryear. To enjoy a coffee in a historic setting, you need to go inside the « Cerveceria Giralda », Calle Mateos Gago. In fact, while removing the plasterboard during the works, the workers came across some ancient Arab buildings and decided to restore the walls. It's a beautiful place and well worth a visit.
The rooftop « Pura Vida Terrazza », Calle Segovias is the perfect place for a late-night aperitif, as it only opens at 3pm.
Other recommended addresses include « Mama Bistro » C. Mateos Gago, a restaurant offering traditional Andalusian cuisine in attractive surroundings, but also the « The Cueva », Calle Rodrigo Caro 18.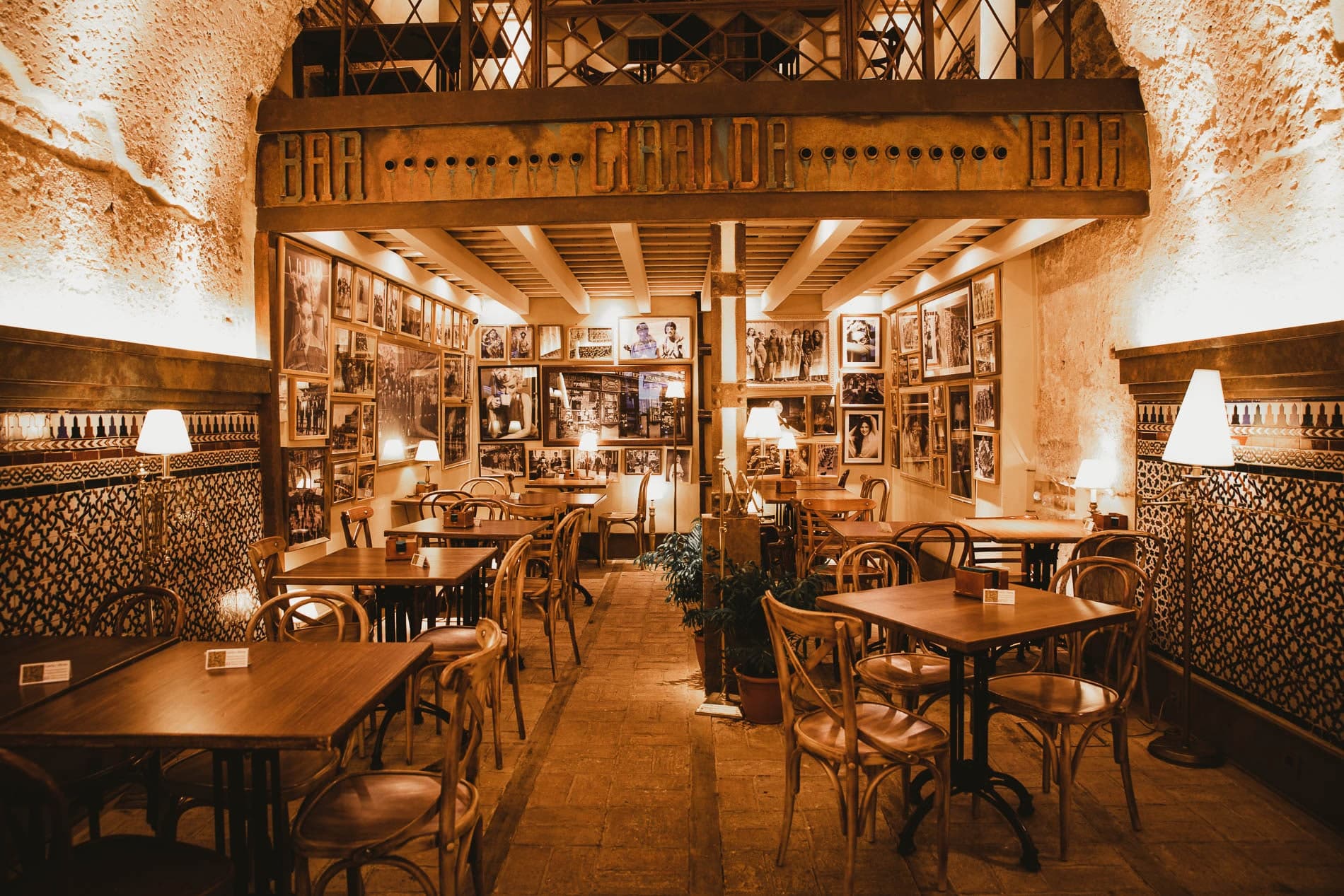 Not far from the Giralda and the Archives of the Indies, you'll find this pretty « Calbido Square », a little ppicturesque lace with a fountain, lined with buildings featuring arcades decorated with artistic paintings. You'll cross it stealthily, but it's very pretty to see when the sun is a little high, i.e. from 11 am onwards.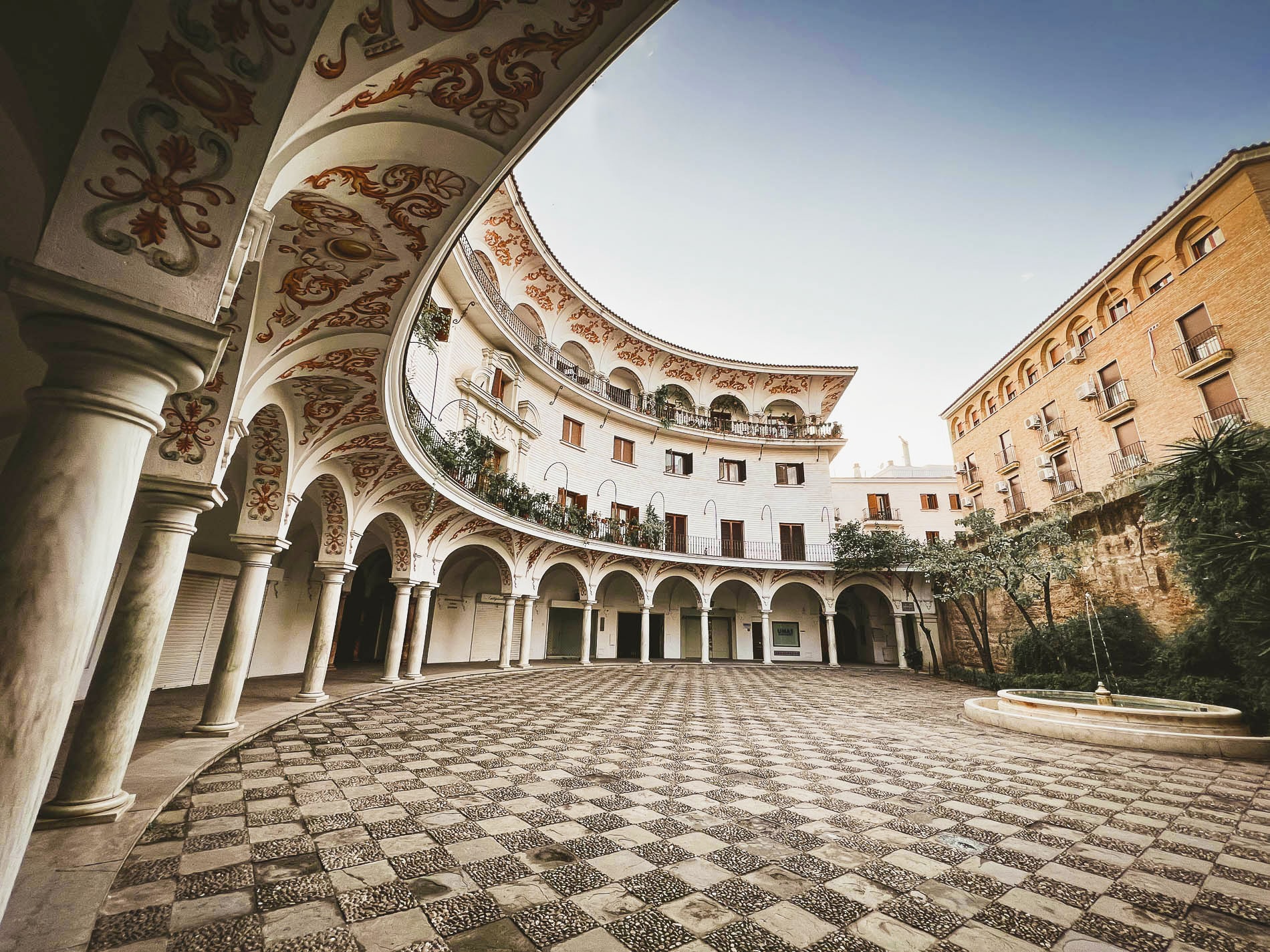 Located between the Alcazar and the Cathedral, it is the city's economic emblem. This is where the various documents relating to the conquest of the Americas, hundreds of maps and thousands of registers are kept. While it's not the most beautiful building in town, it's still worth a quick look, especially as it doesn't take long to visit and admission is free.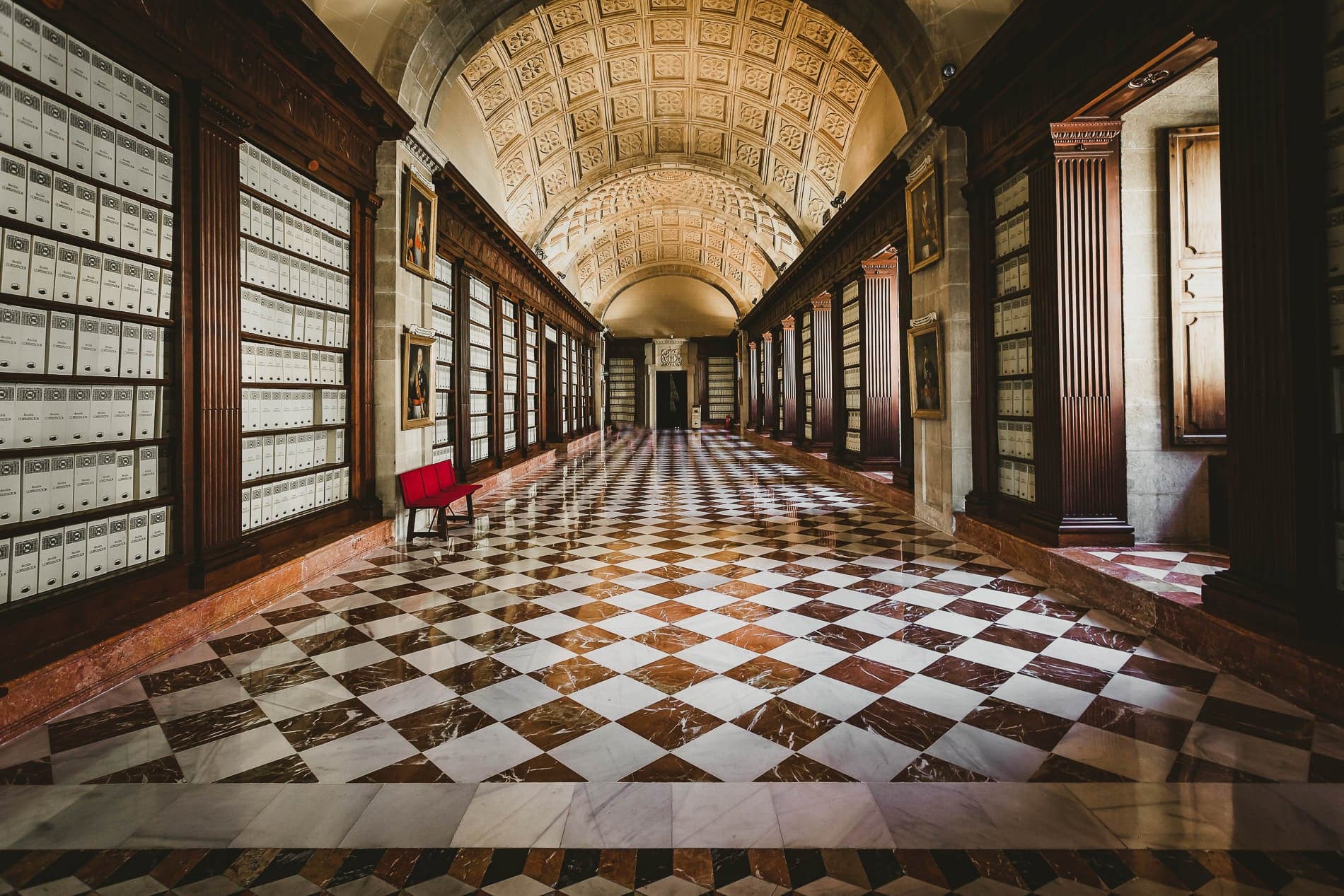 The political emblem of the city, the Alcazar (translated as Castle or Fortress in French) belongs to the Spanish royal family, who always reside there when they are away in Seville. It's a must-see when you come to Seville, you can't miss it! This 4-hectare building is strongly influenced by the Muslim Almohad period. Don't miss the Patio des Demoiselles, the Chambre des Ambassadeurs, the mosaic art in many of the rooms and a stroll through the palace's magnificent gardens.
This is a very photogenic place, so if you want to enjoy it in peace, avoid the crowds and long waits, I advise you to go either at the opening or at the end of the day.. The light at the end of the day is perfect for photographing the Alcazar, especially the 4 hectares of gardens, the labyrinth of plants and the large patio. You'll need to be very patient and ready to photograph it without too many people.
At the end of the morning or day, enjoy a cup of coffee at "the Alfonso Hotel", Calle San Fernando 23, one of Spain's most prestigious hotels located not far from the Alcazar Palace.
Depending on the time of year, the Palais de l'Alcazar is packed. Admission is limited to 700 people per day. It is therefore essential to book your tickets online to ensure you get in. If you're not taking a guided tour, you can easily plan a 2-hour visit.
If you want to avoid the long queues, you can choose directly from the individual, guided or combined tours I offer to discover the Alcazar Palace and Seville. To find out more, click on one of the activities below.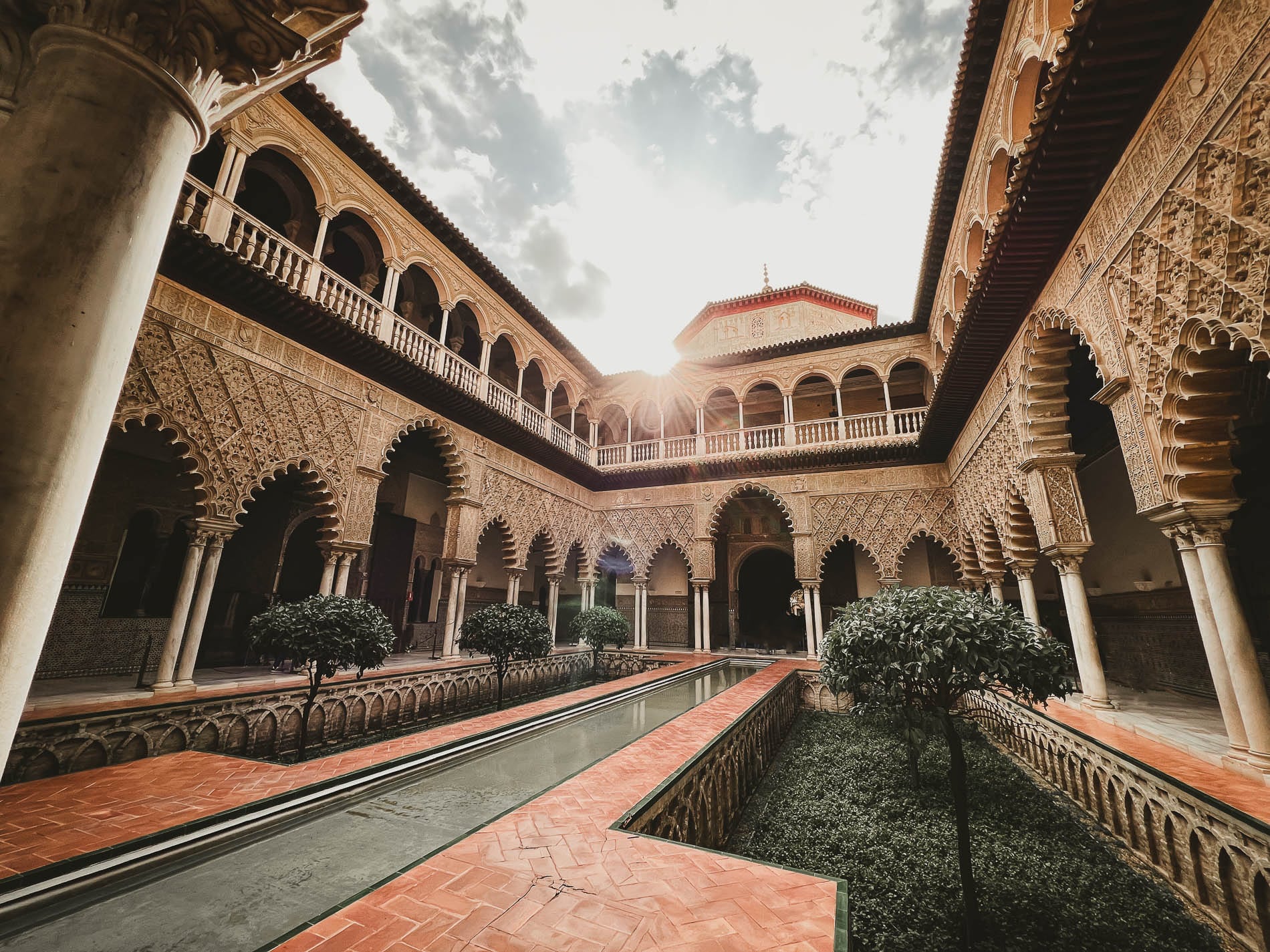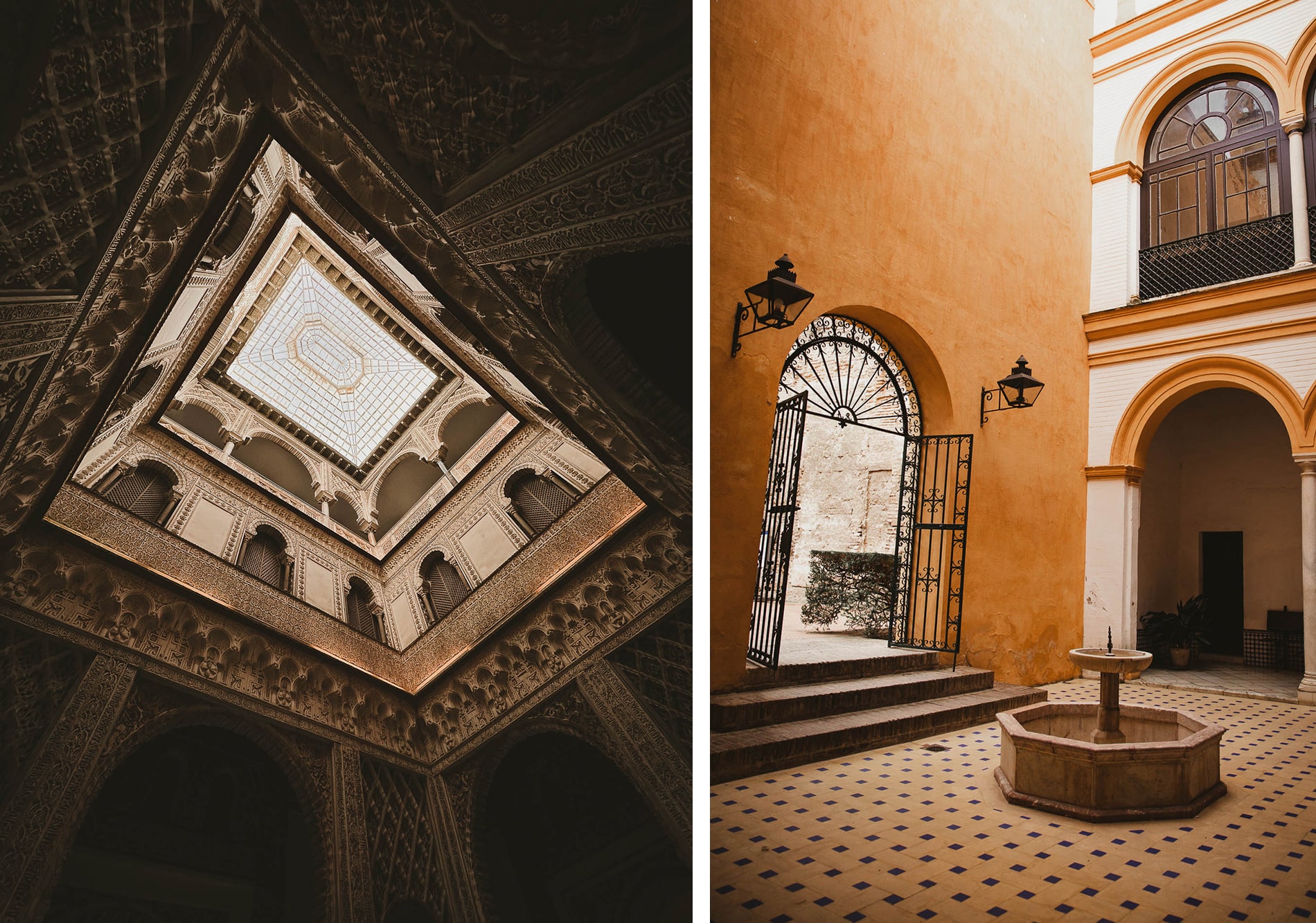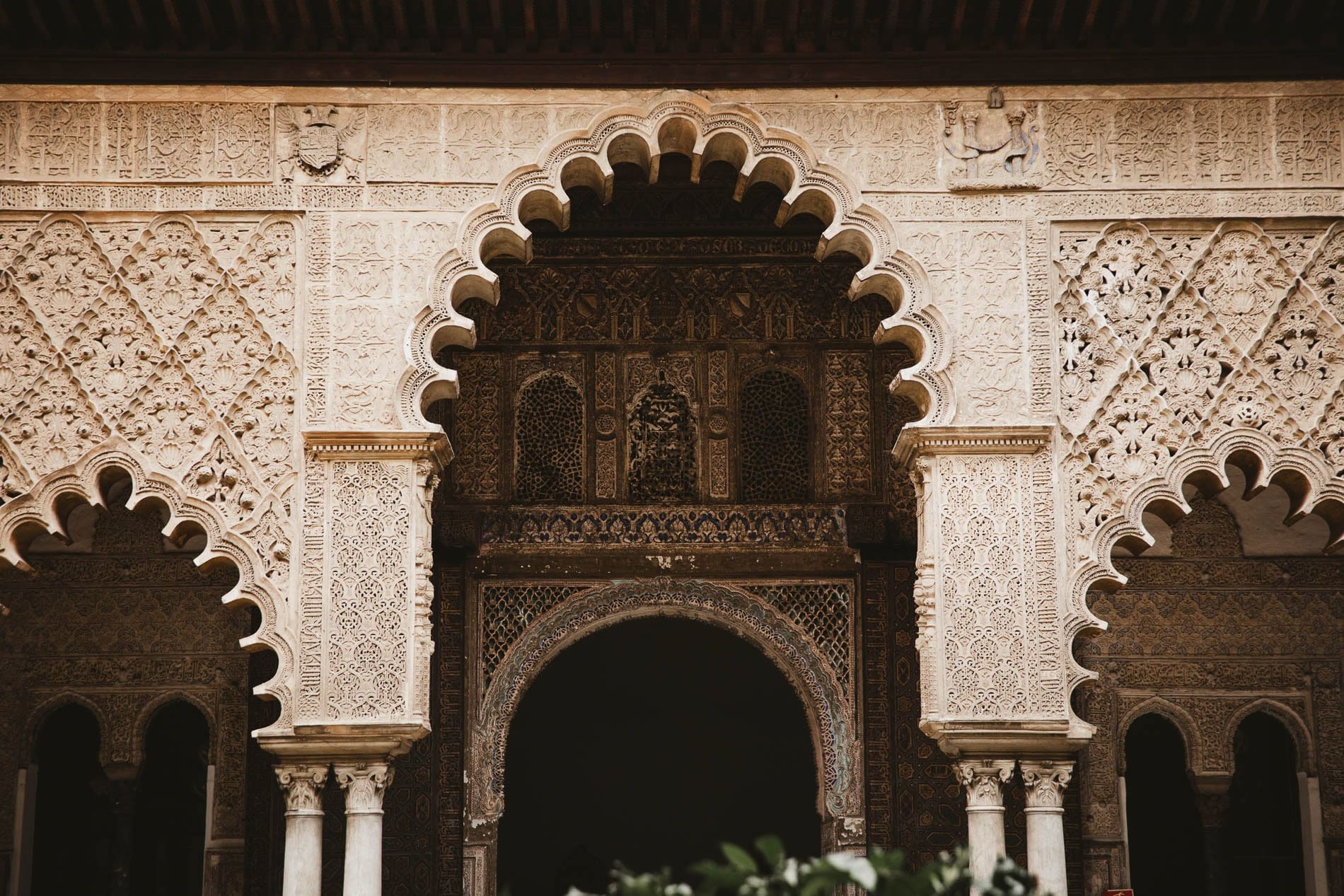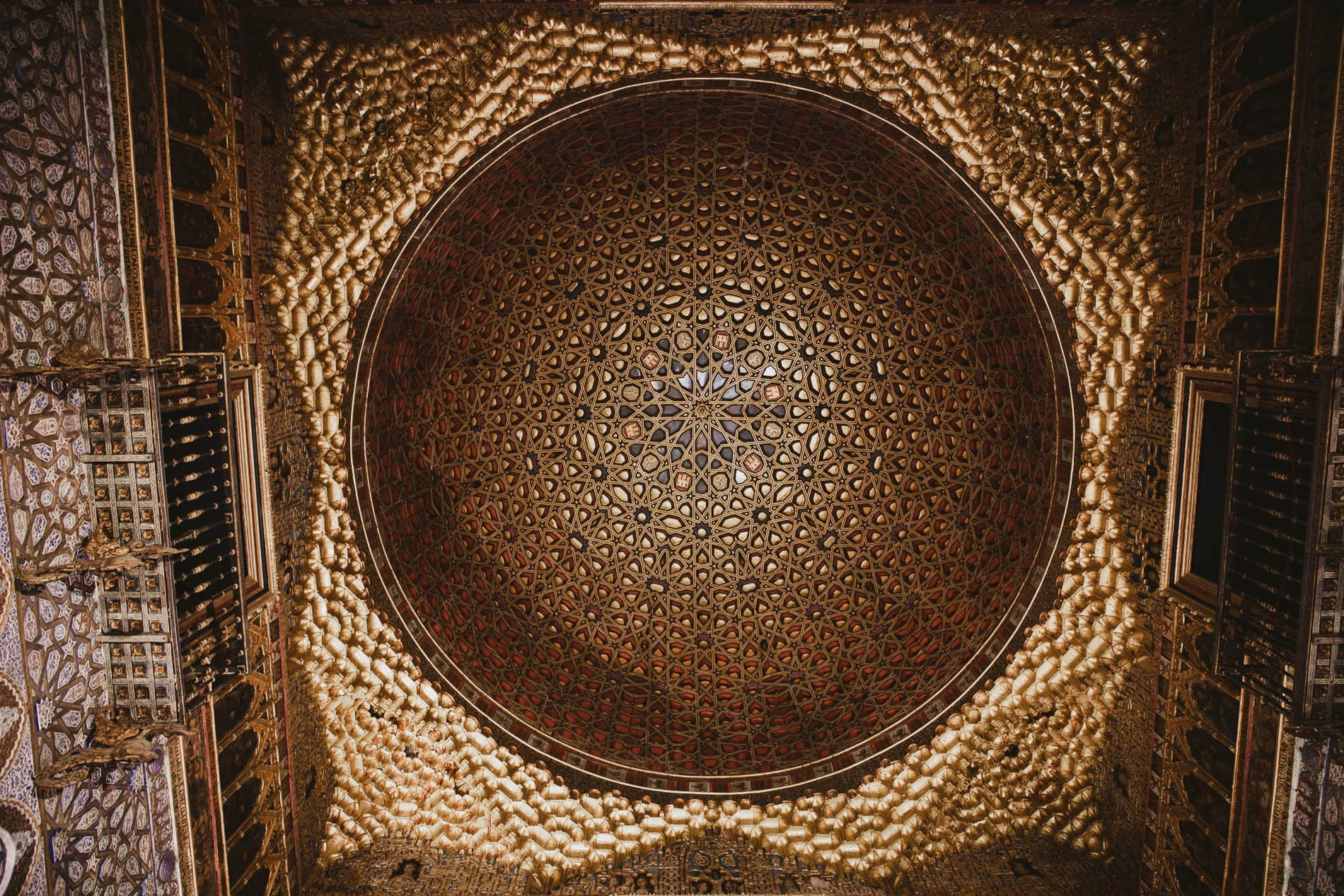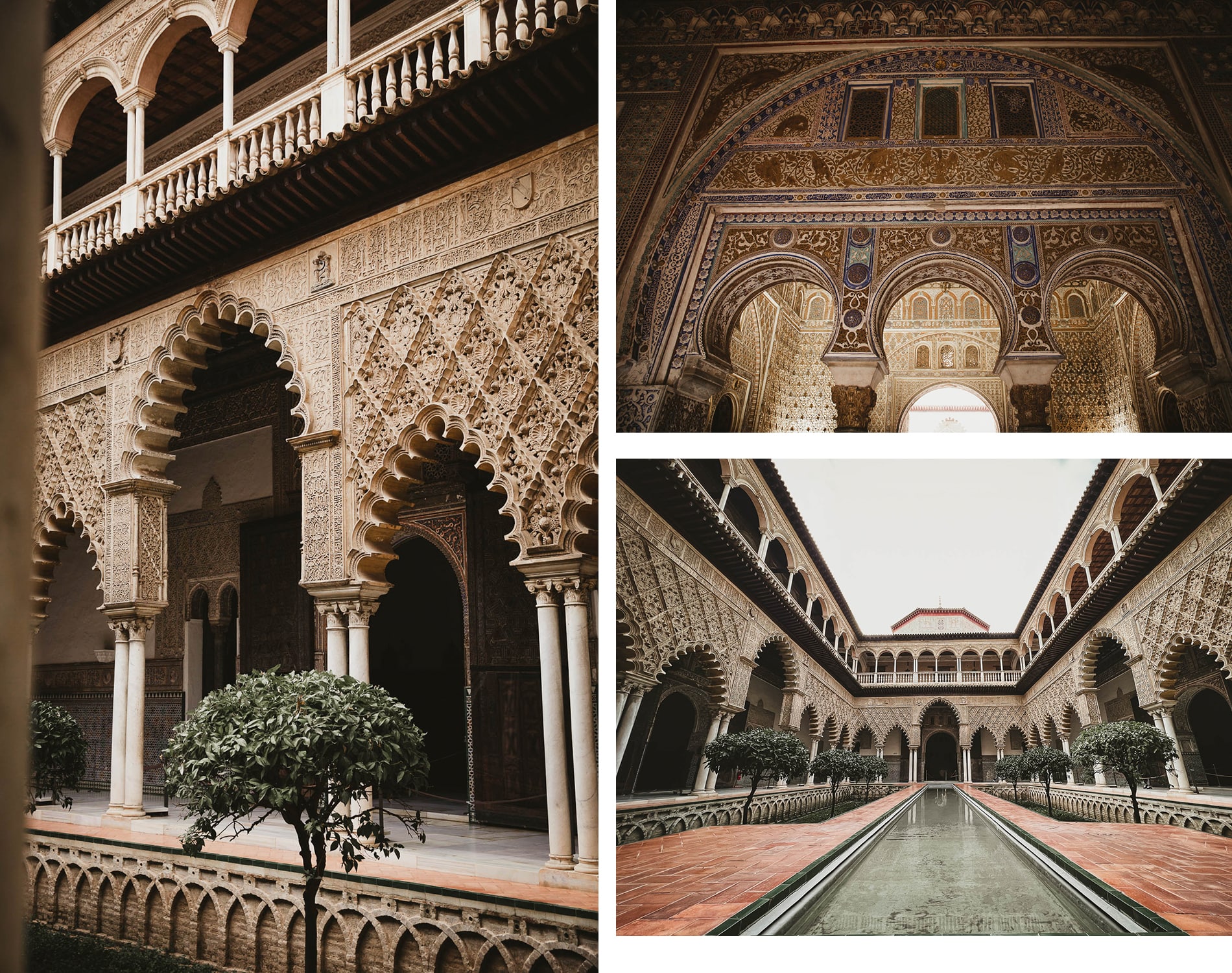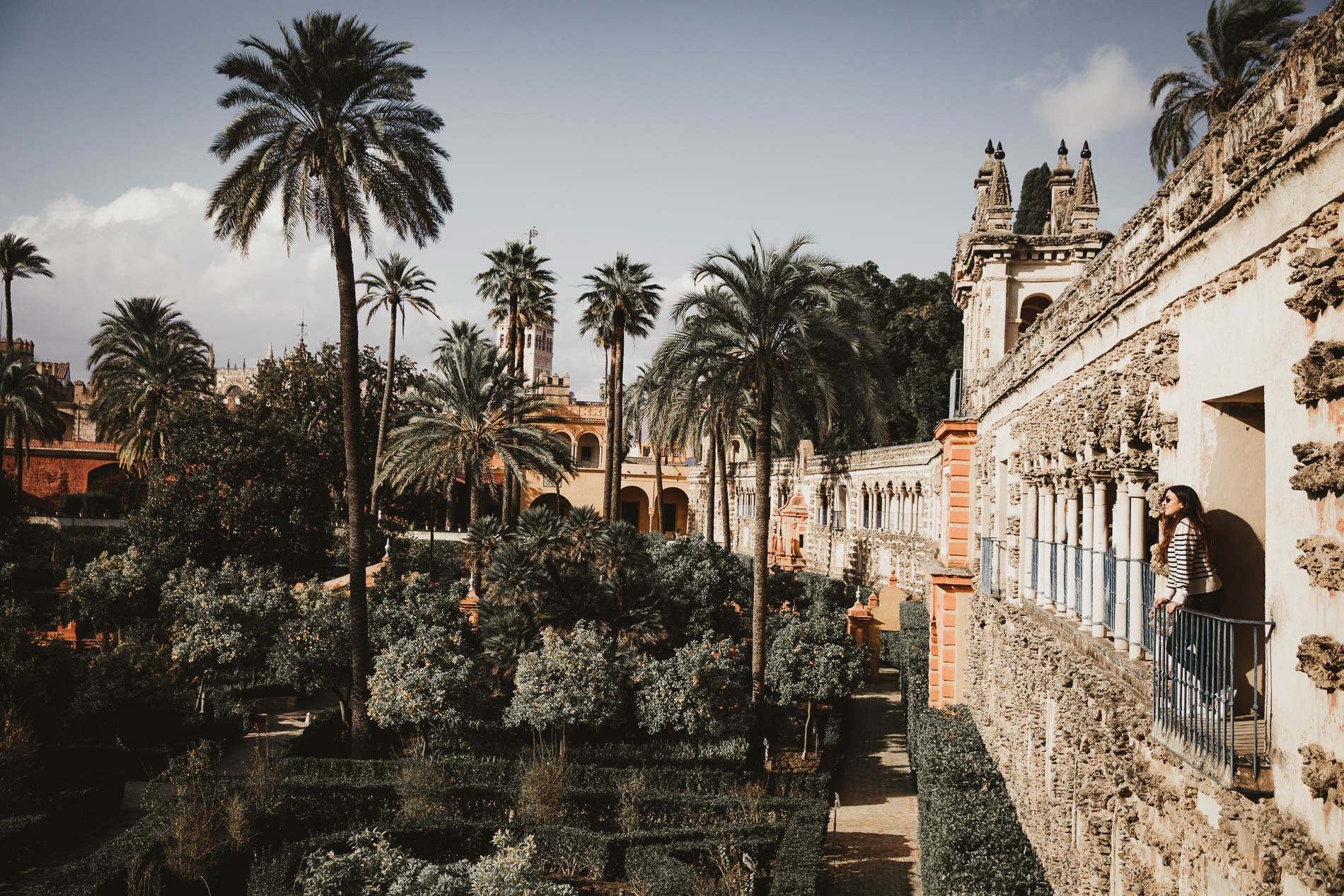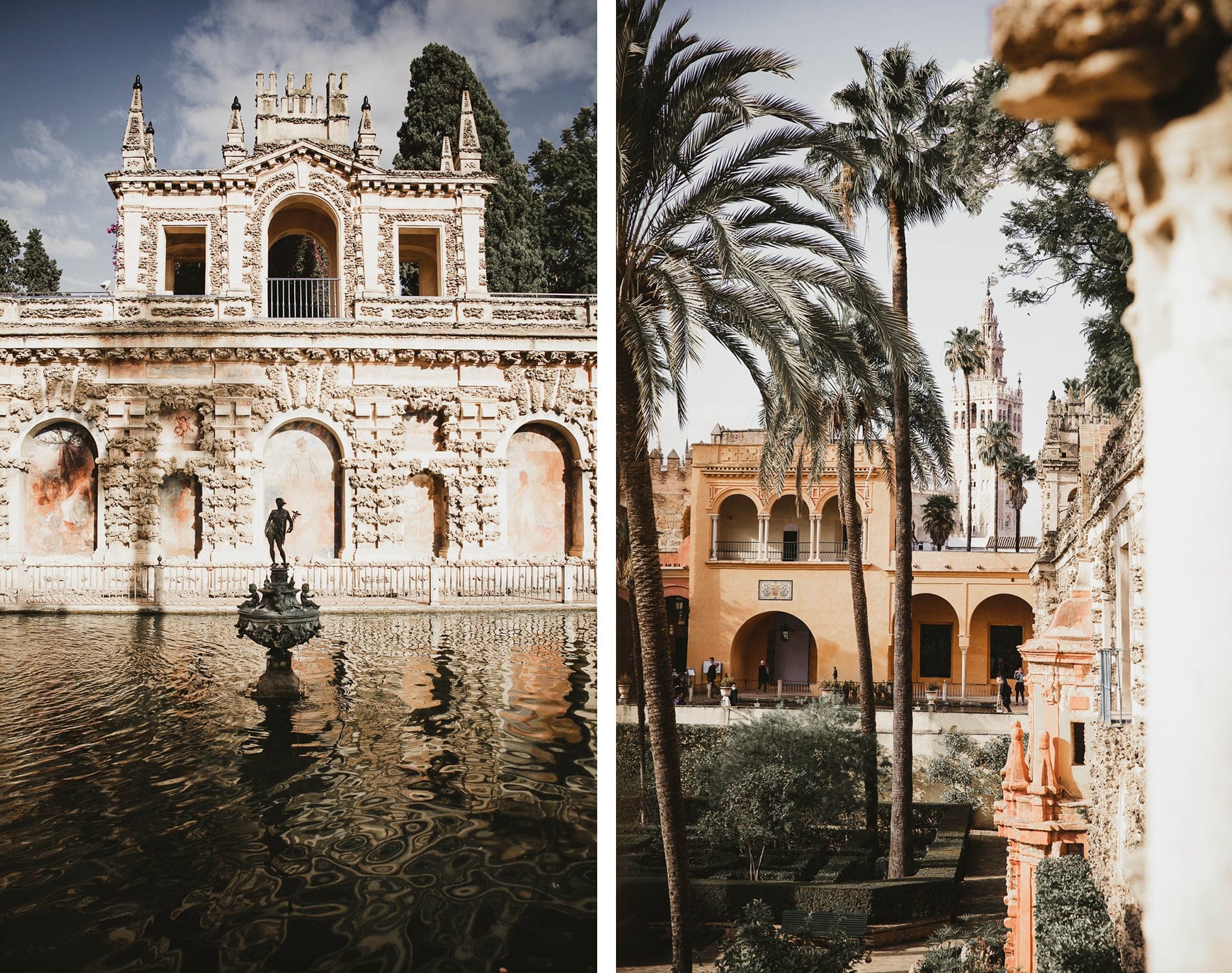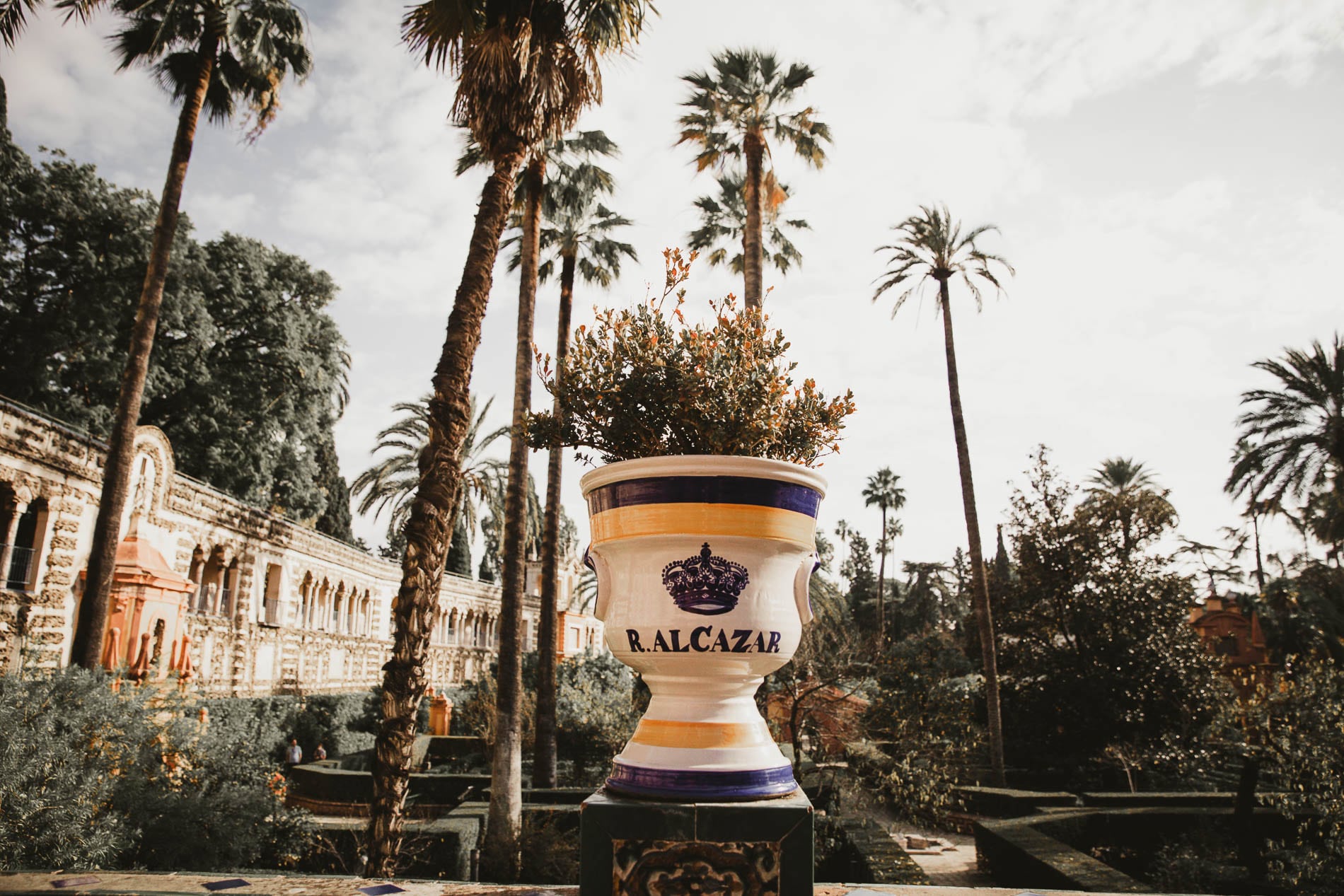 The Santa Cruz district is the city's former Jewish quarter. Situated just behind the Alcazar and the cathedral, this is a touristy area in terms of the main street, but it's also a quiet, sunny district that's not lacking in charm. Lose yourself in its perpendicular cobbled streets and you'll come across beautiful little squares adorned with fountains and lined with jasmine and orange trees like the Plaza Venerables, Plaza Doña Elvira, Plaza de la Allianza and Plaza del Triunfo. Ideal cool places to enjoy a coffee or an aperitif. You can also stop off at the « Murillo Gardens », free and located next to the Paseo de Catalina de Ribera to see and smell the plant species present, such as Magnolias, orange trees, ficus and night jasmine.

Let's talk about Seville's orange trees, as this is one of the city's special features, with countless orange trees (40,000 bitter oranges) giving off an extremely pleasant scent in spring when they're in bloom. It's very photogenic at the end of the year when the oranges ripen in the trees. l'hosteria Del Laurel » Plaza the los Venerables 5, a small tavern serving typical Andalusian dishes, plates of cold meats and cheeses, fish or paellas, with the patience to wait 1 to 2 hours for it. (this is certainly the price of quality). For more refined dining, you'll find the restaurant "Corral del Agua " with its small, leafy patio and more refined Andalusian cuisine.

Enjoy a leisurely lunch at «

This is also where I found a ceramics manufacturer at Seville Ceramics, C/Gloria 5. I found some absolutely beautiful and refined trivets. A lovely gift idea to bring back to your loved ones. Not far away, you'll also find the Nazareth Ceramics, C/Feria N°15.

Finally, here you can discover one of Seville's most unusual streets namely, the « ruelle de l'eau » (Water Alley), 140 meters long, which starts in Alfaro square and leads to Vida street. Formerly known as the "water wall" (Muro el Agua), it was a "chemin de ronde", a street that ran alongside the city wall.

Finally, there's one place I'd have liked to try out, but with Gabriel, our 5-month-old baby, but we had to make a reservation and that seemed very complicated because children aren't allowed. If you want a place to relax in a sublime and enchanting setting, rendezvous in the old city baths « Old Baths area of Sevilla ». The number of persons is limited to 10 in the lhe thermal baths at any time of day, so you can take advantage of the various baths spread over several floors and the steam room. The site also boasts a rooftop to take a drink by the pool with views over the rooftops of Seville Cathedral.This is a highly sought-after location, so be sure to book ahead!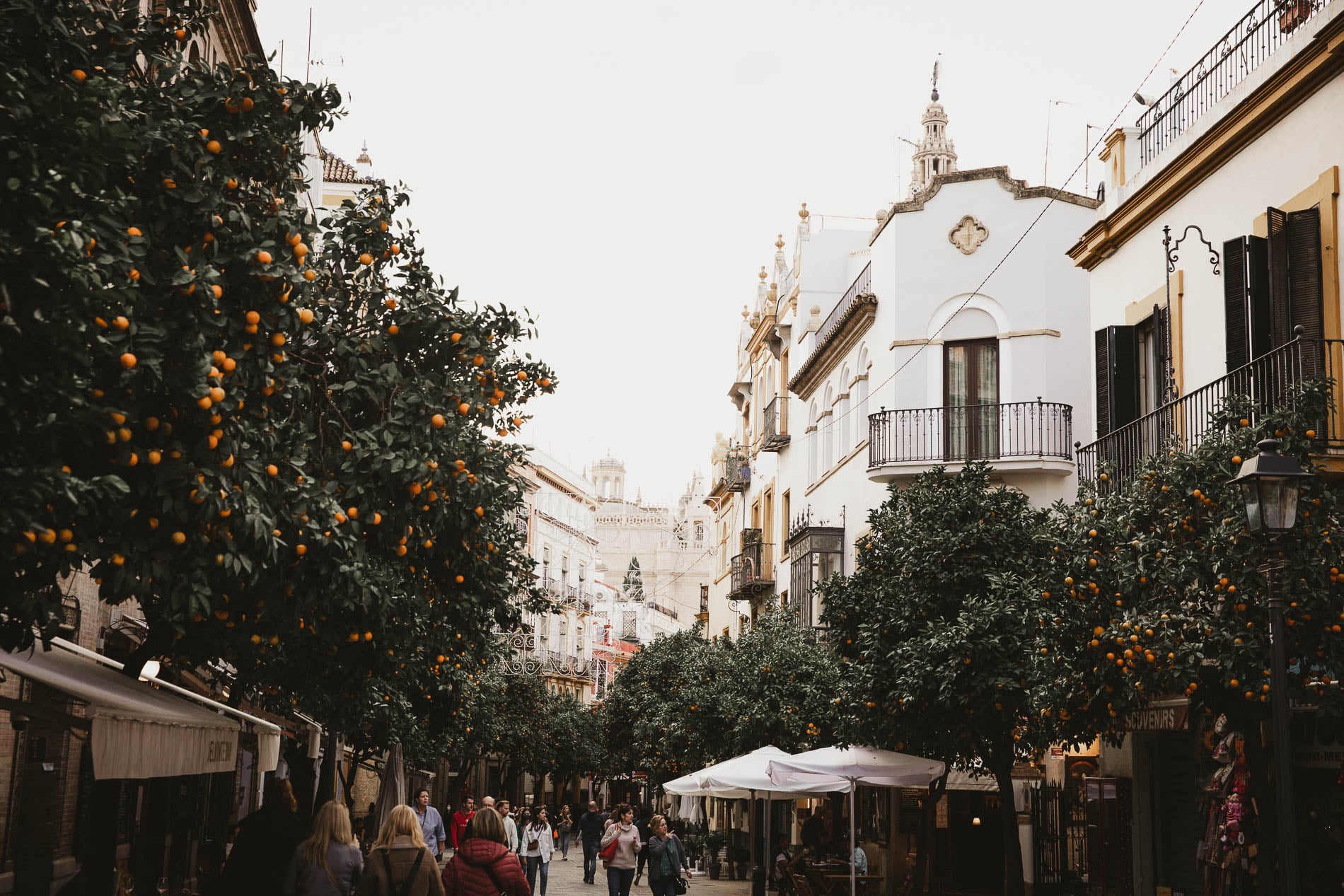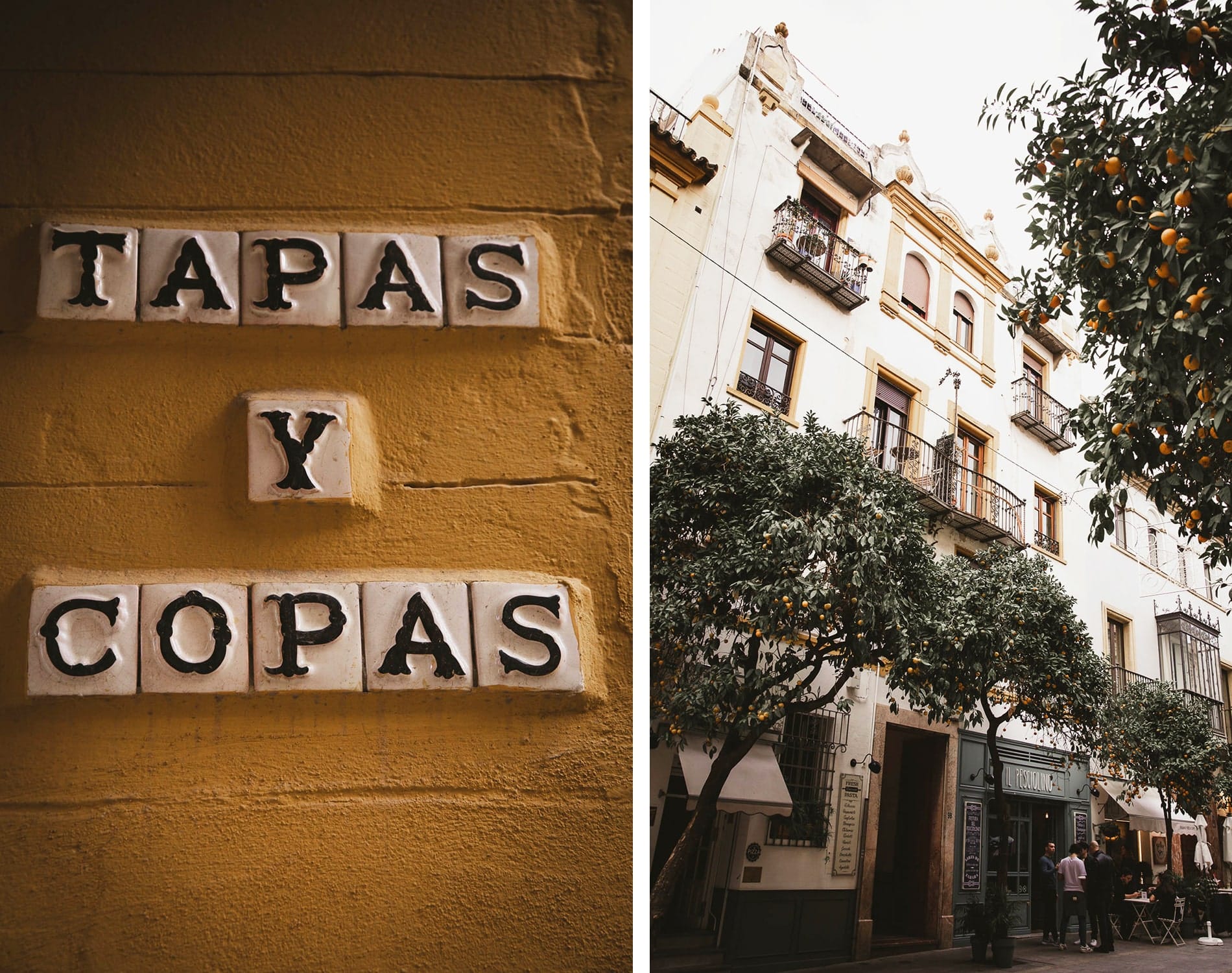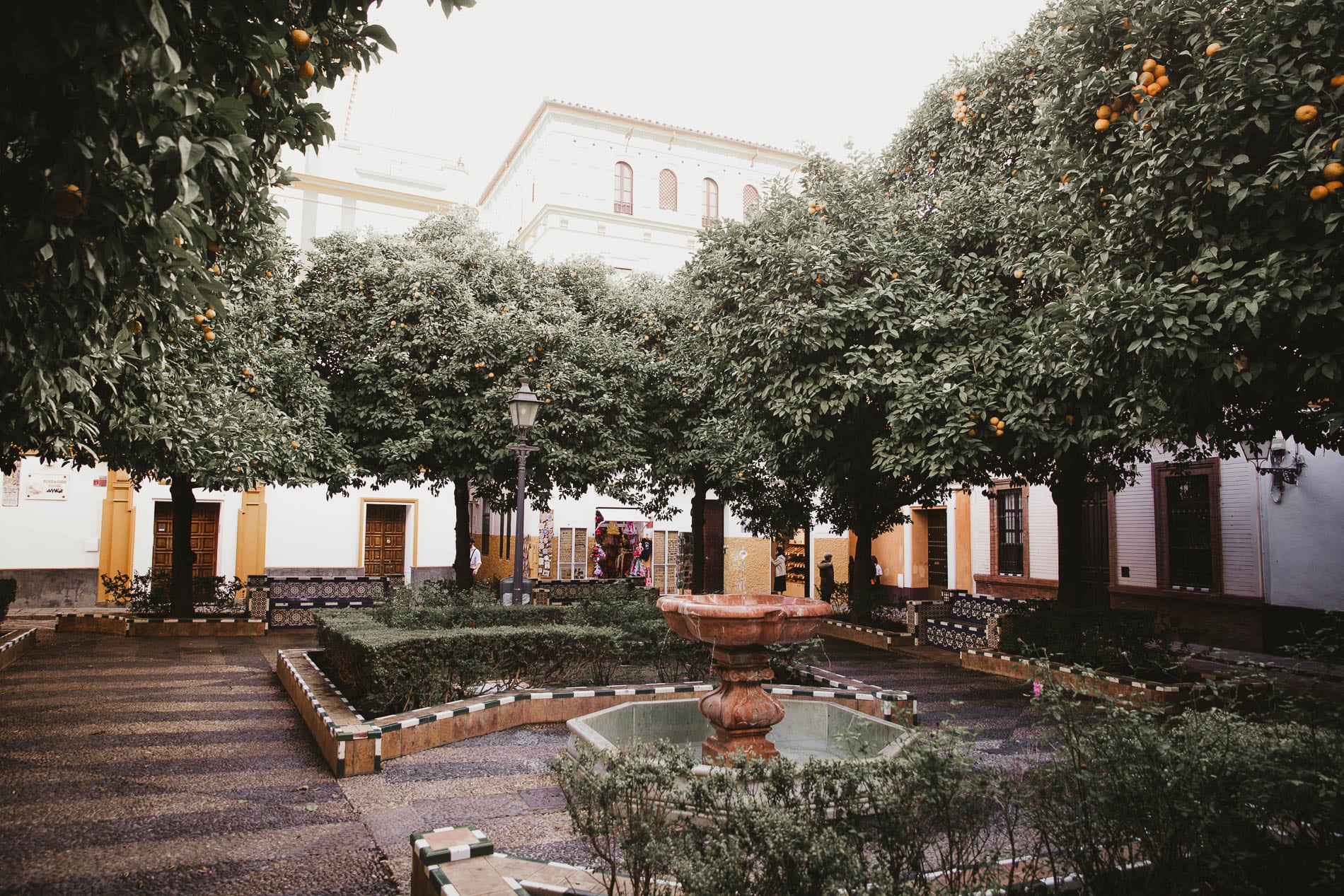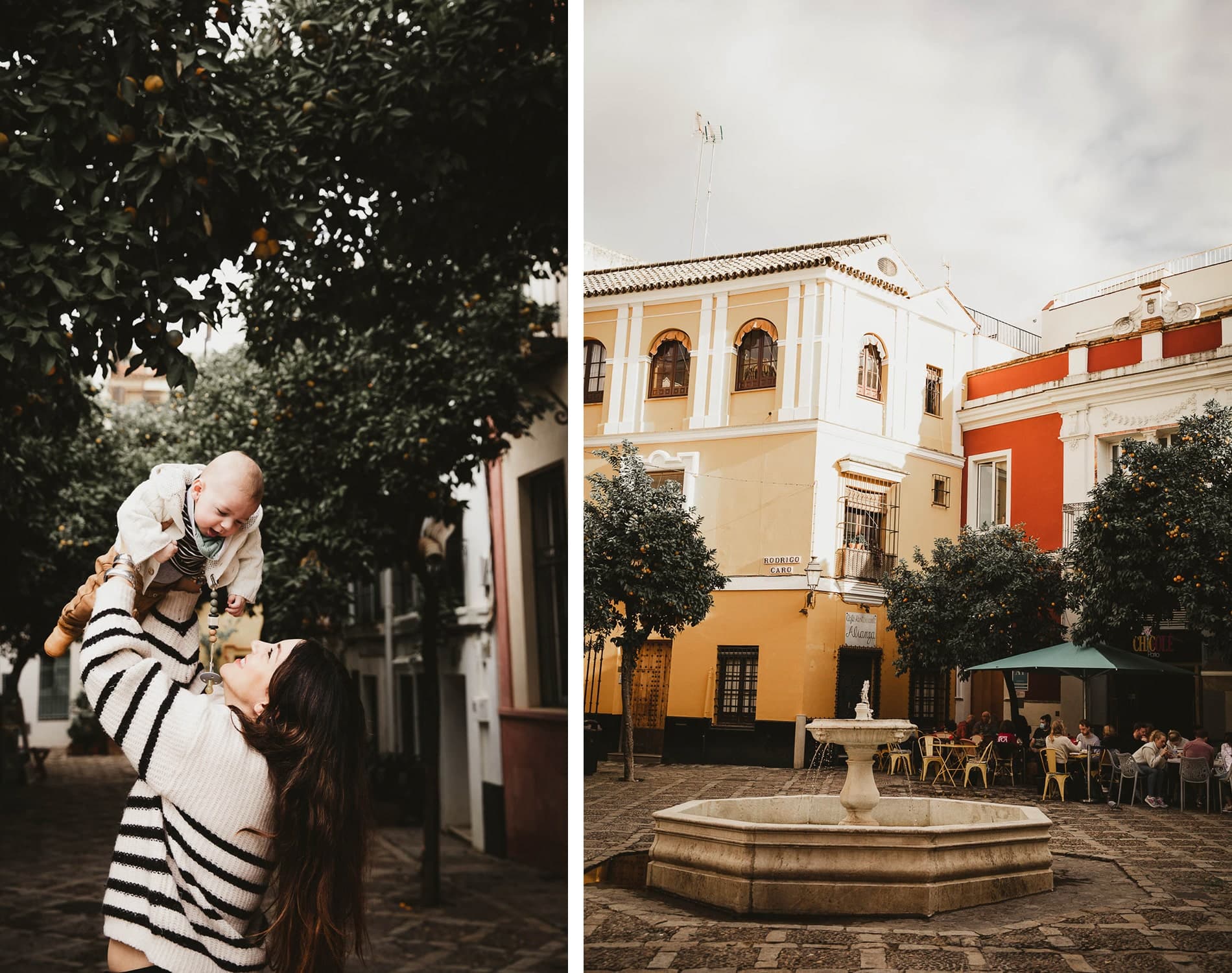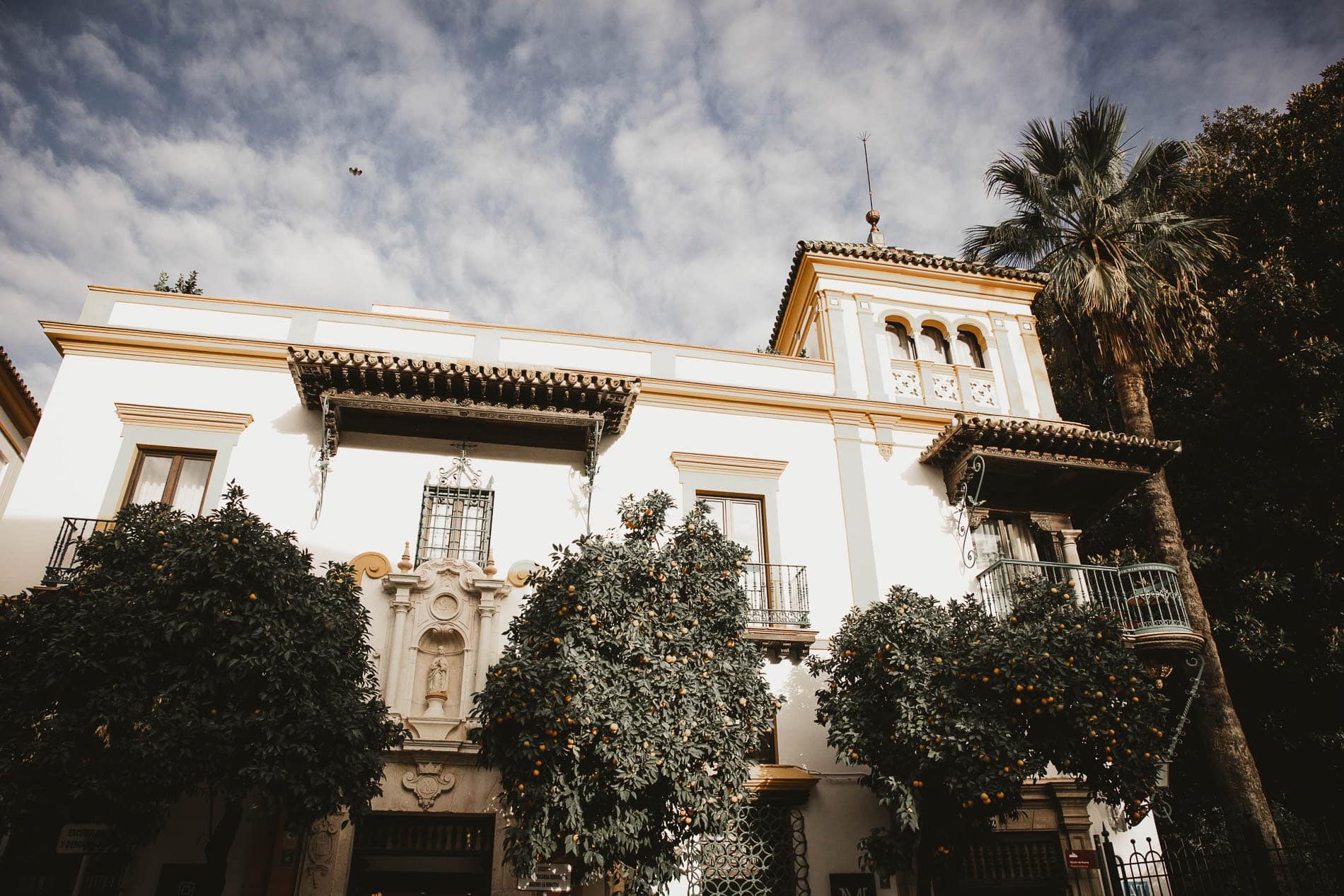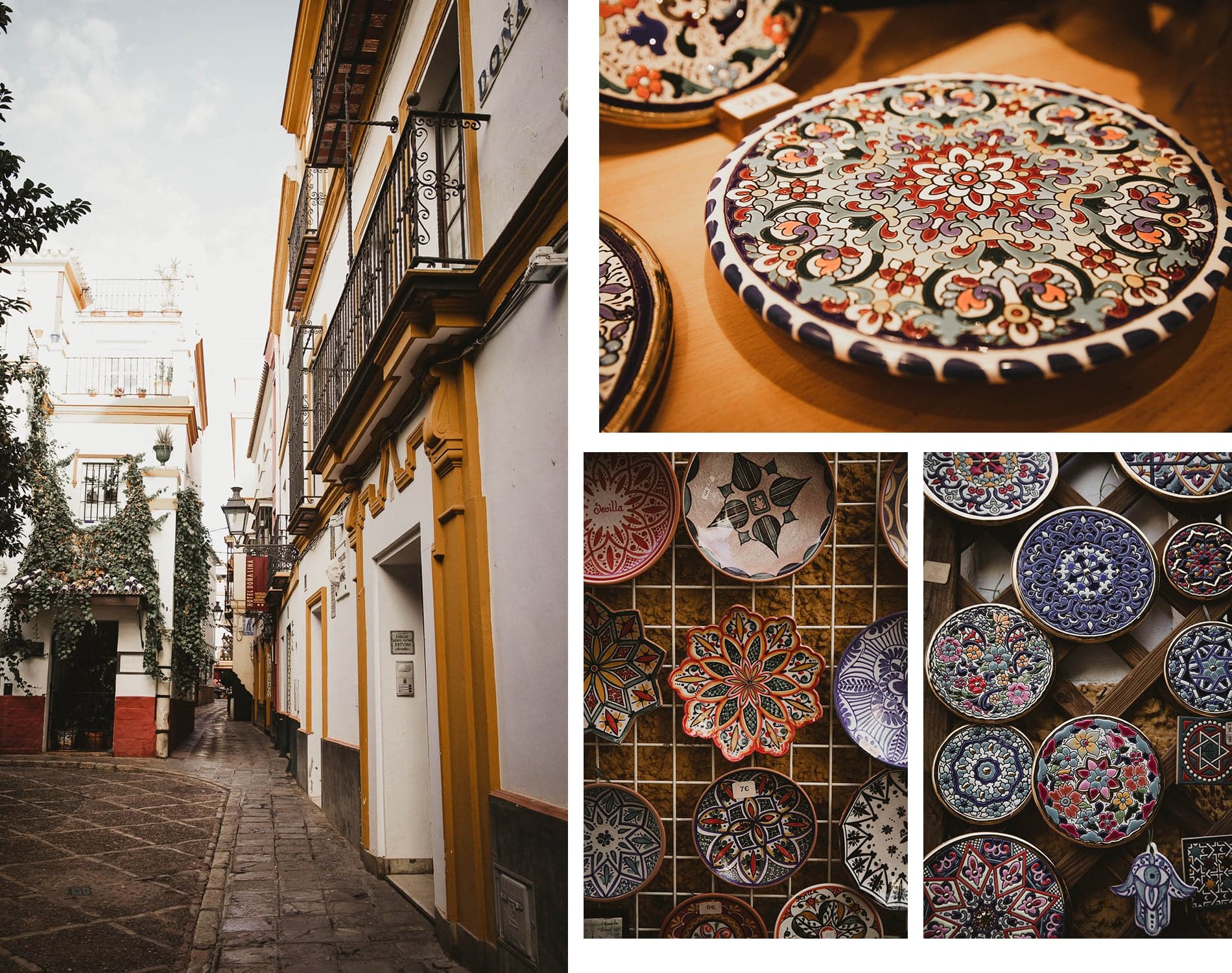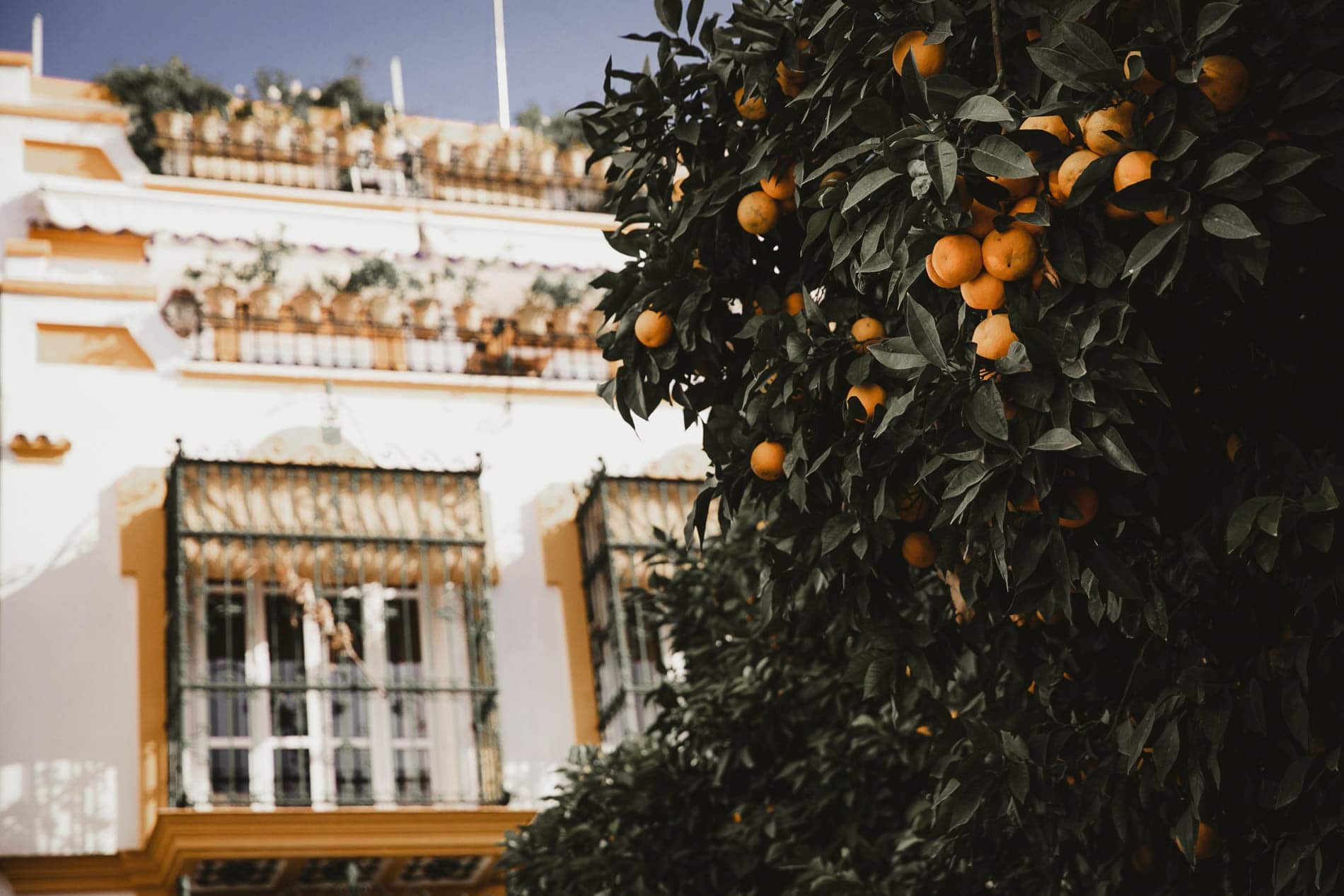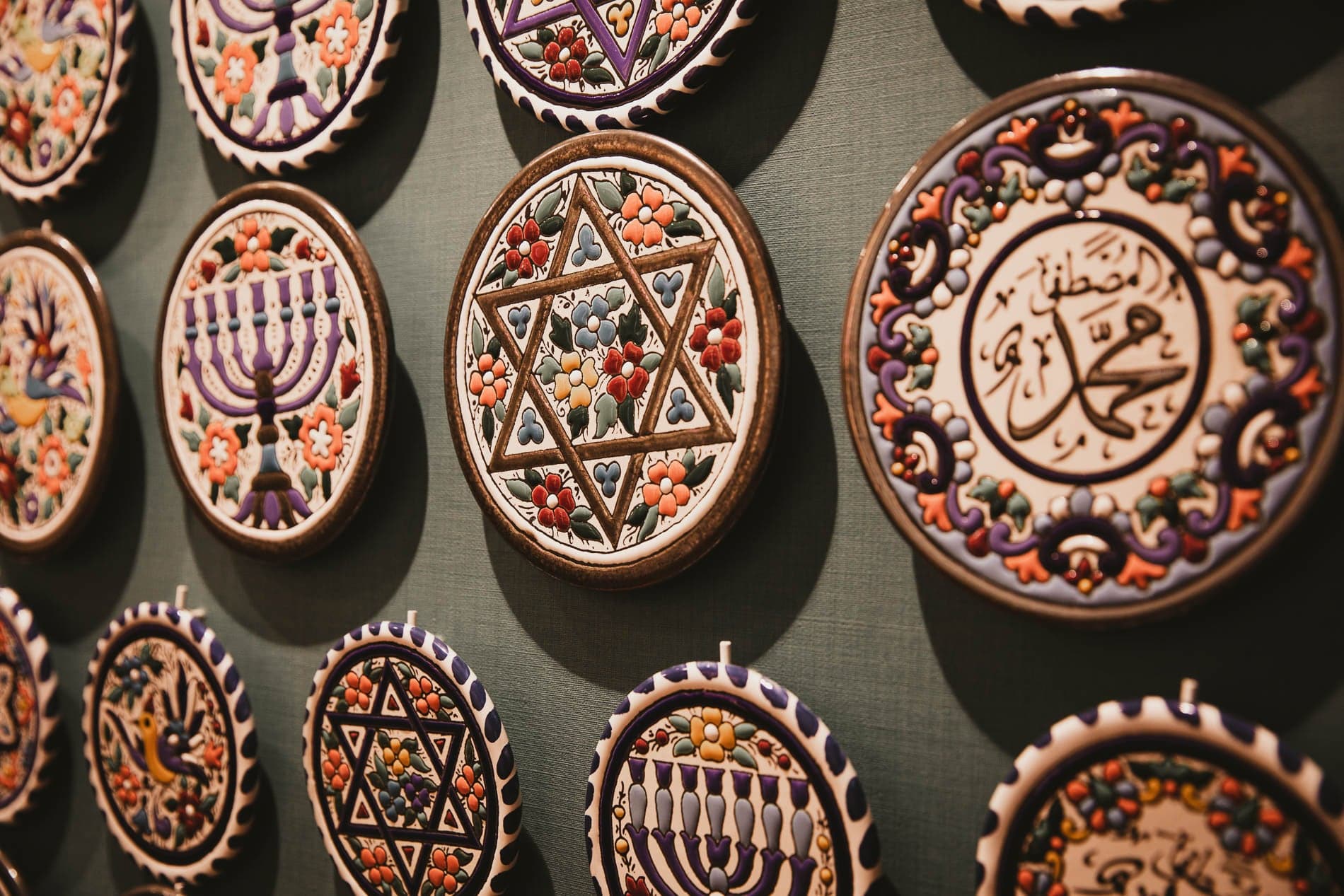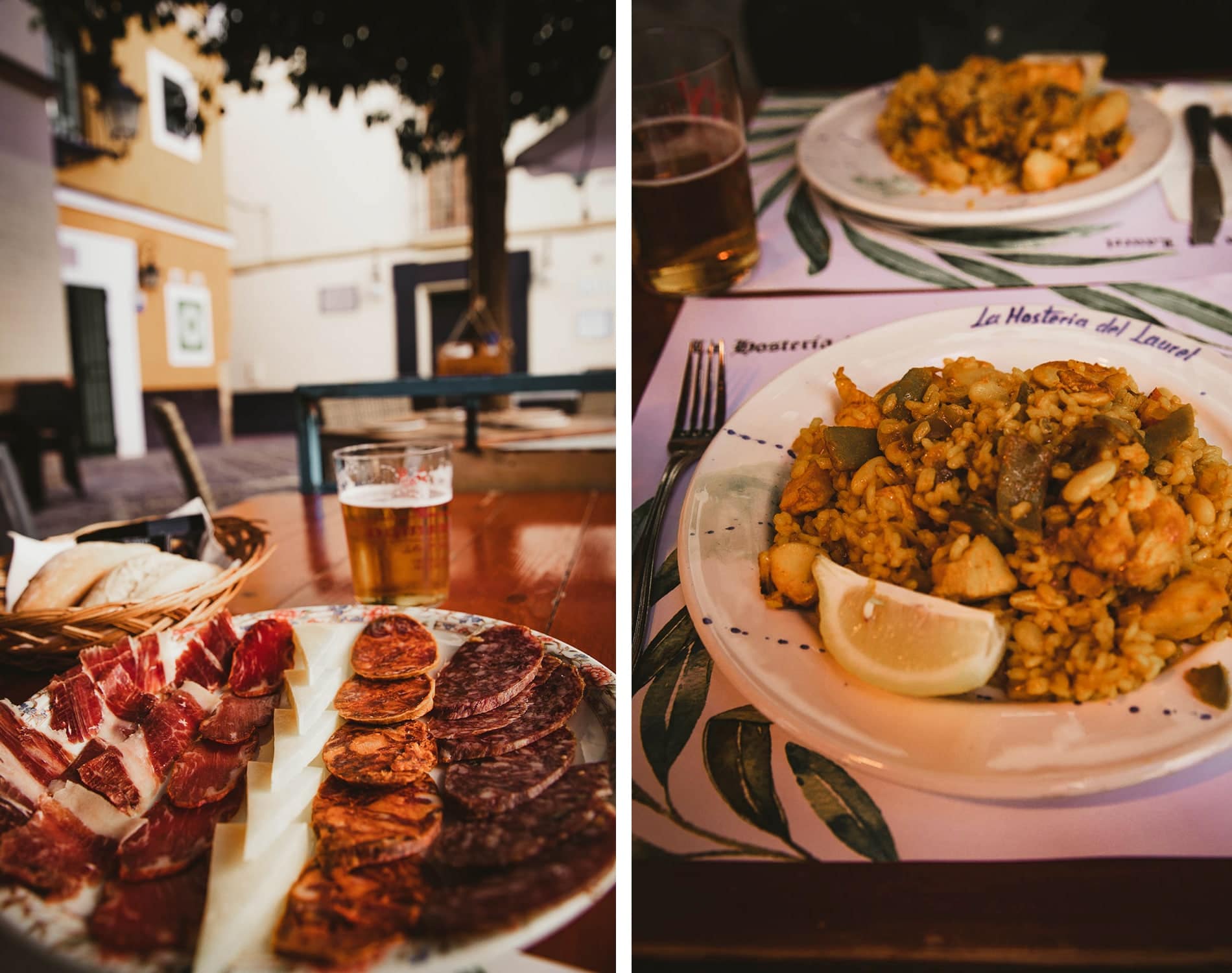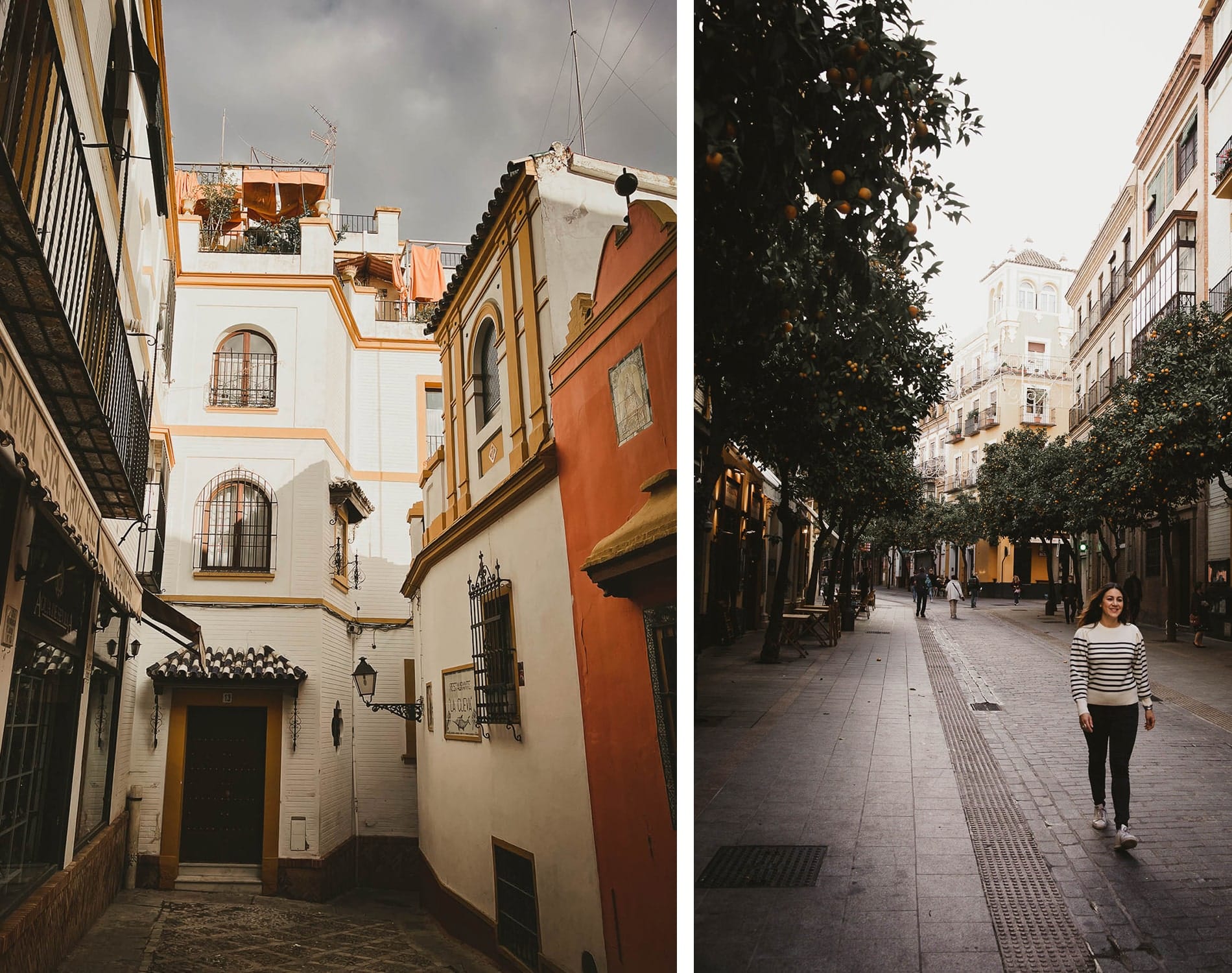 | THE FERIA DISTRICT AND ALAMEDA DE HERCULES
the Mercado de Abastos » and the Palace of Las Dueñas.

The Feria district lies to the north of the old town. It's an area that seemed to us to be in the midst of change, like the city's new trendy district, but above all it's an area frequented by Sevillians. You'll find bodegas on almost every street corner, thrift stores, ceramics stores and a super market. «

The Alameda de Hércules district has become Seville's alternative paradise.which attracts crowds of hip young bohemians and artists alike. Design bars and restaurants coexist with small troquets and neighborhood tapas bars. Here you can shop for Andalusian specialties or enjoy lunch.

The long square « Alameda de Hercules » is well worth a visit, with its many cafés and restaurants, as well as the Feria market and La Macarena Basilica, a Catholic temple located number 1, rue Bécquer, in the La Macarena district to the north. In the nearby San Lorenzo district, we loved the charming little Plaza de San Lorenzo full of life and next to Spinola, Martinez Montanez and Eslava streets. It was also in this neighborhood that we set down our suitcases in a apartment hotel very nice, the Feria Pool & Luxury. Spacious rooms with great bedding, equipped with a kitchen (very practical when traveling with children). The hotel also boasts a very pleasant roof top with a small swimming pool for a little coolness in the hot season. The location is ideal, as it's in a lively neighborhood close to the points of interest in the historic center. You'll still have to walk, however, as the narrow cobbled streets of the old town are not served by the public transport network. On average, we walked 10km a day without any problems with our yoyo stroller.

On the restaurant side, you can also stop off at the tapas bar « Duo Tapas » au 10 Calle Calatrava which offers tapas revisited in a modern setting. There's also the « Eslava » and « the Lumbreras » which offers Japanese/Andalusian fusion cuisine. For a little snack, be sure to visit the café " Mo Ma " with a fine selection of absolutely delicious homemade pastries and a fine menu of coffees.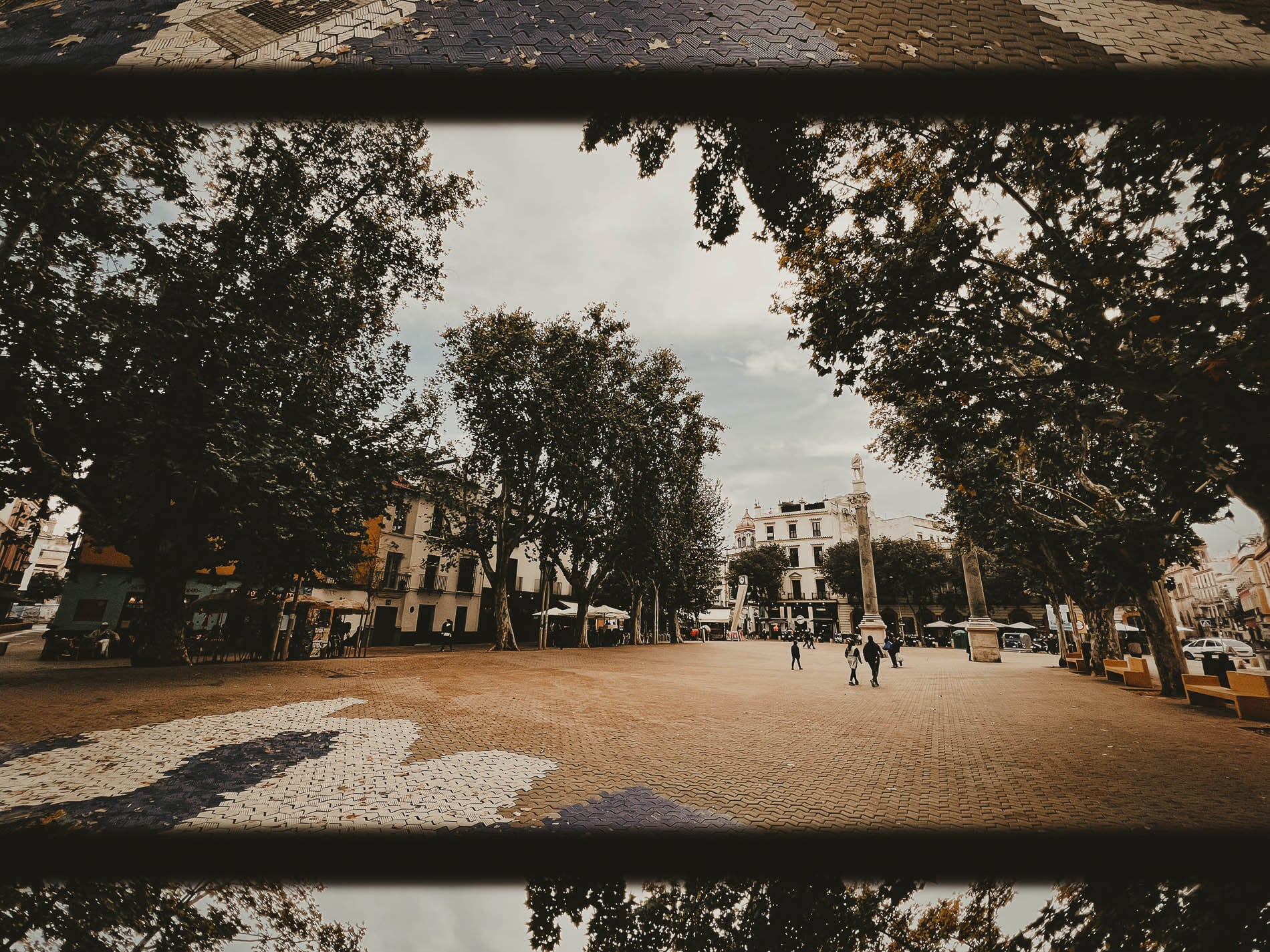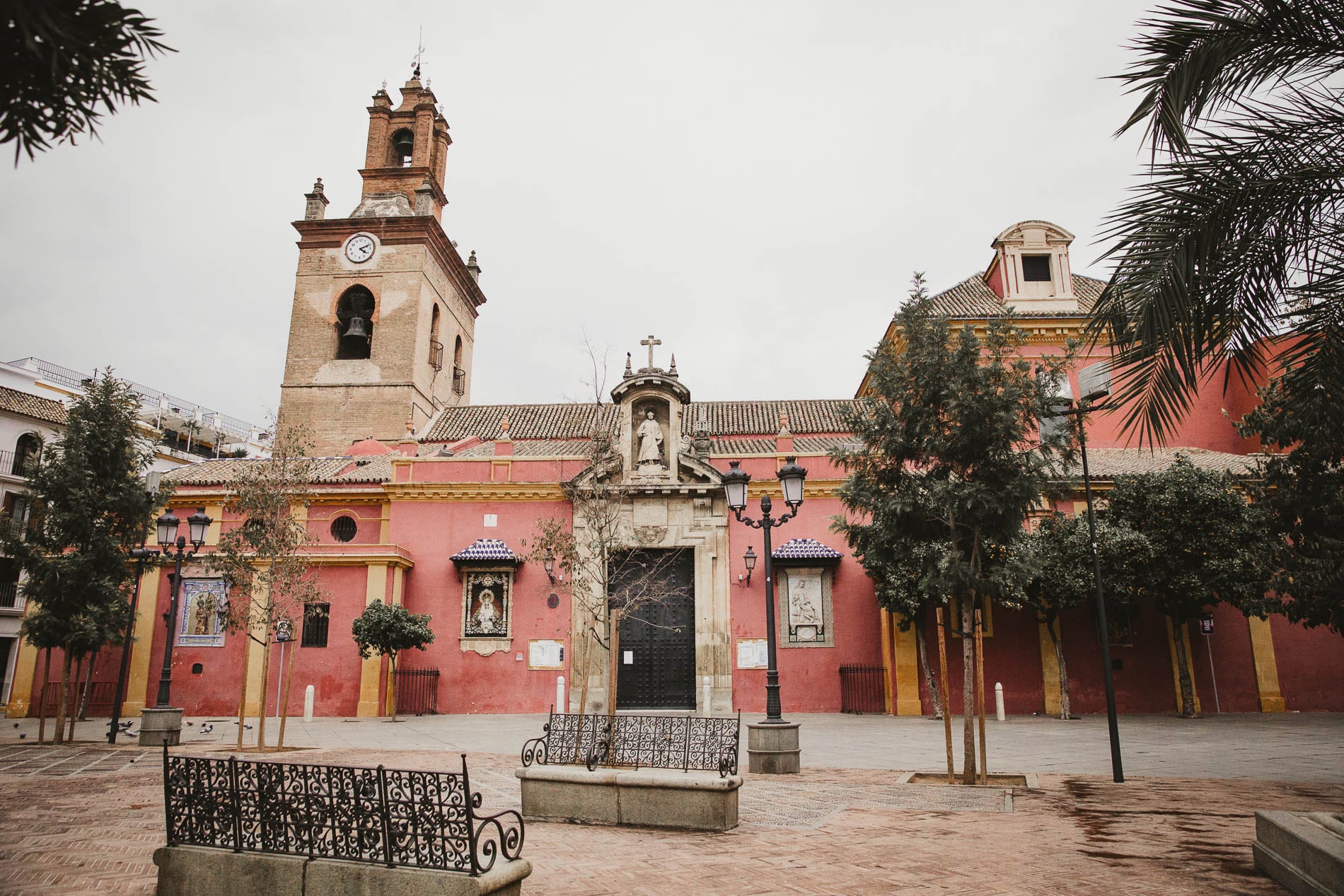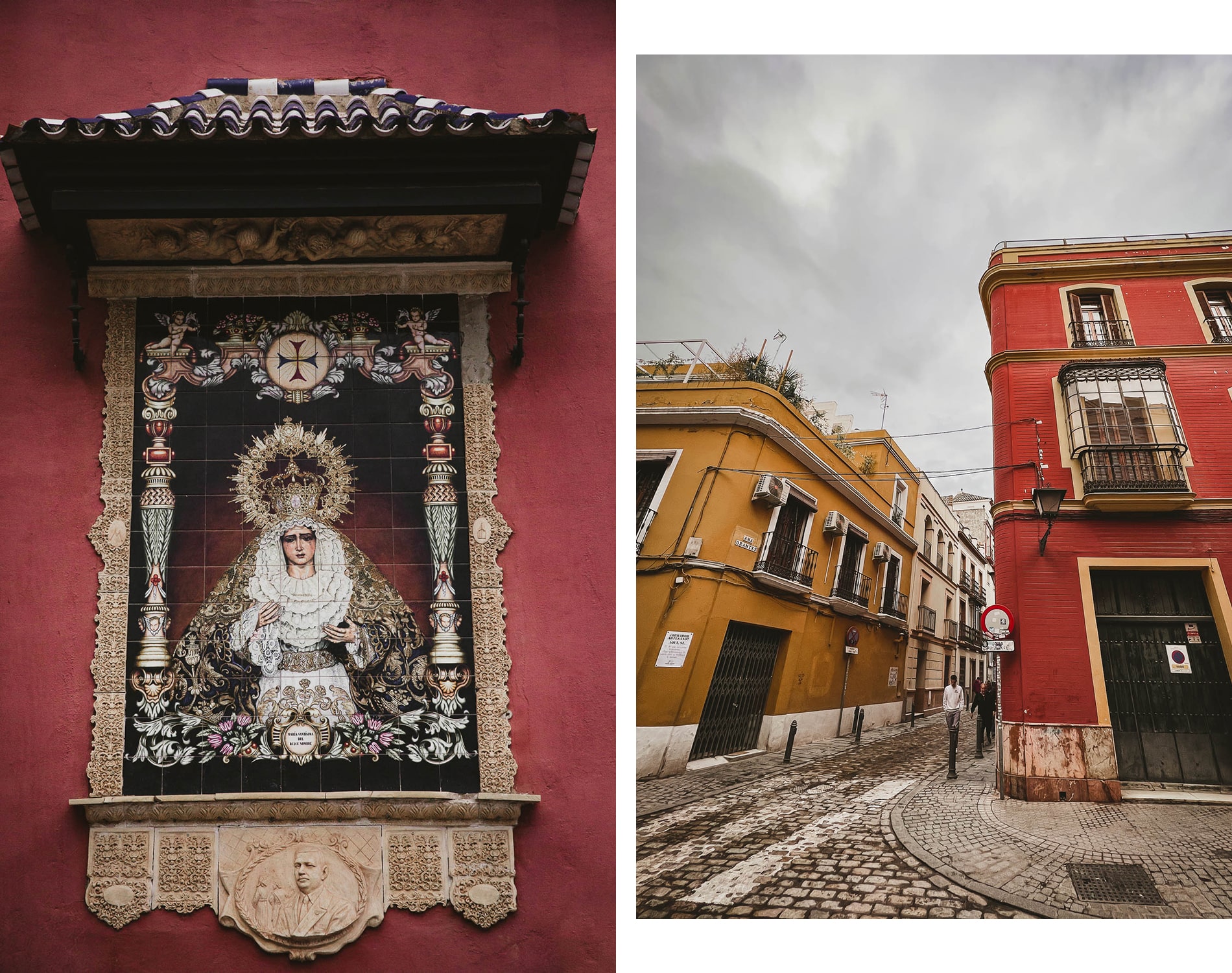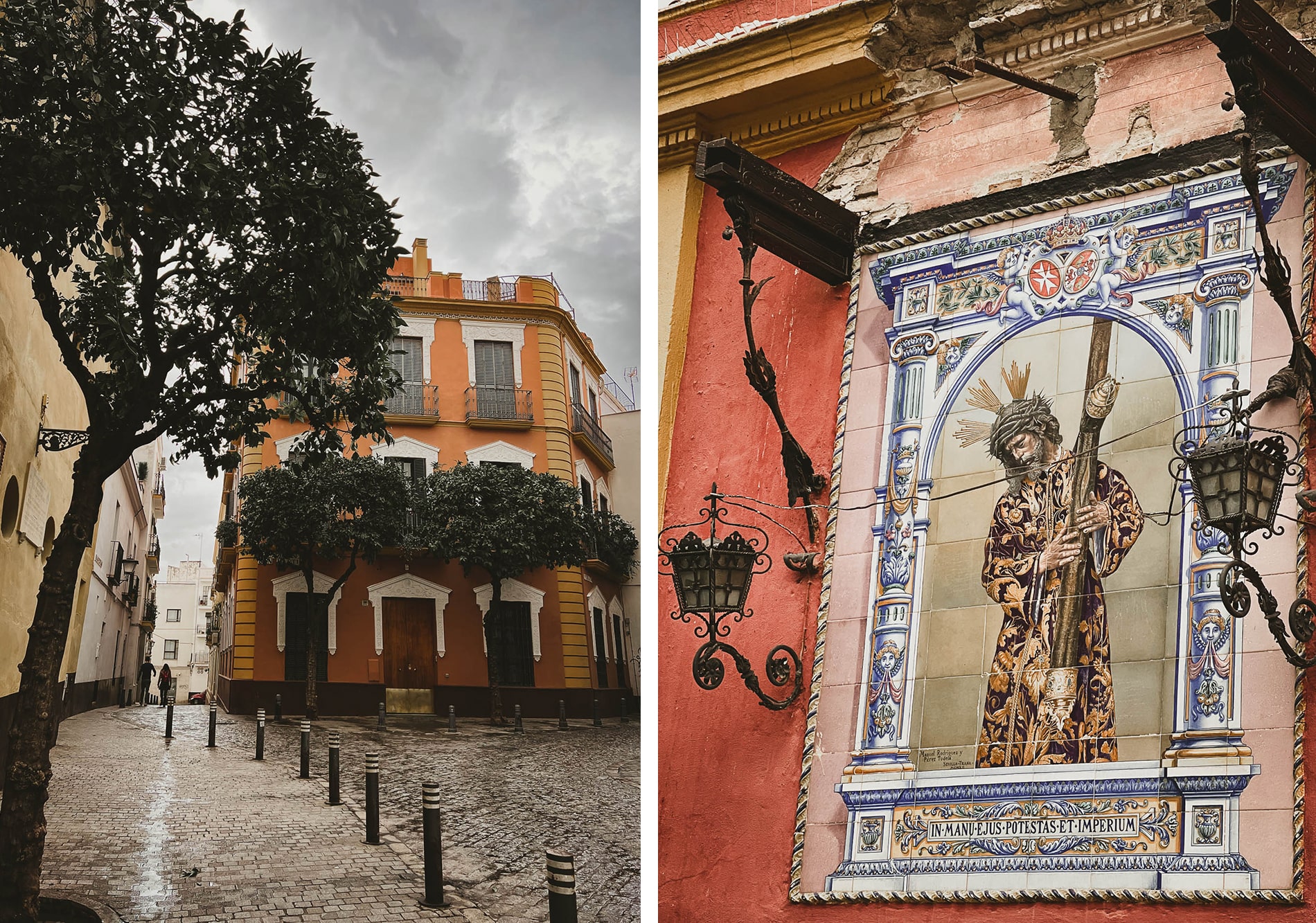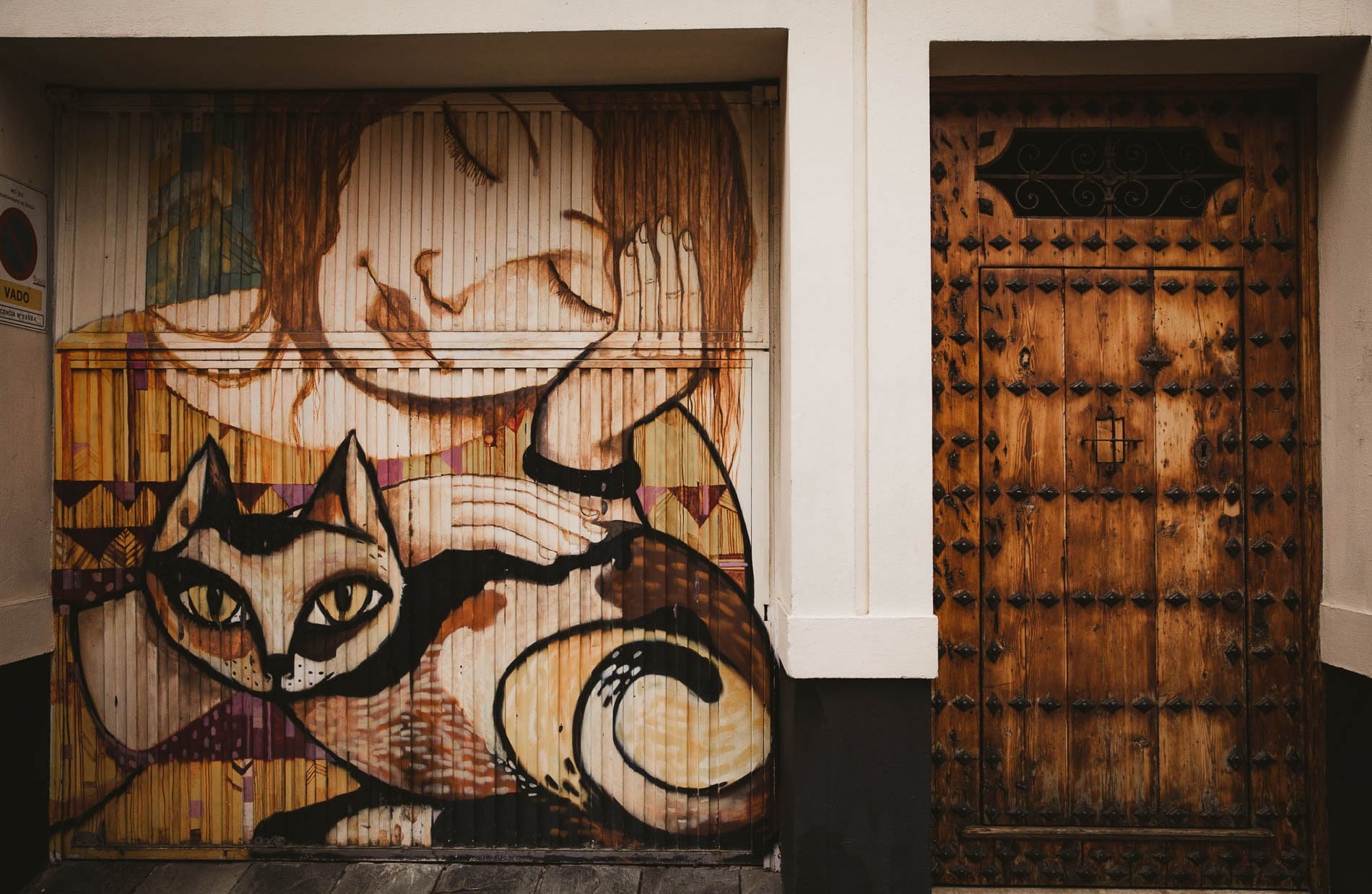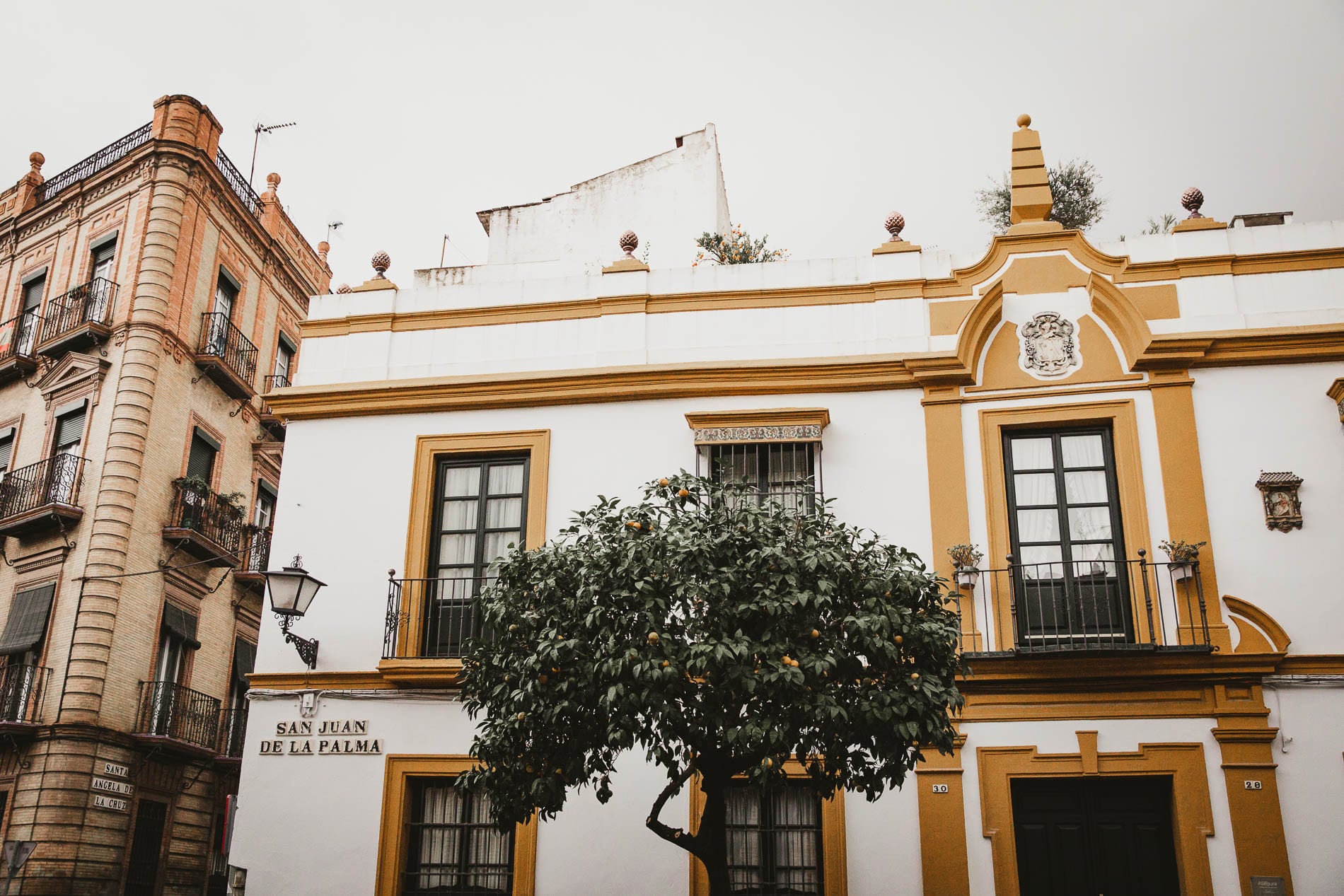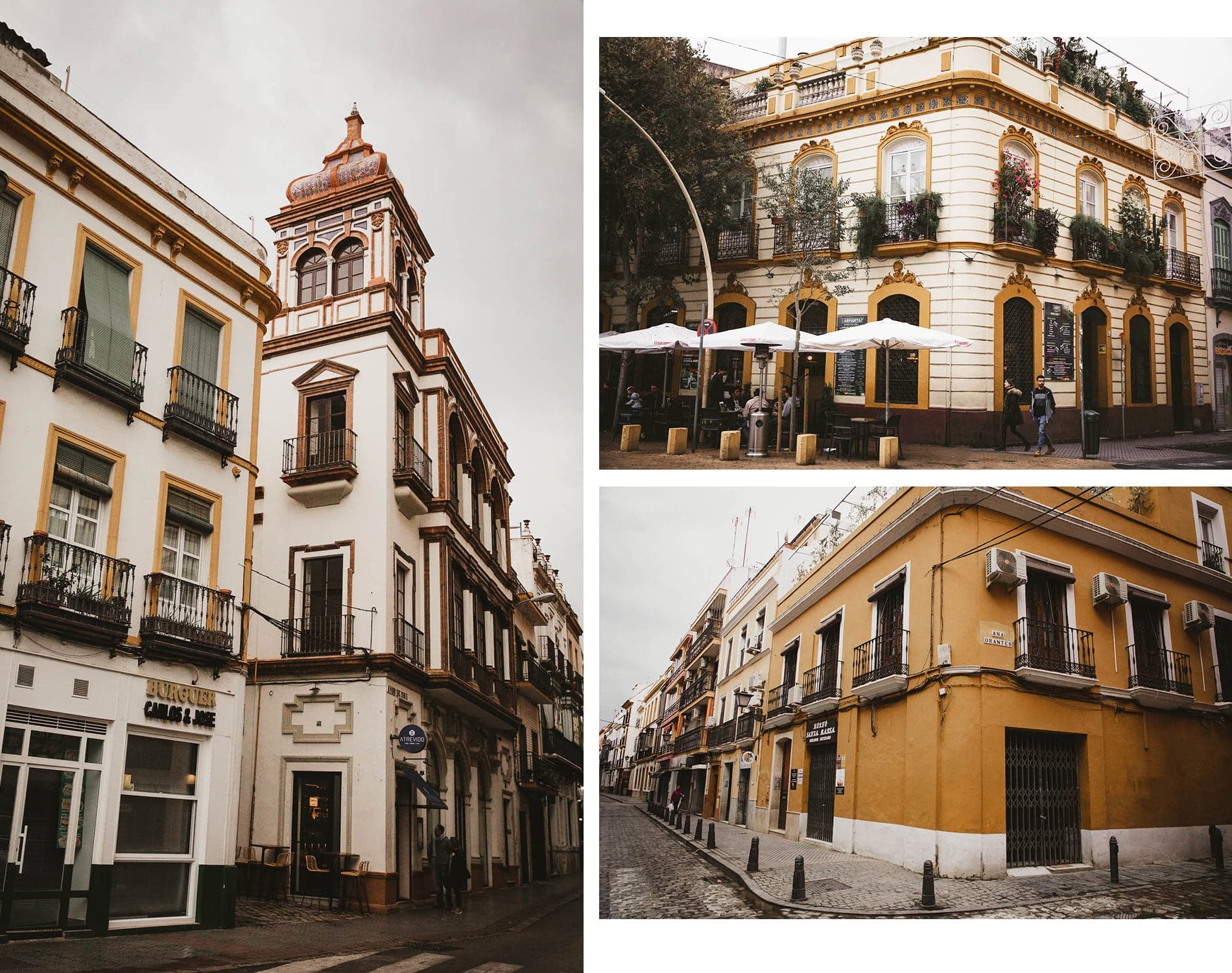 The palace has only been open to the public since 2016. A fine example of Sevillian architecture, it still belongs to the Duke of Alba, who occupies the first floor. You'll discover a palace with Renaissance architecture and a collection of furnishings classified as an asset of cultural interest. A superb garden adorned with plants imported in part from the Americas, and stables of astonishing periods. An enchanting visit in a setting that will remind you of Zorro's Spain. A must-see in our opinion. Not far from the Palacio de las Dueñas lies "the pretty Plaza de los Terceros ", where you'll find a wide choice of traditional bars and restaurants, where the locals go.
➡️ Check Palacio de las Dueñas availability here and book in advance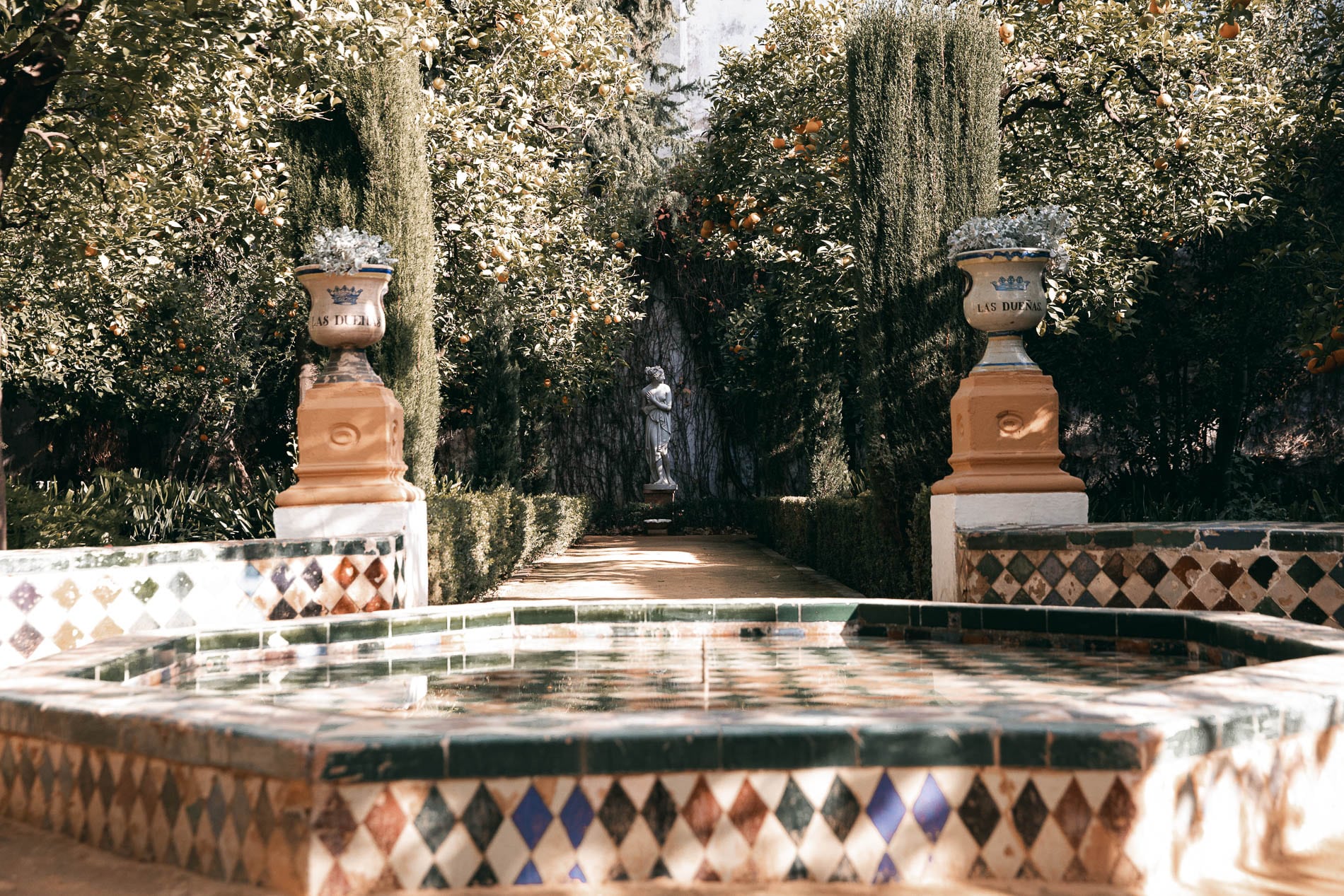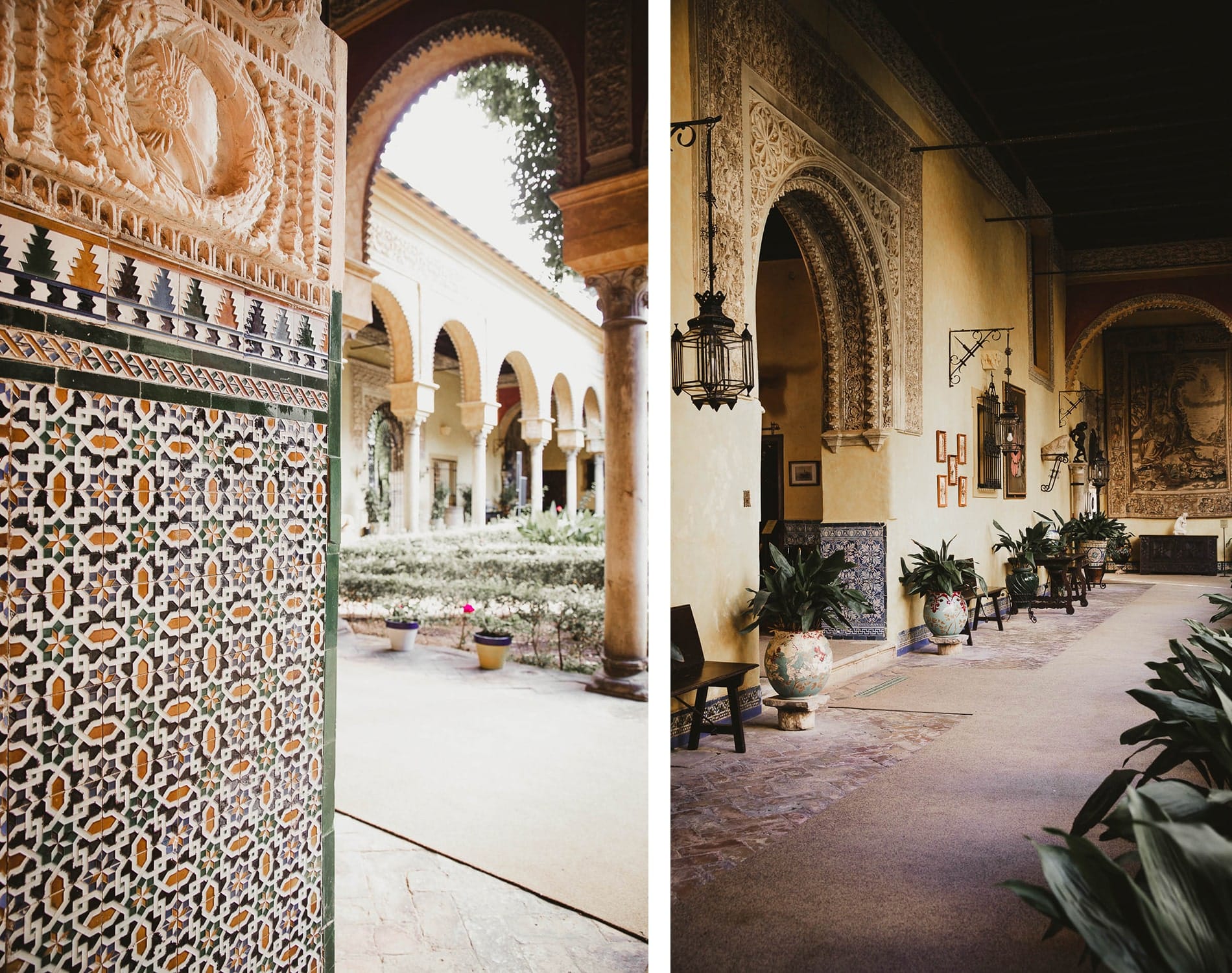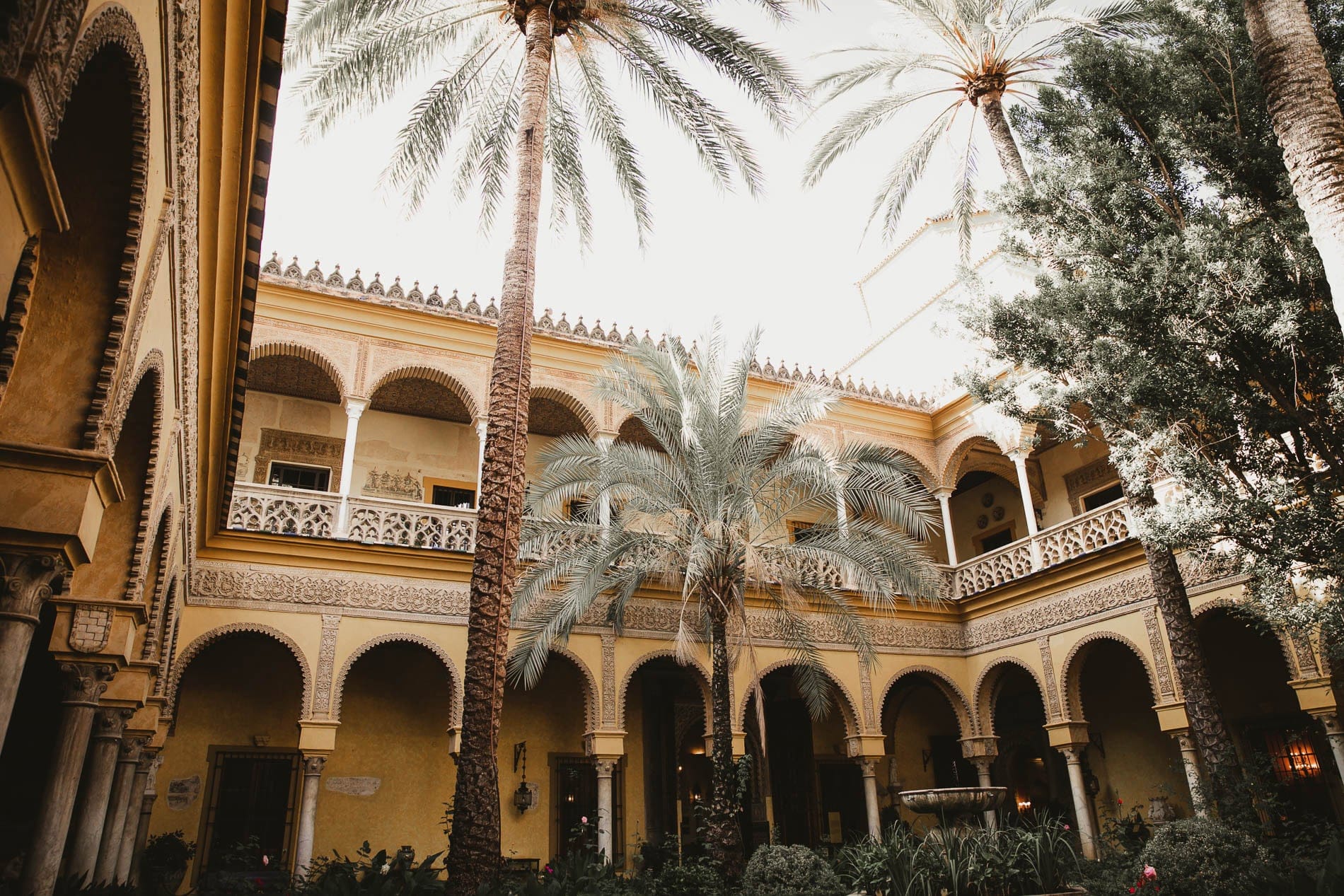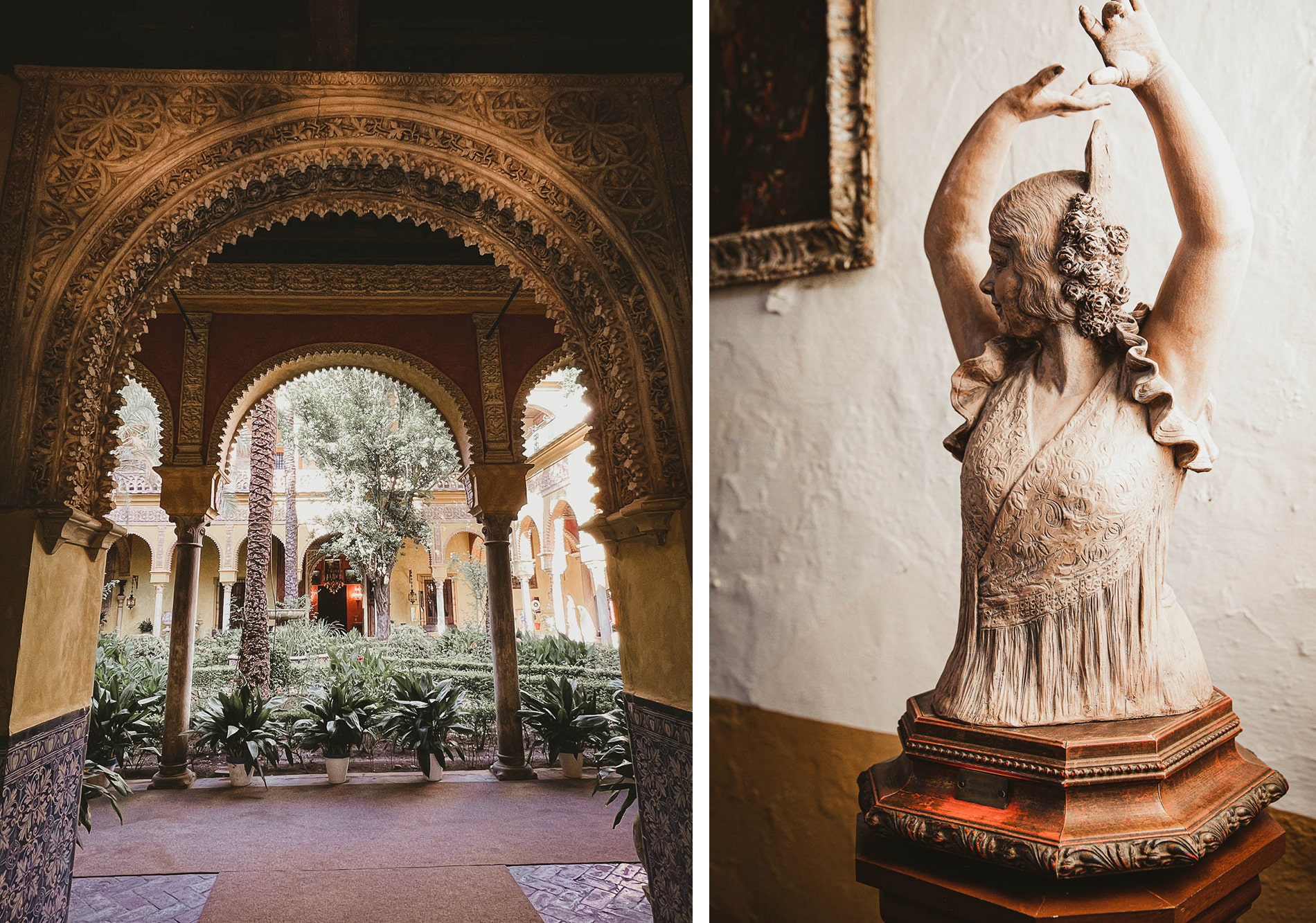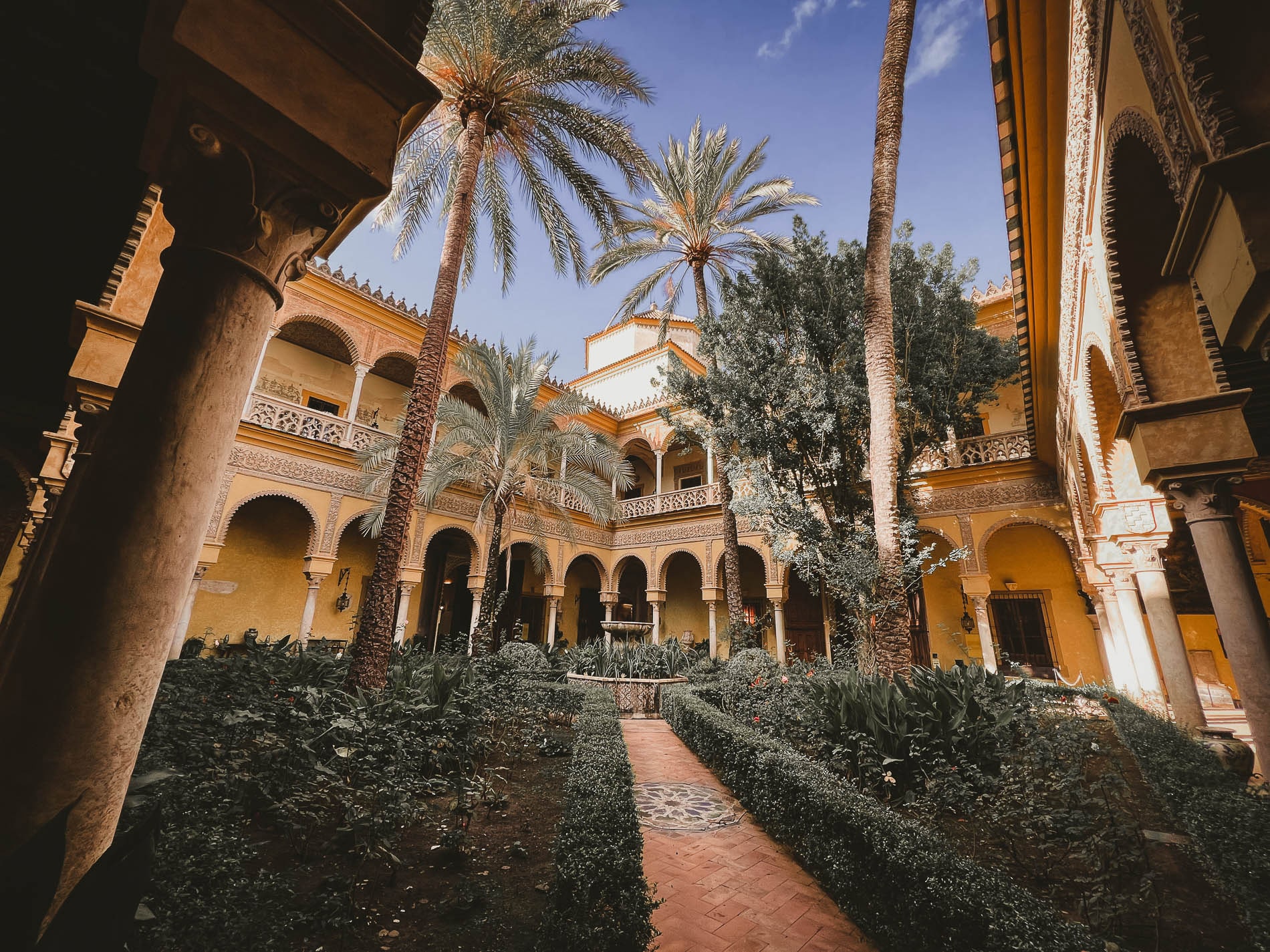 | SOUTH OF THE OLD TOWN
Created for the 1929 Ibero-American Exhibition, this imposing building and semi-circular square is absolutely majestic and Seville's most famous. The decision to hold the event in Seville rather than Madrid is certainly due to the fact that Seville was the departure point for expeditions to America, and above all the gateway for goods from the colonies. This 170-meter-diameter site is lined with painted ceramic benches representing Spain with its 4 kingdoms and its various provinces hosting its former colonies. Andalusian architectural codes can be found here, with ceramics used extensively. The square starts to fill up at 10 a.m. by foreign travelers from the 4 corners of the world, but the best light is at the end of the day, especially if you come in summer. You'll have to choose between the number of visitors and the lighting conditions for your photos. Around this square is a 515-meter-long canal decorated in earthenware, which you can cruise in a boat. It's quite touristy and doesn't really hold much interest, in my opinion.

If you head to the Plaza de España in the morning, you may be lucky enough to come across Flamenco street performances under the arcades. The venue lends itself really well to this, so take the time to listen to these passionate local bands!

Parc Maria Luisa » facing thea Plaza de España, home to a wide variety of tree species, and end with the « Royal Tobacco Factory » in front of the University.

Take the time to stroll through the beautiful botanical garden, the «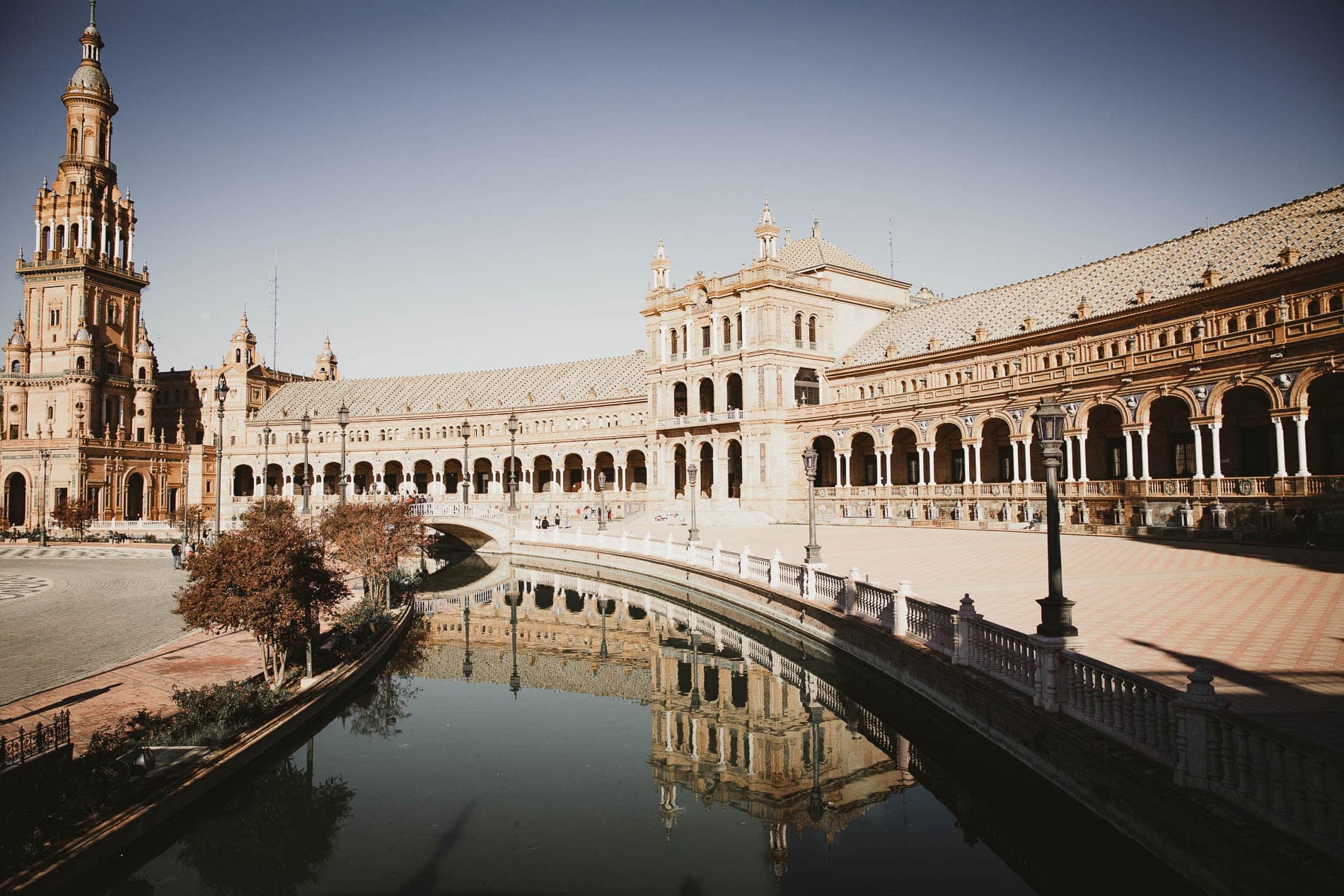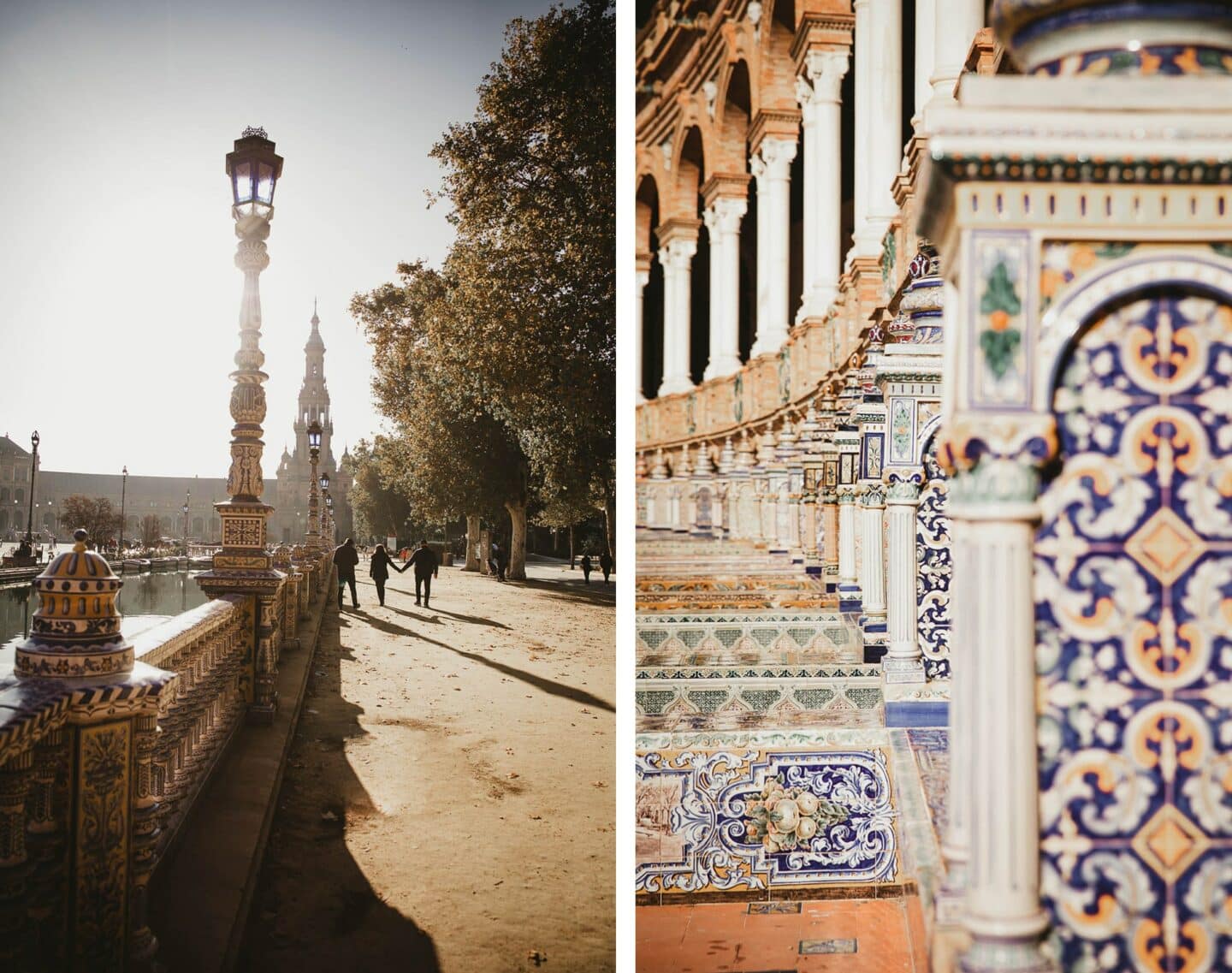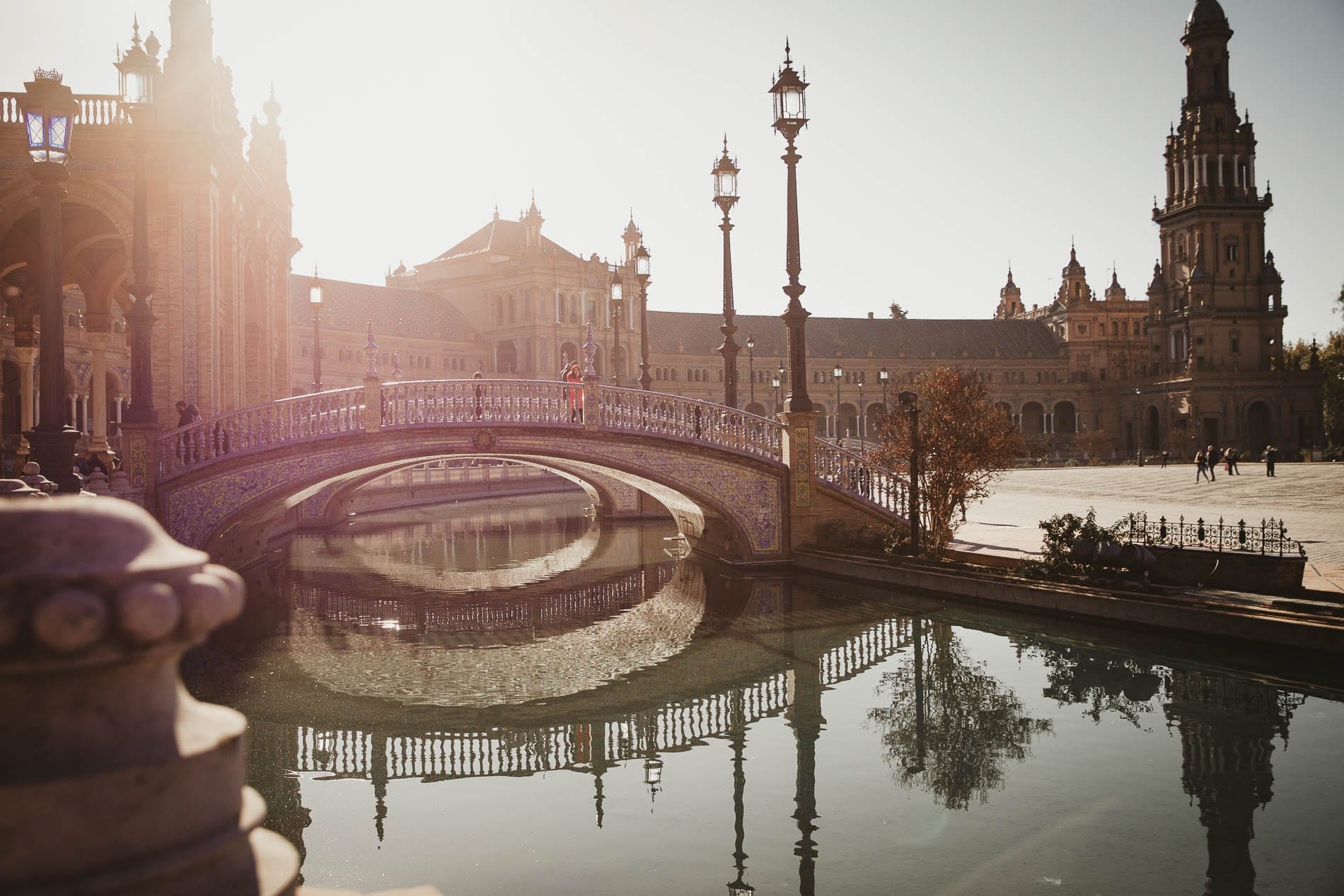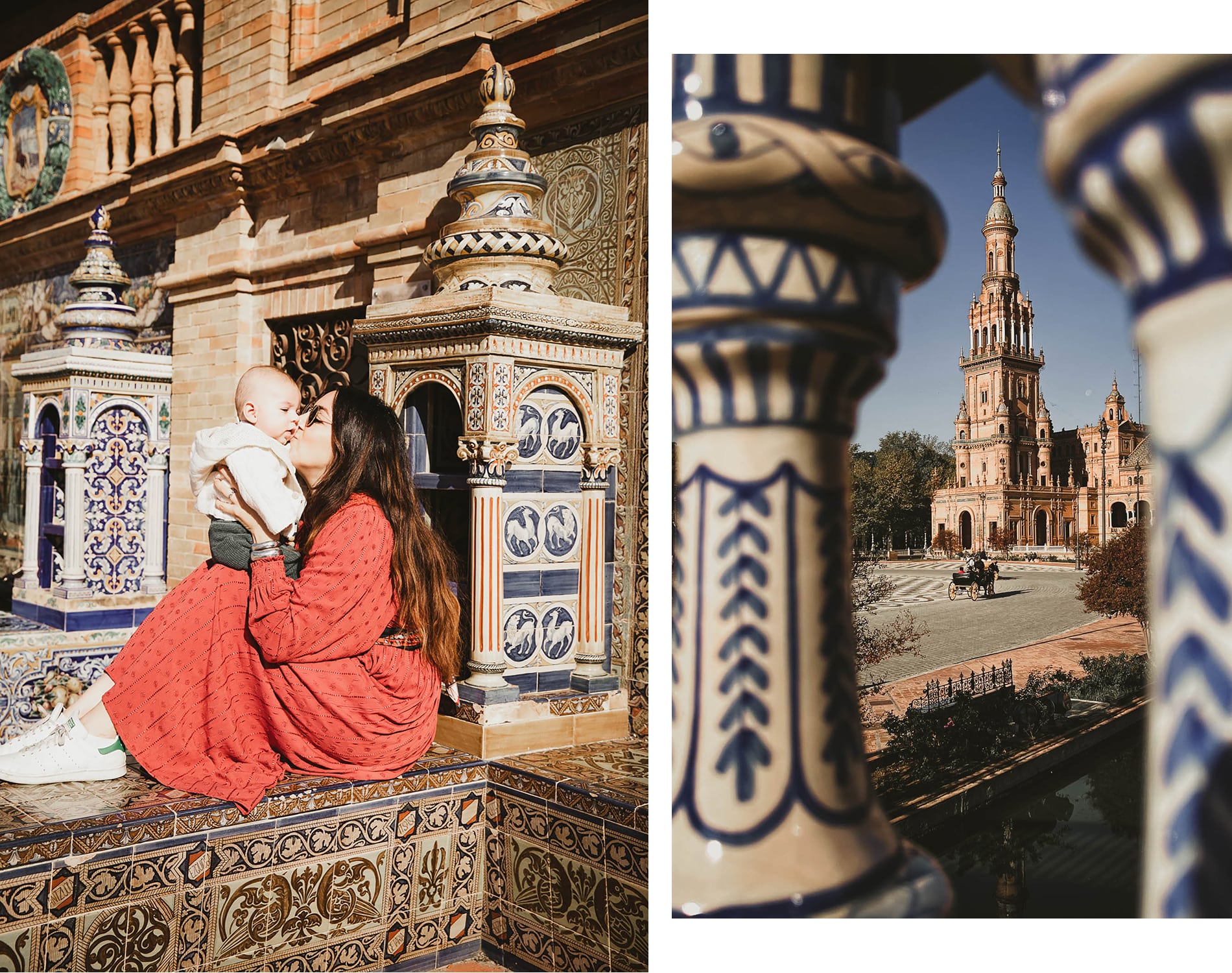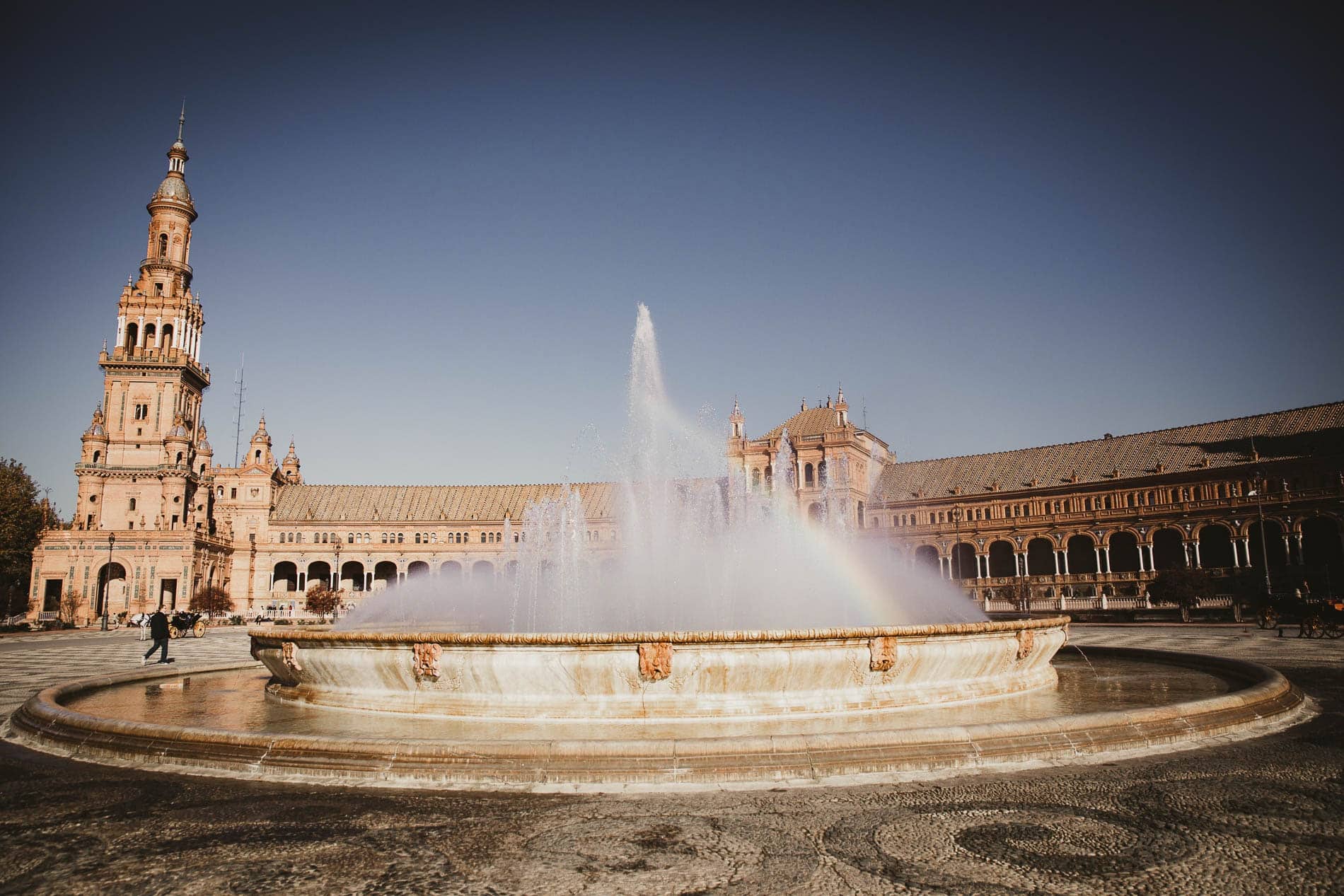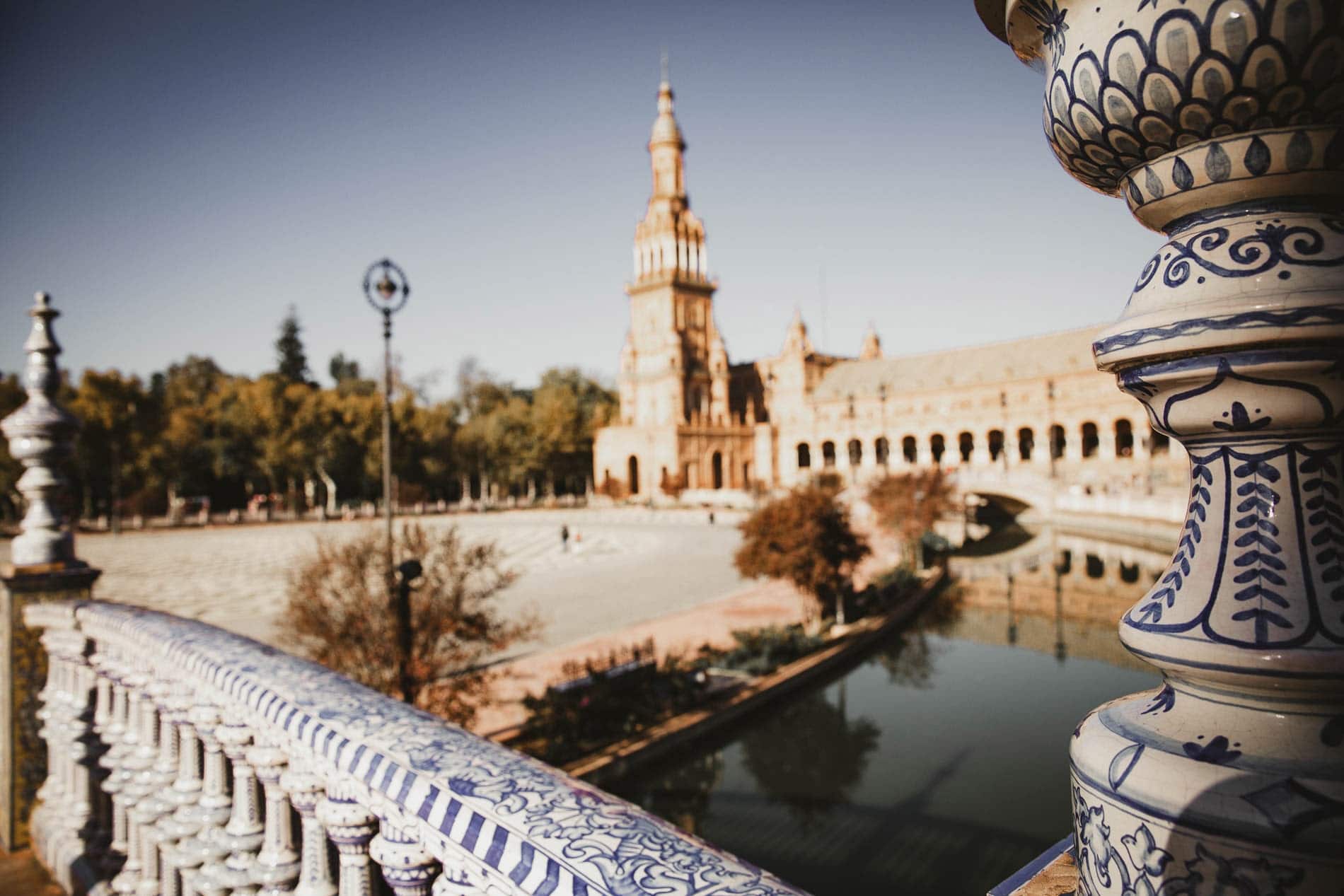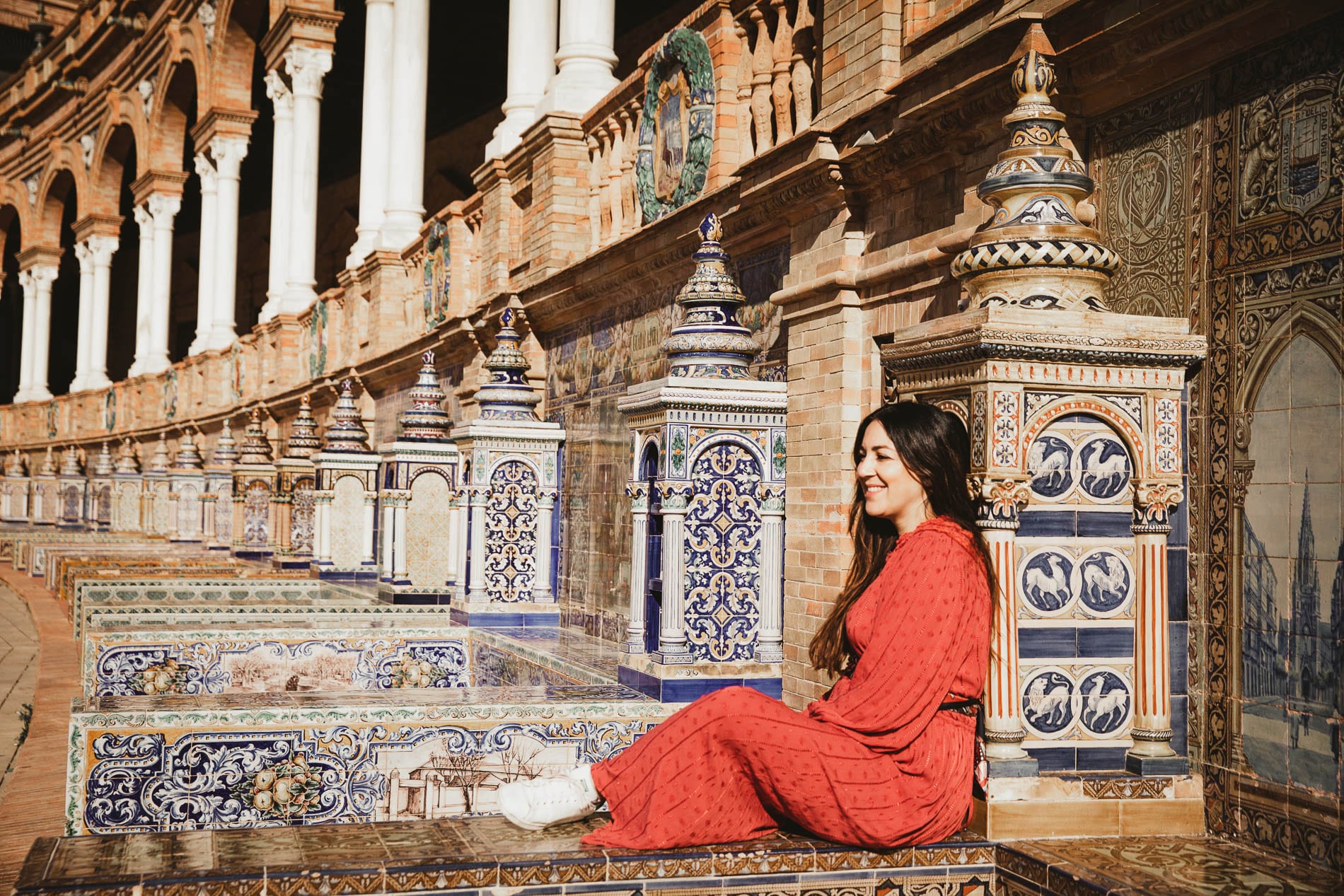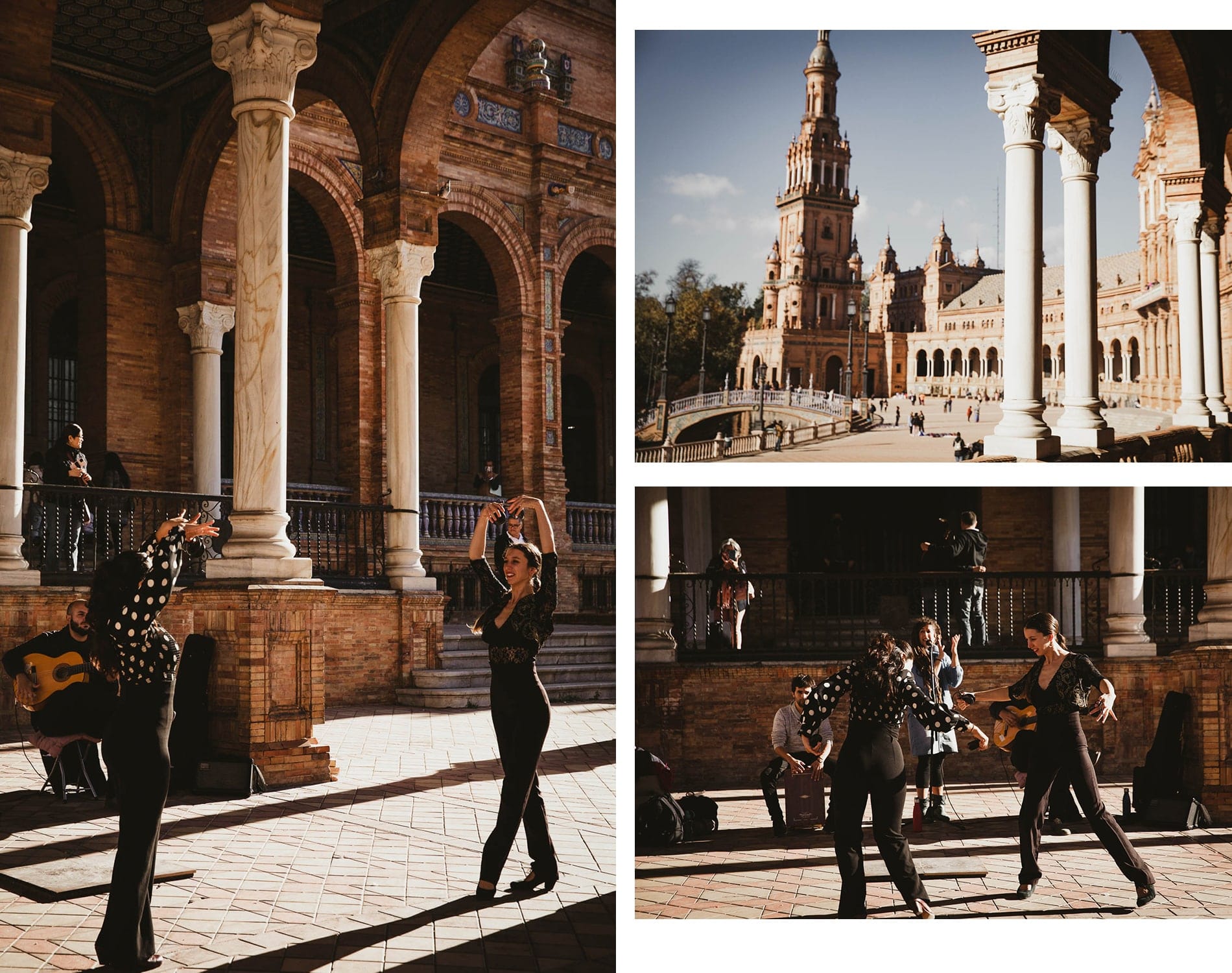 | THE ALFAFA DISTRICT
This is the last part of town we'll be talking about. A busy shopping district where « Seville mushrooms ». You can enjoy some popular tapas at « Agustin & Company Bar » calle Alvarez Quintero less than 10 minutes' walk from Las Setas, as well as the restaurant « The Colonials », calle Pl. Cristo de Burgos, 19,
Las Setas or the Metropol parasol
Las Setas, which means "mushroom" in Spanish, is the building that anchors Seville in modernity and the future. A building that is intended to be a legacy for future generations, as it is constructed essentially from wood. It's a lively place, with a market on the ground floor, restaurants all around, and a slab on the 1st level that's a haven for Sevillian riders. Las Setas is a very controversial place among Sevillians, as the modern architecture is completely at odds with the historic center. Love it or hate it!
The main attraction of this place is to climb up to its roof, the mirador, to observe the wave it casts over the city. We recommend visiting at night, when the building comes to life with a colorful sound and light show and magnificent views over the city. There used to be a bar at the watchtower, but with COVID, in November 2021, it's gone!
If you come between 5:30 and 6:30 pm, the rate is lower. Ct's a great way to watch the sun set over the rooftops of Seville as you wait for the enchantment of the night lights. Of course, this is only possible in winter, as in Seville night falls around 6pm, whereas in high summer you'll have to wait until around 10pm.
For art lovers, I propose a visit combining Art and Traditions to discover las Setas but also the city's artistic development from Mudéjar to the present day, covering Renaissance, Baroque, regionalist and contemporary styles.
➡️ Check here for tour availability and book in advance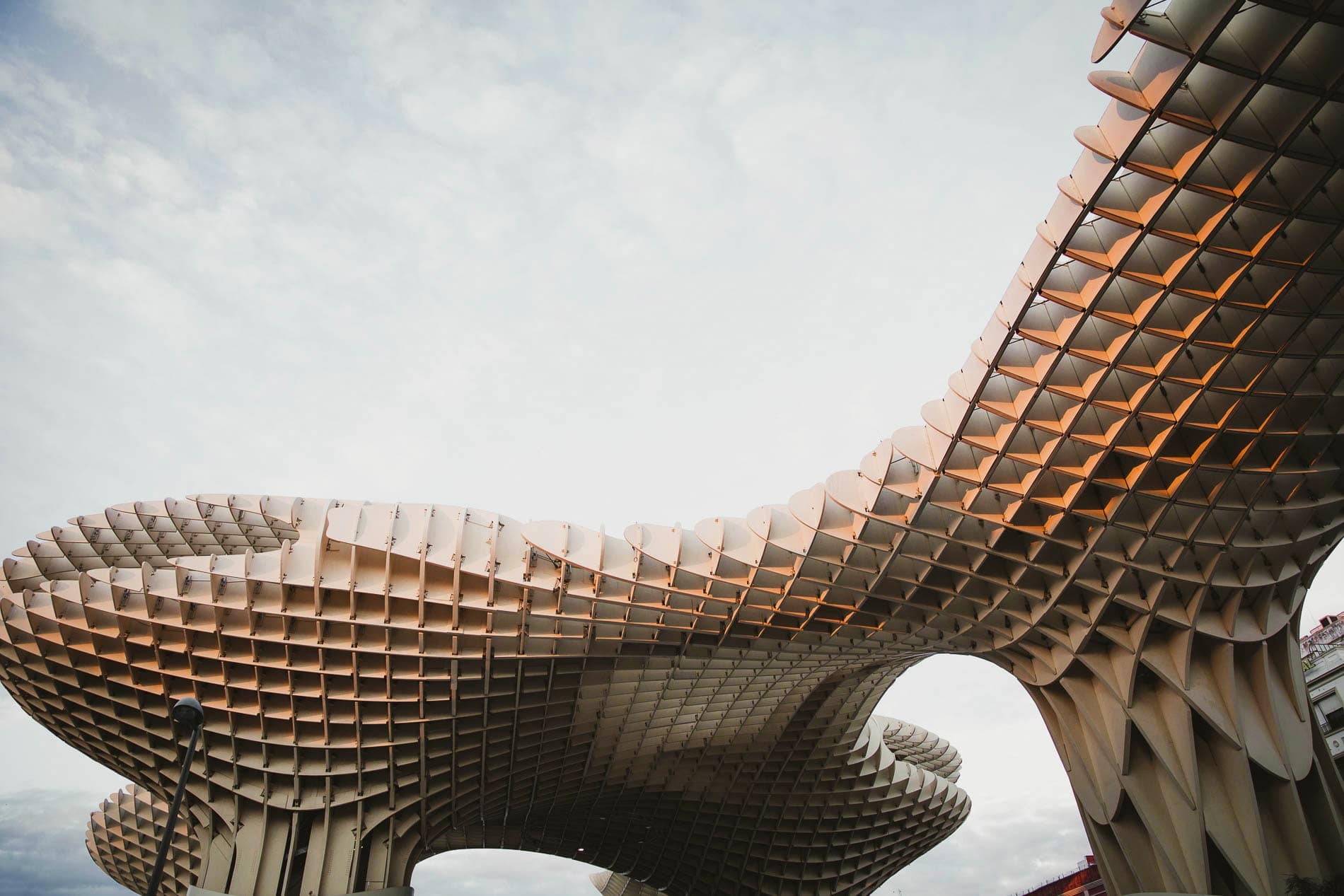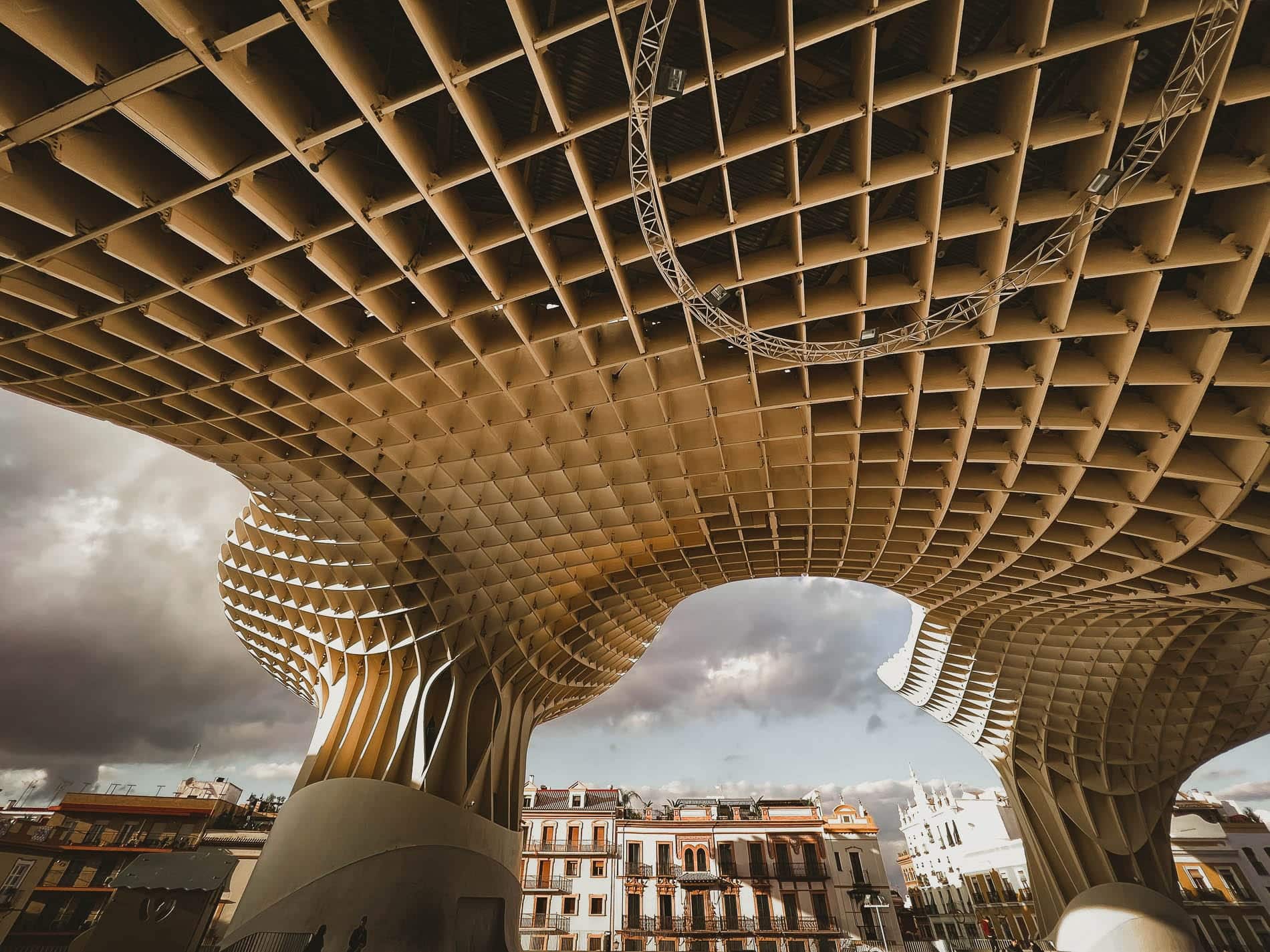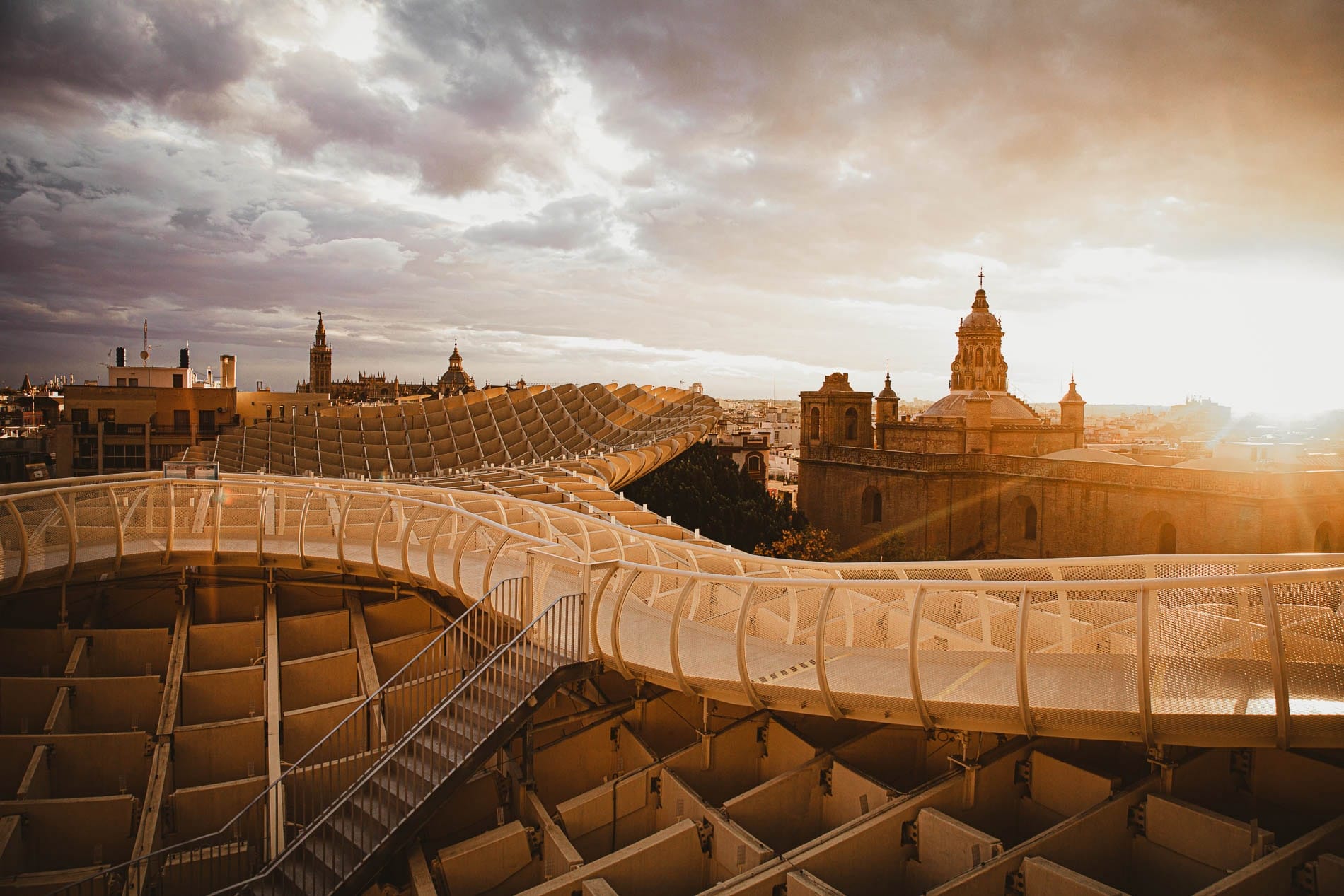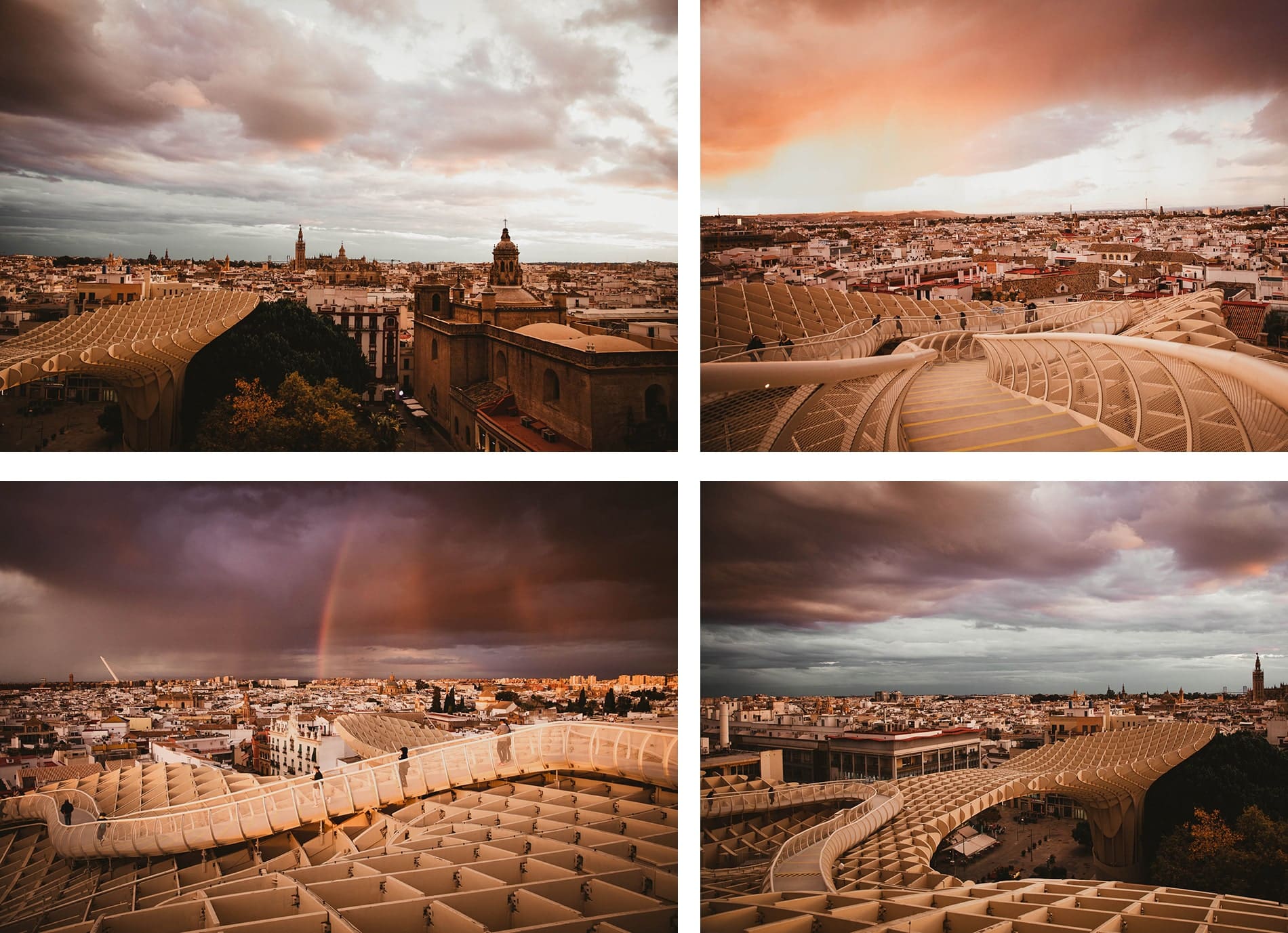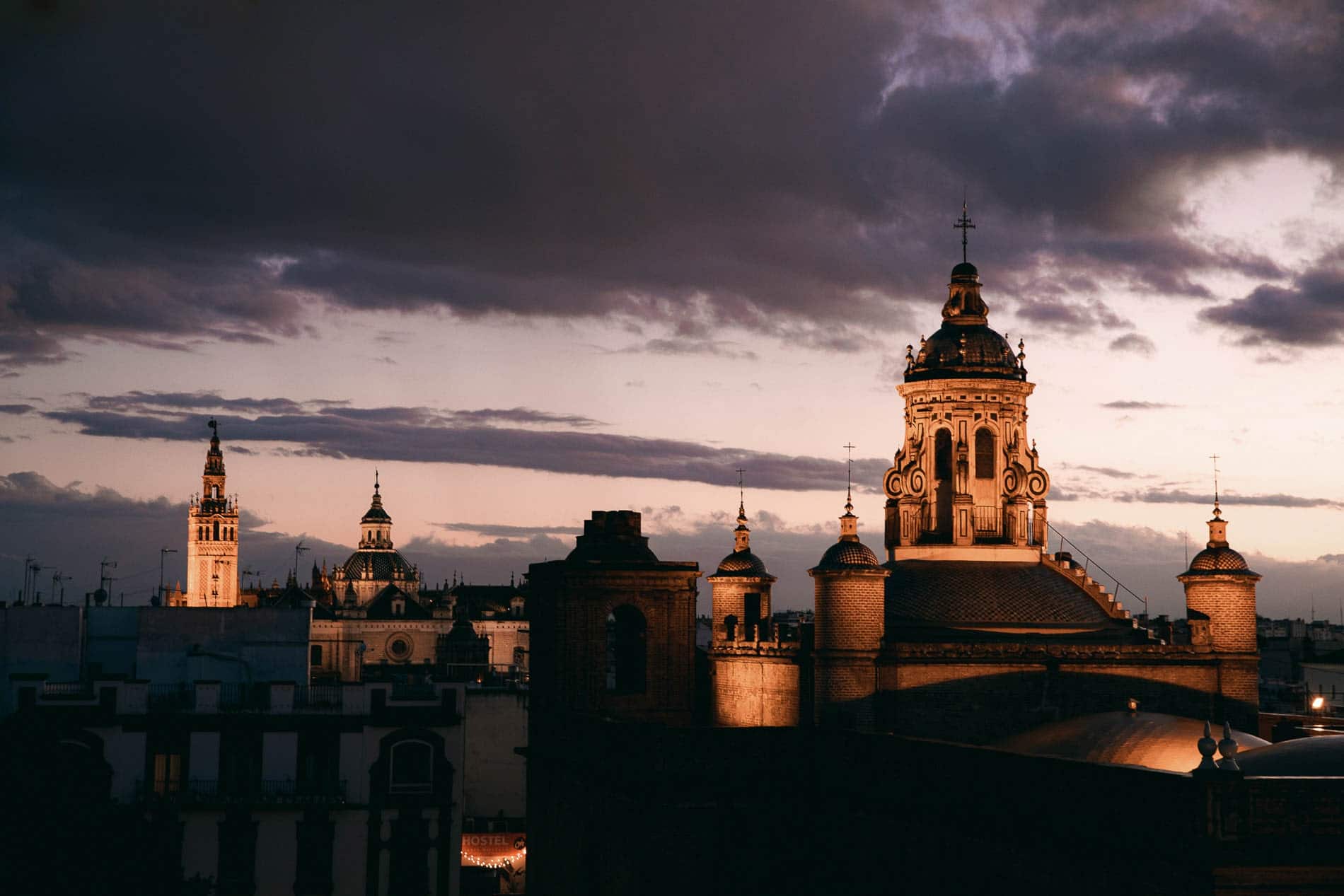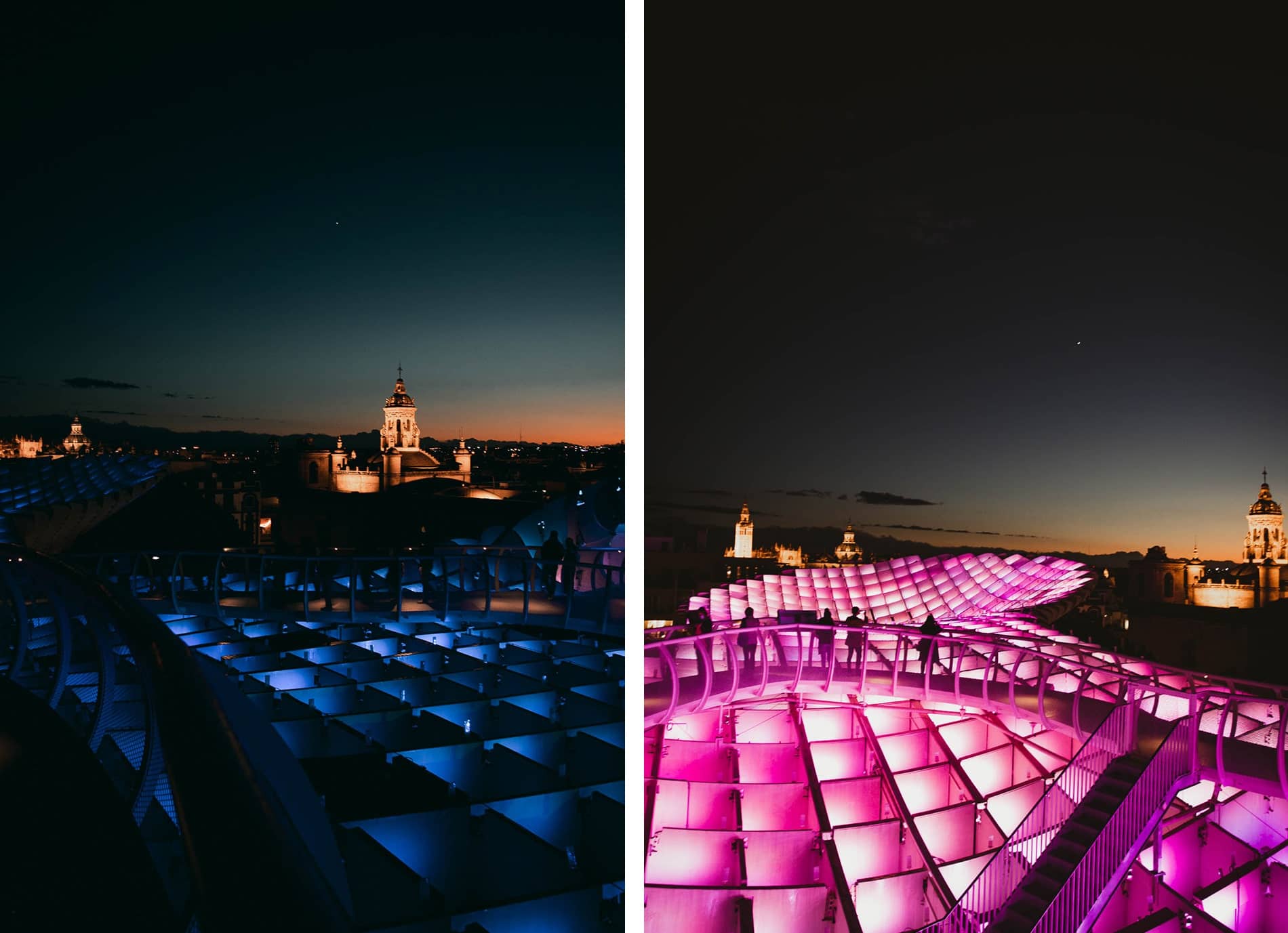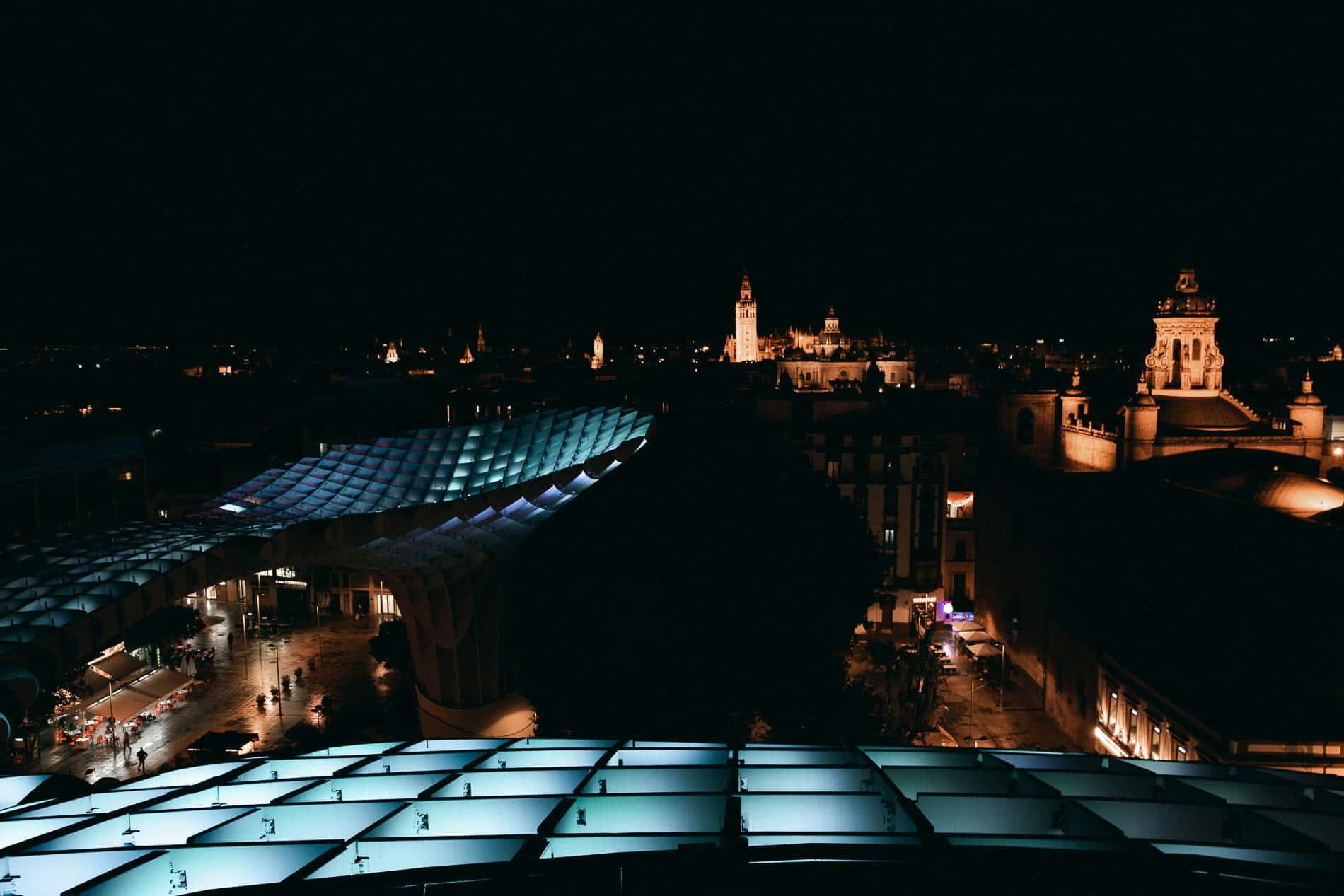 Also in the Alfalfa district, you'll find the Flamenco Museum as well as the small and intimate "Tablao flamenco la Cantaora, Calle Albareda 22 "where we were treated to a genuine Flamenco show. The show lasts 1 hour and features a guitarist, a singer, a dancer and a female dancer. To see the passion in the eyes, the intensity in the dance, is an absolutely breathtaking experience. You can feel the Andalusian culture in the veins of these artists. Simply magnificent! I advise you to be in the front row to feel the vibrations of this show. We took our 5-month-old Gabriel there. I recommend you take along a small pair of headphones to muffle the noise and protect his little ears.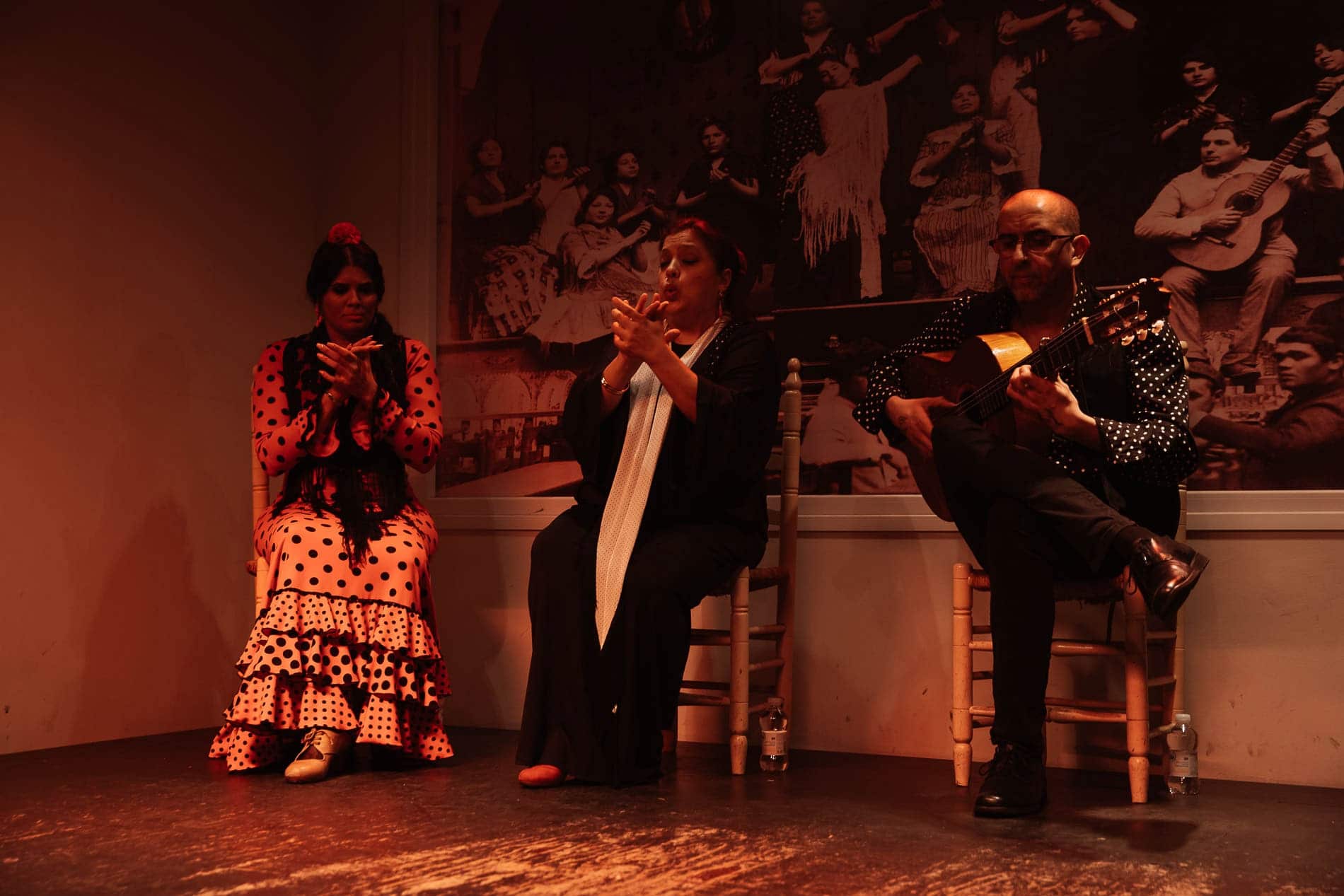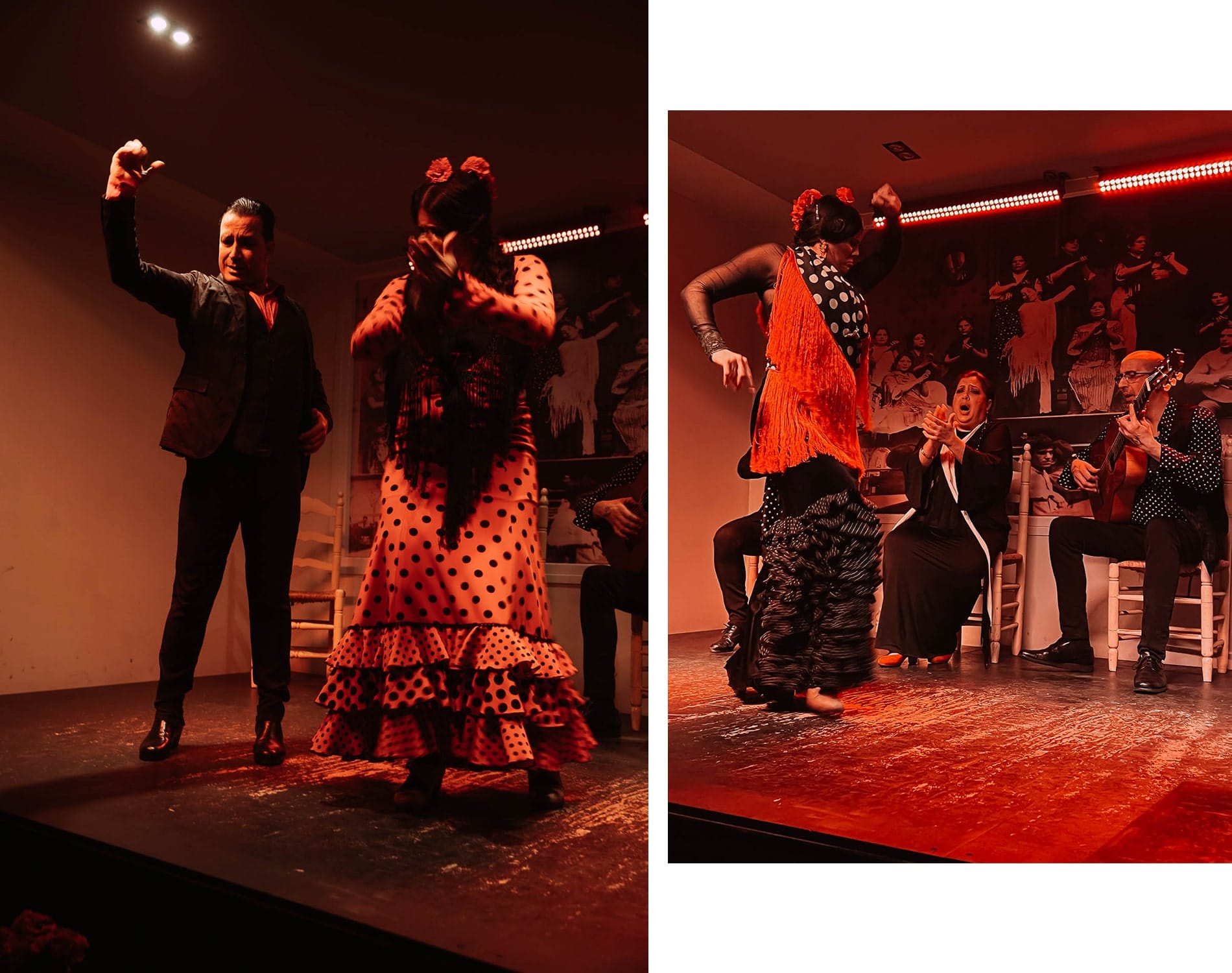 If you'd like to avoid the long queues, you can choose directly from the individual, guided or combined tours I offer, to see a flamenco show or try your hand at a Flamenco class. To find out more, click on one of the activities below.
We've spotted it here some nice addresses in the Alfafa district. You can start the day with a visit to the « Confiteria La Campana » au C. Sierpes, 1, 3, 41004, to eat a Tocino de cielo, a typical Andalusian dessert made with sugar and egg, similar to a flan without milk. I tasted it, but for me it's too sweet, so it's a bit nauseating! The place remains very authentic, with a fine selection of pastries. Be careful, they don't have them every day, and you'll have to get there fairly early in the morning, as this speciality is very popular! Continue your journey with a cup of coffee at the « bar El comercio » popular with locals, calle Lineros 7. We loved its old-fashioned atmosphere and café counter.
We also recommend dinner at the restaurant « The Pinton » Calle Alvarez Quitero 42, serving reworked tapas such as spinach salad with a scoop of mustard ice cream, or egg tempura,a real treat! If you've had enough of tapas (and yes, it's good, but after a while you can get fed up ☺️), you can try the gourmet restaurant "Casa Robles ".
If you have time, here are a few bodegas that have been recommended to me: la Bodega de la Alfafa, calle Alfafa 4, and la Bodega La Aurora, Calle Pérez Galdos 9 whose specialty is Chorizo al infierno. We also tested Empanadas Malvón, C. San Jacinto, 5, the empanadas were delicious and easy to take away.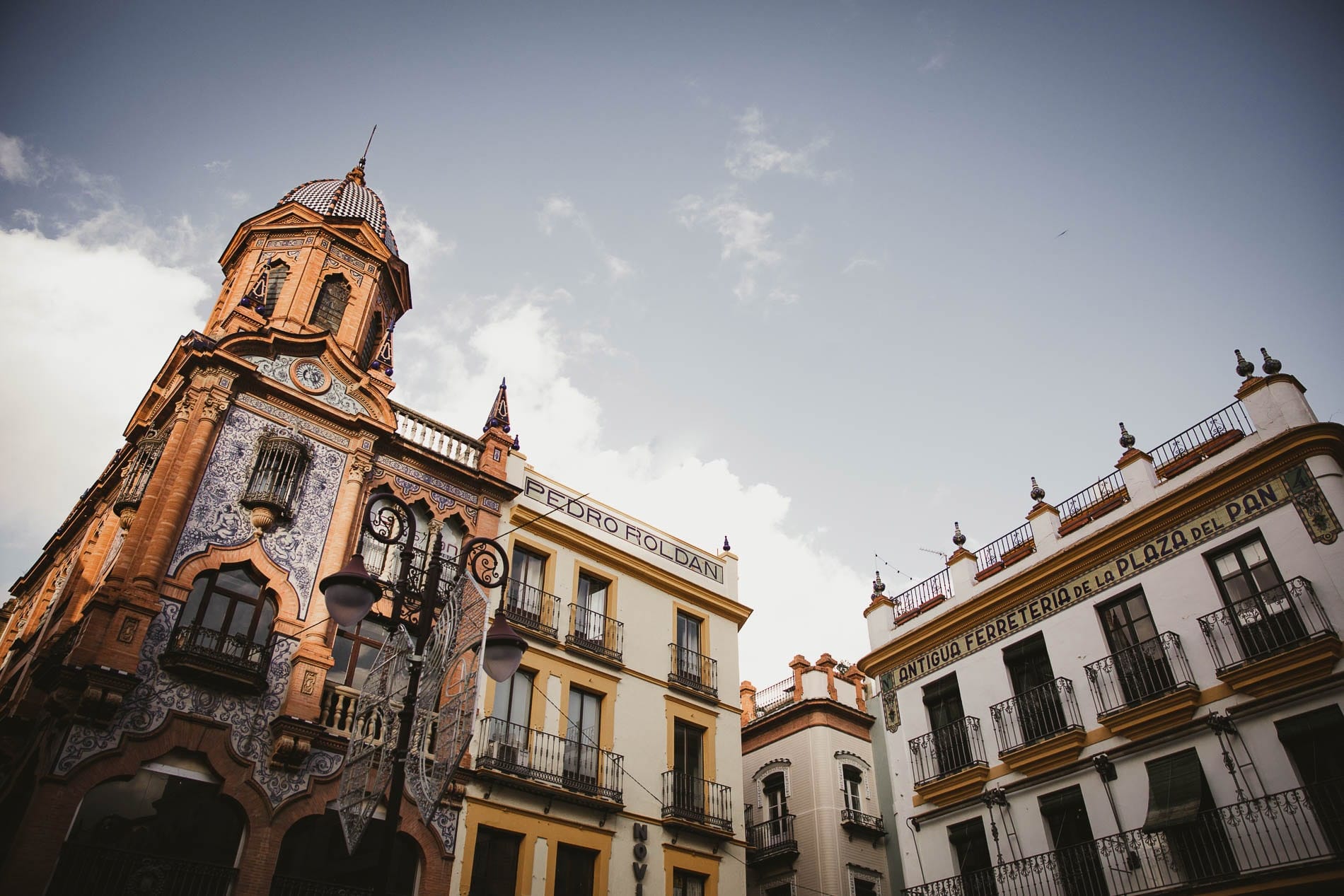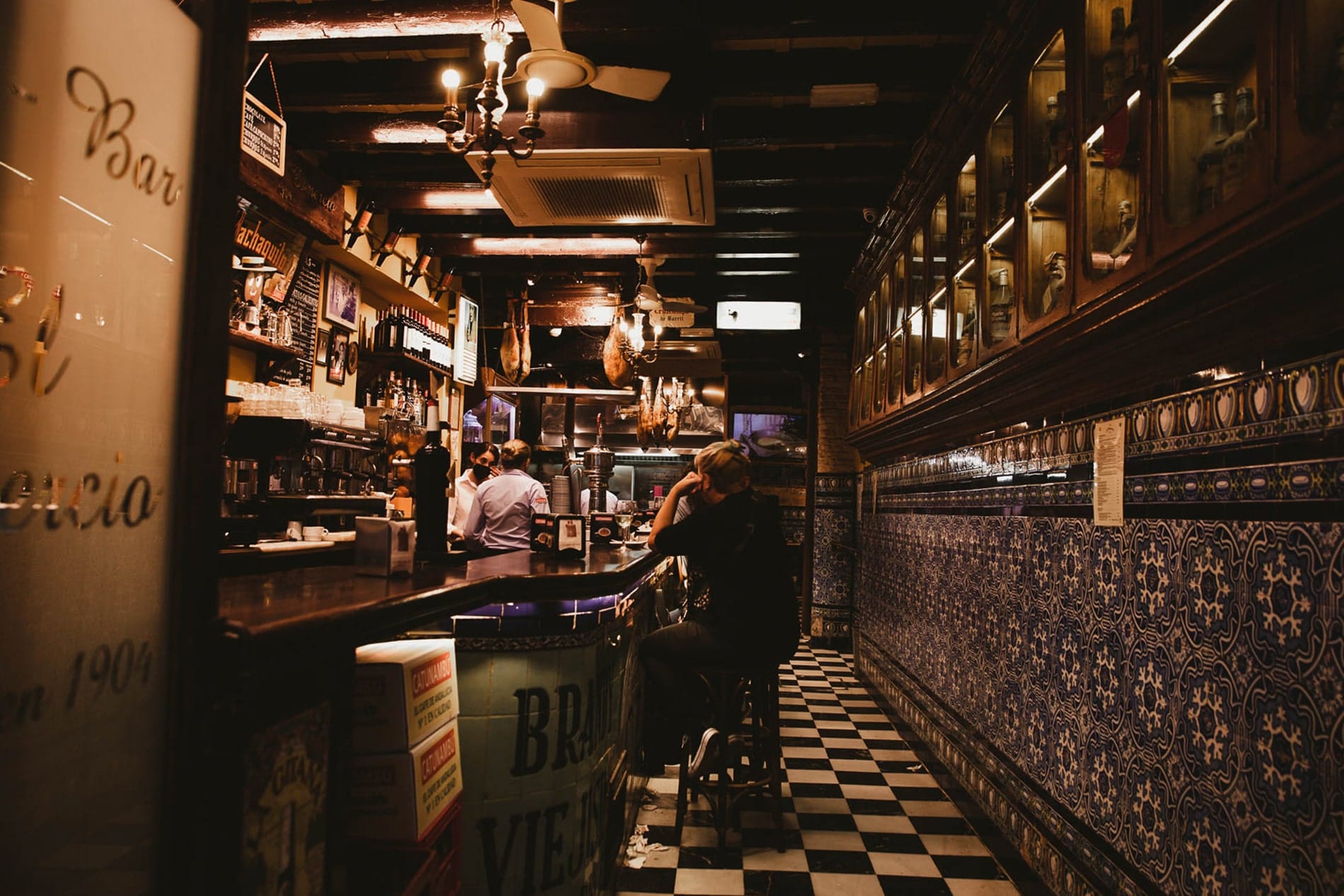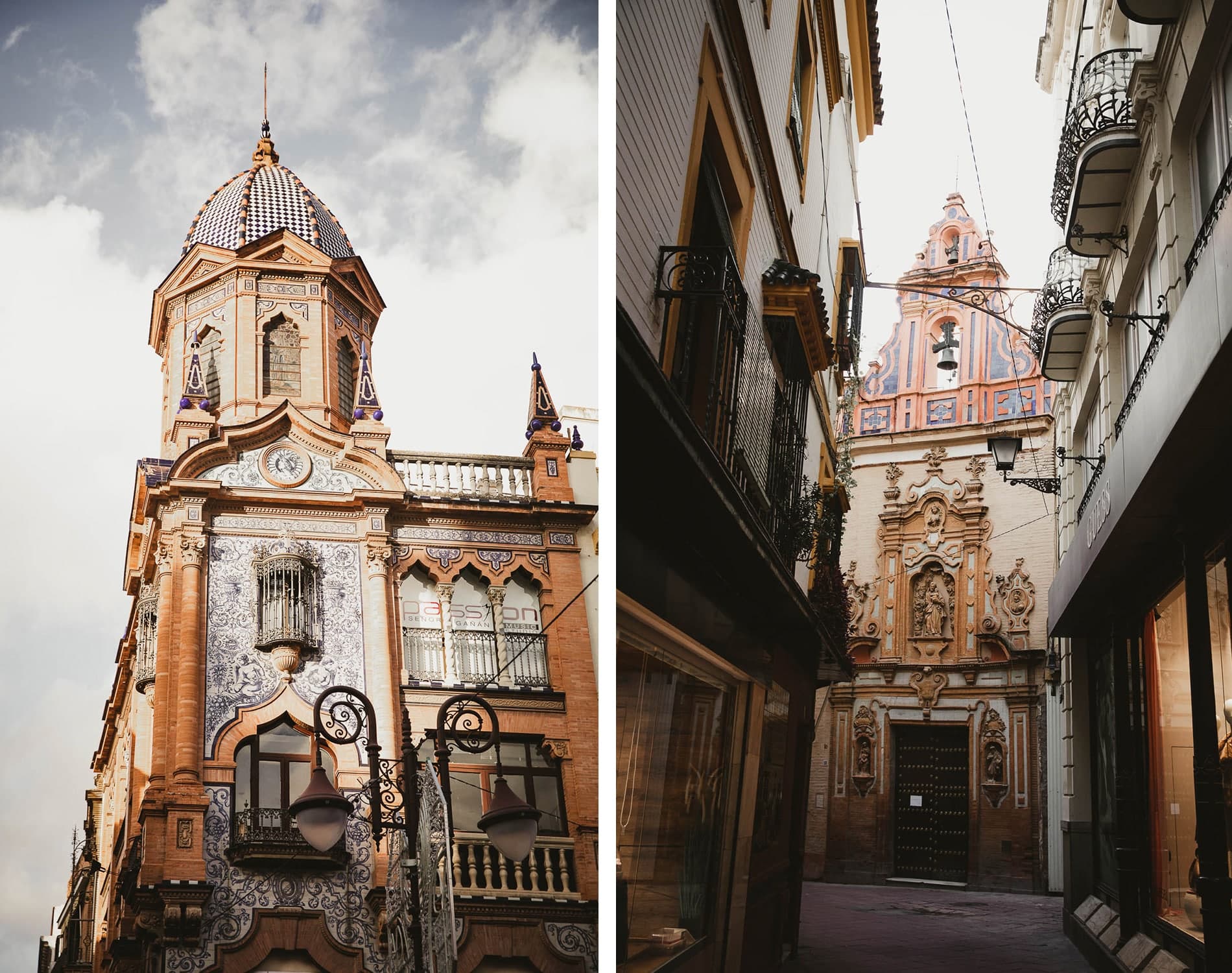 | THE ARENAL DISTRICT
This district is home to the bullring and the banks of the Guadalquivir River, including the famous Gold Tower. « Visit Torre del Oro ». You'll also find the « Arenal market » as well as « Plaza Del Cabildo », a small, atypical semi-circular square well worth a visit.
CRUISE ON THE GUADALQUIVIR RIVER
The Guadalquivir is Seville's river, the only navigable one in Spain. Not only has it hosted international competitions of the highest level, but it has also played an important role at many moments in the city's history: sieges, defenses and conquests were negotiated on its waters. The Guadalquivir can be seen by heading towards the Triana district, thus facing the « Torre del Oro ».
You can enjoy the canal during the day by canoeing, kayaking, paddling or taking a cruise, for example. I book my day paddle session here and check availability.
Good plan: Discover the charming spots along the Guadalquivir River on this eco-friendly bike tour of Seville. During the 3-hour tour, follow your local guide along the bike paths, enjoying the tranquility of the river and gardens, away from the typical tourist crowds. I'm booking my bike tour now.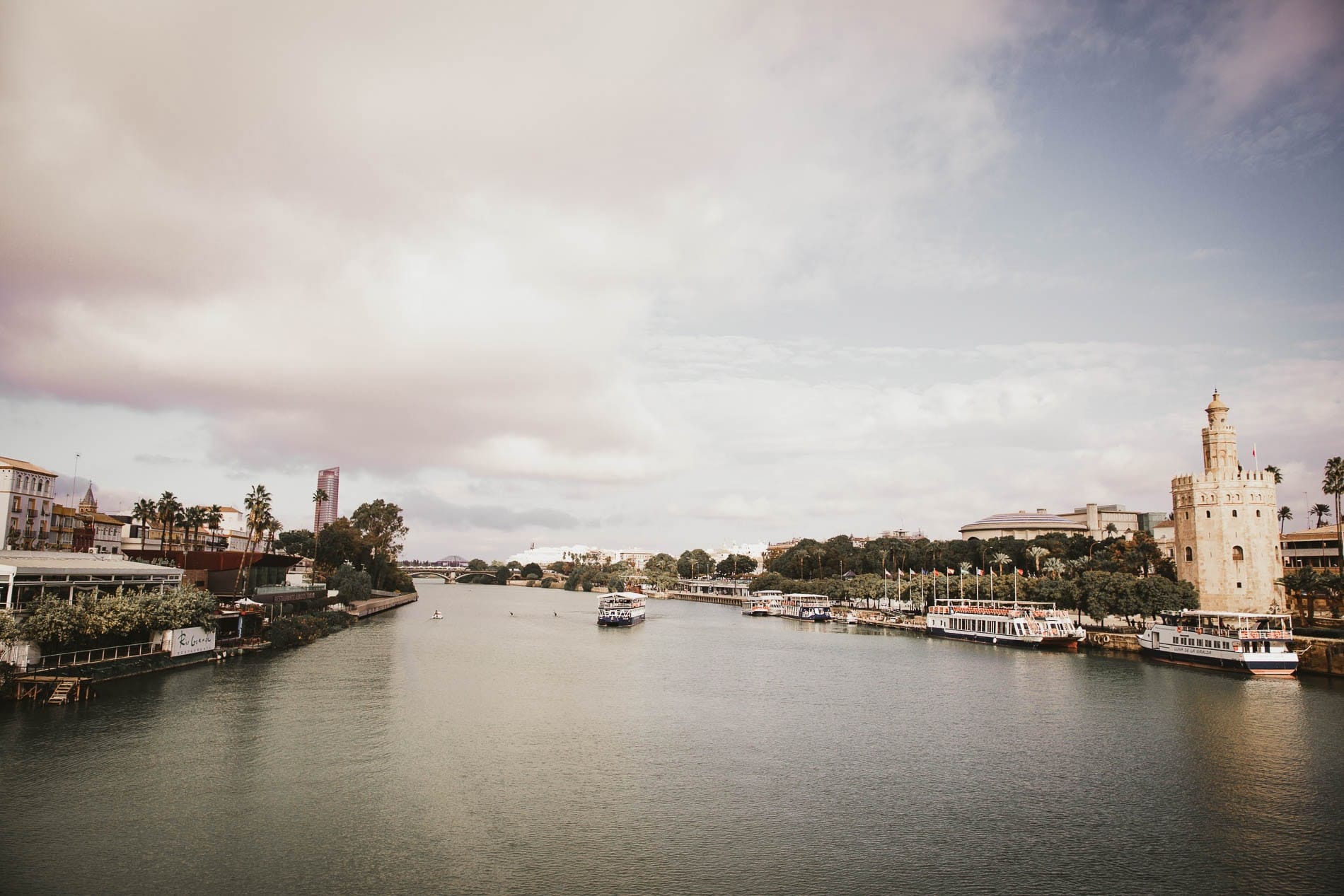 If you'd like to save time, you can select one of the guided, self-guided or combined tours I offer, to discover the Guadalquivir River in a different way. To find out more, click on one of the activities below.
The Tower of Gold"Torre del Oro " is a military observation tower, built in the 13th century to control access to the city. It's not the most impressive monument in Seville, but it's pretty enough to photograph, especially at the end of the day and at sunset. Today, the tower houses a maritime museum (free every Monday), and the view from the top is of Seville Cathedral, the canal and the Triana district. Admission is around €3 per person and free on Mondays.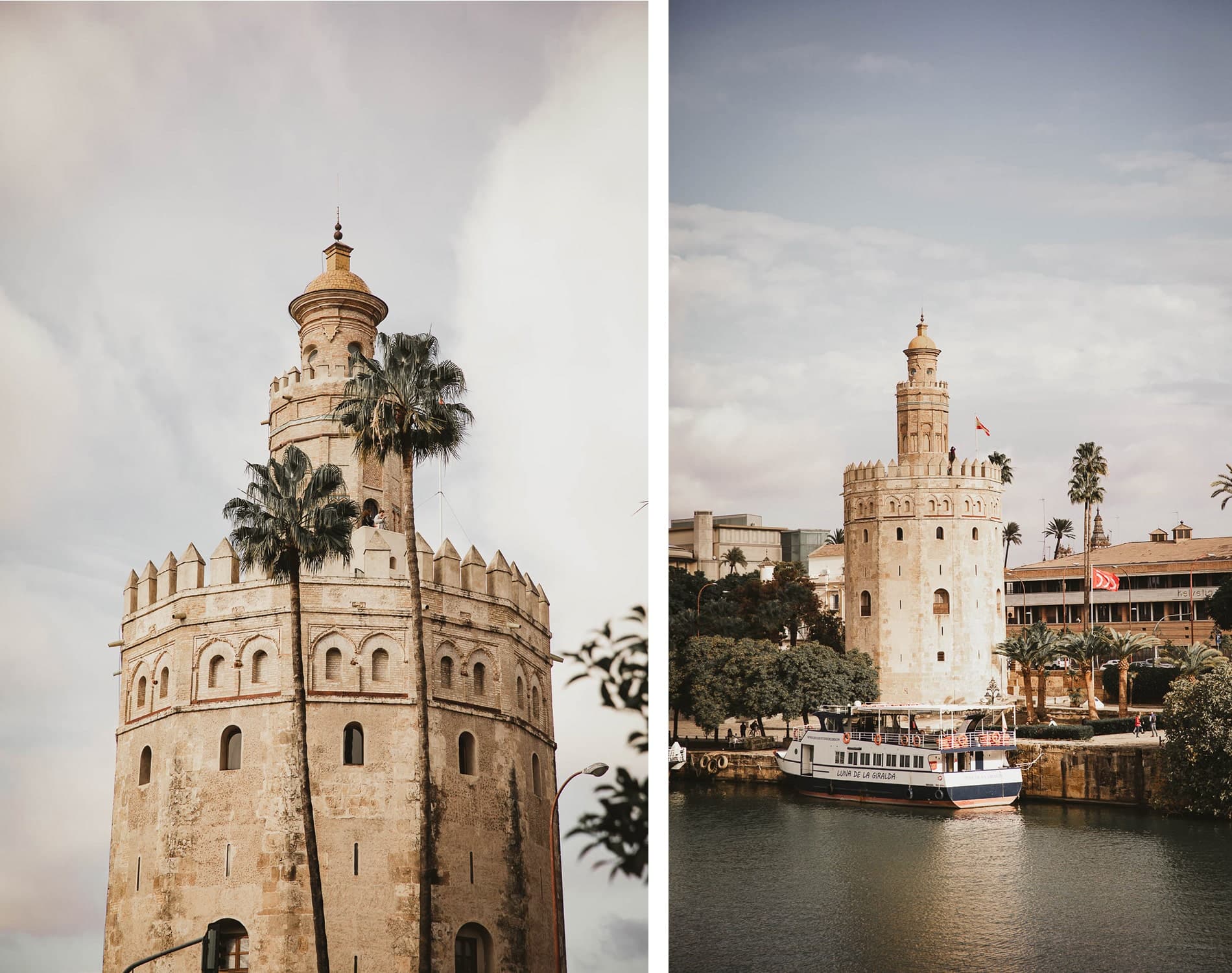 In Andalusia, bullfighting is an integral part of the local culture. However, as in our country, criticism of this practice is on the increase, and bullfighting activity is tending to dwindle. Bullfighting is still in the hands of the royal family, who still heavily subsidize this economic sector to keep the tradition alive. As we're not pro-fighting, we won't be encouraging you to go and see a bullfight, but it is possible to visit the perimeter of the bullring free of charge, as well as the interior if you wish.
For lunch, we recommend the following restaurant «El baratillo » ( C. Adriano, 20) located just opposite the arena. Step inside to see the bulls' heads hanging on the wall. They serve all types of tapas, including the Seville speciality, bull tail. This is where it's said to be the best in town, and we (well, Antoine!) tried it out. A piece of meat on the bone with a texture akin to daube cooked in a red wine sauce. Apparently a very good traditional dish to try at least once in your life, if you're a meat lover.
➡️ I'd like to reserve my ticket for the bullring now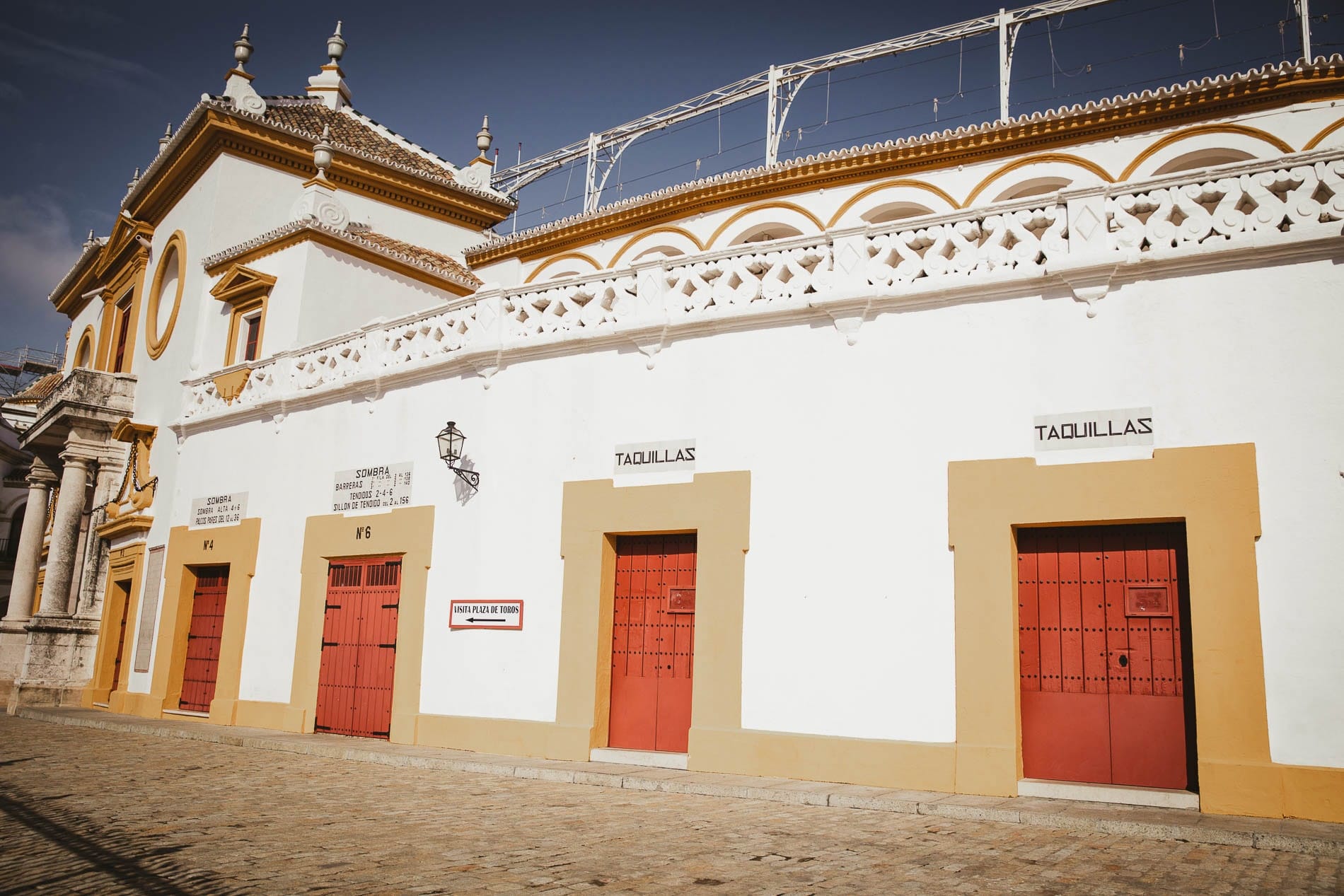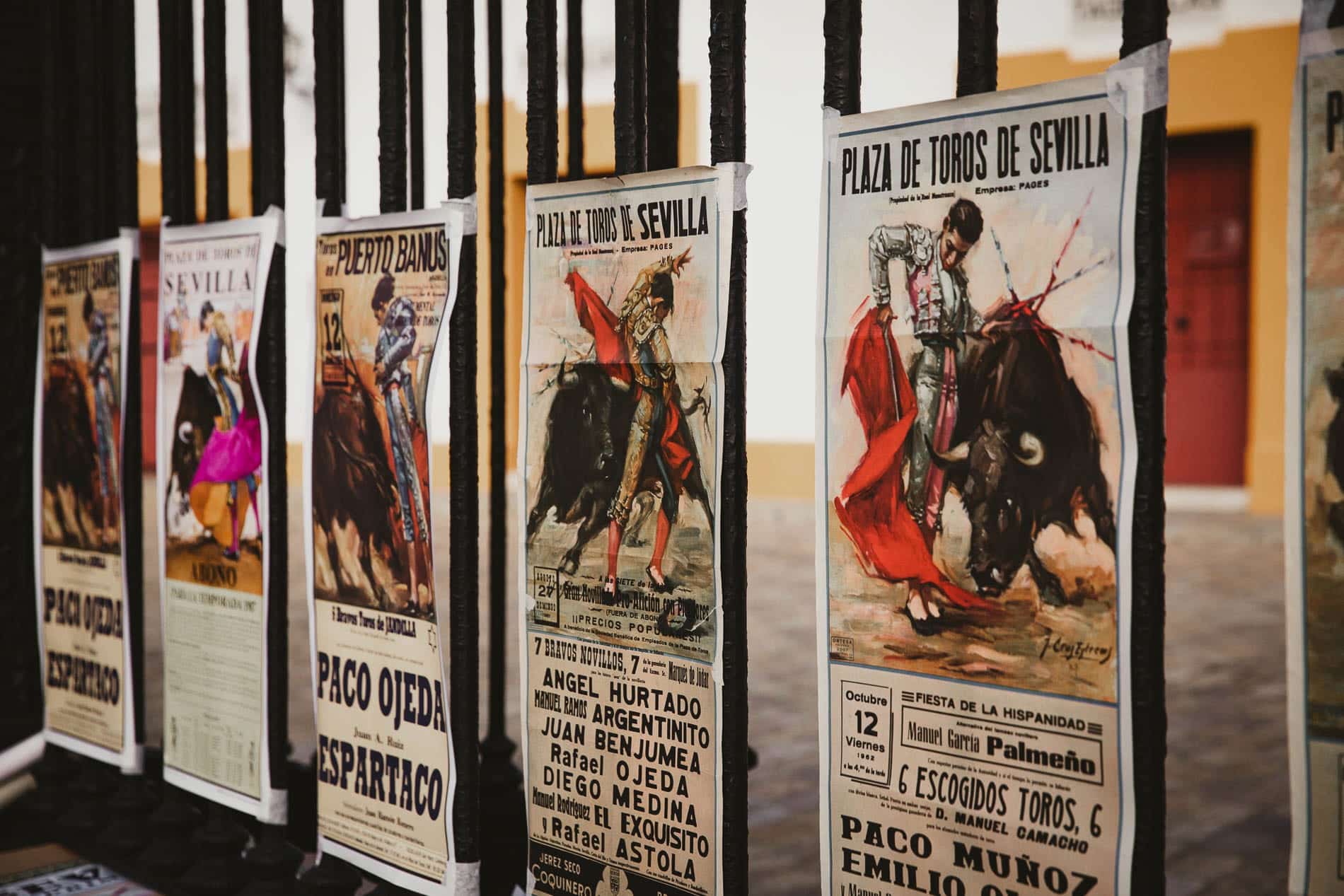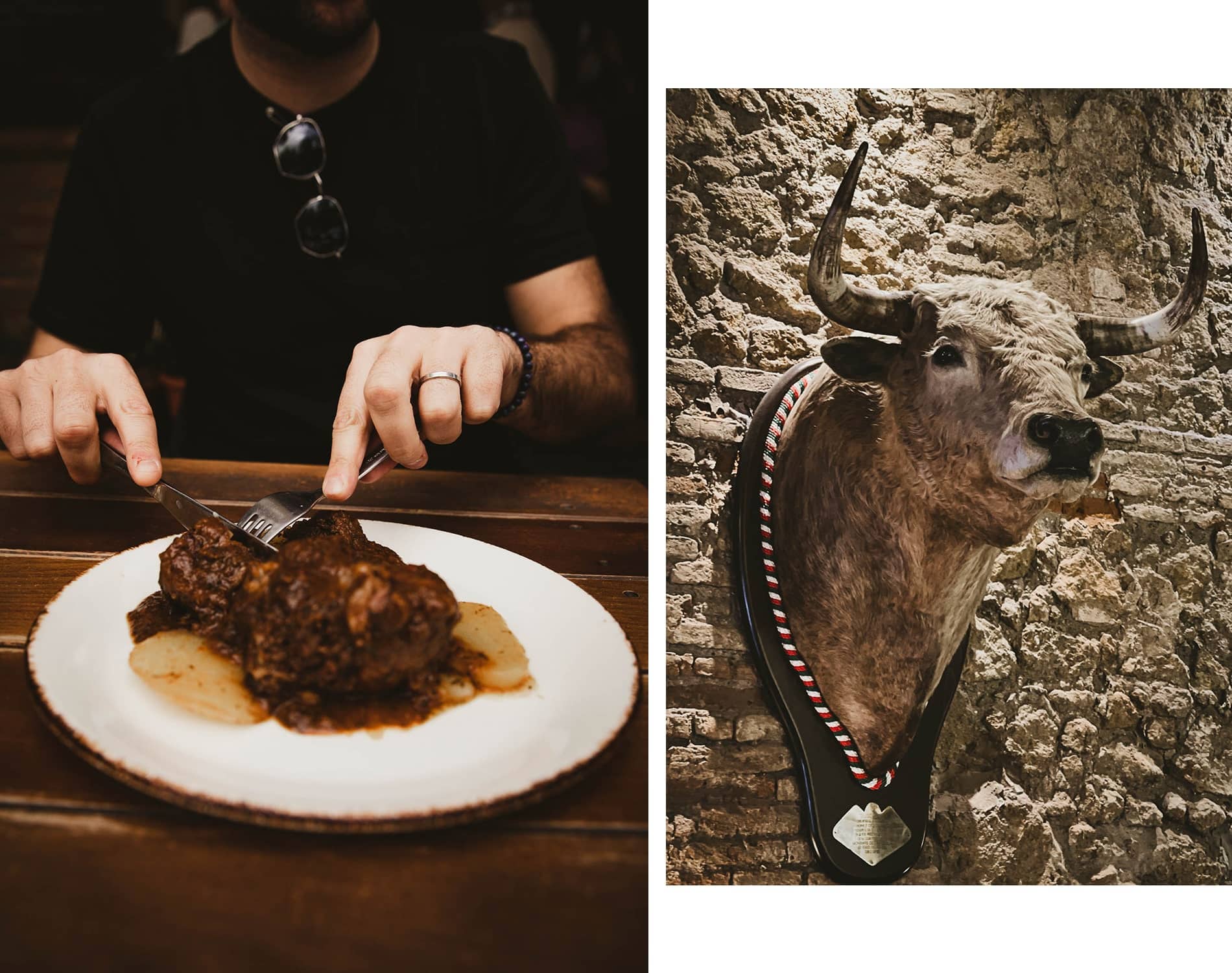 | THE TRIANA DISTRICT
Triana is a district on the right bank of the Guadalquivir. This is the flamenco district, where you'll find plenty of shows. I recommend the « Tablao Flamenco Pura Esencia » to witness an authentic show. The colorful facades of the houses on the streets give this area a real charm. The calle Betis along the banks of the river is a perfect example, but don't hesitate to head a few streets behind. We found a very nice little café on a small square next to the Santa Ana Church, « the Bazaar » and the « le Bar Bistec » for traditional Sevillian cuisine.
The other attraction of this district is its market, "Triana Market "one of the city's oldest, located at the foot of the Triana bridge and easily recognizable with its ceramic storefronts and domes. Here you can at number 59, the famous bocadillo (sandwich and with Iberian ham) but also chorizo, cheeses, chicharones while sipping an Andalusian red wine or a good beer. We've found the best place to try all these specialities: the stand next to Pescaderia el Pipa. Eat-up tables go fast at peak times.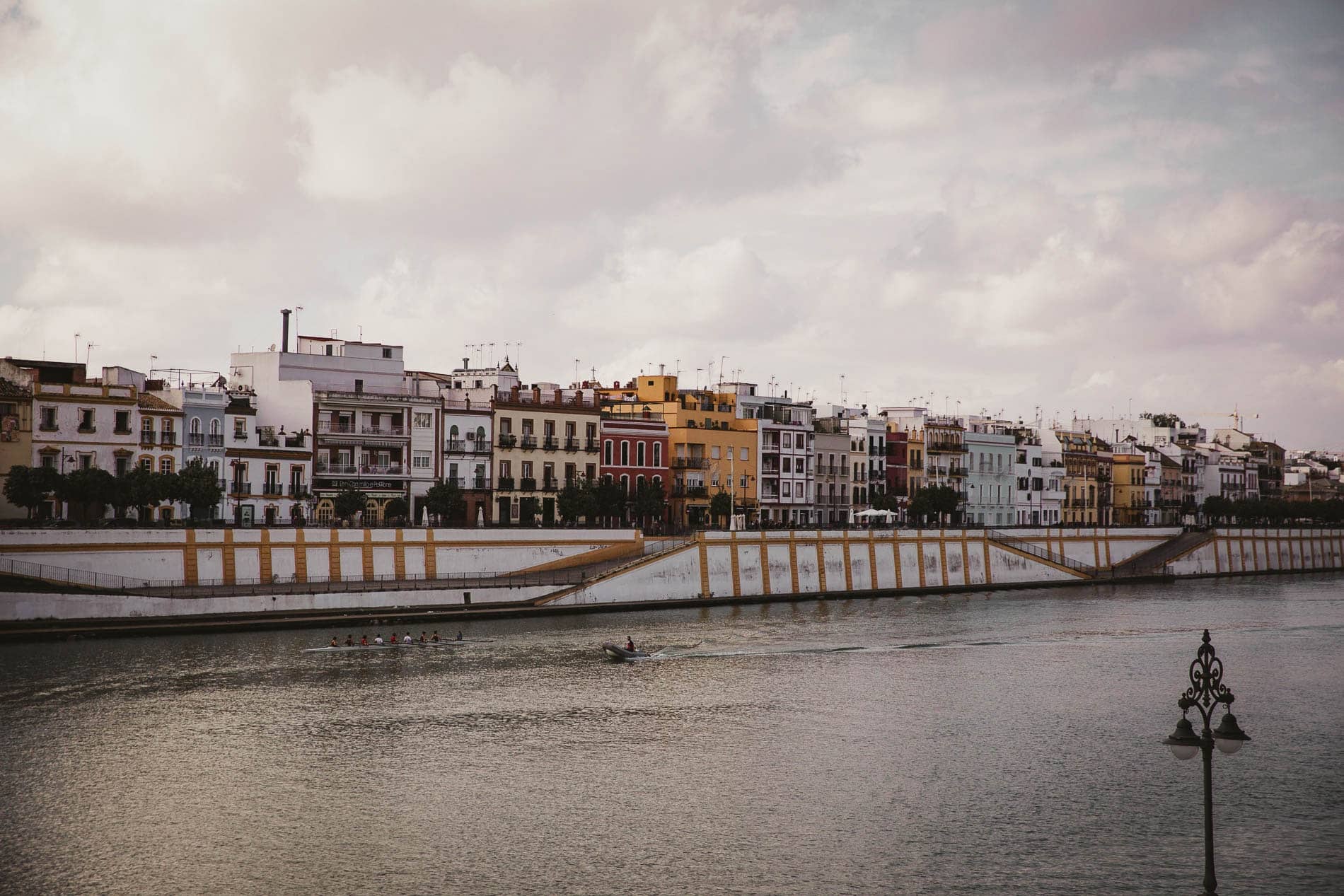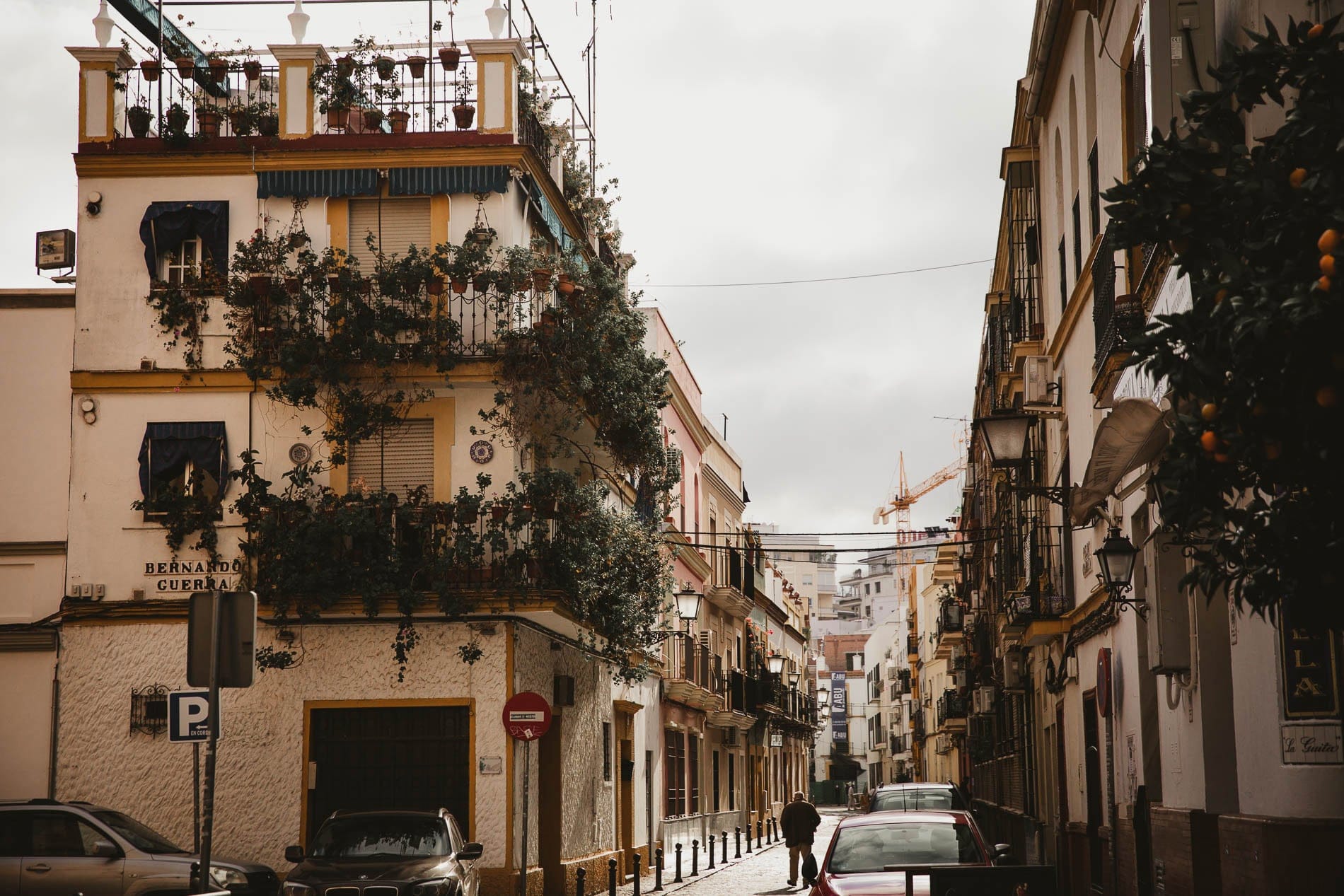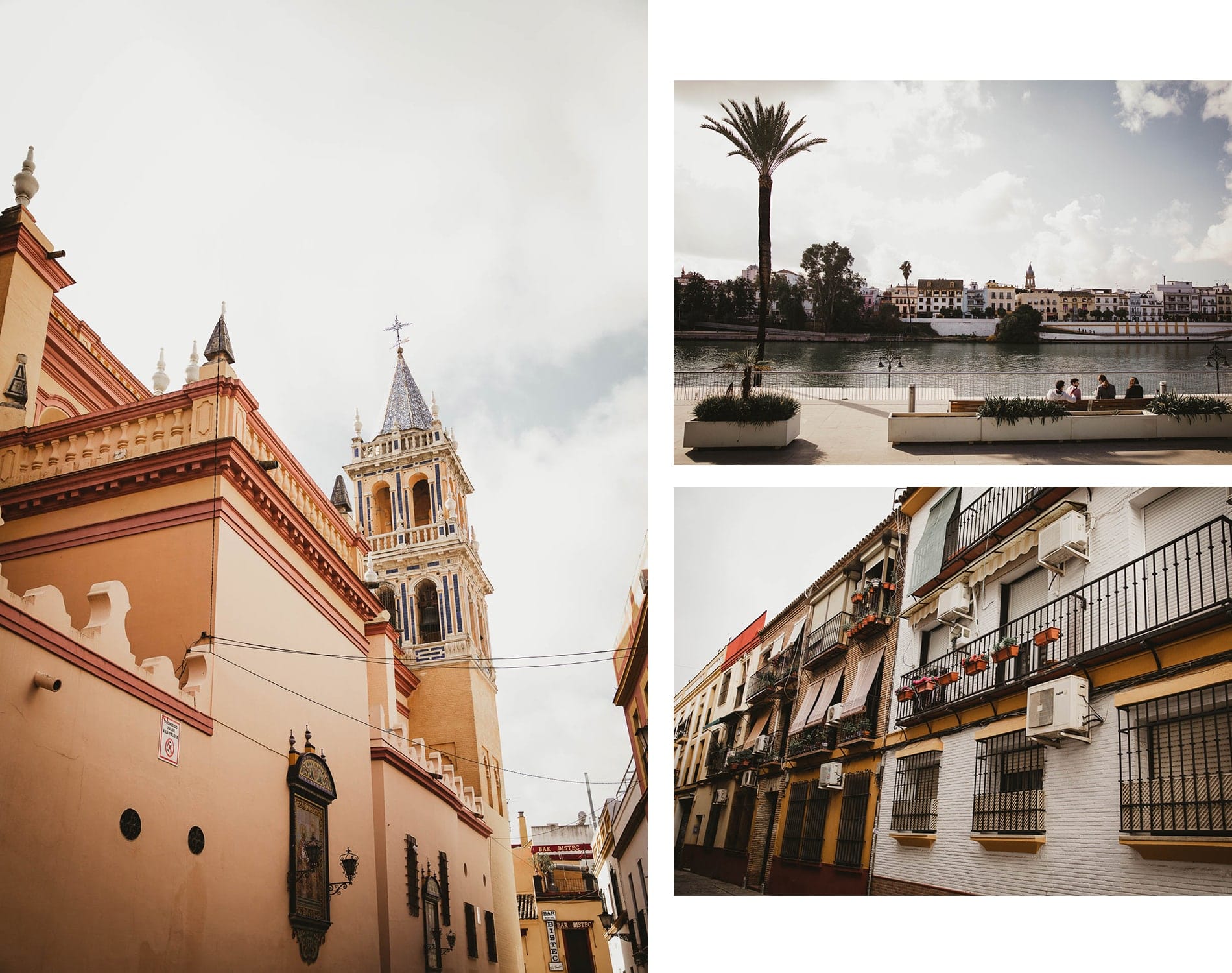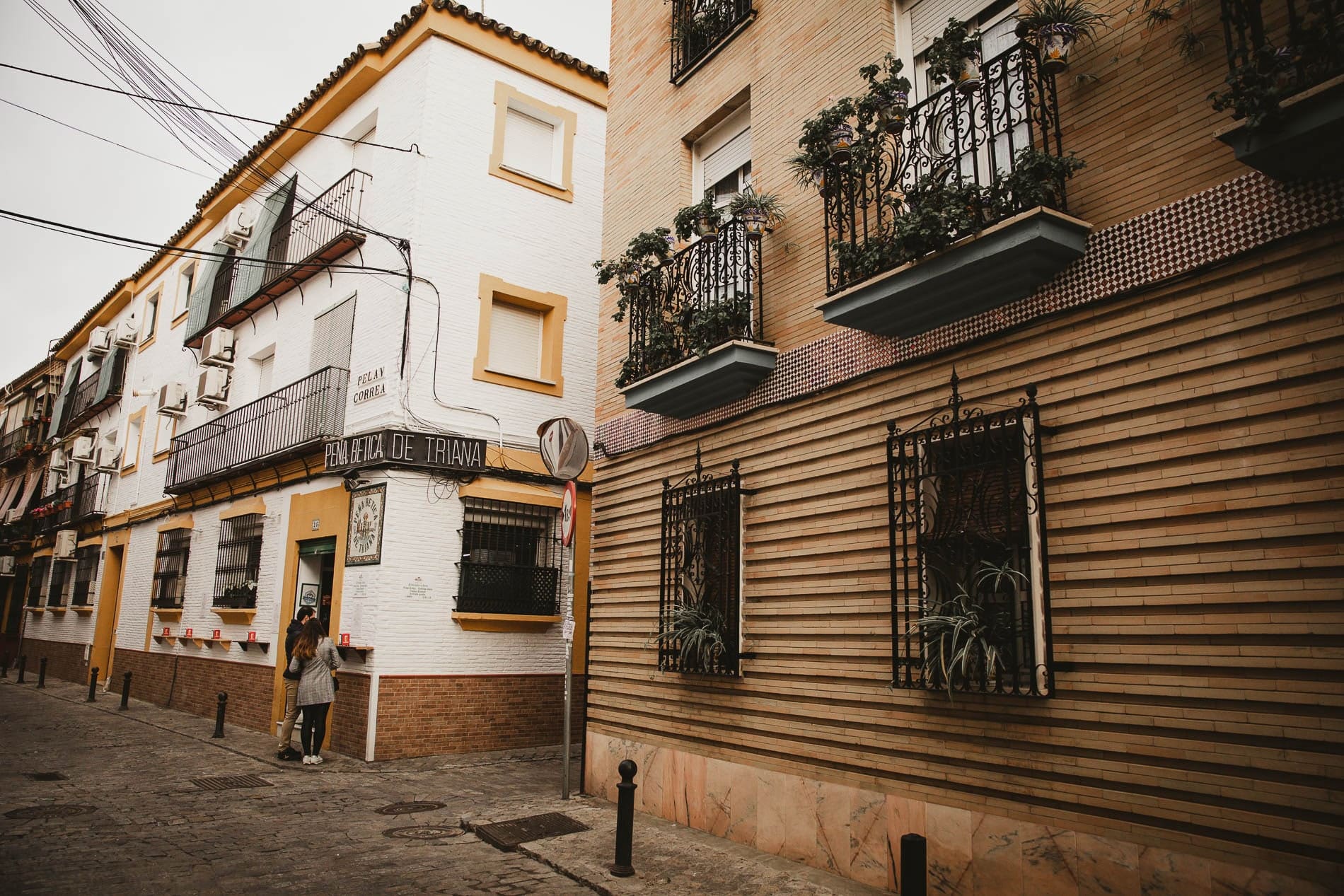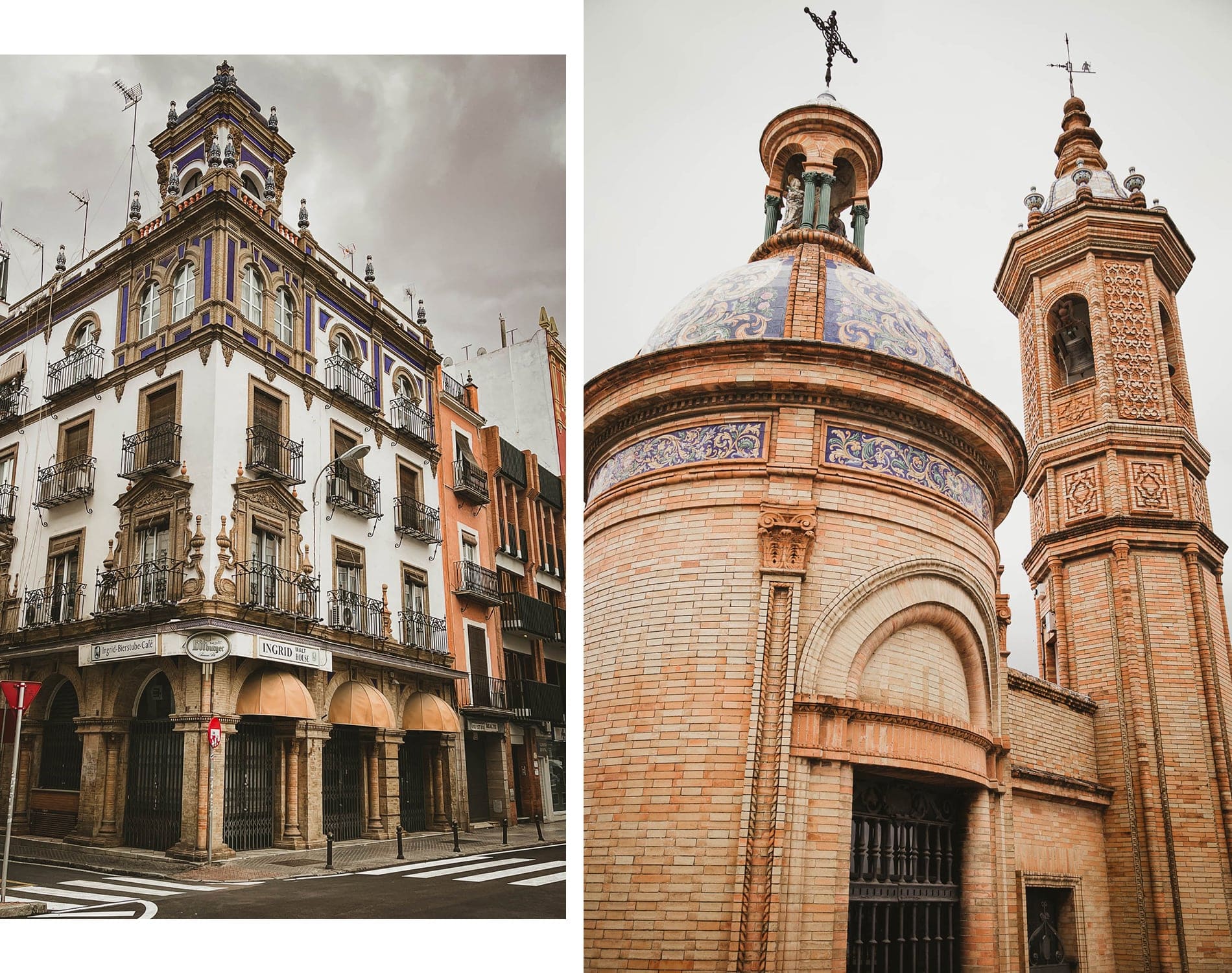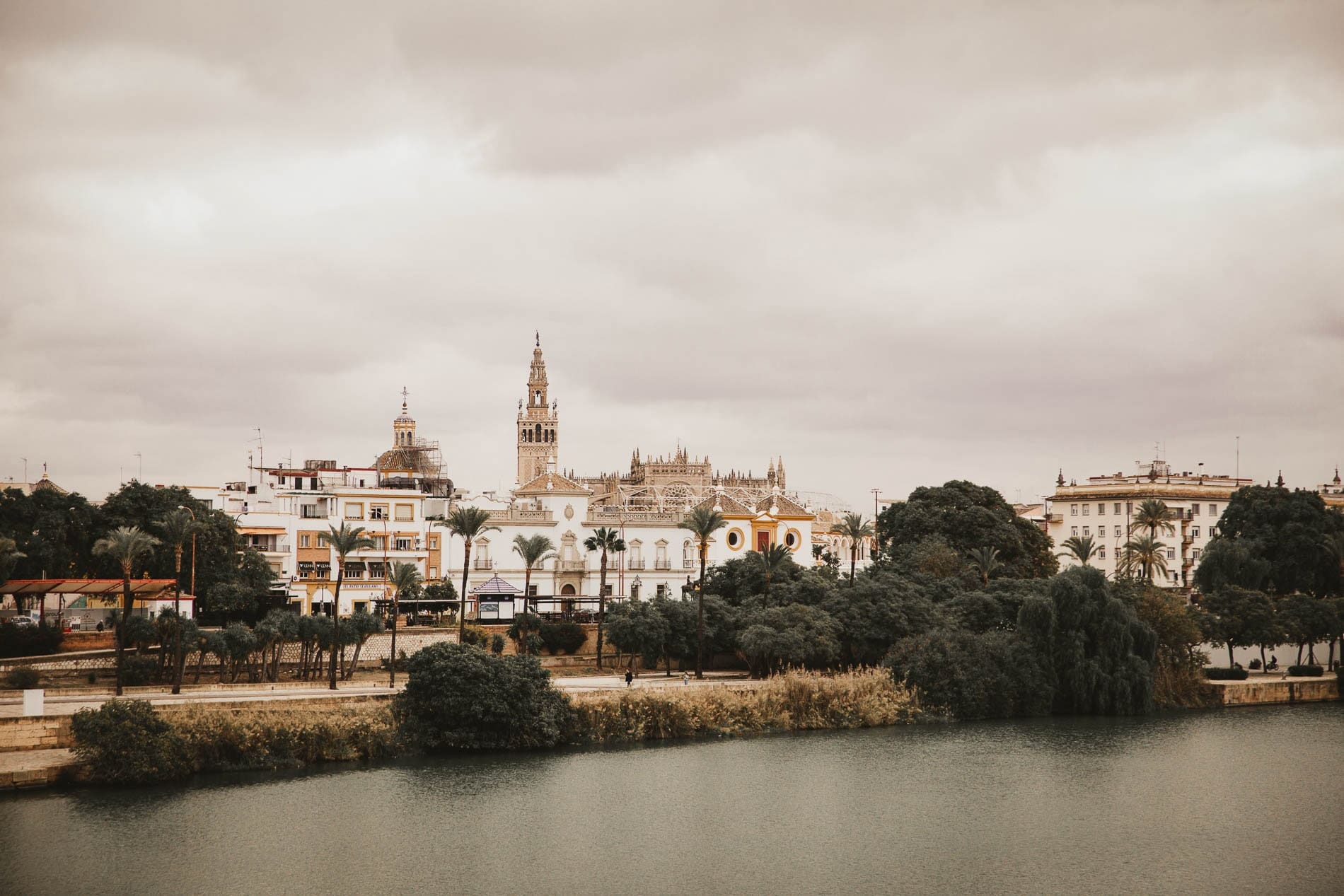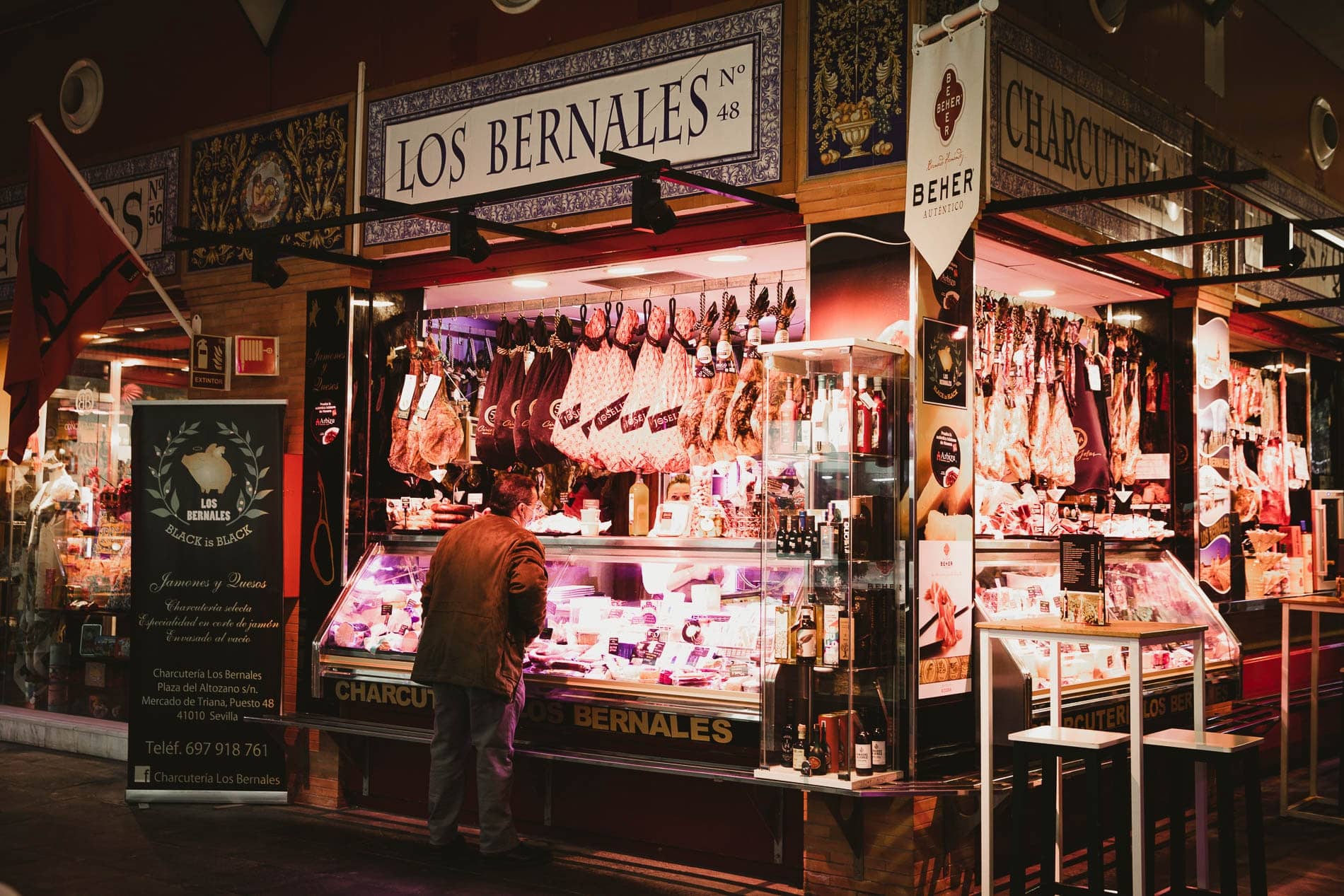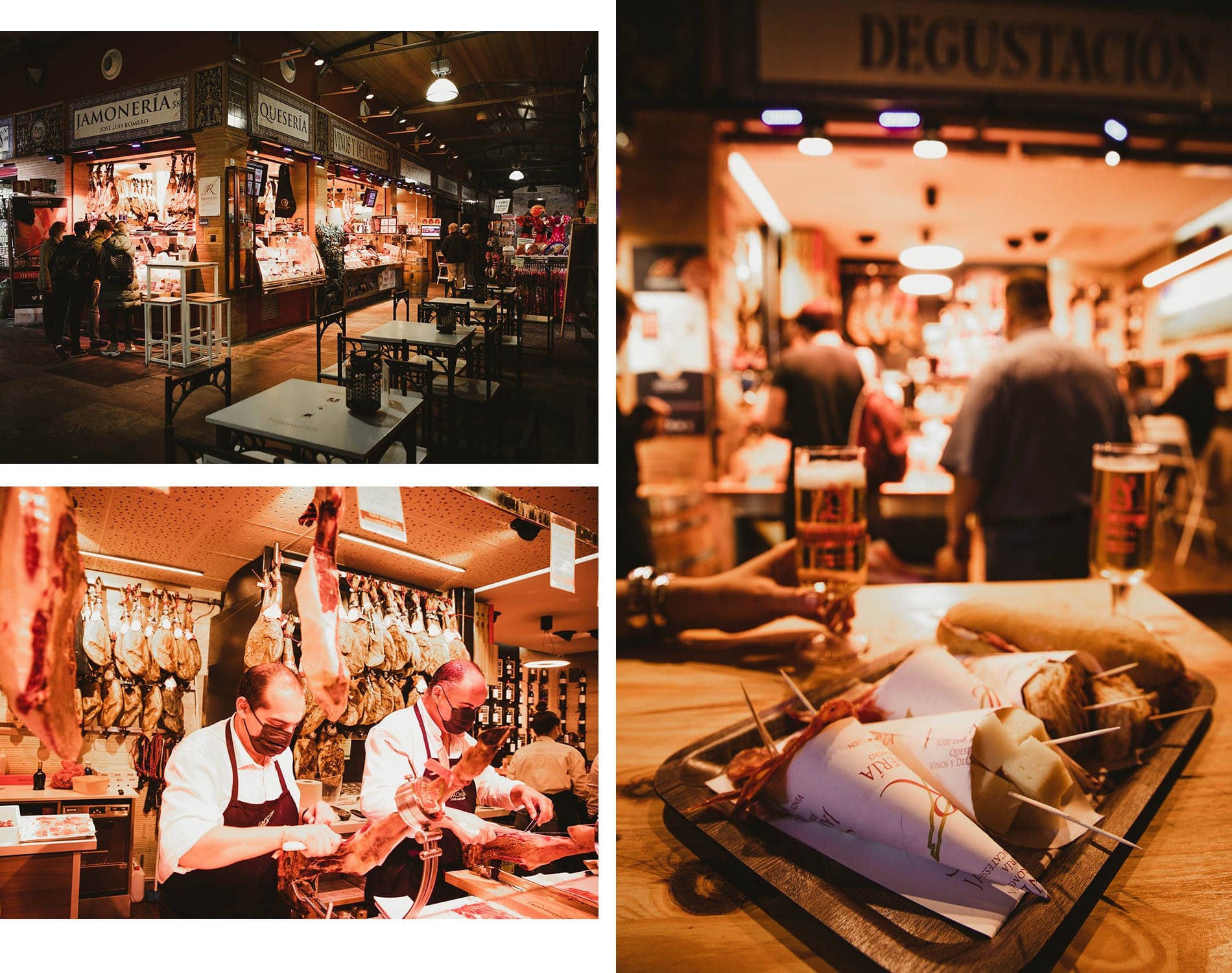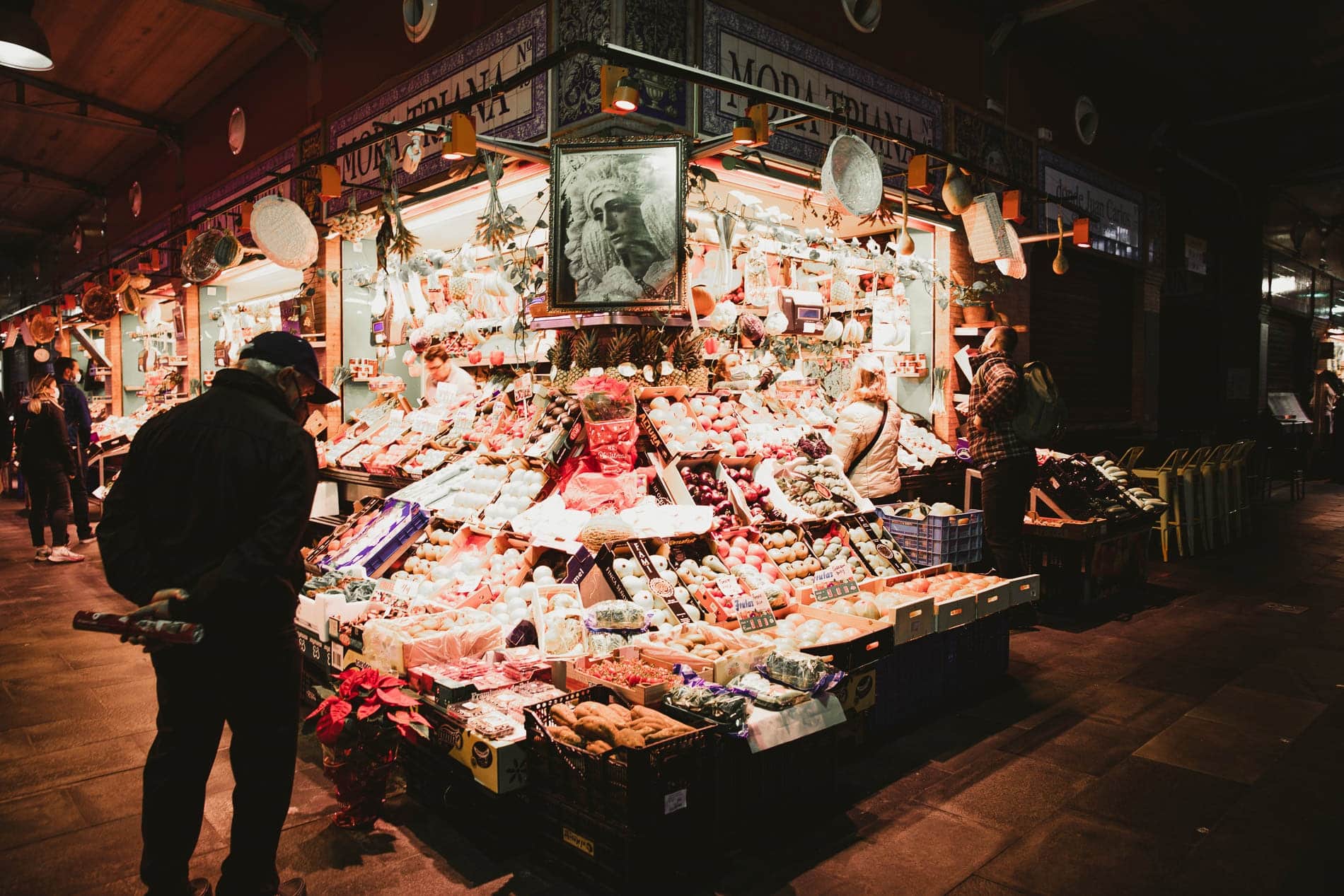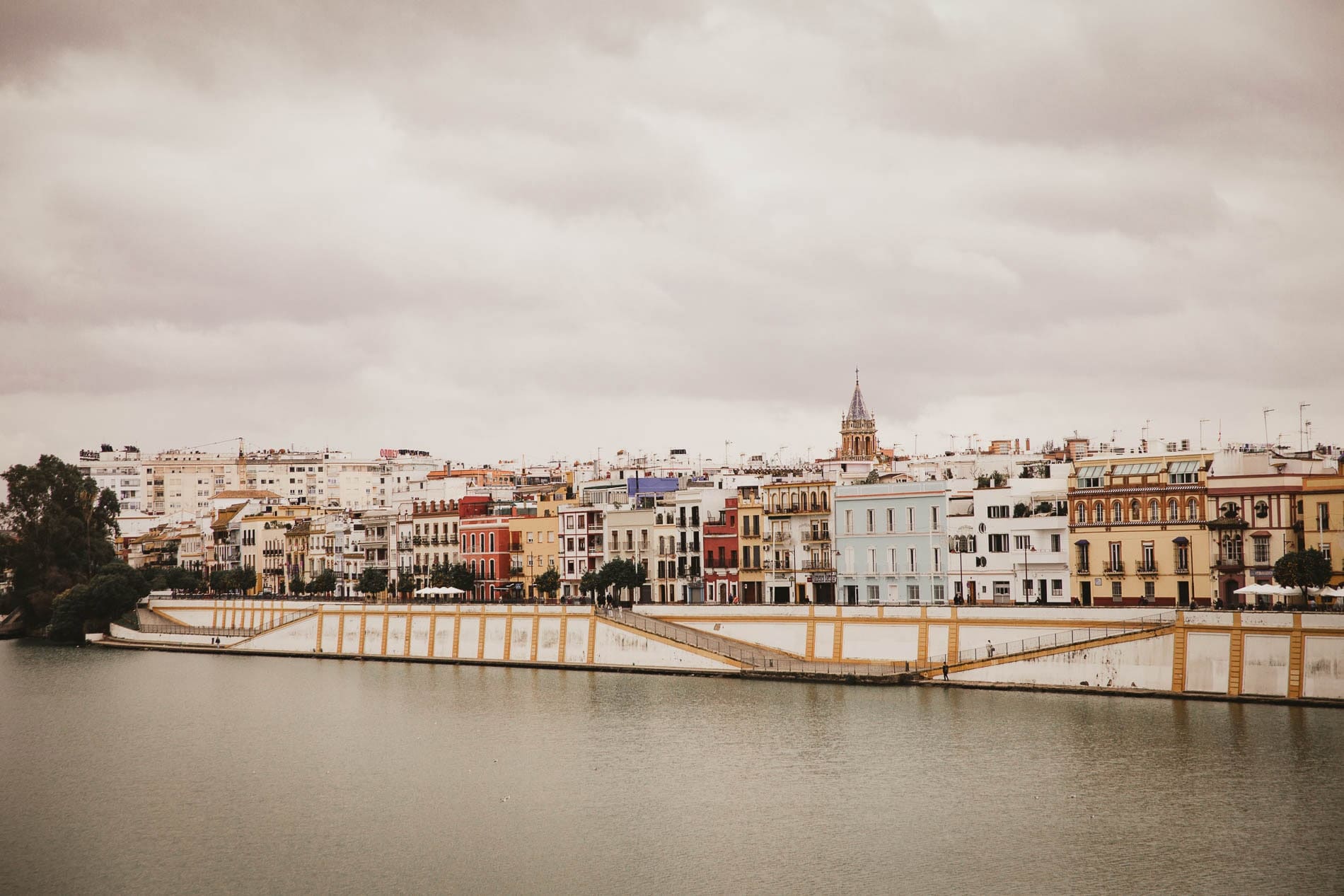 | TRAVELING WITH A BABY IN SEVILLE
Here's my feedback after spending 4 days in Seville with our 4-month-old baby. It's very easy to travel to Seville with a baby. For accommodation, we opted for an apartment hotel, the Feria Pool & Luxury in the Alameda district, and we don't regret this choice, as it felt like home, with all the necessary amenities: small kitchen, sitting area, large bathroom, large bedroom with cot on request.
Food-wise, we were on a 10-day roadtrip in Andalusia. I was only breastfeeding in the mornings and Gabriel was starting to drink from a bottle, so we only took one can of breast milk with us, and that was enough for the duration of our stay. You'll find everything you need for your baby at local supermarkets, including diapers, baby water, milk, wipes and more.
For the visits, even if the streets are paved, the stroller was not in the way. We have a babyzen stroller, the Yoyo, which is really handy for sneaking everywhere, be it a museum, restaurant, bar or public transport.
There are 2/3 things we couldn't do with our baby: the ancient baths of Seville where access is forbidden to children, and a few rooftops because the places were too cramped and crowded. Apart from that, we never deprived ourselves of anything and Gabriel followed us without saying too much! I still felt guilty about taking him to the Flamenco show. Even though the show was quite short (and deliberately so), we were seated right up front, facing the stage. I had underestimated the power and strength of the songs and all the vibrations linked to the dance. A pair of headphones to protect your ears would have been a welcome addition, but I didn't have any to hand and didn't think of it! I can assure you that everything went very well and Gabriel didn't go deaf!
Practical information | Before you leave
Don't forget travel insurance!

Before you leave, make sure you've taken out travel insurance to avoid any unpleasant surprises! If you're planning a short break, a long-haul trip or even a round-the-world tour, travel insurance will provide you with the essential cover you need to enjoy your stay with complete peace of mind: cancellation, baggage, assistance, medical expenses, hospitalization, death, repatriation and all the hassles you could avoid. Also opt forCovid cancellation insurance and border closures. Find out more in our article dedicated to helping you to find the best insuranceand on the Chapka, notre partenaire de voyage depuis notre Tour du Monde
| WHEN TO GO TO SEVILLE
Seville is home to 40,000 orange trees, so spring is always a great time to visit. The city smells of orange blossom, so I'd advise you to go there from April onwards, but also from September to November. Absolutely avoid the months of July and August because of the heat and temperatures approaching 40 degrees!
| ARRIVING IN SEVILLE
How to get to Seville by plane from Paris, there's a direct flight that will take you only about 2.5 hours. If you plan ahead, you can expect to pay around a hundred euros for a return trip from Paris. Find your cheapest flight with Skyscanner flight comparison service and Ulysse comparator
For those who need to take a pre-routing to get to Paris, look on Ouigo as you can find very low prices. Find low-priced train tickets to Paris
Visit TGV remains a good, fast option for getting to Paris, with very attractive prices if you plan ahead. Find your train ticket to Paris at the best price !
| CAR RENTAL
When you arrive in Seville, consider renting a car at the airport or in the city center to discover the white villages of Andalusia. Find here your cheapest car rental with skyscanner
| GETTING TO SEVILLE FROM THE AIRPORT
From San Pablo airport, which is about 10 kilometers northeast of the city, you have two options for getting to Seville:
If you need to reach Seville by bus from the airport, take the EA line or bus 1501 – 8 Tussam (on the right as you leave the terminal) but beware, it doesn't go all the way to the historic center and stops at Plaza de Armas. The journey takes 35 minutes and costs €4/person one way, €6 return. This is still a very affordable option, but don't be overloaded with luggage.

Click here for airport bus timetables and fares
Cabs are still the quickest and easiest solution, but undoubtedly the most expensive (unless you share your cab with several people). Count on about25€ for a 15 to 20 minute journey and between 10€ and 20€ if you take a VTC.
The cab rank is on the right as you leave the terminal, and there are plenty of cabs waiting for you. Mind you, it was in Seville on the very first day that we forgot our baby carrier in the boot. In fact, in the heart of Seville, cabs are often honked at by private individuals driving their cars, and in the hustle and bustle, the driver can rush your luggage down to you. Make sure you have all your belongings with you before leaving the cab. ! For greater security and in case you forget your card, use an approved company where you will have a telephone number to contact in the event of loss.
For those of you with a rental car, if you're looking for parking close to the departure airport or nearby, I invite you to take a look at the Onepark website
This platform enables travelers to compare and book their parking space online, and to access over 2,000 parking lots in 9 European countries. It is the market leader and you can save up to – 60%.. Remember to check availability in advance.
I am now booking my next parking
| GETTING AROUND SEVILLE
Seville's historic center, where the city's main historical interests are concentrated, is made up mainly of cobbled streets and is very easy to get to on foot. On the other hand, it is not easily accessible by public transport. The city offers 1-day and 3-day transport passes, and we had decided too hastily to buy a 3-day pass, which we ended up using very little. If your accommodation is in the historic center, there's no need to buy a pass. Buy only single tickets, as you'll be doing most of your journeys on foot.

We loved wandering around all the neighborhoods and streets of Seville, discovering the local Spanish atmosphere, colorful facades, vintage cafés and a city full of charm. Which part of the city do you like best? Do you have any good addresses to recommend for next time?

Before you leave, I invite you to read our article on our roadtrip to Andalusia's most beautiful white villages for an incredible roadtrip for couples or families.