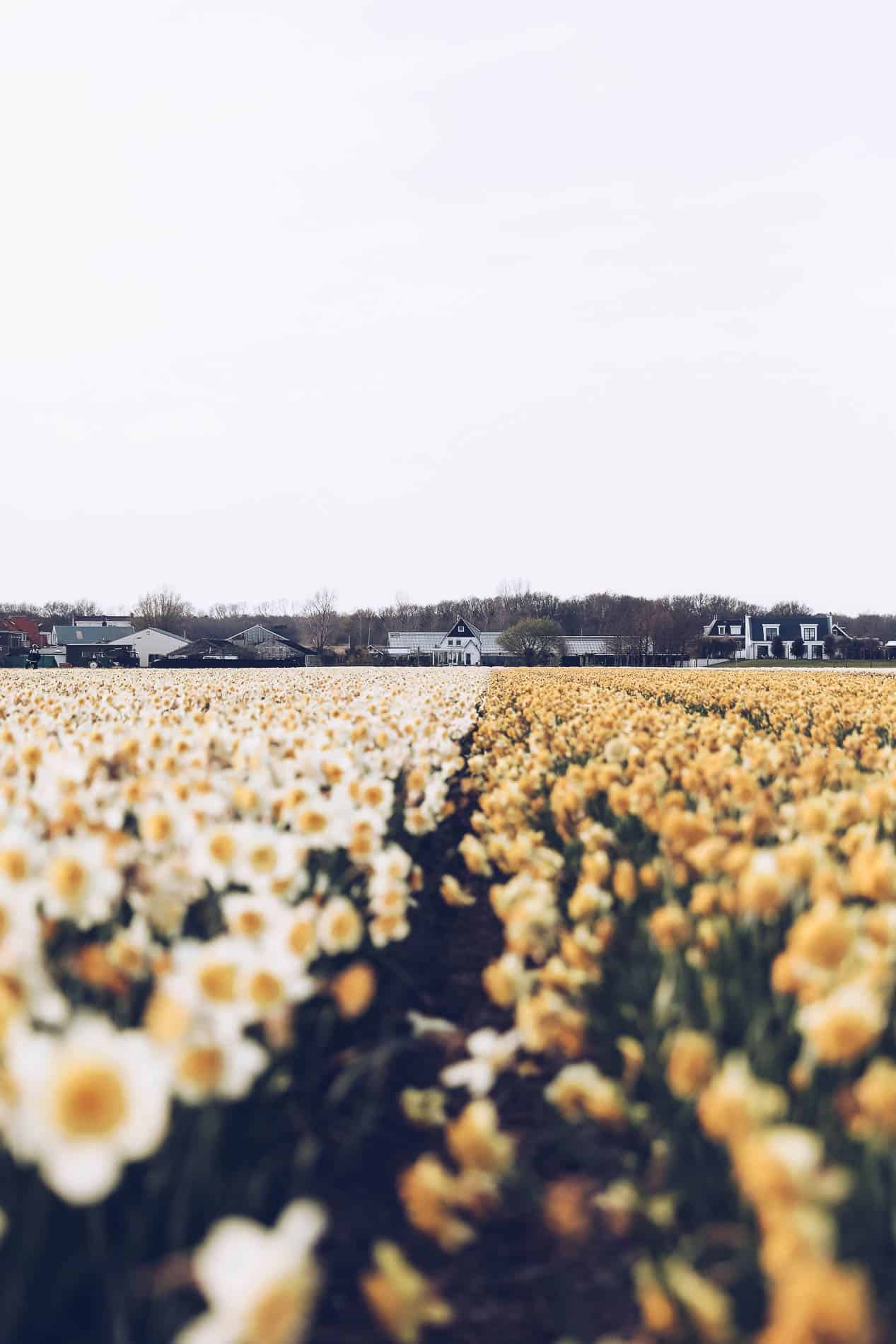 If you come to the Netherlands in spring, don't miss a visit to the Keukenhof garden and the tulip fields in the Dutch countryside, a must-see landscape in spring. But be warned, this event attracts thousands of people, so here are all our recommendations for enjoying these places.
You've probably heard of, or seen photos of, the tulip fields in the Netherlands? It's a not-to-be-missed event in spring, attracting thousands of visitors from all over the world to admire all these flowers blooming over a short period of time all over the country: it's called the "Flower strip". So I'm giving you all my top tips on where to see tulip fields in Holland and how to visit the jardin Keukenhof not far from Amsterdam.
I also invite you to read all our articles on the Netherlands to help you prepare for your trip:
During our few-day getaway to Amsterdam, we took the opportunity to spend a full day exploring the Keukenhof gardens and tulip fields in the Dutch countryside. It's a lovely family moment that I'd advise you to prepare well for, as it's an unmissable springtime event that only lasts a couple of weeks. It would be a shame to miss them!
| WHERE TO SEE TULIPS IN HOLLAND?
There are several areas in the Netherlands where you can see tulips in spring, the typical flowers of Holland:
Keukenhof Park in Liasse, about 40km southwest of Amsterdam. It's a magnificent garden, but you have to pay to enter, so… book your entrance ticket well in advance to be sure of being able to visit.
The Bollenstreek, ("flower bulb region" in Dutch) near Lisse for a bike ride through the tulip fields.
The Northeast Polder, in the province of Flevoland, north-east of Amsterdam, about 1 hour's drive away.
On the Alkmaar, about 30 minutes from the Zaanse Schans windmills, north of Amsterdam.
For a first-time visitor, Keukenhof and the tulip fields of Lisse are usually the obvious choice.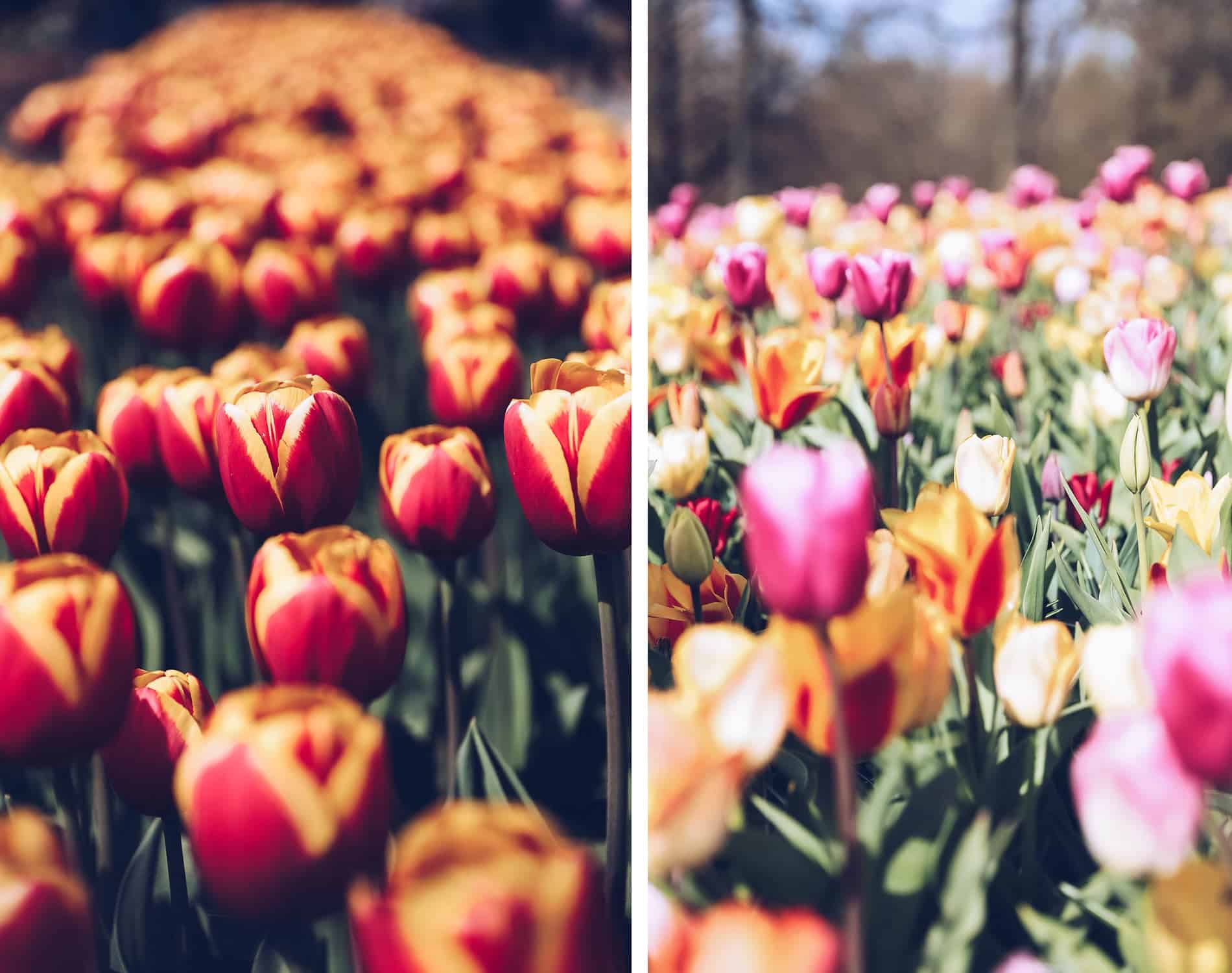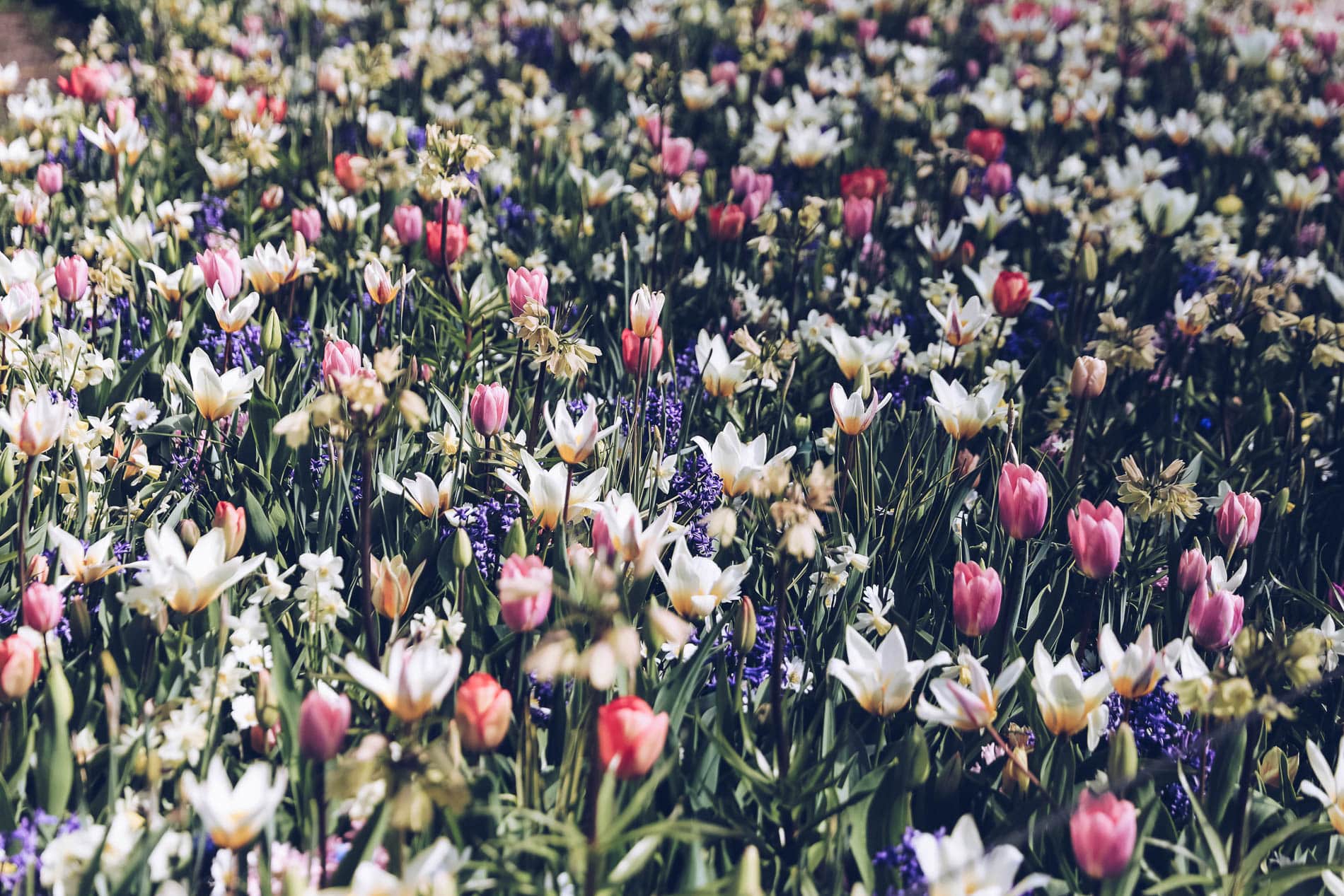 | KEUKENHOF PARK
Keukenhof Park is the closest place in Amsterdam to see tulips in springtime. This park in the town of Lisse, southwest of Amsterdam, is open only during tulip flowering, from mid-March to around mid-May. These dates may vary slightly from year to year, depending on the weather, so check them before you go.
Every year, more than 7 million flowering bulbs that are planted in autumn to bloom in spring. You should know that there is a variety of 800 different tulips inside the garden making it a unique and unforgettable experience. But when is the best time to visit Keukenhof? There are 3 flowering periods:
First period – As soon as it opens, the park will have lots of flowers in full bloom, outside there will be more daffodils and crocuses in bloom.
Second period – After daffodils and crocuses, it's early hyacinths and tulips that are blooming in outdoor gardens. Indoor flower shows continue to bloom with superb colors.
Third period – In this third period, tulips will bloom in outdoor gardens. The trees will be green and the indoor flower shows will always feature stunning blooms.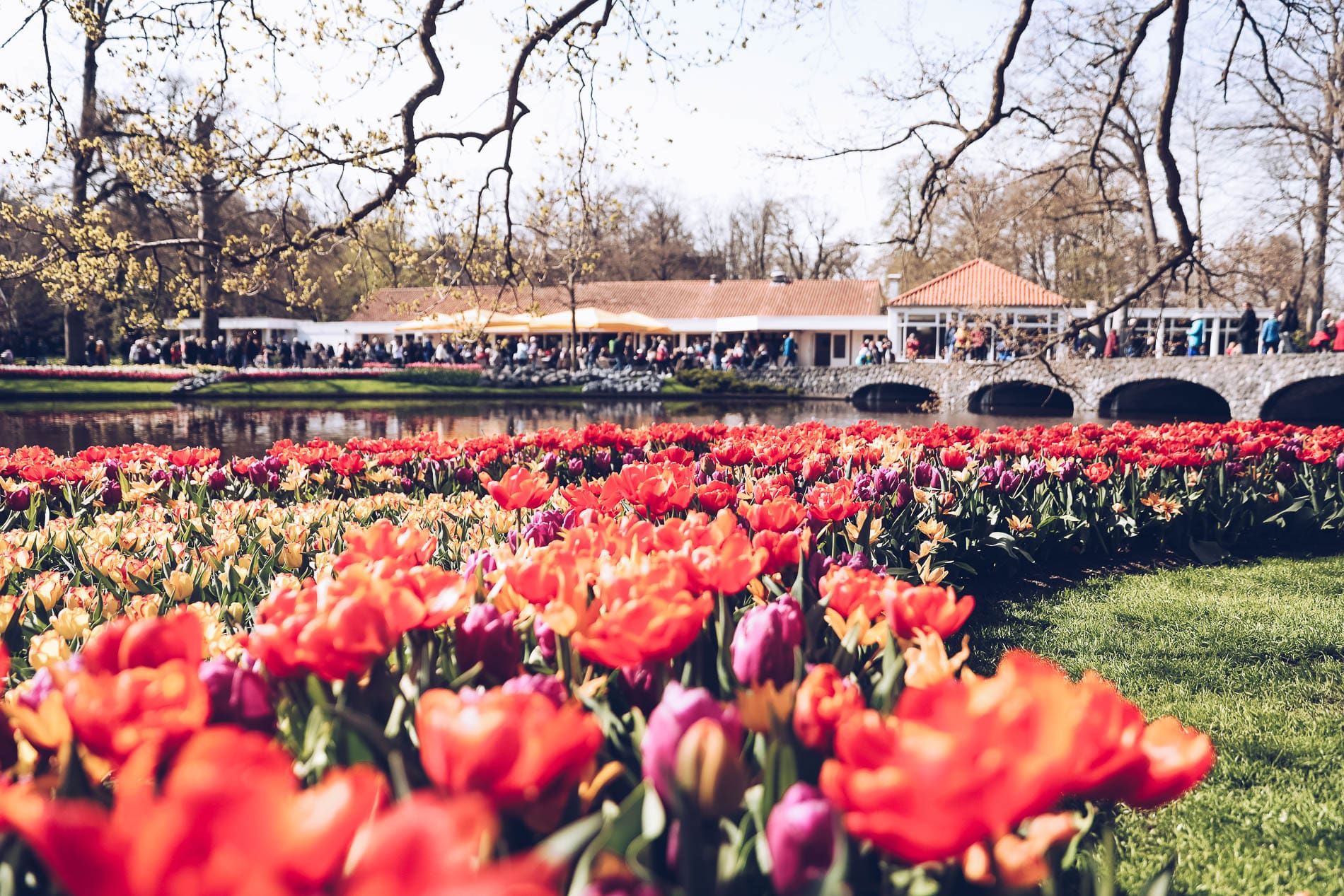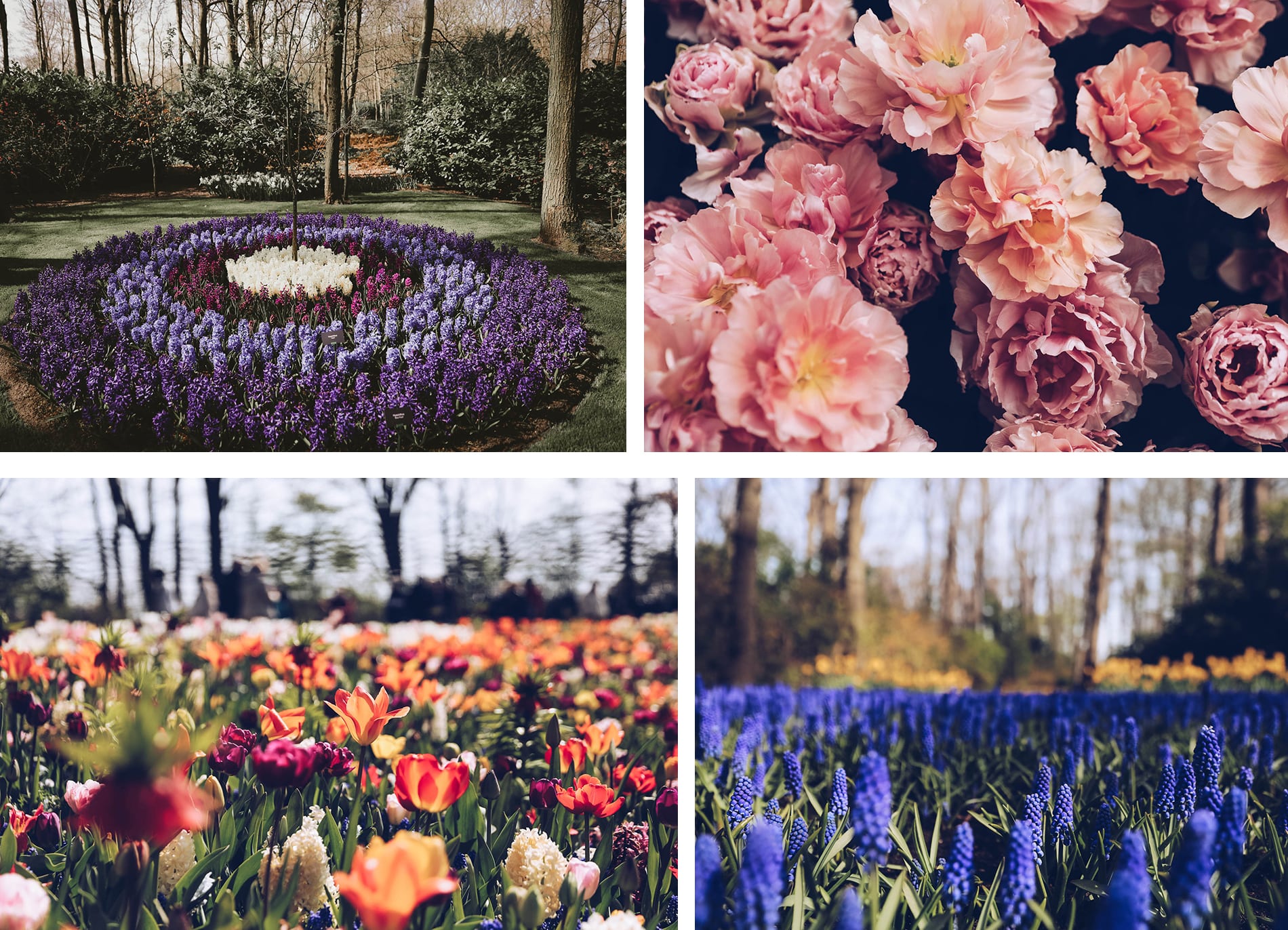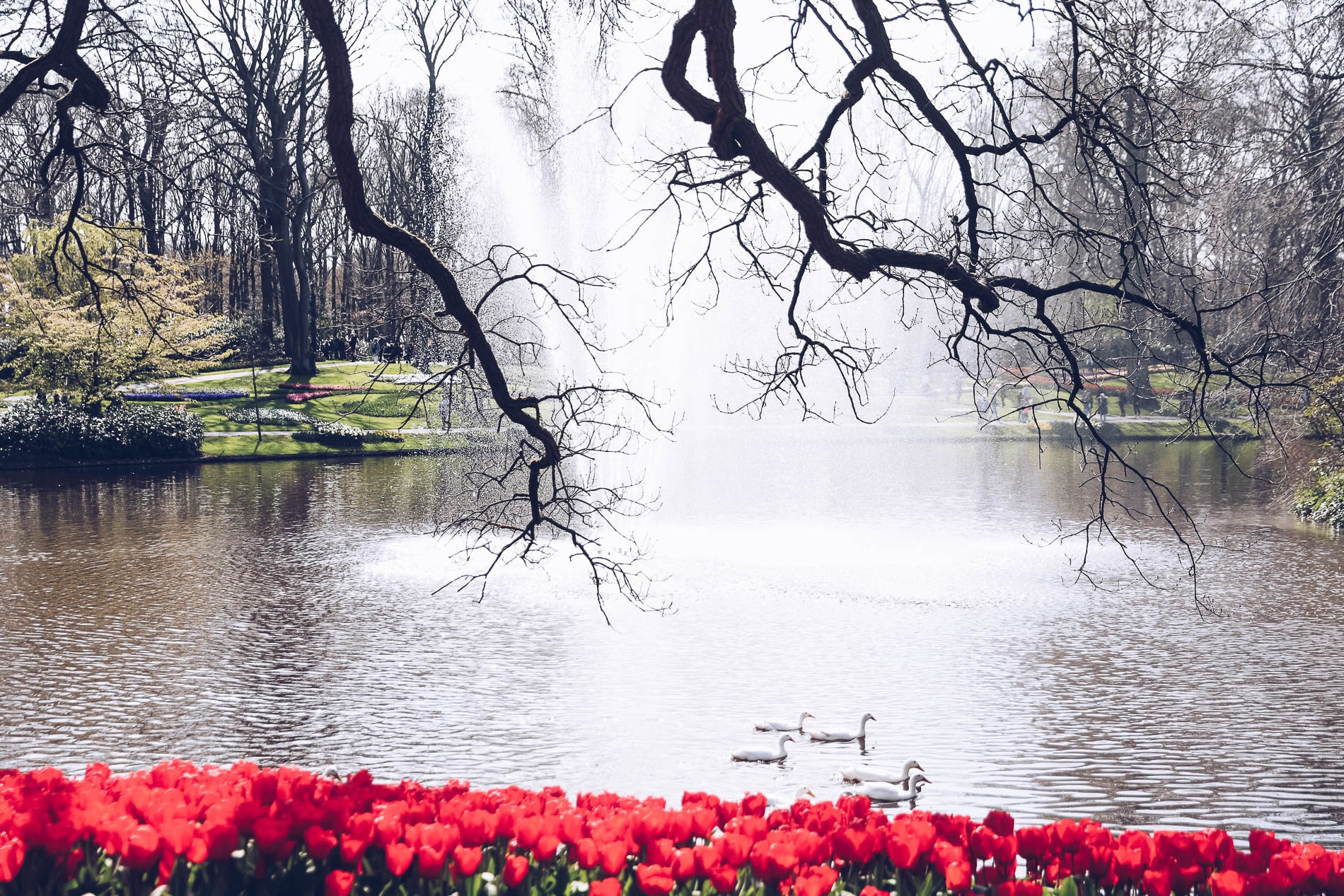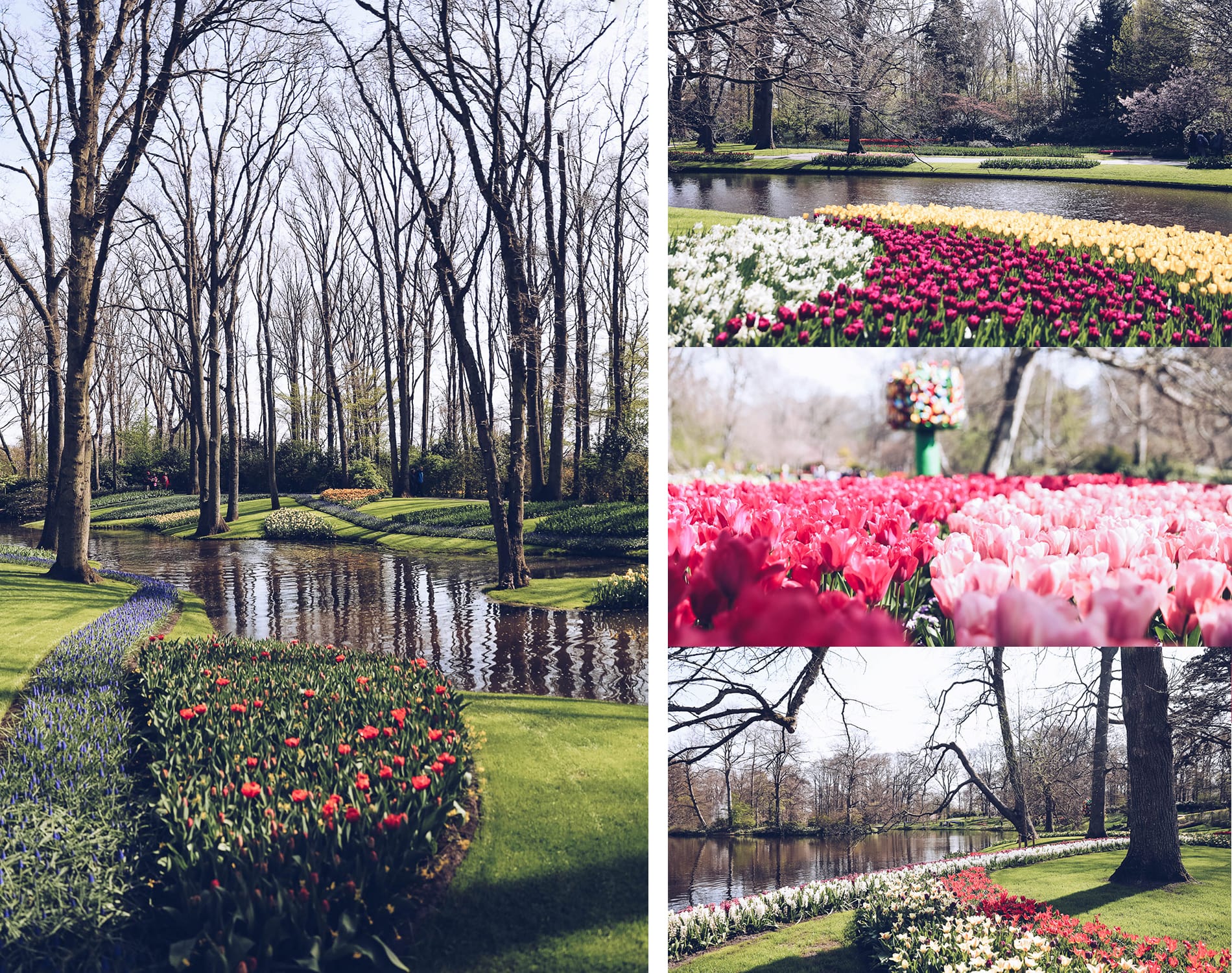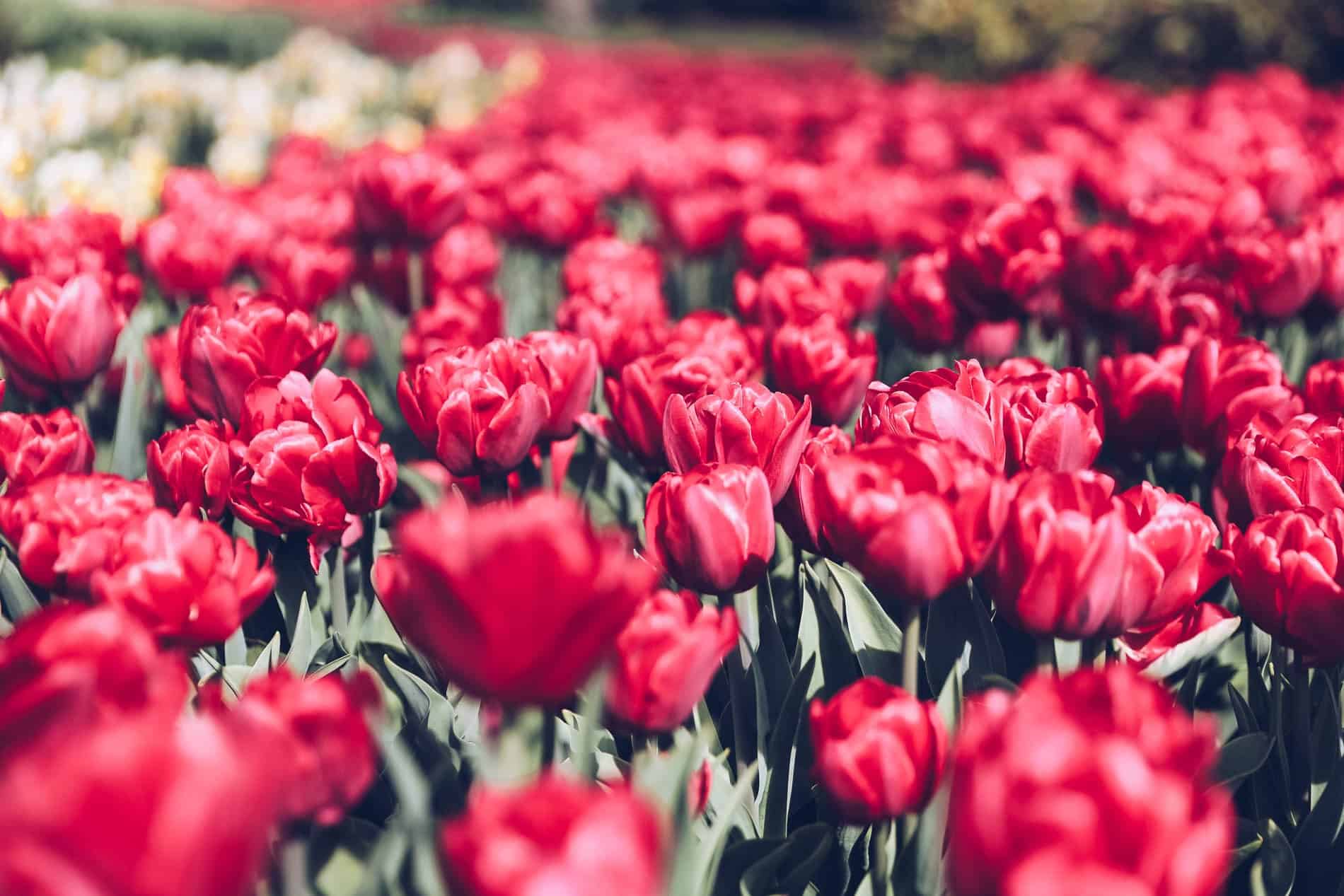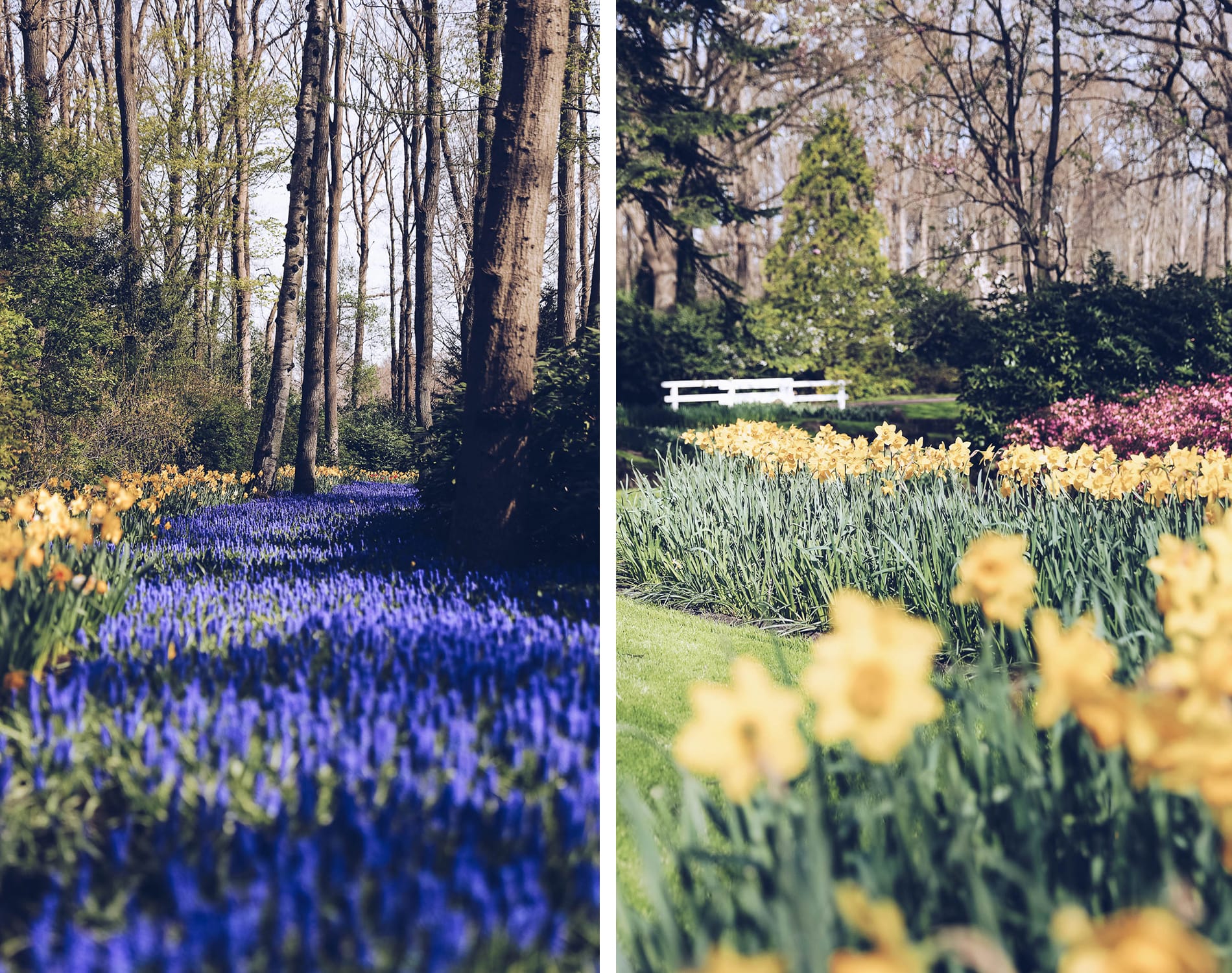 Keukenhof Park, which over 30 hectares, is a great place for the whole family to enjoy. In fact, it has been designed with the little ones in mind, with a treasure hunt, children's farm, maze and playground. It's the world's largest floral park, with 15 km of hiking trails, so you won't be bored! A free map of the park is available from the ticket office at the park entrance. There are also signs and maps inside the garden to help you find your way around.

On your walk, you'll see unique, weekly-changing flower displays, beautiful lily ponds, large fountains and various pavilions with a few restaurants and terraces. There are a few food stalls selling French fries and sandwiches for a quick bite to eat. You can also bring your own picnic and sit on the authorized plot.
The park is open Monday to Sunday, 8am to 7.30pm. Access is subject to a fee Allow around €20/adult and €10/child. I strongly advise you to book online to avoid long queues. This park is very popular with travelers from all over the world, so it's best to arrive as soon as it opens to make the most of your visit and admire the different plots at your leisure.
Good to know: if attendance is too high, for example on weekends, Keukenhof will close the on-site ticket sales! So if you can, avoid Saturdays, Sundays and public holidays. Finally, when booking your tickets for Keukenhof Gardens, you must select a day and time slot to enter the park. There is a maximum number of tickets per day and per arrival time. If your day and time slot are not available, tickets are sold out.
➡️ Book your Keukenhof garden tickets online
In addition to visiting Keukenhof Park, we took advantage of our afternoon to visit the tulip fields in Holland because it's a must. If I had to do it again today, I'd take a guided tour, because I'm not going to lie to you, we had a bit of trouble finding them on our own! They're a long way from Kenkenhof Park, and without transport, you're bound to miss them!
We chose to leave Amsterdam by train and bus (with a stroller), which we didn't think was the best way to get around because of the long bus stops and complicated timetables. We should have anticipated more and simply booked an excursion in advance. Unfortunately, we wasted a lot of time getting to the bike rental company from the Keukenhof garden, finding the route on a map, pedaling, searching, taking the wrong roads, etc.
For those who don't have a car, don't panic! There are excursions that combine the transfer as well as access to the park. Click on one of them below to check rates and availability.
| TULIP FIELDS IN THE NETHERLANDS
If you want to see the tulip fields in spring, it's essential to devote a whole day to it, and to prepare your outing well. That's why don't hesitate to combine a visit to Keukenhof Park with a tour of the tulip fields in the Netherlands, as these are two complementary visits. In fact, the fields of flowers are actually production fields and ownership of tulip growers, of daffodils and hyacinths. You won't find the most beautiful tulip fields at Keukenhof, but outside the gardens. A guided bike tour will allow you to see the most beautiful flower fields if everything is well organized in advance.
Good to know: you can't rent a bike from Amsterdam to go to Keukenhof or the tulip fields, as it's simply forbidden to ride one. Rental companies refuse, so you'll have to find your own. If you're coming with young children, remember to book cargo bikes with built-in baby seats, as they're hard to find locally – there are hardly any to be found.
So it's the Lisse region, also called « Bollenstreek » that we went there, because it's the area closest to Keukenhof park. In these plantations of tulips, daffodils and hyacinths, you'll have time for a leisurely bike ride, between dozens of plots and along country roads and lanes. You'll be less cramped and further away from the crowds of the Floral Park. In our opinion, the experience is totally different. In retrospect, we would even have enjoyed a picnic on the edge of the plantations and an overnight stay in Lisse to photograph the windmills and tulip fields at sunset or sunrise.
Finally, we rented a bike in a rather out-of-the-way area that I wouldn't necessarily recommend. Try to choose a bike rental company that is closer to the fields or book a combined tour that includes transfers, cycling and a visit to the tulip fields.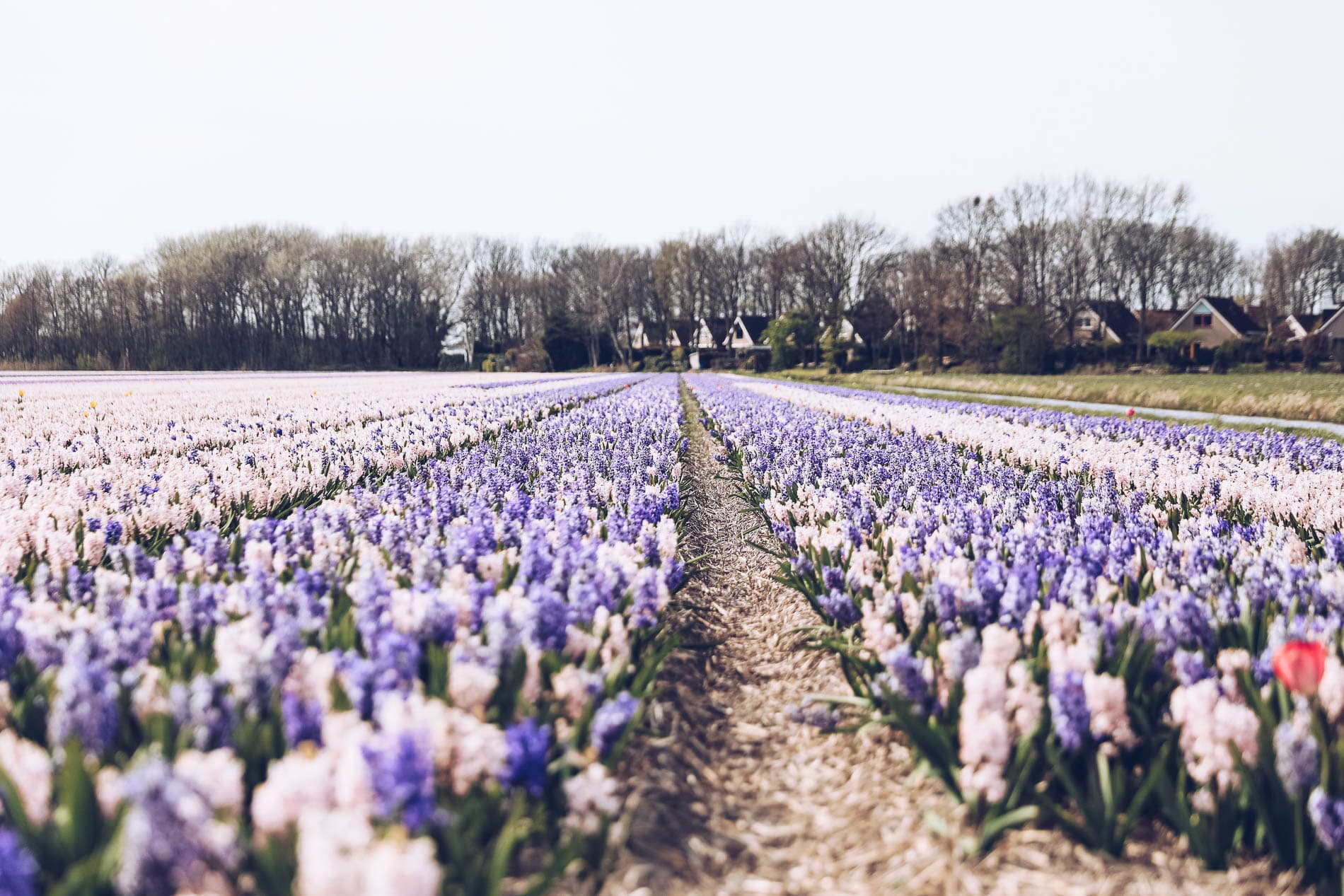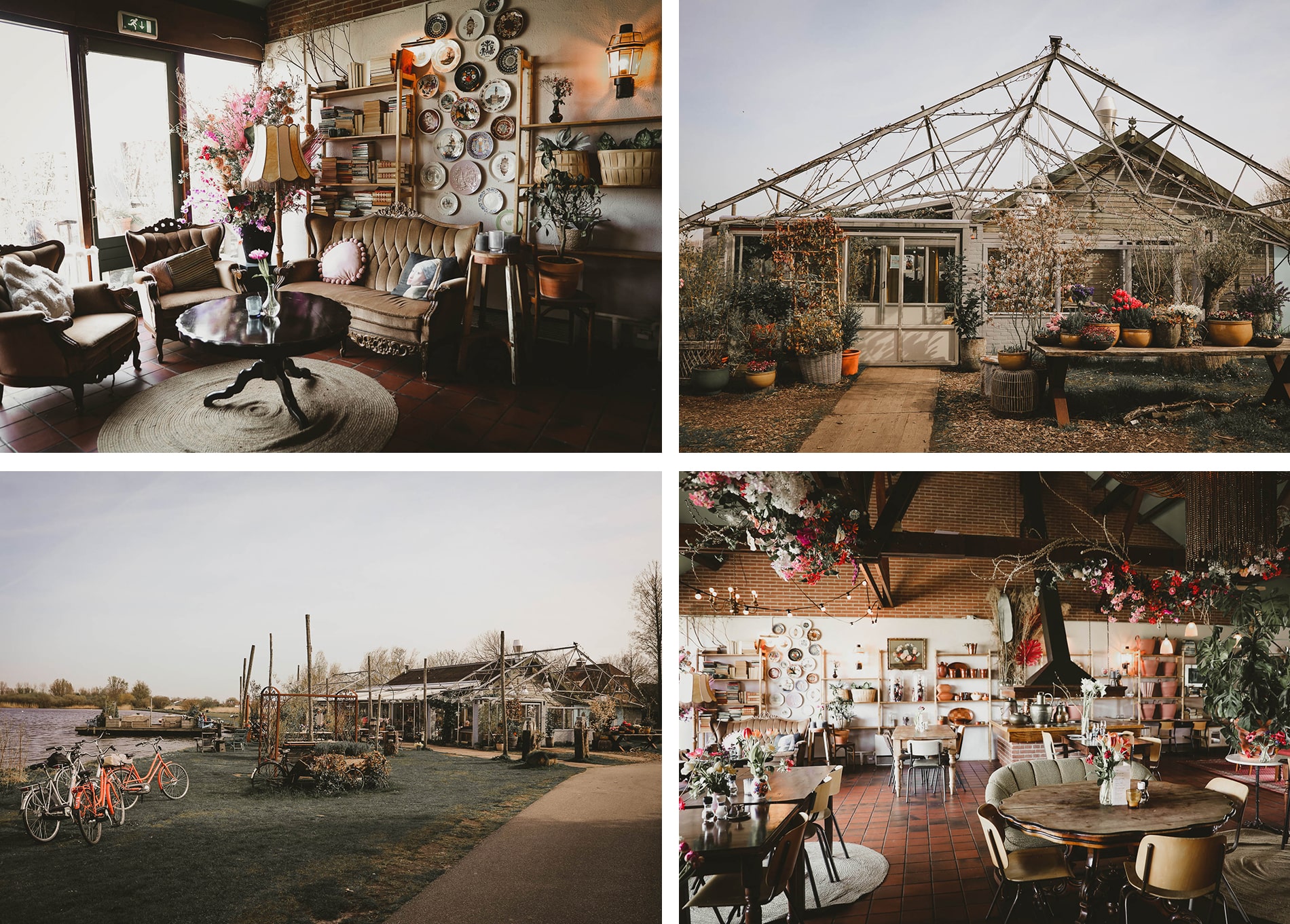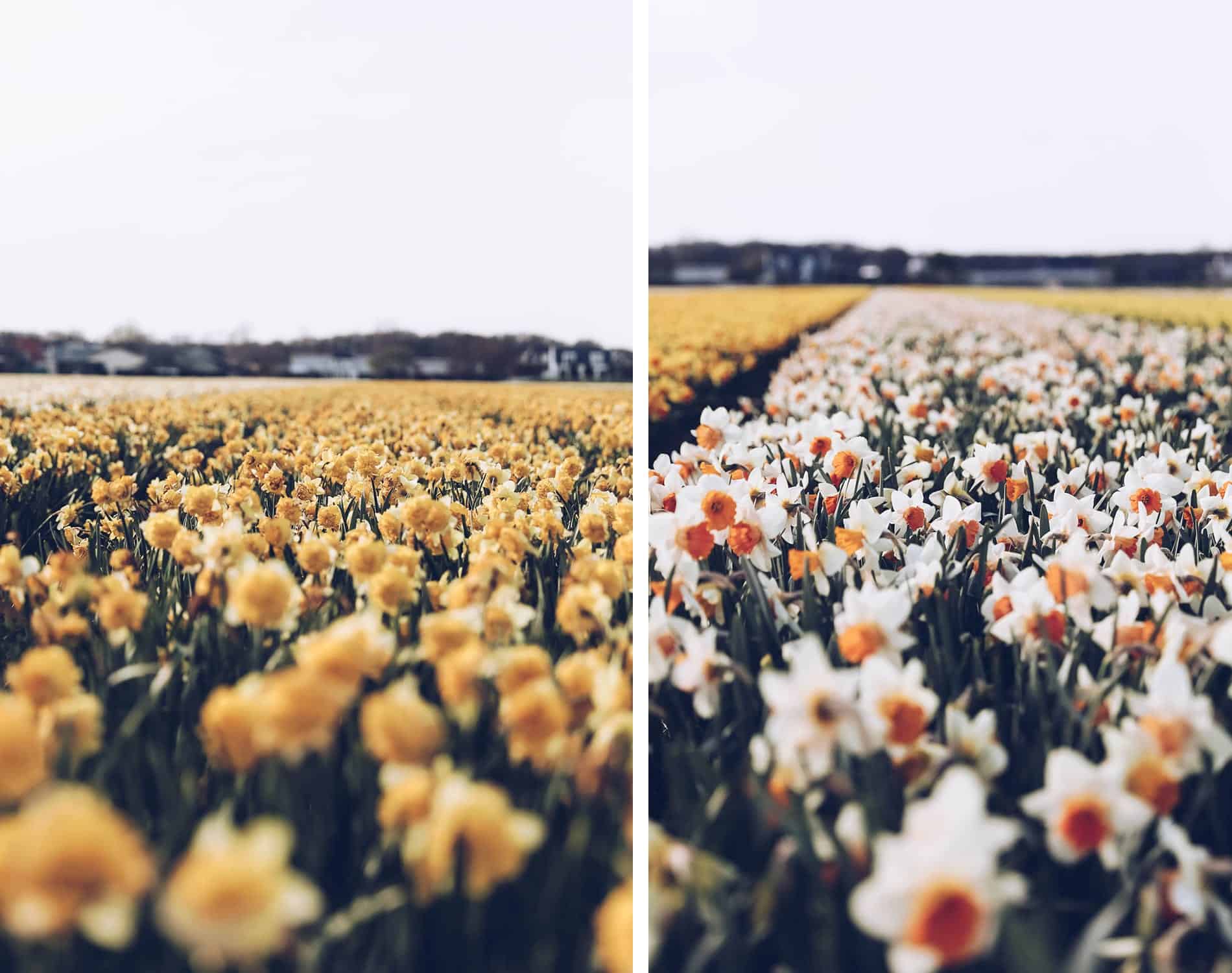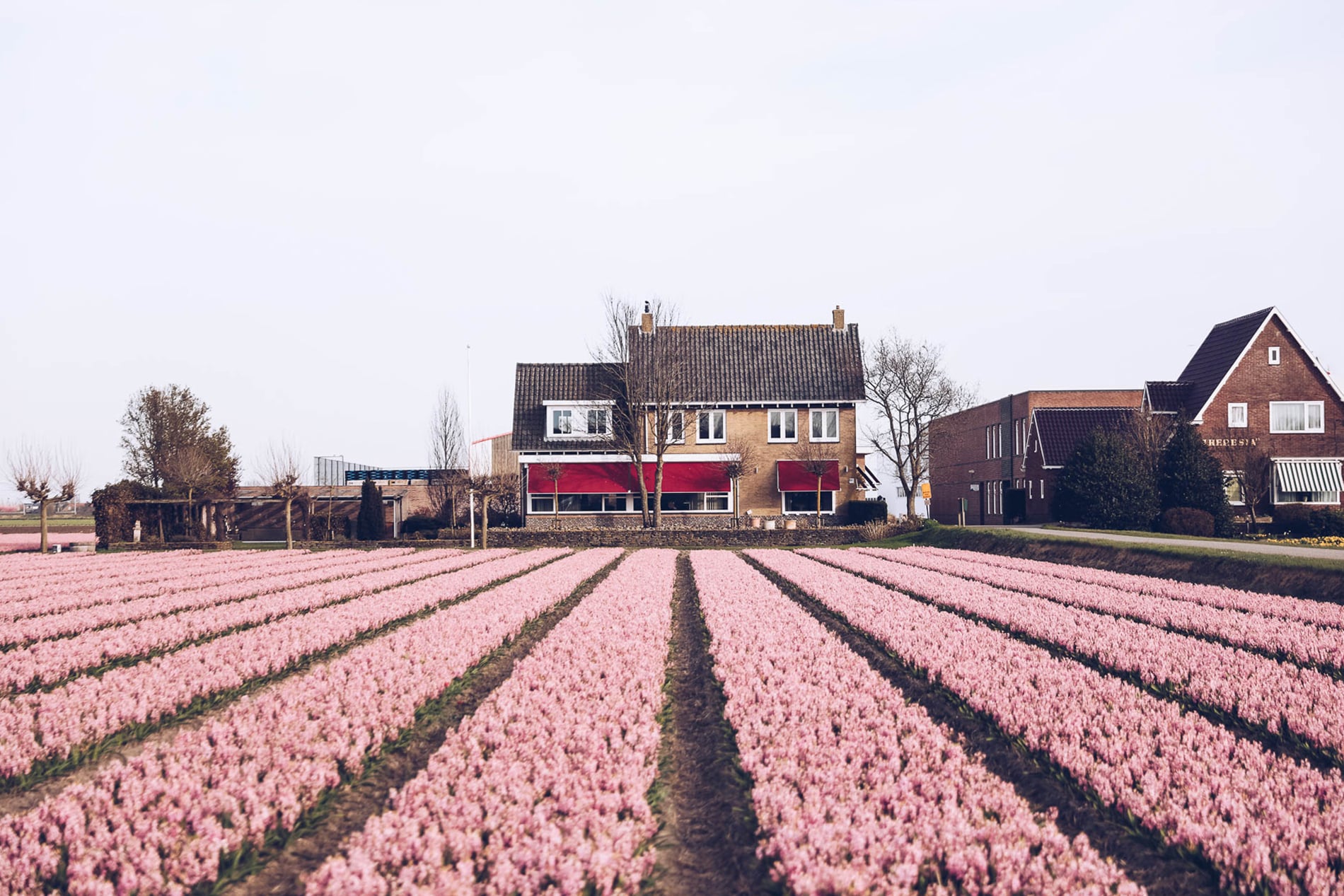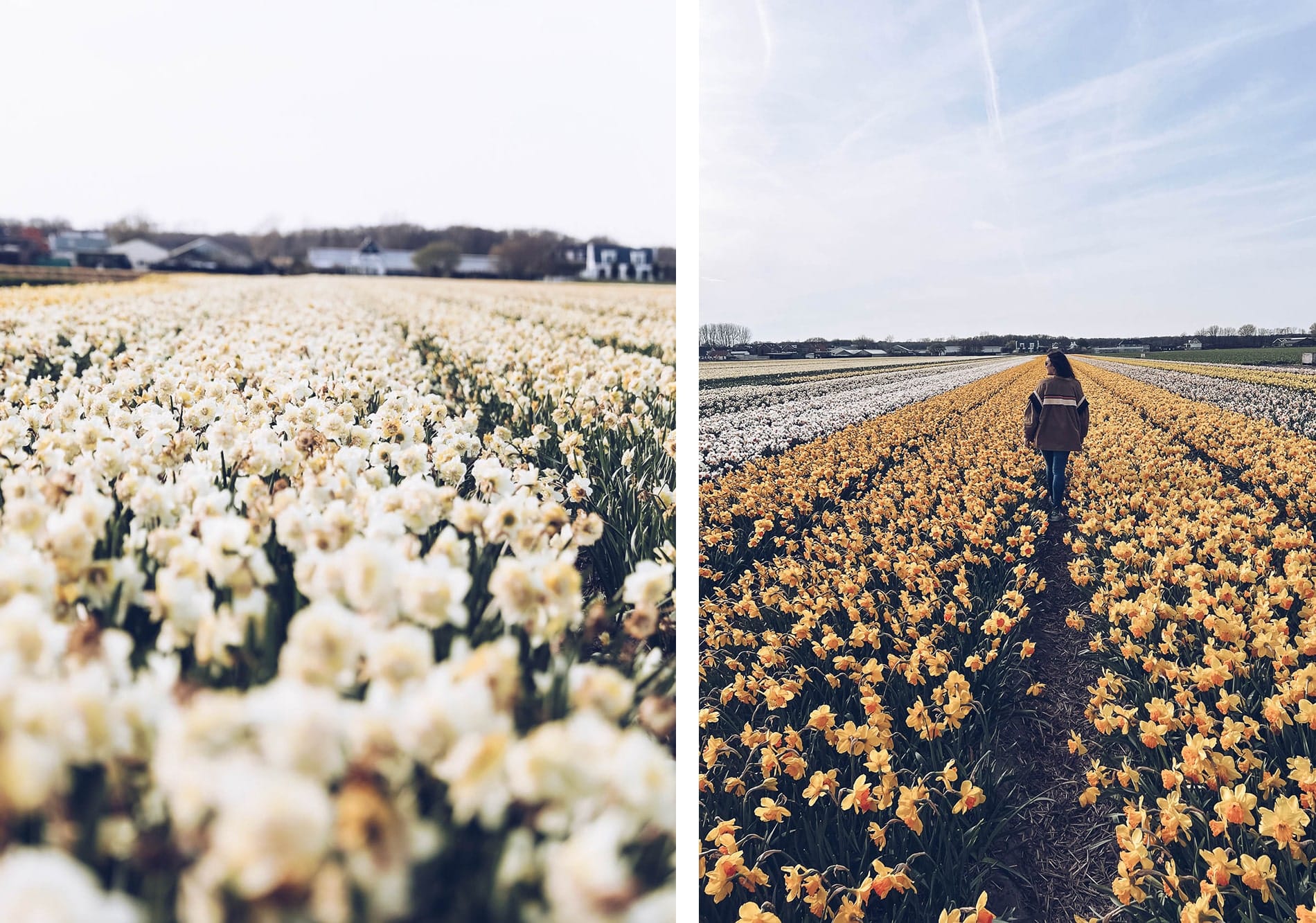 Why opt for a cycling tour of Holland's tulip fields?
When we discovered the tulip fields around April 10, we realized that the bulbs were not planted at the same time. We surely came a week too early to see all these fields in bloom and unfortunately, some plots of tulips had already been picked or were not yet in bloom. The blooming of tulip fields is different every day and highly dependent on the weather. Tulip growers may also need to cut back a field of tulips to make the flower bulbs more resistant. The floral landscape wasn't quite like the photos we sell you, but that didn't detract from the charm of this beautiful day. Fortunately, there were more plots of daffodils, jonquils and hyacinths, leaving a sweet fragrance that was very pleasant to breathe in on our bike ride.
Another disappointment, many plots are private, difficult to access and belong to flower growers, so you have to ask kindly for permission to enter or pay an entrance fee to be photographed in the more touristy, often roadside, tulip fields such as « The Tulip Barn » . (

a very Instagrammable place in Holland

). Unfortunately, that's not the kind of experience we'd like to have, preferring to see them as we rode our bikes around on a whim.
The local guide knows where the most beautiful fields of tulips are in bloom, he knows the location perfectly so he'll save you wasting time and let you enjoy the scenery without generating stress.
As we didn't have a local guide, we've taken a wrong turn several times ! We therefore lost time and extended our loop by a few kilometers, which meant that we arrived at the closing time of the bike rental shop, no longer had a bus to take us to the station and had to return to Amsterdam very late. On the plus side, we were able to see the sea, climb sand dunes and stop off at a lovely little lakeside café to warm up.
| WHERE TO SLEEP A LISSE
For those who have decided to spend the night in Lisse to enjoy the tulip fields in full bloom, I've put together a small selection of charming accommodations. You'll find a wide choice of accommodation here
| THE AMSTERDAM TULIP FESTIVAL
Another not-to-be-missed event in Amsterdam is the Tulip Festival. As you may have guessed, the Netherlands is considered to be the land of flowers, and to mark the start of spring in Holland, Amsterdam, the country's capital, is organizing the following events the Amsterdam Tulip Festival which begins at the end of March and continues until the end of May. Every year, over a million visitors flock to Amsterdam to welcome spring and stroll through the city streets, enjoying the breathtaking beauty of the tulips.
The Keukenhof garden in Lisse remains one of the festival's top attractions, but a number of floral events are also organized in the city, where most of Amsterdam's neighborhoods are decked out in color. The flower parade is also one of the festival's most attractive events, and the most popular of these is the Bollenstreek Flower Parade which features a different theme every year. All floats are decorated with hyacinths, daffodils, tulips and other flowers. I think it could be very similar to the lemon festival held in Menton in south-east France.
| THE TULIP SEASON: WHEN TO SEE THEM IN THE NETHERLANDS?
What is the best tulip season in Holland? If you come to the Netherlands in spring, the tulip season in Holland runs from mid-March to mid-May so you're likely to see some during your stay.
However, if you want to get to the peak of flowering in the Netherlands and see fields of tulips as far as the eye can see, come instead from mid to late April. It's sure to be the best time of year to see all those tulip fields.
Don't forget that the tulip season in Holland can change slightly each year, depending on the weather and that not all bulbs are planted at the same time. Some will be harvested in early May, and conversely, at the start of the season, some plantations may not yet be in flower.
I therefore recommend that you plan your trip for the second half of April, when most of the trees will have all their leaves, the flowers will have grown well and you'll have the best chance of enjoying these magnificent landscapes not far from Amsterdam.
I hope our feedback will be of great help to you in preparing your visit to Keukenhof Park and also to see the tulip fields in the Netherlands. By now you should not only know the best season to go there, but also how to make the most of it.
Before you leave, I also invite you to read all our articles on the Netherlands to help you prepare for your trip:
To request a quote and a tailor-made trip to the Netherlands, contact me by email at contact@mademoiselle-voyage.fr. I invite you to read the customized travel where I present my business as a licensed travel agency.