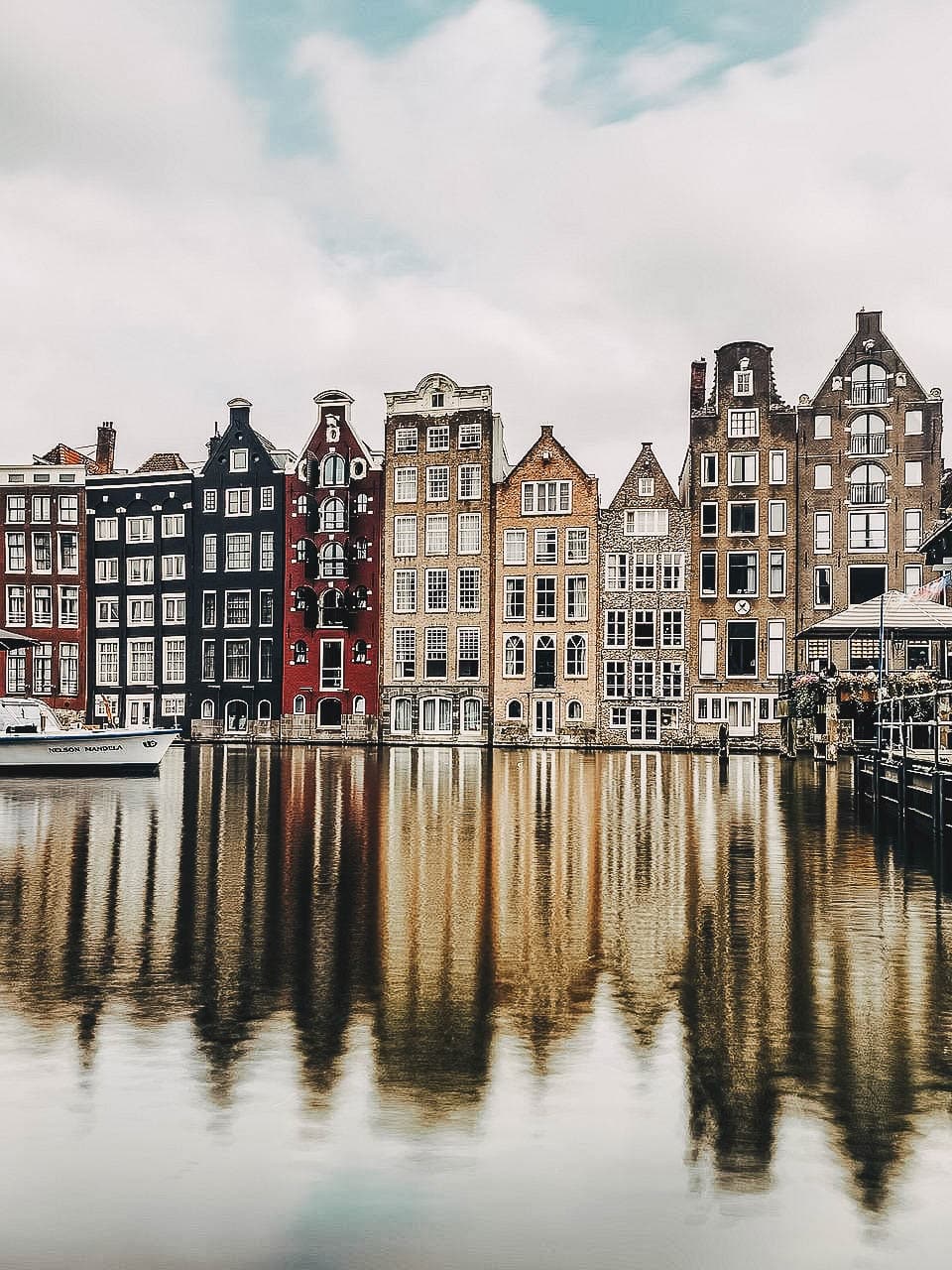 What to do in Amsterdam? You'll be in the Netherlands in April for the tulip season – what luck! I give you all the tips and tricks you need to discover the city and make the most of your time here.
Amsterdam is a wonderful city to escape to for a weekend, or longer if you want to see a bit more of the flat country. With its many museums, cafés, parks, canals, atypical architecture and proximity to the countryside, Amsterdam has a lot to offer, and the Dutch rhythm, in which cycling plays a major role, allows you to feel a certain calm in an urban environment. With all the museums and attractions the city has to offer, the different neighborhoods and trendy spots, most first-time visitors to the capital are so impressed by the city that they don't even go beyond the canal belt and are content to stay in the hyper-center.

Amsterdam is a very pleasant city to stroll around and we loved it! So what can you do over 4 days?

I also invite you to read all our articles on Amsterdam and the region to help you prepare for your trip: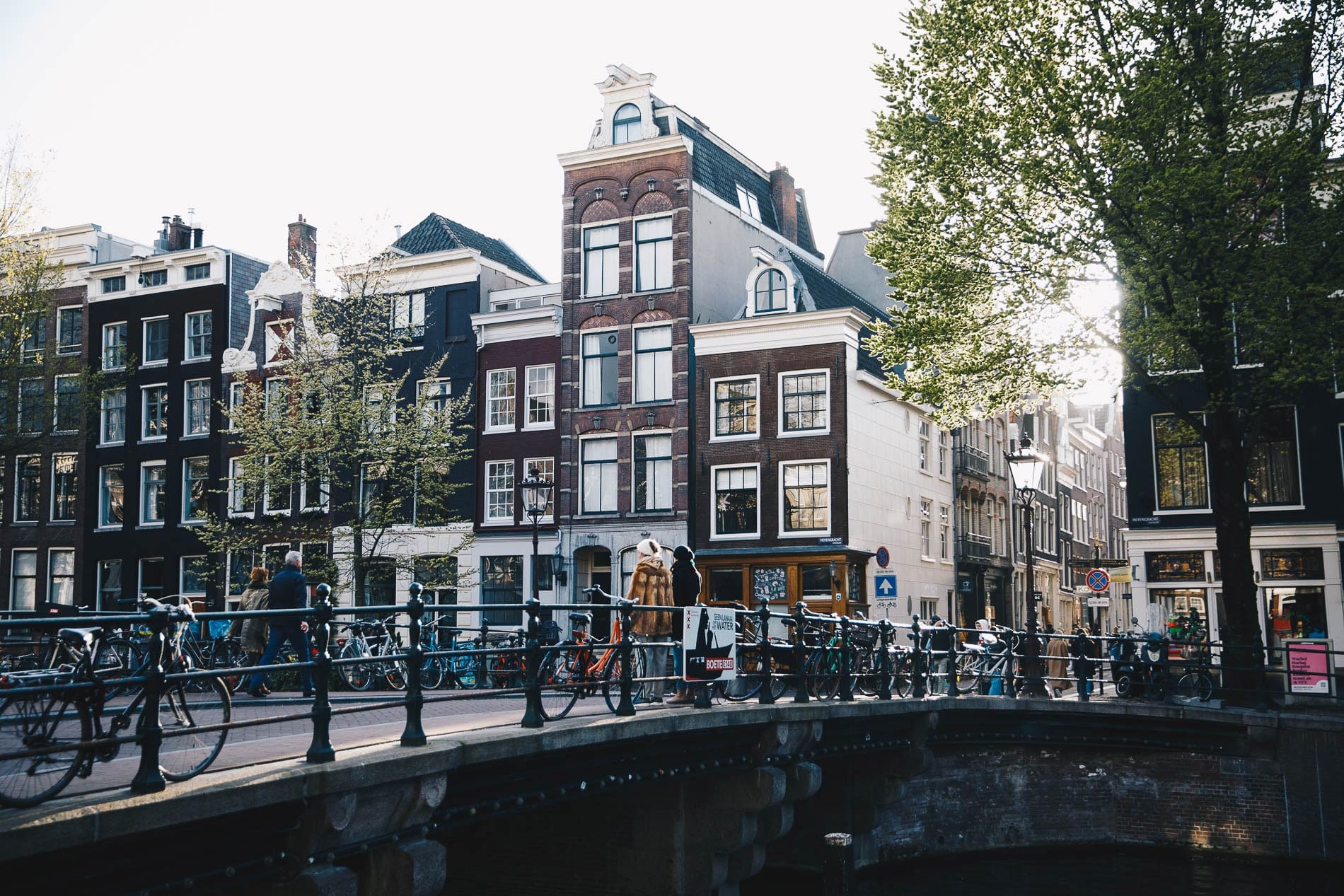 | VISIT AMSTERDAM'S MUSEUMS

Although we're lucky enough to have many museums and places of artistic expression in Paris, Amsterdam is also a city of art, filled with museums. A special feature, however, is the city's museum district, the Museumplein where you can find the Van Gogh Museum dedicated entirely to the artist, the Rijksmuseum dedicated to the country's fine arts, crafts and history, as well as the Municipal Museum dedicated to contemporary art (I really liked this one!).)

Enough to make a whole day dedicated to art. However, these 3 museums are not the only ones in town. You'll find a host of museums on a variety of themes, from the pipe museum to Rembrandt to the prostitution museum. However, these museums are very popular, and you won't have room for the unexpected because it is essential to reserve your seats several weeks in advance to make sure you can visit them.This is especially true for flagship museums.
We would have liked to discover the MOCO Museum, a modern museum dedicated to contemporary art, or the famous Anne Frank Museum dedicated to the young Jewish writer of the Second World War, but once again they were fully booked on our dates.
In the unusual museums for the whole family, you will also find « l'Up Side Down » or the « Nxt Museum » which we chose to visit and loved. A new experience for a museum dedicated to media and digital arts. You start the visit through a succession of rooms displaying images, sounds and lights to form tableaux, each one different from the next. It's a museum we really enjoyed, and one we'd recommend without hesitation!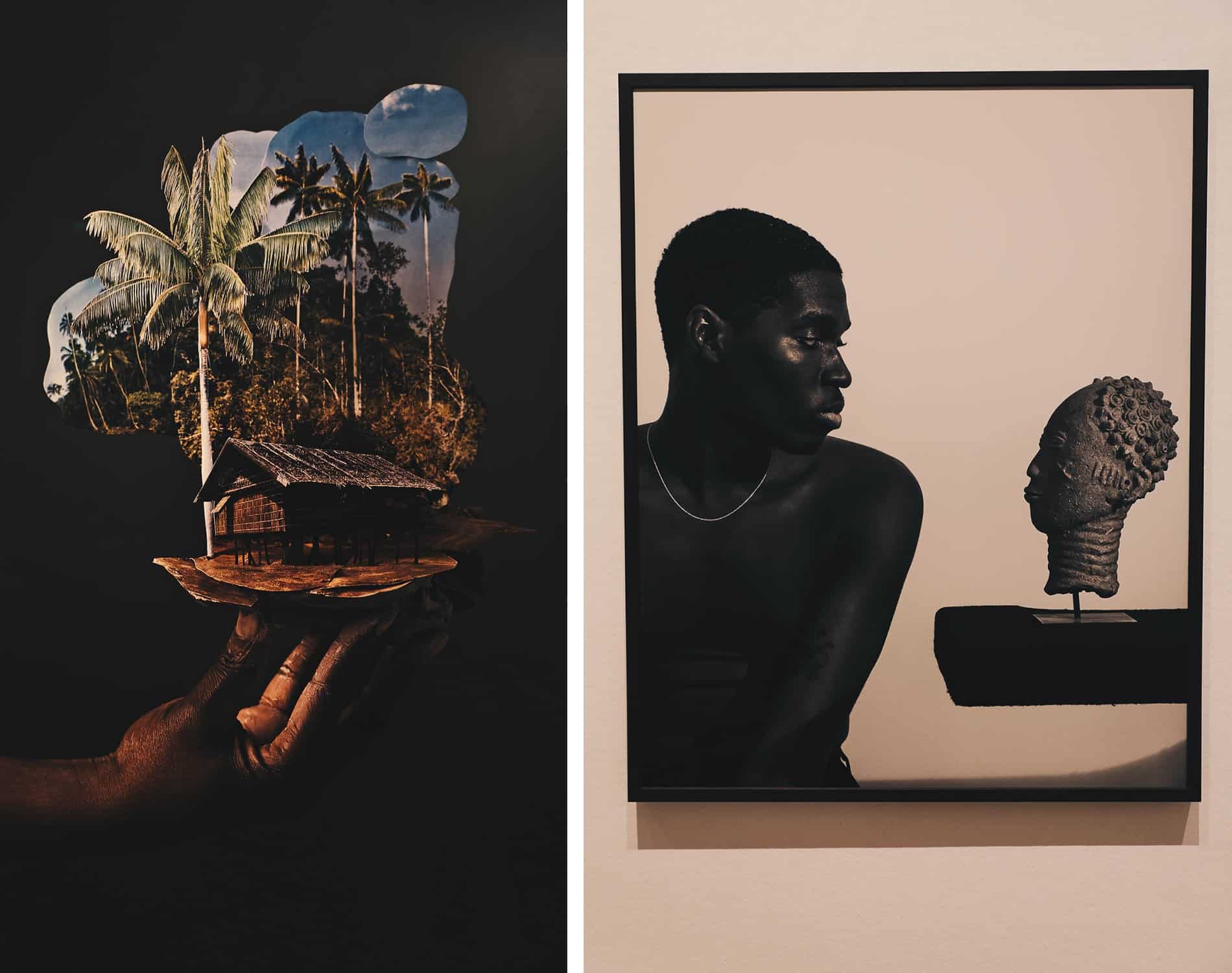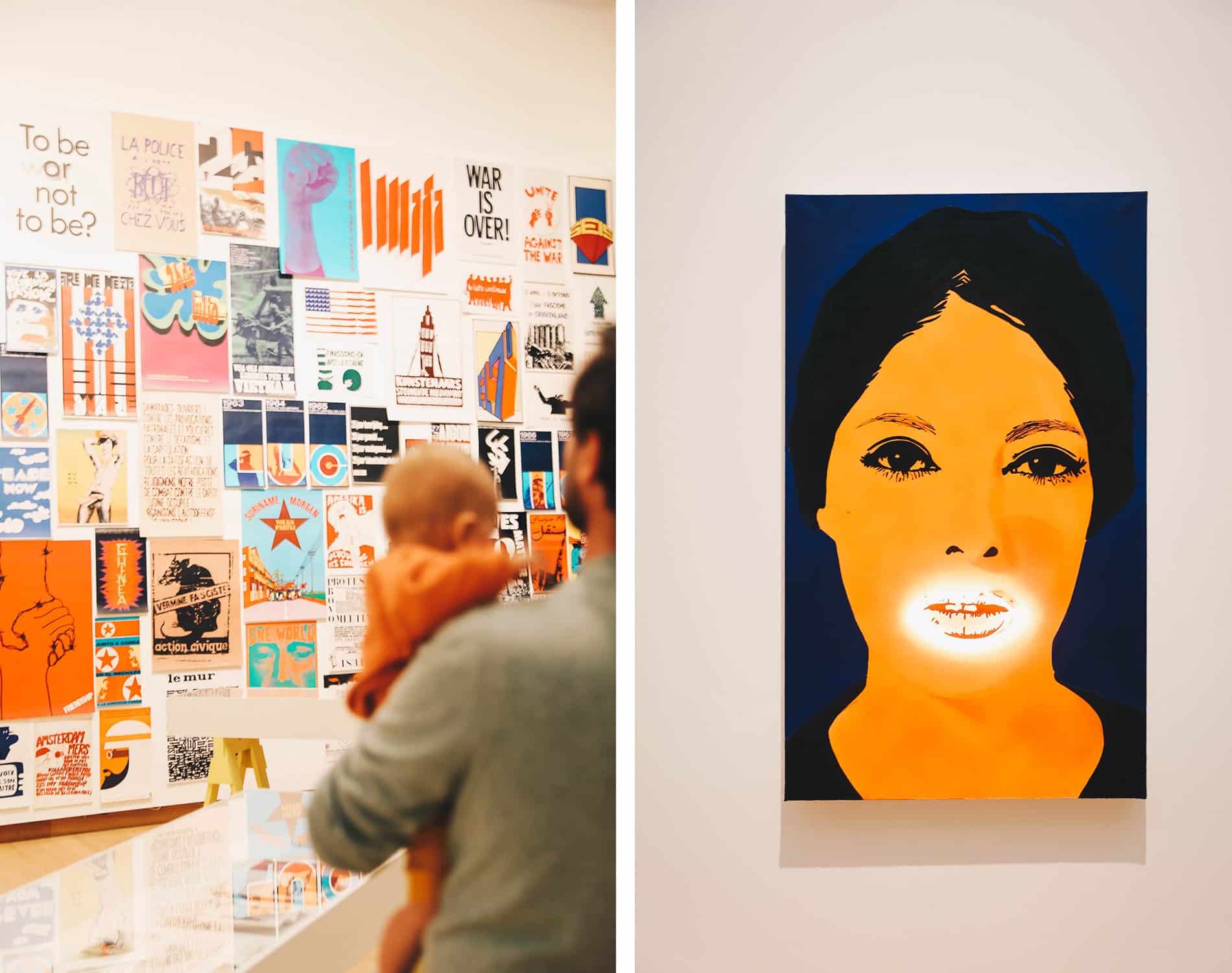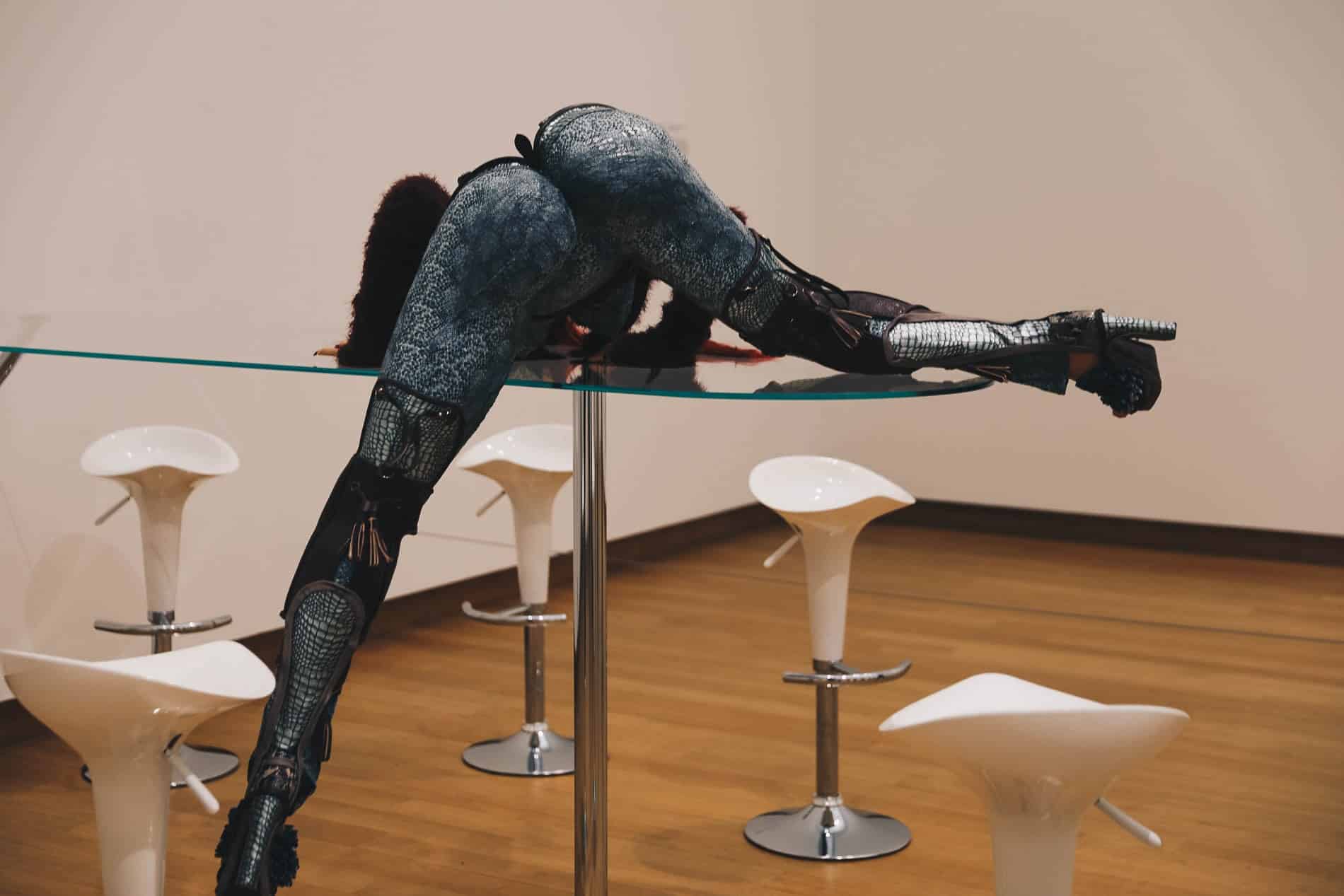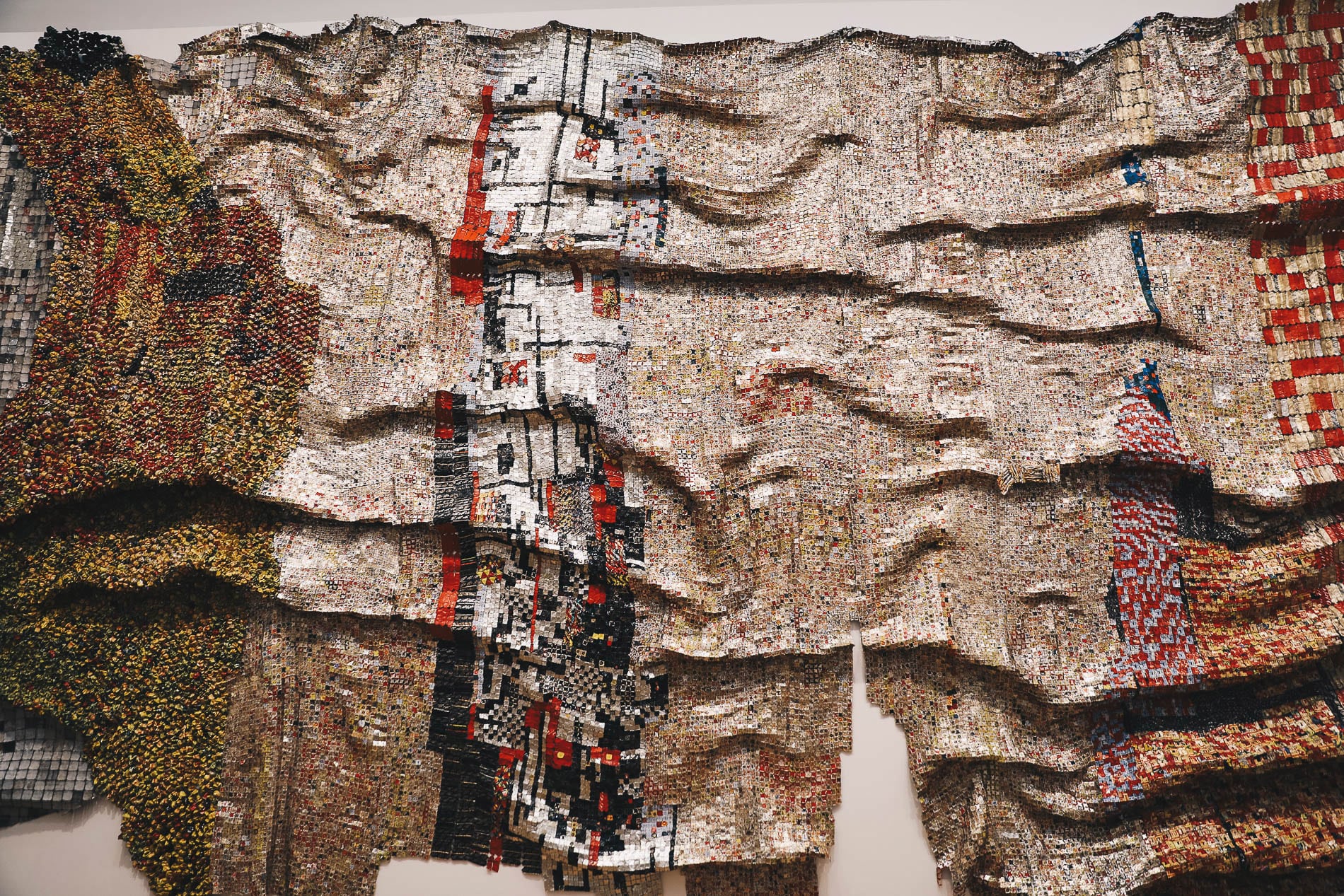 CLIQUEZ CI-DESSOUS POUR VÉRIFIER LES DISPONIBILITÉS DES MUSÉES ET RÉSERVER
| DISCOVER THE CENTER OF AMSTERDAM ON FOOT AND BY CANAL
The center of Amsterdam is absolutely atypical and iconic. Here, half-timbered houses with brick walls and large windows, historic churches, romantic bridges over canals and more are juxtaposed.
And it's precisely from these canals that you should take the time to stroll and observe " the Venice of the North " and to do so, take a boat trip. The agency « Amsterdam bateau » offers guided walks in French small group from the Oosterdokskade pontoon east of Central Station. You will sail on a typical boat with about 15 people on board. The walk lasts 1h30 to 2h, with the 7 bridges viewpoint as the highlight. The guide was very friendly, telling us a few anecdotes about Amsterdam, and we learned a lot more about gabled houses. During this tour, snacks are provided along with a small cheese tasting. I'd recommend it if you want to discover the city in a different way, without necessarily booking the big tourist boat and falling into the cliché. We made it without any problem with a 9-month-old baby. For greater comfort and peace of mind, sit at the stern of the boat next to the captain. You'll have more room in the back seat once the stroller is folded.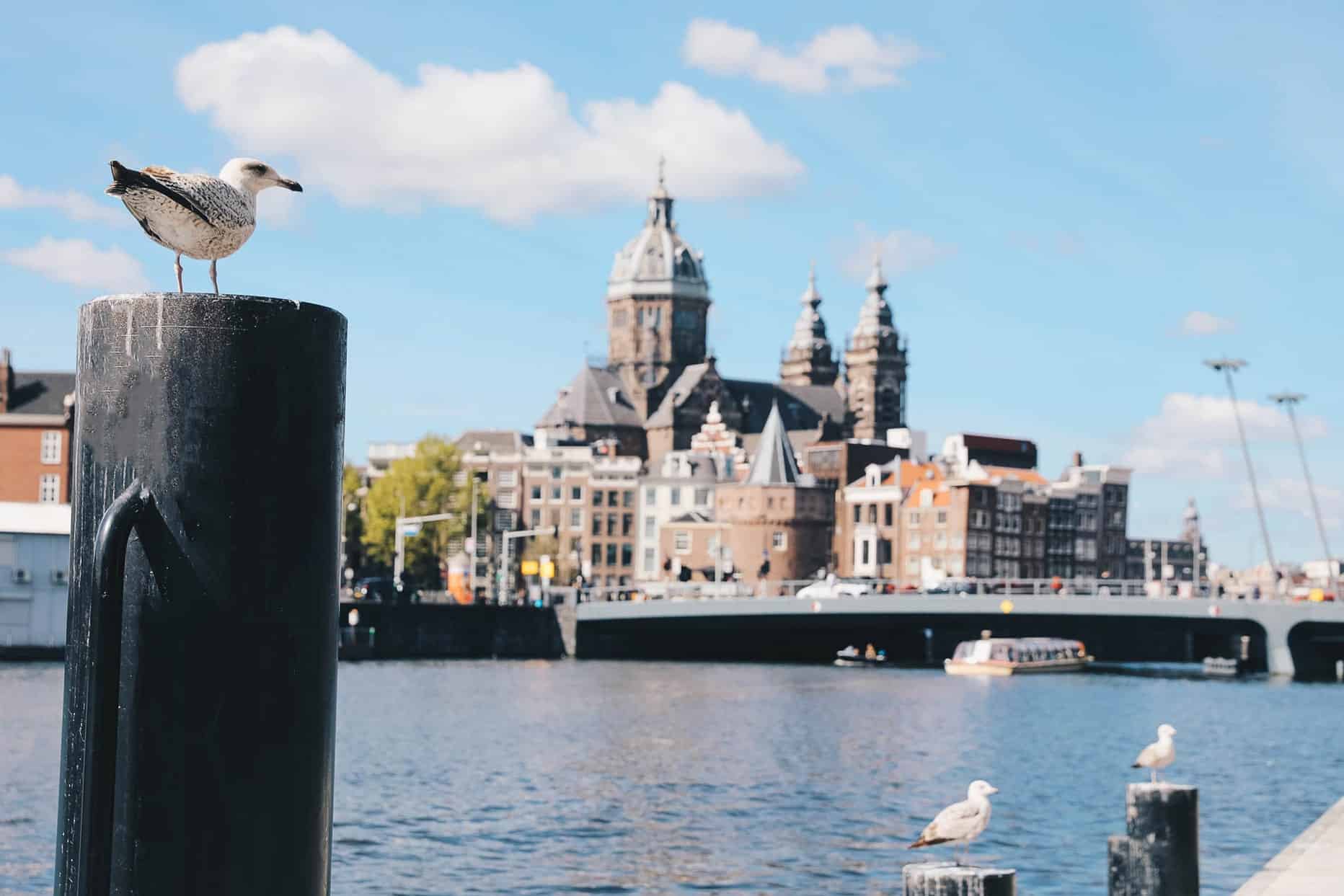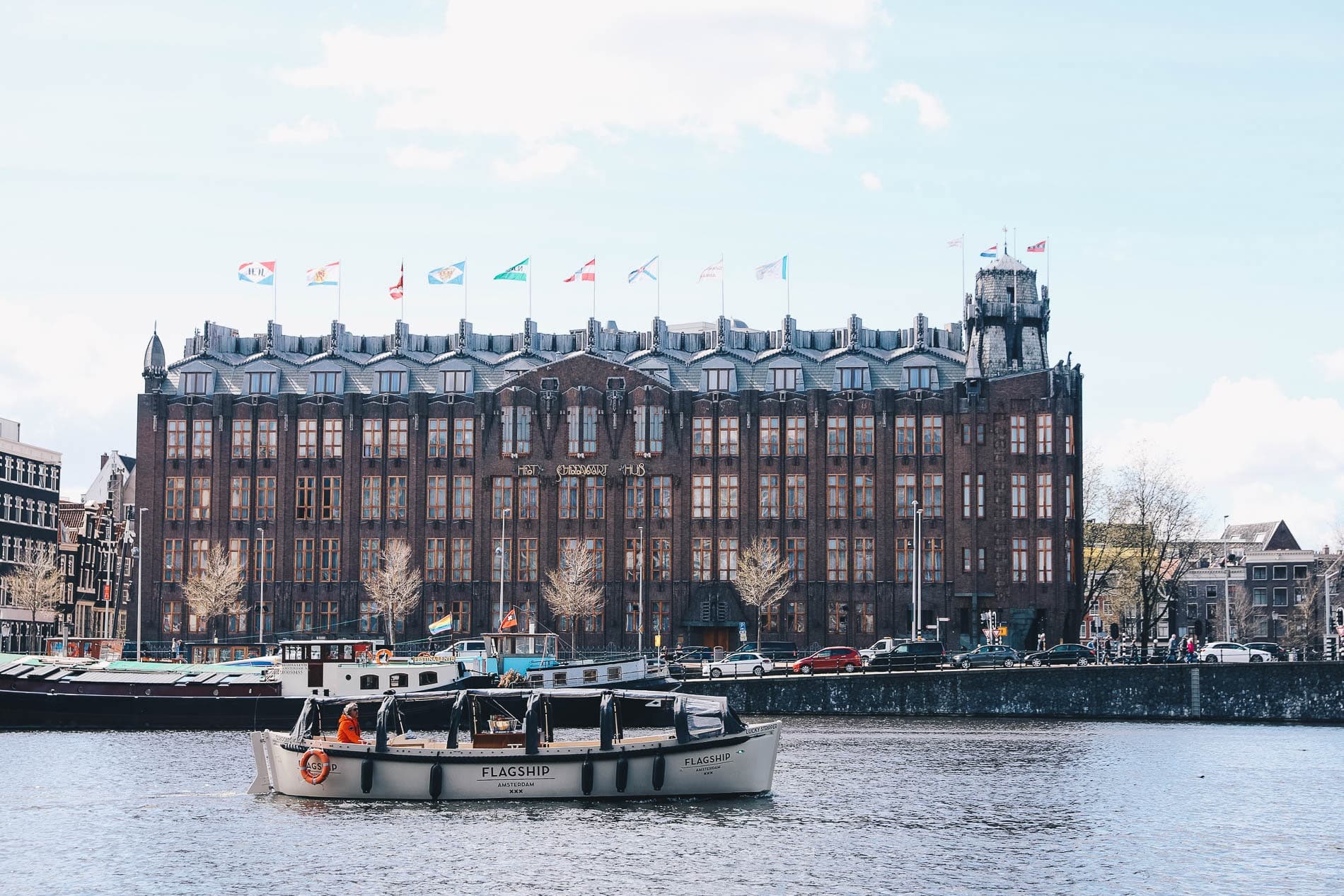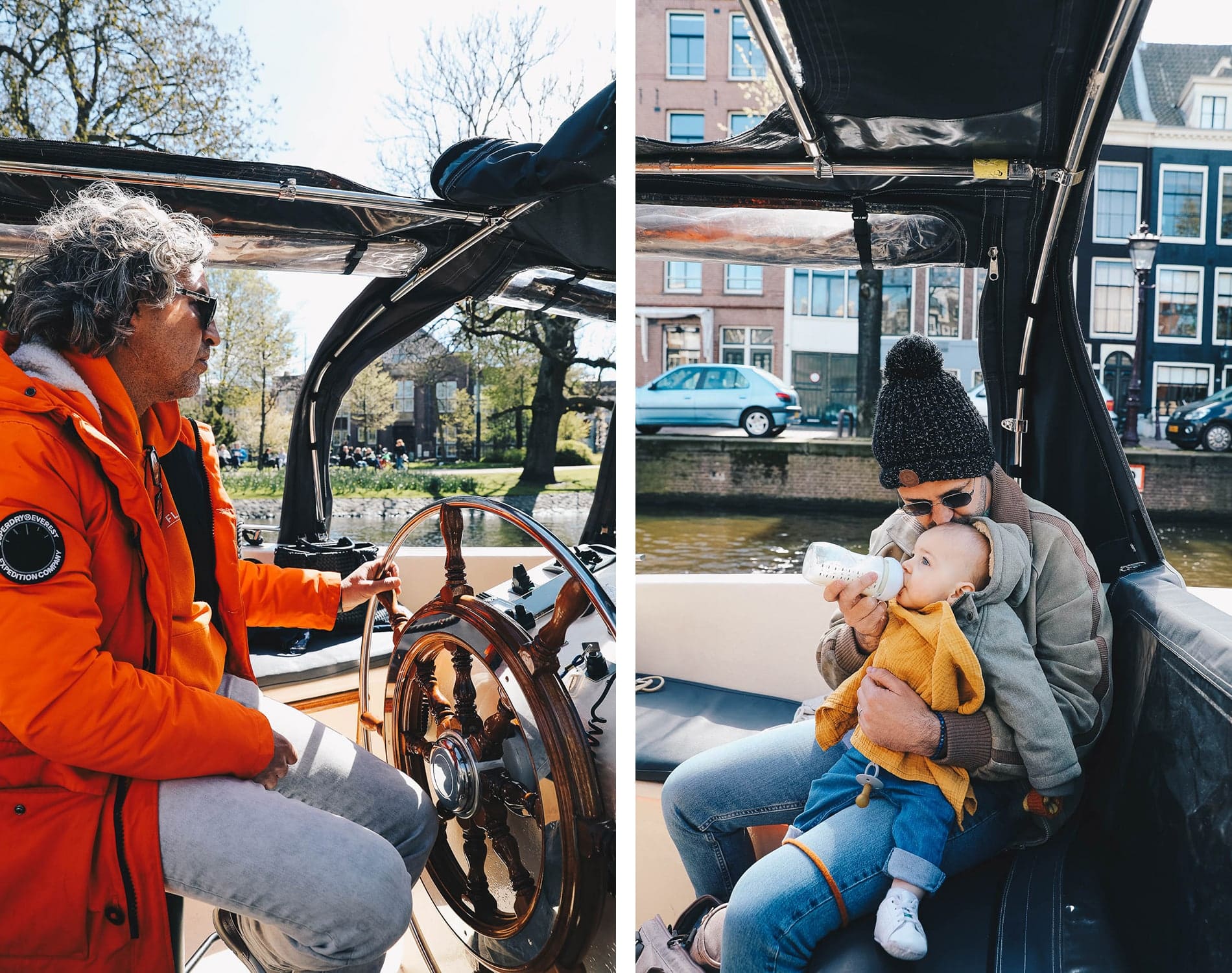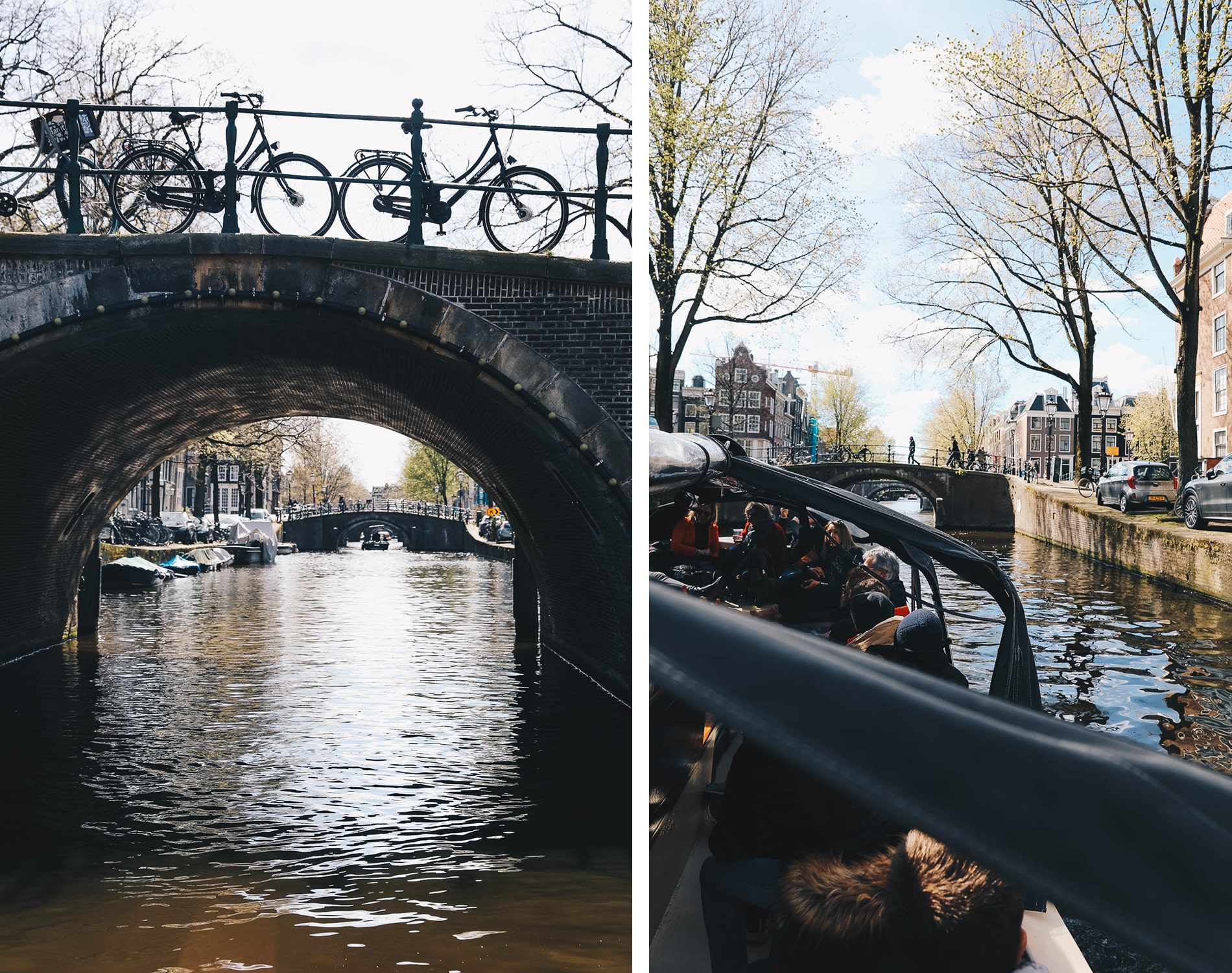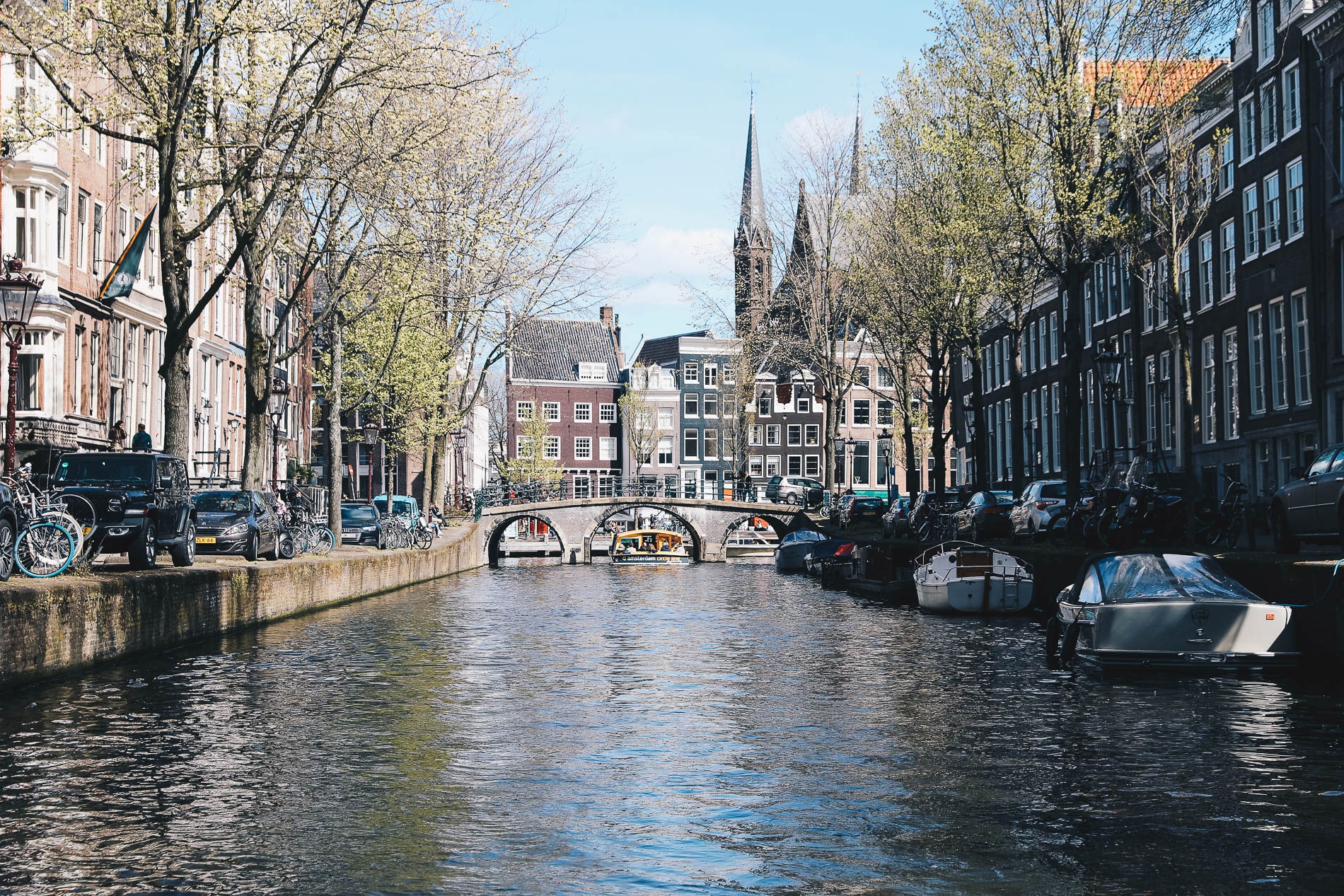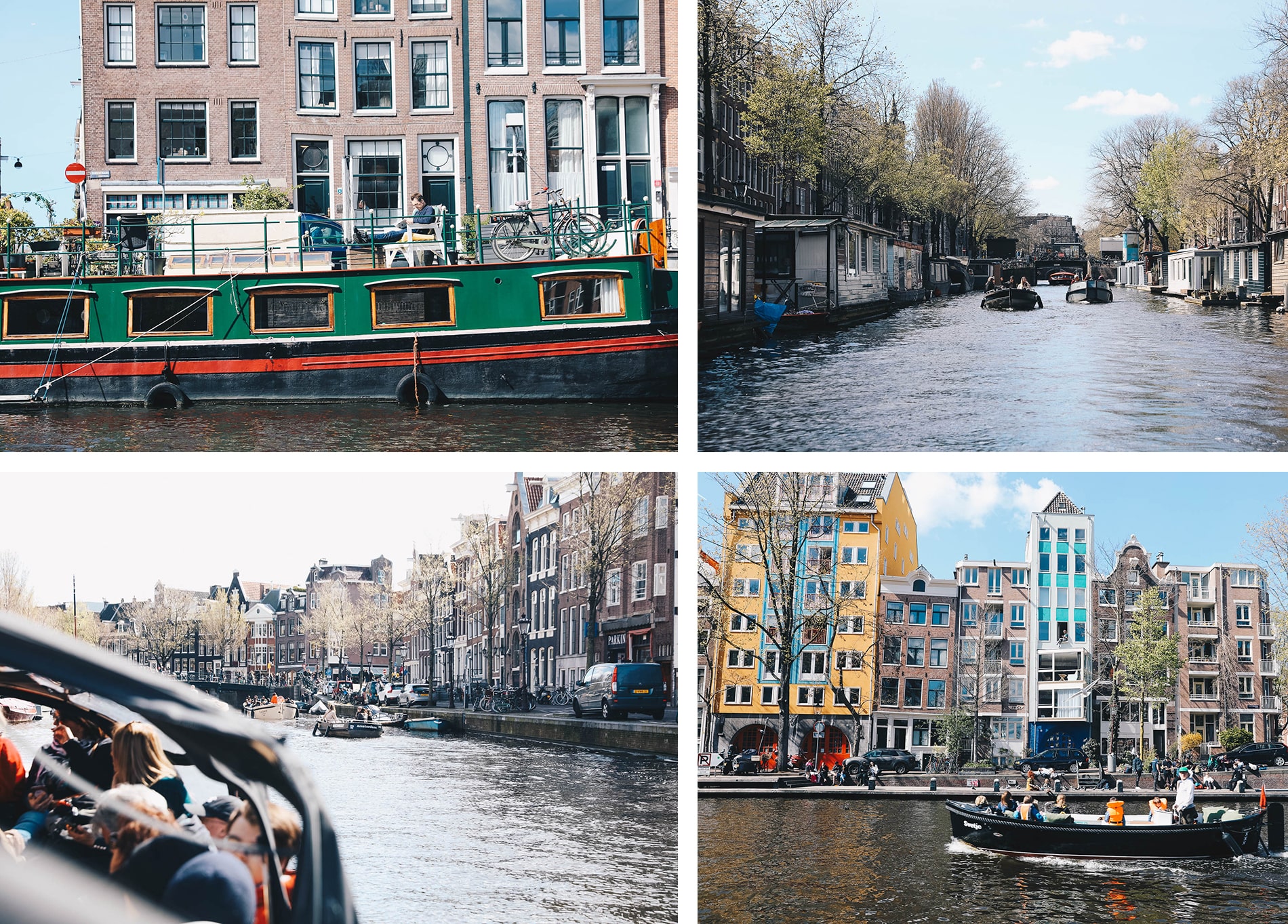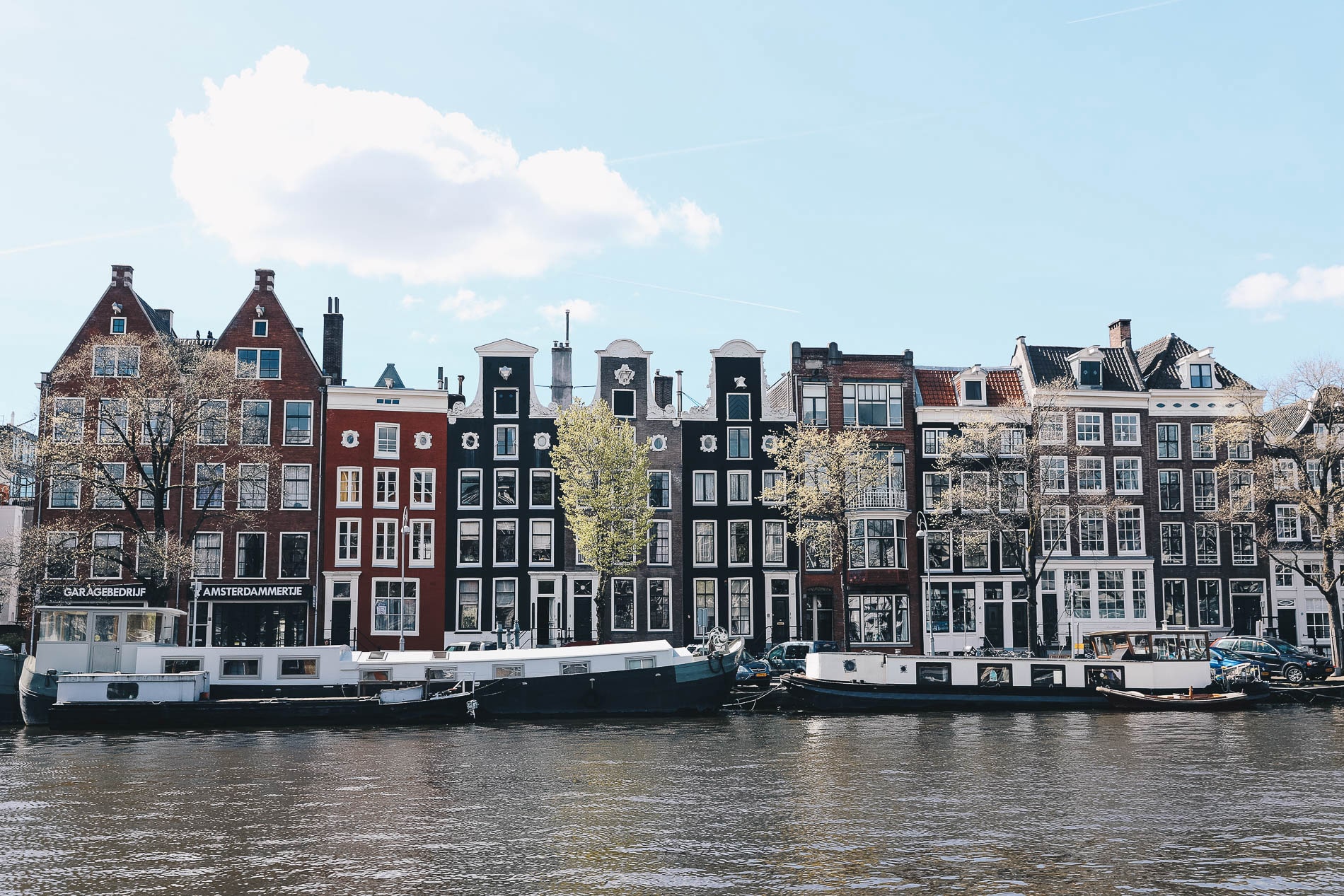 RÉSERVER D'AUTRES CROISIÈRES SUR LES CANAUX D'AMSTERDAM
You can't miss a visit to the red-light district. This is one of Amsterdam's most famous districts, famous for its brothels with large windows displaying prostitutes under their red lights. But this district is especially worth a visit – and this is a bit of a contradiction – for its romanticism, with its tree-lined canals offering great photo opportunities, especially at the end of the day. But it's clear that the neighborhood takes on a whole new look at night, when the red lights illuminate to make way for the sex market. I'd even go so far as to say that the area is very unpleasant at night and overcrowded!

At rue Singel, along the canals, the daily Bloemenmarket, the famous flower market.Entirely on the water, this temple to flowers offers a wide range of seeds and flower bulbs to plant and buy, so you can revamp your garden or balcony. I didn't find the place remarkable from the inside, as the stands were pretty similar to each other and not crazy, but I liked the view from the canals. Not far from this and on the other side of the river, near the Jewish Museum, is the Waterlooplein flea market, Amsterdam's most famous tourist attraction.

Other points of interest in central Amsterdam include the the Noordermarkt market, which takes place every Saturday. You'll find local and organic food products, including of course the Dutch cheese palette. It's also a good opportunity to try a local pastry, as the Dutch are very fond of different types of pie (the famous pies).
If you have some time to spare, I also invite you to discover Mediamatic. Located on the banks of the Amstel river, this is a real concept to try out. Located in a greenhouse complex, Mediamatic is an art center focusing on nature, biotechnology, art and science. Conferences, exhibitions and workshops are organized on this theme, and you can also come dine at a restaurant serving 100% plant-based cuisine. Reservations are essential if you hope to experience this place.
Next to Mediamatic, on the banks of the Amstel, meet at Hannekes Boom. This Beer Gardens is a neighborhood landmarkwhen you drop in for a beer at the end of the day to breathe in the atmosphere.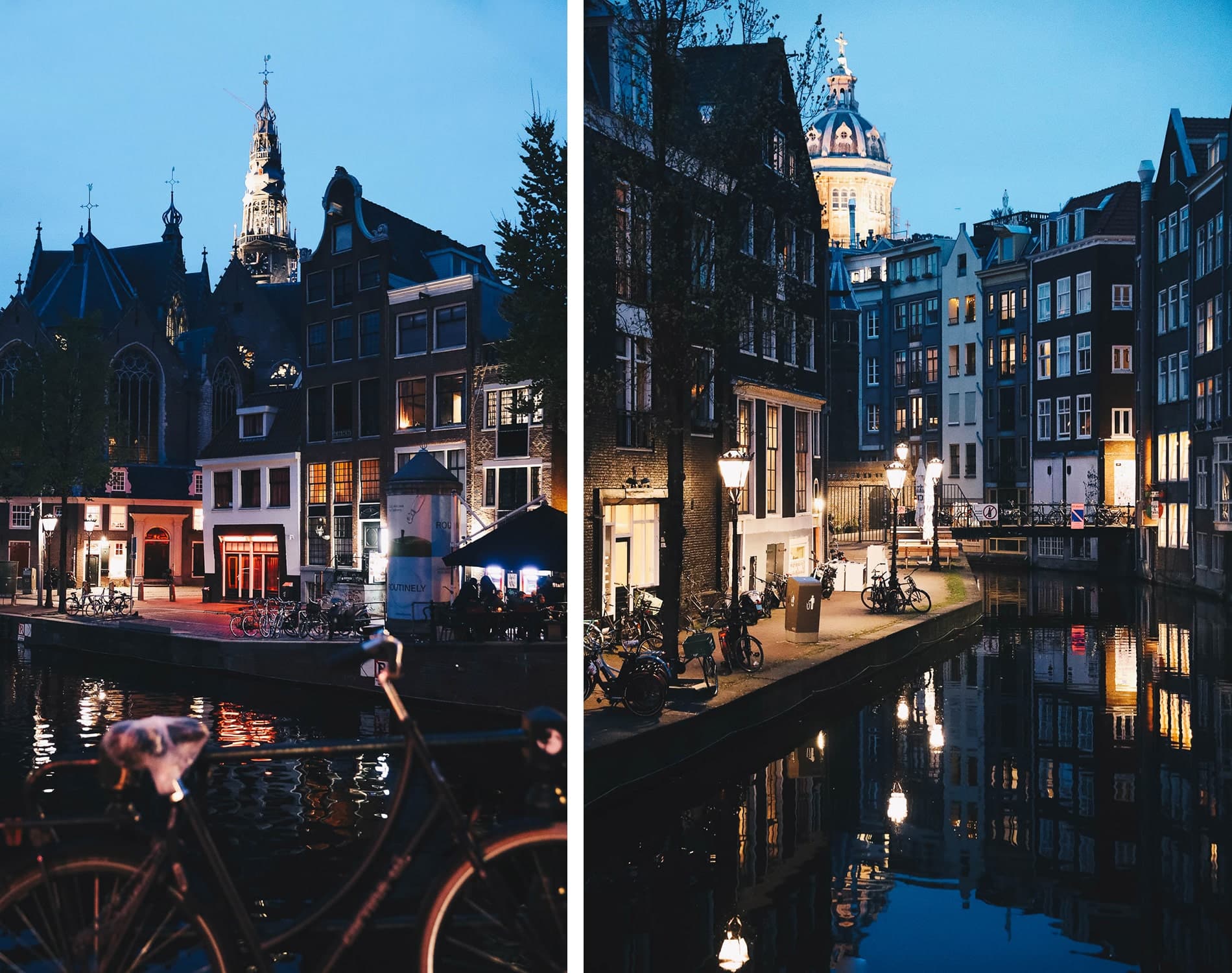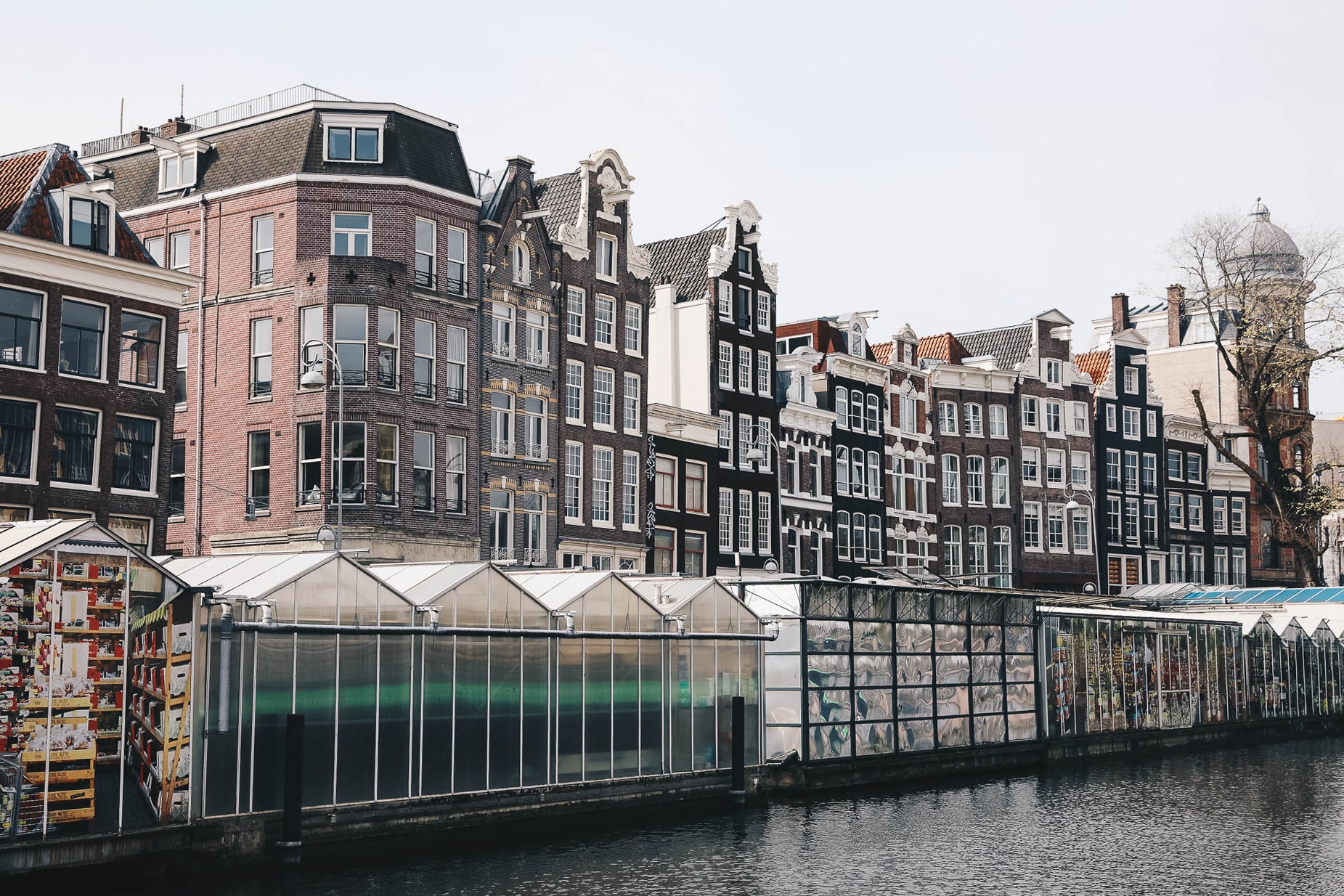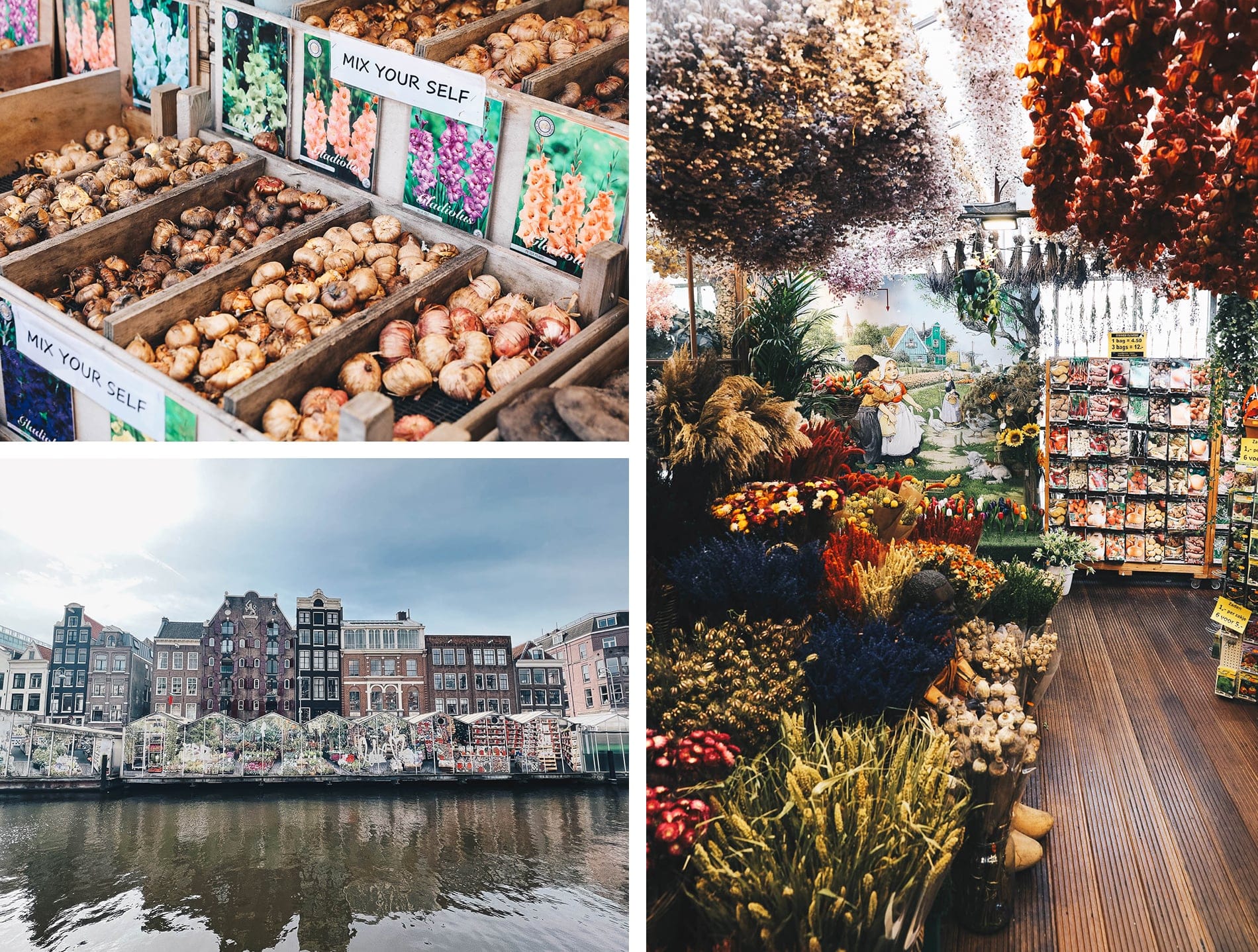 | THE NEIGHBORHOODS OF PIJT, JORDAN & NDSM

Most first-time travelers to Amsterdam are so impressed by the city, its architecture, its many museums and its chill, Nordic atmosphere, that they don't go beyond the canals. So don't limit yourself to just one part of town.
« De Pijt » is one of Amsterdam's most fashionable districts.This is the bohemian quarter, where Oriental restaurants, retro cafés and the famous Albert Cuypmarkt market.An authentic market to discover with foodtrucks, held every day.
There are 2 parks to discover in this district: the Vondelpark, Amsterdam's largest urban park and the Beatrixpark. Go there by bike, as they're quite big but so much fun! If you're there from May to September, you can enjoy the open-air theater, where music, theater and dance performances are staged.

A little closer to Vondelpark, don't miss a visit to the De Hallen. Another cultural venue in rehabilitated old buildings where you'll find craft stores, a cinema and a grand food court, the Foodhallen. In this refurbished factory, vhere's a great place to hang out, where DJs entertain you while you sip a drink and choose from a range of restaurants serving a variety of cuisines. We loved the place, the street food atmosphere and we had a great time with friends. Reservations are not possible, so try to get there early enough to find a table.

Next to Beatrixpark and the Upside Down Museum, drop in at « Beach South ». This restaurant, with its large canal-side terrace, is a haven of peace, offering a cuisine to suit lovers of fish, meats and vegetables, with several dishes prepared on the barbecue.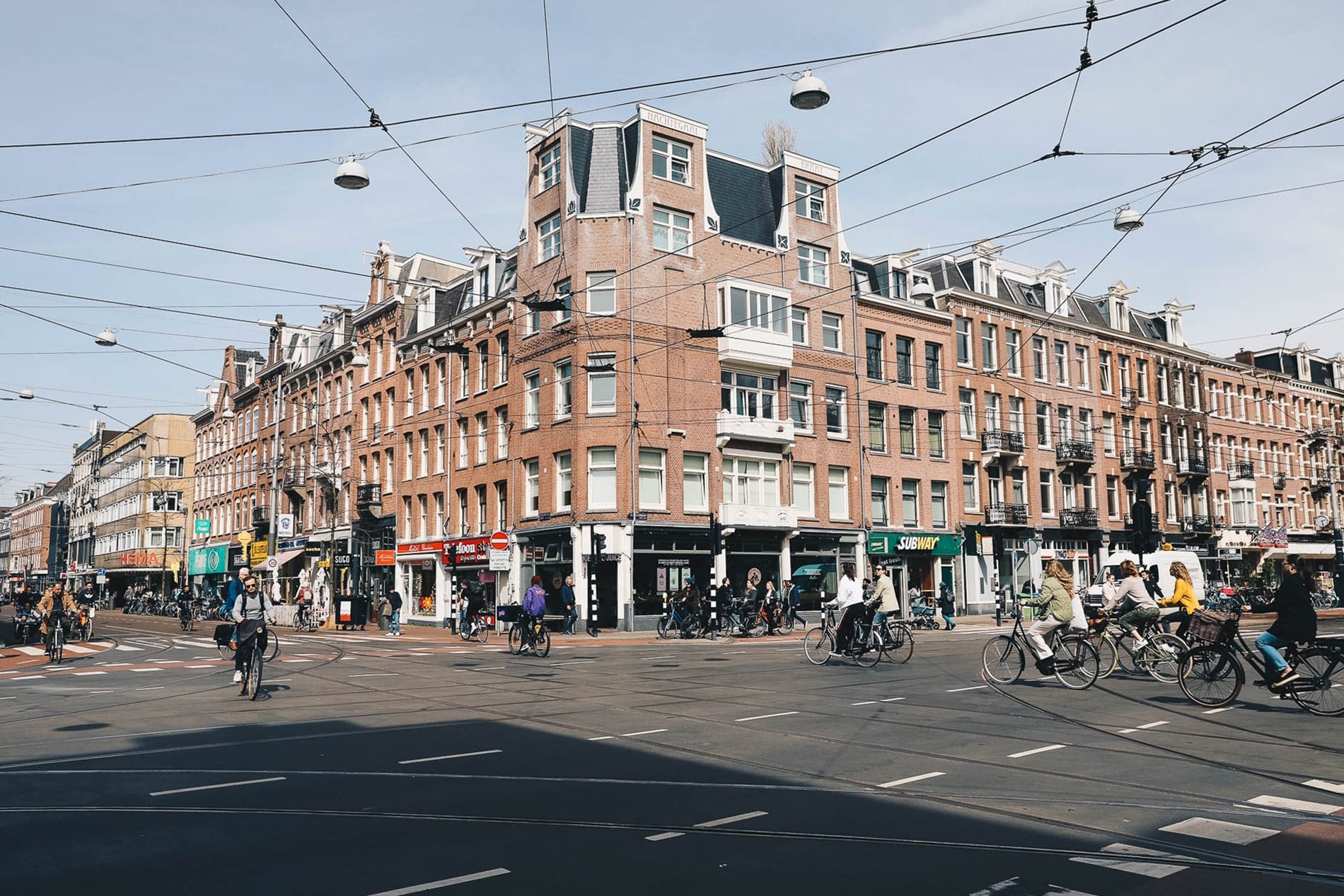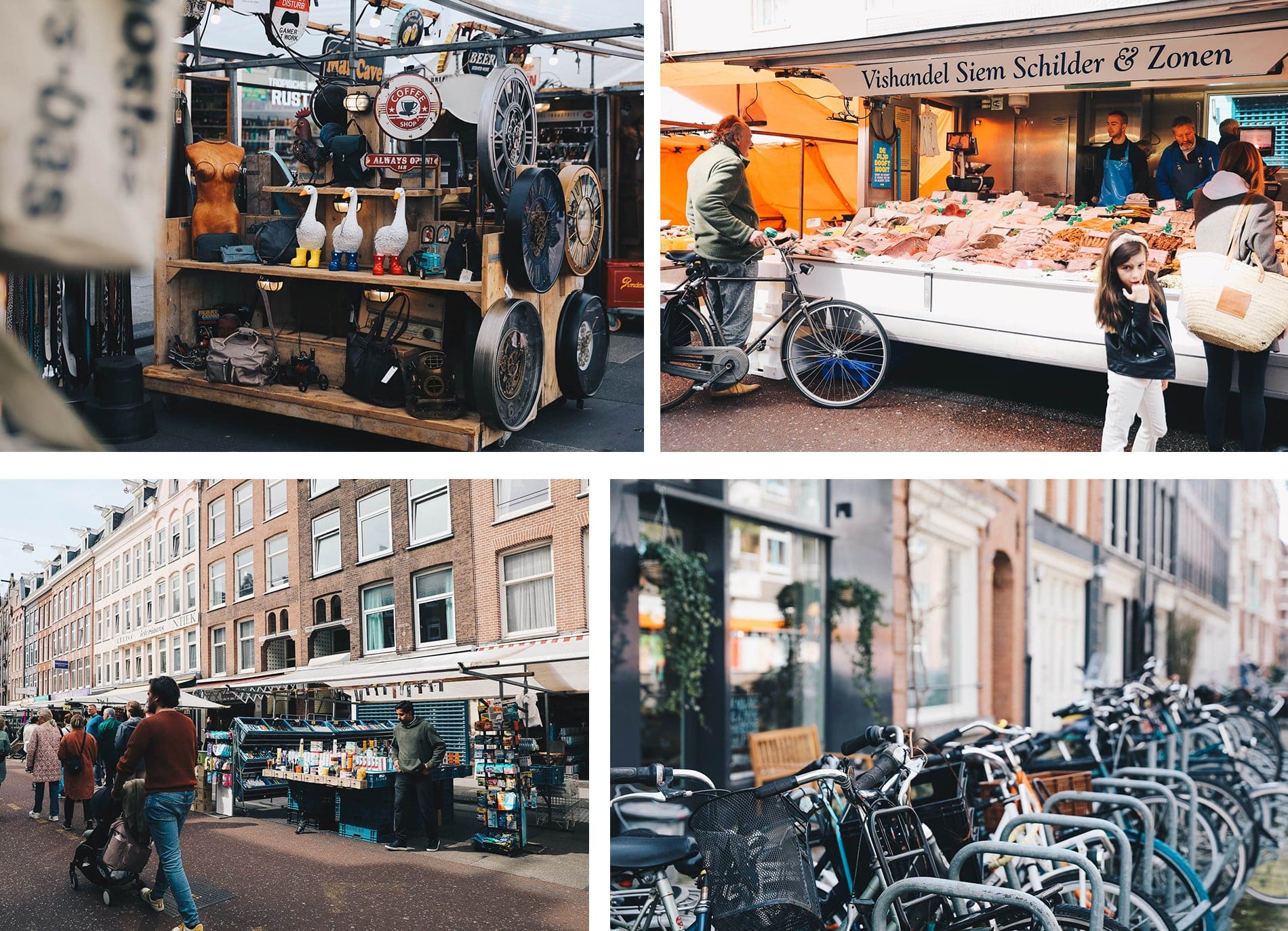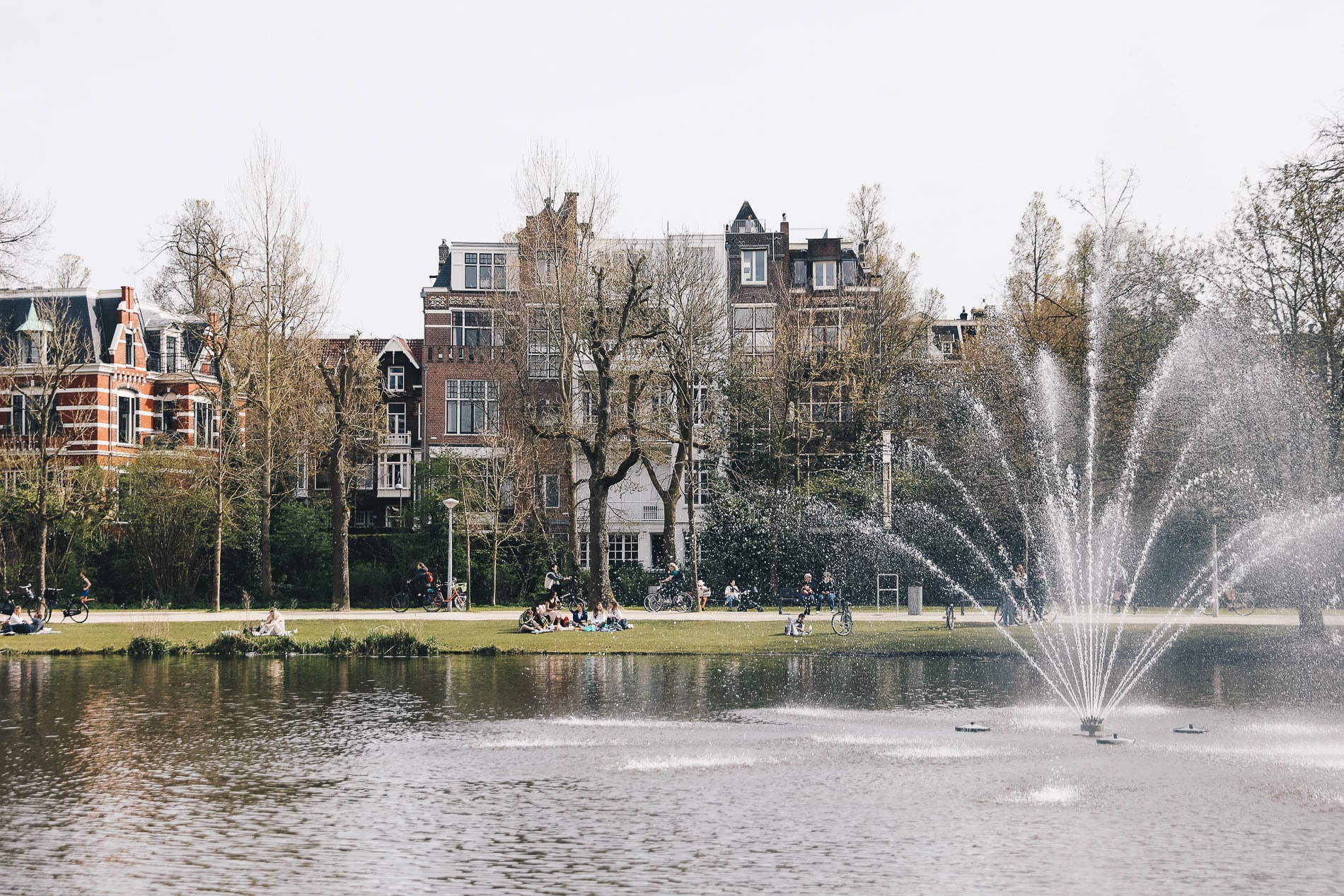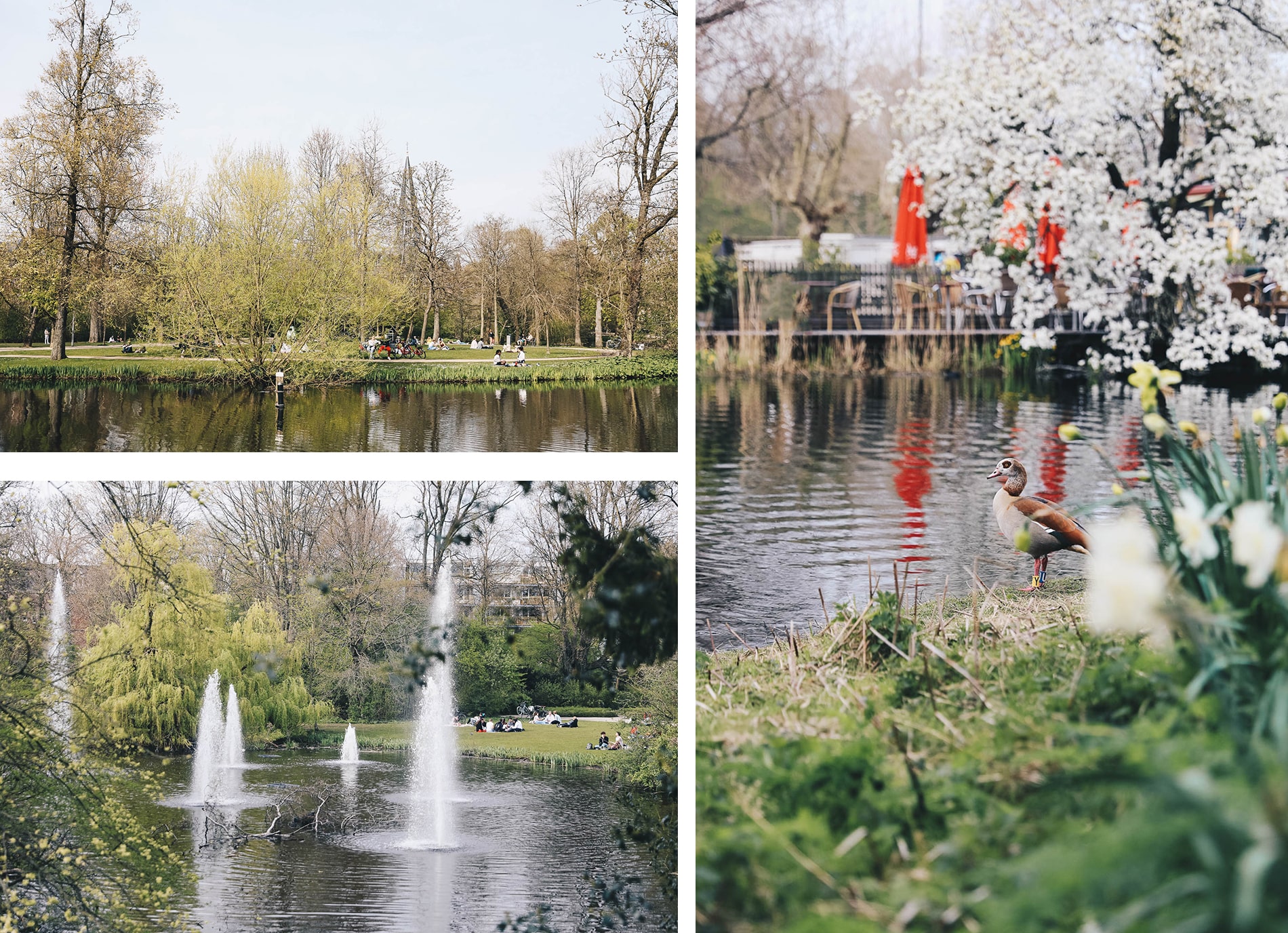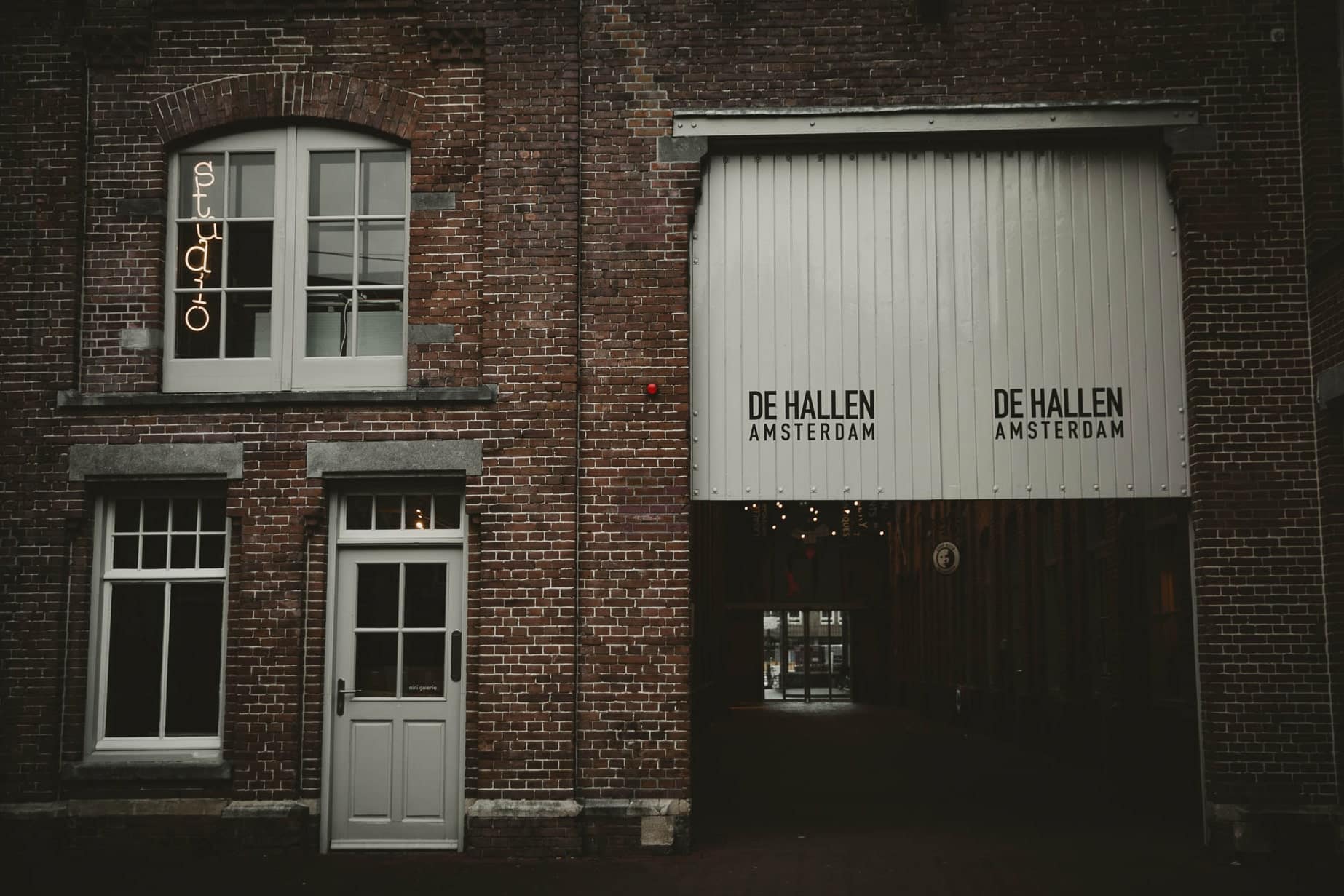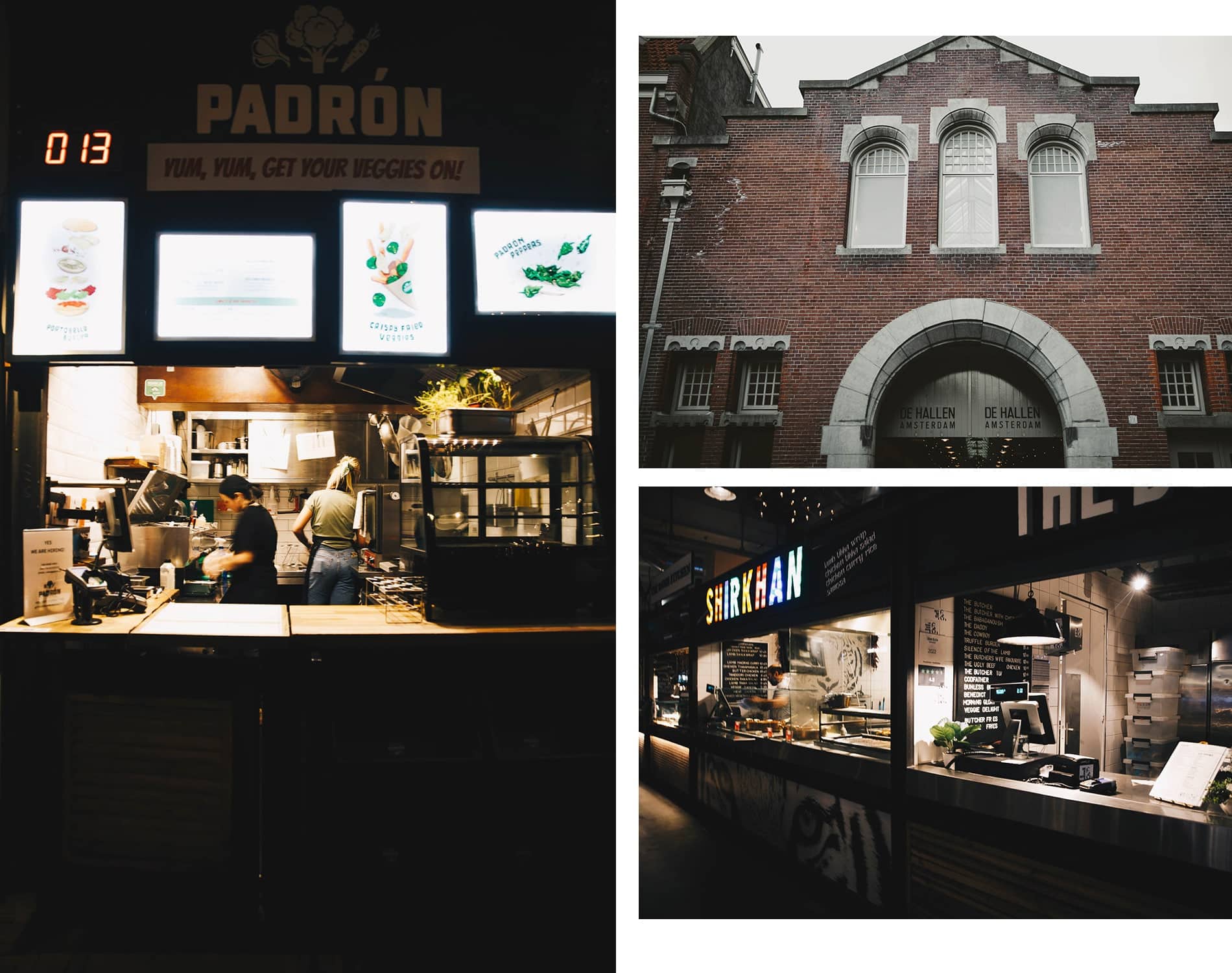 Discover Amsterdam's hipster district. 15 years ago, the former gasworks were converted into an extraordinary venue in the heart of Westerparkt. The complex of historic brick buildings is now home to a multitude of trendy bars, design boutiques and modern restaurants. It's Amsterdam's trendy district, and a great place to stroll. There's also the Jordaan district which we liked very much, with nice places to eat and nice stores.

The NDSM district, accessible by bike, but also by ferry. This is THE street art district, set in former wastelands. Just a few minutes by ferry from Amsterdam Central Station, I recommend a visit to the world's largest street art museum and discover an international collection of some 150 works by 140 artists of 32 different nationalities. Check availability and book here
It also features the musée NXT Museum but also trendy bars with an industrial feel. We loved this museum dedicated to new media art. You'll discover large-scale, multi-sensory exhibits, a museum that's truly suitable for young and old alike. Also in this district and once a month, there's Amsterdam's largest flea market and one of the biggest in Euope, IJ Hallen located in the former NDSM warehouse in the port of Amsterdam. A not-to-be-missed event if you like to bargain-hunt and bring home a unique souvenir. Arrive early, preferably on Saturday.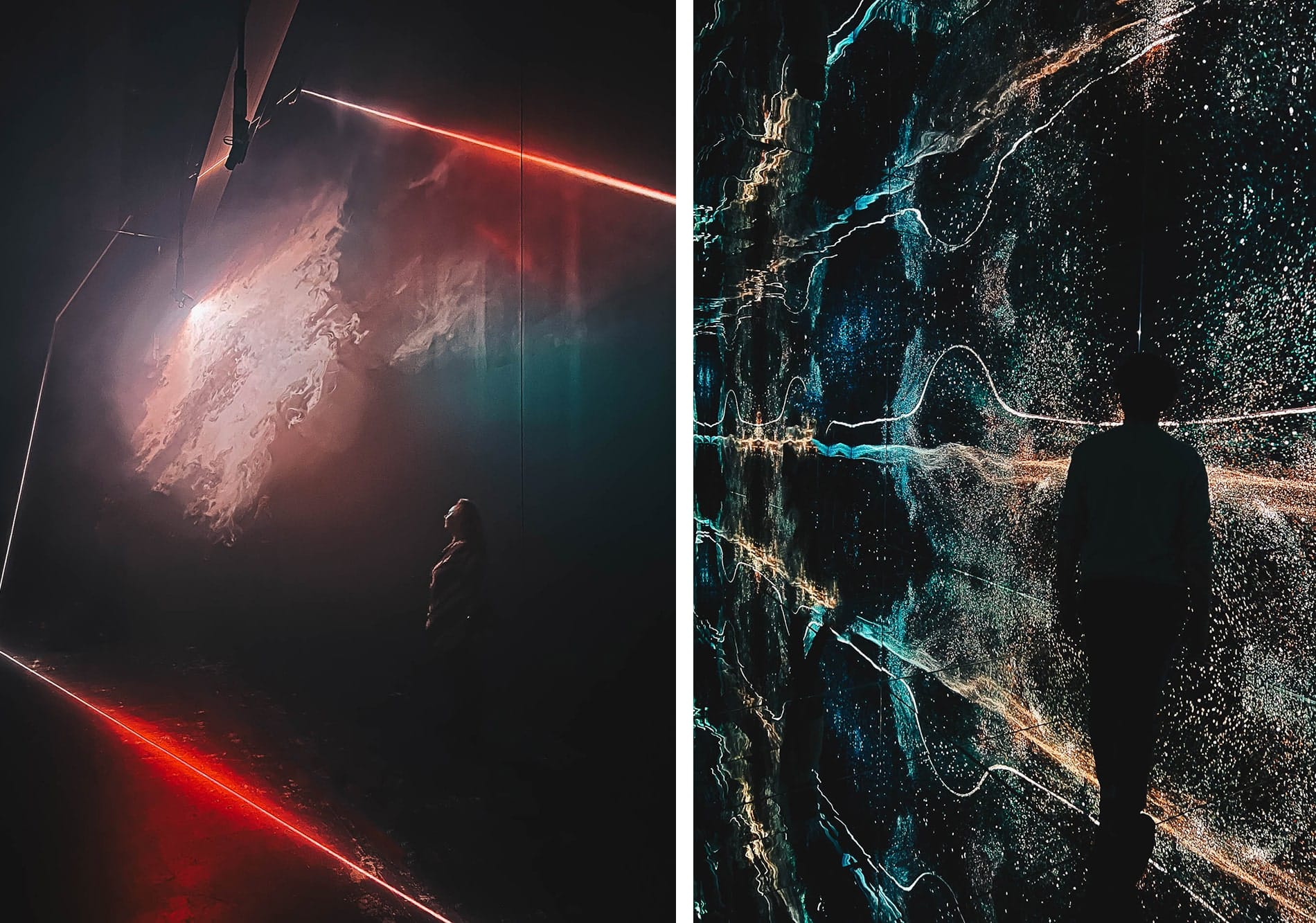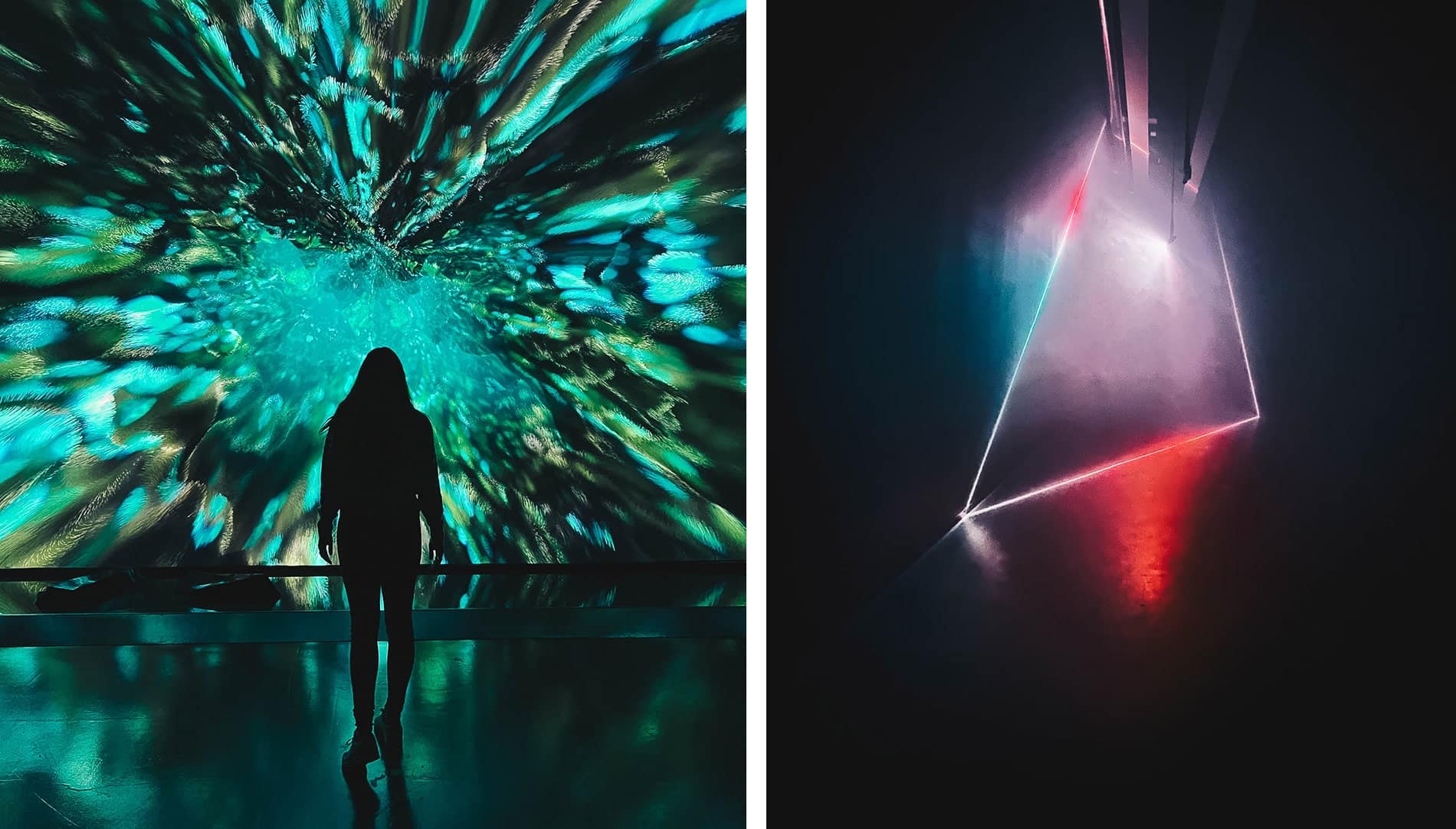 | WHAT TO DO OUTSIDE AMSTERDAM
If you have a few days to spare, I invite you to get out of Amsterdam and discover the windmills of Zaanse Schans at sunset but also charming villages of Edam, Volendam and Marken .
The Amsterdam region is absolutely stunning, and if you're coming in the spring, don't miss the see the tulip fields in bloom in Holland. A not-to-be-missed event that takes place every year from mid-March to mid-May.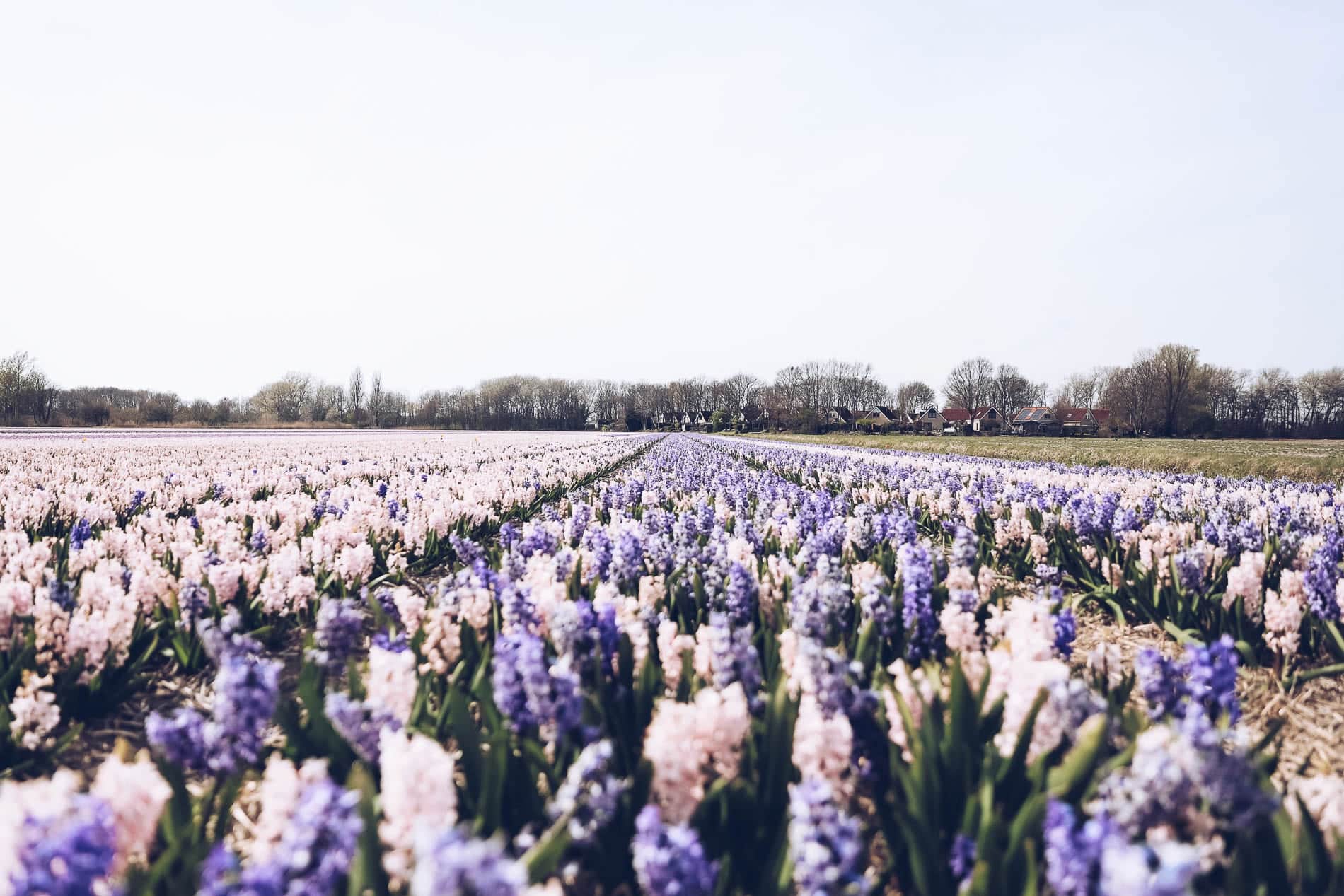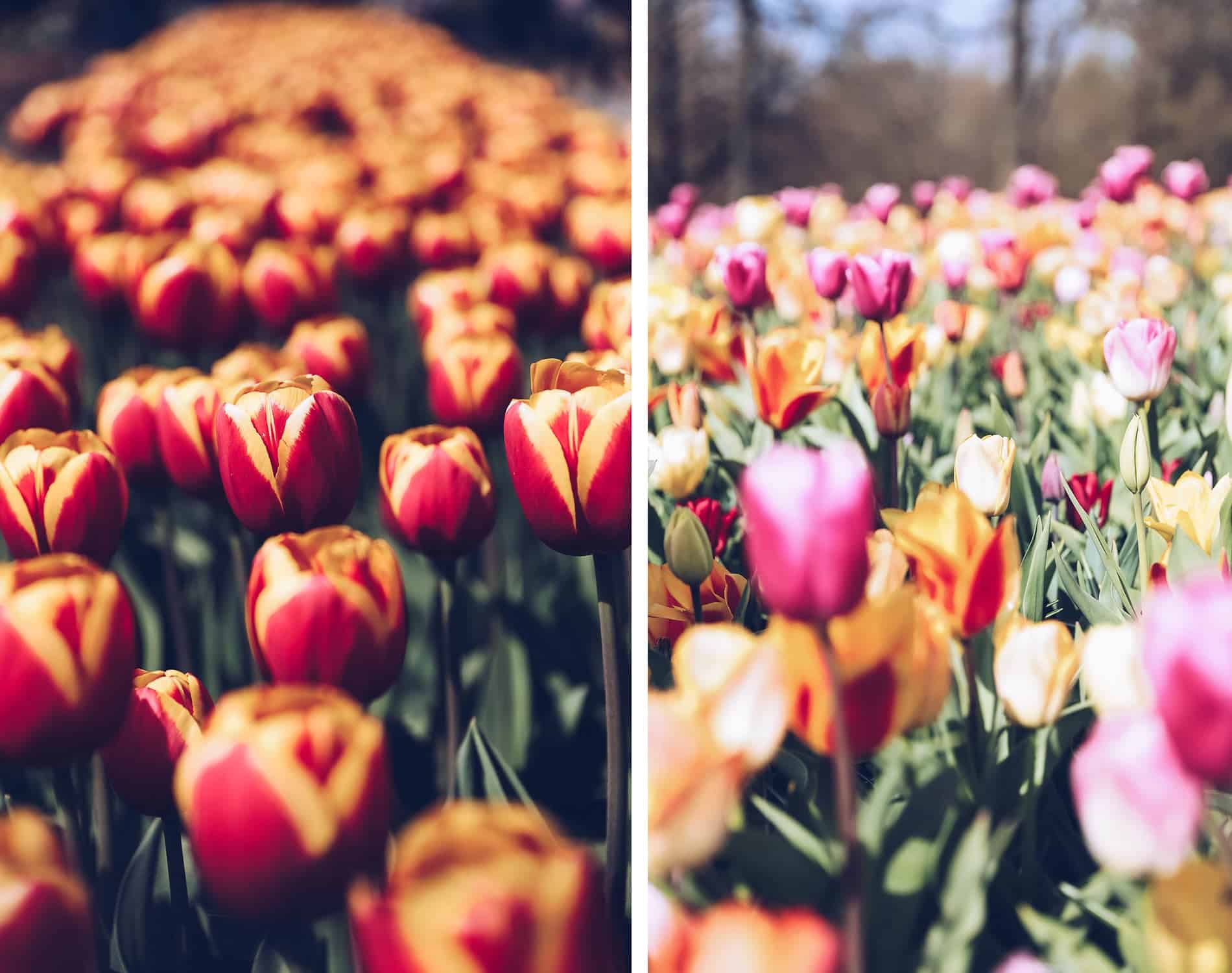 We didn't have time to make it to the moulins de Kinderdijk located 1 hour's drive from Amsterdam and very close to Rotterdam, but they're apparently worth it, as they're more authentic than those at Zaanse Schans.
If you're coming to Amsterdam with your family and you'd like to go to the seaside, I've heard that there's an outing by boat on the Wadden Sea, refuge for a large number of animals and providessee seals and porpoises.
You can use public transport with the citycard, or opt for a combined tour to save time, or rent a car.
| AMSTERDAM WITH A BABY
Is Amsterdam easy to visit with a baby? The answer is yes, but you won't be able to explore the city by bike. There are very few bicycle-carts with a baby seat in the front. What's more, as the streets are paved, it's not very pleasant for your baby to be constantly shaken about. Do as we do and take either the stroller or the baby carrier if you're more comfortable. The city's sidewalks are fairly narrow, so don't forget to take a small yo-yo stroller. (the Parisian stroller) with an umbrella in case of sun or rain protection.
In terms of organization, you'll easily find diapers and potties in Amsterdam's supermarkets. On the other hand, we had trouble finding plain yoghurts. A lot of compotes or fruit yoghurts and the choice isn't very varied. And don't forget to pack a small first-aid kit with the essentials, i.e. doliprane and cream for cuts in case of a fall, as we noticed that there are very few pharmacies in the city center! We're so used to finding them on every street corner in France that we wondered where they were! The only large pharmacy we saw was in Amsterdam's main train station.
If your child needs to take naps, I strongly advise you to book a downtown hotel so you can make regular return trips. If this isn't the case, you can also stay as we did, a 15-minute streetcar ride from the city center. The city is very well served by streetcar and bus, so you'll be able to find slightly cheaper hotels. The advantage of staying in Amsterdam city center is that you can also stroll around after dark and try out more places to dine.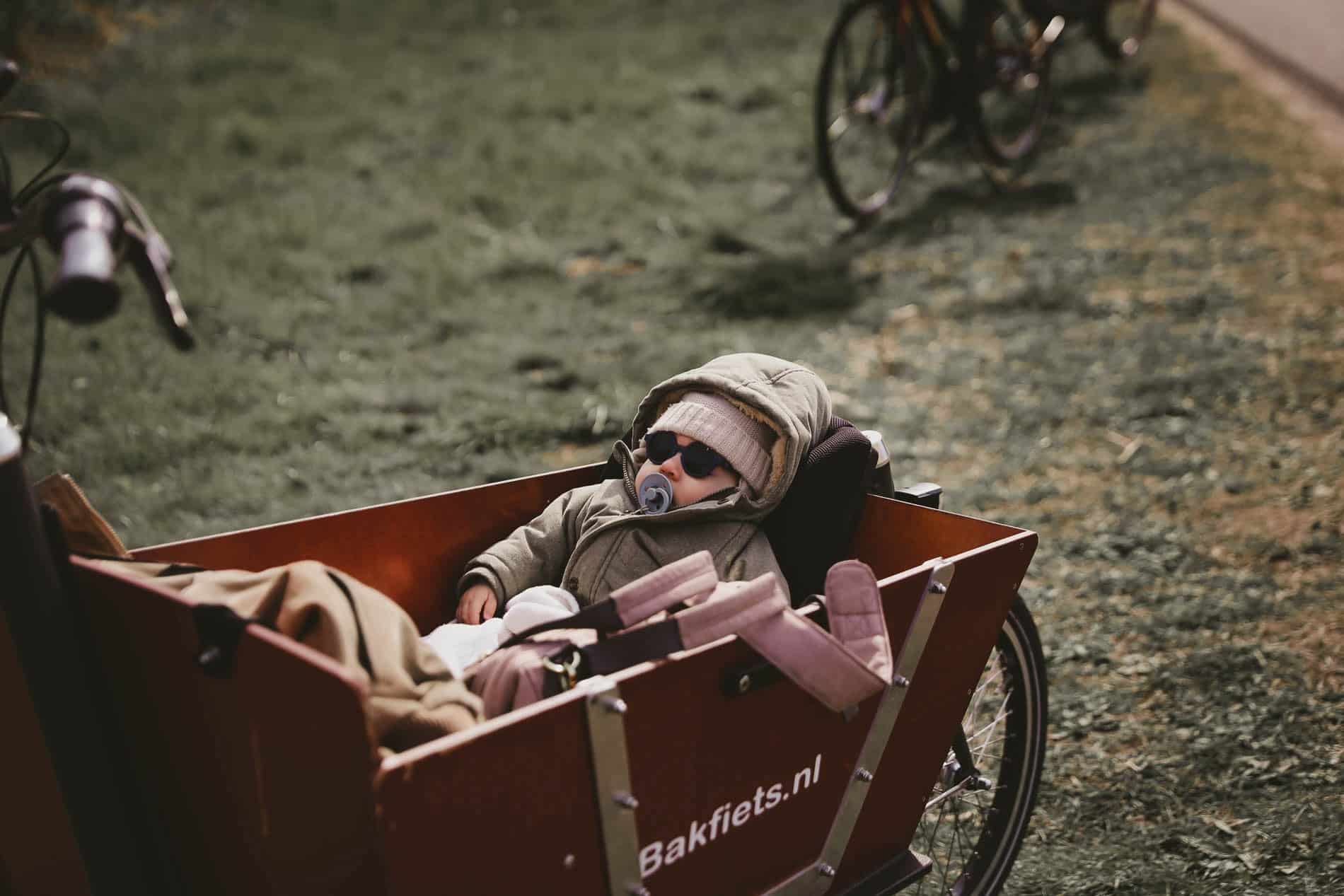 | WHERE TO EAT IN AMSTERDAM, THE BEST ADDRESSES
Please note that all my addresses are listed directly in the Mapster application, so join me looking for mademoisellevoyage !
I've listed below the addresses I was able to try out and the ones you recommended but which I wasn't able to try out because everything was fully booked! (when I say you have to book in advance!)
Pluk ( Reestraat 19) located in the heart of the city for a snack or brunch/lunch. The decor is bohemian and the food very good! It's a well-known little place that fills up fast, but you won't be disappointed.
Foodhallen: a must-visit street food spot in Amsterdam, with large convivial tables in the center where you can sample cuisines from the 4 corners of the world.
Omelegg (Ferdinand Bolstraat ): a restaurant that only serves omelettes.
Power in the Pipe (Ferdinand Bolstraat ): a very nice place to have lunch on wooden tables with umbrellas.
Bakers & Roasters (Eerste Jacob): a very cool place, but quite crowded at weekends. It serves excellent brunches.
Vegan Junk Food Bar (Marie Heineken Square 9-10)
Impero Romano (Amsteldjik) for a taste of Italian cuisine
The Pantry (Leidsekruisstraat 21) : a small typical restaurant where you can sample Dutch specialities such as stamppot, the most traditional hot dish of the Netherlands. Literally translated as 'mashed potato dish', this traditional dish consists of mashed potatoes and other vegetables. Traditional stamppot includes various combinations of sauerkraut, carrot, onion or spinach, and is usually served with a juicy sausage. We really liked it and I'd recommend the place.
Benji's Toko (Baarsjesweg) : a beautiful jungle-style restaurant in the west of Amsterdam. Everything looked so good!
Fou Fow Ramen (Elandsgracht 2A) : one of the best ramen in town!
Teds Amsterdam Jordaan (

Prinsengracht 178

) : very good brunch address, but must be reserved!
Store 43 (North Market43) : you'd eat the best apple pie in town at this popular café. Each slice is tasty and generous, served with a dollop of whipped cream!
Greenwoods (Singel 103) : good address for brunch
Dutch pancake masters (Damrak 44) : this is a great place to eat fluffy pancakes. They are served by 3 and the plate is copious for one person! You can share it.
China Sichuan Restaurant (Zeedjik 103) : very good Szechuan restaurant in the red light district. They serve quickly and are often very busy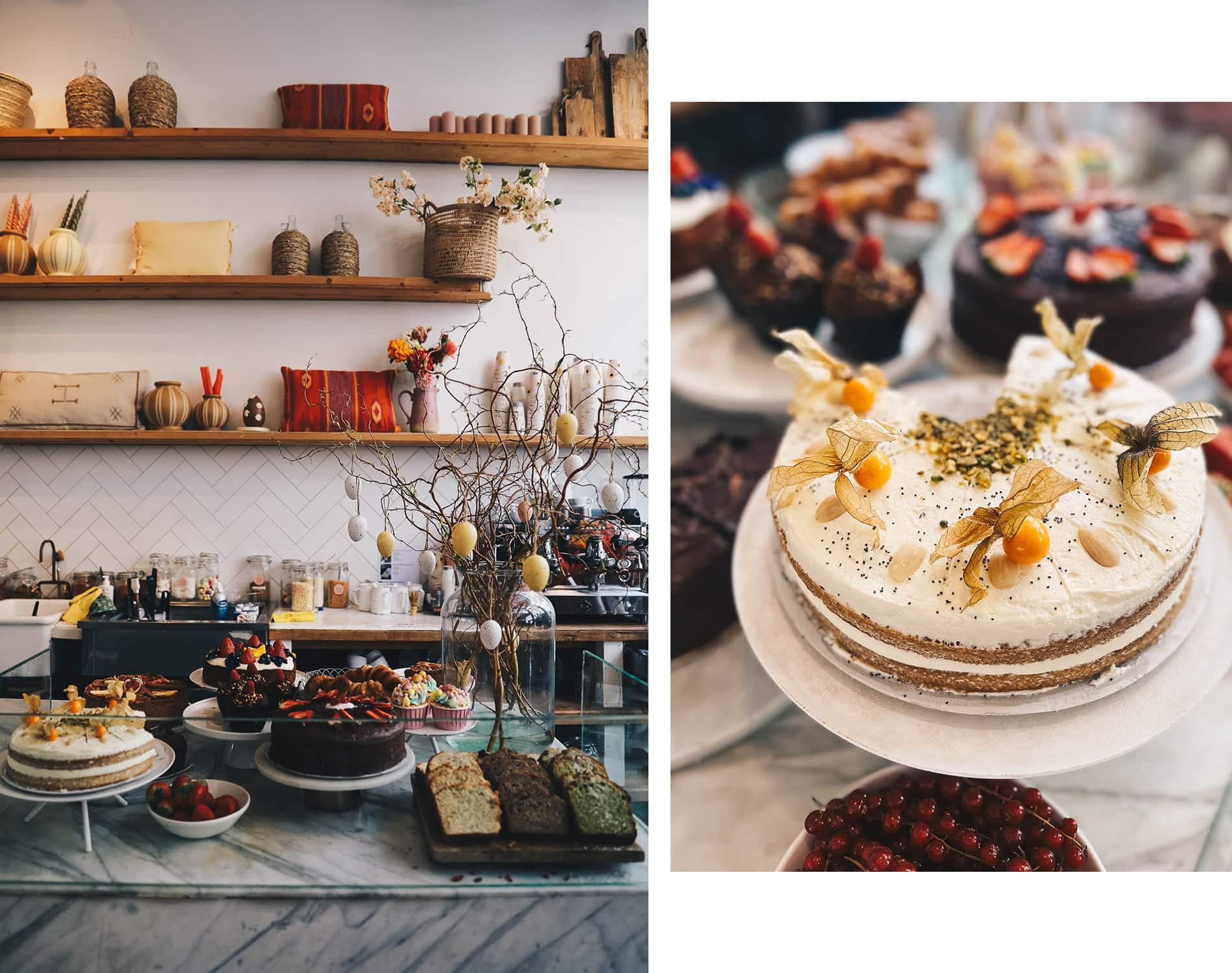 A few addresses of places and atypical and unusual restaurants
Restaurant de Kas (Kamerlingh Onneslaan 3):

Chic greenhouse restaurant east of Amsterdam serving Mediterranean dishes made with organic ingredients grown on site. Reservations are essential!

Reim Island : dinner 22 meters above the water in a former pirate radio station. The restaurant is open for lunch and offers a three-course dinner menu.
Culinary workshop (The Culinary Workshop): a conceptual restaurant that combines design and pleasure with fair-trade products and organic, sustainable ingredients. Apparently, it's even up to you to decide what's a reasonable price to pay at the end of your meal.
Tolhuistuin (Tollhouse Garden,

IJpromenade 2, 1031 KT Amsterdam

) : you can come and have a drink in this

a unique venue for concerts, films and other cultural events
If you want to taste the junk food and some street specialties:
Flemish Fries House Vleminckx (Archway Street33) : they sell fries with different sauces like peanut butter!
Manneken Pis (Damrak 41) : a huge cone of French fries served with a variety of sauces. The best is the truffle one, but take 1 large cone and share!
Van Wonderen Stroopwafels (Kalverstraat 190) : it's a sugar-lover's paradise! This café offers a wide selection of crispy waffles made to order.
Stubbe's Haring (Single 1013) : This small stand on Amsterdam's canals offers a wide range of herring, shrimp and salmon products, as well as hot dogs with local flavors.
Stop at a FEBO distributor for a burger, hot snacks, a snack bar frikandel, a deep-fried sausage, or bitterballen (meatballs fried and served with mustard). The concept is quite amusing, as the food is stored in a vending machine. It's typical of Amsterdam and quite original!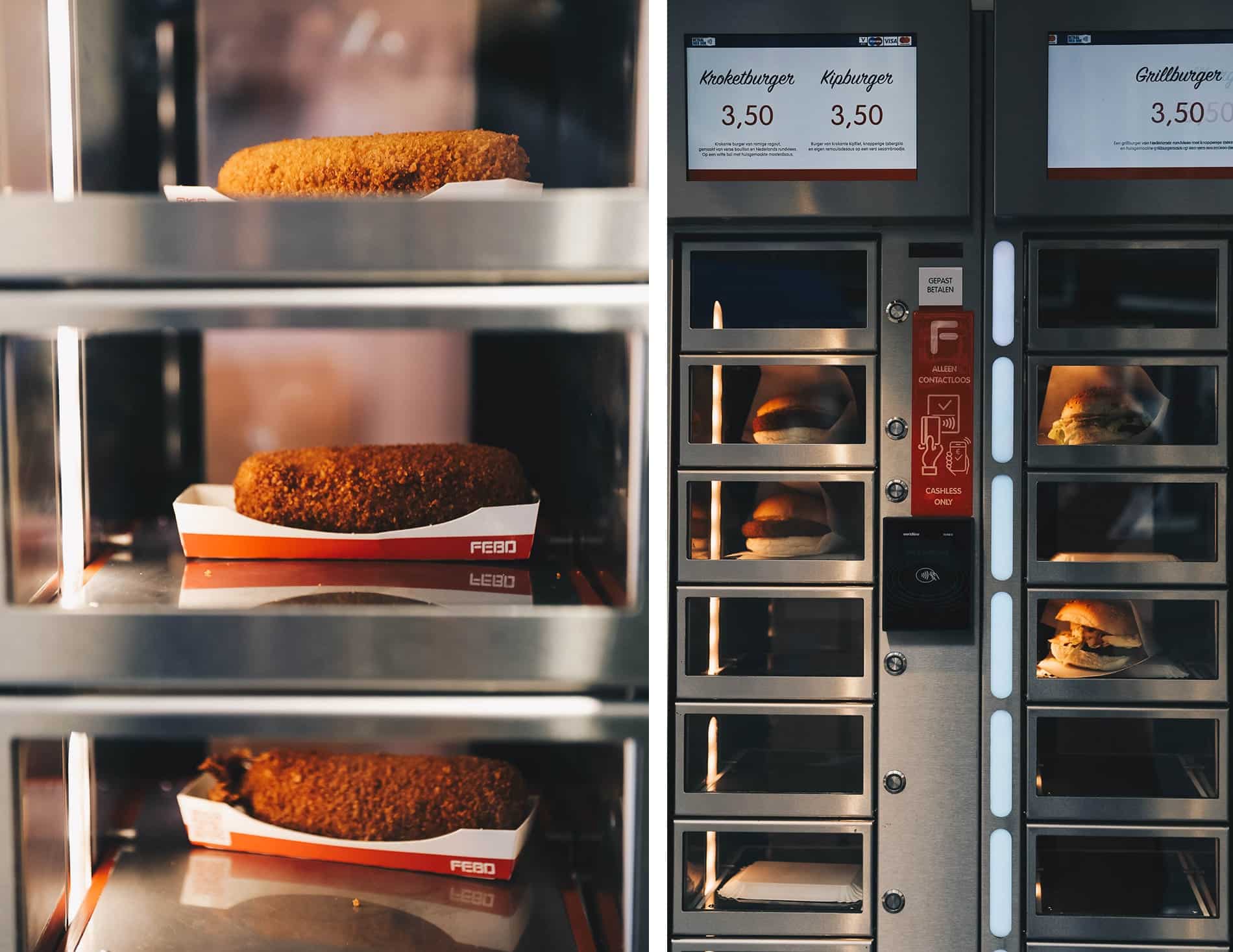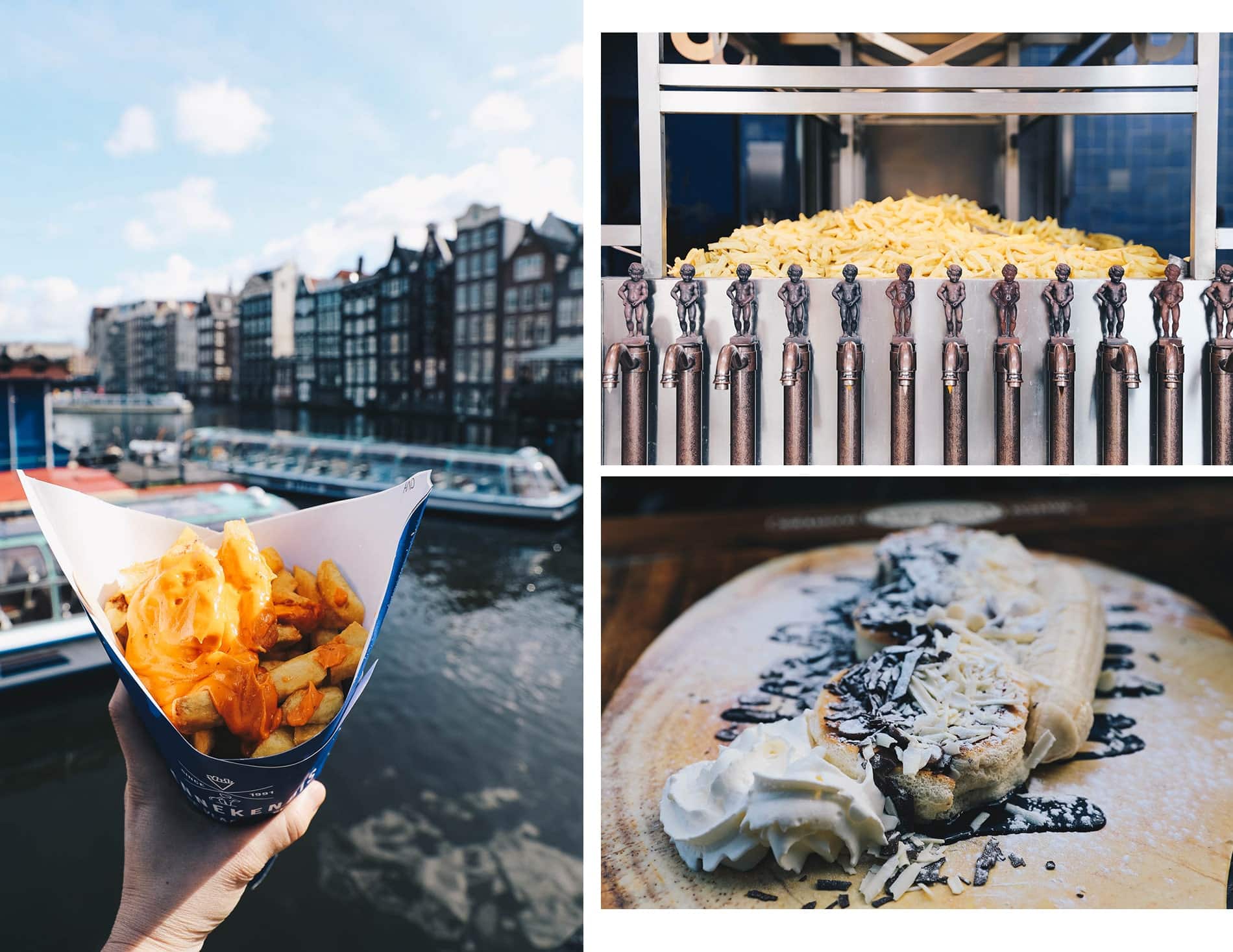 Test one of these food tours to enjoy a variety of dishes in different parts of Amsterdam

| SPECIALITIES TO TRY IN AMSTERDAM
If you think that the culinary specialties of Amsterdam and the Low Countries are limited to waffles, gouda and Edam, think again! I was surprised by these specialties of Dutch cuisine, each more unique than the last. I've listed them below if you feel like eating like a local.
These are fried meatballs, often served with mustard as a snack with a good beer
These are the famous thin waffles, stuck together with a layer of sweet syrup between the layers. You can find them all over the place in street markets and bakeries.
They are sold everywhere and traditionally served in a paper cone with a wide range of sauces, including peanut, truffle and curry. I was fooled by the gigantic sizes of the cones so consider sharing it. It's good but too disgusting for me and my tummy!
On the harbor side, you'll see the famous haringhandels, the herring carts that serve this Dutch specialty. You can order the herring sandwich, namely herring served in a small sandwich with pickles and onions.
Throughout the city, you'll find FEBO vending machines, where you can order a multitude of hot snacks presented behind glass windows, such as hamburgers, sausages and more. The principle is very simple: you insert coins into the hole and, just like a vending machine, the goods are delivered to you.
Mini Dutch pancakes are usually served covered in melted butter and sprinkled with powdered sugar.
Stamppot is the most traditional hot dish in the Netherlands, and it's pretty good. I'll tell you about it just above, because we tried out a very good address in Amsterdam city center. It's made with mashed potatoes, vegetables, sauerkraut, carrots, onions or spinach, and is usually served with a juicy sausage.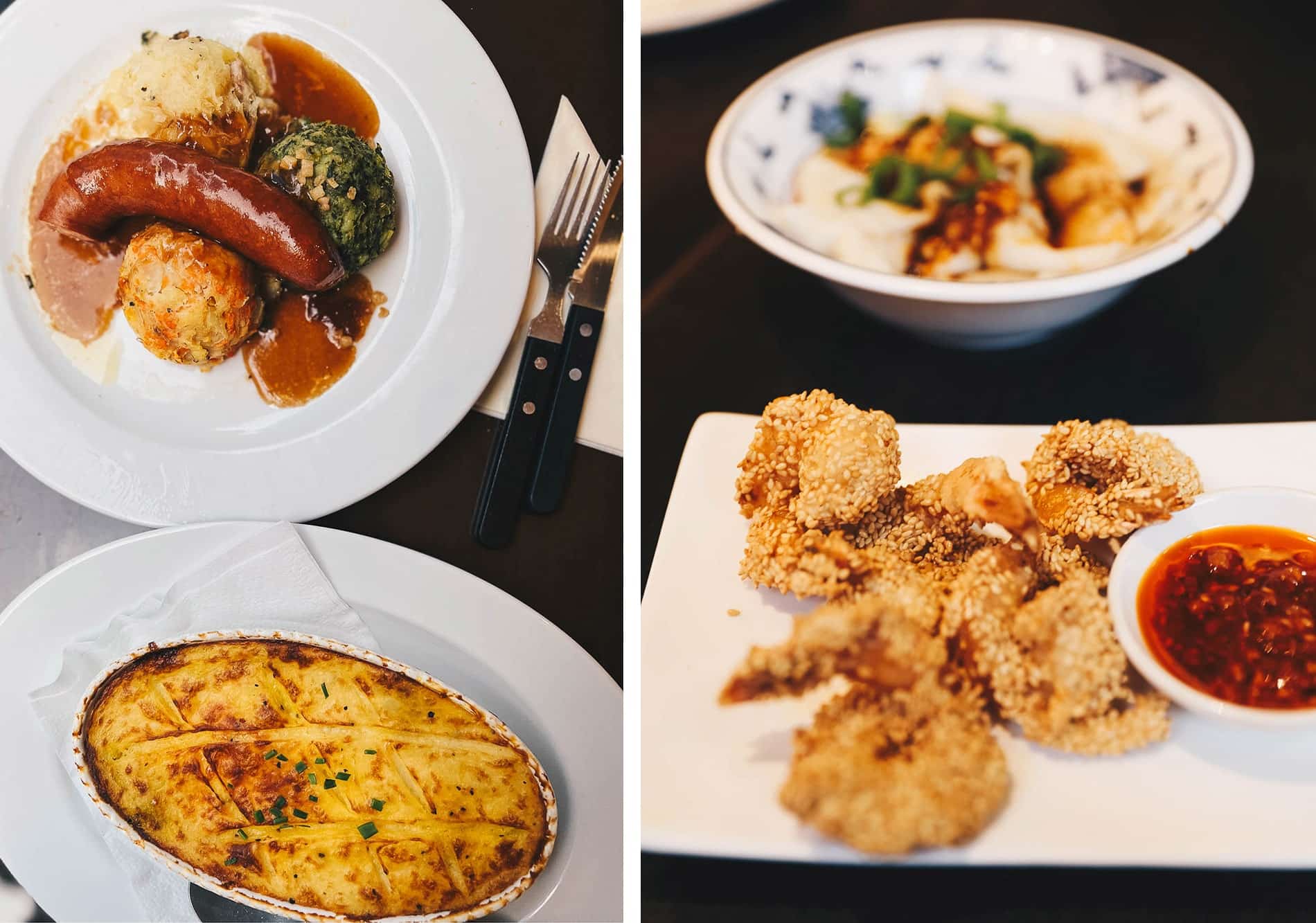 | WHERE TO STAY IN AMSTERDAM
Accommodation in Amsterdam is one of the most expensive parts of your trip! We decided to explore the city a little late and didn't have much choice of accommodation. We had to choose a hotel a little further out, in a less dynamic area, and take the streetcar every day. Urban Lodge Hotel was pretty good overall, with attractive modern decor and a spacious room (handy with a baby). It's well located, just a 5-minute walk from the bus station, so it can be a good compromise if you don't have a big budget to spend on accommodation. In the evenings, however, the area is very quiet and there's not much going on. There's a restaurant a stone's throw from the hotel that's not too bad and will do the trick if you don't want to head back to the center of Amsterdam.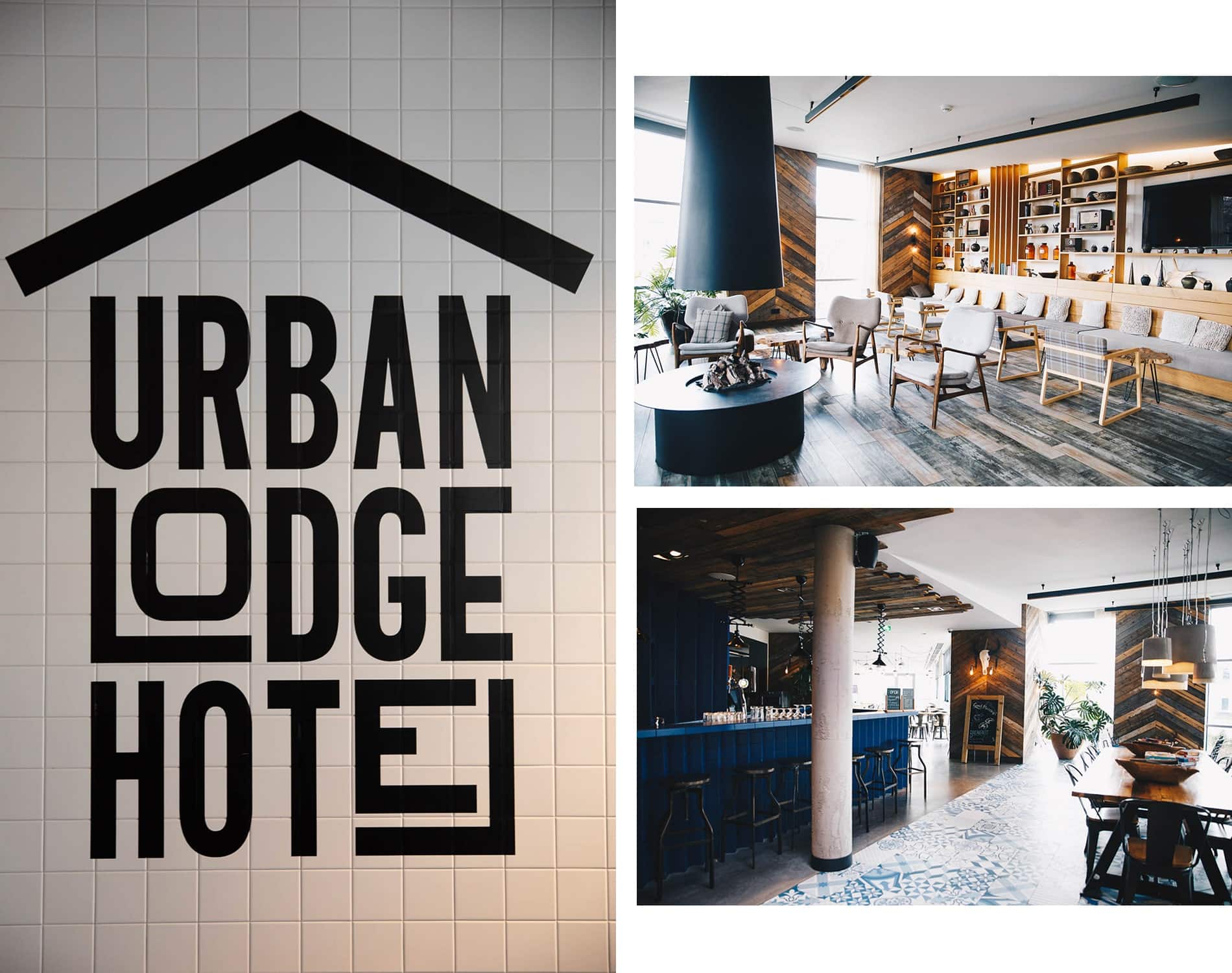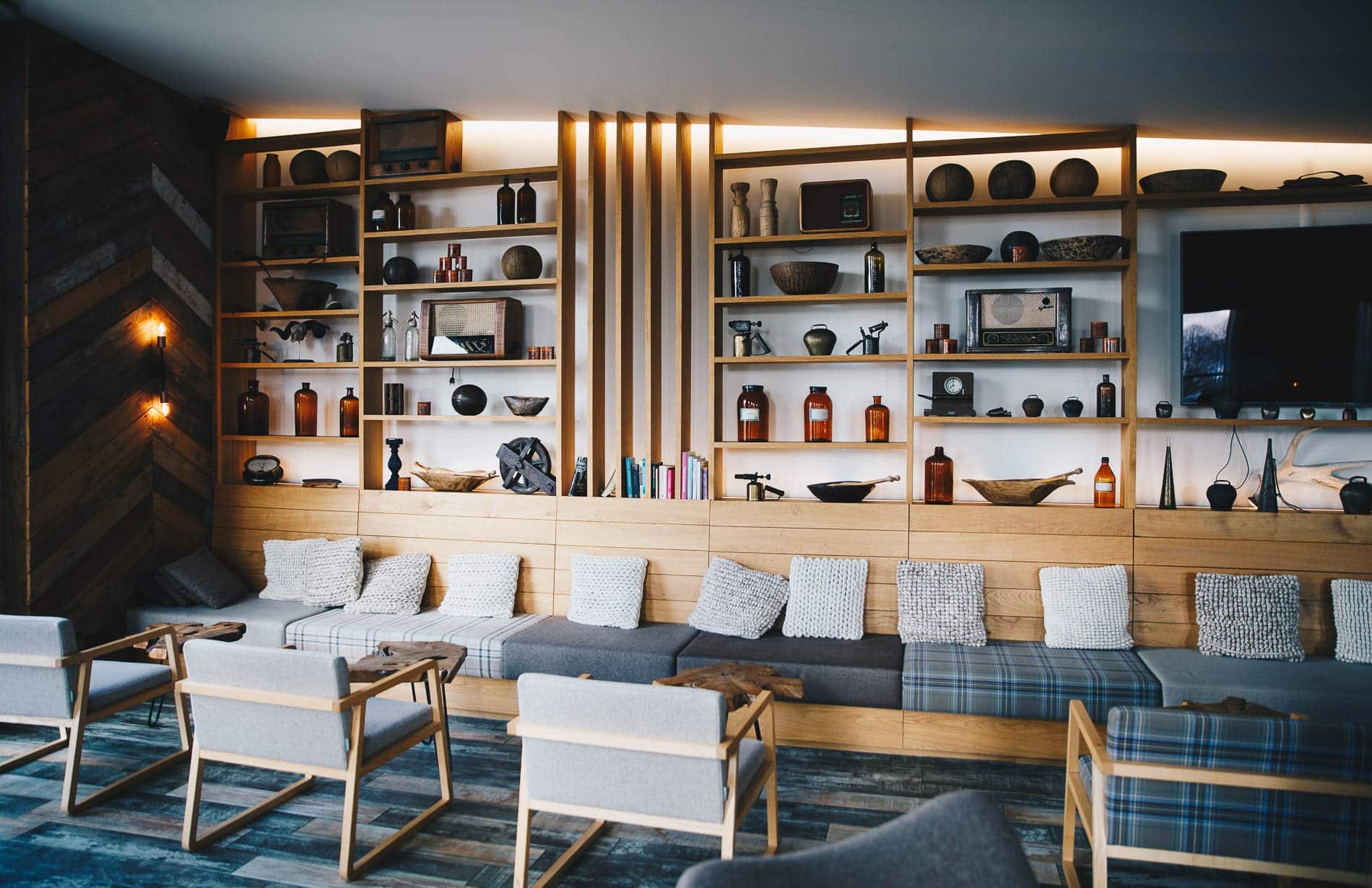 Our friends stayed at Hoxton Hotel right in the center of town, and the location is just right: you're in the designer district, with lots of great cafés and good places to eat. It's a sure bet for the quality of its services, but the price remains high. We dined upstairs, listening to the live concert, and everything was delicious, especially their veggie burger.
I had identified the following hotels, including these unusual ones that I absolutely wanted to try out, but with a baby it was much more complicated as they were not accepted! Nevertheless, I've listed them below.
Bunk Hotel Amsterdam

on the north side of Amsterdam in a trendy, up-and-coming district, just five minutes from Central Station by metro and ten minutes by bike. This church, now a historic monument, has been converted into a hotel with 106 rooms, 50 private cabins and eight communal tables. The restaurant also looks very cool, with its healthy cuisine.
Boat & Co : environmentally friendly, spacious and modern apartment hotels.
Sweets hotel

: 28 watchtowers or pot houses rehabilitated as unusual accommodation with a privileged view of Amsterdam's canals but for safety reasons, these hotels are only open to people over 21. There are several in the city, so it's up to you to find the watchtower you like.
Crane hotel Faralda

: if you're not afraid of heights, a night at this unique hotel in Amsterdam's NDSM harbor is a must. At the highest point of the crane, you'll find a Spa with a Jacuzzi and a phenomenal view of the city center!
Hotel not hotel

: In this hotel, you can choose to sleep in an old Amsterdam streetcar car, or in a room hidden behind a secret library door!
Infos pratiques | Amsterdam
| GETTING AROUND AMSTERDAM

The city's specific architecture influences Amsterdam's urban transport network. Here's how to get around:
First and foremost, the Netherlands means bicycles. It's the best means of transport you'll find in Amsterdam, especially if you're staying in or near the city center. This city is a cycling mecca, and you're bound to be impressed by the huge bicycle parking areas lining the stations.
As the city is built on canals, the roads are rather narrow, making it difficult to get around by car, and much easier to get around by bike. In fact, it's a real pleasure to visit a city with so few cars, which means much less noise pollution and better air quality.
People seem much less stressed, as the practice and rhythm of cycling is so deeply rooted in their DNA. If you can, don't hesitate for a second to rent a bike for the period of your stay. The city's points of interest are easily and quickly accessible, as the city is not very large, and cycling will be a great immersive experience.
This is clearly what was missing on our last trip, as it's not easy to find cargo bikes for hire in Amsterdam to carry a baby (Gabriel was 9 months old on this trip).

Renting a bike in the heart of Amstersdam with a baby is often not recommended by rental companies. There are very few cargo bikes for hire (they are often locally owned) and the streets are almost all paved. The ride may not be very pleasant for the baby. What's more, your child should be able to sit up properly on his own, either behind you or in the cart.
➡️ Bike rental, you can contact various companies, including « Macbike » one of the market leaders. Prices are really affordable. I encourage you to reserve your bike in advance to save time on your journey and ensure you have a suitable bike. For those with very little time to spare, you can opt for a guided tour of the city with a guide who will show you around.

The city can also be visited by streetcar, metro and bus. These 3 networks are managed by the same operator, namely GVB.
Due to the city's design (on narrow canals), the tramway is virtually the only way to get around the city center as buses can't get there and the metro only runs on one axis from the station to the south-southeast districts. The tramway can therefore reach more areas of the city center, with the main point being the central station.

I Amsterdam" tourist office offers transport cards « City Card » for all travelers, valid from 24h to 120h on the GVB network and allowing access to many museums. This card gives you free entry to many of Amsterdam's museums and attractions, and free use of public transport (metro, bus and streetcar in Amsterdam only). Transport from Schiphol airport to Amsterdam is not included in the City Card. and this card does NOT entitle you to free admission to the Anne Frank House

The advantage of this City card is:
Its u

unlimited use of GVB public transport in Amsterdam (bus, streetcar and metro)

A large number of museums and attractions in and around Amsterdam (Zaanse Schans, Volendam, Marken….)

Discounts and freebies
Short summary of the 2 transport cards: City card and Amsterdam Region;
The card must be registered every time you enter and exit a bus, streetcar, train or metro. The card is activated the first time you register.
Tickets are valid on all metro, streetcar and bus lines operated by GVB, Connexxion, AllGo and EBS, including night buses.
Tickets are also valid on NS trains in the Amsterdam area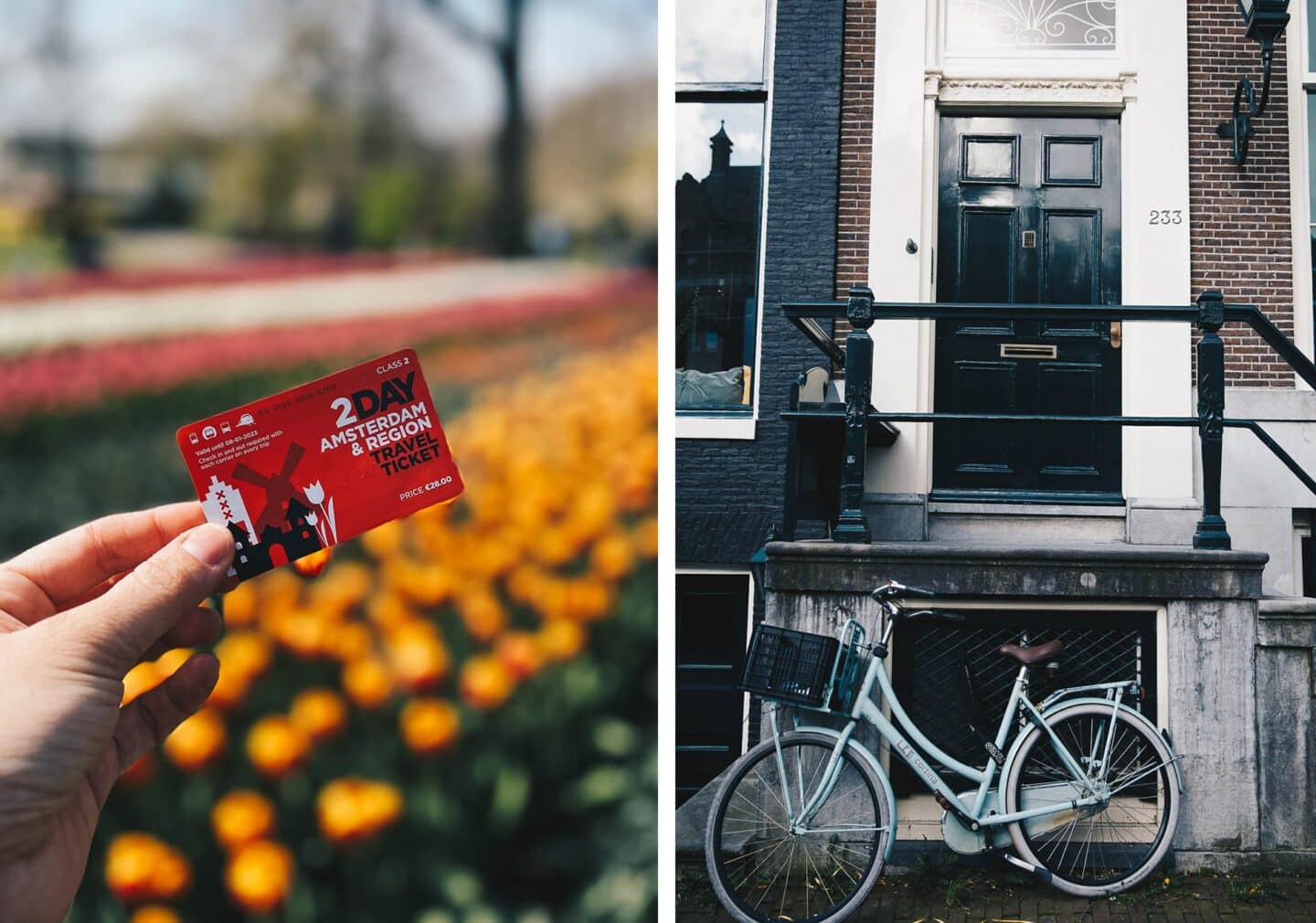 Travel ticket Amsterdam & Region allows you to explore all that Amsterdam has to offer, as well as the iconic sites and landscapes of the surrounding region. Buses tend to serve the outlying parts of the city, and can also take you to the flower fields in springtime, as well as to the typical villages to the north of Amsterdam. Read the article on Old Holland to discover Edam, Volendam and Marken

To avoid queuing, buy your City Card I amsterdam online
Discover Amsterdam by train will enable you to travel further into the country if you wish to visit other points of interest in the Netherlands.
However, you'll need to buy individual tickets if you want to reach Sloterdijk station in the west of the city, or Amsteltrein in the south.
This is less practical if you're staying further from the city center, as we are, as accommodation prices in the city center are very high in Amsterdam.
In Amsterdam station, there's a luggage locker (logo below) that we've never seen anywhere else before.: dropandgo.nl An area of lockers of varying sizes, rented from €4 to €15 a day and open from 9am to 10pm, to help you de-clutter if you need to. We were able to leave our suitcases for a whole afternoon and enjoy Amsterdam without worrying about luggage. Very practical, but it's very crowded and sometimes there's no room left!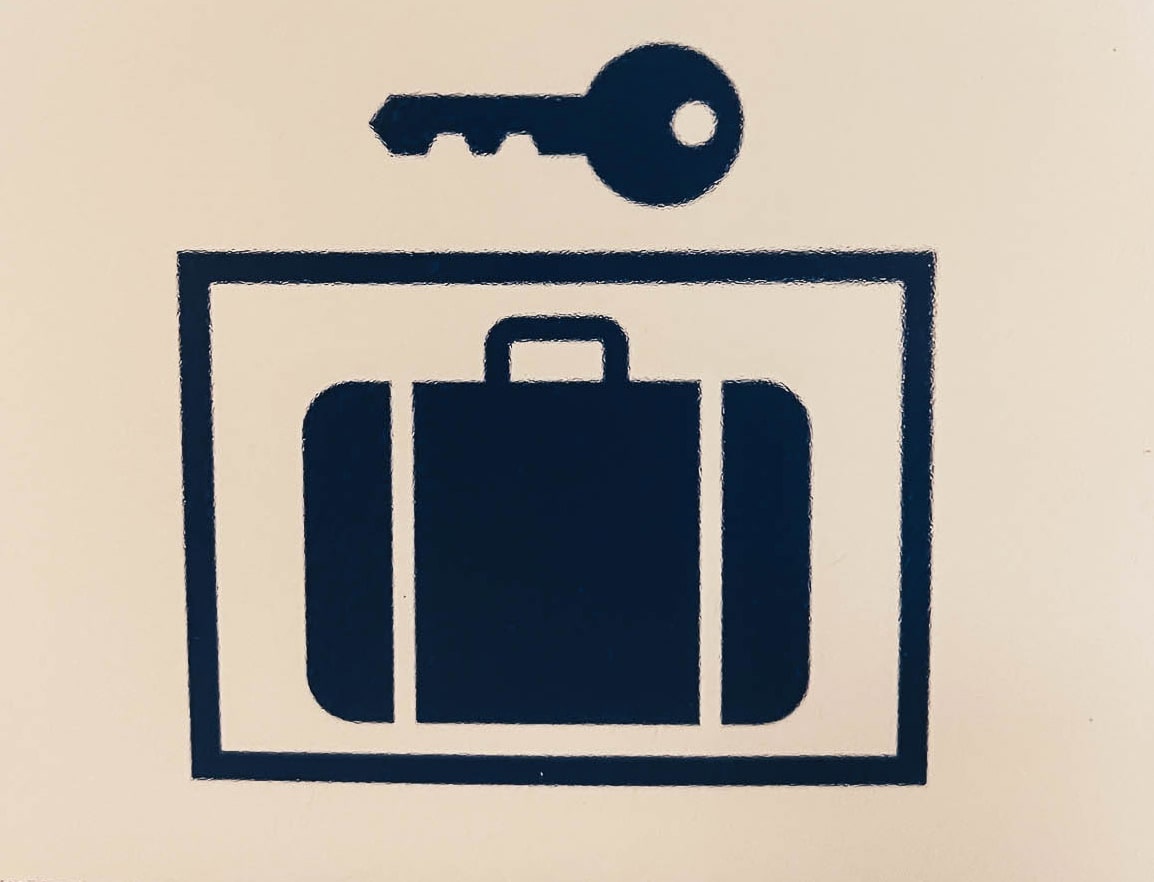 | WHEN TO GO TO AMSTERDAM AND FOR HOW LONG

The weather in Amsterdam is far from kind every day. We were there in April for tulip season and it's a great time of year, but beware as the weather can still be unstable, i.e. rain every day. We postponed our visit because the weather was bad. It was a good thing we had sun every day! The best time in April would be the last week and especially the last weekend to be sure to see the tulip fields in bloom! If you're lucky enough to visit Amsterdam on a national holiday, you'll want to embrace the festive atmosphere. Indeed, on April 27, every street, every park, every balcony and every canal is awash with orange-clad revelers for the King's feast and it will be almost impossible not to take part.
In my opinion, you need at least 3 days. We were gone for 4 days and it seemed so short! You can still get a good overview if you're well organized and book in advance! I'd say that's the downside of Amsterdam: you have to book everything, from museums to restaurants! Everything fills up on weekdays and weekends, which is quite disconcerting! No room for improvisation, unfortunately.
| TRAIN TO AMSTERDAM
For this trip to Amsterdam, we left for the second time with the Thalys rail company.
Just 3h30 from Paris Gare du Nord, it's easy to get to Amsterdam city center, and the train is the best way to get there quickly. In fact, Thalys serves the most beautiful North European capitals such as Brussels, Liège and Cologne in just 3h20 from Paris. The last time we took the Thalys, it was precisely to discover Cologne and its Christmas markets
For this first train journey with Gabriel, I really liked the carriage we were in, which I'd recommend to you, namely the car 16, seats 83 and 84, right next to the bar car. The comfort of the trip was definitely not the same as a conventional seat. We were able to get up, settle down quickly at the bar, rock Gabriel in his stroller and, above all, let him nap in peace, with him in our field of vision and without disturbing anyone else! The quality of our welcome is important to Thalys, and it's priceless because the trip seemed so easy. Meanwhile, thanks to the wifi which is offered free on board, work and finish all my quotes. If it's any consolation (for those of you with little or no English), all Train Managers speak different languages, so no more communication problems!
Finally, I'd like to emphasize the eco-responsibility of Thalys. Since January 1, 2020, all Thalys trains are powered 100% by green energy. It's also the most eco-friendly mode of transport, so there's no excuse to travel by train. Finally, as a reminder, a one-way ticket Paris-Amsterdam starts from €35 in standard class. In April, it cost around €75/p to travel to Amsterdam.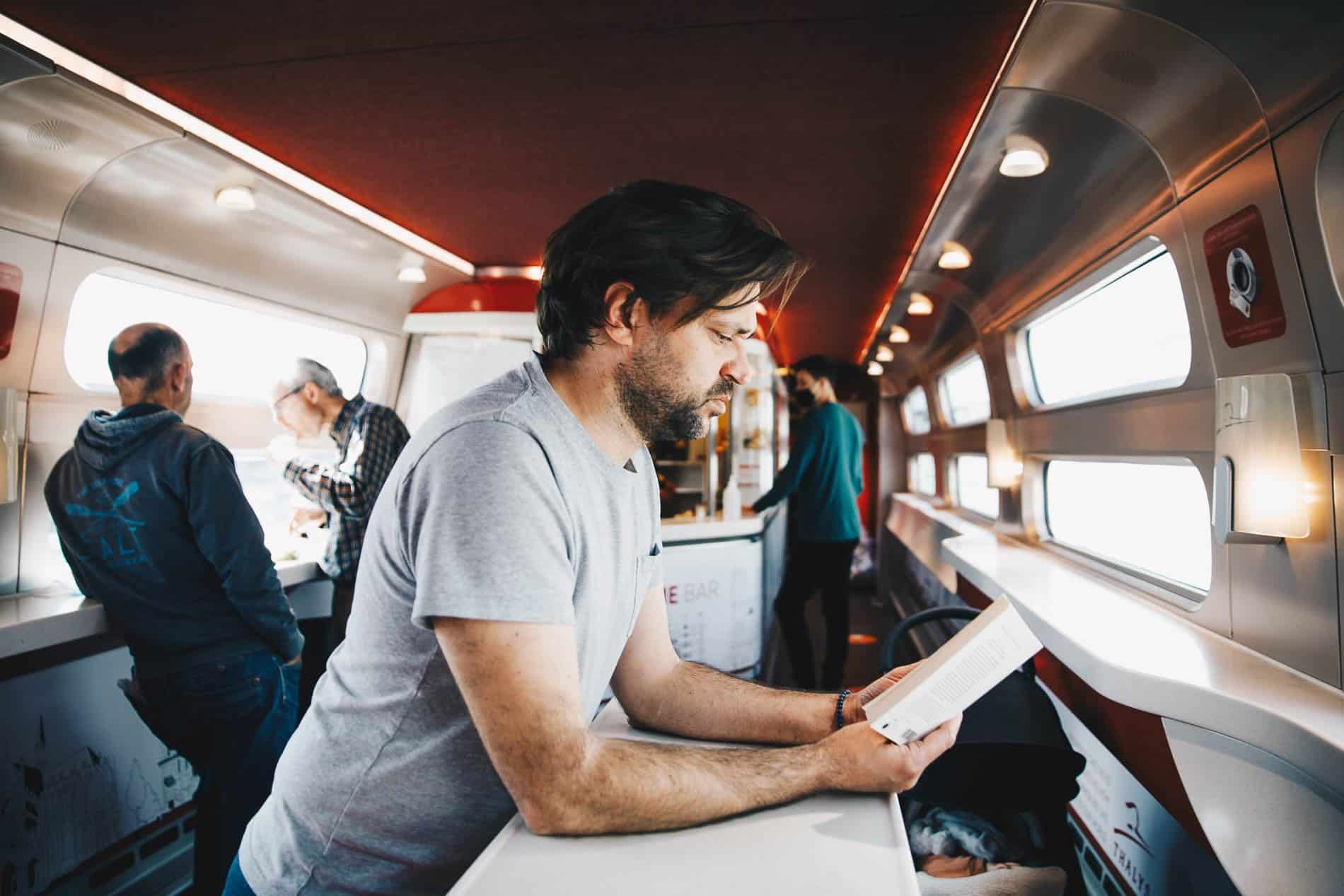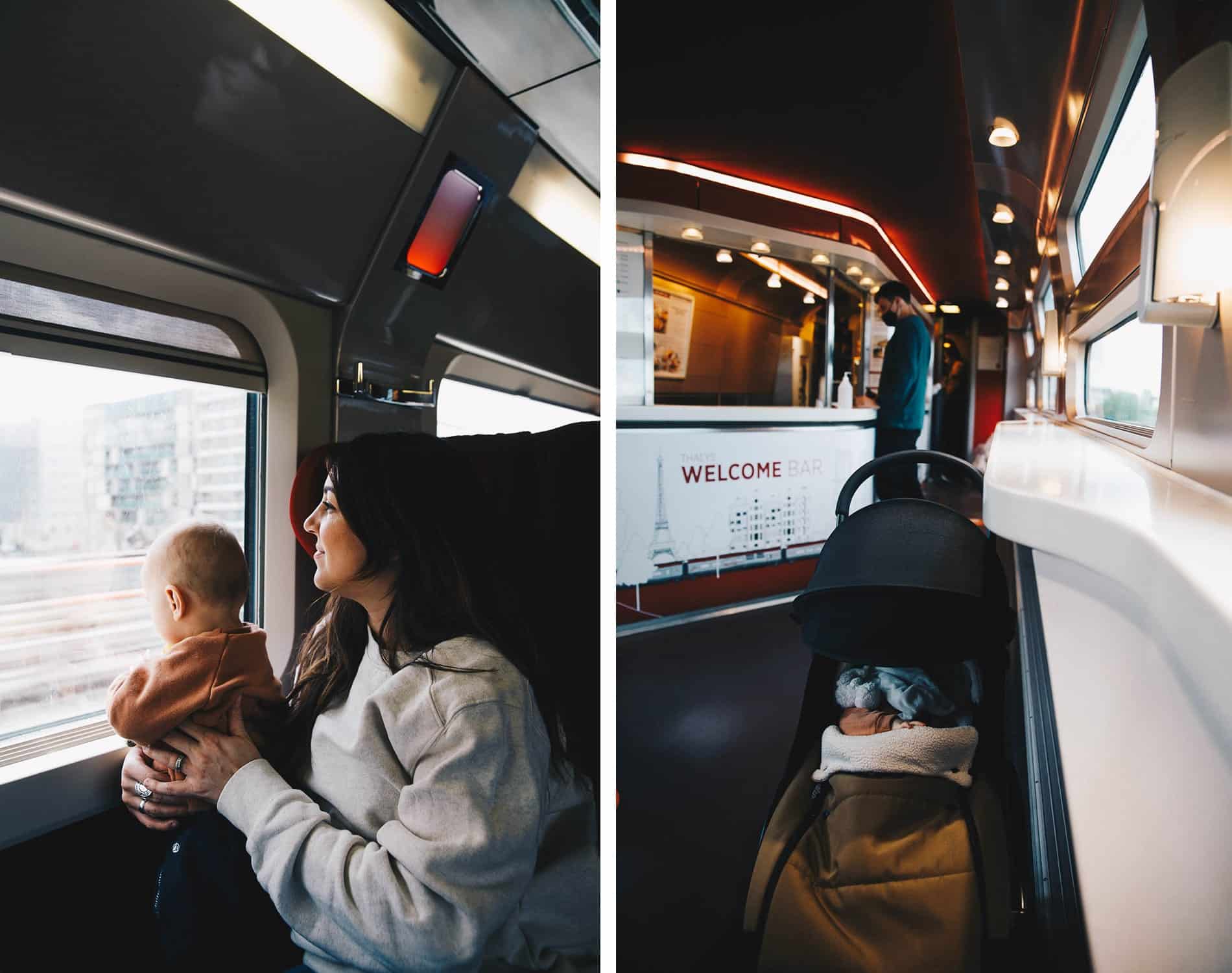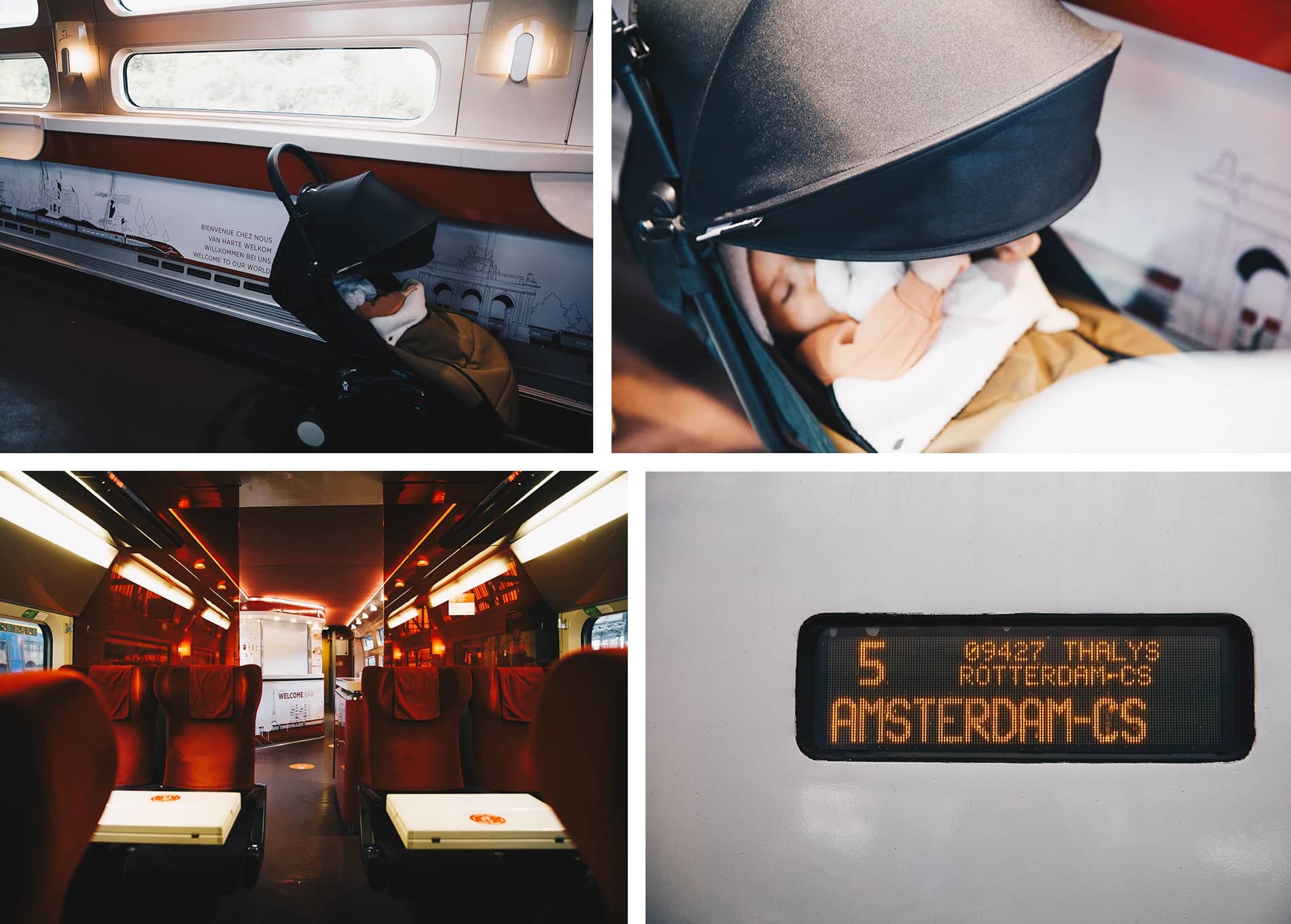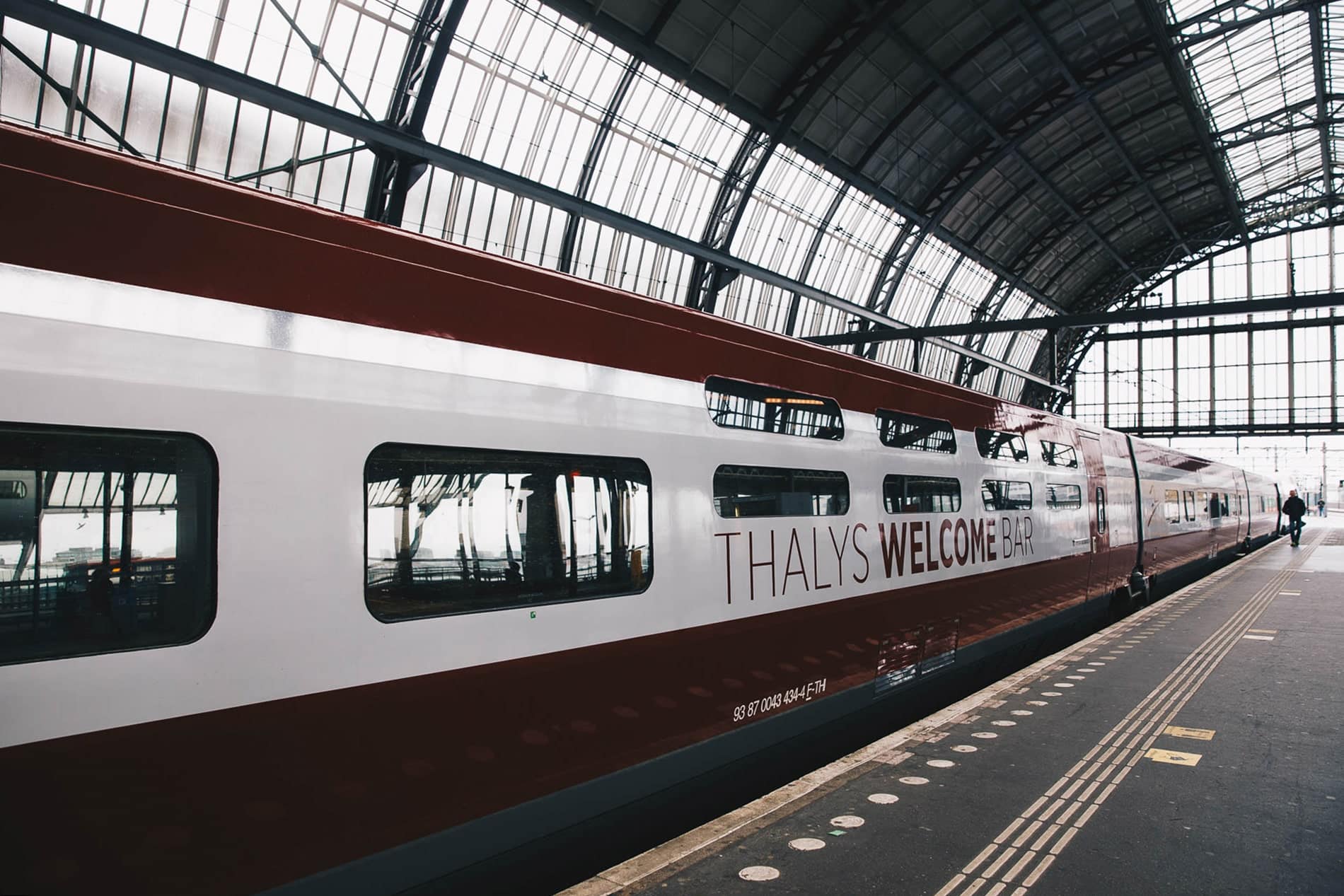 Don't forget travel insurance!
Before you leave, make sure you've taken out travel insurance to avoid any unpleasant surprises! If you're planning a short break, a long-haul trip or even a round-the-world tour, travel insurance will provide you with the essential cover you need to enjoy your stay in total peace of mind: cancellation, baggage, assistance, medical expenses, hospitalization, death, repatriation and all the other hassles you could avoid. Opt for cancellation insurance in case of Covid and border closures. Read more in our dedicated article to help youfind the best insurance and on the Chapka website, our travel partner since our Round the World Tour
I hope this article will help you prepare for your trip. Before you leave, I also invite you to read all our articles on Amsterdam and the surrounding area:
To request a quote and a tailor-made trip to the Netherlands, contact me by email at contact@mademoiselle-voyage.fr. I invite you to read the customized travel where I present my business as a licensed travel agency.