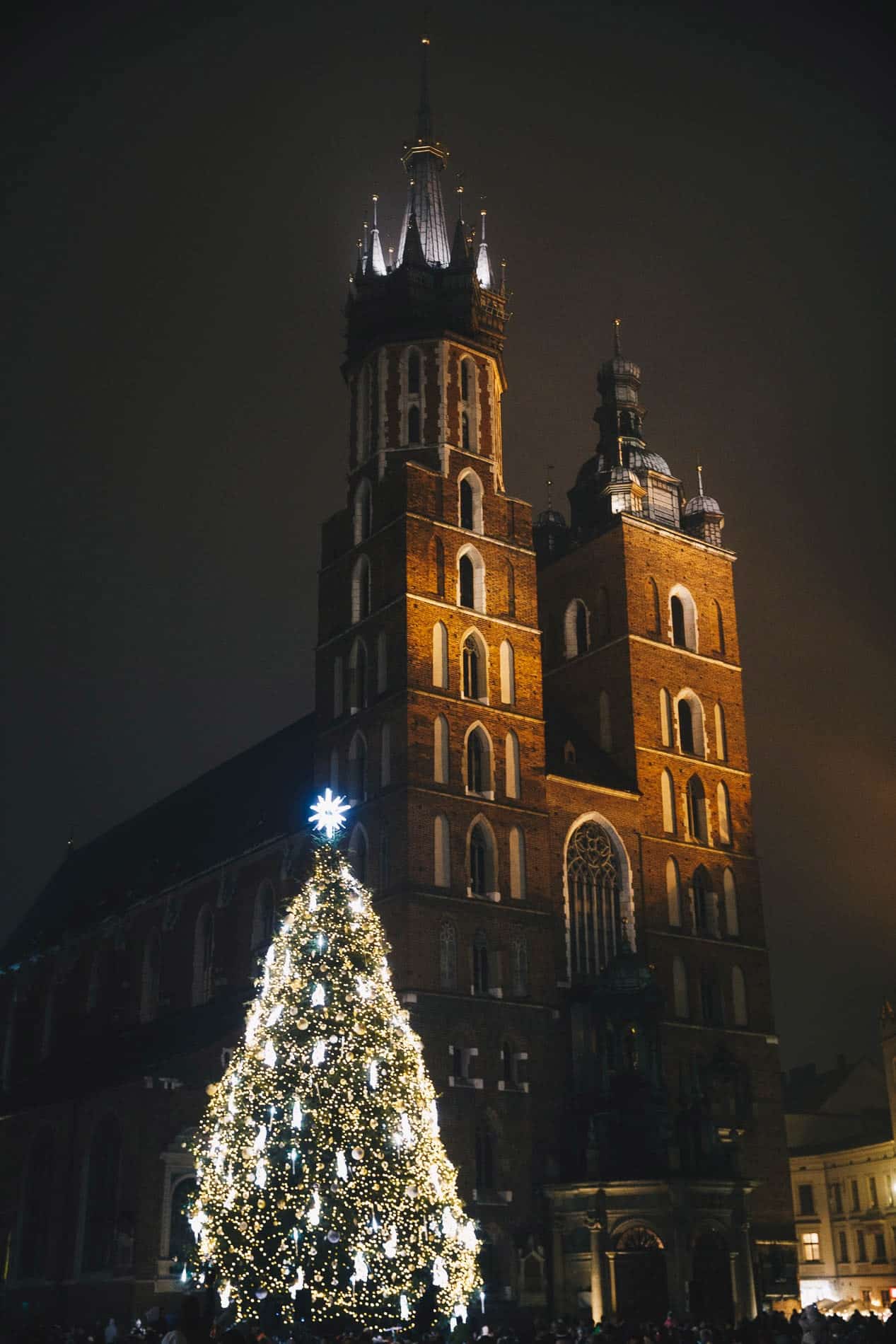 Why not visit the Christmas markets in Krakow, Poland? I'd like to take you on a trip to Slavic lands for a short break dedicated to Christmas traditions, combining cultural and historical discoveries with culinary specialties.
December has just arrived, the days are getting shorter and the cold is gradually setting in. But it's also time to start our forward calendar and begin the countdown to Christmas. And to add to the enchantment, we're taking you to a new Christmas town in Europe, after introducing you to Cologne, Prague and the various Christmas markets in Alsace. Head for Poland this time, for a three-day weekend in the charming city of Krakow, to discover the city in the Christmas spirit.
I invite you to consult all our articles on Europe's Christmas markets to inspire you for the coming holidays:
Krakow, the country's former capital for more than 600 years, is a city that was fortunate not to be destroyed during the various periods of occupation it experienced in the course of its history, and in particular during the Second World War, which brought Poland the worst hours of its history. It is one of the few Polish cities to have retained all its authenticity and the traces of its sumptuous past can be seen in its buildings and architecture.

As in many European cities, you'll find free tours organized by locals, with English- or French-speaking guides. We tested it at Seville and it's a great way to get the keys to understanding the city for those who aren't keen on guided tours of monuments. Please note that a free tour means that at the end of the guided tour, you'll still have to leave a tip based on your level of satisfaction.
➡️ Check here for availability of this guided tour and book in advance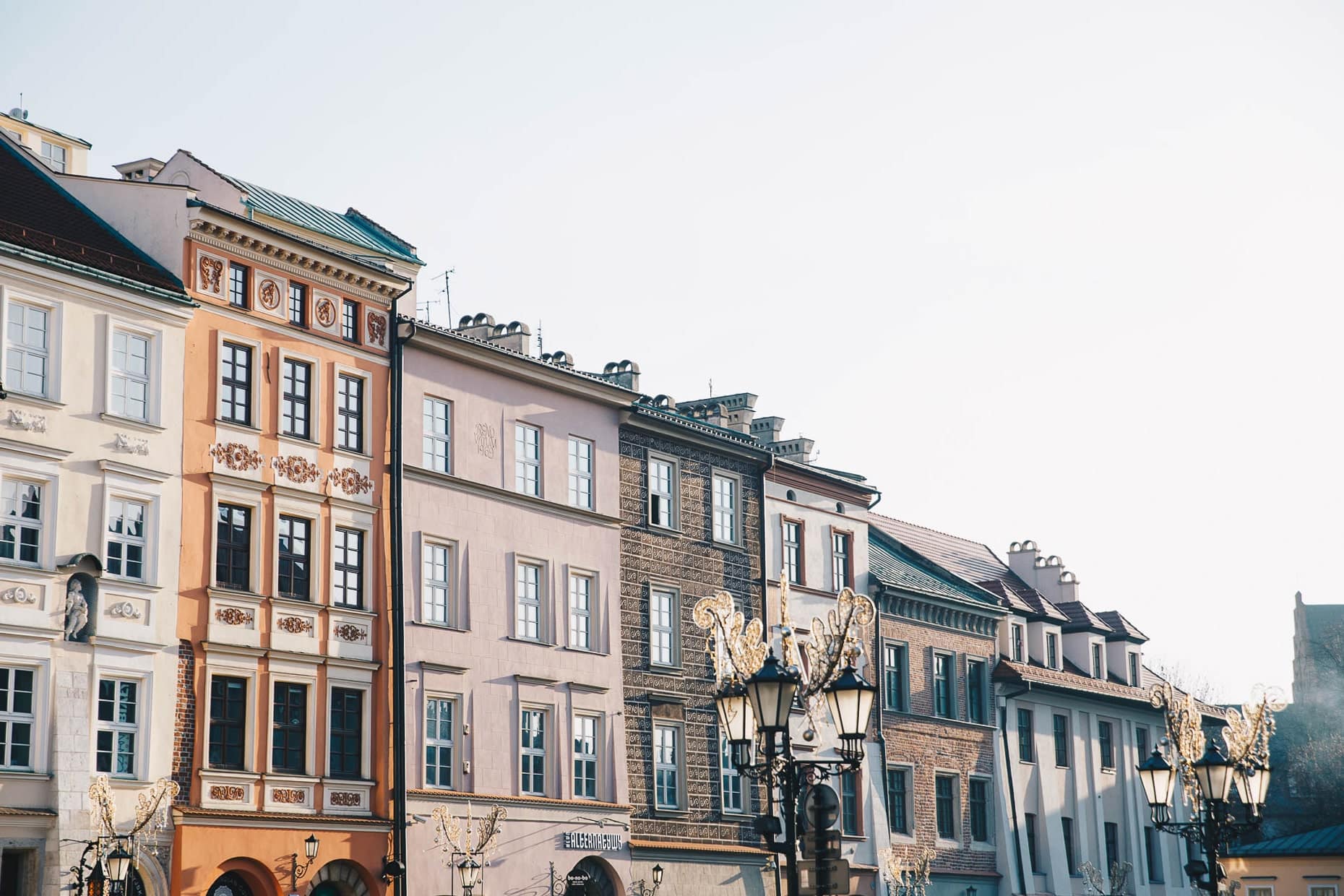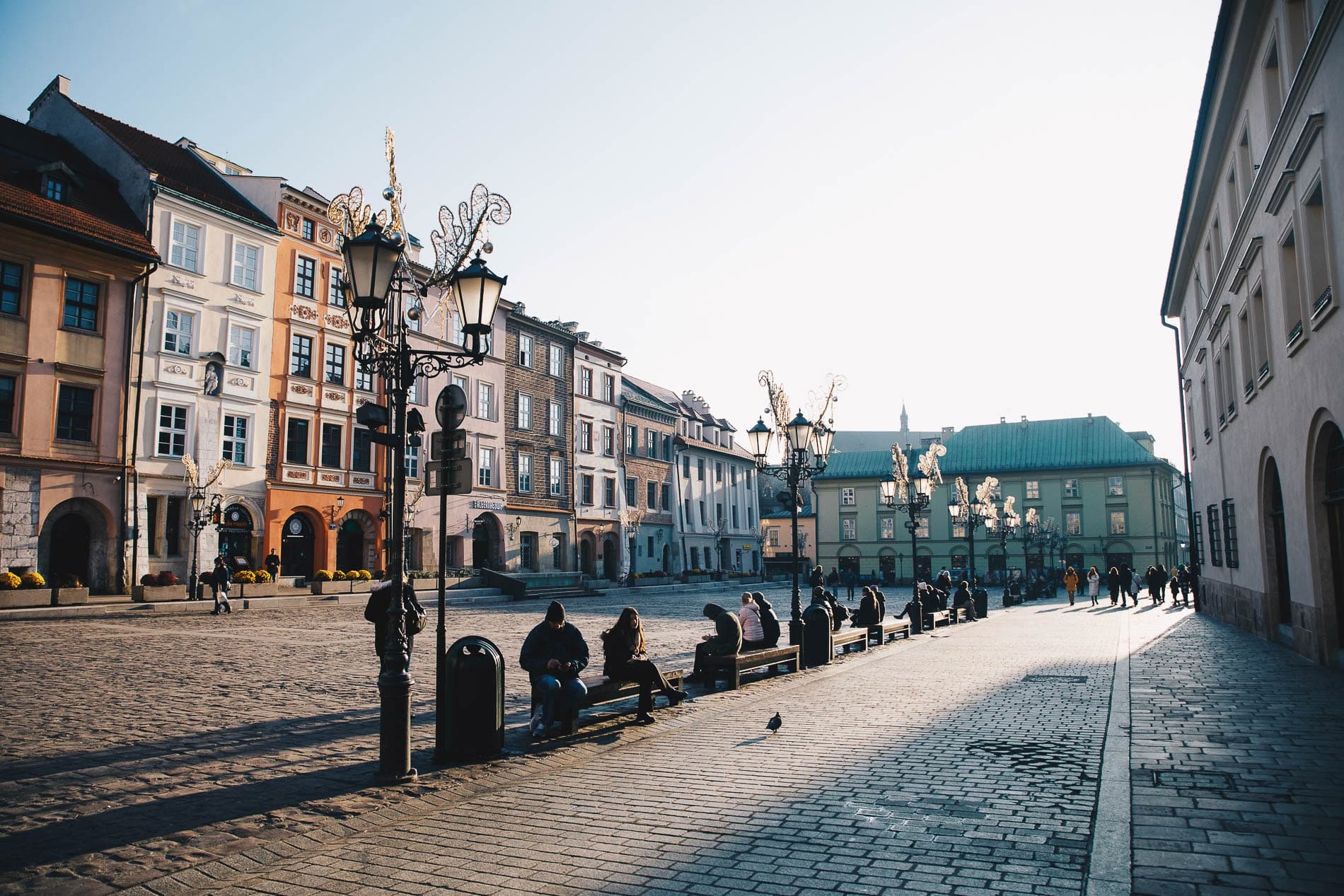 What are the must-see places in Krakow during the Christmas market?
| THE FAMOUS CRIB CONTEST AND
LA PLACE MAIN SQUARE

Let's start with what brought us to Krakow in December, the beautiful Rynek Glówny Square and its Christmas market. This is the former market square, shopping square that has become the most beautiful medieval square in the world and the largest in Europe (200 meters by 200 meters). As Krakow's main source of income is tourism, this square is the city's economic lungs.It is surrounded by remarkable townhouses, and at its center stands a beautiful central hall known as "la halle aux draps " from its primary function. There's also a belfry and the Basilica of Sainte-Marie.
The Rynek Glówny square is home to Krakow's Christmas market at the end of the year.But before we tell you more about that, we'd like to introduce you to Krakow's Christmas soul: its famous nativity scenes. Indeed, Christmas rhymes more than ever with nativity scenes in this corner of Europe. Inscribed in 2014 to the Intangible Cultural Heritage of Humanity by UNESCO, the tradition of making its nativity scenes is unique to Krakow. For the past 80 years, a competition has been held every year on the 1st Thursday in December to showcase the cribs and elect the most beautiful. The tradition of Cracovian nativity scenes is a traditional craft closely linked to Krakow. This know-how consists in creating unique nativity scenes, inspired mainly by the architecture of Krakow's old town. (itself a Unesco World Heritage site).

Nearly 200 artists in various categories present their nativity scenes to a panel of judges. From young children to adults, to the most passionate and meticulous among them, participants present genuine works of art created from wood, plywood, cardboard, tissue paper, silver foil, candy and chocolate wrapping paper, and recycled materials, some requiring up to two years' work. The competition for the most beautiful Cracovian crib was initiated with the aim of nurturing this traditional craft, and promoting and popularizing the unique element of Cracovian folk culture that is the Cracovian crib.

To admire them, an exhibition showcases them at the Cracow Museum located on the edge of Rynek Square at the corner of Szczepańska Street. From the first Monday after December 1 until February, you can come here to admire the year's nativity scenes. If you come at any other time of the year, you can also visit the permanent exhibition, which features a number of nativity scenes to give you an idea of what's on offer, or admire some from earlier competitions, displayed in glass cases in different parts of the town. I recommend a visit with the whole family, as the exhibition is great fun, with a surprise: a human-sized crib!

Krakow is one of those cities where traditions are deeply rooted in the Catholic faith. You should know that nowhere else are such beautiful and extraordinary works commemorating the birth of Jesus Christ being built !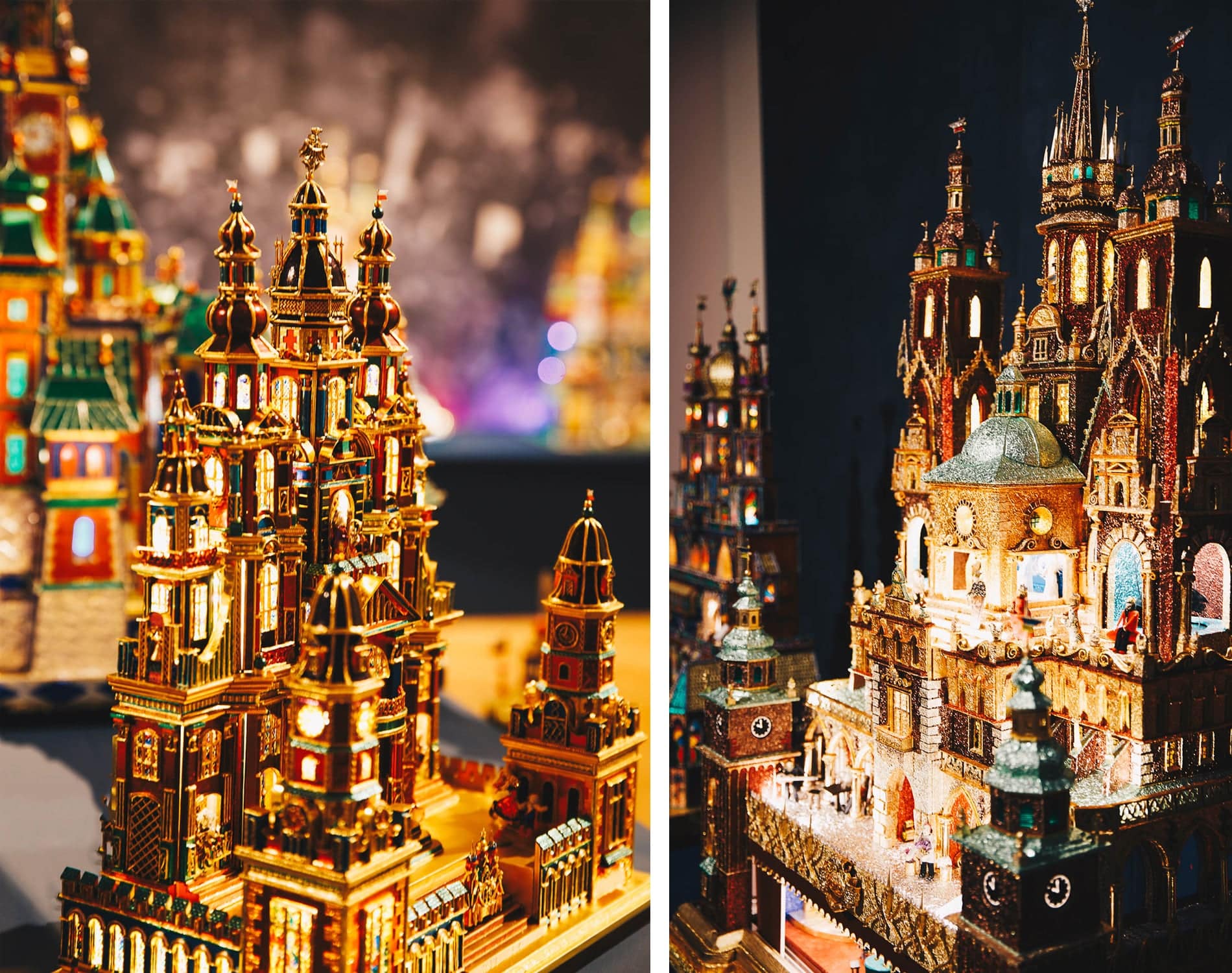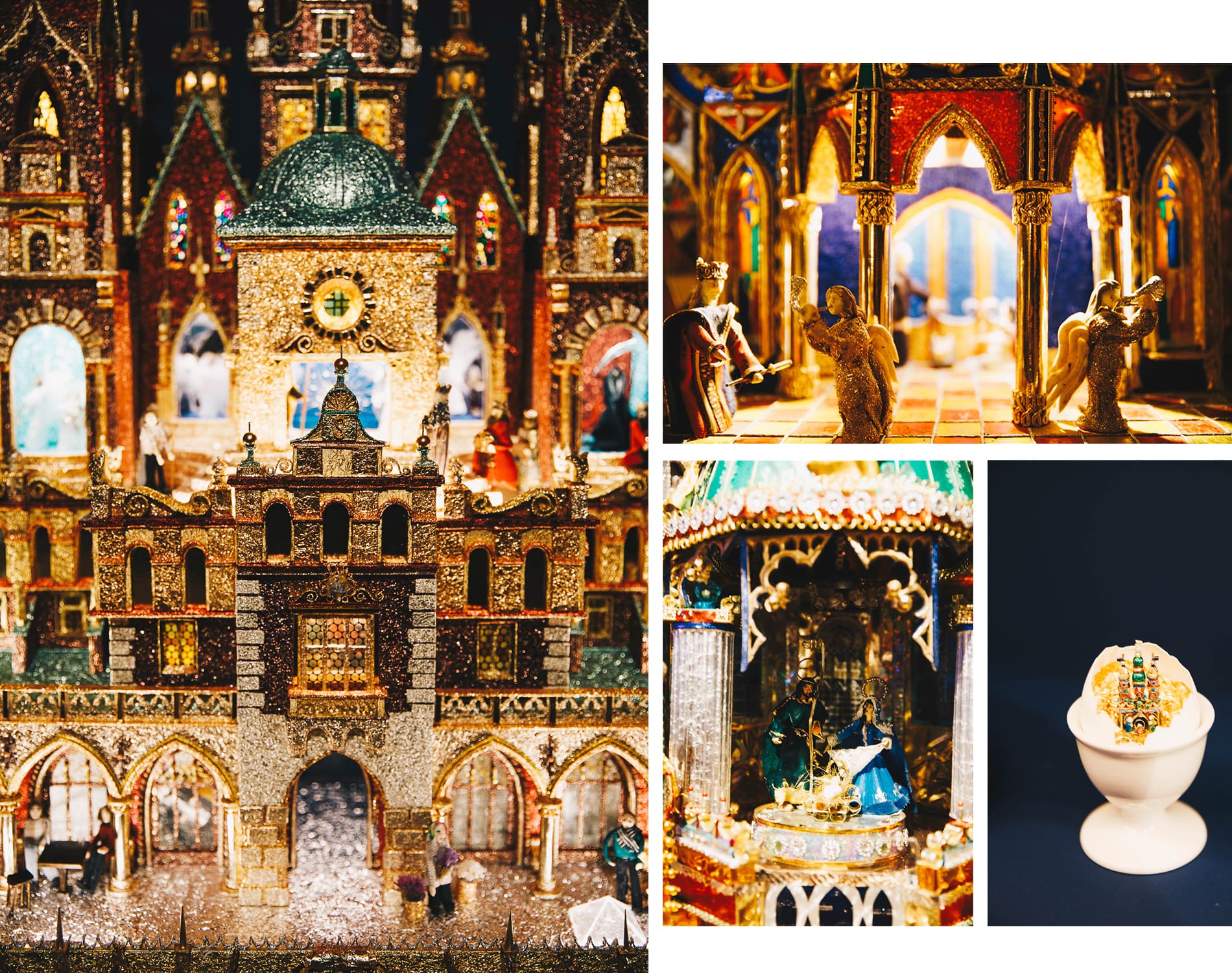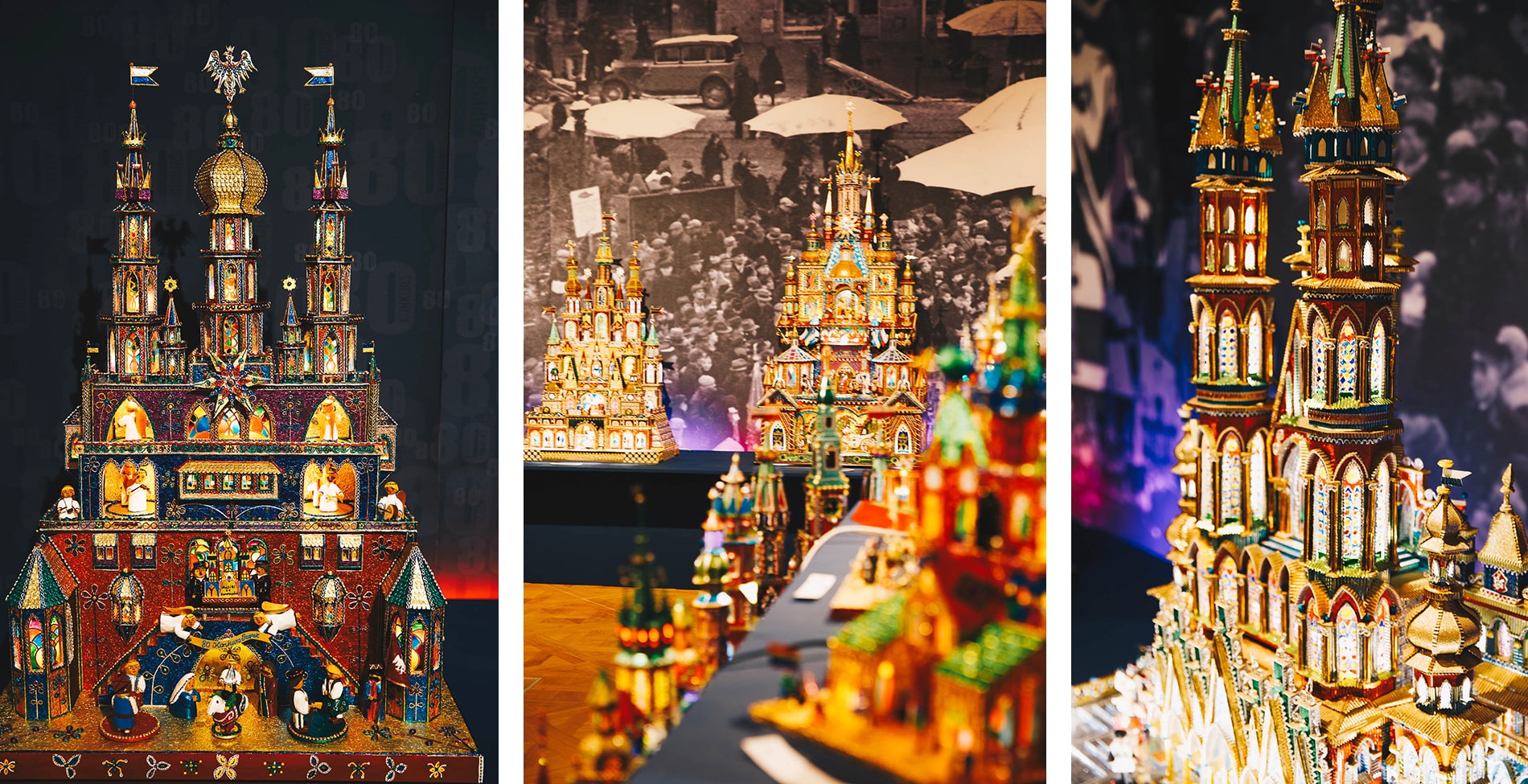 Now back to the Krakow Christmas Market. A market on a human scale, with mainly locally produced products and lots of specialty food stalls. Among the most interesting products, we spotted the ceramic Christmas decorations from Bolesławiec with pretty Christmas baubles, Christmas tree candleholders to decorate your end-of-year tables and lots of other beautiful kitchen objects. You'll also find decorations of all kinds (more or less happy), as well as wooden toys and kitchen utensils, winter clothing stalls and handmade candles.

Rynek Glówny square is beautiful by day and by night, and we were able to admire it in the fog, in the evening and in bright sunshine! This is also where the huge Christmas tree stands, so take time to stroll under the arcades, in the adjacent streets and around the square to soak up the local atmosphere. As soon as night falls and the stall lights come on, the magic of Christmas is finally here for all to enjoy.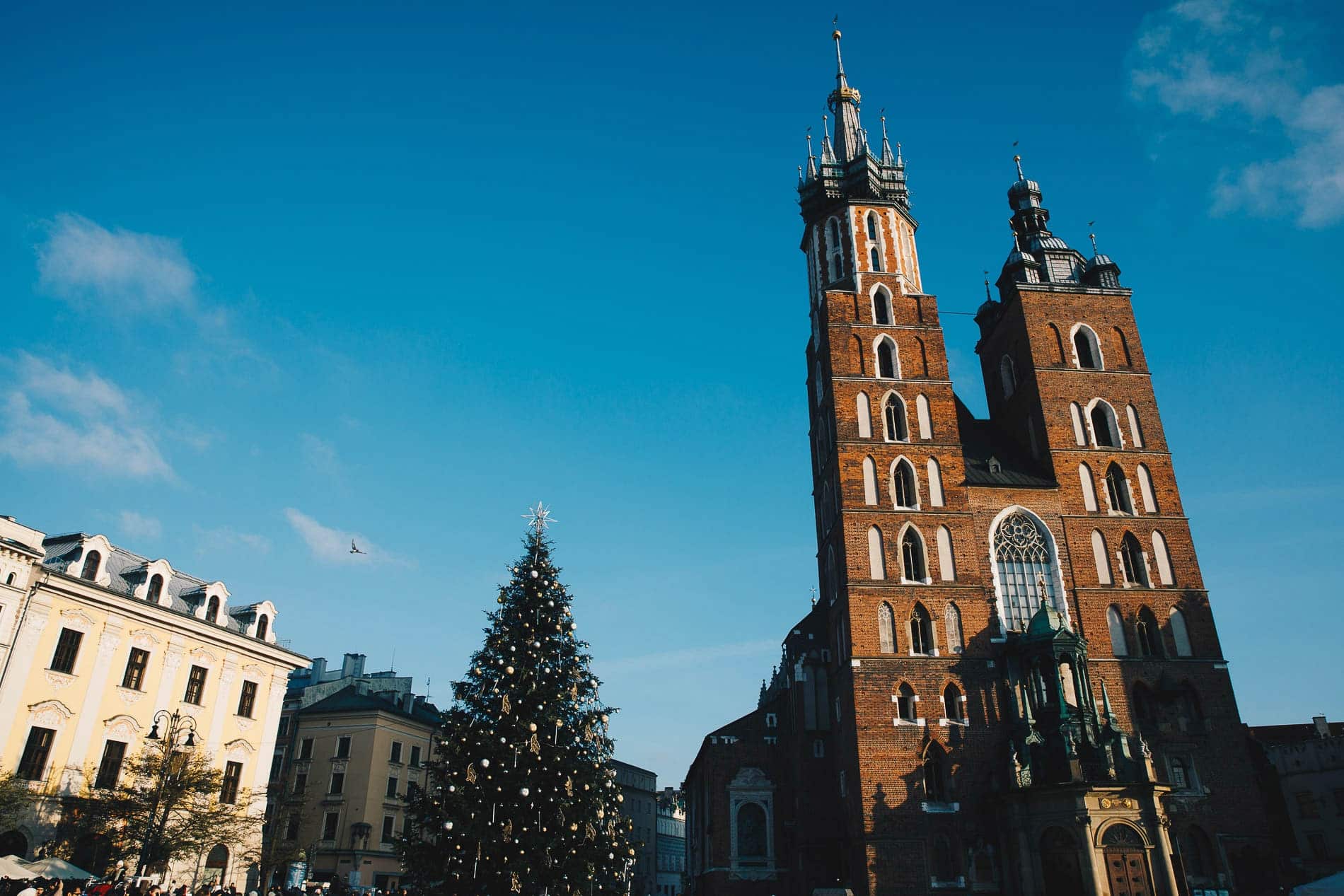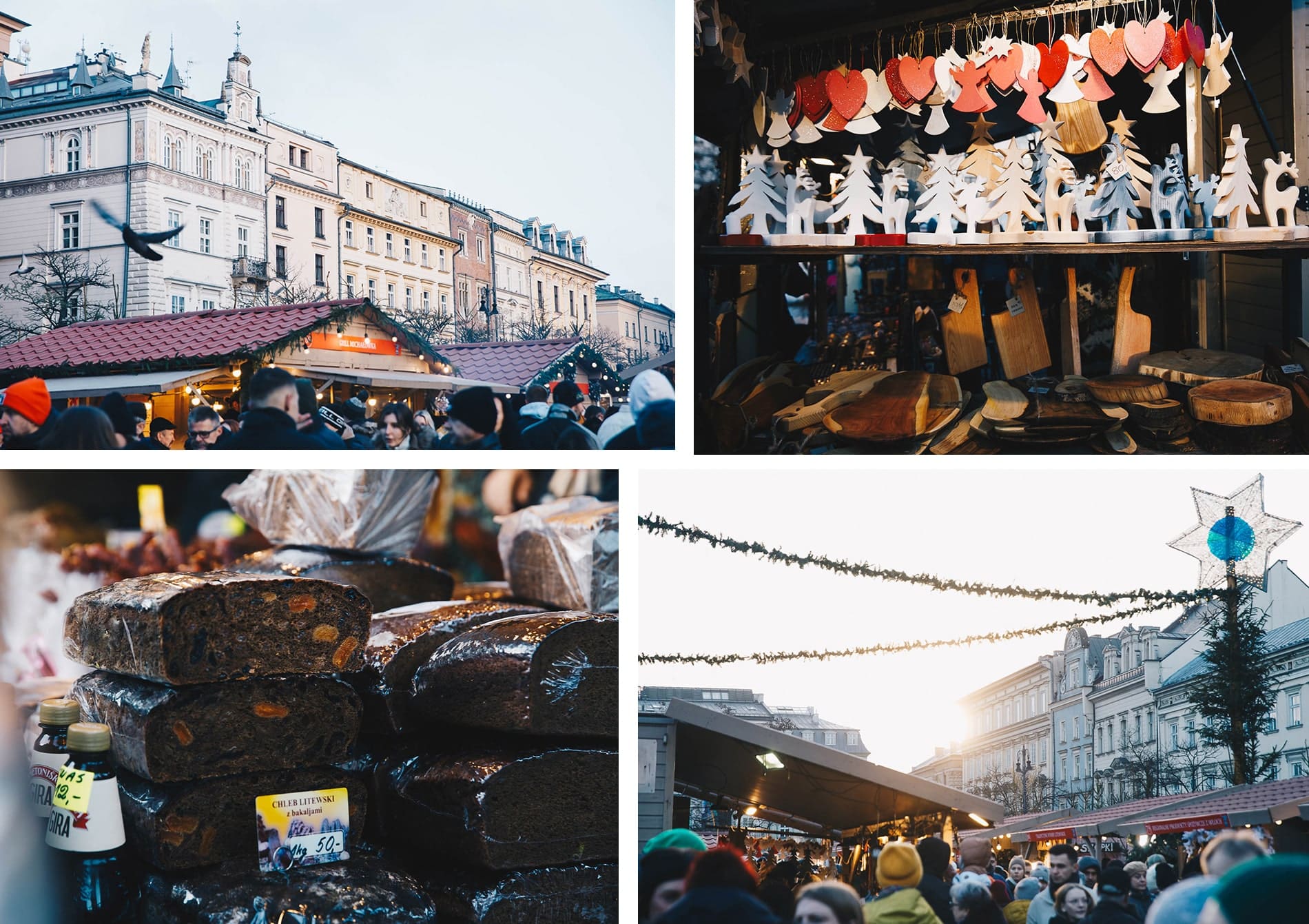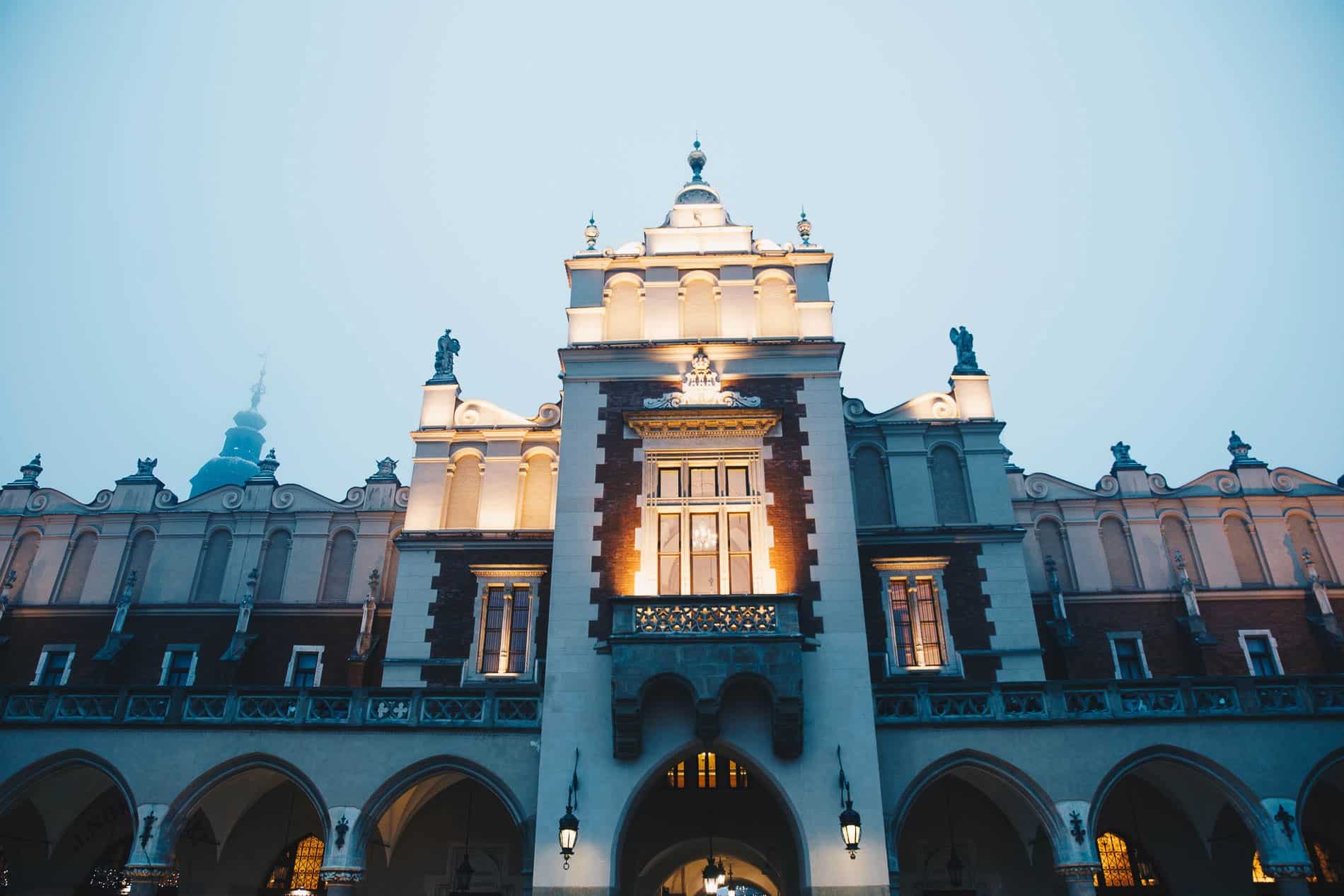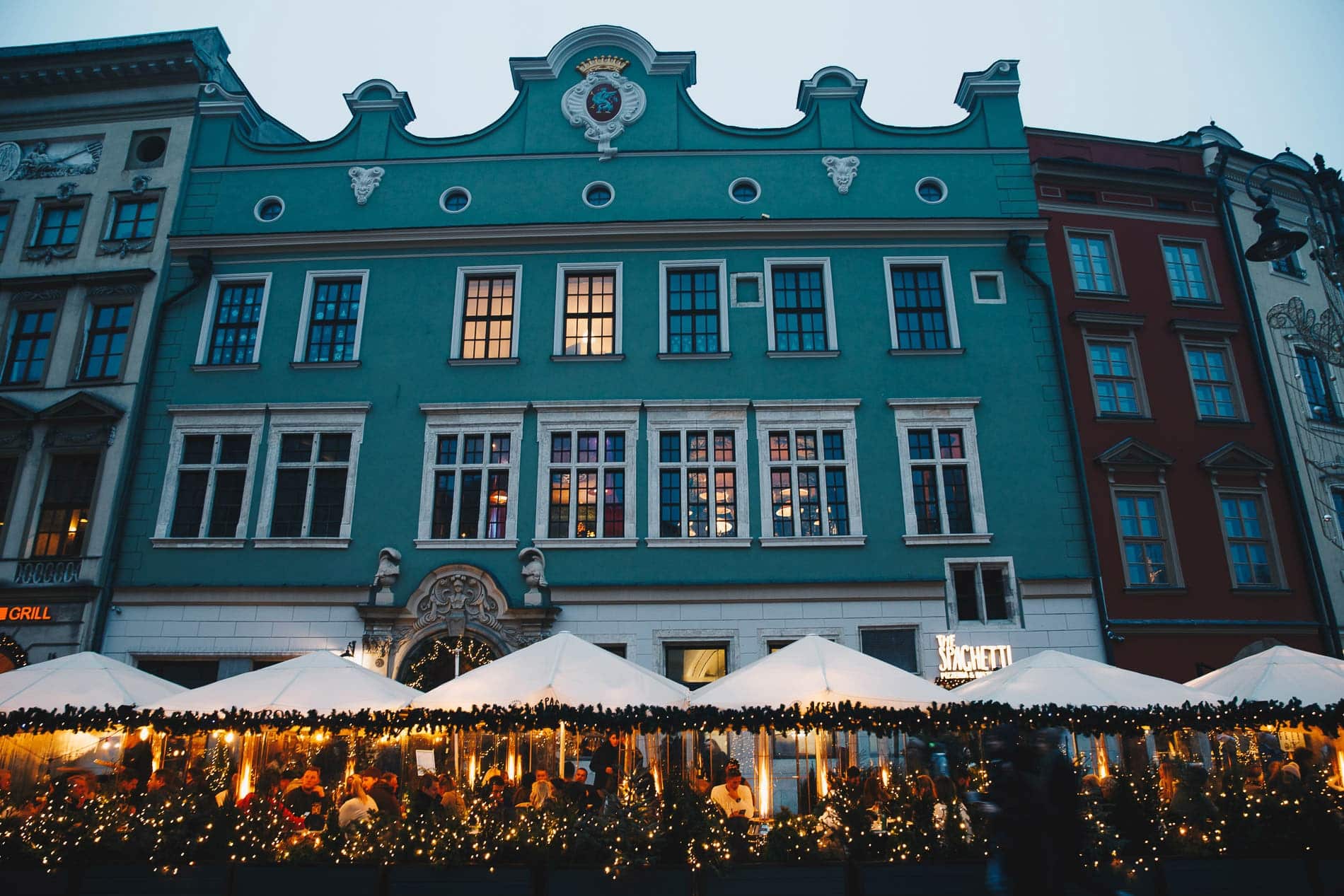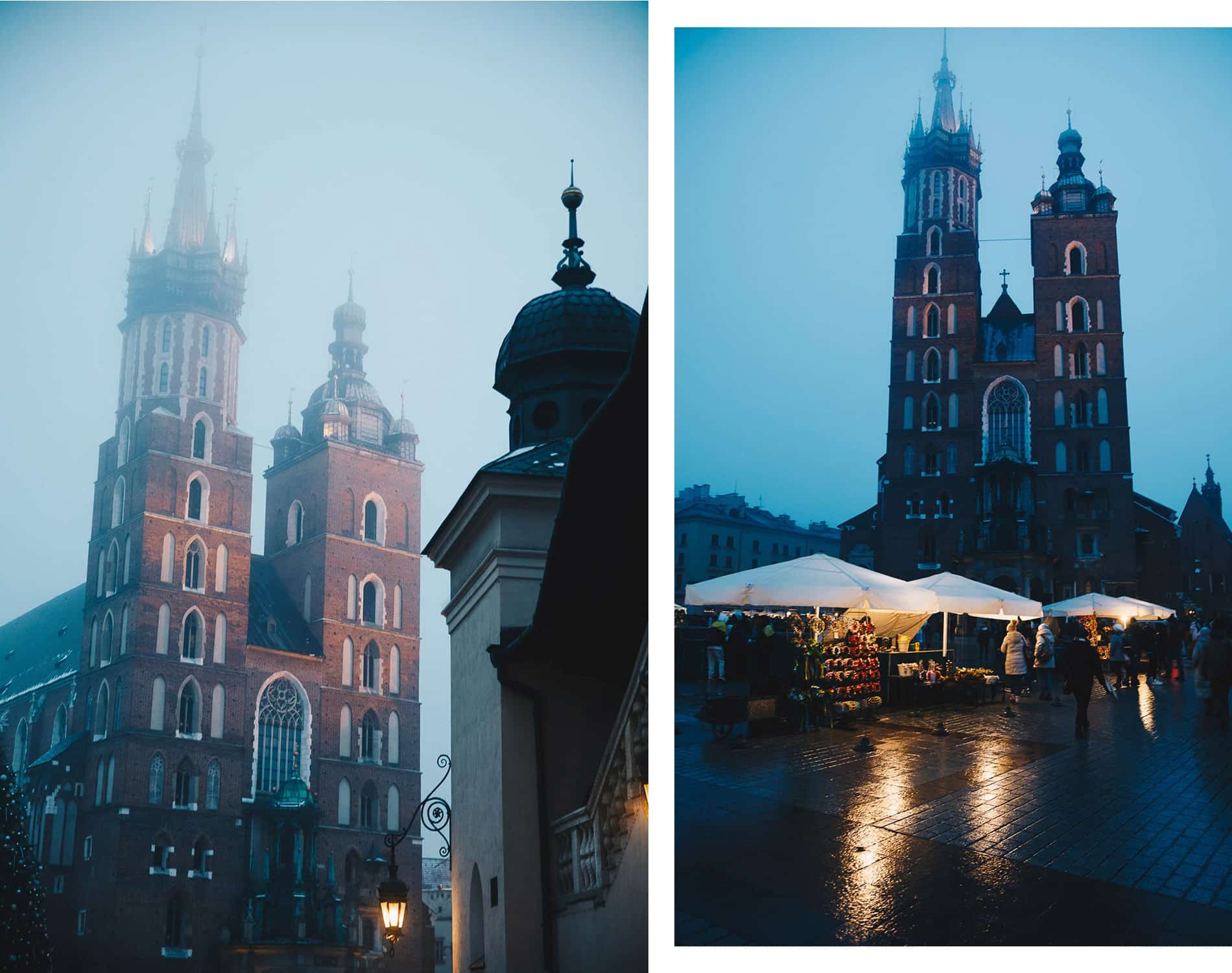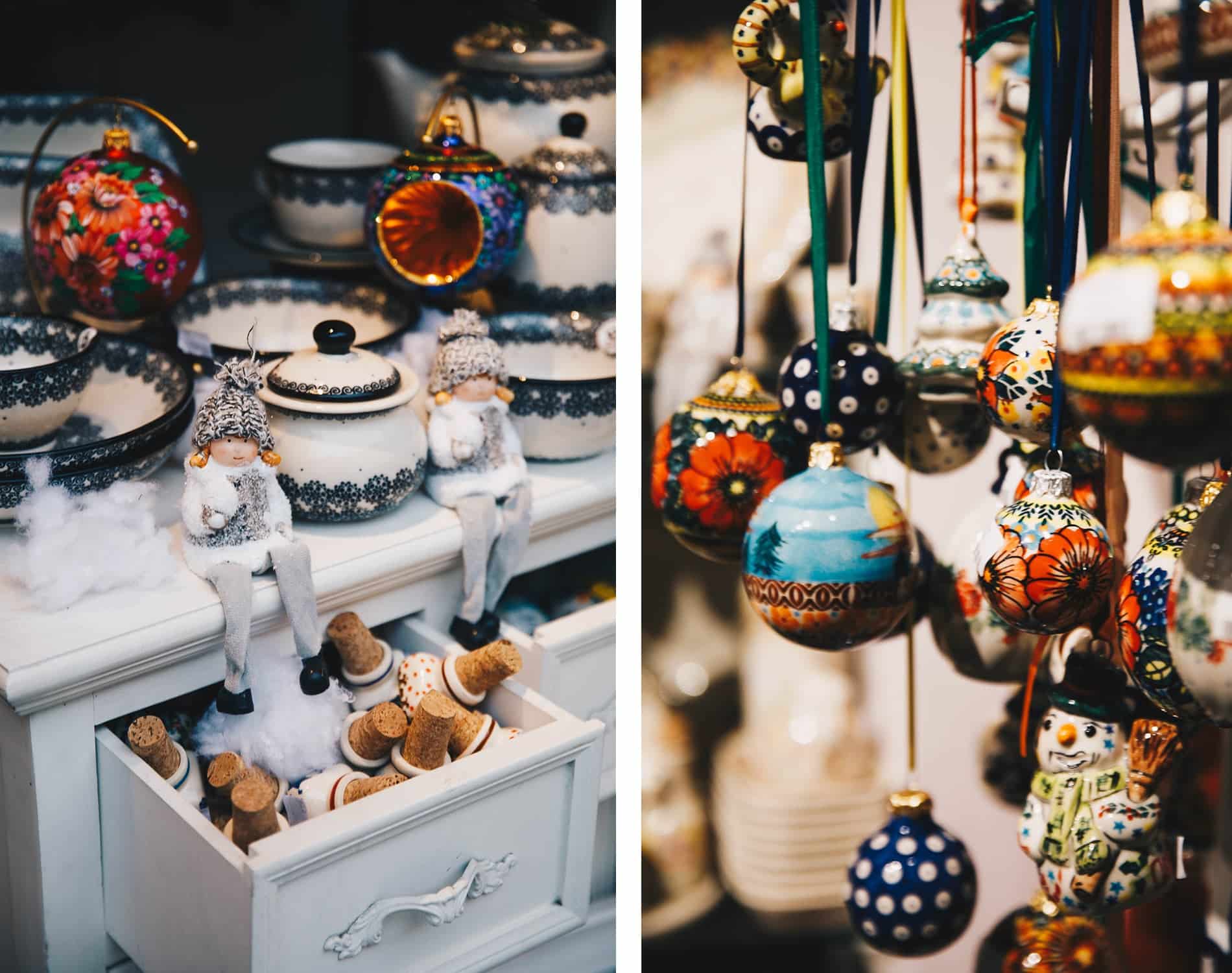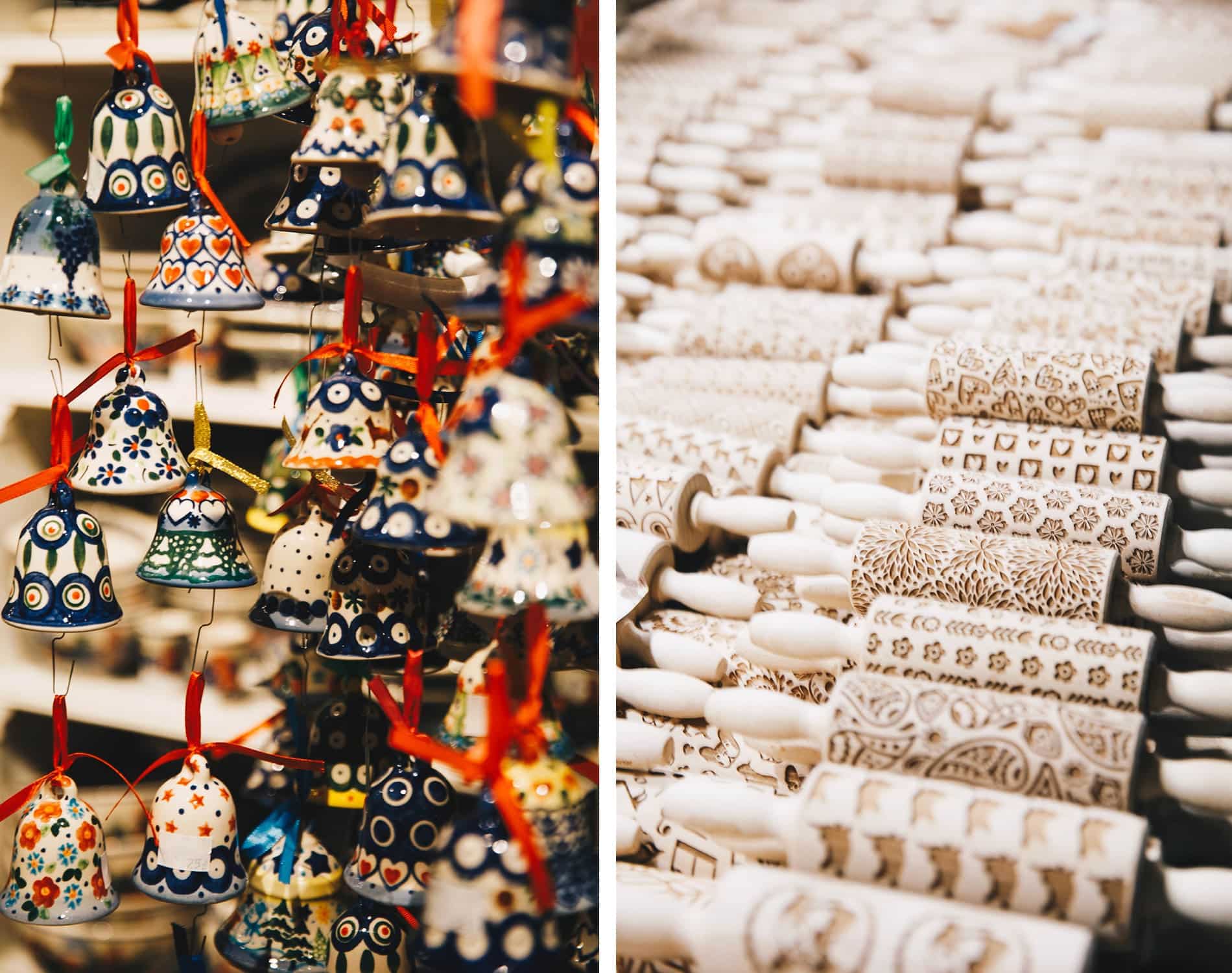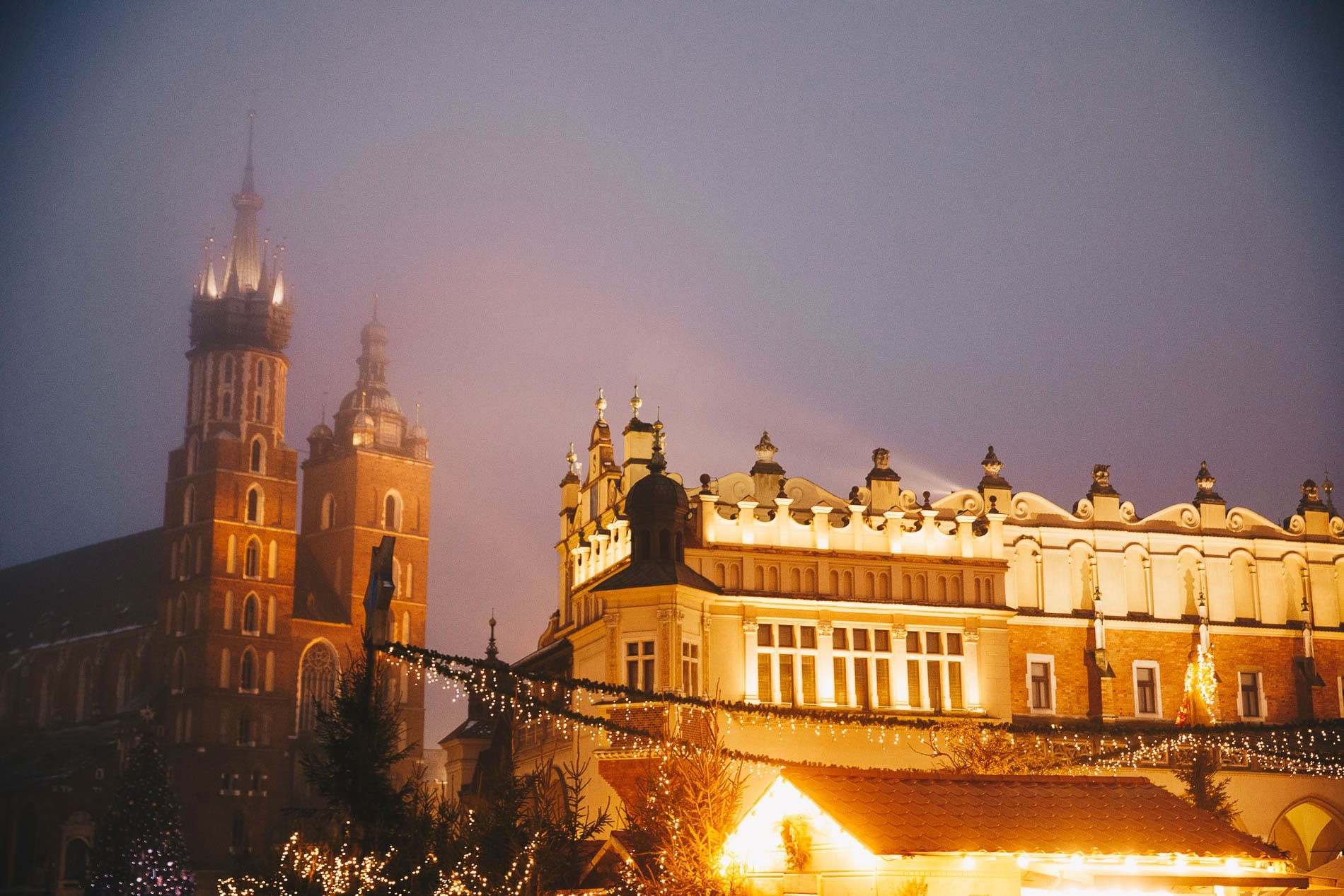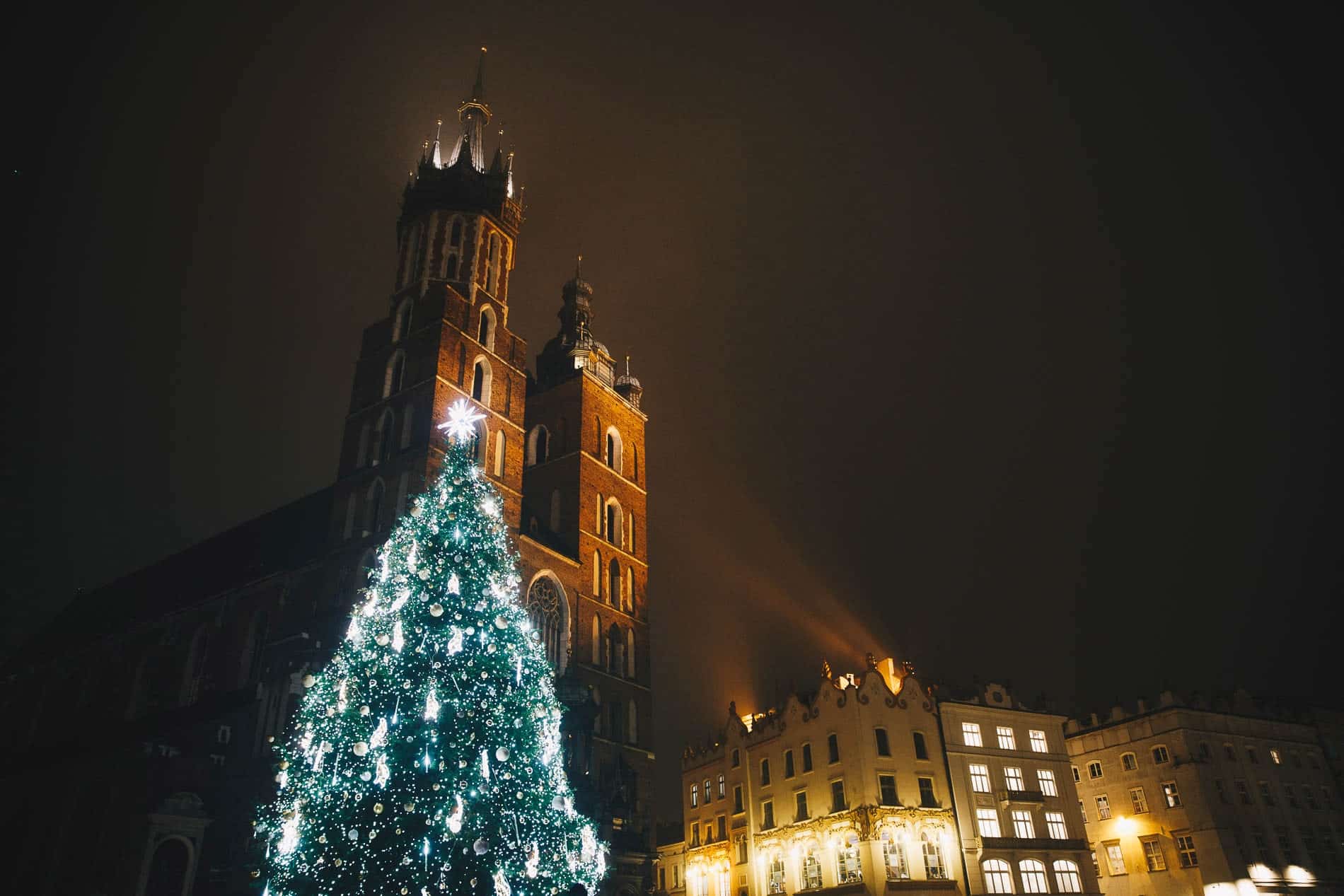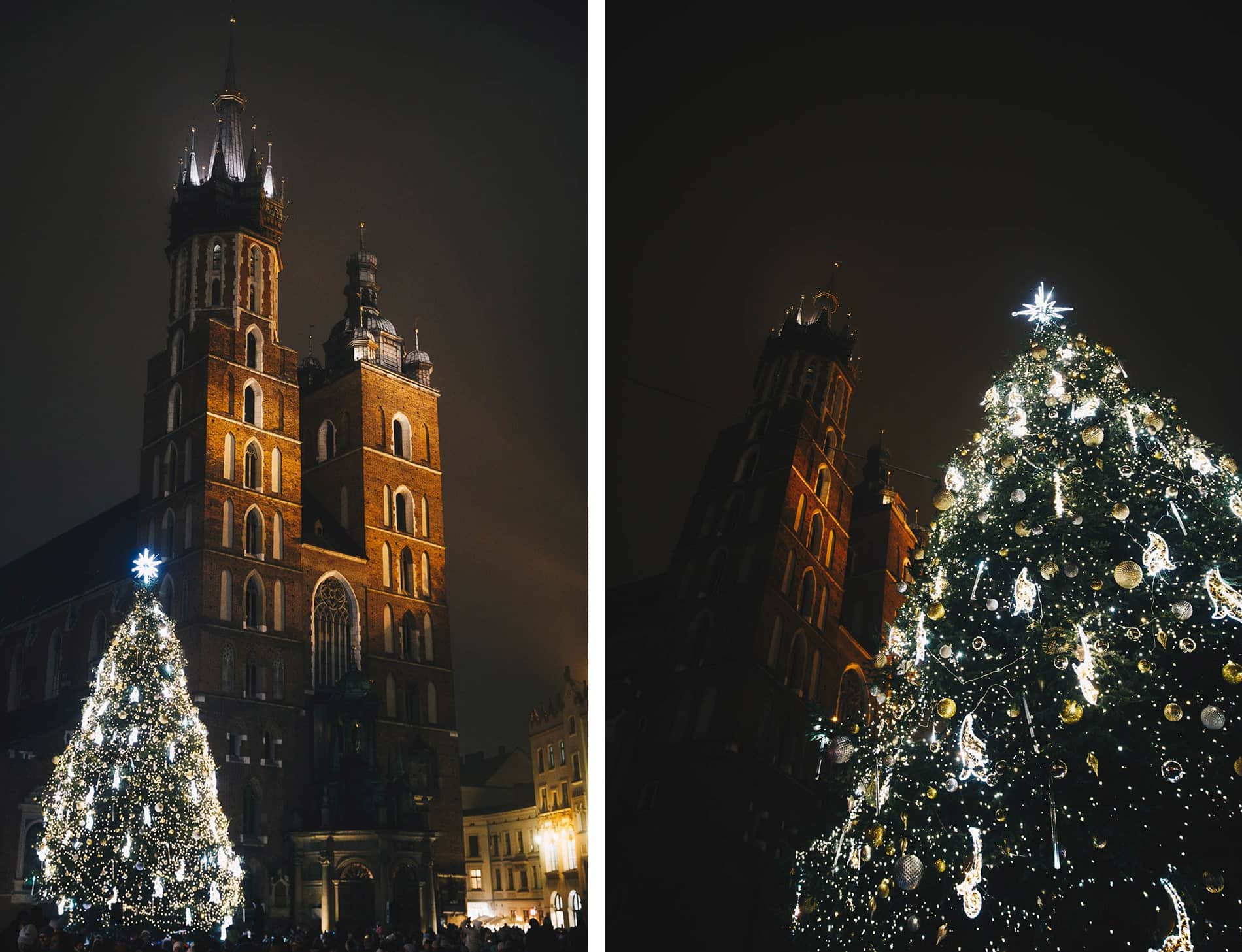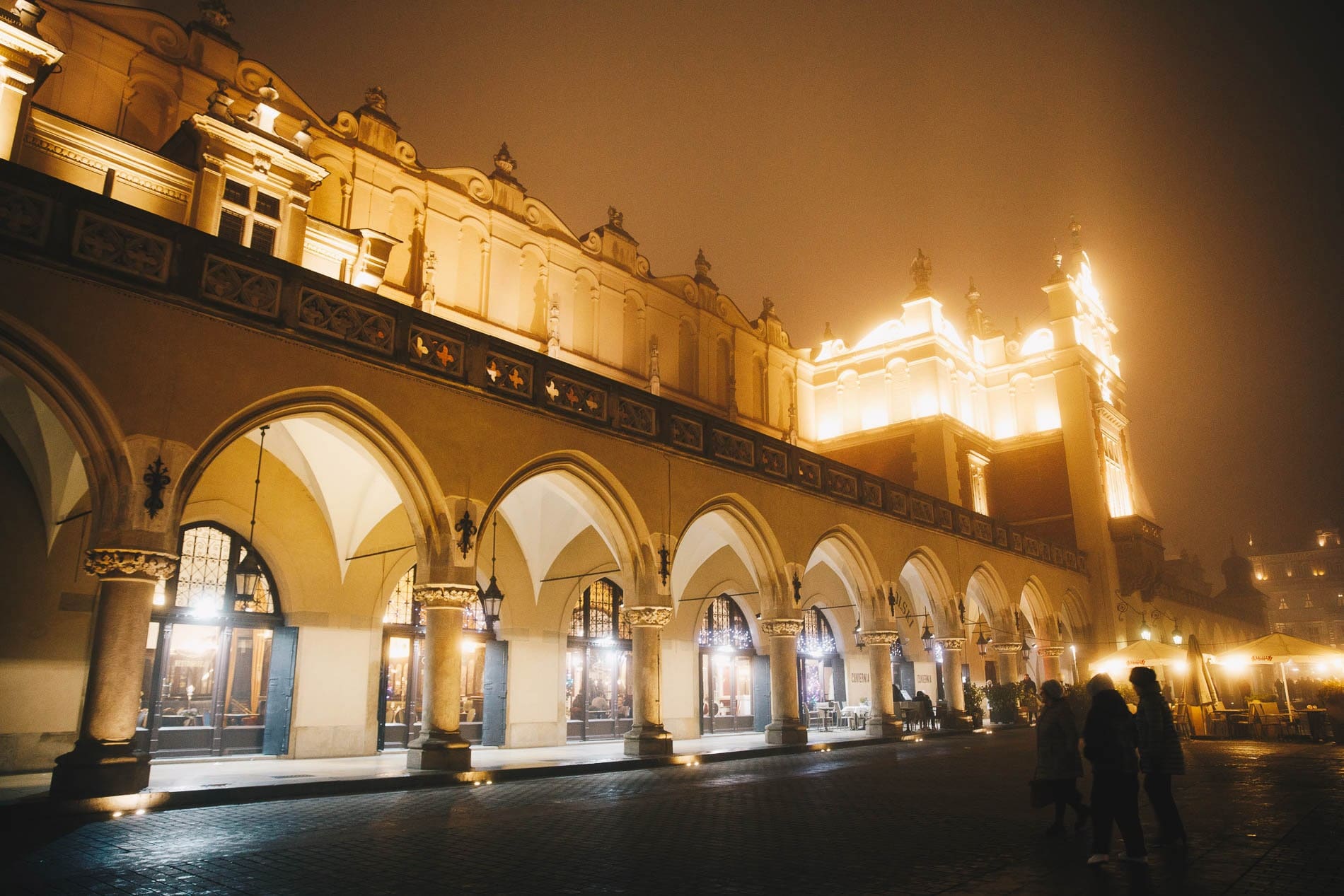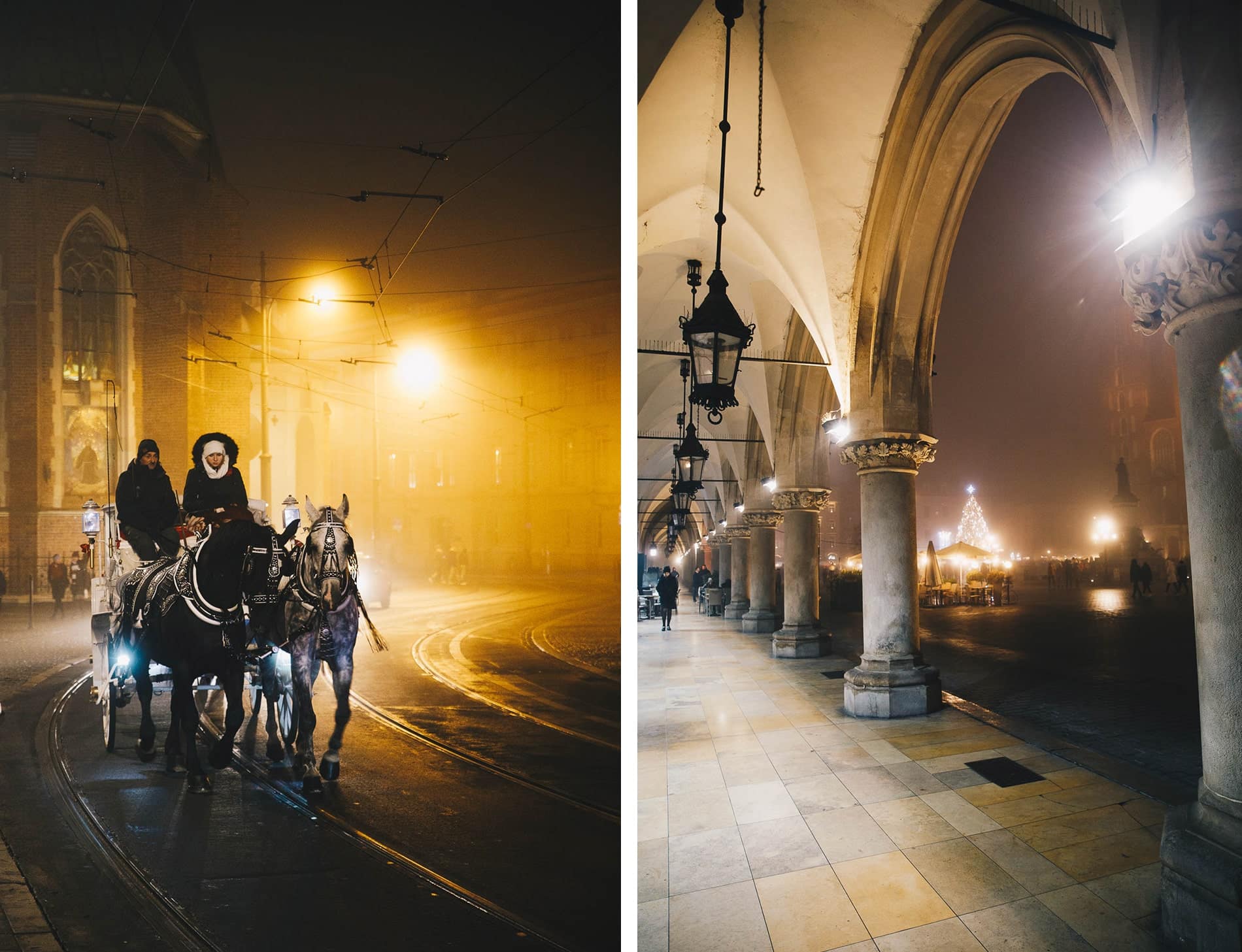 In terms of culinary delights, you'll find a wide choice of savoury specialities: small pieces of goat's cheese, smoked and grilled over a wood fire, topped with cherry jam or surrounded by a piece of baconA wide variety of soups, affordable and hearty as Eastern Europeans know how to make them. Meat or mushroom croquettes, dumplings (steamed filled ravioli), bread with onion confit and meat, fried potato pancakes or huge sausages and other hot cochonnailles (knuckles, blood sausages, sausages…).
Sweet side, fresh fruit with chocolate, waffles, local pastries and our guilty pleasure, "Kurtoszkolacz "a chimney cake made with cinnamon-flavored dough, spread on a conical spit and baked kebab-style. We discovered them in Prague, but this specialty from Hungary is offered in Krakow in a more gourmet way, with a choice of peanuts, almonds, vanilla sugar, coconut or other flavors. Antoine and I love them (and even little Gabriel)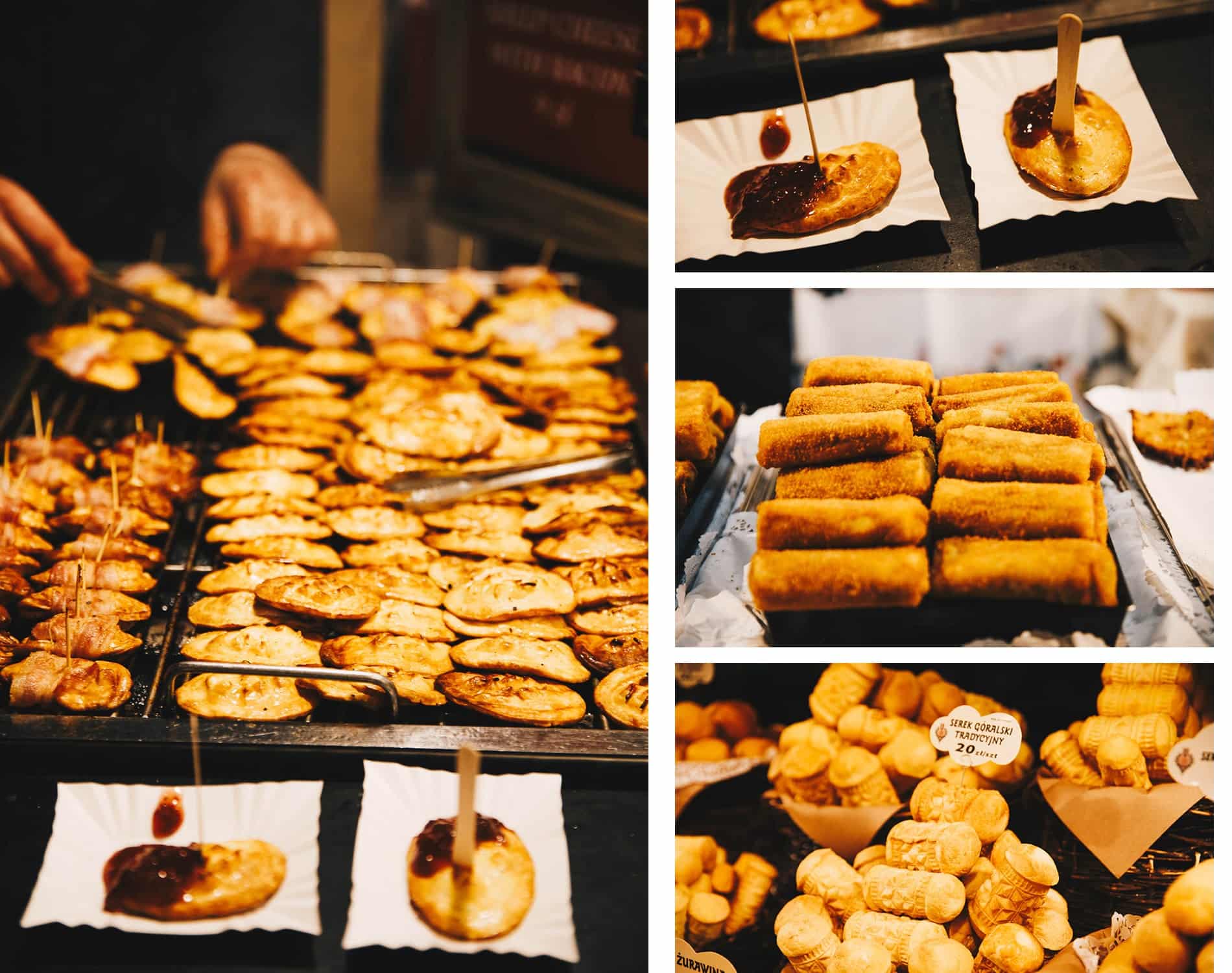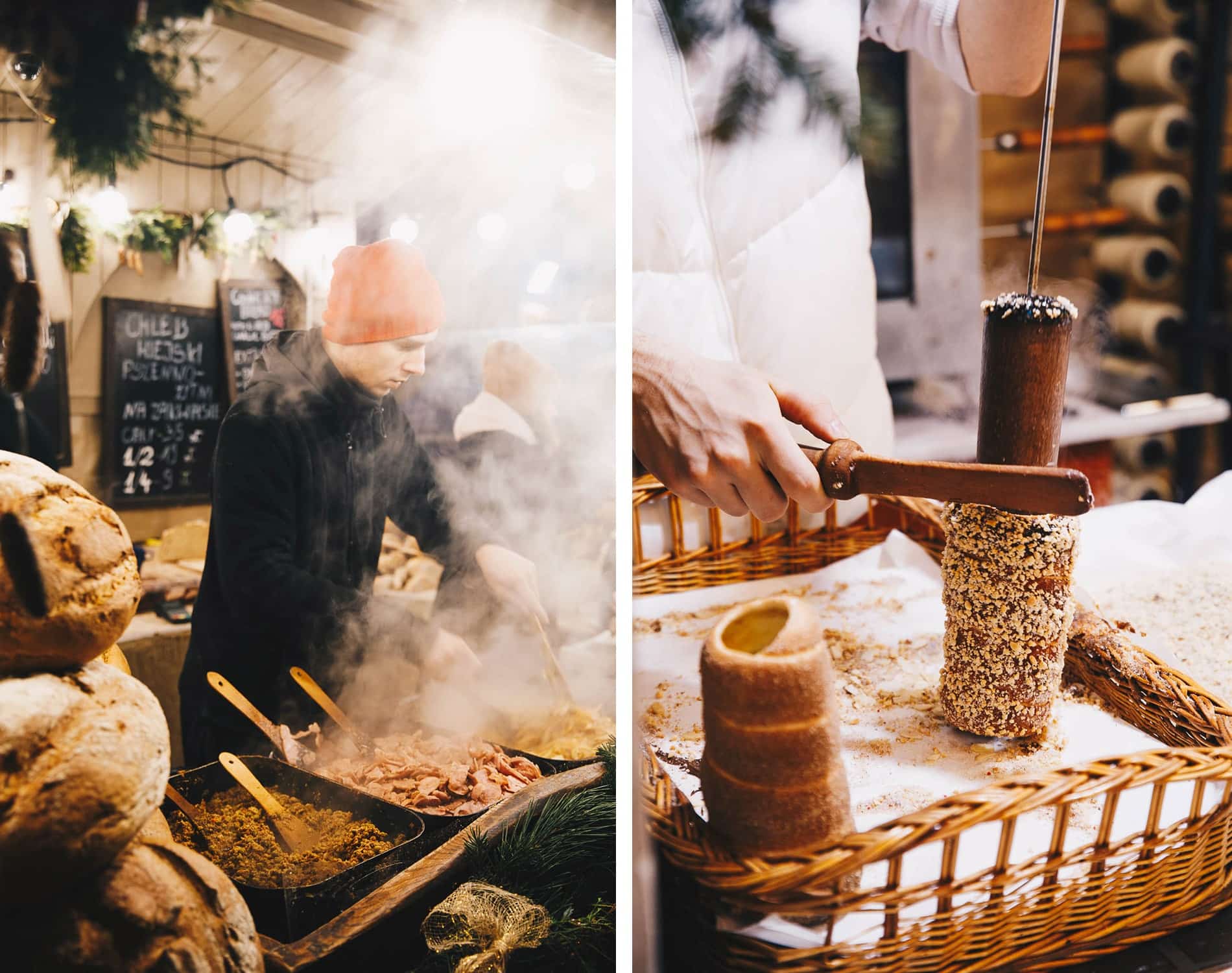 On the drinks front, in addition to Krakow's traditional mulled wines, you can try warm beer flavoured with spices and raspberries.It's not our favorite, though, because it's too sweet for us, but it's worth trying at least once!

If you're looking for a safe bet for taste Polish specialties, I invite you to try the restaurant « Homemade Delicacies ». Just a stone's throw from Rynek Square, you'll be able to sample some great soups, including the traditional beet soup, borscht, so comforting when temperatures approach zero degrees. This café/bistro also serves excellent pierogi. These are dumpling-style ravioli filled with meat, mushrooms or cabbage. A specialty we thought had come straight from Asia, but which has also been making its mark in this corner of Europe for many years now. This address, recommended by our local guide, was a good way to discover Polish cuisine and didn't disappoint. A tester absolument.
Another way to discover Polish cuisine is to take a food tour of Krakow! I suggest this excursion, which allows you to sample many Polish specialties. You'll also have the opportunity to taste the country's national alcoholic beverage : the vodka.
➡️ Check availability and book a tour to discover Polish gastronomy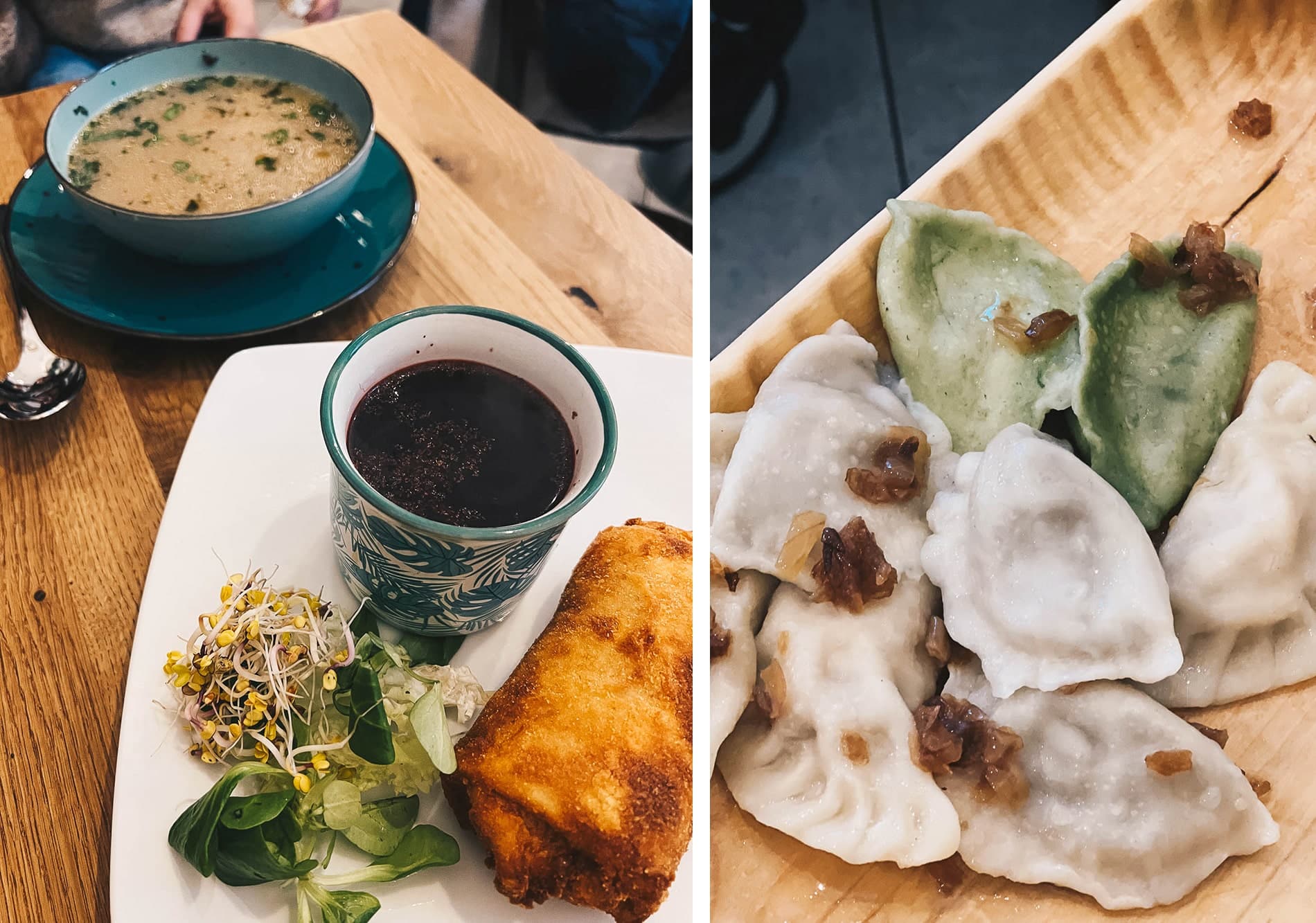 | THE MARKET ON STARE PODGÓRZE SQUARE

A second Christmas market is located on the square Stare Podgórze south of the Wisla and the Jewish quarter of Kazimierz. To get to Podgórze, you'll have to cross a footbridge for pedestrians and cyclists, adorned with strange hanging sculptures. Here, below the beautiful St. Joseph's Church, is a much more family-friendly market, less frequented by visitors.

A more intimate market with a superb carousel from the turn of the last century and lots of small stalls selling local crafts. We found some lovely little macramé decorations for our tree, which will be a merry mix of all our purchases from the various Christmas markets we visited in Europe. It's also an opportunity to chat with the locals. So don't hesitate to drop in, bearing in mind that it's only held at weekends, and that it can also be open to the publiceasily coupled with a visit to the Kazimierz district.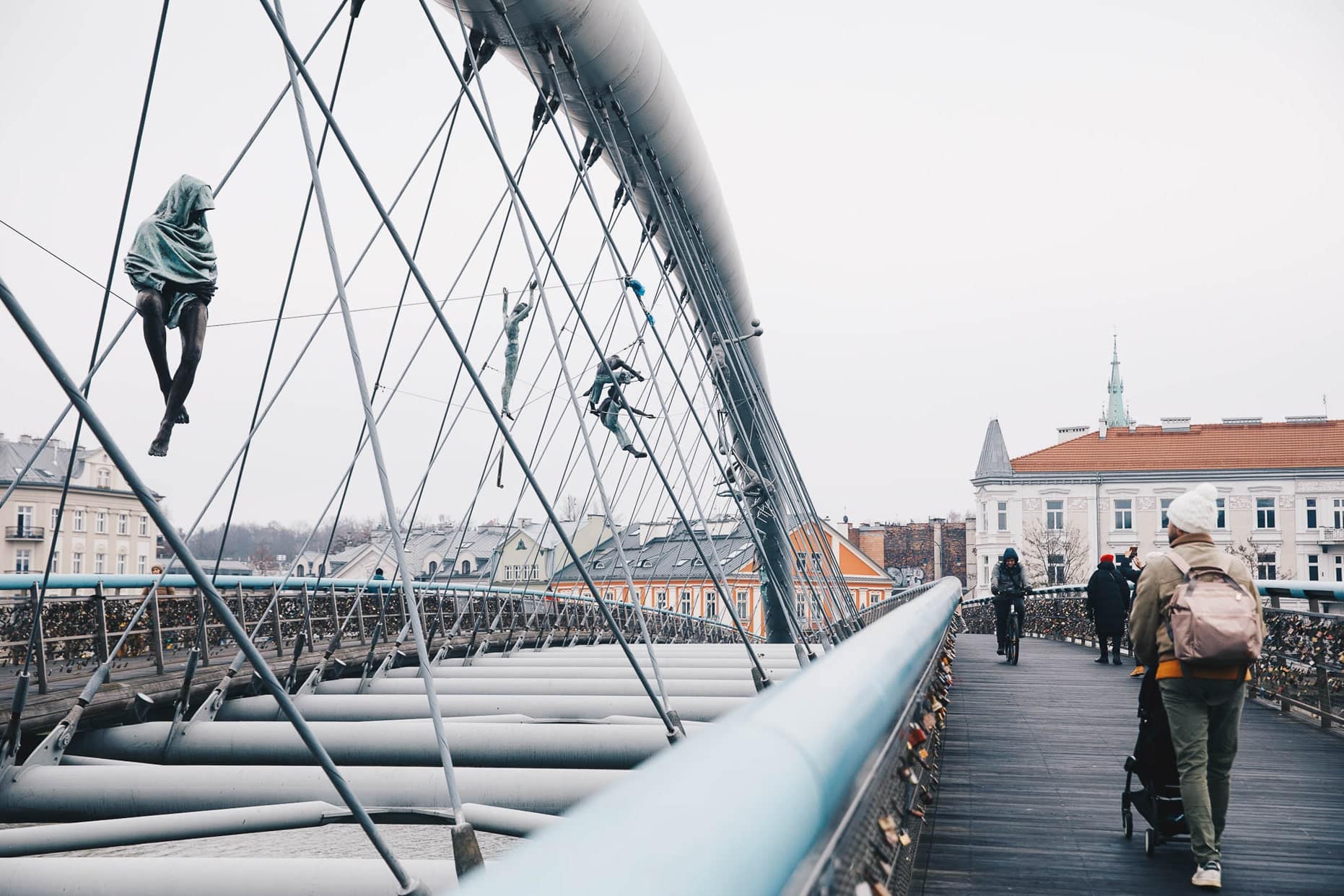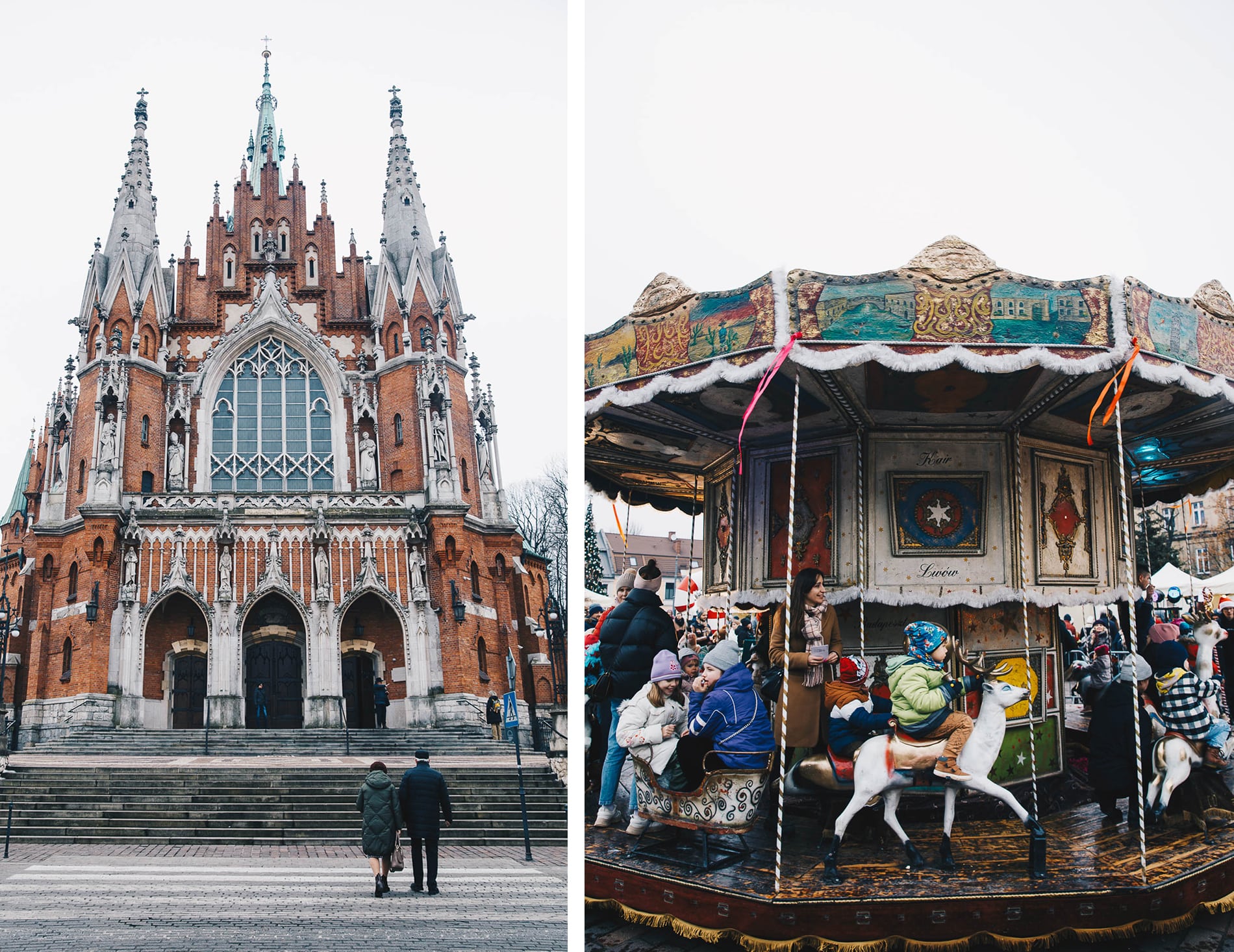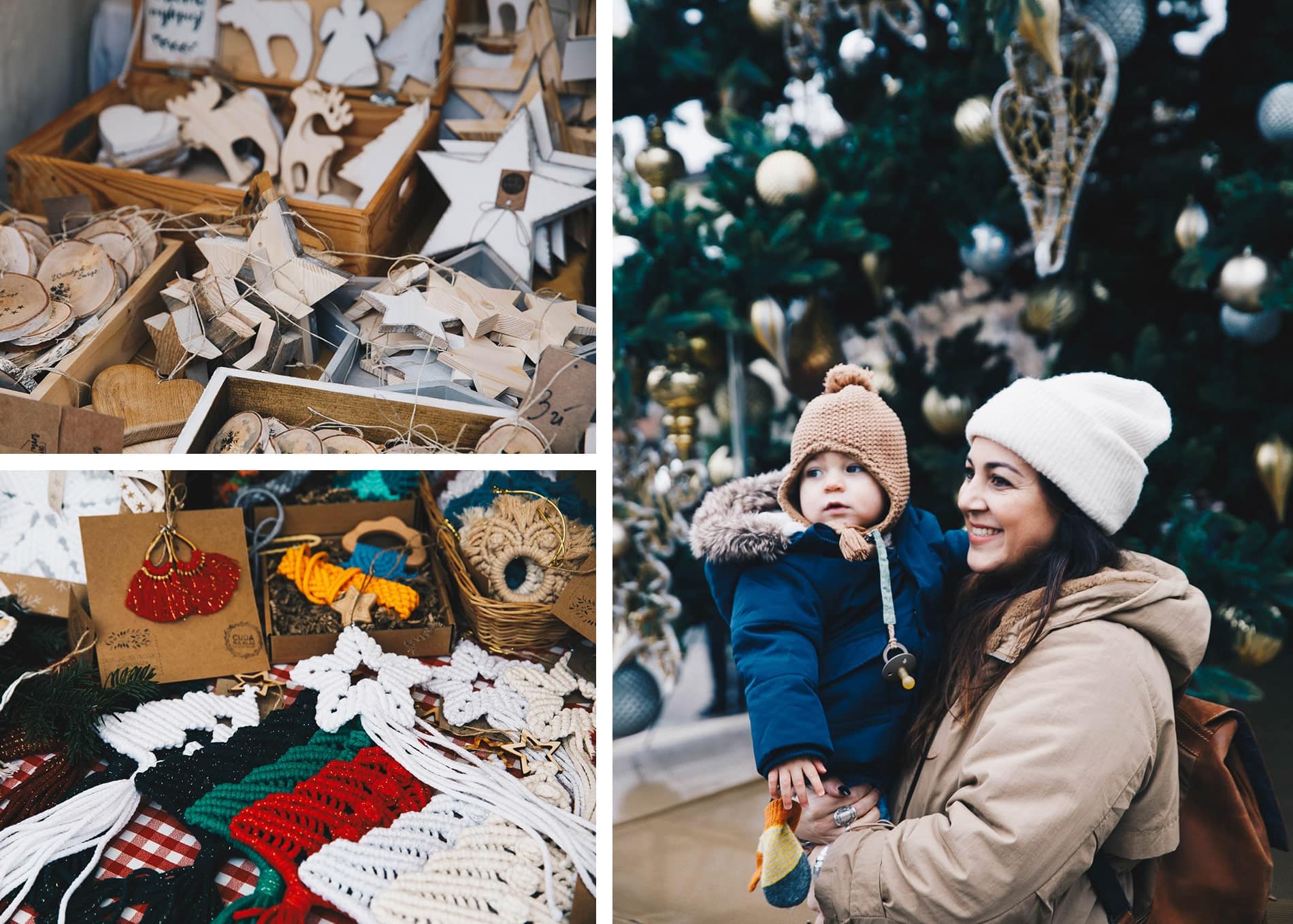 | KAZIMIERZ – THE OLD JEWISH QUARTER

Christmas markets are a great reason to come and discover a city, but they're obviously not the only point of interest. And Krakow, a small town on a human scale, has many interesting points of interest. Starting with the Jewish quarter of Kazimierz, the city's strongest district in several respects.
History first of all, as this district was strongly marked by the Second World War and the Holocaust. Kazimierz was home to 65,000 Jews, or 25% of Krakow's population. Nazi Germany expelled a large part of this population at the start of the war, before locking the rest up in a ghetto to make them work and then exterminating them between 1942 and 1943. Very few of the Jews who fled or escaped this barbarism returned after the Second World War, and only a small community still exists today.
All that remains of this era are a few memorial sites and several synagogues. One of them has become a museum of Jewish culture. It's right in the heart of the district, on Place Szeroka. A small museum in a typical, historic building that lets you project yourself into the lives of Jewish families in the pre-war period. On display are portraits of people who have lived here, of Jewish families, as well as a multitude of objects and documents representative of Jewish religion and culture. The museum is not very large and requires very little time to visit, but we highly recommend it. Admission costs 20 zloty/p, or just over €4, and we had to spend a good half-hour there.
It's also in this district that old shopfronts have been used for the film the Steven Speelberg, « Schindler's list »

The other side of Kazimierz is that it has reinvented itself to become a trendy district. It was first taken over by students and the working poor, but also by artists who helped it evolve. Trendy restaurants are now emerging in the areaYou'll find a wide range of shops, cafés for long hours, artists' galleries and boutiques, markets on Place Nowy, as well as bars and nightclubs. The Kazimierz district is particularly sought-after by all antique and vintage lovers. Here are just a few of the places you can go to enjoy this district, which is not a place to visit, but a place to experience.
I invite you to book a free tour of the Kazimierz district to learn more about historical facts and anecdotes.
➡️ Check here for availability of this guided tour and book in advance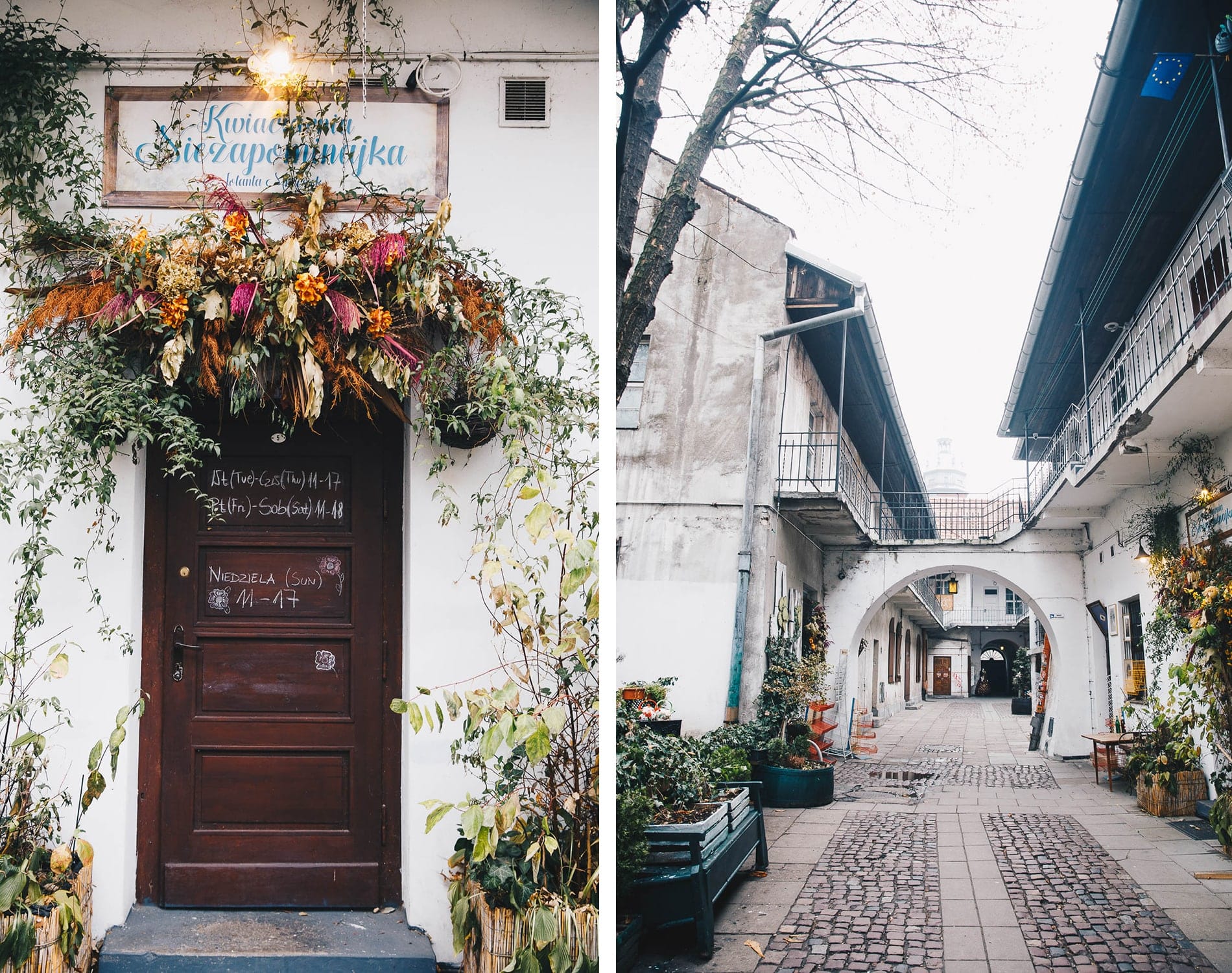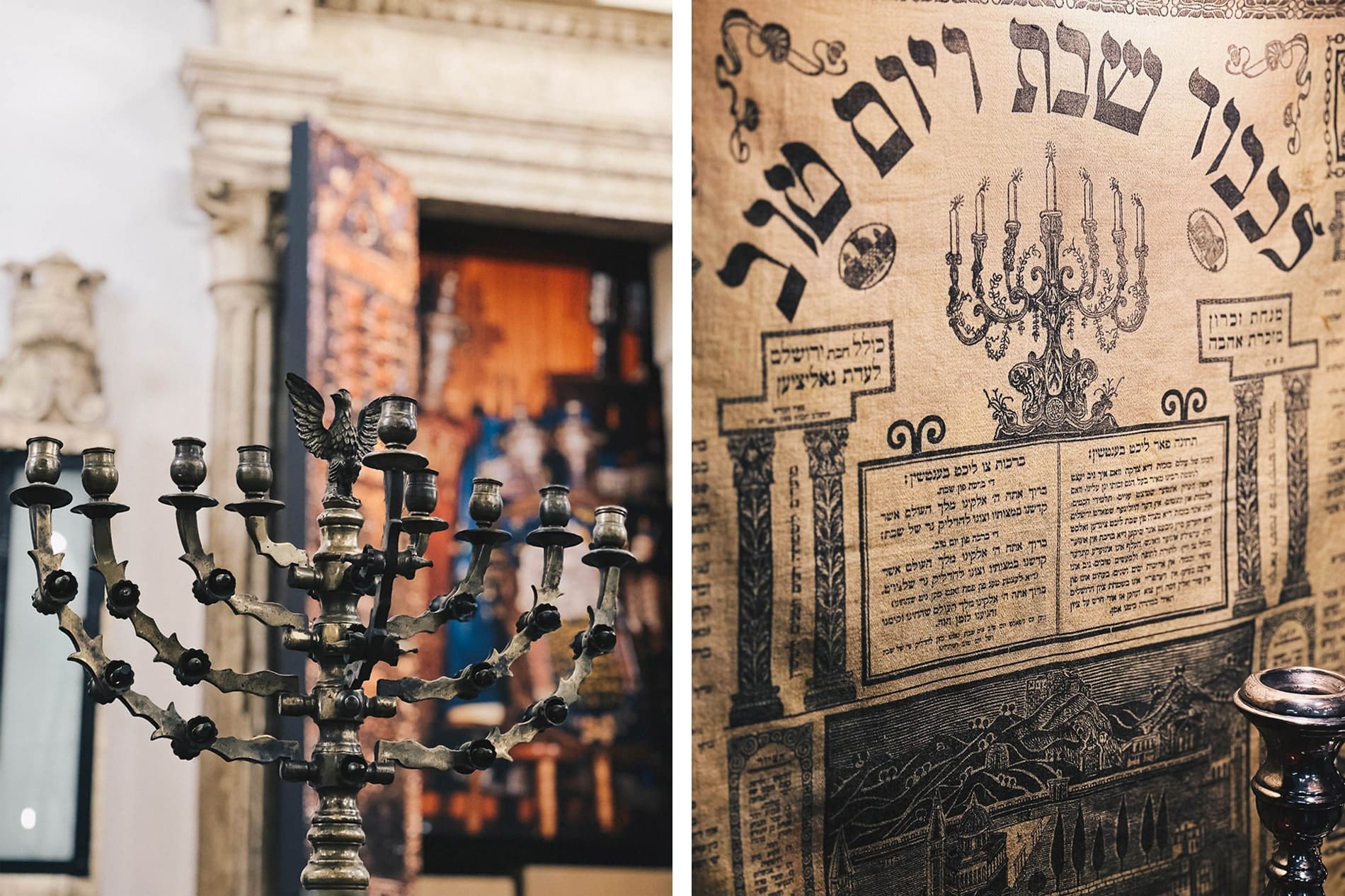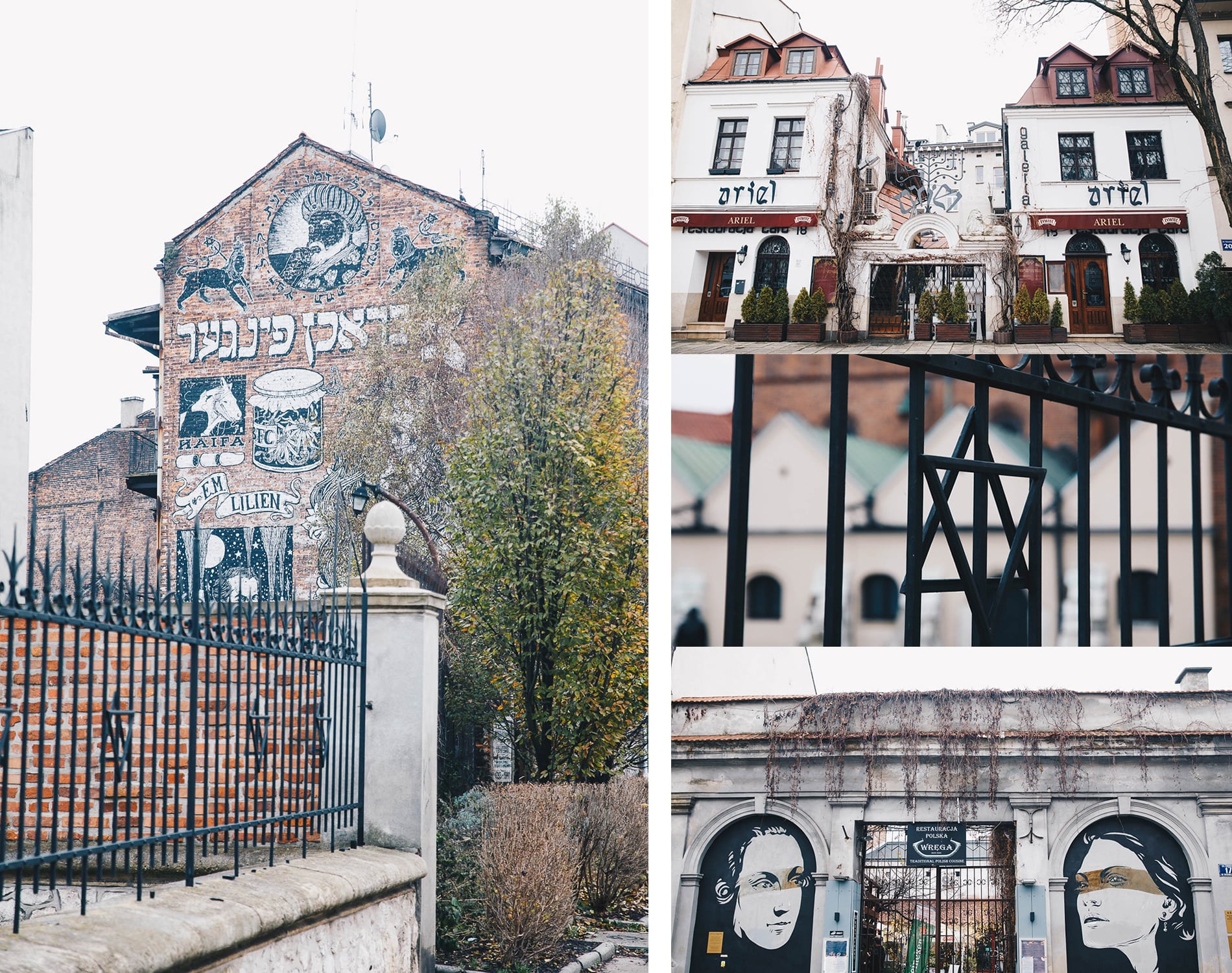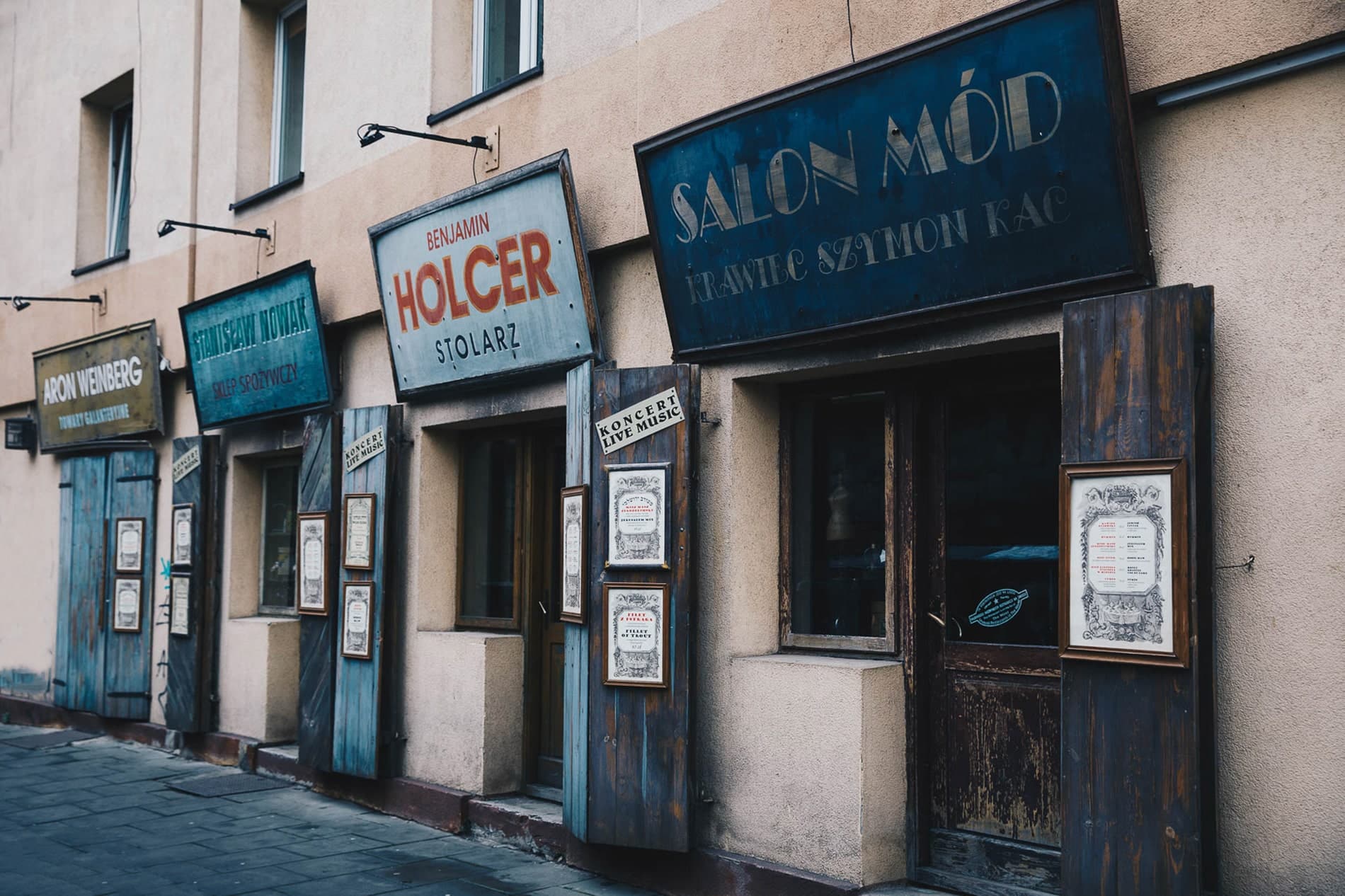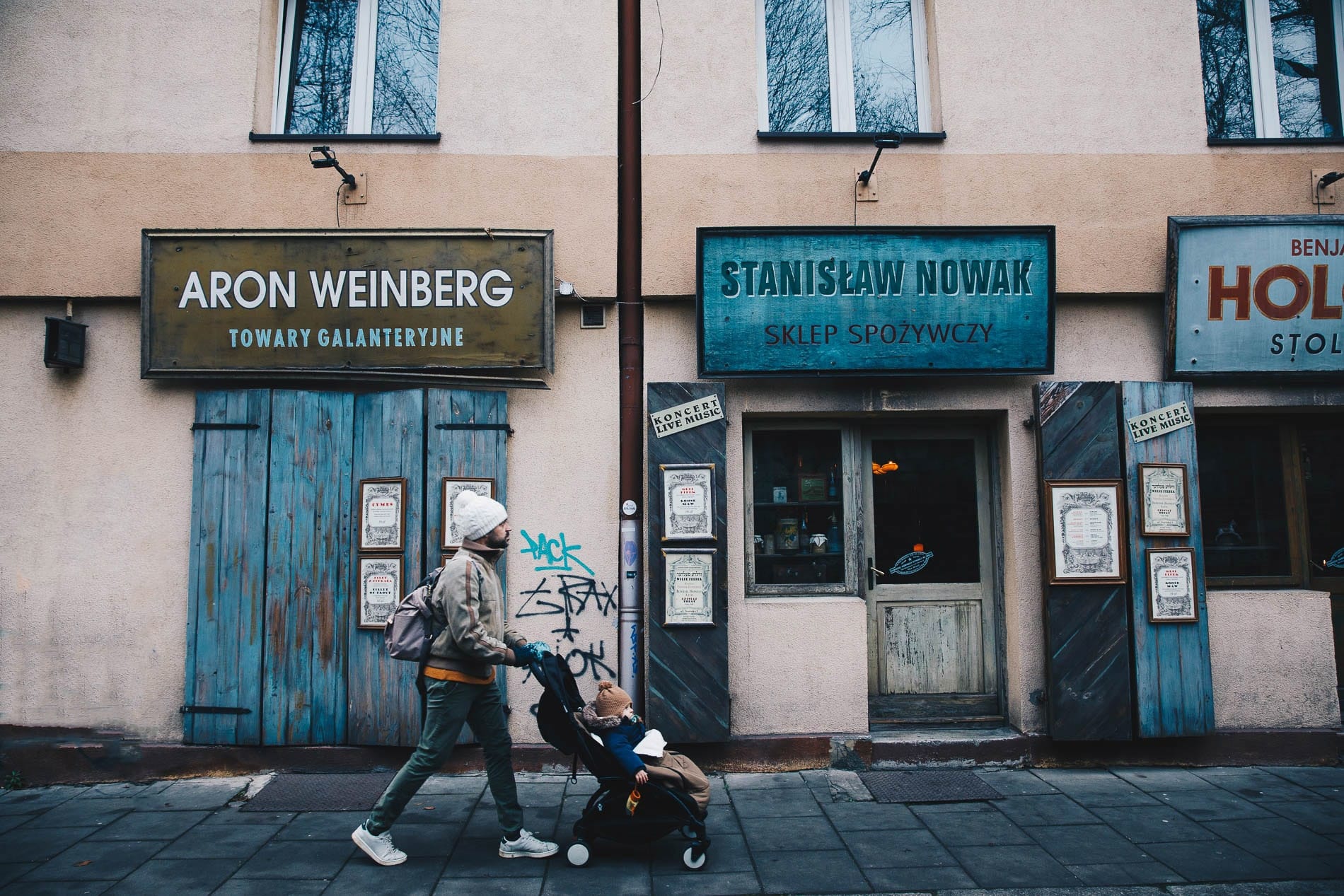 Where to have a drink in Kazimierz
Strolling through the neighborhood, we spotted an Underground-style beer bar, the Domówka cafe, offering a fine menu of beers, many of them local, such as this pine-flavored forest beer. It is located on rue Miodowa. A place frequented mainly by people in their twenties and thirties who come to unwind with a drink and a game of cards.
Where to eat in Kazimierz
At Place Nowy, you can sample the city's street-food atmosphere. Several stalls grouped together in what used to be the town's Kosher abattoirs offer you the chance to try the local specialty, thea Zapiekanka. A slice of toasted bread that can be topped with a variety of condiments. If the idea of street-food doesn't appeal to you all that much, the square is home to several establishments worth trying out, including the place where we dined.
Where to dine

in Kazimierz
We tried out the trendy restaurant Bazaar Bistrot. A trendy, industrial, modern decor with a long counter, allowing you to eat on it and see what's going on in the kitchen. It's the place to be for Krakow's young professionals, with a fine selection of wines, mostly French, Italian and Spanish, but also Polish, complemented by local beers. On the food side, you'll enjoy a varied menu featuring Polish dishes as well as recipes from Western Europe, like the wines. For an aperitif, try padron peppers (Spanish tapas) or Marennes d'oléron oysters. On the food side, we love the tasty soups, the generous sandwiches and the beautifully presented dishes and salads. It's definitely a trendy place, serving masterful dishes with well-realized recipes that will let you feel the atmosphere of a place to live in this modern, new Krakow.
Where to have a coffee/brunch

in Kazimierz
We recommend a stop at the Cytat Café Miodowa street. A warm, cocooning café with wooden decor, small sofas and book-covered shelves. It's actually a tea room offering traditional English-style brunches and homemade pastries. Once again, a trendy place to feel the life of the inhabitants of this district. Beware, the Poles seem to go to brunch early, so we stopped by around 11am and it was completely full! It remains to be seen whether this is the case at all times, or whether it's better to make a reservation.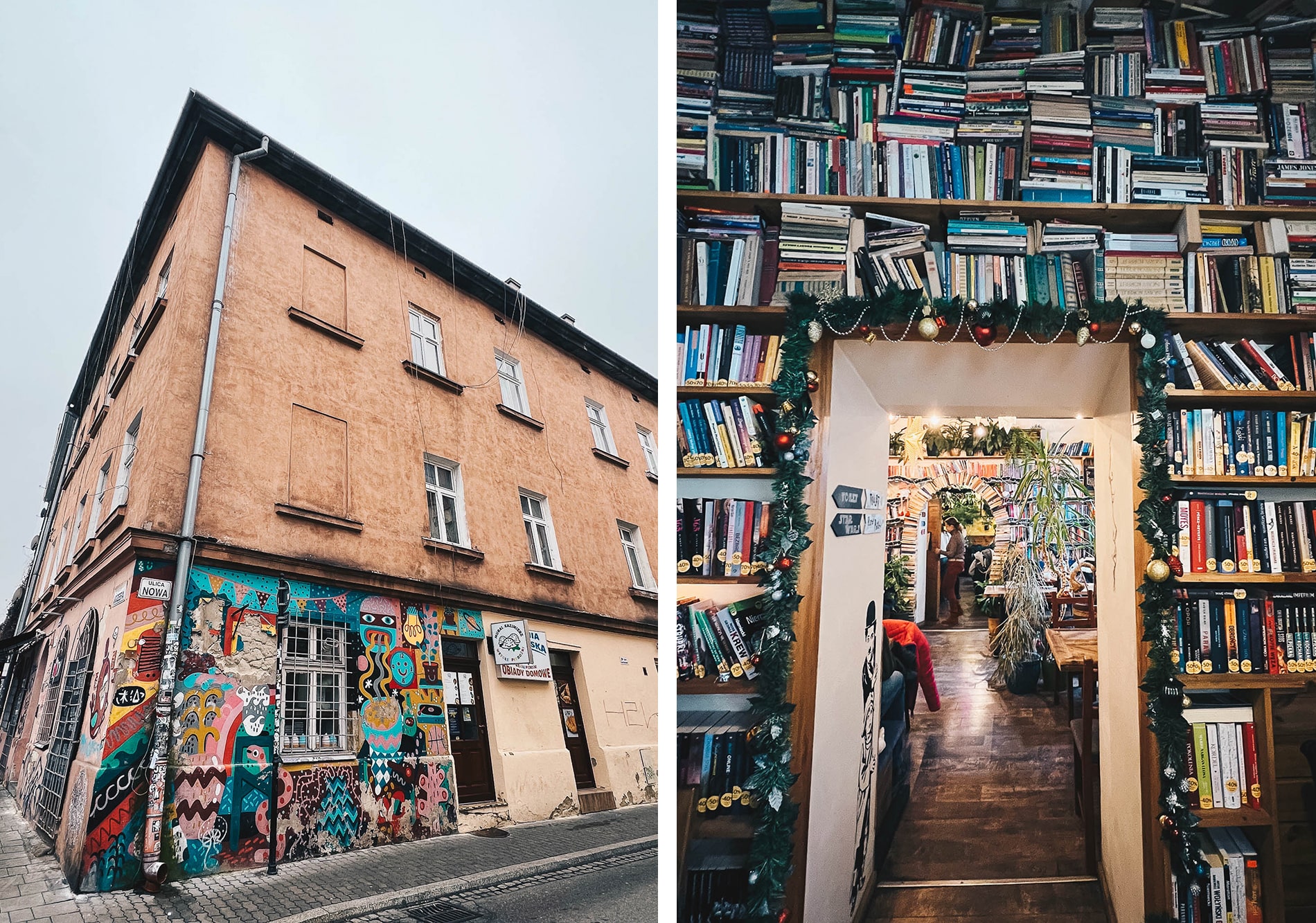 | WAWEL CASTLE AND CATHEDRAL

Head for the heart of town along the short, narrow Kanonizca street, to discover Wawel Castle, former residence of the kings of Poland at a time when Krakow was the capital of the Polish kingdom. Situated on the Wawel hill, on the banks of the Wisla river, it has seen several dynasties succeed one another, with a period of splendor from the 15th to the 18th century, before the country split between Russia and the Austro-Hungarian Empire.
It only regained its independence following the First World War and the signing of the Treaty of Versailles, before falling under the dictates of Nazi Germany during the Second World War. Each of these periods has left its mark on the style of Wawel Castle and its cathedral, with additions and modifications to its architecture. Many of these traces are still clearly visible today.
The palace is essentially built in Renaissance style, recognizable in particular by the arcades and friezes visible in the courtyard of tournaments. The castle's interiors house treasures that absolutely must be visited. You'll be able to admire a display of tapestries from the royal collection on one side of the building, and the Baroque style of decoration on the other, with black marble and leather wall coverings. The Austro-Hungarian period left its mark on the castle, with a "purification" of certain ornaments and even buildings. Their idea was not to destroy the existing building, but rather to make it as useful as possible for military activity, since at the time it was a barracks. This led to the destruction of a chapel, the remains of which can still be seen in the garden, and a military hospital which is now an administrative center. The brick architecture is typical of late 19th century building practices.
Finally, the Nazi period left its mark on the Zamek building with its vaulted arches. The question of preserving the traces of this architecture was debated, before concluding that it was also part of Poland's history and should not be destroyed. The cathedral juxtaposing the palace is also a melting pot of all its eras. It features medieval, renaissance and baroque architecture. Each king wanted to add his own touch to ensure his legacy would live on. This cathedral was the place where kings were crowned and buried. A crypt houses the kings and queens buried here, as well as some of Poland's most famous figures, just as we can at the Pantheon. You can also climb to the 2nd floor of the belfry housing the bells, in operation for only a few months of the year. One of the curiosities is this large main bell, mounted 500 years ago, never having been replaced and still being operated manually by simple ropes. Access is via wooden staircases, which in places are quite narrow, requiring you to twist slightly amidst the original wooden timbers, giving a real charm to the climb. Inside, a rather small cathedral and 18 chapels, with a real Baroque touch given to the place by the massive use of black marble from Poland.
Join us on a guided tour of this castle, the one of Poland's most important historical sites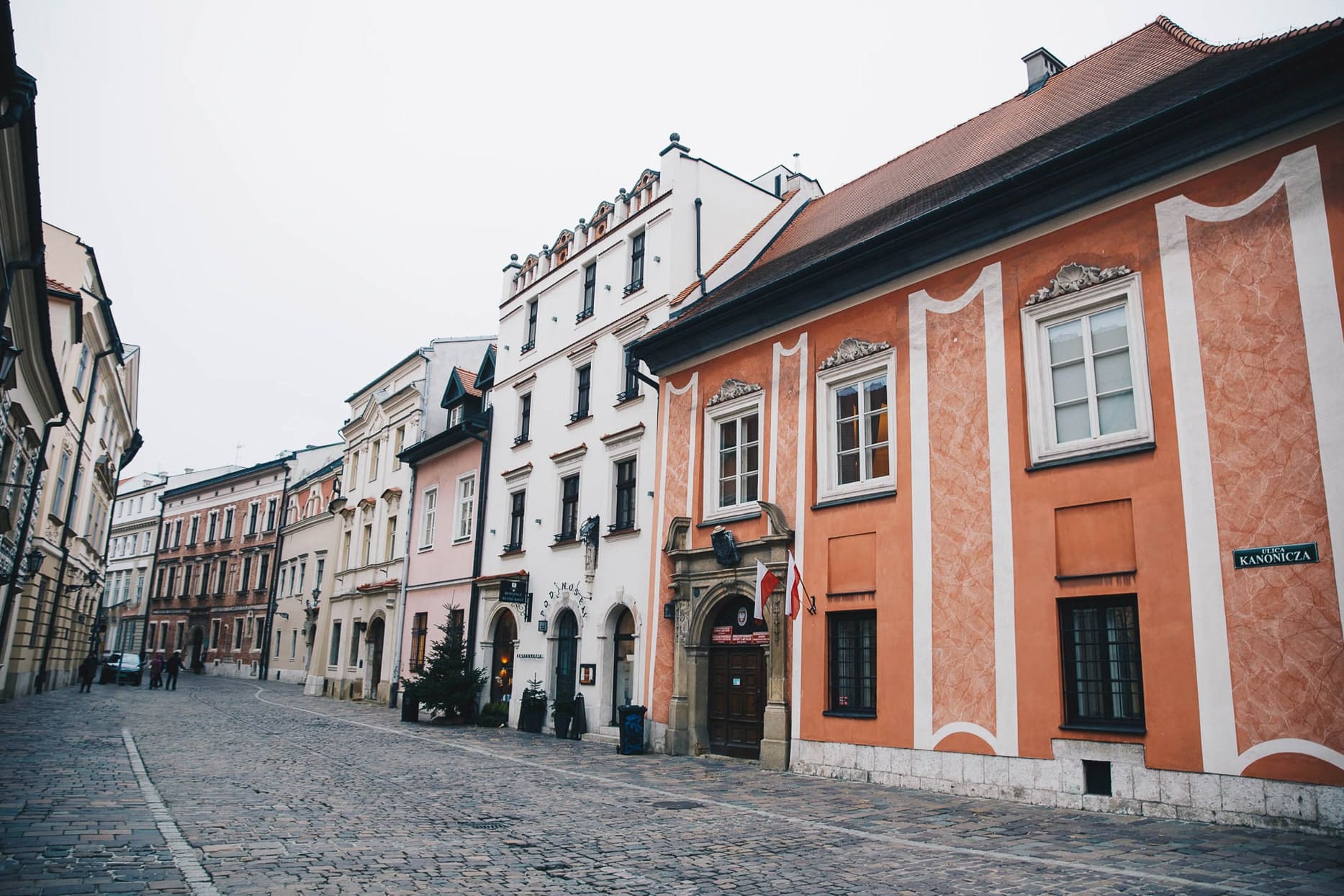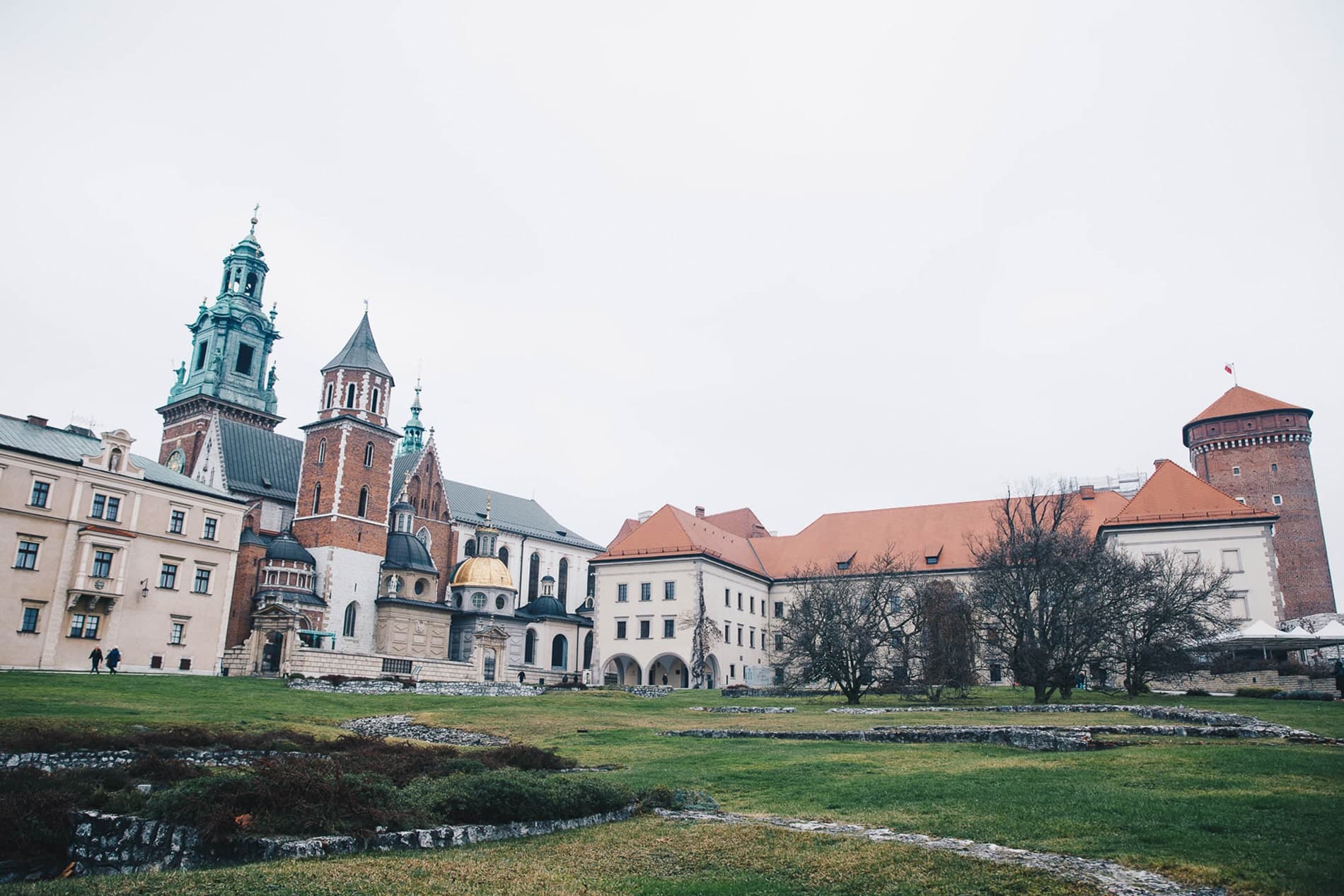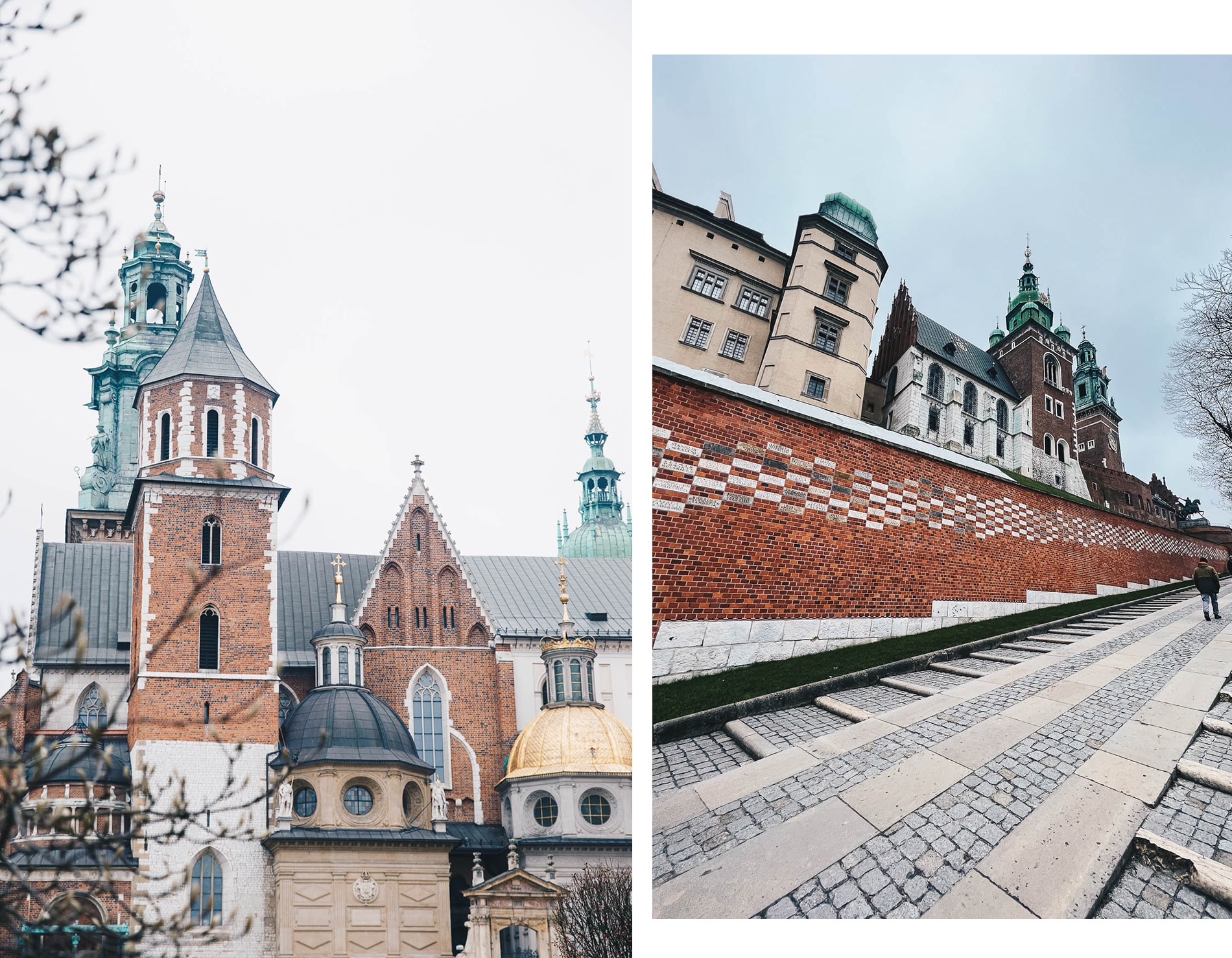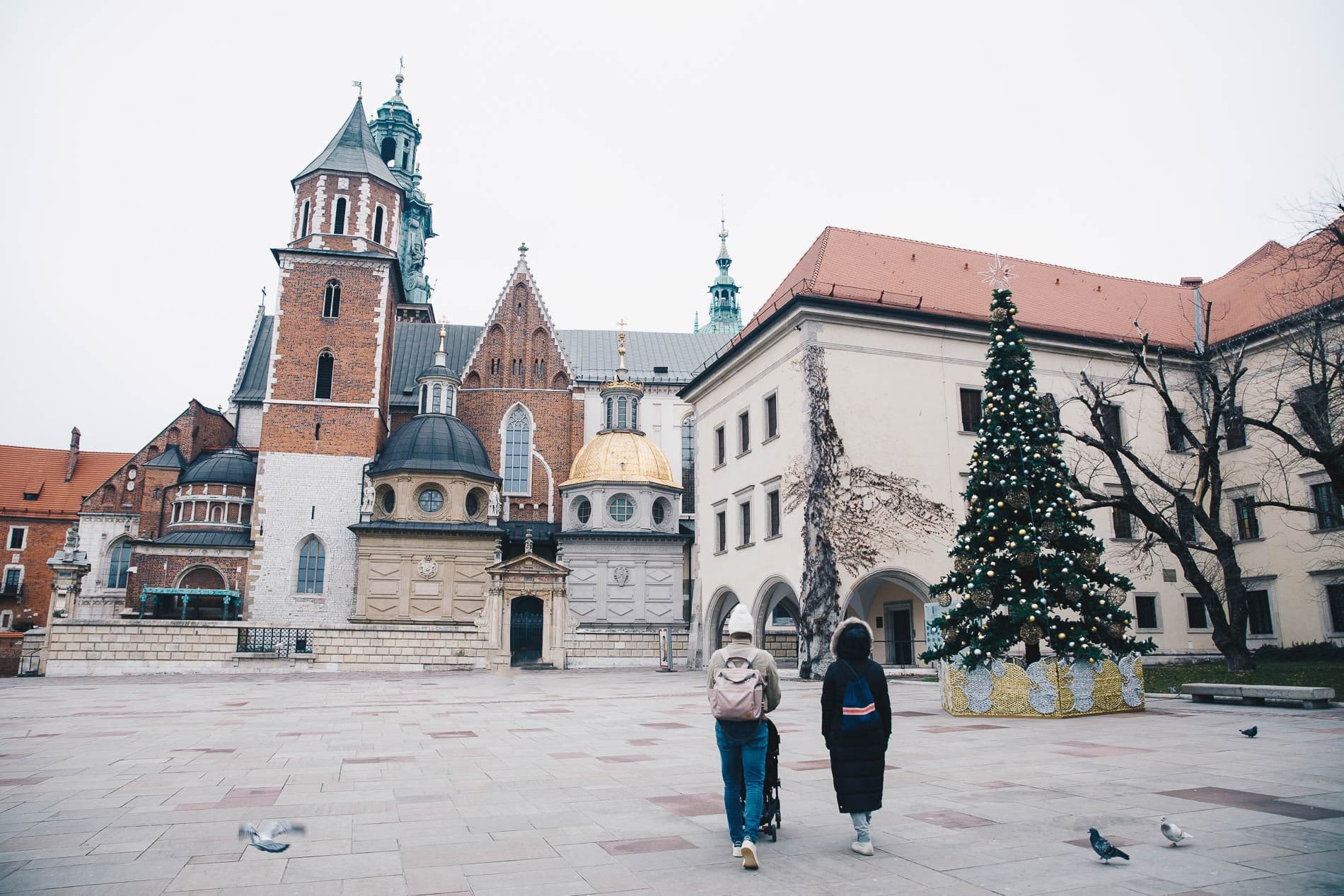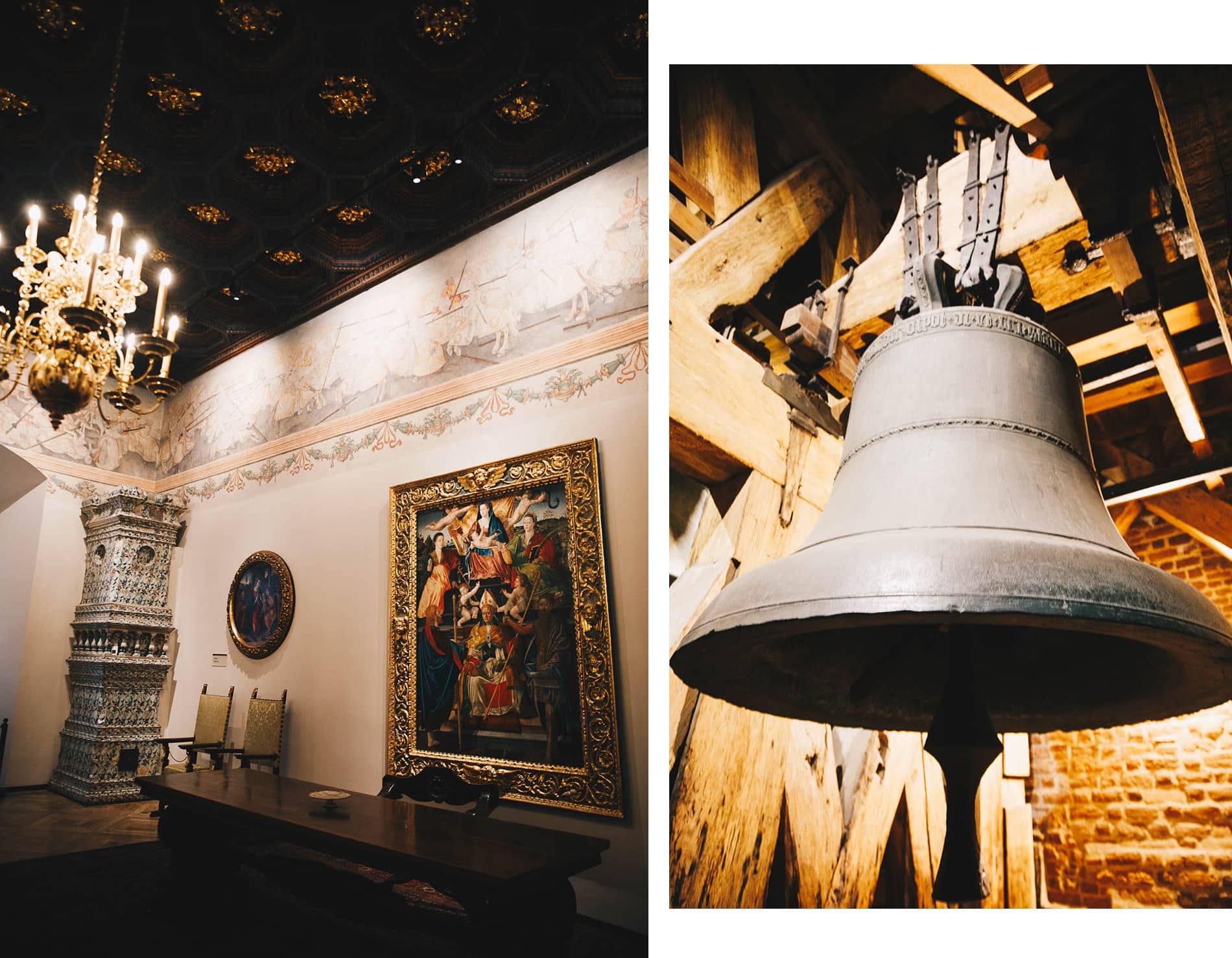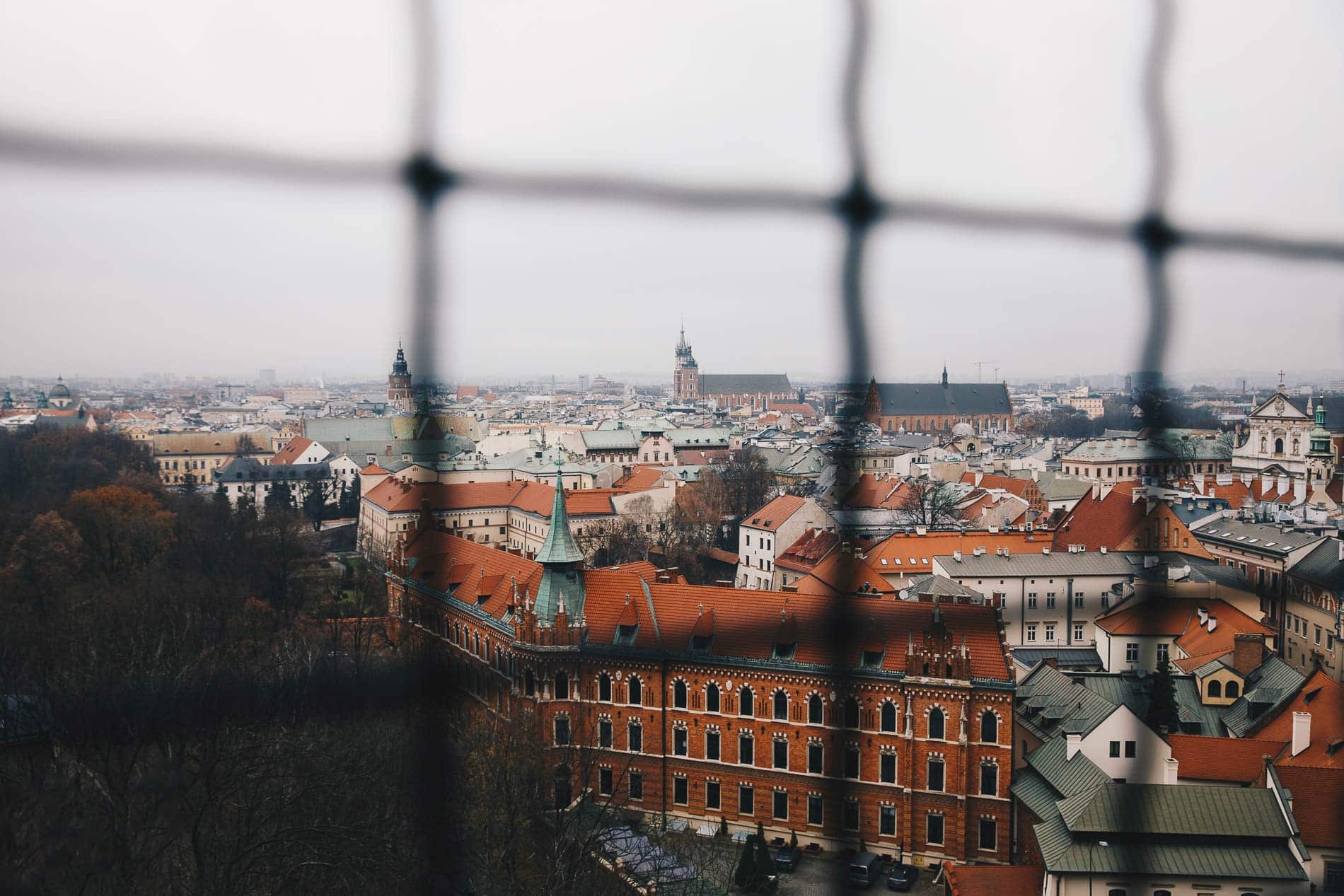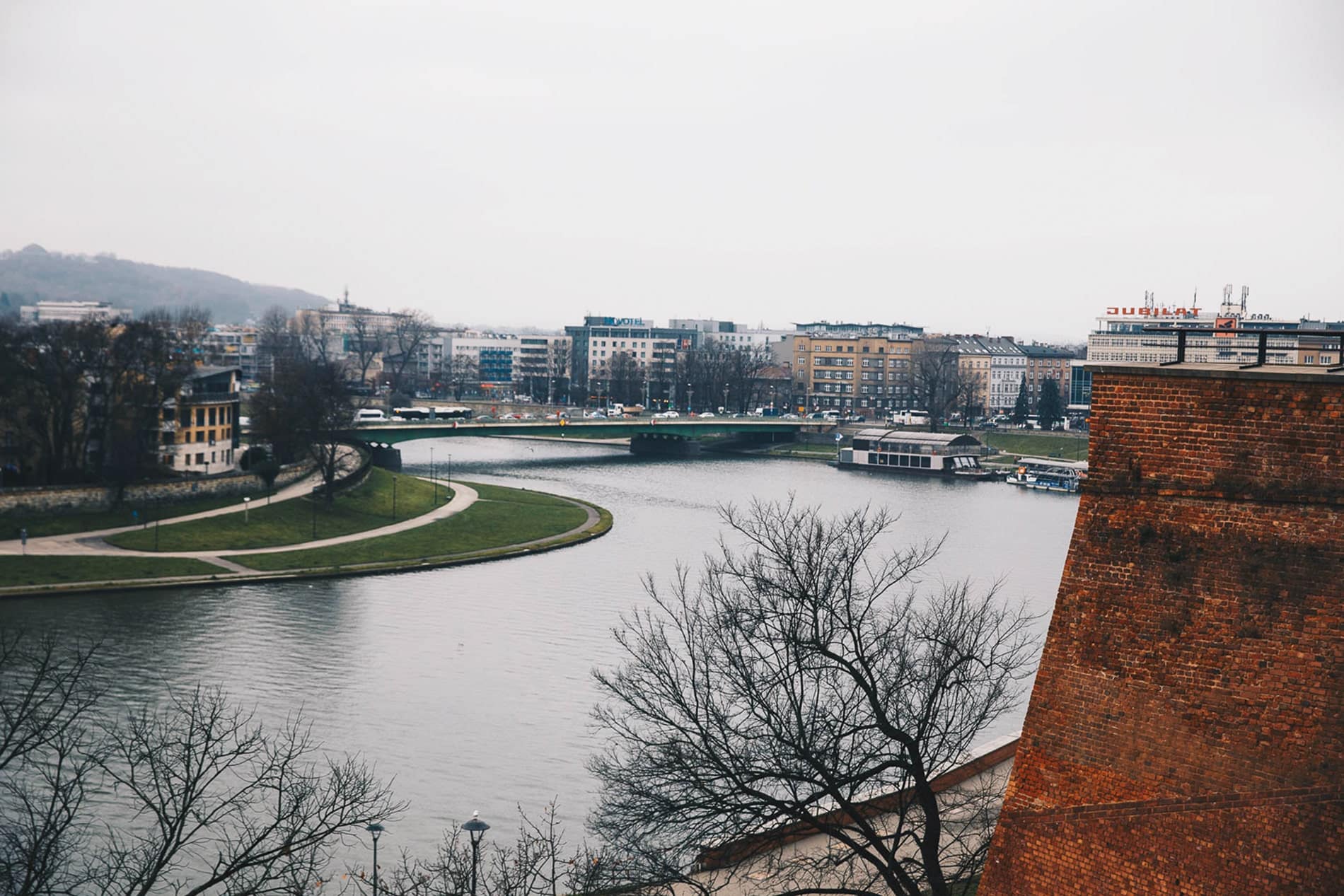 | THE KLEPARZ MARKET AND THE OLD TOWN'S GREEN BELT

One of Krakow's other points of interest, whatever the season, is its "Planty Park " surrounding the old town. This green belt delimits the city's old fortifications and provides a pleasant dividing line between the old and the new Krakow. This is where you can see some of the Christmas cribs on display. Strolling through this park, you can go discover the typical Kleparz market at Barbakan Gate. This small covered market brings together greengrocers and specialized craftsmen, housed in small atypical cottages scattered around the heart of the market (fishmongers, butchers, bakers, etc.). A lively market with real life scenes, where you can buy good fresh mushrooms in season (September-October-November) and dried mushrooms out of season, as Poland is a huge consumer of ceps, chanterelles and other mushrooms. It has to be said that there's a real ancestral culture here of picking them, and many Poles take up this hobby to sell and eat them. You'll also find a good roaster in this market, housed in a gatehouse with a small outdoor terrace that makes you want to linger a while.
Back on the green belt, heading for the city music conservatory for a tour of Krakow's rooftops. Peu de spots sont ouverts toute l'année en raison des températures souvent négatives, mais vous pourrez avoir une belle vue sur la ville depuis le restaurant/barlocated on the roof-top of this buildingt, the Metrum. The entrance is via the music conservatory, opposite the entrance to the Campanile hotel. Then take the elevator to the 6th floor. You'll be able to see the view in all weathers, as the indoor bar is fully glazed and has an outdoor terrace in enfilade for warmer and/or sunnier days. This ruling will undoubtedly mark thelittle extra for your stay.
To better understand Krakow and grasp its history and culture, we opted for a visit accompanied by a French-speaking guide. Together, we discovered Wawel Castle and Cathedral, as well as the old town and Planty Park. It's a good way not just to pass through, but to gain a better understanding of what is surely Poland's most beautiful and romantic city. → Book your private English-speaking guide for Krakow here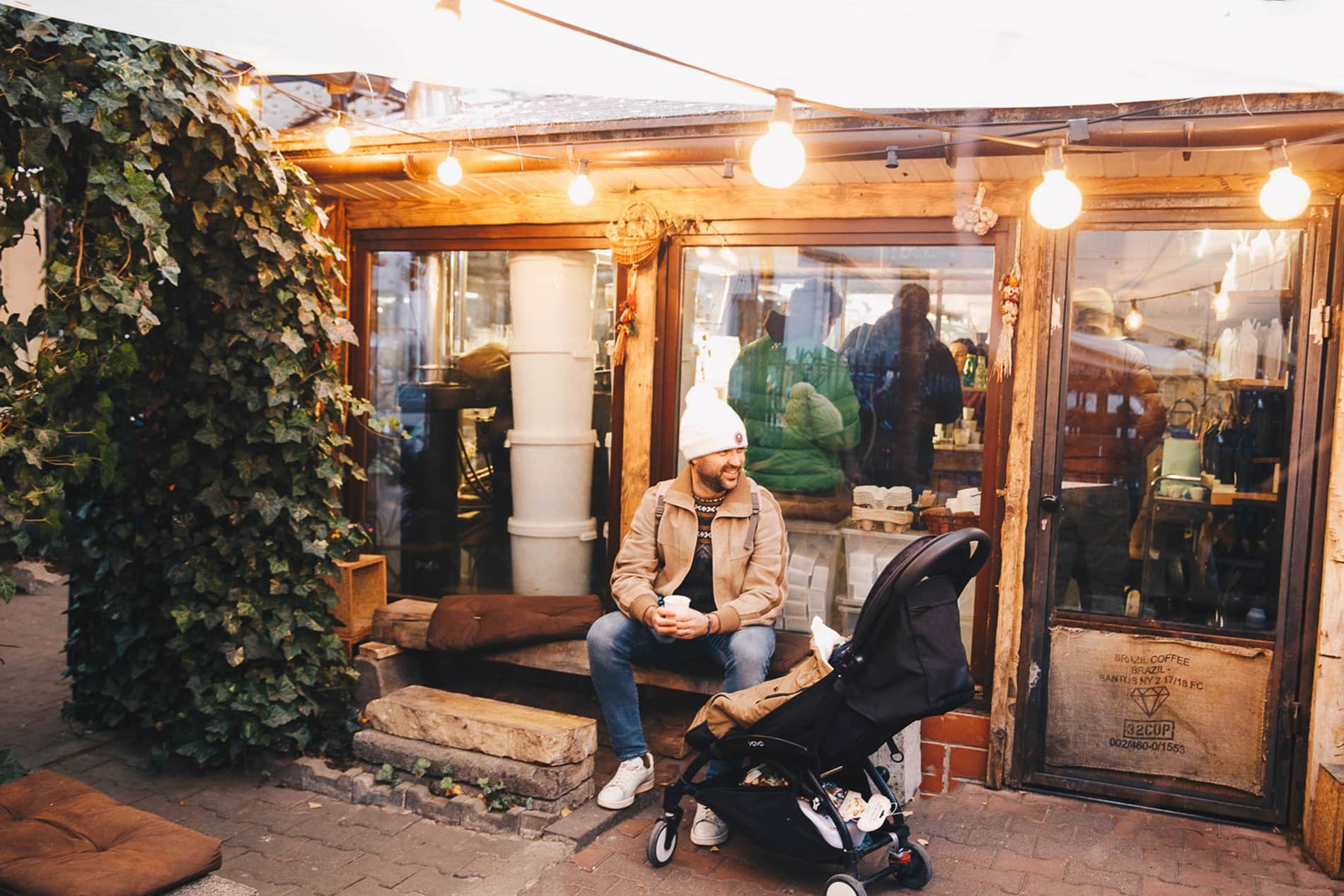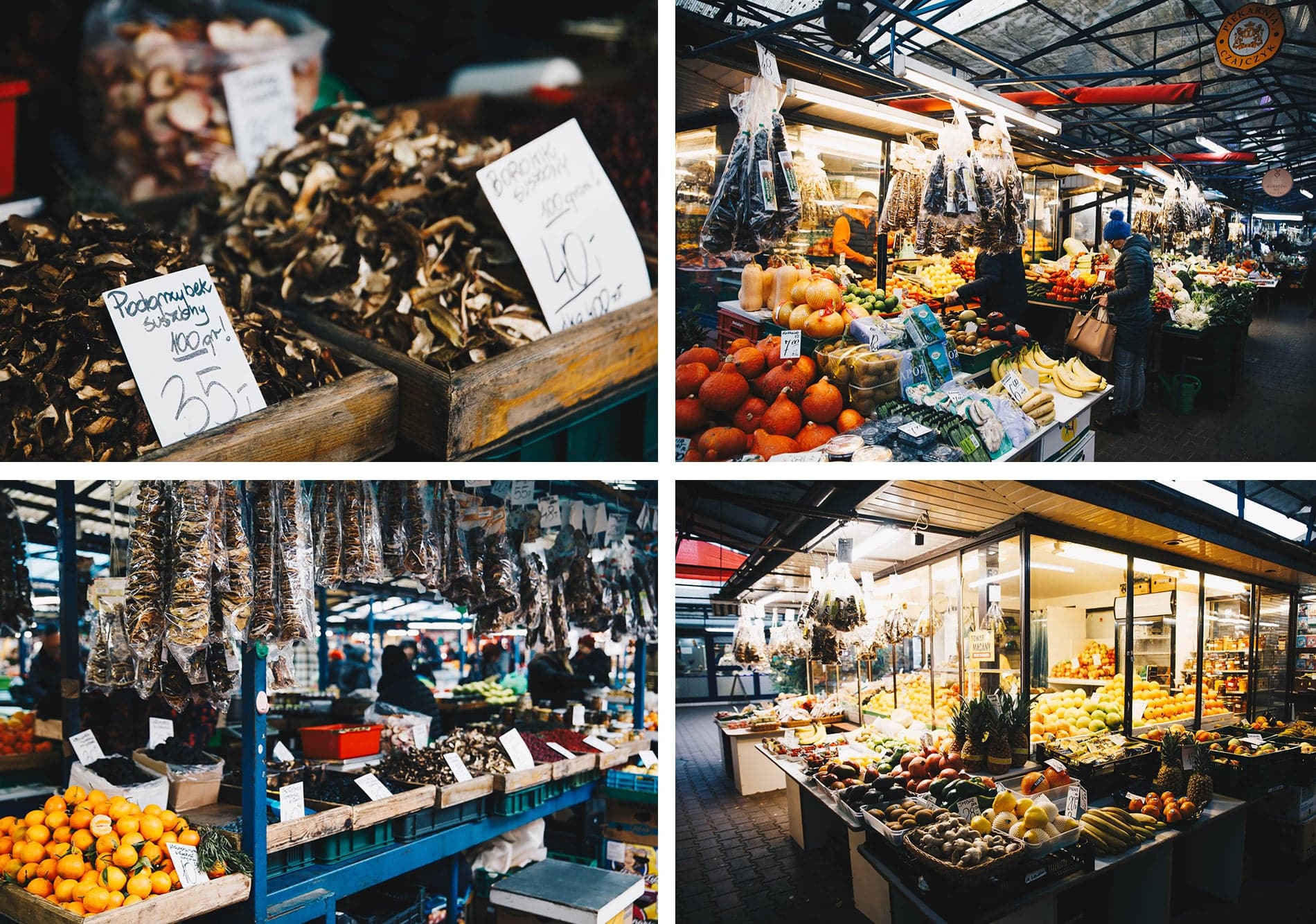 | THE WIELICZKA SALT MINE

Krakow's surroundings are also of interest. First, a visit to the'former Auschwitz concentration camp which we didn't visit for lack of time, but also by choice. It's a 1h30 drive from Krakow. If you'd like to combine the salt mine with the Auscwitz camp, you can book a day trip.

➡️Book your combined tour here
Instead, we opted for the visit the Unesco World Heritage Wieliczka salt mine alone. This man-made site is above all a geological curiosity. Created by the evaporation of a salty sea following an abrupt climate change, the salt was then compacted by the appearance of mountains, creating a salt deposit over an area 60km long, 2km wide and 400m deep.
Exploited from the 17th century until 1996, man dug no less than 300km of galleries, only three of which are currently open to visitors. That's 40 rooms, some of them over 30 metres high. There are salt sculptures depicting local legends, scenes from life in the mine, artistic works and Christian places of worship such as the sumptuous and atypical Saint-Kinga chapel. A mass is celebrated here every Sunday morning, free of charge.

The entire mine was consolidated as it was created, with logs that had been there for the first 400 years and were in a perfect state of preservation thanks to the salt! All this creates a lovely underground atmosphere where you'll even find a restaurant for lunch and a cafeteria in the middle of the course.
On a practical note, the tour lasts around 2h to 2h30 and begins with a descent of around 40 floors via a wide, well-maintained staircase with low steps. The return to the surface is a 10-minute walk, followed by a high-speed elevator. However, throughout the visit, between 80 and 100 meters down, there are several staircases to climb, and we chose to take the baby carrier for practical reasons (and because strollers are not allowed on this site). Tours are given in groups of around 20, depending on the language required, and tours are also available in French. However, the slots are larger in English.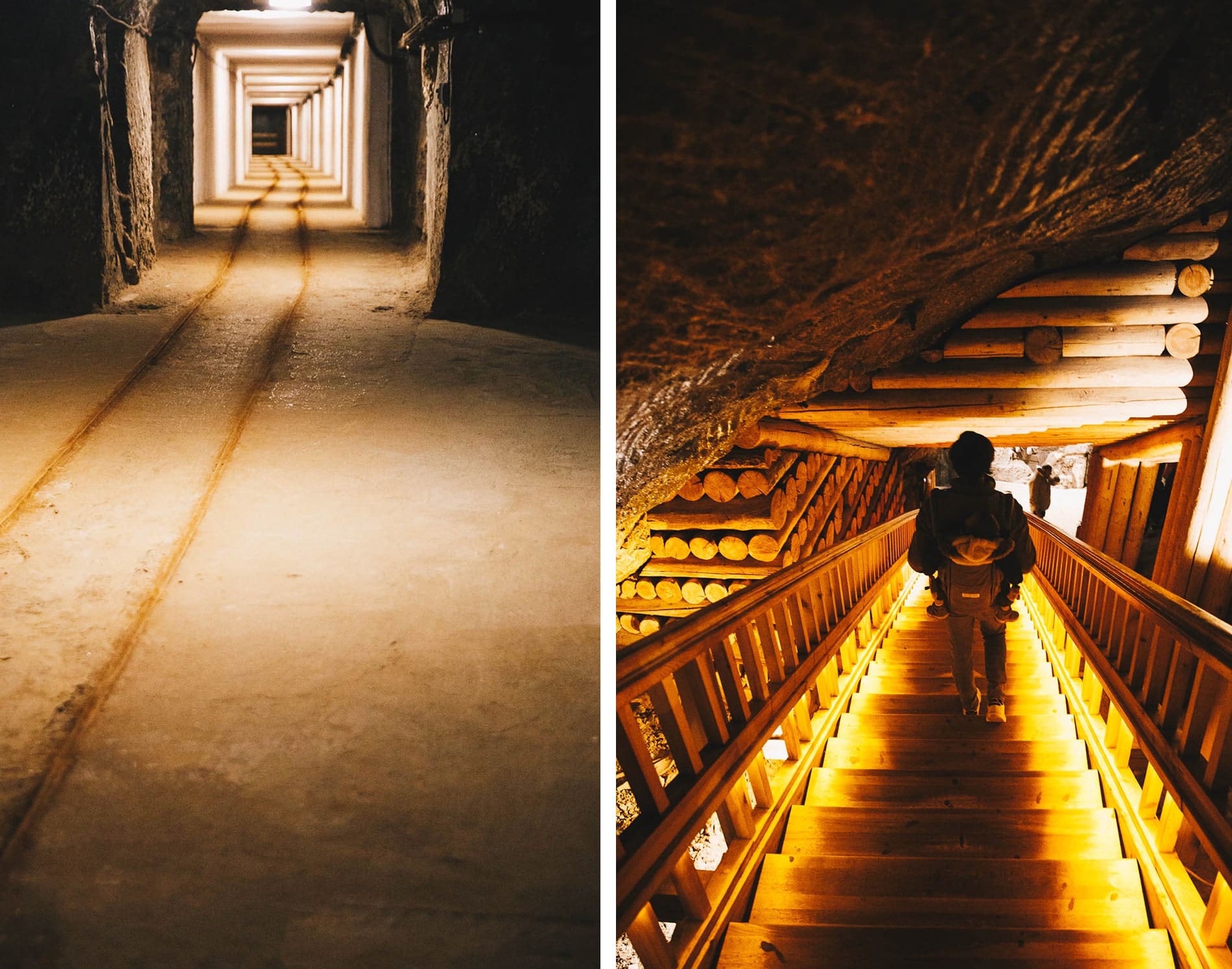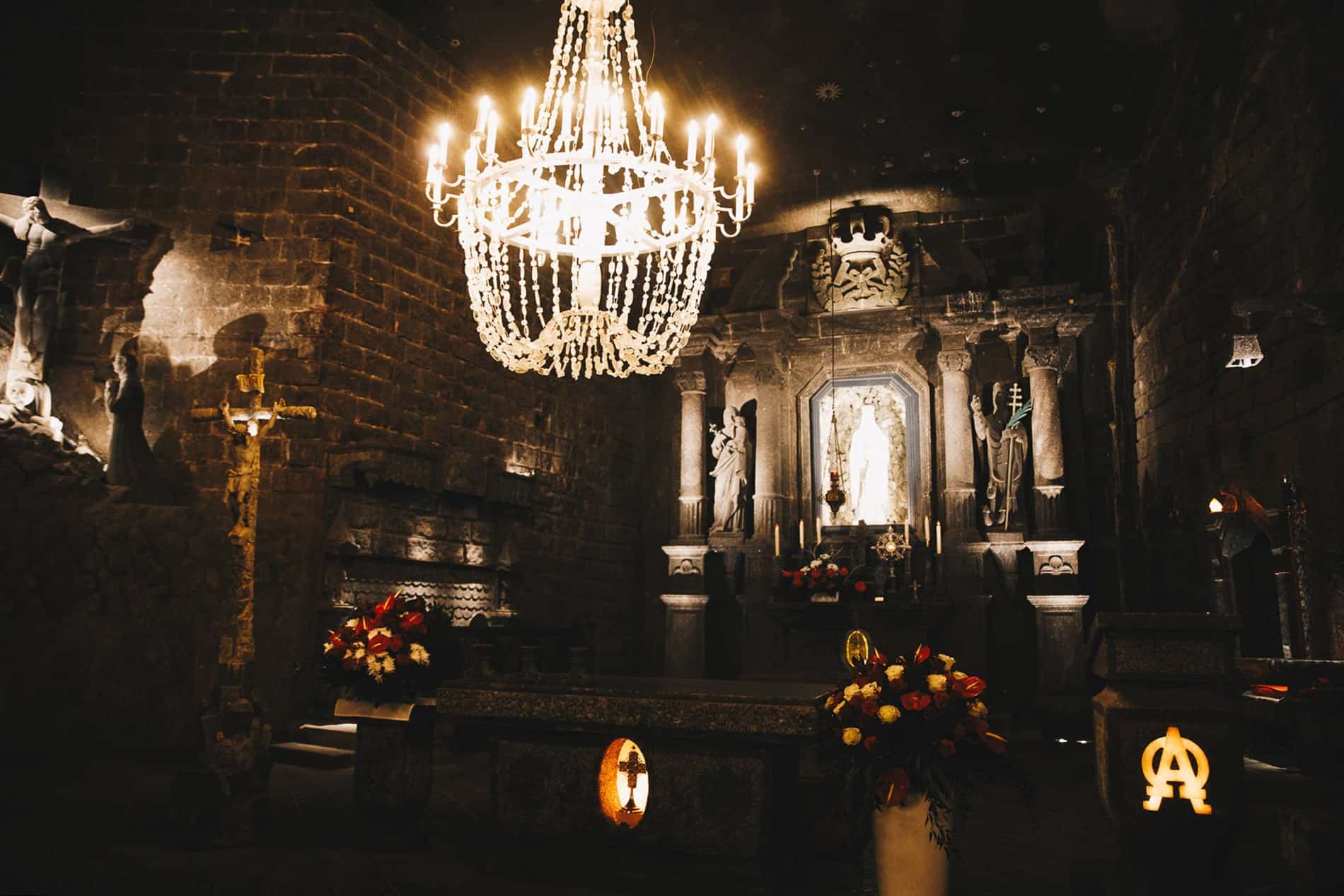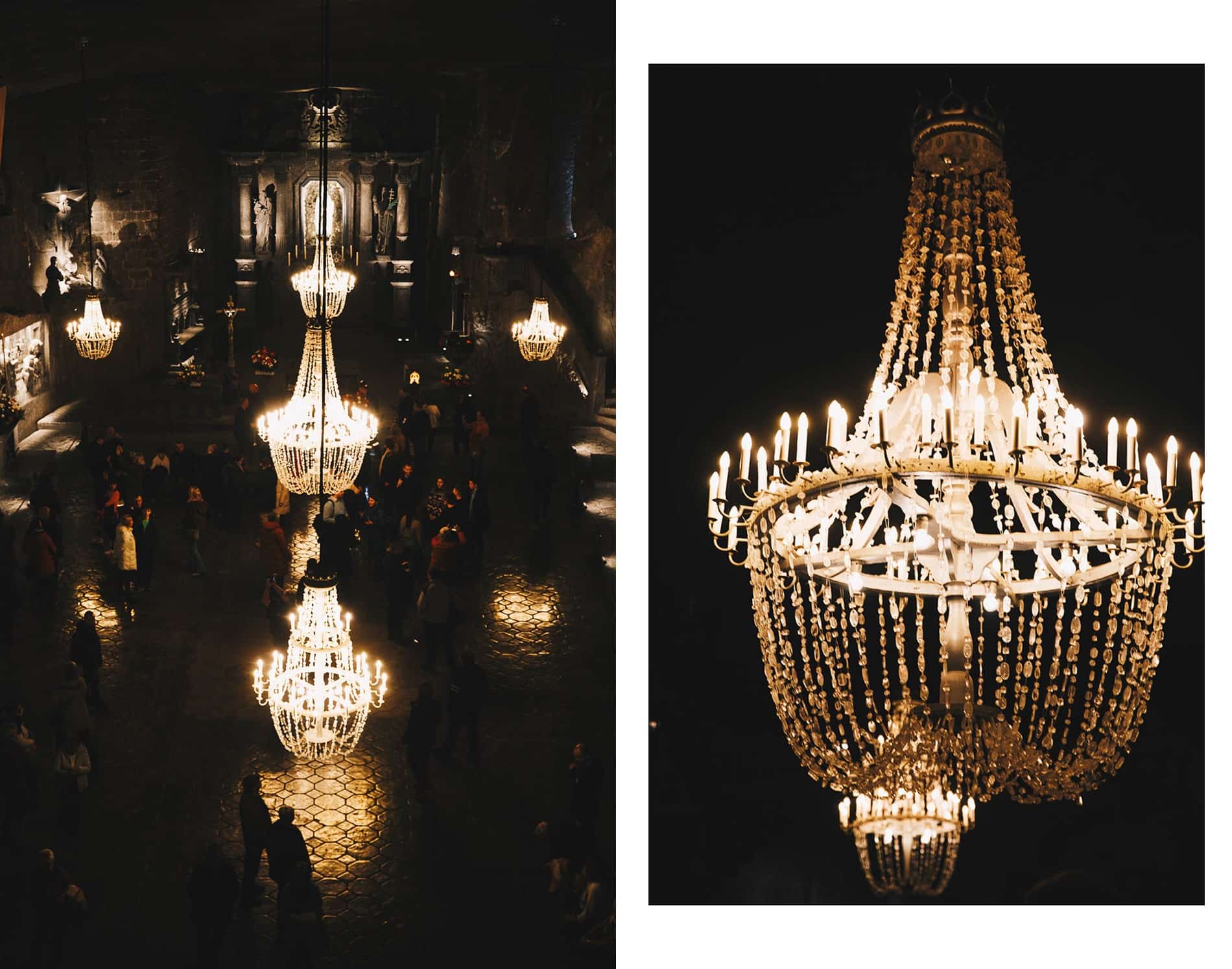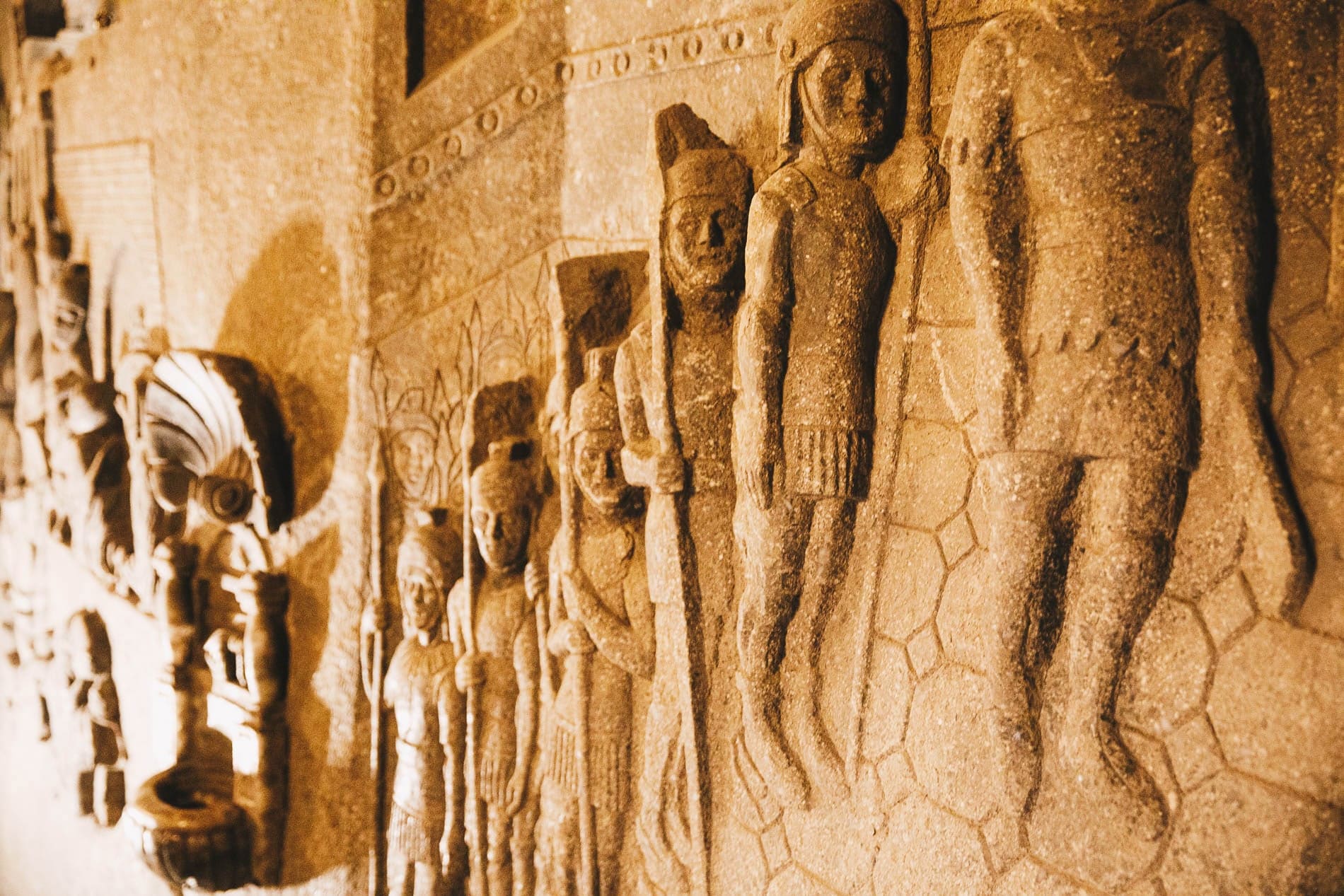 | WHAT TO DO AROUND CRACOW
If you go to Krakow in winter, I suggest you visit Zakopane for test thermal hot springs. During this excursion, you can admire Poland's Tatra mountains from a cable car and taste local smoked sheep's cheese and alcohol. You can also take a night cruise to see the superb views of Krakow's monuments, or book a food tour in an electric car.
| WHERE TO EAT IN CRACOW
For those traveling on a tighter budget but still don't want to miss out on Polish cuisine, for lunch we recommend the "Pod Temidą ". This restaurant, located in the heart of the old town, was once a place of assistance for the most destitute. It has since been transformed into a popular place for families to visit, just as we would go to a cafeteria, but retaining the simplicity and authenticity of its beginnings. You'll be able to choose your dish from the menu displayed on a large board, and then order in cafeteria style. Simple and effective.
For dinner, a few steps from Wawel Castle and just behind the Planty, the restaurant Pod Paranem offers an atypical museum/restaurant concept. A bistronomic menu in a rather rustic setting, with old 19th-century furniture and contemporary works on the walls of this old building. On the menu are traditional Polish recipes, all very well prepared, to give you a good idea of the local gastronomy. The menu features meat products, traditional soups and the inevitable mushrooms. Our choice was the chef's soup with chunks of potato, sausage and hard-boiled egg in a herb jus, and the creamy mushroom soup served in a loaf of bread. Poland and Eastern Europe are definitely the countries where you can taste the best soups! Next, lamb and poultry before finishing with the chef's original cake. A dessert blending spicy, fruity and chocolatey flavors in the manner of a revisited Christmas black forest. A beautiful address in Krakow. Remember to reserve your table in advance, as the restaurant is regularly full.
| TRAVELING WITH A BABY IN KRAKOW
We knew it was going to be sub-zero temperatures during the Christmas markets, but that didn't stop us! We had -6 degrees, which was still bearable. Don't forget to pack for your baby: a stuffed hat, mittens, a choker, woollen clothing and thermal underwear (in case of extreme cold), a warm down jacket and a fleece or woollen blanket to cover legs and shoes in case of extreme cold.. You'll also need well-insulated or lined shoes that don't pinch, so that air can circulate between the toes.
Even if we've given Gabriel a taste of the culinary specialities on offer at the markets, regular coffee breaks and sit-down lunches will enable you to check that the body's extremities aren't too frozen, and reactivate your child's circulation by letting him stretch his legs in the restaurant while eating a hot meal. The break will allow him to start again and not suffer from the cold. moisturize the skin with an oily, regenerating cream.
As explained above, for this few-day getaway, we took the stroller and baby carrier with us to the salt mine. If you're not planning to go there, it won't be essential. It's especially useful when you need to climb a belfry, for example, as baby carriages are often prohibited.
Finally, as far as food is concerned, we've had a hard time finding ready-made meals for his age to tide us over (we've sometimes found little jars in pharmacies, but only from 6 months onwards, and they're too mushy for him). As a result, he ate like us for lunch and dinner at the restaurant. Just remember to take 1 or 2 tupperware items with you. In fact, it's very practical for making doggy bags when dishes aren't finished, so you can refill them the next day and reheat them all over the place. You can also cut up pieces of fruit, store cupcakes, and so on. It's a must-have for us, because it's so practical when traveling!
| WHERE TO STAY IN CRACOW

We recommend staying at the Golden Tulip Hotel. This establishment of the French hotel chain "Louvre Hôtel" is ideally located, just two blocks from the various points of interest described above in the Kazimierz district. A streetcar line taking you directly and without change into the historic city center passes right in front of it. The hotel is very recent, with very contemporary decor. Rooms are spacious and well-equipped, with modern, comfortable bathrooms.
The Western buffet breakfast offers a wide choice, but leaves little room for Polish specialties. An efficient buffet in itself. It's not the charm of this hotel that will win you over, but the compromise between comfort, location and price. Price per night in December: approx. 90€/double room with breakfast
I've spotted a few addresses in Krakow like:
→ Here you'll find a wide choice of accommodation in Krakow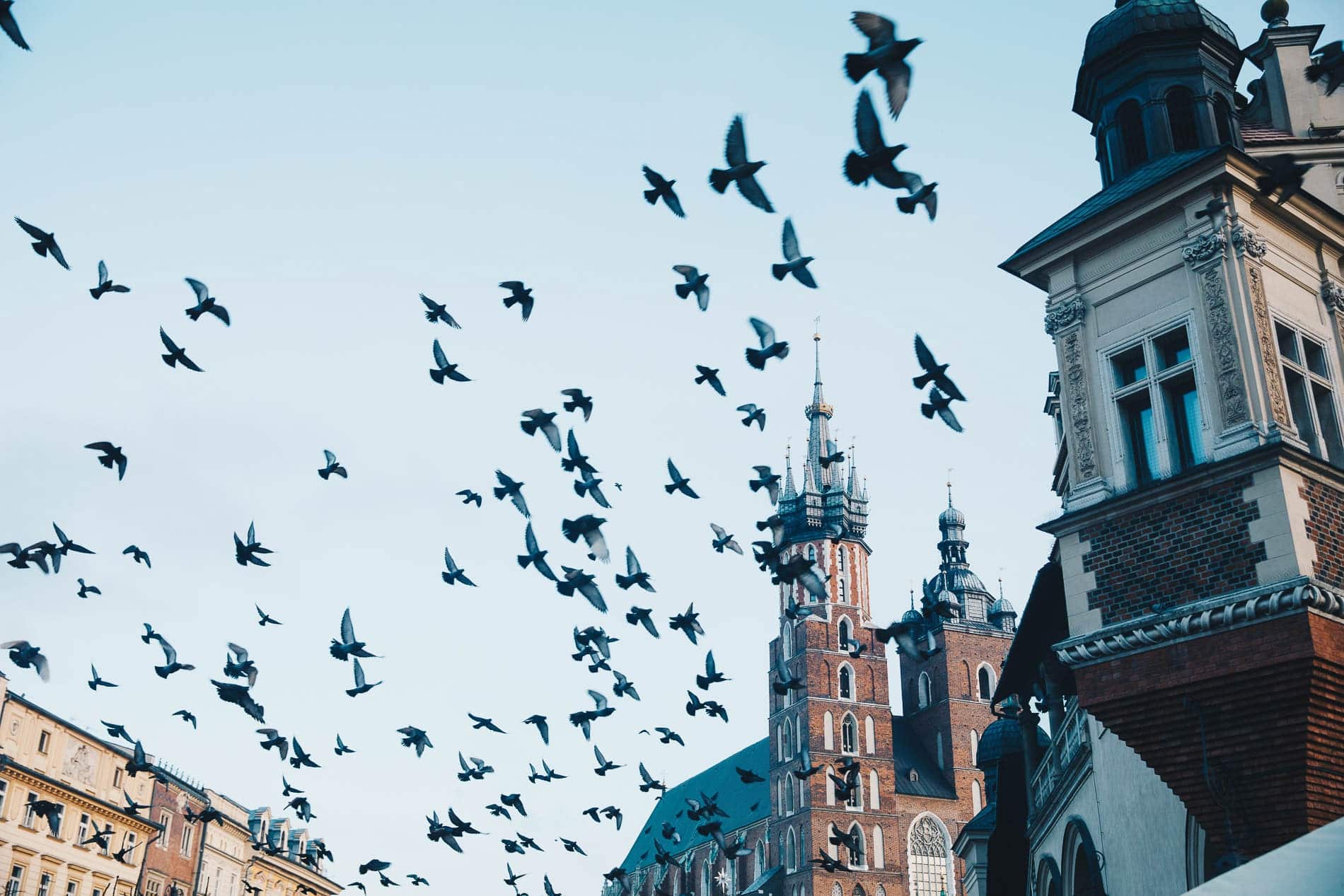 | GETTING TO KRAKOW
To get to Krakow, we booked on the Transavia website as the timetable suited us perfectly. We didn't waste a day on the spot, so I'd recommend the company without hesitation.
→ Find your cheapest flight with this comparator
If you are looking for a private transfer from the airport to the city center, you can reserve it here. A driver will be waiting for you at your hotel or at the location of your choice, to take you to your destination as quickly and safely as possible.
Don't forget travel insurance!
Before you leave, make sure you've taken out travel insurance to avoid any unpleasant surprises! If you're planning a short break, a long-haul trip or even a round-the-world tour, travel insurance will provide you with the essential cover you need to enjoy your stay in total peace of mind: cancellation, baggage, assistance, medical expenses, hospitalization, death, repatriation and all the other hassles you could avoid. Opt for cancellation insurance in case of Covid and border closures. Read more in our dedicated article to help youfind the best insurance and on the Chapka website, our travel partner since our Round the World Tour
Before you leave, I invite you to consult all our articles on Europe's Christmas markets to inspire you for the coming holidays: