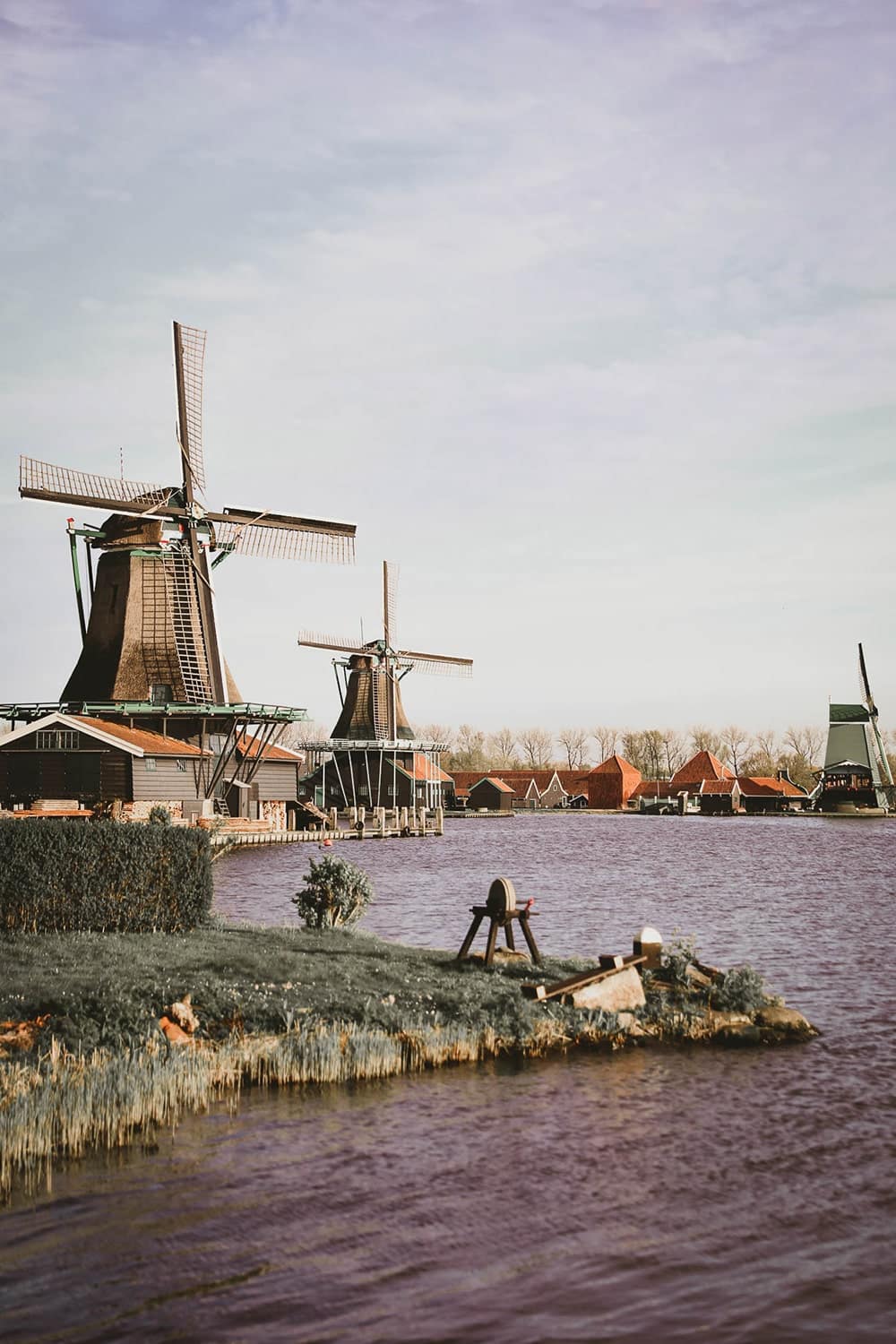 Located 15 kilometers north of Amsterdam, the Zaanse Schans mills offer a glimpse of the Netherlands' industrial past, with its traditional houses, windmills, warehouses and workshops. Discover what there is to see and do at Zaanse Schans!
I wasn't sure what to expect when I arrived at the windmills of Zaanse Schans. The only thing I was hoping for was to see windmills in the countryside, because I'd never seen one before! I must confess I was glad I only discovered them at the end of the day, as the Zaanse Schans windmills are far from being in the middle of nowhere.
In fact, here's what awaits you: a small village reconstructed from buildings and mills from surrounding villages, retracing traditional Dutch heritage. The decor is pretty cute: at first glance, it's like being in a postcard with these wooden cottages and this perfect setting, but it's still a very touristy place and for the authentic side, we'll have to pass. Unfortunately, all the clichés of the Netherlands can be found here.
In the heyday of the 18th and 19th centuries, the Zaanse region was a major industrial zone dotted with hundreds of windmills producing linseed oil, paint, snuff, mustard, paper and other products. Many of Zaanse Schans' characteristic village houses have now become museums, souvenir stores or workshops, while others are still used as private residences. Some of the remaining windmills at Zaanse Schans are also open to the public.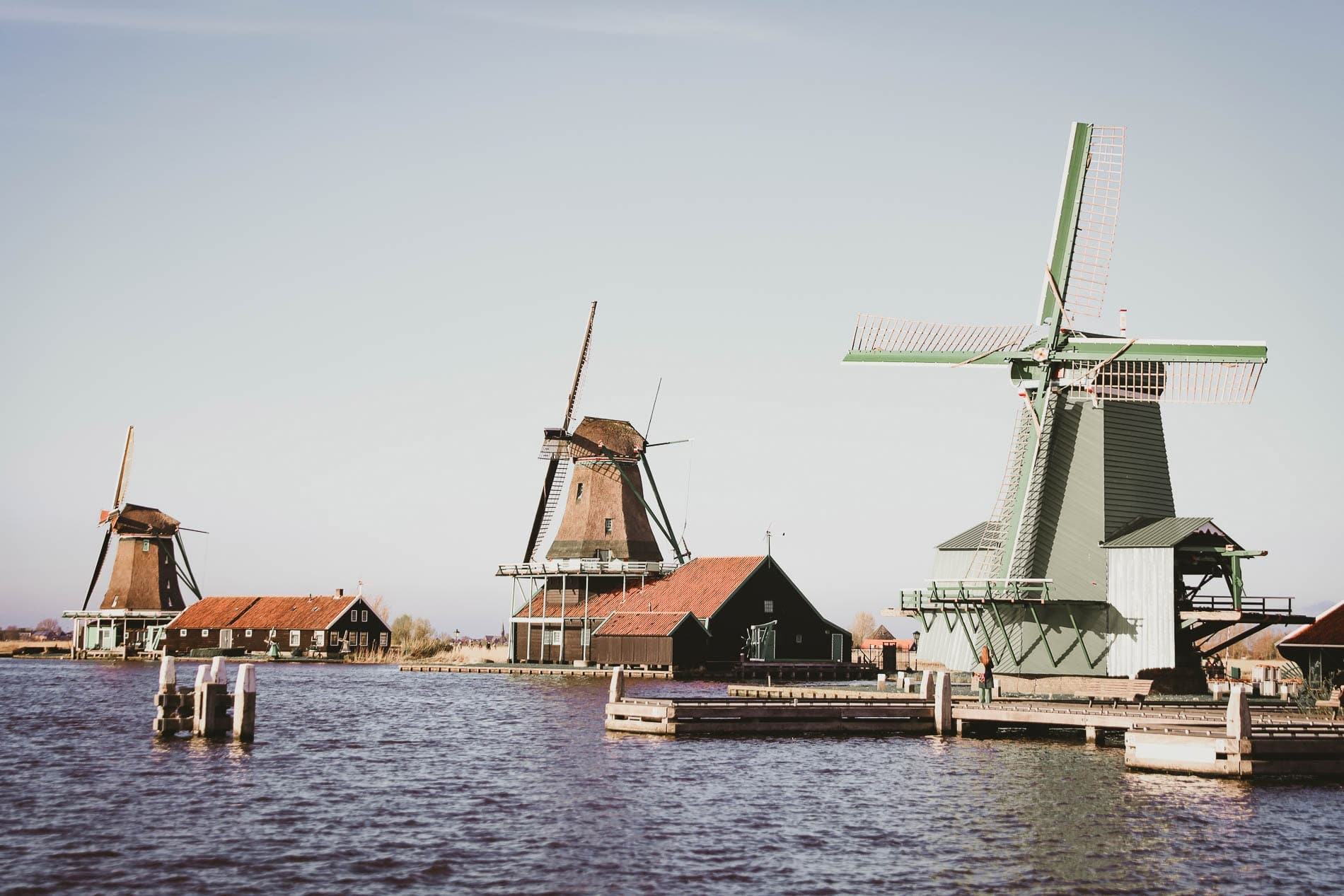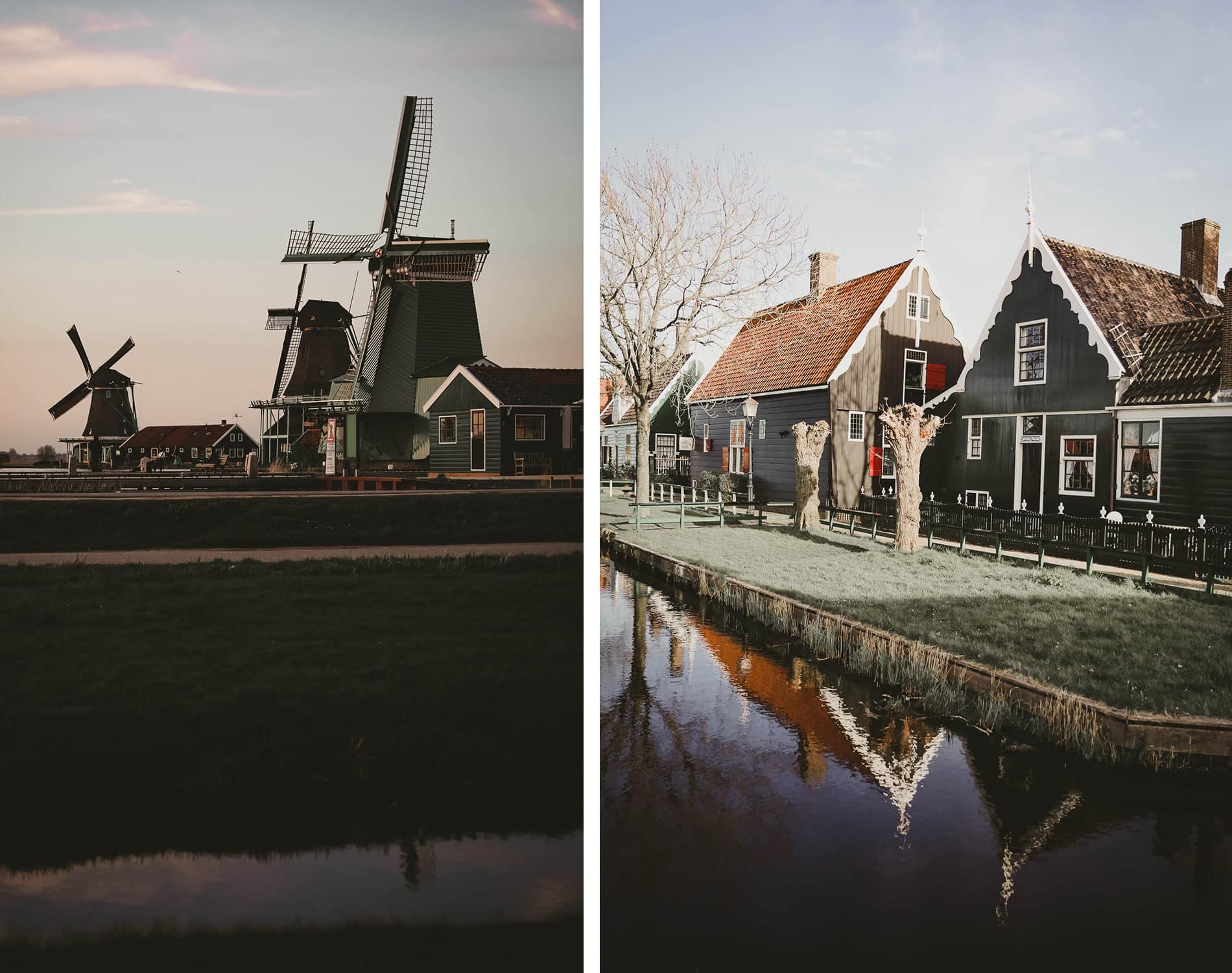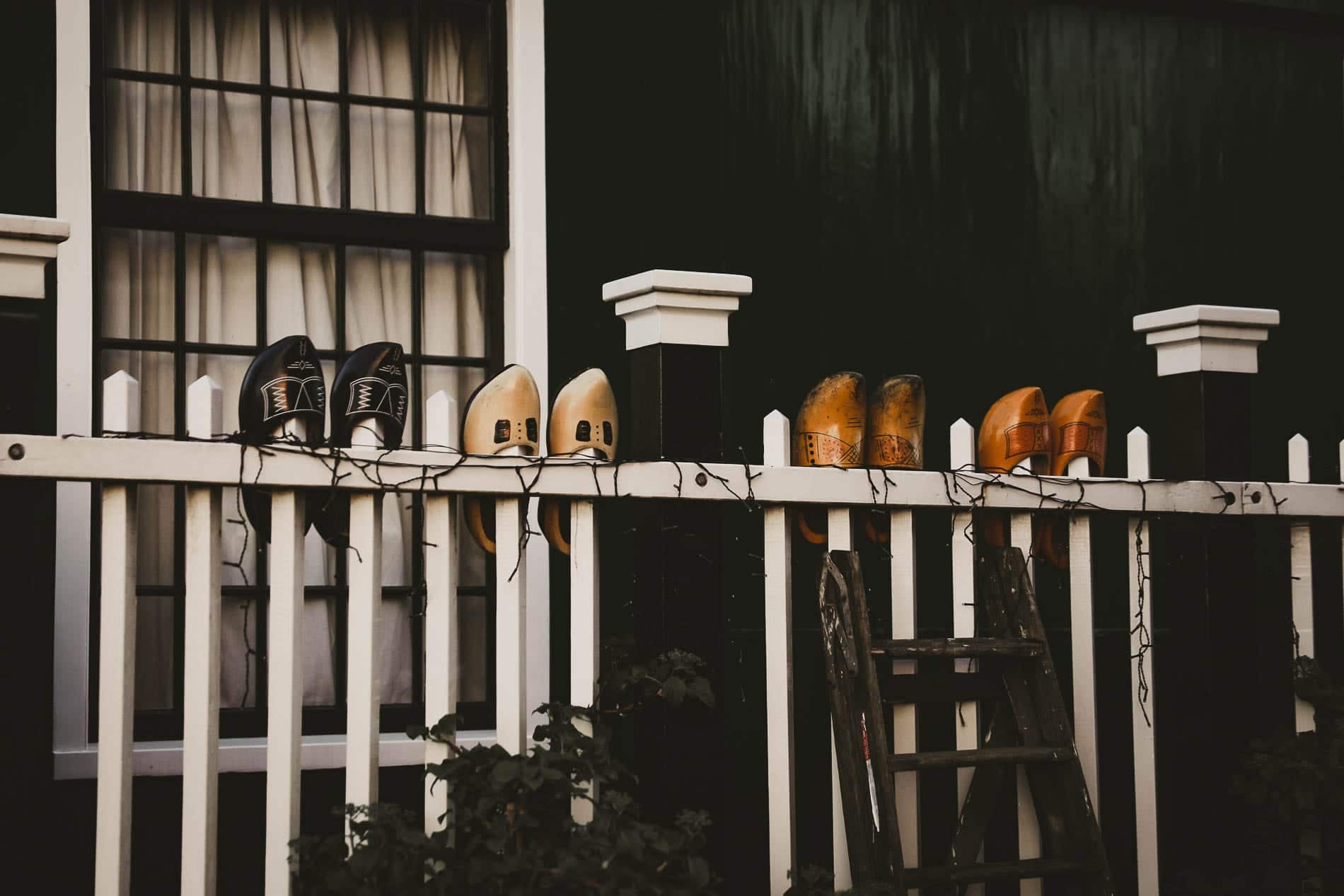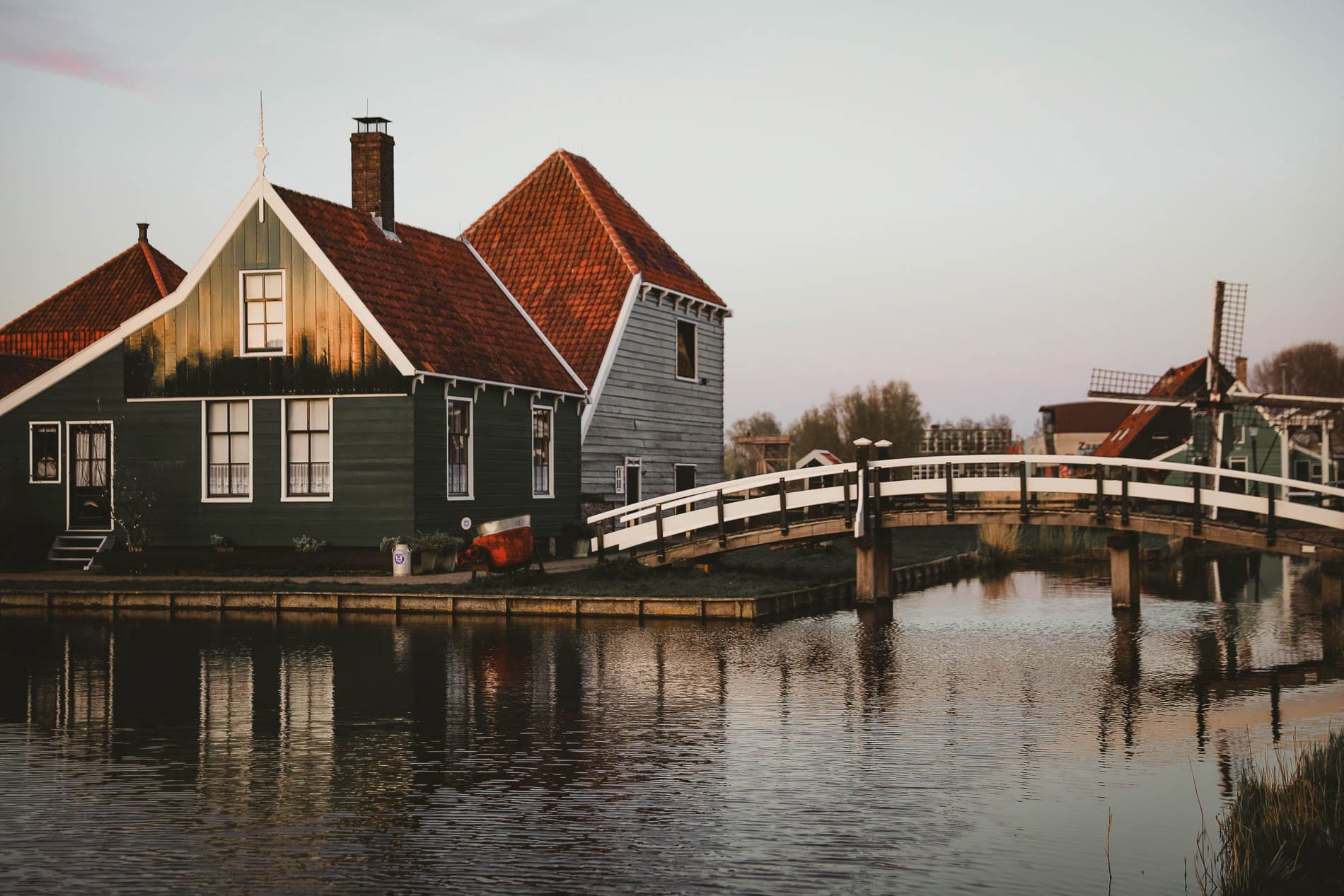 | WHAT TO VISIT AT THE ZAANSE SCHANS MILLS
Entry to the site is free, but when you arrive, parking is charged at €11 (single rate), regardless of how long you've been there (unless you go at closing time, in which case you won't pay for parking). Most places to visit, such as mills and museums, open at 9.00 am.
You'll soon realize that the main reason people come here is to stroll among the windmills. It's the place to be for Dutch people and families at weekends. You can also eat in one of the two restaurants on site, although prices remain high. You can also buy homemade ice creams from the small animal farm.
As this is a reconstructed village, there are several possible visits:
The weaver's house (Weverhuis) to learn more about looms.
Cooperage (Kuiperij) to discover barrel-making
A distillery
A family home Jisperhuisje – a traditional portrayal of daily life at the time
The clog factory
The Zaans museum with theVerkade chocolate and cookie factory perfect for licking your lips and inhaling the bewitching scent of cocoa.

The different mills and their uses (World of Windmills): spices, oil, sawmill, and paint oil.
To avoid having to pay for each visit one by one (on average 7€/attraction) and save a little money, I recommend that you bring your Zaanse Schans Card with you because some of these visits are already included in the price and the card gives you access to the village's must-see places. Just remember to book in advance.
The Zanns Museum is the site's main museum and is located on the parking lot level. Inside you'll find collections of objects, utensils, clothing and paintings from the period, and learn more about the history of the mills. You can also enjoy an experience for young and old in the heart of the museum, discovering an early 20th-century chocolate and cookie factory where the original machines are still running at full capacity.
Price: Entrance to the Zaans Museum costs €12.50 for adults and €6.50 for children aged 4 to 17, so it's a good idea to pay a little more. card Zaanse Schans Card will quickly pay for itself. If you have the Holland pass (which allows you to visit Amsterdam, Rotterdam, The Hague and the whole country), you'll receive a 20% discount.
Admission to the clog factory is free. You'll have the chance to see a clog-making demonstration and take home a pair in your suitcase. You'll find a collection of clogs ranging from the most basic to the most elaborate, and in every color.
Next to the parking lot, you can also visit the Catharina Hoeve farm of the 17th century, watch a demonstration of the cheese-making process followed by a tasting of a wide selection of cheeses before moving on to the store. You can of course take some home, but it seems to me that prices in the Henri Willig souvenir store are rather high. A pack of 3 small cheeses on a large wooden board costs around 45€, while a gourmet basket with a small bottle of wine and 2/3 cheeses costs around 60€
It's best to buy Dutch cheese directly from Edam, where you can chat with the locals and sample the different flavors.
Windmills are Zaanse Schans' ATTRACTION. There are 8 in all, most of which can be visited. If you go at the end of the day, the mills are closed to the public. We didn't get to visit a single one, but from what I could hear and see on the presentation panels, the tour starts on the ground floor with a short film explaining what is produced in the mill, then you go upstairs to admire the view from above and see the mill's wings turning.
You can visit the spice mill, the edible oil mill, the sawmill for cutting wood and the oil mill for painting
Price : from €4 / adult per mill, approx. €2 for children aged 6-12. Free for infants.

➡️ To save time and check availability, book your ticket online here
| WHEN TO VISIT THE ZAANSE SCHANS MILLS AND HOW LONG TO STAY ON SITE
The best time to go is, of course, when the sun is shining. But if you want to enjoy the windmills without too many visitors, avoid Sundays (it's a bit of a Sunday outing for the Dutch) between 7am and 8am or like us from 6:30 pm. In the middle of the day, this is a popular spot!

We loved the fact that there was no one there after 7pm, so we could enjoy the sunset in peace and take our photos without seeing a single person. Don't forget to bring a portable sound system, a few chips, a few beers and why not a rosé wine for an aperitif or picnic on the pontoon near the mills. The view is beautiful, with its warm lights reflecting in the water, and the place is quite peaceful.
Depending on the season, remember to cover up well, as the wind can quickly freeze your body. Last but not least, if you visit the Zaansz Schans windmills after 6pm, you won't have to pay for parking on your way out.
How long will you be there?
It really depends on you. You can spend as little as 1.5 hours or as much as a morning. But it's perfectly possible to spend the day here, taking it easy and taking your time. Personally, we stayed about 2 hours for the sunset, but if we'd had a few beers for the aperitif, we could have spent more time on the little pontoon near the windmills. As the wind picked up, it began to get cooler. If you're a photo enthusiast, you're in for a treat at the end of the day, as the location is perfect for taking beautiful photos.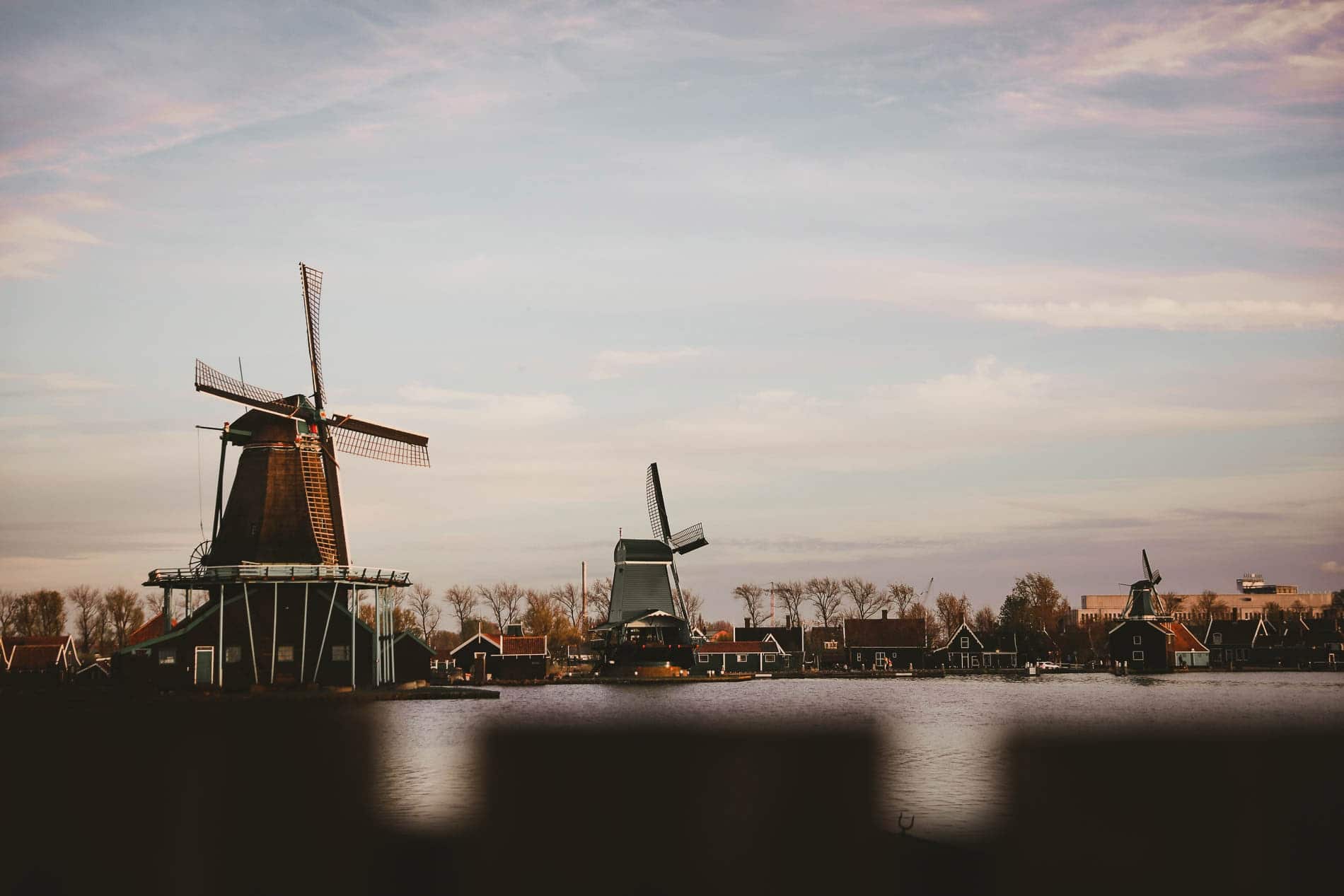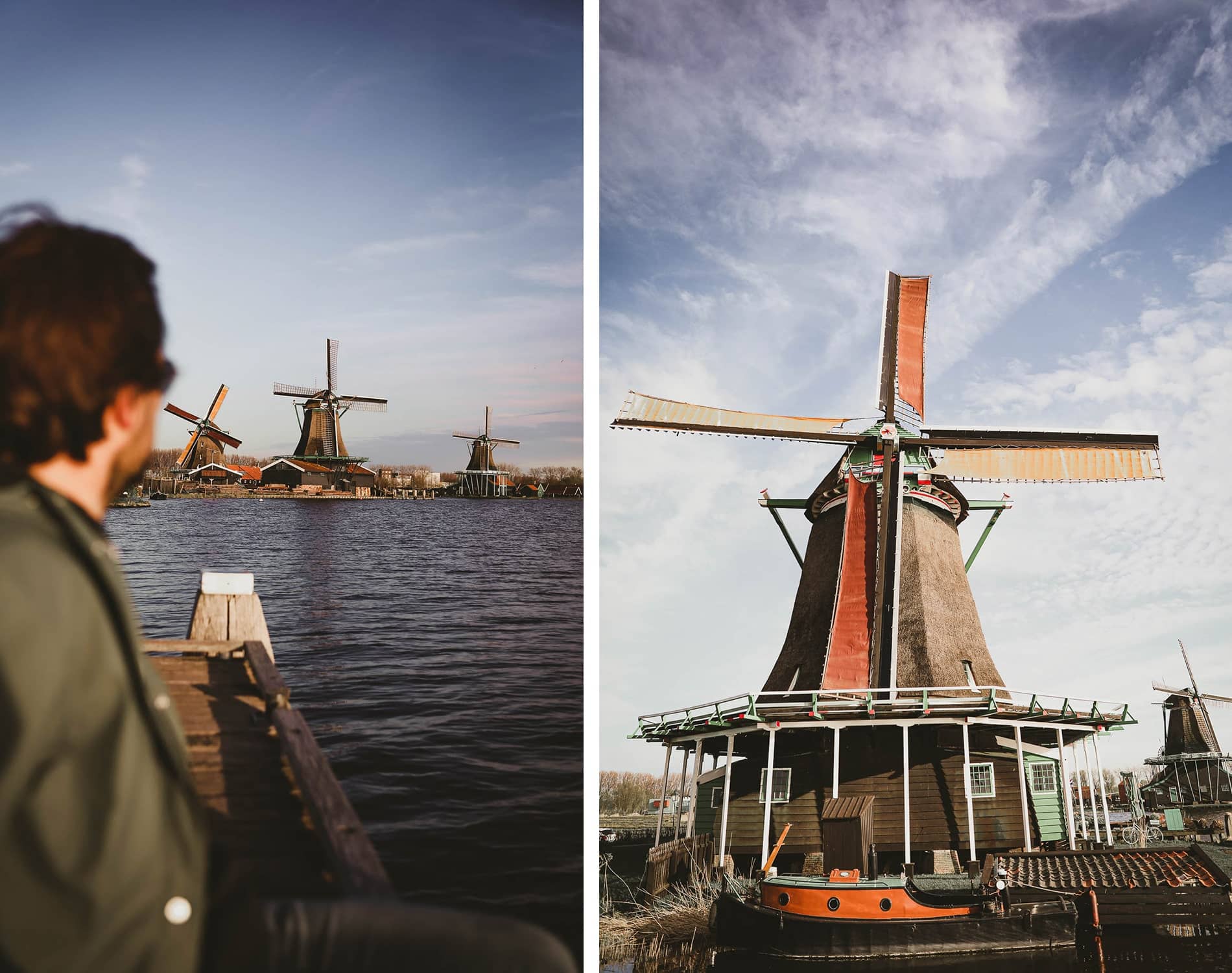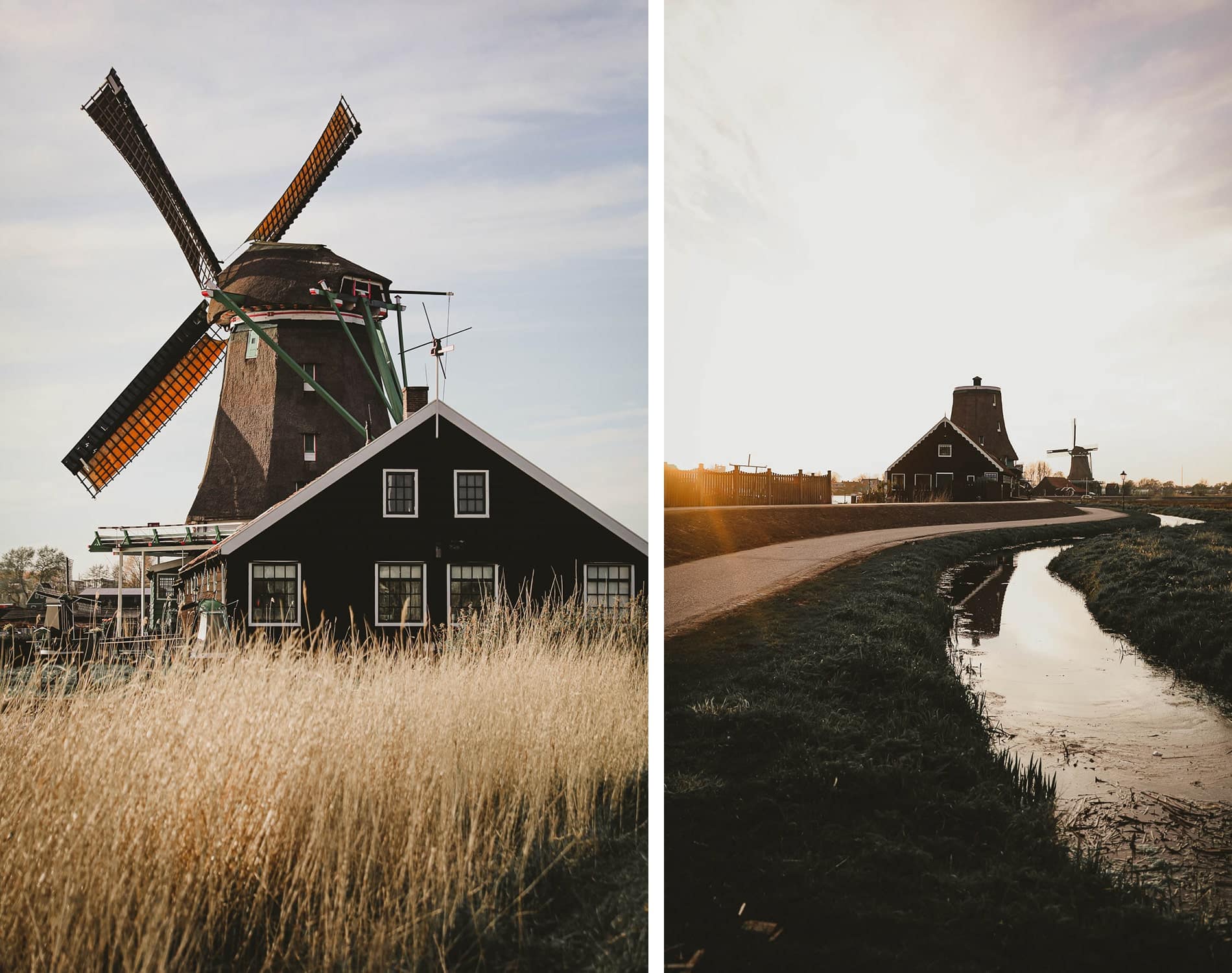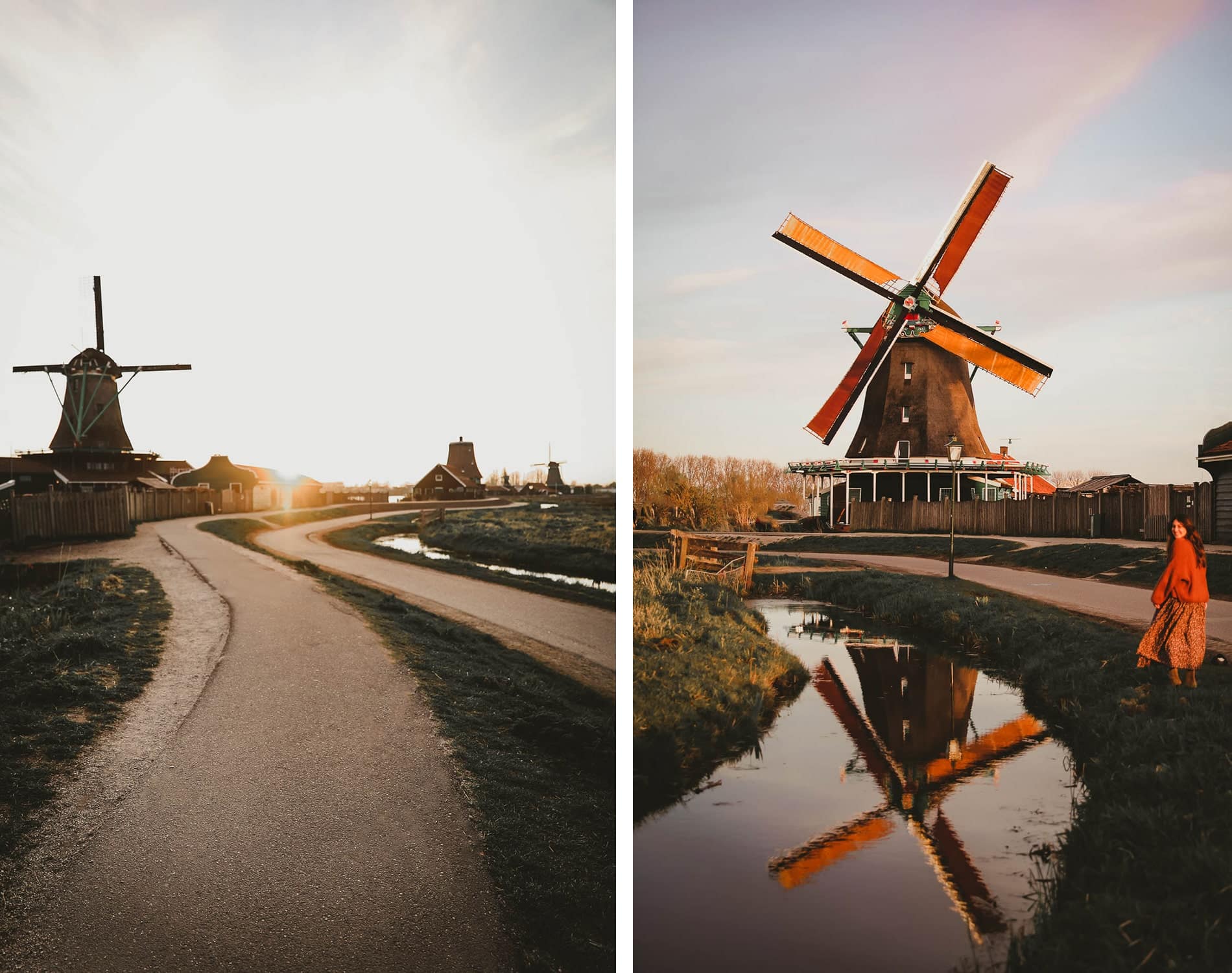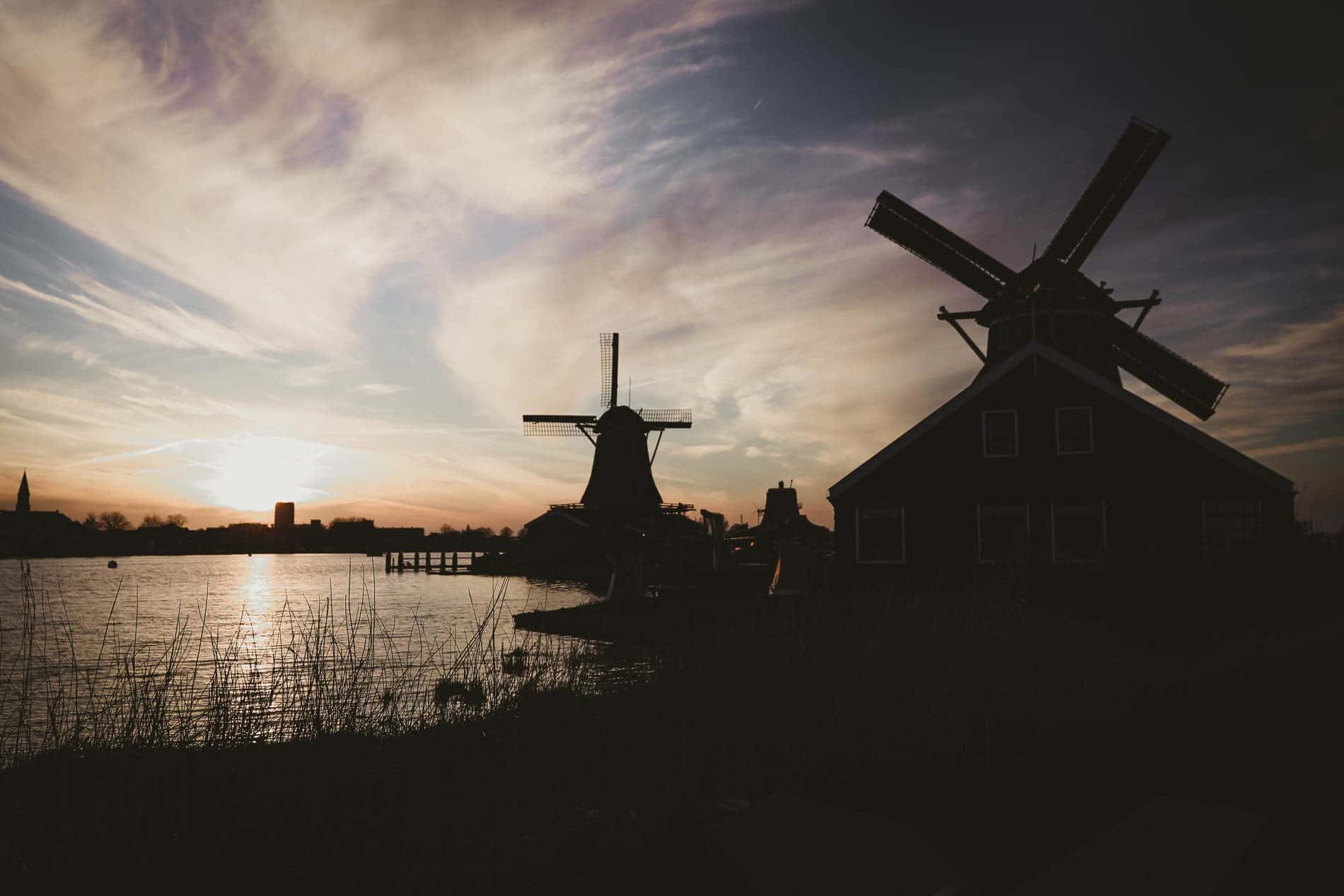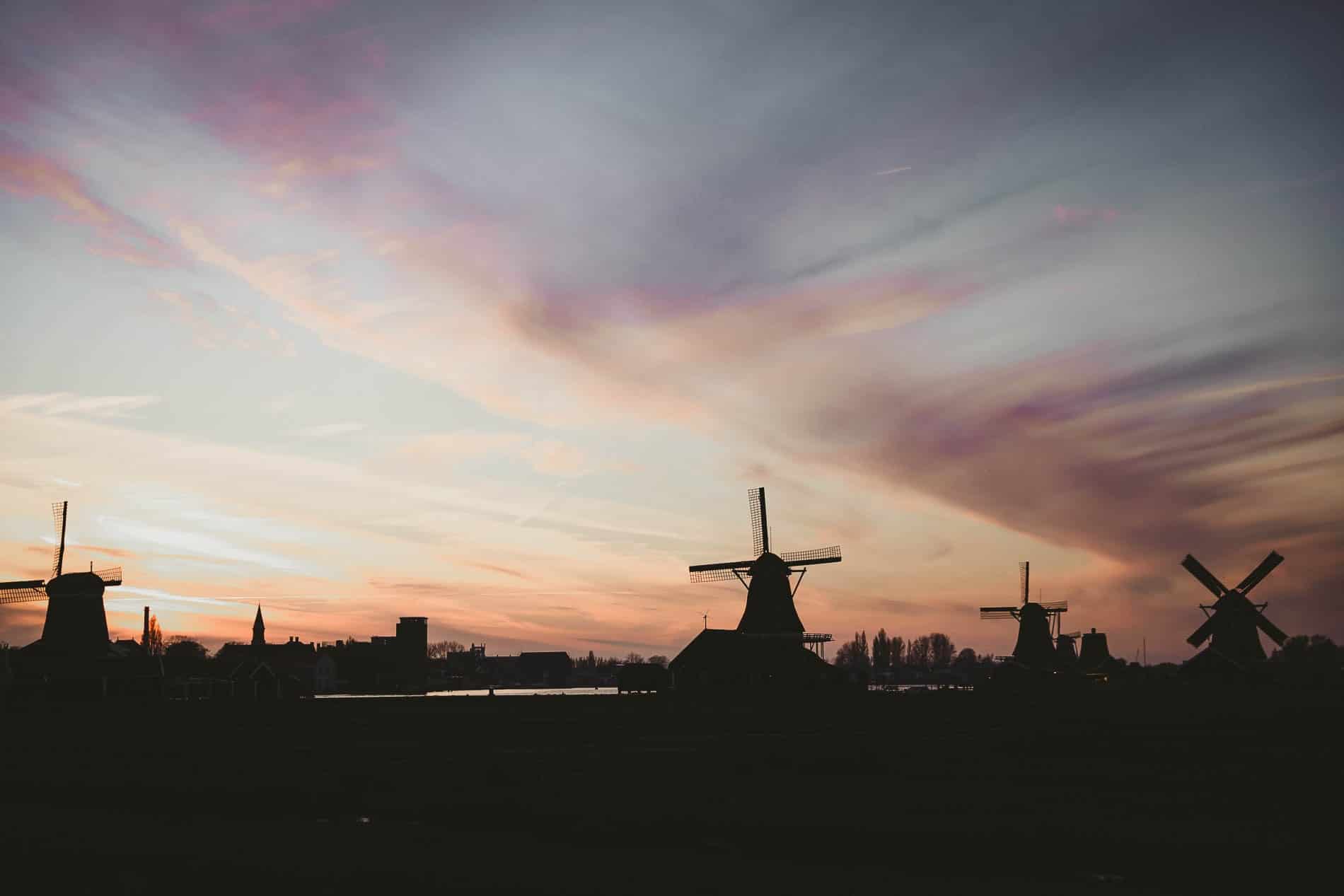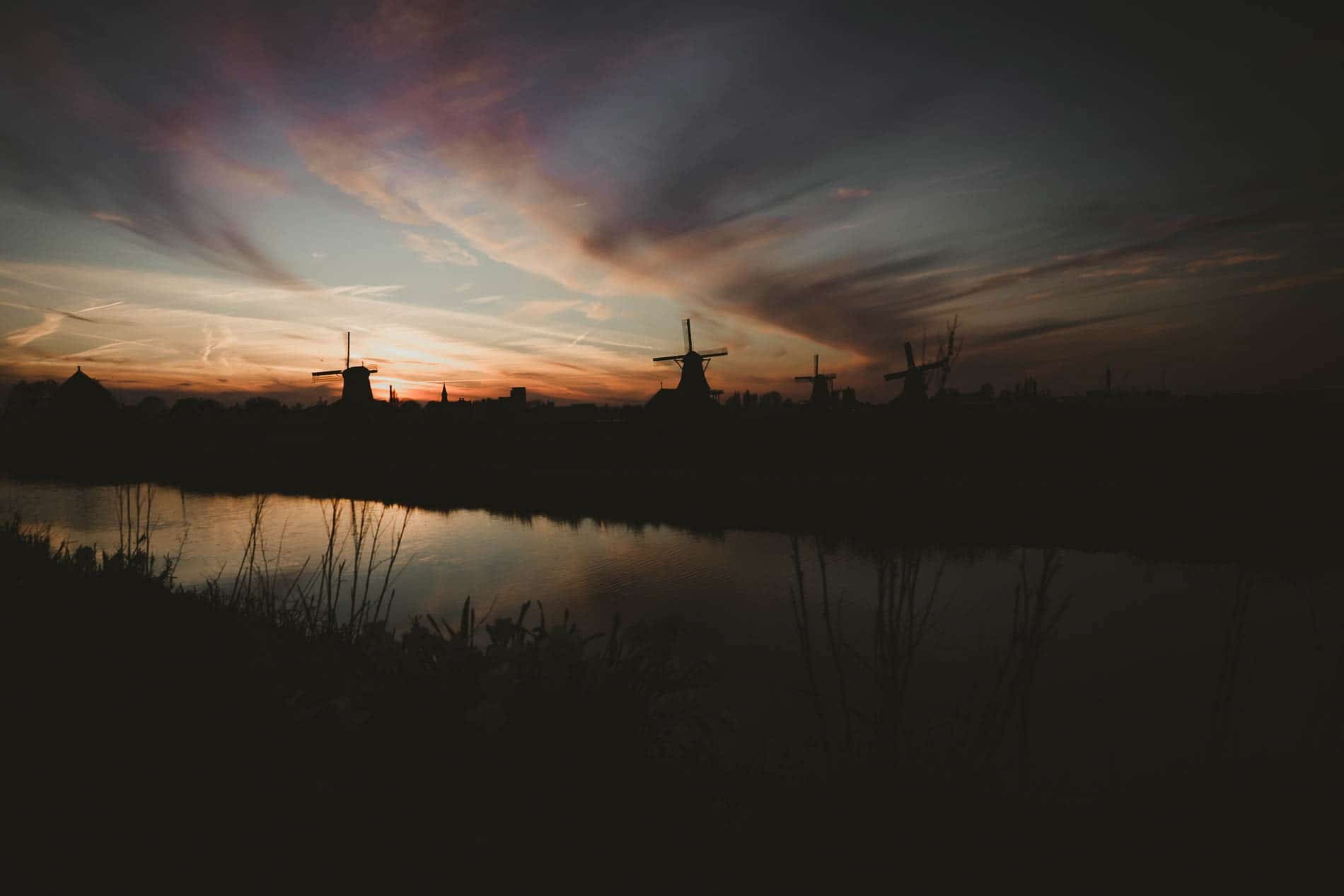 | HOW TO VISIT THE WINDMILLS OF ZAANSE SCHANS
There are several ways to visit the windmills at Zaanse Schans:
It's easy to stroll around the Zaanse Schans mills thanks to their small size. As soon as you enter the village, a large sign will help you find your way around and show you the different routes available, according to distance and duration. The paths are wide enough for strollers.
Bikes can be hired on site to explore the surrounding area of Zaanse Schans and ride along the cycle path all the way from the mills to the Engewormer road. The loop takes about 45 minutes, and the ride is easy as it's all flat and the roads are quite pretty with all those canals. A mix of rural and urban landscapes awaits you. The interior of the village will be a little more complicated to cycle through due to the crowds and narrower paths. Rent a bike for about €5/hour for a 1-hour ride. Bikes with rear child seats are also available.
If you like to sail the waves, nothing beats book a short cruise from Amsterdam to discover the windmills of Zaanse Schans. Enjoy panoramic views over canals and Dutch polders. Don't forget to check availability and book in advance. You should also know that by taking the City Card d'Amsterdam, A windmill cruise is also included in the offer. I now buy my citycard to benefit from several discounts on attractions.
You can also choose to do than a 25-minute boat trip to walk along the mills and get a nice view of Zaanse Schans from the water.
If you prefer choose a full-day excursion, I suggest the following formulas, which will enable you to save time, manage nothing, let yourself be carried away and to be able to combine several villages such as Zaanse Schans, Edam, Volendam and Marken. It's up to you to choose the most interesting formula by clicking on it, and you'll find several choices of online activities.
| OÚ DORMIR A ZAANSE SCHANS
If you're coming by the day from Amsterdam, the question doesn't arise. On the other hand, if you're planning a tour of the Netherlands, it is impossible to sleep in Zaanse Schans, I recommend you stay 4 kilometers from Zaanse Schans, in this atypical and very pretty hotel in the small town of Zaandam., Inntel Hotel. It's one of the most stunning hotels in the country!
If you're looking for more affordable accommodation, you can take a look at De Rijp.
| WHAT TO SEE AROUND THE ZAANSE SCHANS MILLS
If you're coming in spring visit the windmills of Zaanse Schans, you absolutely must drop by keukenfof park and take a bike ride through the fields of tulips in bloom. This is the event not to be missed in the Netherlands, as the Dutch countryside is in full bloom and the spectacle is magnificent to behold.
→ I've written a complete article on the subject in which I give you my feelings and my good advice.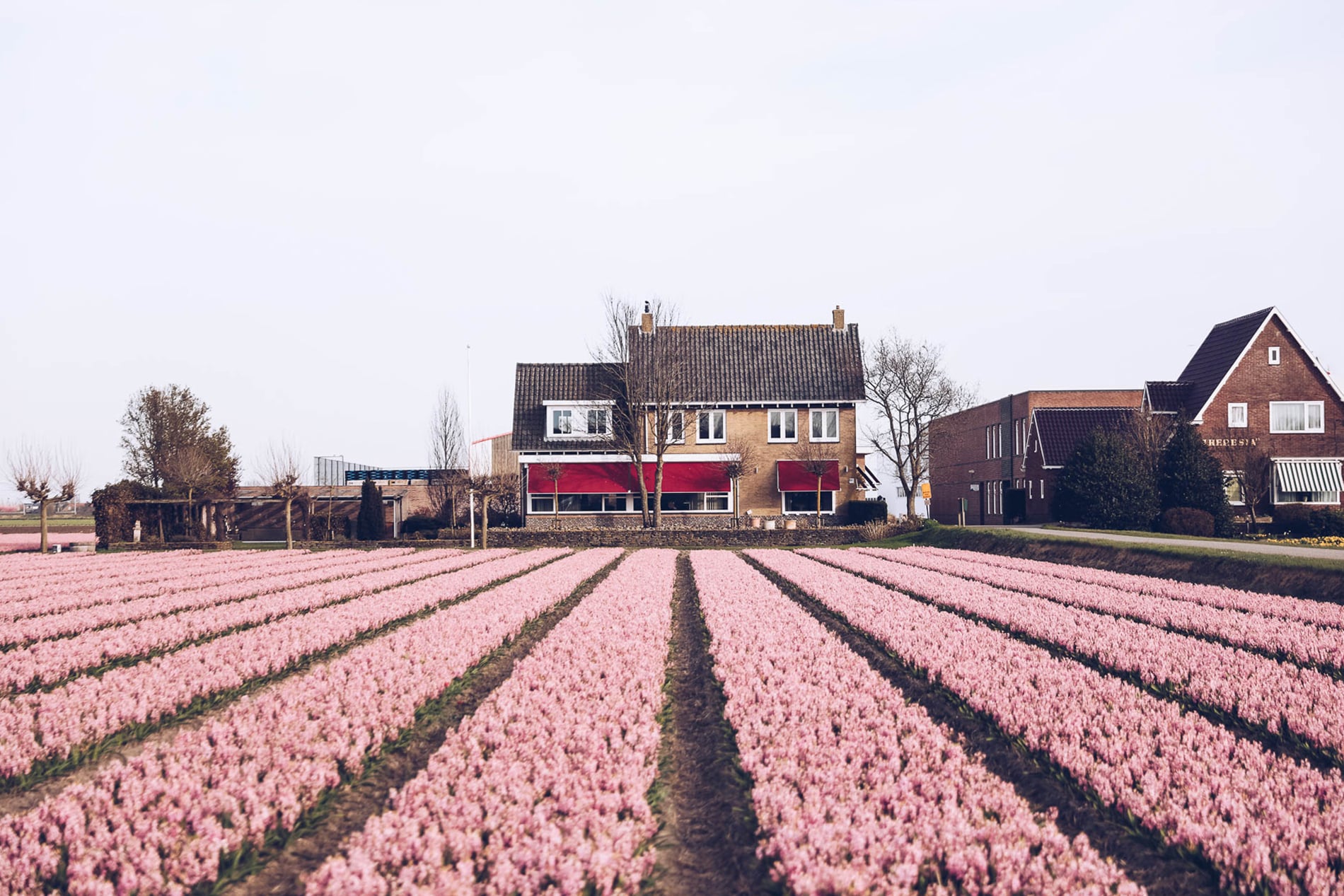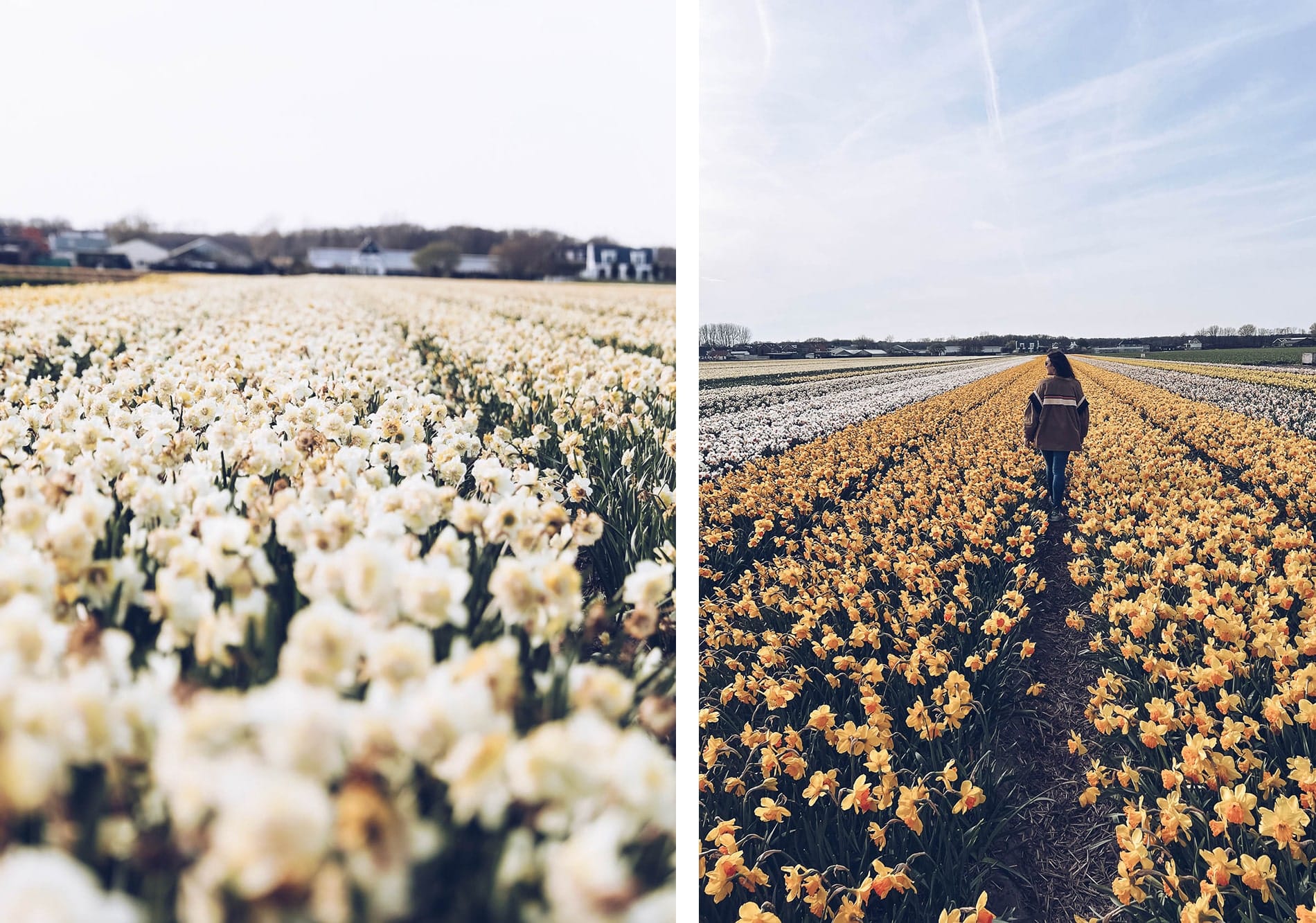 → There are combined excursions including transfer from Amsterdam, Zaanse Schans windmills and Keukenhof garden. This may be a good alternative for those who don't have a lot of time on their hands.
| HOW TO GET TO THE ZAANSE SCHANS WINDMILLS FROM AMSTERDAM

Many travelers choose to visit the Zaanse Schans windmills as part of a guided tour or excursion, as it's pretty convenient, we must admit. But the village is easy to reach by public transport. In fact, there are a number of well-thought-out transport cards to suit the length of your trip and your needs once you're there:
The City card Amsterdam: a pass valid for 24h, 48h, 72h, 96h and even 120h. It enables

unlimited use of GVB public transport in Amsterdam (bus, streetcar and metro), entry to a large number of museums and attractions in and around Amsterdam ( Zaanse Schans, Volendam, Marken….) and discounts.

To avoid queuing, buy your

City Card I Amsterdam

and save time.
The Amsterdam & Region Travel Ticket: this is a ticket valid for 1, 2 or 3 days on all public transport operated by GVB, Connexxion, EBS and NS in Amsterdam and the Amsterdam region, including night buses. To avoid queuing, buy your

carte Amsterdam & Region Travel Ticket

and save time.
So there are several ways to get to the Zaanse Schans windmills from Amsterdam:
By bus: from Amsterdam main station (Amsterdam CS), take bus 391 and allow around 40 minutes for the journey. This bus route departs from bus platform E at the Amsterdam IJzijde bus station (located at Central Station). Departures are every 15 minutes, from 6am to midnight on weekdays, and from 8am to midnight on Sundays. Amsterdam Central Station and Zaanse Schans are the termini of this line. You also have Amsterdam Central Station, a quicker way to get there, by taking express bus 891. Please note that it only operates during the summer season. Bus tours are also available to combine several villages. Check availability and book
By train : From Amsterdam Central Station, the journey is fairly quick, taking just 15 to 20 minutes. You'll need to stop at Koog-Zaandijk, from where it's a 15-minute walk to Zaanse Schans. Train tickets cost around €3.50 one way and can be purchased from automatic ticket machines in the station. More information on train timetables here.
By car: The mills are just a 20-minute drive from Amsterdam. We chose to rent a car for a day to discover the villages of Edam, Vollendam, Marken and the windmills of Zaanse Schans, and we don't regret our choice, as we like to be free on our travels and come home when we feel like it. We booked our car rental at the last minute on this comparator, which offered the best rates. Find here your cheapest car rental with Bspauto
Don't forget travel insurance!
Before you leave, make sure you've taken out travel insurance to avoid any unpleasant surprises! If you're planning a short break, a long-haul trip or even a round-the-world tour, travel insurance will provide you with the essential cover you need to enjoy your stay in total peace of mind: cancellation, baggage, assistance, medical expenses, hospitalization, death, repatriation and all the other hassles you could avoid. Opt for cancellation insurance in case of Covid and border closures. Read more in our dedicated article to help youfind the best insurance and on the Chapka website, our travel partner since our Round the World Tour
Despite this somewhat negative but entirely honest feedback on our part, the Zaanse Schans windmills still attract over a million visitors a year! It's one of the most popular attractions in the Netherlands, so it's up to you to make up your own mind. We still have fond memories of it!

Feel free to leave a comment below this article if you liked it and found it helpful in organizing your trip.
I also invite you to read all our articles on Amsterdam and the region to help you prepare for your trip:
To request a quote and a tailor-made trip to the Netherlands, contact me by email at contact@mademoiselle-voyage.fr. I invite you to read the customized travel where I present my business as a licensed travel agency.